HOMERUN 756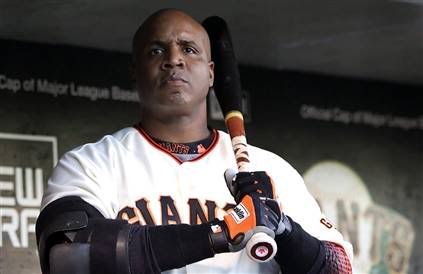 Barry Lamar Bonds (born July 24, 1964 in Riverside, California) is a Major League Baseball player with the San Francisco Giants. He is the son of former Major League All-Star Bobby Bonds, a distant cousin of Hall of Famer Reggie Jackson, and the godson of Hall of Famer Willie Mays.
He holds numerous single-season and all-time career baseball records, among them the all-time Major League home run record (756), the single-season Major League record for home runs (73), the all-time career leader in both walks (2540) and intentional walks (679), and winning a record seven MVP awards.
Since 2003, Bonds has been a key figure in the BALCO scandal, though Bonds has never failed a steroid test. He is also under investigation for perjury by a federal grand jury regarding his testimony in the BALCO case, but he has not been indicted.
http://en.wikipedia.org/wiki/Barry_Bonds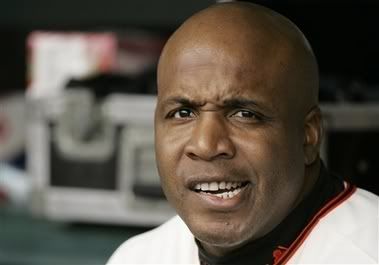 Barry Bonds, Baseball Player
* Born: 24 July 1964
* Birthplace: Riverside, California
* Best Known As: Major league baseball's all-time home run leader
Barry Bonds hit his 756th major league home run on 7 August 2007, surpassing Hank Aaron as the man with the most home runs in American baseball history. Bond is also the single-season home run champ: he hit 73 during the 2001 season, passing Mark McGwire for that record. Bonds is famous for his strength and all-purpose talent; The Sporting News named Bonds the top player of the 1990s, and he was voted the National League's most valuable player an unprecedented seven times: in 1990, 1992, 1993, 2001, 2002, 2003 and 2004. Bonds played left field for the Pittsburgh Pirates from 1986-1992, after which he became a free agent and signed with the San Francisco Giants. In his banner season of 2001 he outdid McGwire (who hit 70 homers in 1998) and sluggers of the past like Babe Ruth (60 homers in 1927) and Roger Maris (61 in 1961). Despite his heroics at the plate, Bonds has had strained relations with the press and with fans, gaining a reputation for being aloof and unfriendly to reporters. Bonds has been dogged by accusations that he used steroids and other performance-enhancing drugs late in his career. Game of Shadows, a 2006 book by two San Francisco Chronicle reporters, investigated the charges in detail and sparked a steroid investigation by Major League Baseball that was widely seen as being aimed at Bonds. Nonetheless, Bonds continued to play, and he passed Aaron's all-time record with a homer at San Francisco's AT&T Park off Washington Nationals pitcher Mike Bacsik.
Bonds is the son of Bobby Bonds, a major league player from 1968-81... Bonds bats and throws left-handed, and wears #25... He joined the elite 40-40 club in 1996, hitting 42 home runs and stealing 40 bases... He hit his 715th career home run on 28 May 2006, surpassing Babe Ruth for second on the all-time American homer list, right behind Aaron... Slugger Sadaharu Oh hit 868 homers during his career (1959-80) with the Yomiuri Giants in Japan's major leagues, making him the worldwide home run leader. Despite the common nickname of Giants, the San Francisco and Yomiuri teams are not related.
http://www.answers.com/topic/barry-bonds
Bonds Hits No. 756 to Break Aaron's Record
http://www.nytimes.com/2007/08/08/sports/baseball/08bonds.html?ref=sports
SAN FRANCISCO, Aug. 7 — Barry Bonds swung and then immediately raised his arms in the air, realizing that he had become the most prolific home run hitter in major league history. Everyone else instantly realized the importance of what they had just witnessed, too.
Bonds's 756th home run pushed him past Hank Aaron and pushed baseball's sacred history into an awkward spot. He is alone now atop the career home run list. Let the debate about the authenticity of Bonds's record begin. It will be here for a while.
With his powerful, compact swing, Bonds blasted a fastball from Mike Bacsik over the right-center-field fence in the fifth inning of the San Francisco Giants' game against the Washington Nationals. Because Bonds was at the Giants' AT&T Park, the anxious fans, who were already standing, cheered. Bonds trotted around the bases and put himself in a place where no other player has ever been.
When Bonds reached home, his 17-year-old son, Nikolai, a Giants batboy, was the first to greet him. Nikolai kept waving one finger to his father. Two banners were unfurled in the light stanchions in center field. One was an image of Bonds and the other was the number 756.
Aaron, who did not attend the game, congratulated Bonds in a videotaped message that was played on the scoreboard. Aaron noted how he had held the record for 33 years and said, "I move over and offer my best wishes to Barry and his family."
Bonds thanked his teammates, the fans, his family and the Nationals in a brief address after the homer. As Bonds spoke about his deceased father Bobby, he began to weep.
Bacsik is the 446th pitcher that Bonds has victimized for a home run. The Bonds homer gave the Giants a 5-4 lead. [For game coverage, see nytimes.com/sports.]
Bonds has been connected with investigations into steroids, turning what should have been a celebratory journey into one that has had some tortured moments. Commissioner Bud Selig waited for months before deciding that he would attend some of Bonds's games. The debate continues between those who say Bonds's record is pure and those who impugn it because of the suspicion that he used steroids.
Bonds called the journey to reach 755 the hardest thing he had experienced in his career, but he bristled when asked if his actions had helped create that environment.
"I think you're misconstruing my statement into a negative," Bonds said. "I'm just saying it's the toughest accomplishment to have to go through, not everything swirling around me."
When Bonds homered off Clay Hensley of the San Diego Padres on Saturday to tie Aaron, he relaxed. Bonds had slogged through 28 plate appearances without even hitting a ball to the warning track. But, Bonds sounded confident again when he credited an extra, early batting practice for helping him go deep against Hensley.
"That was the hardest part," Bonds said. "It's over now."
After his homer Tuesday night, it really is over. Bonds has 756 home runs, more than anyone who has ever played major league baseball.
Bonds was a lean 21-year-old with the Pittsburgh Pirates when he smacked his first homer, off Craig McMurtry of the Atlanta Braves on June 4, 1986. Bonds was playing in his seventh major league game and, although he was a talented rookie, no one, probably not even the confident Bonds, could have imagined that he would end up atop the career list.
It took Bonds more than four seasons to reach 100 home runs, and almost three more to make it to 200, in July 1993. He hit No. 300 in April 1996, then needed another 2 years 4 months to reach 400. He hit his 500th on April 17, 2001, then reached 600 in August 2002. No. 700 came just over two years later.
Bonds clubbed his 715th homer, off Byung-Hyun Kim, on May 28, 2006, to pass Babe Ruth for second on the home run list — 19 years 358 days after his first homer. It was the first time in nearly 85 years that Ruth was not first or second in career home runs.
Along the way, Bonds became a lot more muscular, won seven National League Most Valuable Player awards, eight Gold Glove awards and two N.L. batting titles, and he played in one World Series. Bonds was easily the most feared player in the game, but suspicions of steroid use hounded him and sullied his achievements.
Still, in San Francisco, Bonds remains a hero. Bonds wanted to hit No. 756 at home, where he would be assured of a raucous ovation. Even though he received a mixture of boos and cheers when he hit No. 755 in San Diego, there was no doubt that this was the only place he would be treated as a deity.
Bonds, who has teasingly said he is all about drama, ripped several of his milestone home runs here. He hit his 500th, 600th, 660th (to tie Willie Mays), 661st and 715th, which allowed him to slide ahead of Ruth, at AT&T Park.
Bonds's story is still incomplete. He will finish this historic season, but he has said that he wants to keep playing. The Giants will probably not re-sign Bonds for a 16th season. They are an old and dreadful team, which desperately needs to rebuild.
Bonds is also being investigated for the testimony he gave four years ago in the Bay Area Laboratory Co-Operative steroid-distribution case. There is a chance Bonds could be indicted for perjury or tax evasion. Bonds has said that he did not knowingly use steroids.
For now, Bonds is focused on the present. Whatever else happens, Bonds is already the home run king. He has made his mark, indelible and controversial, on baseball history.
Barry Bonds 756 Entire at-bat, Message from Hank Aaron
Bonds Breaks All-Time Home Run Record
Barry Bonds Becomes Baseball's New Home Run King, Breaking Tie With Hank Aaron With No. 756
http://abcnews.go.com/Sports/wireStory?id=3458243
Barry Bonds of the San Francisco Giants set the all-time home run record by belting No. 756 in the 5th inning of last night's game against Washington Nationals pitcher Mike Bacsik.
The Nationals won the game 8-6.
For one spectacular moment, Barry Bonds and everybody cheering him could forget about the controversy surrounding his chase and appreciate the phenomenal feat: 756.
Nobody in the majors not Hank Aaron, not Babe Ruth has ever hit more home runs than the San Francisco star.
On Tuesday night, in his home ballpark, it didn't matter how many of them might have been fueled by steroids or performance-enhancers. Bonds has the title of home run king all to himself, ending Aaron's 33-year reign.
"This record is not tainted at all. At all. Period," Bonds said.
And more than 43,000 adoring Giants fans, including his godfather, Hall of Famer Willie Mays, surely agreed.
Bonds raised both arms over his head like a prize fighter in victory, fists clenched and then he took off. It was over at long last.
Bonds did it with a shot to the deepest part of the ballpark with one out in the fifth inning against Washington's Mike Bacsik.
Bonds sent the 84-mph fastball arcing high into the night, 435 feet into the right-center field seats. And then, the celebration began in force fireworks, streamers, banners commemorating the accomplishment, and even a party in McCovey Cove.
Conspicuous by their absence were the commissioner and Hammerin' Hank himself.
Though he was on hand for the tying homer three days ago, deciding to put baseball history ahead of the suspicions plaguing the Giants slugger, Bud Selig wasn't there for the record-breaker.
Instead, he sent two emissaries, Major League Baseball executive vice president Jimmie Lee Solomon and Hall of Famer Frank Robinson. Selig also issued a statement.
"While the issues which have swirled around this record will continue to work themselves toward resolution, today is a day for congratulations on a truly remarkable achievement," Selig said.
Bonds also heard personally from the commissioner with congratulations.
"I was very happy about that," Bonds said.
As for Aaron, he said all along he had no interest in being there whenever and wherever his record was broken. He was true to his word, but he did offer a taped message of congratulations that played on the stadium's video board during a 10-minute, in-game tribute.
"It is a great accomplishment which required skill, longevity and determination," he said.
"Throughout the past century, the home run has held a special place in baseball and I have been privileged to hold this record for 33 of those years. I move over now and offer my best wishes to Barry and his family on this historic achievement.
"My hope today, as it was on that April evening in 1974, is that the achievement of this record will inspire others to chase their own dreams."
A woman who answered the phone at Aaron's home in Georgia shortly after Bonds' homer said that Aaron was asleep.
"When I saw Hank Aaron that made everything," Bonds said. "We've always loved him. He's always the home run king."
With a long, satisfied stare, Bonds watched as the ball sailed over the fence and disappeared into the scrum in the first few rows. Then he raised both arms over his head like a victorious prize fighter, fists clenched, and took off.
"I knew I hit it," Bonds said. "I knew I got it. I was like, phew, finally."
His 17-year-old batboy son, Nikolai, was already bouncing on home plate as Dad rounded third and ran the final 90 feet to make it official. After a long embrace, the rest of the family joined in his mother, two daughters and wife. And then there was Mays, who removed his cap and congratulated his godson.
Bonds saved his most poignant words for last, addressing his late father, Bobby.
"My dad," he said, looking to the sky and choking back tears. "Thank you."
Bonds had wanted to break the record at home, where he would be assured of a friendly crowd. They were all right, unlike in San Diego where some fans held up signs with asterisks.
Bonds has always denied knowingly using performance-enhancing drugs.
After doubling and singling his first two times up, Bonds hit a solo home run. Bacsik put his left hand to the back of his head as soon as Bonds connected.
"I dreamed about it as a kid, but when I dreamed about it, I was the one hitting the home run and not giving it up," Bacsik said.
"I didn't really want to be part of history as a bad part, but I am," he said. "I'm OK with it."
Bacsik later spoke with Bonds and got an autographed a bat from the Giants star.
Bonds took his position in left field to start the sixth, then was replaced and drew another standing ovation. The Nationals won the game, 8-6.
A fan wearing a Mets jersey wound up with the historic ball. Matt Murphy of New York emerged from the stands with the souvenir and a bloodied face, and was whisked to a secure room.
Even with Bonds at the top of the chart, fans will surely keep debating which slugger they consider the true home run champion. Some will continue to cling to Aaron while other, older rooters will always say it's Babe Ruth.
"It's all about history. Pretty soon, someone will come along and pass him," Mays said before the game.
Aaron held the top spot for 12,173 days after connecting for No. 715 to pass the Babe on April 8, 1974.
"This is the greatest record in all of sports," Giants manager Bruce Bochy said. "We are all fortunate to witness it. It's awesome. This road to history has been a lot of fun."
Bonds homered exactly three years after Greg Maddux earned his 300th victory at the same ballpark. It's been quite a week of baseball milestones over the weekend, Alex Rodriguez hit his 500th home run and Tom Glavine won No. 300.
A seven-time NL MVP, the 43-year-old Bonds hit his 22nd home run of the year. Bonds broke Mark McGwire's single-season record by hitting 73 in 2001 and while he's no longer such a force, opposing pitchers remain wary.
Bonds and Giants management bickered in the offseason over contract issues. This big night was the main reason owner Peter Magowan brought back the star left fielder for a 15th season in San Francisco, signing him to a $15.8 million, one-year contract.
Bonds' once-rapid quest for the record had slowed in recent years as his age and balky knees diminished his pace. He hit 258 home runs from 2000-04, but has only 53 since then.
While steroids have tinged Bonds' pursuit, it was race that was the predominant issue when Aaron broke Ruth's mark in 1974. Aaron dealt with hate mail and death threats from racist fans who thought a black man was not worthy of breaking the record set by a white hero, the beloved Babe.
Bonds was destined for stardom at an early age. The son of All-Star outfielder Bobby Bonds and the godson of one of the game's greatest players, Bonds spent his childhood years roaming the clubhouse at Candlestick Park, getting tips from Mays and other Giants.
"I visualized him playing sports at a high level. He was 5 when he was in my locker all the time," Mays said.
In a matter of years, Bonds went from a wiry leadoff hitter with Pittsburgh in 1986 to a bulked-up slugger. That transformation is at the heart of his many doubters, who believe Bonds cheated to accomplish his feats and should not be considered the record-holder.
There are plenty of fans already hoping for the day that Bonds' total whatever it ends up is topped. Rodriguez may have the best chance, with his 500 home runs at age 32 far ahead of Bonds' pace.
Bonds said he hadn't yet thought beyond 756. He plans to play in 2008.
"I'll tell you one thing: I'm going to hit a lot better from now on," he said after a champagne celebration in the clubhouse.
Barry Bonds 756 home run plus speech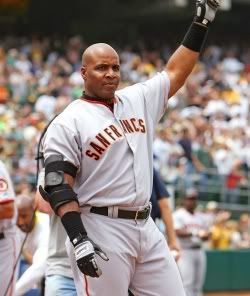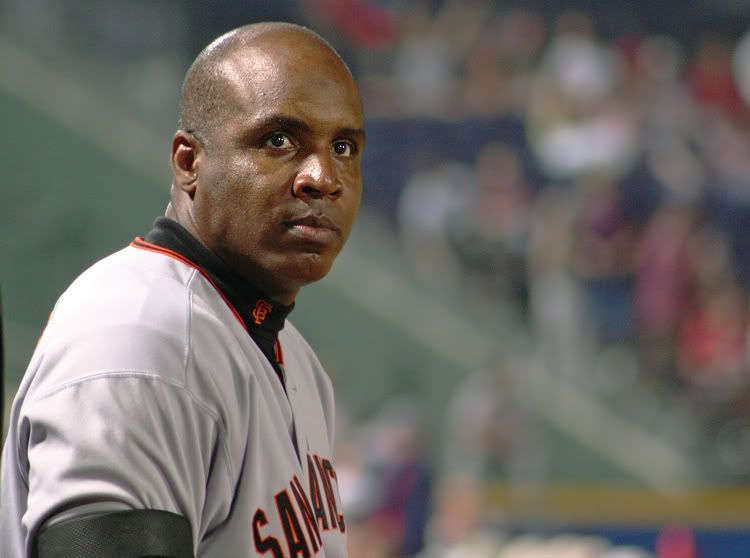 Bonds hits No. 756
http://www.chicagotribune.com/sports/cs-070807bonds,0,483714.story?coll=cs-hs-wrestling-utility
SAN FRANCISCO - Twenty-one years ago, at Atlanta-Fulton County Stadium, a skinny, cocky leadoff hitter from Arizona State, a second generation major-leaguer who had grown up at the knees of the legendary Willie Mays, connected on a pitch from Craig McMurtry.
It was the first big-league home run for Barry Bonds, and there was nothing tainted about the celebration when he crossed home plate, a 21-year-old man with a future that sparkled like the diamond in his ear.
On a chilly Tuesday night, before a sellout crowd at AT & T Park, a very different looking Bonds, this one rippling with muscle and upper body mass, became the most prolific home run hitter of all time. He rifled a 3-2 fastball in the fifth inning from Washington Nationals left-hander Mike Bacsik into the center field bleachers for the 756th home run of his career, breaking the record Hank Aaron had claimed from Babe Ruth in 1974.
Giants fans stood and cheered for almost 10 minutes as Bonds first was congratulated by his teammates, then his family and his godfather, Mays, all of whom came on the field between home plate and the dugout.
An unexpected touch was added when the Giants played a message from Aaron to Bonds on the center field scoreboard. Bonds, standing near the third-base line, had tears coming down his face as he listened to Aaron.
When Aaron broke Babe Ruth's record, he was trailed around the bases by two floppy haired men, who seemed as jubilant as he was. During this celebration, a fan jumped the fence in left field and ran toward the infield but was tackled by members of the large security force and led off.
While there was joy in the celebration that followed, it was a long way from the pure excitement that followed that first one. The widely held belief that Bonds transformed his body with steroids and other illegal performance-enhancing substances, yielding to temptation in baseball's testing-free era after the beefed up Mark McGwire and Sammy Sosa were placed on pedestals for their record-setting home run hitting in 1998, causes the achievement to largely ring hollow.
"We know all the issues," Larry Baer, the Giants chief operating officer, said Monday. "We know there's no way the issues are going to be solved as he approaches 756. You deal with this with the information as you know it."
Aaron, who has not embraced Bonds, had been conspicuously silent during Bonds' climb to 756. Commissioner Bud Selig, who has spent parts of the last four seasons monitoring the federal government's investigation into Bonds' alleged steroids dealer and imprisoned personal trainer, had seen 11 of Bonds' recent games but was represented by Hall of Famer Frank Robinson and Jimmie Lee Solomon on Tuesday.
According to the Associated Press, Selig will be meeting with George Mitchell's committee investigating steroid use in baseball this week. It's likely that Bonds name will be mentioned a few times in those talks.
Selig gave little reaction after Bonds hit 755 on Saturday night, watching with his hands in his pockets.
Because of his bulk and a late-career increase in power, Bonds' 73-homer season in 2001 raised suspicions. But it was after federal agents raided the Bay Area Laboratories Co-Operative facility outside San Francisco in September 2003, that Bonds was linked directly to steroids.
The raid on BALCO, which produced convictions for the company's founder, Victor Conte and three others, turned up evidence showing a pattern of use by track stars Tim Montgomery and Marion Jones, Bill Romanowski and some teammates with the Oakland Raiders and some of baseball's prominent sluggers such as Bonds, Jason Giambi and Gary Sheffield.
Bonds, who earlier this season was voted onto the National League All-Star team by fans, has his share of supporters, especially in San Francisco. It is his hometown and he has played for the Giants since 1993. Bonds has been booed elsewhere but blames the media for distorting his image.
"I think people like me," Bonds said after being voted onto the All-Star team. "I don't think people dislike me. I really don't think people dislike me."
During a visit to Wrigley Field on July 16, the Rev. Jesse Jackson said he believes the media and public have convicted Bonds falsely.
"He has been condemned without trial," Jackson said. "He's guilty until proven innocent, based upon something subjective and subjunctive: 'if.' … I just hope people will accept this moment for what it is when it comes, that Barry is one of the most phenomenal hitters the game has ever known."
Former NBA star Charles Barkley echoed Jackson's sentiments.
"This to me has been one of the worst things I've ever seen in sports, how one guy can get so victimized, everybody in the world has turned on him, says bad things," Barkley recently told Fox TV. "First of all, a lot of guys were using that stuff. But they don't get the same treatment Barry gets."
Bonds is not among the major leaguers who have been suspended for positive tests for steroids and other synthetic drugs designed to increase strength and allow the body to recover quickly from workouts. But he told a grand jury in 2003 that he took "the clear" and "the cream," saying he thought they were liniment and flaxseed oil, not steroids. His trainer, Greg Anderson, who introduced him to Conte, has allowed himself to be jailed rather than provide testimony about Bonds.
Using leaked grand jury testimony, San Francisco Chronicle reporters Mark Fainaru-Wada and Lance Williams published a series of authoritative stories and a subsequent book, "Game of Shadows," that details Bonds' use of Winstrol, Deca-Durabolin and other banned performance-enhancing drugs.
Bonds has long been the target of federal prosecutors on matters of perjury, tax evasion and obstruction of justice. The New York Daily News recently reported that the prosecutors are ready to move toward indictments, possibly as soon as September.
Aaron, who played 23 years, broke Ruth's record without ever hitting more than 47 homers in a season. Bonds, a highly gifted player with power and speed in his early years with the Pittsburgh Pirates and the Giants, has won seven National League Most Valuable Player Awards, including three when his frame was still lean. He has hit as many as 50 homers in a season only once.
He blasted 73 in 2001, breaking the single-season record that Mark McGwire had set only three years earlier. In "Game of Shadows," Fainaru-Wada and Williams write that Bonds committed himself to an aggressive course of steroid use after becoming jealous of the adulation McGwire and Sosa received during the 1998 home run race.
Matt Murphy, a Queens native, is escorted out of the stands after catching Barry Bonds' 756th home run, breaking Henry Aaron's career mark.
http://www.newsday.com/sports/baseball/ny-spfan0808,0,7057210.story?coll=ny_home_rail_headlines
SAN FRANCISCO - Once Barry Bonds' 756th home run left the playing field, AT&T Park turned into a shrine for the new home run king, with nary a boo to be heard.
But the fan who caught the most valuable souvenir from this momentous event, hails from . . . Queens?
Yes, Queens.
Matt Murphy, a 22-year-old from Queens, wore a Mets' Jose Reyes jersey as he prevailed in the battle for Bonds' home run ball.
According to the Giants, Murphy flew into town yesterday, purchased a ticket at the ballpark -- the club didn't know whether Murphy found a ticket from a scalper or acquired a standing-room-only ticket from the team -- and attended the game with a friend. He stopped here in San Francisco on his way to Australia.
The Giants said that Murphy didn't want to speak with the media.
Estimates of the ball's value varied from $400,000 to $5 million.
Several fans said later that they'd touched the ball, but it was Murphy who covered it with his body and resisted those who tried to take it away.
One woman, the San Francisco Chronicle reported, came away with a keepsake that she acknowledged won't be as valuable as the ball itself.
The woman, season ticket holder Amanda Nunez, admitted she tried to steal Murphy's ball. "I was holding on to his arm, I was trying to get the ball,'' she said.
Nunez ended up, she believes, with Murphy's shoe. And she thinks it might be a collector's item, although "kind of gross."
Barry Bonds breaks Hank Aarons Home Run with # 756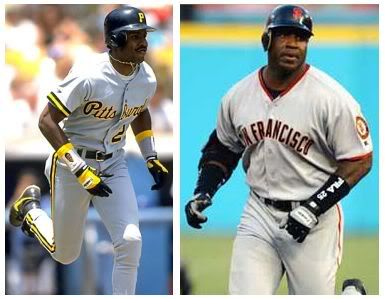 Bonds makes an asterisk of himself
http://www.theaustralian.news.com.au/story/0,25197,22212523-2722,00.html
BETWEEN his 27th and 37th birthdays, the feet of home-run king Barry Bonds grew by three full shoe sizes.
Whether this extraordinary growth was the result of steroids fed to Bonds by his former personal trainer Greg Anderson, nobody really knows. For years, Bonds has said he never knowingly took steroids, so the issue remains unresolved.
But the transition of Bonds to the Bigfoot of Major League Baseball may explain the troublesome knees the San Francisco Giants slugger has carried in his long pursuit of the most fabled record in US sport - the 755 home runs by Hammer Hank Aaron in the 1950s, '60s and '70s.
The conjecture about how Bonds took the record will now dominate baseball, ensuring an asterisk will sit uncomfortably beside the record, but none of that mattered yesterday.
Before wildly excited Giants fans, Aaron's record finally fell when Bonds, 43, belted a fastball from Washington Nationals pitcher Mike Bacsic into the seats behind right centre field at San Francisco's AT&T Park.
The towering 435-foot home run unleashed a furious scramble for the ball that lasted about five minutes, before a powerfully built 22-year-old named Matt Murphy emerged bloodied but triumphant from beneath a pile of writhing bodies.
Murphy, a New Yorker, was last night reportedly on a plane to Sydney with his prize that may be worth as much as $US2million ($2.3m).
The fight for the historic ball proved a minor distraction to carefully planned celebrations that interrupted the game for more than 15 minutes.
After gingerly circling the bases on those dicky knees, Bonds was met at the home plate by his 17-year-old son Nicolai before being swamped by his team-mates.
His wife and daughters then joined the celebrations, as did Bonds' godfather, the legendary baseball player Willie Mays, before the record-holder took a bow before his wildly cheering home crowd. The applause fell silent when a surprise videotaped congratulations from Aaron was played on the stadium's big screen.
"Throughout the past century, the home run has held a special place in baseball and I have been privileged to hold this record for 33 of those years," Aaron said.
"I move over now and offer my best wishes to Barry and his family on this historic achievement. My hope today, as it was on that April evening in 1974, is that the achievement of this record will inspire others to chase their own dreams."
Bonds was visibly moved by the tribute, which came after months of speculation that Aaron would refuse to recognise the record because of the steroid allegations.
But Aaron's unqualified congratulations were not matched in a congratulatory statement issued by MLB commissioner Bud Selig.
"While the issues which have swirled around this record will continue to work themselves toward resolution, today is a day for congratulations on a truly remarkable achievement," Selig said in his statement.
In his speech immediately after the home run, Bonds thanked his team-mates, his family, the generosity of the Nationals players for allowing his moment, which came in the fifth inning, to interrupt the game and his father, the late major league player Bobby Bonds, who died in 2003.
Afterwards he confronted the steroids issue directly, saying: "This record is not tainted at all. At all. Period."
Bonds has never tested positive to steroids and denied knowingly using any performance-enhancing drugs, but he has been unable to distance himself from the allegations and his connection to Balco.
But because the record was set at home in San Francisco, Bonds was able to enjoy it free of the steroid-baiting asterisk banners that have greeted him at away games. Fans who deplore drug use have argued for several years that batting records by suspected steroid cheats such as Bonds and Mark McGwire should carry an asterisk to identify them as suspect.
Some 400 reporters have followed Bonds since he hit homer No.754 on July 27.
Bonds is a seven-time National League Most Valuable Player, who broke McGwire's single-season record by hitting 73 home runs in 2001.
After smashing 258 home runs from 2000-2004, Bonds has hit just 53 since.
Bush: Congrats but no phone call to Barry Bonds
http://weblogs.chicagotribune.com/news/politics/blog/2007/08/bush_congrats_but_no_phone_cal.html
President Bush, former managing partner of the Texas Rangers, often invites national league and NCAA champions to the White House for celebrations. But the White House says Bush has made no call to Barry Bonds, the new homerun king, today.
"No… no call to Barry Bonds,'' Tony Snow, the White House press secretary, said this morning. "The president does congratulate Barry Bonds on breaking one of the most treasured records in all of sports.''
Might this have anything to do with the suspicion of steroid use by the San Francisco Giant who has batted his 756th homer?
"Right now, there is a leaguewide investigation going on in regard to steroid use,'' Snow, said, and the president encourages the pursuit of that investigation and also thanks senators for pressing it.
Bush had talked about the problem of steroid abuse in his State of the Union address in 2004.
. "To help children make right choices, they need good examples,'' Bush said then. "Athletics play such an important role in our society, but, unfortunately, some in professional sports are not setting much of an example. The use of performance-enhancing drugs like steroids in baseball, football, and other sports is dangerous, and it sends the wrong message -- that there are shortcuts to accomplishment, and that performance is more important than character. So tonight I call on team owners, union representatives, coaches, and players to take the lead, to send the right signal, to get tough, and to get rid of steroids now.''
Bush drew applause from Congress with that line.
But he was seeking no spotlight on the question today.
"The use of these drugs sends the wrong message,'' Snow said. "It's dangerous… Kids worship athletes, and athletes who endanger themselves'' send the wrong message to young people.
So, is it safe to assume that Bush has not called Bonds because of the steroid question?
"No,'' Snow said. "Didn't call him.''
Don't look for any White House ceremony any time soon, either. The president leaves for Kennebunkport, Maine, tomorrow, and then on to Crawford, Texas, on Monday for the start of an August break that will be interrupted with work.
So, will Bush call Bonds?
"I don't know,'' said Snow, biting his lip as he dodged another reporter's question about the absence of any personal presidential congratulations for the new baseball record-holder . "You guys are always trying to pick fights, I love that.''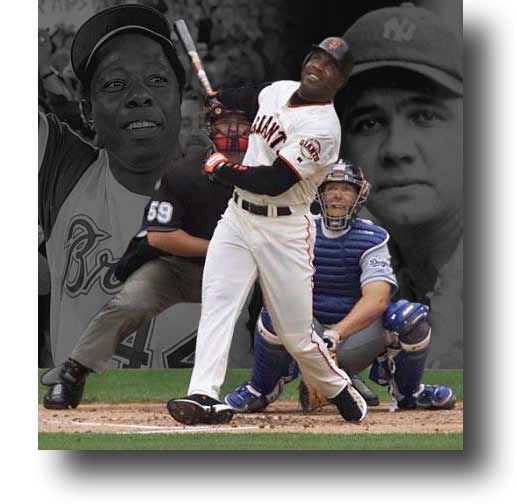 Why Barry Bonds' Home Run Record Chase Isn't the Worst Thing Ever in Baseball
The National Pastime Has Been Through Worse Scandals
http://abcnews.go.com/Sports/story?id=1941376&page=1
As Barry Bonds stands poised to surpass Babe Ruth and take dead aim at Hank Aaron, thousands of (self-appointed) guardians of the game are seething. "What could be worse than baseball's most beloved record being compromised by an alleged steroid abuser?" we mutter in righteous anger.
The answer, fellow seamheads, is "plenty." Baseball history is littered with scandals that make Barry's ugly assault on 714 and 755 look tame. Make no mistake: It will be dismaying to see Bonds lord his arrogance -- not to mention his puffed-out pectorals -- over us as he points skyward after No. 715.
But it's not even close to the low point of the pastime's history. As Babe Ruth's biographer, the inimitable Robert Creamer, is fond of pointing out, "Baseball must be a marvelous game to survive the awful things that people have done to it."
Plenty of Black Eyes on the Game
Topping the awful things, of course, is the infamous Black Sox fix of the 1919 World Series. Hugh Fullerton, the reporter who is credited with uncovering the Black Sox scandal, believed that 1919 was just one of many early postseasons tainted by corruption. Cheating -- or as the players preferred to call it, "arranging games" -- was more widespread in the first three decades of the 20th century than even serious students of baseball lore suspect. And it didn't end with the "eight men out": Skullduggery continued to haunt the game well after the eight Black Sox players were banished in the early '20s.
Baseball in that era was almost as slippery as boxing or horse racing. Far too often, the fix was in. League presidents, owners, managers, coaches and players all routinely consorted with bookies and hustlers. Wild wagering was as much a part of baseball's saloon culture as a shot and a beer.
Many of early baseball's most celebrated figures are linked to disquieting episodes, among them Hall of Famers Tris Speaker, Ty Cobb, Cy Young, John McGraw, Wilbert Robinson, Grover Cleveland Alexander, Rabbit Maranville, Frankie Frisch, Eddie Collins and Chief Bender. Gambling-induced chicanery might have marred some epochal World Series, including the first modern one in 1903 between the Boston Pilgrims and the Pittsburgh Pirates, the New York Giants' trouncing of the Philadelphia Athletics in 1905, the "Miracle" Boston Braves' dramatic sweep of the A's in 1914 and the Chicago Cubs' ham-handed loss to the Red Sox in 1918.
But for sheer gall it's hard to top the Red Sox's cheeky performance in the 1912 World Series. Up three games to two against the New York Giants of manager John "Mugsy" McGraw and ace Christy Mathewson, the Red Sox were heavily favored to clinch the Series with their ace -- "Smokey" Joe Wood, of the gaudy 34-5 record that season -- taking the slab.
Fear Not, The Game Will Survive
Anyone who bet on the Giants that day -- and many members of the Red Sox probably did -- made a killing. Smoky Joe threw fewer than a dozen pitches in the first inning and was strafed for six runs. As Boston Globe baseball seer T.H. Murnane observed at the time, Wood wasn't smoking; he was lobbing. No stranger to an arranged game, McGraw bellowed at his charges to swing at Wood's first offering. With no outs and runners at first and second, Wood curiously chose to pitch out of a full windup rather than the stretch, permitting the Giants to pull off an easy double steal.
Boston's defense -- led by Tris Speaker, the best center fielder of his (or perhaps any) era -- made several suspicious gaffes in the first two innings. A pickoff attempt at second somehow managed to elude Heinie Wagner at short, Steve Yerkes at second, and Speaker sauntering in from center. Right fielder Harry Hooper had to retrieve the ball as the Giants sashayed around the bases.
Despite their Keystone Kops antics, the Sox came back the next day to beat Mathewson and the Giants, pocketing the winner's share of $4,000 each. That's good work if you can get it.
Fourteen years later, Speaker and fellow immortal Ty Cobb were accused of fixing a game played in 1919. They were forced to quit, then slithered back into the game when lawyers counseled them to compile a sworn affidavit that listed every nasty, cheating affair they'd ever heard of -- an exercise that, no doubt, took more than a page or two.
Cobb and Speaker played a game of "chicken" with Commissioner Landis: Reinstate us -- or we trigger our bombshell. Rather than risk blowing up the game, Landis backed down.
So take heart, gentle fans. If our resilient pastime could survive these sordid messes, it can certainly survive some surly superstar with an alleged steroid jones.
barry bonds hits his 755th homerun
Barry Bonds Talks About Playing At Fenway
Barry Bonds Tribute
Fireworks for # 756 - Barry Bonds
This is the story of how Andrew Morbitzer caught Barry Bonds' 715th home run ball to pass Babe Ruth in the record books.