Friday, June 29, 2007
DBN
Updated Monday-Friday
Back On Monday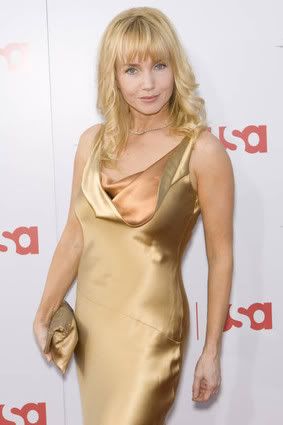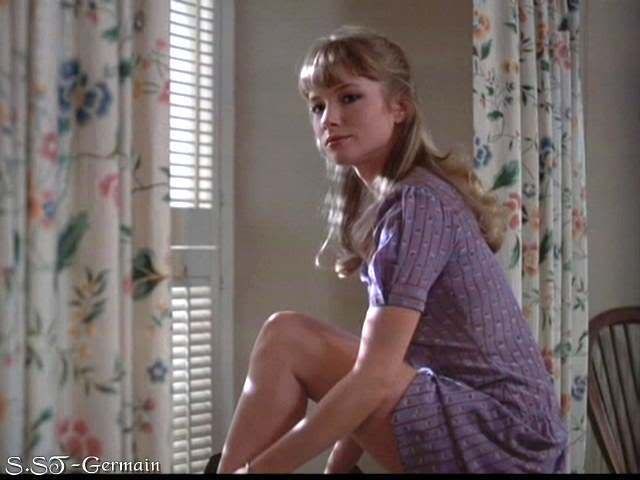 Rebecca De Mornay
-
The most popular videos are a click away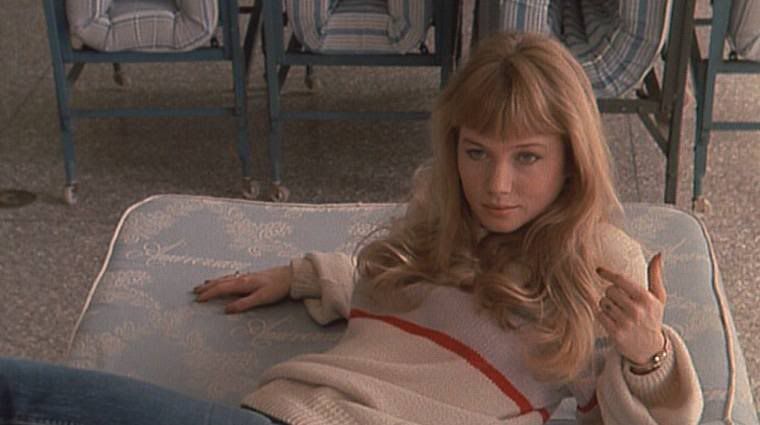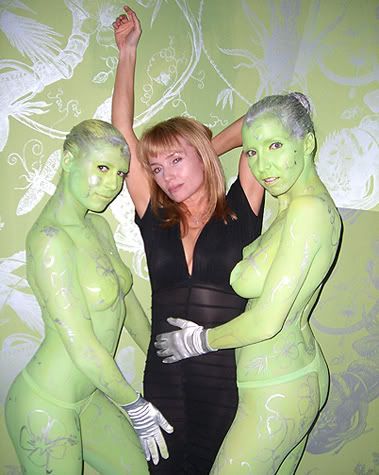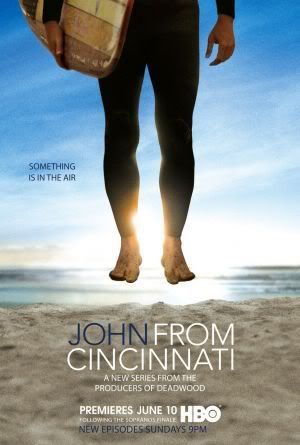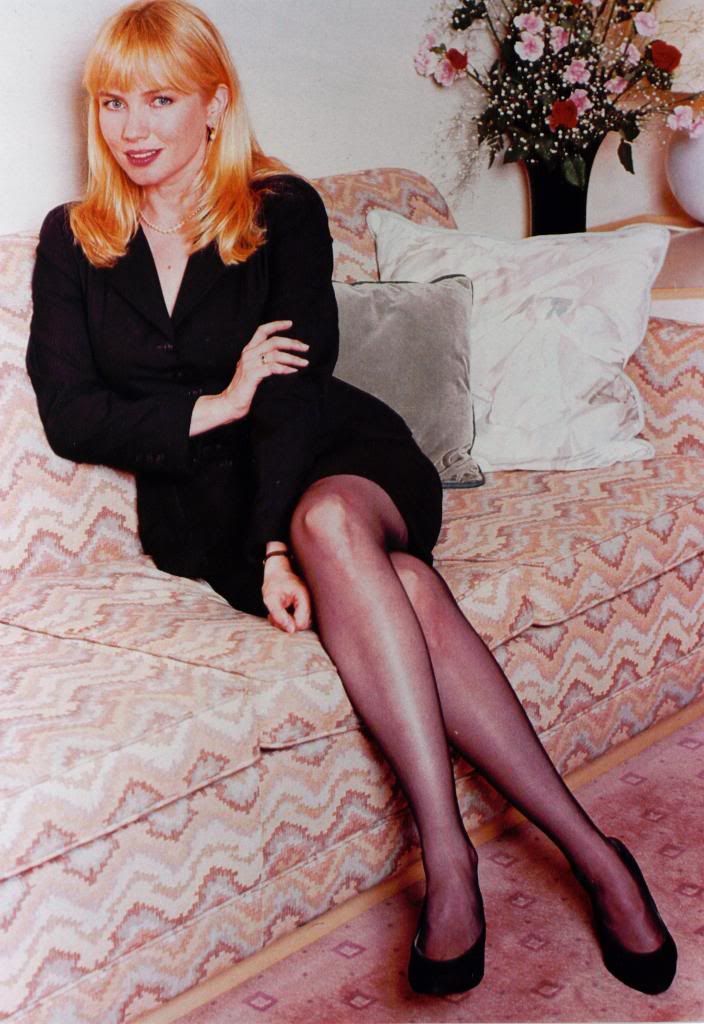 Posted by

JB PAGE
at 1:17 PM
1 comment:
Links to this post


Posted by

JB PAGE
at 1:08 PM
No comments:
Links to this post


Gitmo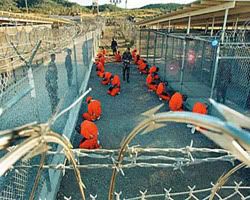 The Road to Guantanamo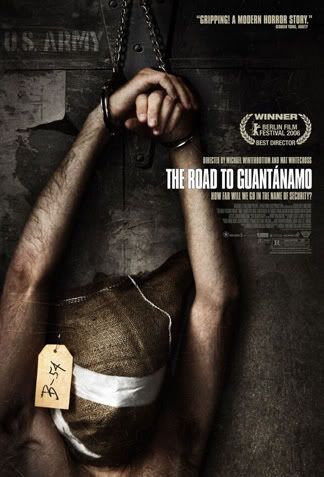 Guantanamo Bay detainment camp serves as a joint military prison and interrogation camp under the leadership of Joint Task Force Guantanamo (JTF-GTMO) and has occupied a portion of the United States Navy's base at Guantanamo Bay, Cuba since 2002.[1] The prison holds people suspected by the executive branch of the U.S. government of being al-Qaeda and Taliban operatives, as well as those no longer considered suspects who are being held pending relocation elsewhere. The prisoners were captured in Afghanistan and elsewhere around the world.
The detainment areas consist of three camps in the base: Camp Delta (which includes Camp Echo), Camp Iguana, and the now-closed Camp X-Ray. The facility is often referred to as Guantanamo, Gitmo (derived from the abbreviation "GTMO" ), or Camp X-Ray.[2]
The camp has drawn strong criticism both in the U.S. and world-wide for its detainment of prisoners without trial, and allegations of torture. The detainees held by the United States were classified as "enemy combatants". The U.S. administration had claimed that they were not entitled to the protections of the Geneva Conventions, but the U.S. Supreme Court ruled against this interpretation on June 29 2006. Following this, on July 7, 2006 the Department of Defense issued an internal memo stating that prisoners will in the future be entitled to protection under the Geneva Conventions.
Most of the detainees still at Guantanamo are not scheduled for trial. As of November 2006, according to MSNBC.com, out of 775 detainees who have been brought to Guantanamo, approximately 340 have been released, leaving 435 detainees. Of those 435, 110 have been labeled as ready for release. Of the other 325, only "more than 70" will face trial, the Pentagon says. That leaves about 250 who may be held indefinitely
.
http://www.answers.com/topic/guantanamo-bay-detention-camp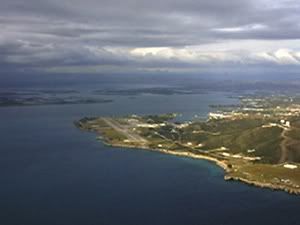 Guantánamo Bay Naval Base at the southeastern end of Cuba has been used by the United States Navy for more than a century, and is the oldest overseas U.S. Navy Base and the only one in a country with which the United States does not have diplomatic relations.[1] The United States controls the land on both sides of the southern part of Guantánamo Bay (Bahía de Guantánamo in Spanish) under a lease set up in the wake of the 1898 Spanish-American War. The lease was established in a 1903 agreement between the two governments, and its terms were modified in a 1934 treaty.[2][3] The current Cuban government considers the U.S. presence in Guantánamo to be an illegal occupation of the area, and argues that the Cuban-American Treaty, which established the lease in 1903, now violates article 52 of the 1969 Vienna Convention on the Law of Treaties, though the issue is still open to argument.
Since 2002, the naval base has contained a military prison, the Guantanamo Bay detainment camp, for persons alleged to be militant combatants captured in Afghanistan and later in Iraq. Prior to July 11, 2006, the Bush Administration maintained that these detainees are not protected under the Geneva Convention.
http://en.wikipedia.org/wiki/Gitmo
Guantánamo Bay Naval Station
Cuba
http://www.ciponline.org/facts/gitmo.htm
The Guantánamo Bay Naval Station is located in an isolated area at the southeastern tip of the island of Cuba . The U.S. Navy has had a presence at Guantánamo Bay Cuba since 1903. Until recently, it was best known as a holding facility during times of large migration outflows from the Caribbean to the United States . It has now become home to foreign detainees in the "war on terrorism."
In January 2002 the Southern Command, by Executive Order of the President, was given responsibility for the custody of "war on terror" detainees. Southcom established its operation at Guantánamo Bay . Responsibility for the custody and interrogation of detainees is under a unit called Joint Task Force (JTF) 160/170. As of November 2002, 625 detainees were being held. [ 1 ] Reports indicate that most are accused of being Al Qaeda members or Taliban captured in Afghanistan .
According to a JTF 160 press release (which later combined functions with JTF 170) the unit had 850 U.S. forces from five branches in Guantánamo "to support security operations." [ 2]
In January 2002 a temporary detention facility, " Camp X-Ray ," was established. It was replaced in April 2002 by " Camp Delta ," a more permanent facility. [ 3 ]
Opened on April 29 th , 2002, Camp Delta is composed of at least six separate detention camps. Including, three separate maximum-security centers, a lower-security juvenile detention facility and a state of the art hospital for detainees and staff. As of January 28, 2005 Camp Delta accommodates approximately 545 detainees. [4] When finished with all proposed expansions Camp Delta is expected to be able to process and house approximately 2,000 inmates.
There has been an enormous amount of controversy concerning the legal status of these "enemy combatant" detainees and the apparent lack of judicial due process in their imprisonment. There have been two Supreme Court rulings in relation to enemy combatants in Guantánamo. In the first case, 03-6696 Hamdi v. Rumsfeld, the U.S. Supreme Court ruled that Hamdi did have the right to challenge his status as enemy combatant before a neutral decision maker [5]. In the second case, 03-334 Rasul v. Bush, the Court ruled that " United States courts have jurisdiction to consider challenges to the legality of the detention of foreign nationals captured abroad in connection with hostilities and incarcerated at Guantánamo Bay ." [6] This ruling countered the U.S. Administration's previous claim that because Guantánamo Bay was only leased and controlled by the United States and ultimate sovereignty of the territory belonged to Cuba , U.S. courts should not have jurisdiction.
In response to the ruling, on July 2, 2004, the Department of Defense announced the creation of the Combatant Status Review Tribunal for detainees held at Guantánamo Bay , Cuba . [7] The tribunal was to serve as a forum for inmates to challenge their status as enemy combatants. The legality of these Tribunals was challenged on November 8, 2004 when Federal Judge James Robertson found that the Tribunals could not be considered a "competent" tribunal because it was lacking sufficient protection for the defendant's rights. As a result he ordered the military commission trial to be halted until the detainee's status could be properly determined. [8] Judge Robertson also ruled that "unless a competent tribunal determines that the petitioner is not entitled to protections afforded prisoners of war under Article 4 of the Geneva Convention", the detainee could not be tried by a military commission. Administration officials immediately announced they would file an emergency stay on the Judge's ruling and would file an appeal. In their appeal they argue that the President did act within his authority as Commander in Chief in properly determining that the Geneva Conventions did not apply to Al Qaeda affiliates. Since then two more federal judges have ruled on the detainees in Guantánamo. U.S. District Judge Richard J. Leon, ruled that the detainees have no constitutional rights and therefore their lawsuits challenging the condition of their imprisonment should be dismissed. Two weeks later on January 31, 2005, U.S. District Judge Joyce Hens Green, ruled that the approximately 550 detainees held as enemy combatants had been denied some of the most basic rights, such as to consult with an attorney and confront evidence against them in fair hearings. [9] Both cases are currently being processed by the U.S. Court of Appeals and will likely appear on the docket of the Supreme Court.
"Gitmo" as it is often called, is the oldest U.S. base outside of the continental United States . The U.S. Navy has maintained a presence at Guantánamo since 1903, when the area was acquired as a coaling and naval station. The original lease agreement signed between U.S. President Theodore Roosevelt and Cuban President Estrada Palma gave the United States "the right to exercise complete jurisdiction and control within and over the area. In turn, the United States recognized the ultimate sovereignty of Cuba over the leased areas." [10] This original agreement was reaffirmed by a treaty signed in 1934 by President Franklin Roosevelt.
The lease on the Guantánamo property is perpetual, with no termination date or fixed number of years. The land can revert to Cuban control only if abandoned or by mutual agreement, neither of which has occurred. Fidel Castro's assumption of power in Cuba in 1959 did not change the status of the Guantánamo Bay base; the naval station may be the only permanent overseas U.S. presence within a country that U.S. foreign policy regards as hostile. For decades the base's perimeter has been guarded by barbed wire, land mines and other measures. The land mines surrounding the base were removed in 1998.
Psychologists in Gitmo & Iraq Interrogation Abuse
http://www.scoop.co.nz/stories/HL0705/S00513.htm
Gitmo Simulation

Guantanamo
http://hrw.org/doc/?t=usa_gitmo
Inside Guantanamo
http://www.zone-interdite.net/P/zone_756.html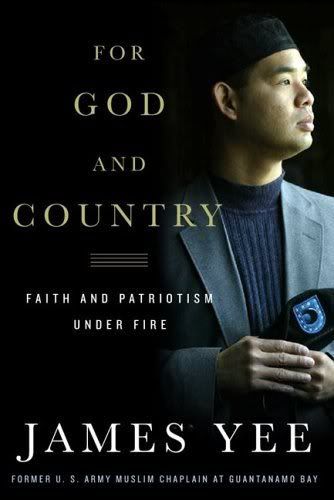 James J. Yee (Chinese: ??? or ????, also known by the Arabic name Yusuf Yee) (born c. 1968) is an American, former United States Army chaplain with the rank of captain. He is best known for being subject to an intense investigation by the United States, but all charges were later dropped.
Yee, a Chinese American, was born in New Jersey and graduated from the United States Military Academy in 1990. Shortly afterward, he converted from Christianity to Islam in 1991, undergoing religious training in Syria and meeting his wife, a Palestinian Arab, with whom he now has two children.
Guantanamo
In his appointed role as chaplain, Yee ministered to Muslim detainees held at Guantánamo Bay naval base purportedly related to the September 11, 2001 terrorist attacks in the United States, some of whom are suspected al Qaeda terrorists and members of the Taliban. Yee was awarded two distinguished service medals for his work there.
When returning from duty at the Guantanamo Bay Naval Base, he was arrested on September 10, 2003, in Jacksonville, Florida, when a U.S. Customs agent found a list of Guantanamo detainees and interrogators among his belongings.[1] He was charged with five offenses: sedition, aiding the enemy, spying, espionage, and failure to obey a general order. These charges were later reduced to mishandling classified information in addition to some minor charges.[1] He was then transferred to a United States Navy brig in Charleston, South Carolina. The government did not name the country or entity for whom it suspected Yee was spying.
All court-martial charges against Yee were dropped on March 19, 2004, Maj. Gen. Geoffrey Miller "citing national security concerns that would arise from the release of the evidence"[2], and he was released to resume his duties. In April the noncriminal charges of adultery and storing pornography on government computers were dropped. He retired from the US military with an honorable discharge in January, but he is also seeking an apology.
In October 2005 Yee published his book, For God and Country: Faith and Patriotism Under Fire. In it Yee writes that he was kept in solitary confinement for seventy-six days, and that he was forced to undergo sensory deprivation. He also wrote that General Geoffrey Miller routinely incited the guards to hate the detainees. He alleges serious mistreatment of prisoners . Yee argues that most of the detainees had little or no intelligence value:
"The people down in Guántanamo probably know as much about Osama bin Laden and al-Qaida as any private in the military would know what's going on inside the Pentagon.
"
James Yee interview
James Yee on Guantanamo and his solitary confinement
Chaplain James Yee on becoming a Muslim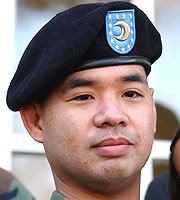 Some facts about the U.S. military prison at Guantanamo Bay, Cuba
http://www.iht.com/articles/ap/2007/06/22/america/NA-GEN-US-Guantanamo-Facts.php
The military says it now holds about 375 men at its base in southeast Cuba on suspicion of terrorism or links to al-Qaida or the Taliban.
_Only three were charged with crimes under a military trial system that was reconstituted after the Supreme Court declared unconstitutional earlier war-crimes trials at Guantanamo. Two of those detainees saw their charges thrown out by military judges who said the military had failed to demonstrate the detainees were "unlawful" combatants.
_The military has determined that about 80 of the remaining prisoners are not a threat and have no intelligence value. Before those detainees can be released, the U.S. says it must first secure assurances from their home countries that they will be treated humanely and can be prevented from "returning to the fight" against the United States and its allies.
_The annual operating budget of the Guantanamo Bay detention center: $125.3 million (€93.5 million) per year.
_Since the prison opened in 2002, it has held about 780 detainees.
_About 405 prisoners have been transferred to the custody of their native countries, and most were later released.
_U.S. officials have said about 30 resumed hostilities, including some who have been killed, but critics have challenged that.
_If the Guantanamo prison is closed, most detainees could be moved to other military prisons on U.S. soil to face trial. Two possibilities: the maximum security military prison at Fort Leavenworth in Kansas, with 70 open beds, and a naval brig in Charleston, South Carolina, which can hold 100 more.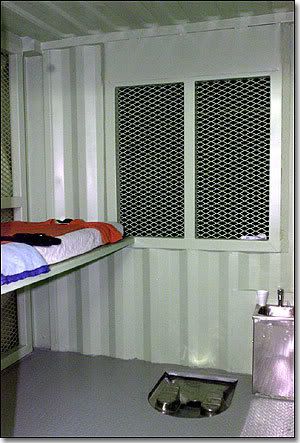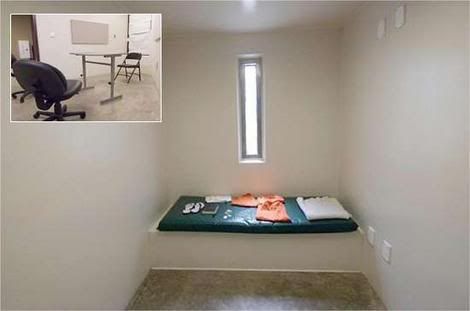 Significant dates in the history of the Guantanamo detention center for terror suspects
http://www.iht.com/articles/ap/2007/06/22/news/CB-GEN-Guantanamo-Timeline.php
Significant dates in the history of the Navy's detention center in Guantanamo Bay, Cuba:
_Jan. 11, 2002: The first 20 detainees, suspected of links to al-Qaida and the Taliban, are flown in hoods and shackles to the new detention center on the southeastern tip of Cuba.
_Feb. 27, 2002: Nearly 200 detainees, of the approximately 300 held at that time, participate in a hunger strike, the first publicly known mass protest over conditions at the camp.
_July 30, 2004: The military holds the first Combatant Status Review Tribunal to decide whether a detainee is an "enemy combatant" who should be held. Of the 558 detainees who received a hearing, the panels classified all but 38 as enemy combatants.
_Dec. 14, 2004: The military starts annual Administrative Review Board hearings to determine whether a detainee no longer poses a danger or has intelligence value. In the first round, the military reviews 463 cases and determines that 329 should still be held.
_June 10, 2006: Three detainees, two from Saudi Arabia and one from Yemen, die in apparent suicides by hanging themselves with bed sheets.
_May 18, 2006: About 10 detainees in a communal living section of Guantanamo reserved for the most compliant prisoners use broken fan blades and other makeshift weapons to battle guards.
_June 29, 2006: The Supreme Court, in a rebuke of U.S. President George W. Bush and his terror policies, rules that planned military trials at Guantanamo Bay violate U.S. and international law.
_Sept. 6, 2006: Bush announces that 14 key terrorist leaders have been transferred from secret CIA custody to Guantanamo Bay to be prepared for eventual trials. The high-value suspected terrorists include Khalid Sheik Mohammed, the alleged mastermind of the Sept. 11, 2001 terror attacks.
_Oct. 17, 2006: Bush signs a new law that allows for the trial of enemy combatants by military commissions and strips them of the right to seek their freedom in U.S. courts.
_March 2, 2007: Australian David Hicks becomes the first detainee charged under a new system of military tribunals, accused of providing material support for terrorism. He pleads guilty and is sent to Australia to serve a nine-month sentence.
_March 3, 2007: A Kuwaiti criminal court acquits two former Guantanamo Bay prisoners of joining al-Qaida or the Taliban. Six other Kuwaitis formerly held in Guantanamo previously were acquitted of terror charges in Kuwait.
_March 9, 2007: Military holds the first of 14 Combatant Status Review Tribunals for the "high-value" detainees brought to Guantanamo in September 2006.
_May 30, 2007: A Saudi detainee is found dead of an apparent suicide in Camp 5, a modern section of the detention center for high-value and noncompliant detainees.
_June 4, 2007: Military judges dismiss charges against Salim Ahmed Hamdan of Yemen and Omar Khadr of Canada, throwing up roadblocks to the Bush administration's attempt to try terror suspects its new system.
_June 21, 2007: The Associated Press learns the Bush administration is nearing a decision to close the Guantanamo detention facility and move terror suspects from there to military prisons on U.S. soil.
THE TORTURE
Sex used to break Muslim prisoners, book says
Women allegedly wore thongs, touched Guantanamo detainees
http://www.msnbc.msn.com/id/6876549/
SAN JUAN, Puerto Rico - Female interrogators tried to break Muslim detainees at the U.S. prison camp in Guantanamo Bay by sexual touching, wearing miniskirts and thong underwear and in one case smearing a Saudi man's face with fake menstrual blood, according to an insider's written account.
A draft manuscript obtained by the Associated Press is classified as secret pending a Pentagon review for a planned book that details ways the U.S. military used women as part of tougher physical and psychological interrogation tactics to get terror suspects to talk.
It's the most revealing account so far of interrogations at the secretive detention camp, where officials say they have halted some controversial techniques.
"I have really struggled with this because the detainees, their families and much of the world will think this is a religious war based on some of the techniques used, even though it is not the case," the author, former Army Sgt. Erik R. Saar, 29, told AP.
Author confirms authenticity of draft
Saar didn't provide the manuscript or approach AP, but confirmed the authenticity of nine draft pages AP obtained. He requested his hometown remain private so he wouldn't be harassed.
Saar, who is neither Muslim nor of Arab descent, worked as an Arabic translator at the U.S. camp in eastern Cuba from December 2002 to June 2003. At the time, it was under the command of Maj. Gen. Geoffrey Miller, who had a mandate to get better intelligence from prisoners, including alleged al-Qaida members caught in Afghanistan.
Saar said he witnessed about 20 interrogations and about three months after his arrival at the remote U.S. base he started noticing "disturbing" practices.
One female civilian contractor used a special outfit that included a miniskirt, thong underwear and a bra during late-night interrogations with prisoners, mostly Muslim men who consider it taboo to have close contact with women who aren't their wives.
Beginning in April 2003, "there hung a short skirt and thong underwear on the hook on the back of the door" of one interrogation team's office, he writes. "Later I learned that this outfit was used for interrogations by one of the female civilian contractors ... on a team which conducted interrogations in the middle of the night on Saudi men who were refusing to talk."
Some Guantanamo prisoners who have been released say they were tormented by "prostitutes."
In another case, Saar describes a female military interrogator questioning an uncooperative 21-year-old Saudi detainee who allegedly had taken flying lessons in Arizona before the Sept. 11 terror attacks. Suspected Sept. 11 hijacker Hani Hanjour received pilot instruction for three months in 1996 and in December 1997 at a flight school in Scottsdale, Ariz.
Interrogator decided to 'turn up the heat'
"His female interrogator decided that she needed to turn up the heat," Saar writes, saying she repeatedly asked the detainee who had sent him to Arizona, telling him he could "cooperate" or "have no hope whatsoever of ever leaving this place or talking to a lawyer."'
The man closed his eyes and began to pray, Saar writes.
The female interrogator wanted to "break him," Saar adds, describing how she removed her uniform top to expose a tight-fitting T-shirt and began taunting the detainee, touching her breasts, rubbing them against the prisoner's back and commenting on his apparent erection.
The detainee looked up and spat in her face, the manuscript recounts.
The interrogator left the room to ask a Muslim linguist how she could break the prisoner's reliance on God. The linguist told her to tell the detainee that she was menstruating, touch him, then make sure to turn off the water in his cell so he couldn't wash.
Strict interpretation of Islamic law forbids physical contact with women other than a man's wife or family, and with any menstruating women, who are considered unclean.
"The concept was to make the detainee feel that after talking to her he was unclean and was unable to go before his God in prayer and gain strength," says the draft, stamped "Secret."
The interrogator used ink from a red pen to fool the detainee, Saar writes.
Prisoner 'began to cry like a baby'
"She then started to place her hands in her pants as she walked behind the detainee," he says. "As she circled around him he could see that she was taking her hand out of her pants. When it became visible the detainee saw what appeared to be red blood on her hand. She said, 'Who sent you to Arizona?' He then glared at her with a piercing look of hatred.
"She then wiped the red ink on his face. He shouted at the top of his lungs, spat at her and lunged forward" — so fiercely that he broke loose from one ankle shackle.
"He began to cry like a baby," the draft says, noting the interrogator left saying, "Have a fun night in your cell without any water to clean yourself."
Events Saar describes resemble two previous reports of abusive female interrogation tactics, although it wasn't possible to independently verify his account.
In November, in response to an AP request, the military described an April 2003 incident in which a female interrogator took off her uniform top, exposed her brown T-shirt, ran her fingers through a detainee's hair and sat on his lap. That session was immediately ended by a supervisor and that interrogator received a written reprimand and additional training, the military said.
In another incident, the military reported that in early 2003 a different female interrogator "wiped dye from red magic marker on detainees' shirt after detainee spit (cq) on her," telling the detainee it was blood. She was verbally reprimanded, the military said.
FBI criticized sexual tactics
Sexual tactics used by female interrogators have been criticized by the FBI, which complained in a letter obtained by AP last month that U.S. defense officials hadn't acted on complaints by FBI observers of "highly aggressive" interrogation techniques, including one in which a female interrogator grabbed a detainee's genitals.
About 20 percent of the guards at Guantanamo are women, said Lt. Col. James Marshall, a spokesman for U.S. Southern Command. He wouldn't say how many of the interrogators were female.
Marshall wouldn't address whether the U.S. military had a specific strategy to use women.
"U.S. forces treat all detainees and conduct all interrogations, wherever they may occur, humanely and consistent with U.S. legal obligations, and in particular with legal obligations prohibiting torture," Marshall said Thursday.
But some officials at the U.S. Southern Command have questioned the formation of an all-female team as one of Guantanamo's "Immediate Reaction Force" units that subdue troublesome male prisoners in their cells, according to a document classified as secret and obtained by AP.
In one incident, described in the document dated June 19, 2004, "The detainee appears to be genuinely traumatized by a female escort securing the detainee's leg irons," according to the U.S. Southern Command summary of videotapes shot when the teams were used.
The summary warned that anyone outside Department of Defense channels should be prepared to address allegations that women were used intentionally with Muslim men.
Interrogators allegedly had 'a lot of latitude'
At Guantanamo, Saar said, "Interrogators were given a lot of latitude under Miller," the commander who went from the prison in Cuba to overseeing prisons in Iraq, where the Abu Ghraib scandal shocked the world with pictures revealing sexual humiliation of naked prisoners.
Several female soldiers have been charged in the Abu Ghraib scandal.
Saar said he volunteered to go to Guantanamo because "I really believed in the mission," but then became disillusioned during his six months at the prison.
After leaving the Army with more than four years service, Saar worked as a contractor briefly for the FBI.
The Department of Defense has censored parts of his draft, mainly blacking out people's names, Saar said. He needed permission to publish because he signed a disclosure statement before going to Guantanamo.
The book, which Saar titled "Inside the Wire," is due out this year with Penguin Press.
Guantanamo has about 545 prisoners from some 40 countries, many held more than three years without charge or access to lawyers and many suspected of links to al-Qaida or Afghanistan's ousted Taliban regime, which harbored the terrorist network.
Guantánamo Abuse
Suicides fuel Guantanamo criticism
Detainee deaths bring renewed calls for change, prison closure
http://www.cnn.com/2006/WORLD/americas/06/12/guantanamo.suicides/
LUXEMBOURG -- The suicides of three detainees at Guantanamo Bay has sparked renewed calls for the U.S. prison camp to be closed.
Authorities at the facility, located on a Naval base in Cuba, reported Saturday that two Saudis and one Yemeni were found dead in their cells after using clothing and bedsheets to hang themselves.
The Pentagon has identified the three prisoners, describing one as a mid-ranking operative with close ties to a top al Qaeda figure.
The Bush administration has declared the prisoners to be "enemy combatants," but does not consider them prisoners of war who must be accorded the rights spelled out by the Geneva Conventions.
But detention without charges runs counter to established human-rights law, and the U.S. Supreme Court ruled in 2004 that prisoners could challenge their detention in U.S. courts.
"Guantanamo should be closed. This is an occasion to reiterate that statement," EU External Relations Commissioner Benita Ferrero-Waldner said on Monday as he arrived for a meeting of the bloc's foreign ministers in Luxembourg.
Guantanamo Bay holds about 460 prisoners captured in the wake of the U.S.-led invasion of Afghanistan after the September 11 attacks. They are detained without trial or the right to family visits.
Luxembourg's foreign minister also condemned a statement by U.S. officials that the suicides were a "PR move" and "asymmetric warfare."
"It's hard to understand why when three people kill themselves, that is an attack on America. Something has to change in the American mentality," Jean Asselborn said, according to Reuters.
Colleen Graffy, U.S. deputy assistant secretary of state for public diplomacy, told the BBC the suicides were a "good PR (public relations) move to draw attention."
But another senior U.S. official took a different line on Monday. U.S. Deputy Assistant Secretary of Defense for Detainee Affairs Cully Stimson told the BBC: "I wouldn't characterize it as a good PR move.
"What I would say is that we are always concerned when someone takes his own life. Because as Americans, we value life, even the lives of violent terrorists who are captured waging war against our country," he said.
In the United States one Republican senator has urged the Bush administration to try suspected terrorists held there.
"Where we have evidence, they ought to be tried, and if convicted, they ought to be sentenced," Sen. Arlen Specter, the chairman of the Senate Judiciary Committee, told CNN's "Late Edition."
Rear Adm. Harry Harris, commander of Joint Task Force Guantanamo, told reporters the men had been "determined to take their own lives." He said prisoners at the camp are "dangerous, committed to killing Americans."
But the arrests of most of the roughly 500 prisoners held there were based on "the flimsiest sort of hearsay," Specter said.
The Pennsylvania Republican told reporters the administration faces "a tough situation," since some of those held might return to their homelands to carry out attacks on Americans. "But too many have been detained for too long," he said.
"There is the overtone that quite a number of them will be tried, that there is tangible evidence," he said. "As to a great many others, there is not evidence which could be brought into a court of law."
There have been more than 40 suicide attempts at Guantanamo Bay, but the inmates found dead over the weekend were the first to succeed, the government said. (Watch commanders explain how guards discovered the men -- 5:09)
Center for Constitutional Rights lawyers, who defend 200 of the detainees, said the suicides were acts of desperation carried out by people who had not been charged and have no hope of getting their day in court.
The human rights group Amnesty International blamed the Bush administration's policies for the deaths.
But Harris said the suicides were an act of "asymmetric warfare" aimed at getting the prison closed. He said a "mythical belief" had spread among inmates that the camp would be shut if three detainees were to die.
The Defense Department said one of the three, Ali Abdullah Ahmed, was a mid- to high-level al Qaeda operative and a "close associate" of Abu Zubaydah, an al Qaeda strategist captured in 2002. Ahmed took part in a long-term hunger strike that ended in May, and has been "non-compliant and hostile" to guards, according to a Pentagon statement.
Another of the dead prisoners, Mani Shaman Turki al-Habardi Al-Utaybi, was a member of a banned Saudi militant group that recruited for al Qaeda. He had been recommended for transfer to another country that was not specified, the Pentagon said.
The third prisoner, Yassar Talal al-Zahrani, was described as a "front-line" Taliban fighter who helped procure weapons for the Islamic militia that once ruled most of Afghanistan.
Al-Zahrani was captured by anti-Taliban Afghan forces and took part in the 2001 uprising at a prison in the northern Afghan city of Mazar-e Sharif that left a CIA officer dead, the military said. The men were not identified by nationality.
'Ticking time bomb'
Two Democrats on the Sunday talk-show circuit called on the administration to close the prison camp. Rep. Jane Harman, the ranking Democrat on the House Intelligence Committee, called Guantanamo "a ticking time bomb."
"Bottom line: We've kept people in this prison for years and years and years without a status, without any rights, and it was the wrong way to go," the California Democrat said. "We should have been organized, planned ahead."
About 90 inmates were disciplined after a May incident in which detainees staged a suicide attempt to draw guards into a room before attacking them, prison officers reported.
That month, dozens of prisoners also took part in a hunger strike to protest their conditions. (Watch a retired general call the suicides 'an act of defiance' -- 3:29)
Harman said the situation at the prison camp was another reason Defense Secretary Donald Rumsfeld should resign. Bush has said Rumsfeld still has his confidence as head of the Pentagon.
U.N. Secretary-General Kofi Annan has urged the U.S. to close the prison camp, which Amnesty International has called "a legal black hole."
A British citizen released from Guantanamo in 2004 told the AP: "This was not done as an act of martyrdom, warfare or anything else."
"If you're told day after day by the Americans that you're never going to go home or you're put into isolation, these acts are committed simply out of desperation," Shafiq Rasul, 29, told the AP.
Rasul has previously accused the United States and Britain of humiliating and abusive treatment.
Countdown: No Defense for Detainees
Countdown - Stimson Threatens Guantanamo Bay Defense Lawyers
Four British Gitmo detainees sue
Claim they were drugged, stripped naked and chained
http://www.cnn.com/2004/LAW/10/27/gitmo.lawsuit/index.html
WASHINGTON -- Four British detainees who spent more than two years in captivity in Guantanamo Bay, Cuba, before being released, are now suing U.S. Defense Secretary Donald Rumsfeld and other officials, saying they were tortured.
The suit, announced Wednesday at a Washington media conference, seeks $10 million in damages and charges the Pentagon chain of command authorized and condoned torture in violation of the Alien Tort Statue, the U.S. Constitution and the Geneva Conventions.
"Its not about money, its about accountability," said Eric Lewis, the lead attorney representing the plaintiffs.
"Torture is not American, it's un-American; arbitrary detention is un-American and what these young men have suffered and continue to suffer is something for which we, the American justice system, need to hold these people accountable."
The former detainees were released in March and returned to Britain without ever being charged with a crime.
The lawsuit alleges the four were chained to the floor while strobe lights and loud music were played in a room chilled by air conditioning set at maximum levels. The men say they were subjected to the conditions for up to 14 hours at a time.
They say they were stripped naked and forced to watch videotapes of other prisoners who had allegedly been ordered to sodomize each other. The men also allege that some of the guards threw the prisoners' Qurans into the toilets.
Some of the men allege they were forcibly injected with drugs as part of the interrogation process and told they would get help only if they cooperated. Medical officials at Guantanamo have said medication is voluntary.
The Pentagon has denied the abuse allegations, saying the men were properly held in Guantanamo after being captured in Afghanistan and having fought for al Qaeda.
"There is no basis in U.S. law to pay claims to those captured and detained as a result of combat activities," Maj. Michael Shavers, a Pentagon spokesman, said according to The Associated Press.
"The U.S. policy is to treat all detainees and to conduct interrogations, wherever they may occur, is in a manner consistent with all U.S. legal obligations."
Three of the men, Shafiq Rasul, Asif Iqbal and Rhuhel Ahmed, were picked up after the U.S. invasion in Afghanistan in 2001. The fourth plaintiff, Jamal al-Harith, was abducted in Pakistan and held in a Taliban prison as a suspected British spy during the Afghan war.
Al-Harith issued the following written statement:
"After suffering torture under the Taliban, I have suffered two years more torture in the custody of the USA. I was then released without being given any reason, explanation or apology. I am now asking for justice to be finally done in the U.S. courts."
In addition to Rumsfeld, others named in the suit include Gen. Richard Myers, the chairman of the Joint Chiefs of Staff, and Maj. Gen. Geoffrey Miller, former commander at Guantanamo Bay Naval Base.
In January, another Guantanamo detainee -- Salim Gherebi, who remains in custody -- filed a $1.1. billion damage suit in Los Angeles against U.S. President George W. Bush and other government officials for violations of his constitutional rights. The suit said the plaintiff is being held with no legal basis.
Earlier this month, lawyers for a still-imprisoned Briton, Moazzam Begg, said in London they would file suit October 4 demanding that the United States halt what they called his "inhumane treatment," although it is unclear if that suit was ever filed.
There are some 550 detainees from 40 different countries being held at the Guantanamo camp.
Only four have been charged with war crimes.
The first scheduled to begin his military trial on December 7. All face life in prison if convicted.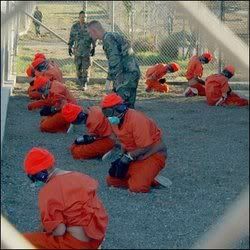 U.S. Details 8 Gitmo Abuse Cases
Infractions Appear Minor Compared To Abu Ghraib Abuses
http://www.cbsnews.com/stories/2004/11/05/terror/main653890.shtml
A detainee was forced to kneel so many times he was bruised, a barber gave reverse Mohawks and a female interrogator ran her fingers through a prisoner's hair and sat in his lap, the U.S. government says in the most detailed accounting of eight abuse cases at its Guantanamo Bay prison for terror suspects.
Those responsible for the abuse have been demoted, reprimanded or sent for more training, according to an 800-word U.S. military response to a written query from The Associated Press.
Allegations of mistreatment at Guantanamo, where 550 terror suspects have been held for nearly three years, surfaced after the abuse scandal broke last year at the U.S.-run Abu Ghraib prison in Iraq, where pictures showed beatings and sexual humiliation of Iraqi prisoners.
The details of abuse at Guantanamo come as lawyers for several prisoners challenge evidence presented by the government, saying some could have been obtained by force.
Only four prisoners have been formally charged at Guantanamo, where most are held without charge or access to lawyers. The military has reported 34 suicide attempts among detainees, though none has been reported since January.
Guantanamo's new commander says lessons have been learned from past abuses cases and troops are treating detainees humanely with a rigorous system of checks and balances.
"They've not been mistreated, they've not been tortured in any respect," Army Brig. Gen. Jay Hood said in an interview Wednesday.
Human rights monitors are not convinced.
"We're confident that there's more information out there that hasn't been released," said Jameel Jaffer of the American Civil Liberties Union, which has obtained nearly 6,000 documents about procedures at U.S.-run prisons. He was in Guantanamo to observe pretrial hearings.
Maj. Gen. Geoffrey Miller, now in charge of U.S.-run prisons in Iraq, commanded the Guantanamo prison from November 2002 to March 2004 with a mandate to get better intelligence. Most abuses reported in August by James R. Schlesinger, who headed a U.S. Congressional committee to investigate abuses in Iraq, Afghanistan and Guantanamo, occurred under Miller's watch.
The Department of Defense, responding to an AP query made nearly two months ago, this week provided details of the eight Guantanamo abuses cases Schlesinger cited. No names were given.
In one case, a female interrogator took off her uniform top to expose her T-shirt to a detainee, ran her fingers through his hair and climbed on his lap in April 2003. A supervisor monitoring the session terminated it, and the woman was reprimanded and sent for more training, the military said.
The same month, an interrogator told military police to repeatedly bring a detainee from a standing to kneeling position, so much that his knees were bruised, the government said. The interrogator got a written reprimand and Miller reportedly stopped use of that technique.
Also that month, a guard was charged with dereliction of duty and assault after a detainee assaulted another guard. After the detainee was subdued, the guard punched the prisoner with his fist. He was demoted.
In a separate case, a guard was charged with assault after he sprayed a detainee with a hose when the prisoner allegedly tried to throw water from his toilet at him in September 2002. The guard was reduced in rank and reassigned.
Another female interrogator wiped dye from a red magic marker on a detainee's shirt, telling him it was blood, after he allegedly spat on her. She received a verbal reprimand in early 2003.
In March 2003, a military policeman used pepper spray on a detainee allegedly preparing to throw unidentified liquid on an officer. The policeman was acquitted by a court martial.
Incidents this year include a military policeman who squirted a detainee with water in February, and a camp barber who gave two "unusual haircuts." The haircuts were reverse Mohawks, according to a government official who spoke on condition of anonymity.
The barber gave the cuts to frustrate detainee efforts to wear their hair the same way to demonstrate unity, the government said. The barber and his company were reprimanded.
Air Force Lt. Col. Sharon Shaffer, defense attorney for a Guantanamo prisoner, announced Thursday that she would file a petition in federal court challenging her client's detention and alleging systematic abuse at the prison. She represents Ibrahim Ahmed Mahmoud al-Qosi of Sudan, an alleged al Qaeda paymaster whose conspiracy trial is scheduled for February.
"The abuse allegations at Guantanamo are a matter of growing concern," Shaffer said. "He was constantly being told he would be sent to Egypt to be interrogated, where many of the detainees believed they would be killed. And he was forced to sit for hours in the freezing cold."
At least one military insider at Guantanamo has gone public with allegations of abuse — a military police officer who was injured after going undercover as a detainee.
National Guardsman Sean Baker said the attack occurred in November 2002, the month after Miller arrived in Guantanamo, when he was told to put on an orange detainee jumpsuit, get in a cell and wait for an Initial Response Force — the teams used to subdue misbehaving detainees.
From under the bunk, Baker heard the extraction team come in, he said in his latest comments during a CBS television program aired Wednesday.
"My face was down. And of course, they're pushing it down against the steel floor, you know, my right temple, pushing it down against the floor," Baker told CBS.
The incident was purportedly recorded, one of some 500 hours of tapes that the military has refused to publicly release.
Baker said he tried to tell his attackers he was a soldier but they repeatedly slammed his head against the floor. Baker was airlifted to a naval hospital in Virginia where doctors said he suffered a brain injury. He has been plagued by seizures since, he said.
TORTURE: QUICK FACTS
http://www.humanrightsfirst.org/us_law/etn/misc/factsheet.htm
At least 45 detainees died in U.S. custody due to suspected or confirmed criminal homicides.[1] At least eight people were tortured to death. At least 98 detainees have died while in U.S. custody in Iraq or Afghanistan;[2]
At least 69 of the detainees died at locations other than Abu Ghraib;[3]
At least 51 detainees have died in U.S. custody since Secretary of Defense Rumsfeld was informed of the abuses at Abu Ghraib on January 16, 2004;[4]
12 deaths have led to punishments of U.S. personnel;[5]
0 CIA personnel have been charged with wrongdoing in connection with alleged involvement in at least 5 deaths;[6]
As of November 2005, over 83,000 people have been held in U.S. custody, and about 30,000 of those were entered "into the system," and assigned internment serial numbers in Iraq, Guantanamo Bay, and Afghanistan;[7]
There have been nearly 600 criminal investigations into allegations of detainee abuse; each investigation tends to include more than one U.S. soldier, more than one instance of abuse, and more than one victim. Allegations against 250 Soldiers have been addressed in courts-martial, non-judicial punishments, and other adverse administrative punishments. The highest ranking military member judicially punished in connection with the death of a detainee is Marine Major Clarke Paulus, who was found guilty of maltreatment and dereliction of duty and dismissed from the service.[8]
Reportedly 100-150 individuals have been rendered from U.S. custody to a foreign country known to torture prisoners, including to Egypt, Syria, Saudi Arabia, Jordan and Pakistan;[9]
There are 6 main acknowledged U.S. detention facilities worldwide--3 in Iraq, 2 in Afghanistan and Guantanamo Bay;[10]
There are approximately 25 transient facilities - field prisons designed to house detainees only for a short period until they can be released or transferred to a more permanent facility-in Afghanistan and Iraq;[11]
There are believed to be at least 11 'secret' detention locations used since September 2001. They are/were CIA facilities in Afghanistan, Guantanamo, Poland, Romania, and Jordan, detention facilities in Alizai, Kohat and Peshawar in Pakistan, a facility on the U.S. Naval Base on the island of Diego-Garcia, and detentions of prisoners on U.S. ships, particularly the USS Peleliu and USS Bataan.[12]
Over 15,000 people are currently in U.S. detention in just Iraq, Afghanistan and Guantanamo Bay. As of February 16, 2006, in Iraq, there were 14,389 detainees in U.S. custody; as of December 2005, the U.S. was holding approximately 500 detainees in Afghanistan; as of February 10, 2006 there are approximately 490 detainees held at Guantanamo Bay and one enemy combatants held in the U.S.;[13]
36 prisoners are believed to be held in unknown locations;[14]
At least 376 foreign fighters detained in Iraq to whom the Administration has asserted the Geneva Conventions do not apply;[15]
There were up to 100 ghost detainees in Iraq;[16]
The U.S. transferred at least one dozen prisoners out of Iraq for further interrogation in violation of the Geneva Conventions;[17]
8 percent of 517 Guantanamo detainees were considered al Qaeda fighters by the U.S. Government. Of the remaining detainees, 40% have no definitive connection to al Qaeda or Taliban.[18]
5 percent of the 517 detainees held at Guantanamo were captured by the United States and the majority of those currently in custody were turned over by other parties during a time when the United States was offering large sums for captured prisoners.[19]
At least 267 detainees have been released from Guantanamo Bay since January 2002. 187 were released out right, and 80 were transferred to their home countries for continued detention;[20]
38 detainees at Guantanamo determined not to be enemy combatants pursuant to CSRT and at least 23 detainees subsequently released; 558 CSRTS conducted in total[21]
As of February 9, 2006, the military had completed its first round of Administrative Review Board (ARB) hearings, resulting in 463 board recommendations of which Deputy Secretary of Defense Gordon R. England, the Designated Civilian Official for ARBs decided to allow 14 releases (3 percent), 120 transfers (26 percent) and to continue to detain 329 individuals (71 percent);[22]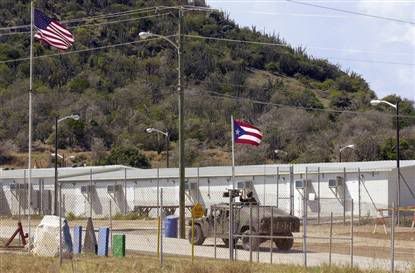 Time report fuels Guantanamo criticism
Logbook traces treatment of detainee possibly part of 9/11 plot
http://www.cnn.com/2005/US/06/13/gitmo.time/index.html
WASHINGTON (CNN) -- The U.S. military prison at Guantanamo Bay is drawing fresh criticism following a Time magazine report on a logbook tracing the treatment of a detainee who officials believe was intended to take part in the September 11, 2001, attacks.
Time's report on the treatment received by Mohammed al-Qahtani prompted a quick defense from the Pentagon along with outrage from several members of Congress.
Al-Qahtani was denied entry to the United States by an immigration officer in August 2001 and later captured in Afghanistan and sent to the detention camp at the U.S. naval base in Guantanamo Bay. (Full story)
The 84-page logbook obtained by Time and authenticated by Pentagon spokesman Larry Di Rita is the "kind of document that was never meant to leave Gitmo," a senior Pentagon official told the magazine.
Citing the logbook, which covers al-Qahtani's interrogations from November 2002 to January 2003, Time reports that daily interviews began at 4 a.m. and sometimes continued until midnight.
The interrogation techniques included refusing al-Qahtani a bathroom break and forcing him to urinate in his pants.
Republican Sen. Chuck Hagel of Nebraska was among those criticizing such metholds.
"It's not appropriate," Hagel said Sunday on CNN's "Late Edition." "It's not at all within the standards of who we are as a civilized people, what our laws are.
"If in fact we are treating prisoners this way, it's not only wrong, it's dangerous and very dumb and very shortsighted," Hagel said.
"This is not how you win the people of the world over to our side, especially the Muslim world."
In an interview set to air Monday on Fox News Channel's "Hannity & Colmes," Vice President Dick Cheney said there was presently no plans to close Guantanamo Bay.
"The president says we review all of our options on a continuous basis," Cheney said. "The important thing here to understand is that the people that are at Guantanamo are bad people."
During the period covered by the logbook, Time reported, Defense Secretary Donald Rumsfeld approved 16 additional interrogation techniques for use on certain detainees.
Afterward, interrogators began their sessions with al-Qahtani at midnight and awakened him with dripping water or Christina Aguilera music if he dozed off, the magazine article reported.
The magazine said the techniques approved by Rumsfeld included "standing for prolonged periods, isolation for as long as 30 days, removal of clothing, forced shaving of facial hair" and hanging "pictures of scantily clad women around his neck."
Hagel said such treatment should offend the sensibilities of "any straight-thinking American, any straight-thinking citizen of the world."
Sen. Dianne Feinstein, a California Democrat, said on the same program that the treatment outlined in the article presents "a kind of ludicrous view of the United States."
"I don't know what tree we're barking up," Feinstein said. "It is a terrible mistake.
"I don't know why we didn't learn from Bagram," she added, referring to a U.S. base in Afghanistan. "I don't know why we didn't learn from Abu Ghraib [prison in Iraq], but here we are in Guantanamo with many of the same things surfacing."
Hagel raised questions about the quality of leadership that would allow such things to happen, drawing a comparison to his own experience fighting in Vietnam.
"We've been reassured for the last two years it's not happening when in fact it is happening," he said.
"There's either a culture of leadership or there's not. This kind of stuff will fill the vacuum, and it needs to stop."
Hagel and Feinstein said they weren't sure whether the facility should be closed and were looking forward to Senate Judiciary Committee hearings this week on whether detainees had adequate legal protection.
The Senate Foreign Relations Committee also is planning hearings later this month.
Guantanamo defended
Other lawmakers, however, said they did not see the treatment as abuse.
Rep. Duncan Hunter, chairman of the House Armed Services Committee, defended the Guantanamo facility and flatly rejected suggestions that prisoners are mistreated.
"I think that's accepting a falsehood and giving to the American people that somehow we don't treat prisoners right," said Hunter, a Republican from California.
Hunter cited a menu of food served to prisoners Sunday -- including oven-fried chicken, rice pilaf, fruit and pita bread -- as a sign that they are treated well.
"These are the people who tried to kill us," he said. "It includes the guy -- the 20th hijacker, that was Mr. Qahtani who was caught coming in -- who didn't make it to the planes that drove into New York," Hunter said following an appearance on "Fox News Sunday."
Earlier on the program, Hunter said the "legend" of Guantanamo Bay is "different than the fact" and repeatedly cited the menu.
"Here you have a guy who was on his way to kill 5,000 Americans," he said. "And we have people complaining because he had a dog bark at him in Guantanamo."
Nineteen hijackers commandeered four commercial airliners on September 11, 2001, piloting two into the World Trade Center towers and one into the Pentagon. Another, United Airlines Flight 93, crashed in a Pennsylvania field. The death toll from the attacks was just under 3,000.
All the planes were hijacked by five men except Flight 93, which was commandeered by four. Some officials have speculated that al-Qahtani might have been the missing hijacker on Flight 93.
According to the Time article, lead hijacker Mohammed Atta was waiting for al-Qahtani outside the airport in Orlando, Florida, when an immigration officer detained him a month before the attacks.
Hunter defended the use of certain techniques as special to al-Qahtani.
"Secretary Rumsfeld for Mr. Qahtani -- the hijacker who had important information on us, perhaps who was going to hit us next -- approved for about two weeks the so-called new techniques for Mr. Qahtani," he said.
The new techniques were in use from December 2, 2002, to January 15, 2003, when public outcry helped lead Rumsfeld to revoke them.
A senior Pentagon official told Time the Defense Department wasn't sure how effective such treatment was. At times, the logbook notes that al-Qahtani was more cooperative when interrogators eased up on him, according to the Time report.
Defense touts information gained
The Defense Department issued a news release Sunday touting the information gained from interrogating al-Qahtani.
According to the Pentagon, al-Qahtani told interrogators that he "had been sent to the U.S. by Khalid Shaikh Mohammed, the lead architect of the 9/11 attack; that he had met Osama bin Laden on several occasions; that he had received terrorist training at two al Qaeda camps; that he had been in contact with many senior al Qaeda leaders."
Additionally, the department said, al-Qahtani "clarified Jose Padilla's and Richard Reid's relationship with al Qaeda and their activities in Afghanistan, provided infiltration routes and methods used by al Qaeda to cross borders undetected, explained how Osama bin Laden evaded capture by U.S. forces, as well as provided important information on his health, [and] provided detailed information about 30 of Osama bin Laden's bodyguards."
Republican Sen. Lindsey Graham of South Carolina said on CBS's "Face the Nation" that none of the detainees at Guantanamo are entitled to treatment under the Geneva Conventions, which govern the treatment of prisoners of war, because these detainees did not follow rules of war.
Closing the facility -- as suggested by some Democrats such as Sens. Joe Biden of Delaware and Patrick Leahy of Vermont -- "would be an overreaction," he said.
"We need a place like Guantanamo Bay to house people we take off the battlefield in the war on terror," said Graham, who serves on the Senate Armed Services Committee. "We've had problems at Guantanamo Bay, but I don't think we need to close it."
Leahy said on the CBS program that the United States has "created a legal black hole there."
"Right now they have no particular legal framework with it," Leahy said. "We want other countries to adhere to the rule of law, and at Guantanamo, we are not."
President Bush last week refused to rule out closing the prison, but Rumsfeld has played down the idea.
The United States has said detainees receive protections consistent with the Geneva Conventions, and the International Committee of the Red Cross visits regularly.
News reports have said the Red Cross told the United States in a 2004 report that some of its handling of detainees is "tantamount to torture," but the organization does not publicly confirm or deny such information.
Last month, Amnesty International called Guantanamo "the gulag of our time," sparking a storm of protests from administration supporters. (Full story)
The Washington director of Human Rights Watch agreed with Leahy that "Guantanamo is a legal black hole," but said it wasn't necessary to shut it down.
"You can fix that problem by applying the Geneva Conventions, and the humane rules of interrogation there," Tim Malinowski said. "But if you don't mend it, people are going to increase their calls to end it."
TIME Exclusive: Inside the Wire at Gitmo
http://www.time.com/time/press_releases/article/0,8599,1071230,00.html
Inside the Interrogation of Detainee 063
http://www.time.com/time/magazine/article/0,9171,1071284,00.html
Supreme Court to hear appeals from Gitmo detainees
http://www.cnn.com/2007/LAW/06/29/scotus.gitmo.appeals/
WASHINGTON (CNN) -- The U.S. Supreme Court on Friday accepted appeals from two men detained for years at Guantanamo Bay, Cuba.
The surprise move gives new hope to suspected war criminals held on U.S. soil by the U.S. military.
Oral arguments will be held in the fall.
The order was the last major business by the justices until they return from summer recess in three months.
GITMO TRIALS IN CHAOS AFTER JUDGE THROWS OUT TWO CASES!
Gitmo Gets More Attention
http://thecaucus.blogs.nytimes.com/2007/06/23/2008-gitmo-gets-more-attention/
Even though the White House has announced no timeline for a final decision in the midst of its renewed deliberations about whether to close the detention center at Guantanamo Bay, Cuba, some of the Republican presidential candidates are taking the opportunity to remind their base where they stand.
Speaking with reporters in Helena, Mont., Mitt Romney reiterated his support for the facility.
"I believe that Guantanamo plays an important role in protecting our nation from violent, heinous terrorists," the former Massachusetts governor said. "Guantanamo is a symbol of our resolve."
He added, "Evil still exists in the world. It did not go away when the Soviet Union collapsed."
Mr. Romney raised eyebrows when he called for doubling Guantanamo during the last G.O.P. debate.
Representative Duncan Hunter, a G.O.P. candidate and member of the House Armed Services Committee, sought to arouse NIMBY sentiments in his San Diego-area district on Friday, warning that Democratic legislation to close the prison would send terrorists to military bases nearby. "We should keep them isolated from the criminal population in this country," he said.
Among the Republicans, only Senator John McCain and Representative Ron Paul have said they think Gitmo should be closed, and the Democratic candidates agree on closure.
Meanwhile, a top aide to Mr. Romney is on paid leave while accusations that he impersonated a state trooper and illegally ran a reporter's license plate are investigated. Jay Garrity has denied both charges. That latter charge, by the way, stemmed from this article by The Times's Mark Leibovich.
Meanwhile, an advocacy group for victims of child abuse by Catholic clergy members is urging Rudolph W. Giuliani to fire a suspended priest who was then hired by Mr. Giuliani's security consulting business. Alan Placa was accused of covering up sex crimes. A spokesman for Giuliani Partners said the former New York mayor believes that his childhood friend has been "unjustly accused."
The Times's Michael Cooper looks at Mr. Obama's grassroots activists around New York City, and looks into whether the campaign represents a bona fide movement or, as one liberal blogger put it, "a better-than-ordinary campaign for a candidate that's personally compelling, and not much more." Alan Fram of The Associated Press writes that Mr. Obama could have problems if he is unable to broaden his support past elites.
Mr. Obama is expected to raise at least $25 million this quarter, which ends this month, as is Senator Hillary Rodham Clinton, The Washington Post reports. John Edwards, a Democrat, and Mr. McCain are likely to have disappointing numbers.
Aaron Gould Sheinin of The State of Columbia, S.C., looks at varying responses by five different campaigns from both parties to the deaths of nine firefighters in the early primary state.
As Mrs. Clinton returns to Little Rock, Ark., today, Politico.com reports on her past with the Rose Law Firm.
Gov. Bill Richardson, in Iowa Friday, said he would use support for Roe v. Wade, the landmark abortion decision, as a litmus test for Supreme Court nominees.
*THE CLOSING OF GITMO* OLBERMANN
Gitmo Closing Its Doors
U.S. close to closing Guantanamo
http://www.hindu.com/2007/06/25/stories/2007062558531400.htm
Washington: Growing embarrassment at senior levels within the Bush administration over the Guantanamo Bay detention centre in Cuba is driving an intensifying internal debate on how and when the camp can be closed.
Key advisers to U.S. President George W. Bush, such as Defence Secretary Robert Gates and Secretary of State Condoleezza Rice acknowledge that the continuing controversy over the camp is damaging the country's interests and standing.
Administration officials suggested this week that a consensus was developing in favour of closing the camp soon. "The push [for closure] has reached a high point," one official said.
Ms. Rice said this month: "We don't have any desire to be the world's jailer ... I don't think anyone wants to see Guantanamo open one day longer than is necessary."
Credibility
Mr. Gates admitted in March that the credibility of the legal system at the camp had been tainted by reports of torture. He has suggested that detenus should be tried on U.S. soil. Pressure to act is also coming from Congress. Steny Hoyer, Democratic majority leader in the House of Representatives, described Guantanamo this week as "an international disgrace that every day continues to sully this great nation's reputation."
The Guantanamo camp has been used to hold hundreds of foreign terrorist suspects without charge or trial since the September 11, 2001 attacks and has become a worldwide symbol of perceived U.S. disregard for human rights. About 375 foreign nationals are detained there. —
US denies Guantanamo Bay prison shutdown imminent
http://www.abc.net.au/news/stories/2007/06/23/1959752.htm
The US plans to send some of the detainees held at Guantanamo Bay in Cuba to a new jail in Afghanistan but denies it is on the verge of closing the detention centre.
Senior Bush administration officials have told US media outlets that the Government is nearing a decision to close Guantanamo Bay, because of concern about the damage it is doing to America's international reputation.
White House spokeswoman Dana Perino is denying any action is imminent but has again spoken of the President's desire to shut down the unpopular facility.
"The United States should not be the world's jailers - those are his words," he said.
Some Guantanamo detainees will be transferred to a new jail in Afghanistan, while others could be sent to a US military prison in Kansas.
There are now about 375 terrorism suspects being held at Guantanamo.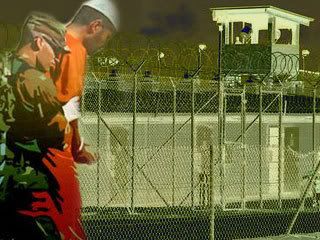 145 House Democrats to Bush: Close Guantanamo Bay now
http://rawstory.com/news/2007/145_House_Democrats_to_Bush__0629.html
In a letter delivered Friday morning, 145 Democrats led by Rep. Jim Moran (D-VA) called on President George W. Bush to immediately close the detention facility for alleged terrorists at Guantanamo Bay in Cuba. The letter, which was also signed by one Republican (Rep. Walter Jones of North Carolina), also seeks a restoration of the habeas corpus rights of the detainees at the jail. While the letter showed the strong support in the House Democratic caucus for the shuttering of the facility, reminders emerged that some Congress members could face domestic political risks from the potential closure of the prison.
"Guantanamo Bay has a become a liability in the broader global war on terror, as allegations of torture, the indefinite detention of innocent men, and international objections to the treatment of enemy combatants has hurt our credibility as the beacon for freedom and justice. Its continued operation also threatens the safety of U.S. citizens and military personnel detained abroad," said the letter delivered to the President today and provided to RAW STORY. "The closure of the detention facilities at Guantanamo Bay would represent a positive first step toward restoring our international reputation as the leader of democracy and individual rights."
The letter was prepared by Rep. Moran, who sits on the Defense Appropriations subcommittee and was tasked this year by Rep. John Murtha (D-PA) with devising a plan to close the base.
In a statement provided by his office, Moran proposes sending the detainees to military jails in the United States.
"U.S. military brigs at Ft. Leavenworth, Kansas and Charleston, S.C. have been identified by military officials as locations where detainees could be securely held while awaiting trial or transfer to their country of origin," the statement said.
But not all Democrats in the House were in favor of this idea. The Congresswoman whose district includes the military brig at Fort Leavenworth offered a muted appraisal of Moran's idea.
"Nancy is concerned about the potential for Leavenworth to become a terrorist target if prisoners from Gitmo are moved to the Disciplinary Barracks at Ft. Leavenworth," a spokesperson from the office of Rep. Nancy Boyda (D-KS) said in a statement e-mailed last week to RAW STORY. "She also has concerns as to whether the Disciplinary Barracks has the necessary space and security measures in place to accept a transfer in the near future."
Boyda's response may be a result of concerns about the political peril that closing Guantanamo Bay could create. The Republican presidential primary debate in South Carolina on May 15 showed how the opponents of Democrats are likely to politicize the closure of the detention facility for alleged terrorists in Cuba in the 2008 Elections.
"I'm glad they're at Guantanamo. I don't want them on our soil. I want them on Guantanamo, where they don't get the access to lawyers they get when they're on our soil. I don't want them in our prisons. I want them there," said former Massachusetts Governor Mitt Romney during the debate. "My view is, we ought to double Guantanamo."
Moran's letter was prompted by news last week that the White House had scheduled a meeting with top officials on closing Guantanamo Bay. After reports of the meeting was leaked, it was canceled.
"The decision...to not have the meeting happened late in the day after that [Associated Press] story came out," said deputy press secretary Dana Perino last Friday. "Right now they're in Guantanamo, and then we'll just have to see from where we go. One of the reasons that these meetings, these interagency meetings are held is to discuss these very complex issues."
In related news Friday morning, the Supreme Court agreed to hear the challenge of two Guantanamo Bay prisoners of their detention at the facility during its next term, which begins in the Fall, according to the website SCOTUSBlog. The Justice Department had urged the Supreme Court to reject hearing the cases.
A list of legislators who signed Moran's letter, and the text of the letter, are presented below.
#
The Moran letter has been signed by 145 members of the House of Representatives including: Reps. Abercrombie, Ackerman, Allen, R. Andrews, Arcuri, Becerra, Baldwin, Brady, S. Bishop, T. Bishop, Blumenauer, Bordallo, Boucher, Braley, Brown (FL), Capps, Capuano, Carson, Christensen, Clarke, Clay, Cleaver, Clyburn, Cohen, Conyers, Courtney, Crowley, Cummings, D. Davis (IL), DeFazio, DeGette, Delahunt, DeLauro, Dicks, Doggett, Doyle, Ellison, Emanuel, Eshoo, Farr, Fattah, Filner, Frank, Giffords, Gonzalez, Grijalva, Gutierrez, Hall, Hare, Harman, Higgins, Hirono, Hinchey, Hodes, Holt, Honda, Hoyer, Inslee, Israel, Jackson-Lee, Jefferson, E.B. Johnson, H. Johnson, S. Jones (IL), W. Jones (NC), Kagen, Kanjorski, Kaptur, Kennedy, Kildee, Kilpatrick, Kind, Kucinich, Lantos, J. Larson, R. Larson, Lee, Levin, Lewis (GA), Loebsack, Lofgren, Lowey, C. McCarthy, McCollum, McDermott, McNerney, McGovern, Maloney, Markey, Meehan, Meeks, Michaud, G. Miller, Moore, C. Murphy, Nadler, Napolitano, Neal, Norton, Oberstar, Obey, Olver, Pallone, Pascrell, Pastor, Payne, Perlmutter, D. Price, Roybal-Allard, Rangel, Rahall, Rothman, Ryan, Linda Sanchez, Schakowsky, Schiff, Schwartz, D. Scott, R. Scott, Serrano, Shea-Porter, Sires, Slaughter, Solis, Stark, Sutton, Tierney, B. Thompson, M. Thompson, Towns, M. Udall, T. Udall, Van Hollen, Velazquez, Visclosky, Walz, Waters, Watson, Waxman, Weiner, Welch, Wexler, Woolsey, Wu, Wynn.
#
June 28, 2007
President George W. Bush The White House 1600 Pennsylvania Avenue, NW Washington, D.C. 20500
Dear Mr. President:
Recent reports in the media have suggested that your administration is now considering reversing its position to keep open the detention facilities at Joint Task Force-Guantanamo (JTF-GTMO). If accurate, we applaud the decision.
Since the time that captured "enemy combatants" were first brought to Guantanamo Bay in 2002, the detainment facility has undermined America's image as the model of justice and protector of human rights around the world. Holding prisoners for an indefinite period of time, without charging them with a crime goes against our values, ideals and principles as a nation governed by the rule of law. Further, Guantanamo Bay has a become a liability in the broader global war on terror, as allegations of torture, the indefinite detention of innocent men, and international objections to the treatment of enemy combatants has hurt our credibility as the beacon for freedom and justice. Its continued operation also threatens the safety of U.S. citizens and military personnel detained abroad.
The House-passed National Defense Authorization Act of 2008 (H.R. 1585) included a provision requiring the Secretary of Defense to develop a plan to transfer detainees from Guantanamo Bay. United States military barracks have the capability to provide for the secure detainment of foreign nationals while ensuring the safety of communities within their proximate geographic location. Further, the military locations afford on-site access to military courtrooms for the timely adjudication of all legal proceedings.
The closure of the detention facilities at Guantanamo Bay would represent a positive first step toward restoring our international reputation as the leader of democracy and individual rights. However, we also feel that it is necessary to restore the right of habeas corpus to the detainees. This will allow for the implementation of fair and transparent trials to bring enemies of our country to justice.
The global war on terror cannot be won through military might alone. It is a war of ideas and philosophies. A liability of our own creation, the existence of the detention facilities at Guantanamo Bay is defeating our effort to ensure that the principles of freedom, justice and human rights are spread throughout the world.
We look forward to working with you on what we hope is a shared objective to close the detention facilities at Guantanamo Bay.
Respectfully,
X
James P. Moran
Colin Powell: I Would Close Gitmo This Afternoon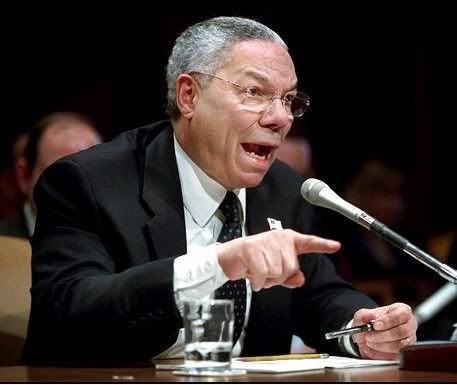 Powell Says Gitmo Should Close
Former Secretary Of State Thinks Detainees Should Be Moved To U.S.
http://www.cbsnews.com/stories/2007/06/10/politics/main2909281.shtml
Former Secretary of State Colin Powell said Sunday he favors immediately closing the Guantanamo Bay military prison and moving its detainees to U.S. facilities.
The prison, which now holds about 380 suspected terrorists, has tarnished the world's perception of the United States, Powell said.
"If it was up to me, I would close Guantanamo. Not tomorrow, but this afternoon. I'd close it," he said.
"And I would not let any of those people go," he said. "I would simply move them to the United States and put them into our federal legal system. The concern was, well then they'll have access to lawyers, then they'll have access to writs of habeas corpus. So what? Let them. Isn't that what our system is all about?"
Defense Secretary Robert Gates has said Congress and the Bush administration should work together to allow imprisonment of some of the more dangerous detainees elsewhere so the military camp at the U.S. Navy base in Cuba can be closed.
The Defense Department estimates it would take about three years to conduct 60 to 80 military commission trials, if the administration decides to hold that many.
Some Democrats in Congress have sought to close the camp, which occupies part of the Navy's base in Guantanamo Bay. Sen. Dianne Feinstein, D-Calif., and other lawmakers have proposed shuttering the camp and shifting the commission trials to the U.S.
Powell, who was secretary of state under President Bush, said the U.S. should do away with the military commission system in favor of procedures already established in federal law or the manual for courts-martial.
"I would also do it because every morning, I pick up a paper and some authoritarian figure, some person somewhere, is using Guantanamo to hide their own misdeeds," Powell said. "And so essentially, we have shaken the belief that the world had in America's justice system by keeping a place like Guantanamo open and creating things like the military commission.
"We don't need it, and it's causing us far more damage than any good we get for it," he said.
Republican presidential candidate Mike Huckabee said he believes the prison should remain open.
"It's more symbolic than it is a substantive issue, because people perceive of mistreatment when, in fact, there are extraordinary means being taken to make sure these detainees are being given, really, every consideration," said Huckabee, a former Arkansas governor.
"But I'll tell you, if we let somebody out and it turns out that they come and fly an airliner into one of our skyscrapers, we're going to be asking, how come we didn't stop them? We had them detained," Huckabee said.
"I can tell you, most of our prisoners would love to be in a facility more like Guantanamo and less like the state prisons that people are in in the United States," he said.
Powell spoke on "Meet the Press on NBC." Huckabee was on "Late Edition" on CNN.
Mitt Romney Says to Double the Size of Gitmo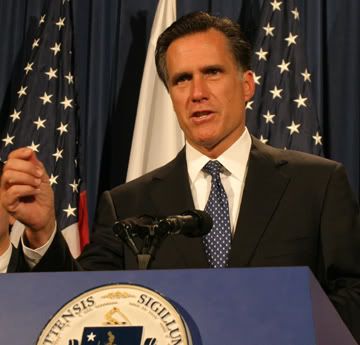 BIDEN ON GITMO: CLOSE IT! CLOSE IT NOW! CLOSE IT FOREVER!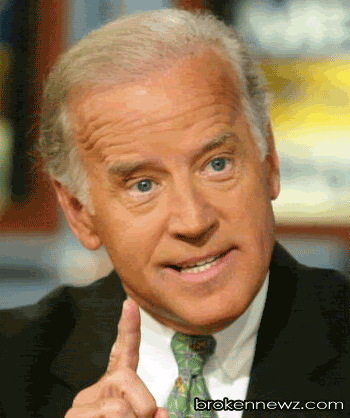 Clinton Calls for Closure of Guantanamo Bay Detention Center
Obama tells crowd he wants Guantanamo Bay detainee facility closed
http://www.iht.com/articles/ap/2007/06/24/america/NA-POL-US-Obama-Texas.php


"I'm not inclined to agree right now that we should necessarily close Guantanamo," former New York City mayor Rudy Giuliani said in New Hampshire,
http://www.usatoday.com/news/politics/2007-06-18-gitmo-candidates_N.htm


UN: US Should Close Gitmo Facility
http://www.truthout.org/cgi-bin/artman/exec/view.cgi/60/19906
U.N.: U.S. should close Guantanamo prison
Panel urges U.S. to 'eradicate' torture, stop using secret detention facilities
http://www.msnbc.msn.com/id/12864476/
GENEVA - The United States should close its prison at Guantanamo Bay, Cuba, and avoid using secret detention facilities in its war on terror, a U.N. panel report released Friday said.
In an 11-page report on its review of U.S. adherence to the Treaty Against Torture, the committee said detainees should not be returned to any state where they could face a "real risk" of being tortured.
"The state party should cease to detain any person at Guantanamo Bay and close the detention facility," said the U.N. Committee Against Torture, a panel of 10 independent experts on adherence to the U.N. Convention Against Torture.
The United States should also ensure that no one is detained in secret detention facilities under its control and disclose the existence of any such places, the report said.
The committee said it was concerned that detainees were being held for protracted periods with insufficient legal safeguards and without judicial assessment of the justification for their detention.
President Bush has said that he would like to close the prison at Guantanamo Bay at some point, though he has not laid out a timetable.
"I very much would like to end Guantanamo. I very much would like to get people to a court," Bush said on May 8, adding, "We're waiting for our Supreme Court to give us a decision as to whether the people need to have a fair trial in a civilian court or a military court."
The committee was also concerned about allegations that the United States has established secret prisons, where the international Red Cross does not have access to the detainees.
"The state party should ensure that no one is detained in any secret detention facility under its de facto effective control," the report said. "The state party should investigate and disclose the existence of any such facilities and the authority under which they have been established and the manner in which detainees are treated."
'Eradicate all forms of torture'
The U.N. report also said the United States must "eradicate" all forms of torture committed by its personnel in Afghanistan and Iraq and investigate allegations thoroughly, prosecuting any staff found guilty.
"The state party should take immediate measures to eradicate all forms of torture and ill-treatment of detainees by its military or civilian personnel, in any territory under its jurisdiction," said the report, which was presenting its conclusions from a hearing earlier this month into U.S. conduct.
The United States made in its first appearance before the U.N. Committee Against Torture in six years earlier this month, addressing issues ranging from Washington's interpretation of the ban on torture to its interrogation methods in prisons such as Abu Ghraib, Iraq, and Guantanamo.
The committee also said the U.S. should rescind interrogation techniques that constitute torture or cruel treatment, citing methods including sexual humiliation, mock drownings and the use of dogs to induce fear.
It said some techniques "have resulted in the death of some detainees during interrogation" and criticized vague U.S. guidelines that "have led to serious abuse of detainees."
The U.S. had invited the committee behind Friday's report to visit Guantanamo Bay, but the panel "chose not to do so," according to White House spokesman Tony Snow.
"Everything that is done in terms of questioning detainees is fully within the boundaries of American law," he said.
Guantanamo Bay - Camp X-Ray
Guantanamo Bay: A Stain on America's History
Close Gitmo, Restore Values
http://www.courant.com/news/opinion/op_ed/hc-romero0619.artjun19,0,6943676.story?coll=hc-headlines-oped
The recent death of yet another prisoner at Guantanamo Bay, Cuba - an apparent suicide - adds one more dark stain to the international disgrace of this failure in America's legal system.
Sadly, further deaths at Guantanamo should not surprise us. I know from the time I have spent observing the military commissions at Guantanamo that the agony and despair of its prisoners - many of whom are alleged to be innocent - is as palpable as the humid salty Cuban air. The proceedings I observed made a mockery of American traditions of justice and fairness.
It is past time that the United States shut down its prison at Guantanamo Bay, which long ago became America's international shame. That's not a minority view. Just ask Defense Secretary Robert Gates, Secretary of State Condoleezza Rice, former Secretary of State Colin Powell, former Attorney General John Ashcroft and Sen. John McCain, R-Ariz.
As we've seen from news reports, soon after Gates took office he repeatedly urged that the camp be shut down because its reputation abroad had become so tainted that its legal proceedings would be viewed as illegitimate. Per the reports, Gates wanted the Guantanamo detainees moved to the United States for trial, an effort soon backed by Rice. But their proposal was opposed by Attorney General Alberto Gonzales and others, including the office of Vice President Dick Cheney - and the Gates-Rice proposal was eventually nixed by President Bush.
Later news reports revealed that when Powell and Ashcroft were in office they too favored a shutdown. And Republican presidential candidate McCain has said recently that if he were president he'd move those held in Guantanamo to the Army's Fort Leavenworth, Kan., garrison and hold fair trials for them.
It was no surprise that Gonzales is a strong opponent of closing down Guantanamo. In his days as White House counsel, Gonzales wrote a 2002 memorandum that referred to some Geneva Convention restrictions as "quaint" and the part on questioning enemy prisoners "obsolete." That's exactly that sort of attitude that led him - in both his White House and Justice Department roles - to subordinate and twist the law that permitted actual torture and abuse on America's watch, while allowing high-level government officials to get off scot-free.
I applaud the efforts of the five officials who support closing Guantanamo. It's clear they all understand that the travesty of Guantanamo is a deeply rooted worldwide embarrassment to the United States. And it's no wonder.
It is now more than five years since the first detainees were sent to Guantanamo, with no access to courts, no meaningful contact with their families and no prospect of being fairly charged and tried. Detainees are treated this way:
They are denied habeas corpus, the right to seek release from unlawful imprisonment.
They are denied the right to due process under the law.
They are subject to having testimony used against them that was derived from abusing or beating witnesses.
They are subject to indefinite detention based on secret evidence.
At Guantanamo, this treatment goes on and on for an indefinite period. The detainees are locked up and out of sight, out of communication and left to rot. The wonder is not that there have been four suicides in the past year; instead, sadly, the wonder is that there have not been more.
This treatment is anathema to the core values of our country. Many of the detainees are alleged to be innocent - victims of Afghan and Pakistani bounty hunters who rounded them up and sold them to U.S. forces for large rewards. But regardless of how heinous a crime someone is suspected of committing, we diminish ourselves and our nation when we fail to provide rudimentary rights to the accused.
The president should shut down Guantanamo, and restore habeas corpus and due process to its detainees. We owe these actions to ourselves as a nation, a nation that should be an international symbol of reason, justice and fairness - but now vividly projects the opposite image. Just ask Robert Gates, Condoleezza Rice, Colin Powell, John Ashcroft and John McCain.
Close Guantanamo! Amnesty Speaks Out
CLOSING GUANTANAMO BAY PRISON
Countdown: Will Gitmo be Shut Down?
Gitmo 5th anniversary
Formidable Opponent - Gitmo
Appropriations Hearing with Secretary Gates: Guantanamo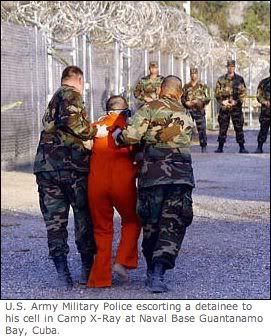 Posted by

JB PAGE
at 12:32 PM
No comments:
Links to this post