Friday, October 12, 2007
Posted by

JB PAGE
at 12:25 PM
No comments:
Links to this post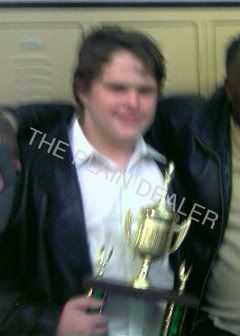 Cleveland school shooting: The victims
http://www.wkyc.com/news/news_article.aspx?storyid=75885
CLEVELAND -- Five people were rushed to the hospital following a shooting at a local high school.
Police say, Asa Coon walked into SuccessTech Academy and opened fire Wednesday afternoon.
Hit by his gunfire were:
Math teacher David Kachadourian, 57. Late Wednesday he was released from the hospital. Center.
Social Studies teacher Michael Grassie, 42. He underwent 90 minutes of surgery at Metro Wednesday. His current condition is listed as fair.
Student Michael Peek, 15. Peek is listed in stable condition at Metro.
Student Darnell Rodgers, 18, was treated and released.
Fifteen year-old Trinnietta McGrady suffered a twisted knee trying to escape from the school. She's listed in stable condition.
Police Outline What Happened in School During Shooting
http://www.myfoxcleveland.com/myfox/pages/News/Detail?contentId=4612876&version=2&locale=EN-US&layoutCode=VSTY&pageId=3.2.1
• Stories
• Raw Video From Inside School During Shooting
• Brother of School Shooter Taken Away in Handcuffs
• Exclusive Video: Fight That Led to Shooter's Suspension
• Shooting Victims Improve, Schools Reviewing Procedures
• Teen Kills Himself After Shooting 4 at Cleveland High School
• Fox Unplugged: School Shooting Aftermath
• Juvenile Criminal History of Shooter
• Prayer Service for School Shooting
• Video's
First 911 call from the Cleveland, Ohio SuccessTech Shooting
Shooting Spree At Cleveland High School
Suspended Student Injures 5 Before Killing Himself
http://www.cbsnews.com/stories/2007/10/10/national/main3353024.shtml?source=RSSattr=U.S._3353024
A 14-year-old suspended student, dressed in black, opened fire in his downtown high school Wednesday, wounding four people as terrified schoolmates hid in closets and bathrooms and huddled under laboratory desks. He then killed himself.
The 14-year old freshmen at SuccessTech Academy alternative school had been suspended for fighting, reports CBS News correspondent Dean Reynolds.
"When he got suspended, he said 'I got something for you all,' and I thought he was just playing 'cause he says it all the time," said a fellow student. "But I see that he was for real."
"He's crazy. He threatened to blow up our school. He threatened to stab everybody," Doneisha LeVert said. "We didn't think nothing of it."
Asa H. Coon was armed with two .38 caliber revolvers, and police found a duffel bag stocked with ammunition and three knives in a bathroom, officials said. Parents were angry that firearms got into a school equipped with metal detectors that students said were intermittently used.
Officials said two teachers and two students were shot, and that a 14-year-old girl fell and hurt her knee while running out of the school.
Witnesses said the shooter moved through the converted five-story downtown office building, working his way up through the first two floors of administrative offices to the third floor of classrooms. Officials said he was wearing a black Marilyn Manson concert shirt, black jeans and black-painted finger nails.
"He just came back and started shooting at people," a student tells CBS News. "He would just shoot at anybody who was in the hallway, so everybody just ran down the hallway."
When he got suspended, he said 'I got something for you all,' and I thought he was just playing 'cause he says it all the time. But I see that he was for real.
SuccessTech student
The first person shot, student Michael Peek, had punched Coon in the face right before the shootings began, said student Rasheem Smith, 15.
Coon "came out of the bathroom and bumped Mike and he (Mike) punched him in his face. Mike started walking. He shot Mike in the side." Peek, 14, didn't know Coon had a gun, Smith said.
Antonio Deberry, 17, said he and his classmates hid under laboratory tables and watched the shooter move down the hallway. "I saw him walking past. He didn't see us, we saw him." The shooter swore and shot several times, Deberry said.
LeVert said she hid in a closet with two other students after she heard a "Code Blue" alert over the loudspeaker. She said she heard about 10 shots.
Darnell Rodgers, 18, was walking up to another floor when the stairway suddenly became flooded with students.
"It took me a couple of minutes to realize that I was actually shot, when I felt my arm burning in the area, that's when I realized that I had got shot," Rodgers said.
"They were screaming, and they were saying, 'Oh my God, oh my God.' I knew something was wrong, but thought that it was probably just a fight, so I just kept going," Rodgers said.
Rodgers was released from a hospital after treatment for a graze wound to his right elbow.
Coon had been suspended since Monday for fighting near the school that day, said Charles Blackwell, president of SuccessTech's student-parent organization. He did not know how Coon got into the building Wednesday.
Blackwell said that there was a security guard on the first floor, but that the position of another guard on the third floor had been eliminated.
Students and parents described the gunman as troubled, Reynolds reports.
"It could have been avoided, because there were warning signs," said one parent.
Student Frances Henderson, 14, said she often got into arguments with Coon, who once told her, "I got something for you all." He was a "gothic" who usually wore a trench coat, black boots and a dog collar, she said.
Students stood outside the building, many in tears, hugging one another and on cell phones. Others shouted at reporters with TV cameras to leave them alone. Family members also stood outside, waiting for their children to be released.
Math teacher David Kachadourian, 57, was in good condition; Michael Grassie, a 42-year-old teacher, was in surgery, but his condition was unavailable. The other two injured teens were taken to a children's hospital, which would not release their names, ages or conditions.
Deberry's mother, Lakisha Deberry, said she was upset that metal detectors at the school were not always in use.
"You never know what's going on in someone's mind," said Deberry, adding that she was required to go through a metal detector and present an identification card whenever she wanted to drop off something at school for her children.
The shooting occurred across the street from the FBI office in downtown Cleveland, and students were being sent to the FBI site.
Classes at all schools in the Cleveland Metropolitan School District will be canceled Thursday, said Eugene Sanders, chief executive officer of the district. Counseling will be available Thursday for students at recreation centers throughout the city, Sanders said.
SuccessTech Academy is an alternative high school in the public school district that stresses technology and entrepreneurship. It is housed on several floors of the district's downtown Cleveland Lakeside Avenue administration building.
"It's a shining beacon for the Cleveland Metropolitan School system," said John Zitzner, founder and president of E City Cleveland, a nonprofit group aimed at teaching business skills to inner-city teens. "It's orderly, it's disciplined, it's calm, it's focused."
The school has about 240 mainly black students with a small number of white and Hispanic students.
Coon was white and Henderson, the student who said she frequently argued with him, is black, but she said she didn't believe race played a role in the shootings.
The school, opened five years ago, ranks in the middle of the state's ratings for student performance. Its graduation rate is 94 percent, well above the district's rate of 55 percent.
Missed Warning Signs: Cleveland School Shooter Had History of Mental Illness
Student Warned of Retaliation After He Was Suspended, but He Was Ignored
http://abcnews.go.com/US/story?id=3712960&page=1
A 14-year-old Cleveland student, who shot and wounded four people before killing himself Wednesday, had been suspended for fighting two days earlier and was not supposed to be on campus, school officials say.
Classmates say he warned of retaliation after the suspension, but no one took him seriously.
The student, identified as Asa H. Coon, had a history of mental problems and was known for using profanity when speaking to teachers and bickering with students.
It's not clear why he was allowed into the school.
"When he got suspended, he was like 'I got something for you all,'" classmate Frances Henderson said. "I guess this is what he had."
Classes at all Cleveland public schools were canceled today.
At a morning press conference, Cleveland Police Chief Michael McGrath provided some details about how the shooting occurred. Coon entered the school and went to a fourth floor bathroom, McGrath said, where he changed clothes and likely retrieved .22-caliber and .38-caliber revolvers from a duffel bag. Police later found the bag and a change of cloths in the bathroom.
Coon then went to a specific fourth floor classroom where he shot a targeted teacher, McGrath said. He continued in search of a second teacher, McGrath said, and instead shot at another teacher who confronted him in the hallway, as well as fellow students.
The shooting victims were identified as two male teachers and two male students. Three of the victims were taken to the Metro Health Hospital. Already, one of the teachers and one of the student victims have been released. The other teacher, shot in the chest, underwent surgery and is expected to recover.
The other student -- a 14-year-old male -- was shot in the side and transported to Rainbow Babies & Children's Hospital, where he was in stable condition, Jackson said. A 14-year-old female student injured her knee trying to flee from the shooter. Both reportedly are in good condition.
While Coon may have shot specific teachers, it was unclear if the two students were targeted victims or random bystanders. Student Jeremy Rivers told ABC News that it appeared Coon "didn't care who he was shooting. He was crazy."
The Cleveland Plain Dealer newspaper reported that Coon had been in juvenile detention facilities two times and had threatened to commit suicide. McGrath said today that police had been to Coon's house five times since 2006 to respond to a range of incidents. Coon was arrested in 2006 after a "domestic disturbance" at his home.
McGrath said that Coon's older brother and mother will be interviewed and will specifically be asked about the guns used in the shooting, which the chief described as "older" weapons.
'A Real Angry Kid'
David Kachadourian, 57, the math teacher shot by Coon in the hallway, told ABC News that he did not realize at first that he had been shot, and he took some students and hid in a closet, before realizing he was bleeding.
Kachadourian, who had Coon as a student, said he saw him waving two guns and yelling just before he was shot. He knew Coon was troubled. "He did behave in a way that suggested he was angry, yes. He seemed like a real angry kid," he said.
The AP reported that the fight that predicated his suspension was about God. He told a student he did not believe in God, but worshiped goth rock star Marilyn Manson.
Coon reportedly liked to wear trench coats and paint his fingernails black, an eerie reminder of the students behind the infamous Columbine High School massacre.
Kachadourian told "Good Morning America" today that he could not think of an incident that would make him a target, but said that as one of Coon's teachers, "I suppose it was possible."
Coon fatally shot himself after opening fire shortly after 1 p.m. EDT on the fourth floor of SuccessTech Academy, a nontraditional public school in the city's downtown area. The two handguns, a box of ammunition and three knives were recovered from Coon's body or near him. Police believe a total of eight rounds were fired.
Coon shot himself after peering out a window, according to McGrath. It's possible, McGrath added, that the student gunman saw police show up at the school before he shot himself once in the head. "The suspect did not have any weapons in his hands. They were laying next to his body," he said.
The specialized school, funded in part from a grant from the Bill and Melinda Gates Foundation, was one of the last places many would expect a shooting like this to occur.
On its Web site today the Gates Foundation posted the following statement about the shooting: "This is a tragedy that underscores for all of us how precious each young person's life is. We have reached out to education leaders in Cleveland to express our condolences and support during this difficult time. This reminds us of the complexity of our work together but only deepens our commitment to our goals."
Kachadourian, however, said the school, which was designed to give individual attention to promising poor students, had begun to change.
"When it began, the class size was supposed to be no more than 15 students," he told "GMA." Now Kachadourian said his "smallest class has 30 kids and his largest has 40."
Since October 2006, there have been 15 incidents reported to the Cleveland Police Department at SuccessTech, McGrath said. One involved a BB gun.
There was an armed security guard at the front desk at 1 p.m. Wednesday, around the time the shootings began. McGrath confirmed there are no metal detectors at the school.
Maureen Harper, a spokesman for Cleveland Mayor Frank Jackson, said that the head of the city's public schools would review how the district identifies problem students and "how we handle red flags." The review will also include the type of metal detectors and other devices used to secure buildings. A plan will be presented Friday to the mayor who will then make it public.
Who was Asa Coon?
http://blog.cleveland.com/metro/2007/10/who_was_asa_coon.html
He could be loud sometimes, all right, and his appearance cried for attention: his shock of wavy brown hair, his fingernails painted black, the dog collar around his neck, his faded rock concert T-shirts under a trench coat.
But there was another Asa Coon, an Asa Coon far more menacing than the loopy kid with the unkempt hair and faux Gothic look.
This was the Asa who always seemed to be in fights at school. This was the Asa who slapped around his mother. This was the Asa who talked about suicide.
And it was this Asa, authorities say, who walked into SuccessTech Academy Wednesday with a satchel full of guns and ammunition and opened fire on teachers and students.
"In the end, you never know who is going to snap," classmate Aaron King said while heading home through a cold afternoon drizzle. "You have to watch who you make mad."
What apparently pushed Asa's troubled young mind over the edge was an argument with classmates about the existence of God. It happened a few days ago in reading class.
Asa said he didn't believe in God and didn't respect God.
Another kid disagreed.
Asa said he worshipped rock star Marilyn Manson. He flashed the other kid an obscene gesture.
After school, the two kids fought. Asa took a beating. Both were suspended.
"I'm going to get you," he warned his tormentor. "I will get you."
Some youngsters say Asa was goaded into fights and picked on. Even before the fight, he confided to friends that he was going to shoot up the school.
"I thought he was just kidding," said Demar Tabb, 15, a classmate. "I probably should have said something, but I didn't think anything would actually happen."
True to his word, Asa entered his school on a steel-gray October day looking for revenge. He shot two teachers and two classmates before he put the gun in his mouth and pulled the trigger. He was 14.
Asa Coon grew up in a family where violence seemed commonplace. His older brother, Stephen, was twice charged with both domestic violence and assault by the time he was 13. He was recently released from prison.
Court records show that his father's whereabouts are largely unknown.
The Department of Children and Family Services was called to the Coon home in 2000 because Asa had burns on his arms and scratches on his forehead.
When he was 12, Asa was charged in Juvenile Court with domestic violence. His mother, Lori, had called the police and told them that Asa slapped her and called her a vulgar name. She had been trying to intervene in a fight between Asa and his twin sister Nicole.
"He's a very hyper kid," said Rachel Metzger, who lives near the Coons. "He's constantly yelling at his mom or anybody else. He's pretty violent."
Once in court, a magistrate ordered Asa to undergo psychological testing and follow the orders of doctors. The magistrate also ordered the family to undergo therapy together.
Asa immediately refused to obey probation rules. He threw the paperwork on the floor and charged out of the office, nearly knocking his mother to the ground.
After that, the magistrate wanted to send Asa to the Youth Development Center in Hudson. While waiting for a spot to open at the center, the boy was placed in the Jones Home, an interim shelter care facility on the West Side. He attempted to kill himself there.
Eventually, Asa was sent to the downtown detention center and placed on two medications, Trazodone, a anti-depressant and sedative and Clonodine, a medicine meant to treat high blood pressure but sometimes used to treat ADHD.
He spent a few days at Laurelwood Hospital before being released to home detention. The Laurelwood staff concluded that Asa had suicidal tendencies and was trying to push all "their buttons." They thought he may be bipolar but agreed he needed more evaluation.
The relationship between the boy and his mother remained combative, Juvenile Court records show. One time, in front of a home detention officer, both of them screamed and cursed at each other because Asa had refused to take his medication.
His home detention officer also noted that the house Asa lived in on West 43rd Street was in a neighborhood plagued by drug trafficking and gangs. He wrote that the Coons' front yard was cluttered with debris and dog feces.
Less than a month after the suicide attempt -- Asa, then a seventh-grader at Thomas Jefferson School -- was suspended for attempting to hurt another student.
"He had issues," a teacher who once worked at the school said yesterday. "I was not surprised at all he was the shooter."
There were times when it looked like things might improve. The home detention officer said Asa showed up for his appointments and was courteous.
Last November, Asa had completed his counseling, anger management classes and community service. After five months without incident, he was released from probation.
With all of his problems, nobody denied that Asa was smart. His friends say he liked to talk about the space program, the FBI and global warming.
Some even called him a genius.
They remember Asa building fantastic towers out of nothing but paperclips. He could take appliances apart around the house and put them back together. He also liked to help adults fix and build things.
"As long as he was busy with his hands, he was cool," said a family friend who had known the boy since he was 6. "But when he was bored, he would lash out."
Asa and his twin sister, Nicole, were total opposites, she said. He was somewhat withdrawn, had dark hair and preferred to sit inside and draw. She is outgoing, blond and preferred to play outside.
But Nicole Coon was inside her house when the police pulled up on a cool and rainy Wednesday afternoon with the bad news. Moments later, the girl bolted out the front door and collapsed in the street.
"My brother!" she cried as her mother climbed into a police cruiser and headed downtown. "Oh my God!"
Ohio school shooter gave many warnings
http://www.cnn.com/2007/US/10/11/cleveland.shooting/index.html
Fellow students say they and school authorities didn't take Asa Coon's threats of violence seriously before the 14-year-old's shooting rampage at his Cleveland high school on Wednesday.
Coon killed himself after wounding two teachers and two other students at SuccessTech Academy. The youth had a history of violent confrontations and had been suspended after a fistfight on Monday.
A student who said he was friends with Coon said Coon had warned him a month ago that he was going to snap someday.
"He said if he did shoot up the school he'd let me and some other dude he knew go and all that, but I didn't think he actually meant that," the friend said. "I thought he was just kidding around."
Meanwhile on Thursday, Coon's brother Stephen Coon, 19, was led out of his home in handcuffs, The Associated Press reported.
Family members called his name as officers placed him in an unmarked car as several officers went into the house, the AP said. It's unclear why Coon was taken into custody, the AP said.
"Please have respect, I just lost my brother," Coon said as officers led him from the house, according to AP.
On CBS' "Early Show" Thursday morning, student Rasheem Smith said the school's principal, Johneita Durant, had not found time to discuss students' concerns about Asa Coon, the AP reported.
Other students said Coon was a "Goth" who usually wore black clothes and a trench coat and strapped an empty gun belt to his leg. He was an atheist and a devoted follower of Goth rocker Marilyn Manson.
A schoolmate said Coon had been beaten up Monday after saying "F--- God" during an argument.
"He got beat up and he came back today, and I knew something was going to happen," the student said outside the school Wednesday afternoon. "Yesterday I was like, 'I'm not coming to school, man. This dude might come up here and shoot us up.' "
Another student said Coon gave a clear warning.
"When he got suspended he said, 'I got something for y'all,' " she said. "I thought he was just playing, because he, like, said that all the time. But I see that he was for real."
"I told my friends in the class that he had a gun and stuff," Smith said. "He was talking about doing it last week. I don't know why they didn't say nothing.
"We talked to the principal. She would try to get us all in the office, but it would always be too busy for it to happen."
A message left at Durant's office was not immediately returned, the AP reported, and a phone call to her home was not answered.
A court magistrate ordered psychological testing and family therapy for Coon after he slapped his mother in 2006, but Coon was not cooperative; he eventually was placed in an interim shelter, where he attempted suicide, The Plain Dealer newspaper reported, citing court and Department of Children and Family Services records.
He wound up in a downtown detention center and then a mental hospital, where staff determined he might be bipolar but suggested further evaluation, according to The Plain Dealer.
Eventually he was released to home detention and enrolled in SuccessTech, a small magnet school for gifted and troubled students where Coon frequently clashed with teachers and other students.
"I ain't justifying nothing," a friend told CNN affiliate WOIO. "I ain't saying he did the right thing, but I am saying he got pushed for a long time and asked them people to help, help, help, help, but nobody helped."
A MySpace Web page purportedly created by Coon that received many messages Thursday morning was actually a fake, made by a 19-year-old in Utah, the Plain Dealer reported.
Teacher Michael Grassie, 42, was recovering Thursday after surgery for a gunshot to the chest, said Ed Eckart, the city's emergency medical services coordinator.
Dr. Jeffrey A. Claridge, chief of trauma surgery at Metro Health Medical Center, said the bullet pierced Grassie's spleen and lodged in his back after missing his heart and spine by an inch. The bullet would not be removed, he said.
"You do not expect a teacher to get shot in the line of work," the surgeon said. "It's unacceptable. That's not in his job description."
A boy who was shot in the side and a girl who injured her knee while fleeing were expected to be released from a hospital Thursday, Eckart said.
No metal detectors were at the school on Wednesday, although the school board has portable detectors that are randomly moved from school to school, McGrath said. An armed security guard was at the front desk, McGrath said
Parents have been concerned about security at the school for some time, said Charles Blackwell, a leader of the school's parent-teacher organization.
"We've been fighting to get security back for the last two, three years. They keep denying it," Blackwell said. "The parents have written petitions, everything. We have no metal detectors in the building. It's just ridiculous."
City spokeswoman Maureen Harper said Cleveland Metro Schools CEO Eugene Sanders would present Mayor Frank Jackson with a new plan Friday for security in the schools.
Investigators seek motive for Ohio school shooting
http://www.usatoday.com/news/nation/2007-10-10-school-shooting_N.htm?csp=34
As school officials in Cleveland revise their security plans after a shooting rampage by a 14-year-old gunman, professionals who study youth violence said the solution is simple: Pay attention to threatening behavior and talk.
A week before Asa Coon wounded four people and fatally shot himself at SuccessTech Academy in downtown Cleveland on Wednesday, he had threatened to blow up the school and stab students, said Doneisha LeVert, 14.
Fortifying schools with metal detectors, security guards and surveillance cameras doesn't guarantee that a gunman will be kept out, criminologists and educators said. There were no metal detectors at SuccessTech on Wednesday.
The experts said educators should learn a key lesson from the more than two dozen school shootings since Columbine in 1999: Troubled teens who plan attacks often warn of their intentions. Schools should teach staff and students to recognize and report threats, and require they be investigated, they said.
"It's frustrating to see one shooting after another that could be prevented," said Dewey Cornell, a forensic clinical psychologist at the University of Virginia, who is a consultant on school violence prevention. "Schools have emergency response plans rather than prevention plans.
FIND MORE STORIES IN: Police | Cleveland | Tony Dejak | Successtech Academy | Asa Coon
"Prevention cannot wait until there is a gunman in the parking lot," he said. "There have been more than enough wake-up calls."
Every school should have a program to stop bullying and one to overcome the mind-set that reporting a threat is "snitching," said Jack Levin, a criminologist at Northeastern University in Boston. "Nobody likes a person who rats," Levin said, but schools have to provide an environment where students who hear threats can turn to trusted teachers or counselors or even report the threats anonymously.
He said the "law-and-order" approach, installing metal detectors and cameras, is a politically expedient solution that doesn't work.
Today, Cleveland Schools CEO Eugene Sanders expected to present a plan detailing how the district will try to prevent similar tragedies.
One piece of the plan would focus on the best security measures, such as metal detectors, mayoral spokeswoman Maureen Harper said. She said the plan will also address how to "spot the red flags and how we handle those red flags when they do come up."
Coon, who was suspended Monday for fighting, was familiar to authorities. Police had been to his home in a working-class neighborhood on the city's west side five times in the past year for calls about domestic violence, assault and property crimes. His brother, Stephen, 19, was taken into custody for parole violations Thursday.
When Asa Coon was 12, he was charged in juvenile court with domestic violence, The (Cleveland) Plain Dealer reported. His mother, Lori, had called police and said her son slapped her and called her a vulgar name.
A woman who answered the door at the Coon home would not comment.
Coon stood out for his "goth" style of black trench coat, dog collar and nail polish, and for frequent angry exchanges with students.
Student Frances Henderson, 14, said he often argued with her.
Neighbors said he was a polite boy who ignored the taunts of other youths.
Anthony Rodriguez, 23, who has lived in the neighborhood for nine years, said the badgering may have made Coon snap. "People picking on him pushed him over the edge."
"Every time I saw him, he was pleasant," said Chequita France, 48, who has lived next door to the Coons for four years. Her daughter Paris, 16, said she frequently saw Coon fight with his mother and sister. "Sitting on the porch in the summertime, he used to argue with his mother," she said. She sometimes saw him kicking and screaming.
Based on the initial investigation, police said Coon entered the school with two handguns, two boxes of ammunition and three folding knives. He went to a fourth-floor bathroom to change clothes. There was one armed guard at the entrance, Police Chief Michael McGrath said at a news conference.
Coon went to a classroom on the fourth floor, spoke with a teacher, then shot him in the chest. He then asked for the whereabouts of another teacher and left to search for him.
History teacher Michael Grassie, 42, remained hospitalized after surgery.
Police said Coon attacked because he was mad about being disciplined. "What we know now is it was over some disciplinary issues that this particular suspect had with teachers in the school," McGrath said.
Shooting victim speaks
Ohio school shooter entered building with 2 guns, despite 26 security cameras
http://www.startribune.com/484/story/1480446.html
School officials were trying to determine how a suspended student who shot four before killing himself was able to enter his school while carrying two guns — all while 26 security cameras were keeping watch.
Schools CEO Eugene Sanders was to present a plan Friday to address whether additional security measures are needed after 14-year-old Asa Coon went on a shooting spree Wednesday at the SuccessTech Academy alternative school. The plan is also expected to address how potential problems among students are identified.
Despite 26 security cameras, Coon was able to walk down the hallway of his school with two guns and start shooting. Police were checking the video for clues, and Chief Michael McGrath suggested a classmate could have let him in a back door.
Students said metal detectors were intermittently used, but none was operating Wednesday, two days after Coon had been suspended.
McGrath, asked how Coon got past an armed security guard, said he could not comment. He said police consult with school officials on where to locate metal detectors, based in part on crime in schools.
Charles Blackwell, president of SuccessTech's student-parent organization, said the position of a second security guard had been eliminated because of lack of money.
A preliminary investigation found that Coon entered the school, a five-story converted office building, and went to a fourth-floor bathroom, where he changed clothes and took items out of a duffel bag, possibly the weapons, and put them on his body, McGrath said.
Police found the two guns, .22- and .38-caliber revolvers, a box of ammunition for each and three tactical folding knives, all on or near Coon's body, the police chief said.
McGrath said the guns are older, meaning it will take some time to trace them. He said officials would be talking to Coon's older brother and mother about the weapons.
His older brother, Stephen, was arrested at the family home Thursday on parole violations, said state prisons spokeswoman JoEllen Lyons. She said the arrest was not connected to Wednesday's shooting.
"Please have respect, I just lost my brother,'' Stephen Coon, 19, said as he was being escorted from the family's house. Coon said his brother did not get any guns from him but would not answer questions about the shooting.
School officials were also investigating how a number of warning signs from Coon, including threats made last week, apparently went unheeded.
Coon had mental health problems, spent time in juvenile facilities and threatened to commit suicide while in a mental health facility, according to juvenile court records. When he was 12, Coon was charged in juvenile court with domestic violence, accused of attacking his mother.
While on probation, he threw his court papers on the floor and then rammed his body into his mother's head when she tried to pick them up, according to court documents.
His probation officer described the relationship between Coon and his mother as extremely poor, with both using foul and abusive language toward each other.
Coon's family declined to comment Thursday.
He was suspended from school for 10 days last year, according to court records. "The issue was addressed and was resolved,'' according to his probation officer's report, which did not specify details of the suspension.
Coon was ridiculed by classmates at SuccessTech. He had a tendency not to fight back when teased, but recently got into an after-school scuffle, was suspended and made threats that he would blow up the school or stab everybody.
"This kid finally broke,'' said Christina Burns, who volunteered at a school Coon previously attended. "He finally lost his mind.''
Burns witnessed Coon's troubles with fellow students, recalling an instance in which a child dropped a book on his head and he did nothing. She also remembered verbal abuse over his shabby, at times unclean, appearance.
"They picked on him,'' Burns said Thursday. "He didn't have decent clothing. He didn't have decent shoes. He had problems. The other children played on that and tormented him at school.''
On Wednesday, armed with two revolvers and wearing black jeans, black nail polish and a Marilyn Manson T-shirt — the shock rocker Coon said he chose to worship instead of God — Coon fired eight times and shot two teachers and two students.
One teacher remained hospitalized.
Coon shot himself behind his right ear with a .38-caliber shot shell loaded with pellets. Coroner Frank Miller ruled the death a suicide.
Asa Coon MySpace page a fake
http://blog.cleveland.com/metro/2007/10/creator_of_fake_asa_coon_web_p.html
Posing as the gunman in Wednesday's shooting at Success Tech Academy in Cleveland, the 19-year-old creator of the fake Web site said in an email exchange with the Plain Dealer: "I don't generally give out personal information ... I, like many others (search for any famous person) make fake profiles on MySpace for the sole purpose of giving people a place to vent their thoughts and feelings."
Several national television news organizations and Web sites have quoted from Coon's page as real. Coon killed himself after shooting two teachers and two students.
"I realize I should put a disclaimer of sorts stating that this isn't the Official Asa H. Coon MySpace, but I believe if I did do that people wouldn't express their feelings," said the page creator who published the information at approximately 9:30 pm Pacific Standard Time, 12:30 am here. "I've been reading the comments on the stories on the major Cleveland News Agency websites, and I hear a lot of anger. When people do believe this is Asa Coon's MySpace, and they know that he will never read these, the people are inclined to express their true thoughts and feelings, if that makes much sense.
The teen, who lives in Orem, said he found a photo of "Asa Coon" after searching for "Goth kid" on www.photobucket.com, a site where people share photos.
The teen also claims credit for creating a fake Myspace profile for the Virginia Tech shooter, Seung-Hui Cho.
"I created that profile late in the event happened, and throughout that week and weekend the page accumulated over 300,000 page views, as well as 20,000 blog comments," he says. "The Seung-Hui Cho profile was removed from MySpace after many people reported it, and I expect this profile will disappear in the next few days."
UPDATE: The Asa Coon page was removed from Myspace.com about 12:30 p.m. Cleveland time.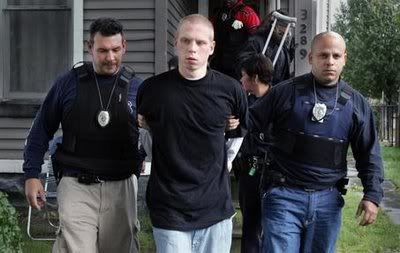 Many Questions Remain in Cleveland Shooting
http://www.wbko.com/news/headlines/10475907.html
The question remains of whether the Oct. 10 school shootings in Ohio could have been prevented.
Authorities are re-tracing the long and troubled trail the teenage gunman left behind him.
Cleveland police investigating the shooting made an arrest on Oct. 11.
They took shooter Asa Coon's 18-year-old brother into custody, though it's not known why.
Police are also releasing new information about Coon's violent past. They'd been to his home on several calls, including domestic violence and assault.
"Since 2006, we responded to the shooter's residence five times," Chief Michael McGrath assured, with the Cleveland Police Dept.
Parents still want to know how Coons got into the school with the weapons.
Why wasn't there a metal detector? And why didn't the security guard stop him?
One student says she warned the principal last week that Coons was making threats.
"Ever since Columbine, what we've learned in most school shootings is that somebody always knew something," security expert Ken Trump said.
School officials say in light of the shooting, they'll have a new safety plan drawn up by Oct. 12.
"The safety and security side will address what type of devices are used to protect students in our school, as well as what other security measures are put in place, securing entrance into school," said Maureen Harper, Cleveland city spokeswoman.
If there's one glimmer of good news a day later, it's the prognosis of the two students and two teachers shot.
They're all recovering. Only one will still be in the hospital after Oct. 11.
David Kachadourian was among those shot.
"I was teaching class and I heard a loud popping noise and didn't think anything about it. It didn't seem like what I would imagine a gunshot to sound like," Kachadourian admitted.
Another violent school rampage may have been prevented.
Authorities in the Philadelphia area say a teenager was taken into custody after police found weapons in his bedroom.
Police also say the teen had tried to recruit another boy for a possible attack at a high school.
The teen is being charged as a juvenile with solicitation to commit terror and other counts.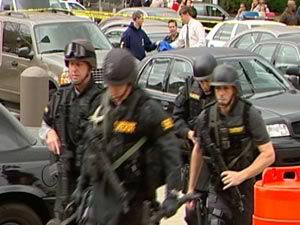 Short but Troubled Life Ended in Shooting and Suicide
http://www.nytimes.com/2007/10/12/us/12cleveland.html
After a short life of chaos and neglect, the teenager who opened fire on Wednesday against classmates and teachers in a downtown high school seemed to stand on a precipice between improving his life and throwing it all away.
The young man, Asa Coon, 14, seemed to be doing well in school, caseworkers said, and he was leading a less turbulent life at home.
Then came Monday. Stephen Coon, 19, his older brother, was arrested in connection with an armed robbery, said a spokesman for the police, Lt. Thomas Stacho.
That day, Asa Coon was suspended from school after being involved in a fistfight, said Dr. Eugene Sanders, superintendent of the Cleveland Metropolitan School District.
On Wednesday, the police said, Mr. Coon tucked three knives, two pistols and two boxes of ammunition into the baggy pockets of his cargo pants, sneaked into his school and went on a shooting rampage. Two teachers and two students were wounded.
After looking at the swarm of police cars arriving at the school, Mr. Coon committed suicide by shooting himself in the head, Police Chief Michael McGrath said.
The most seriously injured victim, Michael Grassie, 42, a multicultural studies teacher who was shot in the chest, had successful surgery on Wednesday and was recovering at a hospital in good condition.
David Kachadourian, 57, a mathematics teacher, was shot in the back and was recovering at home in good condition.
Two students who were less seriously wounded were treated at a hospital and released.
The shooting raised questions about security at the school, the SuccessTech Academy.
"We were concerned for the safety of the kids and sent the district a letter and petitions last year to improve security," said Charles Blackwell, president of the Student Parent Organization at the school.
Chief McGrath said the school sometimes had metal detectors and always had one guard near the front door.
Mr. Blackwell said students did not have to pass the detector unless they were going into the district headquarters, on the lower floors of the building.
"There's no checkpoint," he said. "There's no metal detector." About two years ago, the district transferred two of the three security guards at the school to other schools because of budget cuts, Mr. Blackwell said.
A spokeswoman for the district said it would have no comment.
Mr. Coon's troubles started early. In 1997, he was 3 and living with his family in Cortland, N.Y., in a house strewn with garbage, according to a report by a caseworker for the Cortland County Social Services Department.
His older brothers, Stephen and Daniel, threatened neighbors with weapons, including rocks, knives and a fake bomb, the caseworker reported.
Mr. Coon's mother, Lori Looney, was found guilty of neglect by the county juvenile court. His father, Thomas Coon, was not involved with the family, the caseworker reported.
Throughout Asa Coon's childhood, his brother Stephen was in almost perpetual legal trouble. He was found guilty of many criminal violations, court records show, including burglary, felonious assault and domestic violence.
Stephen Coon was arrested again on Thursday on a probation violation, the police said.
At 11, with the family living here, Asa Coon ran afoul of the law. In January 2005, he yelled obscenities at his mother and punched her in the left eye, according to a police report.
Asa Coon admitted the crime in juvenile court and was ordered to attend six hours a week of counseling, perform community service and attend an anger management class, court documents show.
Mr. Coon received one-on-one counseling for five months until his probation expired last October. But he never received the anger management training because he was too young to attend the class, said James Tribble, chief probation officer for the Cuyahoga County Juvenile Court.
Mr. Coon "made a suicidal statement" to caseworkers and was given medications to treat depression and hyperactivity, according to e-mail messages among social workers who treated him. But he regularly refused to take the medicines, court documents show.
"It was a rocky road," said Ken Lusnia, administrator for the Cuyahoga County Juvenile Court. "But I think the record indicates some pretty serious involvement by our probation staff to work with that family over a long period of time."
Asa Coon was "polite and well mannered," a court officer reported from a home visit in April 2006.
"He was nice, and he liked to joke around," said Kathy Pagan, 20, who lives across the street from the Coon home.
Mr. Coon applied to SuccessTech, a high-achieving alternative school with a 94 percent graduation rate in a district with an overall 55 percent graduation rate. He started this fall. But soon other students began taunting him for his appearance and strange behavior.
He walked the halls in a black trench coat with his shoulders hunched, torso swaying back and forth as though looking for a fight, students said.
"He was chubby and short, and he was the only kid in school who dressed like a Goth," said LaToya Sparks, 15, a sophomore. "When he'd get teased, he'd say, 'I'm gonna come get you.' We thought he was playing."
Posted by

JB PAGE
at 12:18 PM
No comments:
Links to this post


Thursday, October 11, 2007