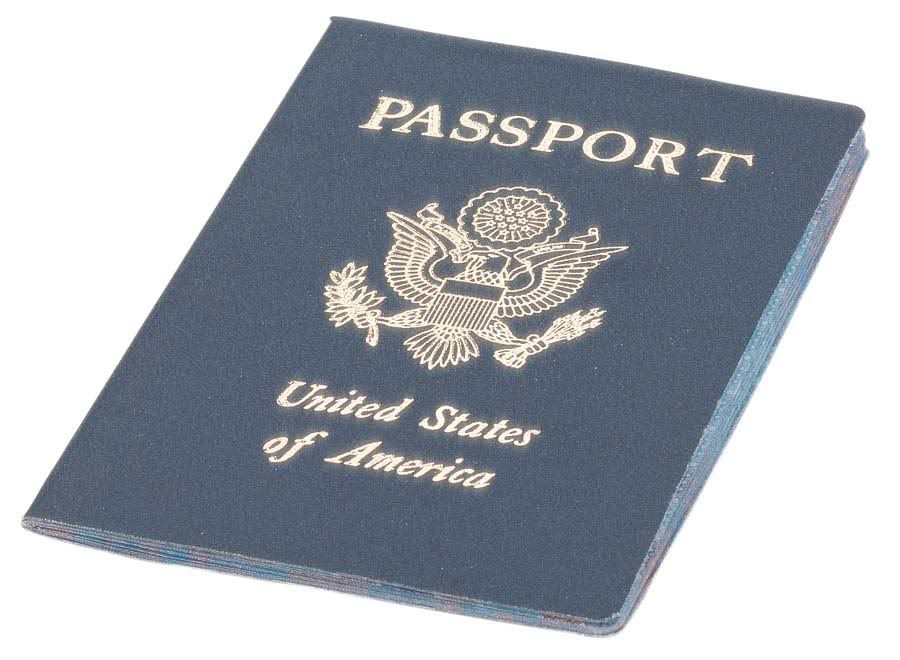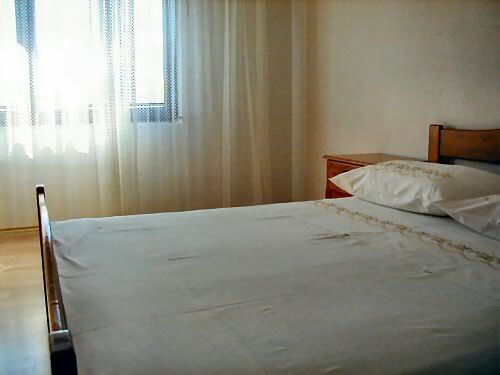 Your Trip Abroad
http://immigration.about.com/library/bltravelabroad.htm
Whether you are traveling overseas for business, pleasure or study, the best way to ensure a carefree and relaxing trip is to prevent problems before they happen. The more you learn about passports, visas, customs, immunizations, and other travel basics, the less likely you are to have difficulties during your travels.
We have written this guide to help you organize and take a pleasant, trouble-free trip. In the back of the book, we refer you to other sources of travel information covering such matters as customs regulations, agricultural restrictions, visa requirements, U.S. embassy addresses, foreign country information, and more. For your convenience, the addresses of the U.S. passport agencies are listed at the end of the pamphlet.
The Department of State in Washington, D.C., and its more than 250 U.S. embassies and consulates worldwide, as well as other U.S. Government agencies, are ready and pleased to offer assistance whenever possible. This is your trip. Make it an enjoyable one.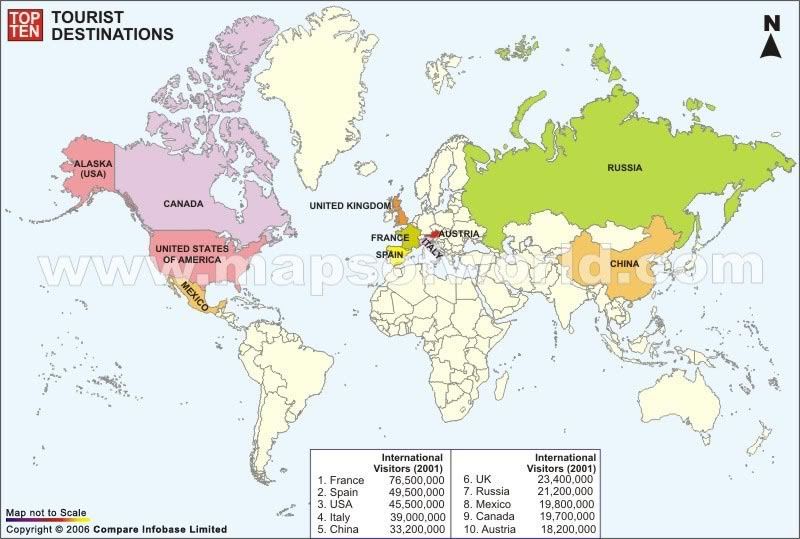 World's Top Tourist Destinations
http://www.infoplease.com/toptens/intltouristarrival.html
Rank Country
1. France
2. Spain
3. United States
4. China
5. Italy
6. United Kingdom
7. Mexico
8. Turkey
9. Germany
10. Russian Federation

Travel Tips
http://www.ugo.com/a/hostel-2/?cur=travel
For years, it's been a rite of passage for American college students to strap on an oversized backpack, buy a 30-day Eurorail pass, and do their best to experience all that Europe has to offer. Granted, that "experience" is normally 10% sightseeing and 90% hitting on Swedish girls in countries with lax marijuana laws, but it still funnels a ton of misspent student loan money into the Euro economy.
But then, in 2005, a little movie called Hostel premiered and ruined it for everybody. Eli Roth's jaw-droppingly brutal film showed the darker side of backpacking through Europe, imagining a Slovakian hostel that lures in naive tourists Pleasure Island-style and then lets amoral, high-paying business types do whatever they want to them. It's a great horror concept, but honestly, does anyone ever want to go backpacking ever again? After watching Hostel, can you honestly imagine spending a night in an out-of-the-way European hotel without expecting to wake up handcuffed to a chair in a room with a steel-mesh floor?
So, as a service to all of you wary travelers out there, already scared to leave your home with Roth's Hostel: Part II opening this week, UGO has assembled this list of the top 11 most vital travel tips that we've gleaned from a lifetime of watching horror movies. Take note, future backpackers, or else suffer the consequences.
11. "Out of the Way" Really Means "Never See You Again"
Part of the whole backpacking experience has always been getting off the beaten path. We're here to tell you - that's a horrible idea. Yes, enriching your mind, communing with nature...blah, blah, blah. There's a reason why some things reside off the beaten path, and most of those things will beat you...to death...after torturing you for hours and hours. You know what's out of the way? Wolf Creek. Venturing into the unknown means there's a chance that some smelly Aussie is going to sever your spinal cord with a bowie knife, and no one will hear you scream. So, let's all learn from Red Riding Hood's example, stay in well-lit, populous areas, and leave the mapping of the unknown to Google Maps.
10. No Cell Phone Bars Means No Hope
Americans are become completely dependent on their cell phones. Remember back in the old days when people actually missed calls? It was such a simpler time. And while we still want to smack anyone who answers their cell in a movie theater, we have to admit - in the post-Hostel era - a working cell phone is a travel necessity. The keyword is "working". How many times have we seen our horror movie heroine running through the streets, trying in vain to get a signal on her phone, while the serial killer lurks ever closer? (The classic "When a Stranger Calls" syndrome.) Learn from her example and outright refuse to enter any country, city, or out-of-the-way hotel with spotty cell phone service.
9. Always Travel with a Jerk
This is a hard one. Spending weeks on the road can be taxing enough, but add to the mix an obnoxious travel companion, and things might soon become intolerable. Here's the thing - suck it up. Yes, Brad, the know-it-all jock who we all suspect might beat his girlfriend, seems like a real ass, but if you ever stumble into a situation where you're being hunted by some sort of killer or undead monster, it's almost a statistical lock that Brad is going to die first. That's just how the universe works. So, you invite Brad along, karma gets him slaughtered first, and that gives the rest of your party enough time to realize what's going on and plan an escape. Just consider him your early warning system, and wait for the "thank you" cards to roll in from Brad's family and friends.
8. Avoid Irony at All Costs
Chief Wiggum once said, "Well, you know how it is with cops. I'll be shot three days before retirement. In the business, we call it ret-irony." Truer words have never been spoken. The universe, and particularly the horror movie universe, LOVES irony, and if you can see the warning signs early, it might be possible to sidestep your fate Final Destination-style when traveling. For example, if you find yourself in a town that has a torture museum or was right next to a nuclear test site, leave immediately. There is way, way too much horror movie ironic potential in your surroundings. Stick to something safe like Dollywood or Branson, Missouri, and leave the old, forgotten mining towns and neglected amusement parks to someone with more of a death wish.
7. Hide Your American Pride
In case you haven't noticed, Americans aren't exactly the most popular people in the world anymore. In the old days, the good old American can-do spirit could inspire even the most hardened Soviet communist to start chanting "Rocky, Rocky, Rocky!", but in our current global climate, Americans are considered only marginally more likable than brussel sprouts and cholera. We're not saying you should be ashamed of your homeland, but just realize that it can put a HUGE horror movie target right on your back. As Hostel showed us, Americans are the filet mignon of international torture victims, and Turistas proved that there are people willing to kill for a nice corn-fed American kidney. So, sew that Canadian flag onto your backpack and practice saying "aboot", OK, eh?
6. Dude, You're Not that Attractive
This tip is mostly for male travelers because guys aren't nearly as discriminating as their female compatriots when it comes to the random vacation hook-up. So, men, you're in Europe or Thailand, and this insanely hot, model-esque blonde comes up to you and invites you to come back to her place. It sounds too good to be true? It is. Ever heard of the phrase, "You can catch more flies with honey than vinegar." That's exactly what's happening. You're the fly, she's the honey, and you know what happens to captured flies? They end up in Zed's basement making small talk with the Gimp. Just remember - if you check into a hostel and two hotties named Natalya and Svetlana want to party with you, Mr. Schulby American college student, you might get laid, but in the morning, someone's going to be burning your face with a blowtorch.
5. What's Left to Explore, Galileo?
Curiosity killed the cat, but in horror movies, that cat probably spent two weeks being tortured and slowly cannibalized first. This tip ties into our "never go off the beaten path" advice, but it's much more generally about knowing when to say "I'd rather not know" when traveling. If you find a town with a huge House of Wax that's completely abandoned, don't investigate, just leave. If your travel buddy from Iceland strangely disappears, don't try to get to the bottom of it. If your creepy adopted daughter won't stop talking about a town called Silent Hill, there is no need to take a day trip. It's a hard instinct to restrain, but trust us, while traveling, ignorance really is bliss.
4. Don't Check into Motel Hell
While the corporatization of America is fairly disturbing, there are definitely some places where "independent" doesn't always mean better. Yes, we should all support our independent shops, restaurants, and movie theaters, but when traveling, never, EVER check into an off-the-highway, mom-and-pop motel. Why? Because Mom might be Norman Bates' mother and Pop might be creepy, mustached Frank Whaley from Vacancy. There's something about these no-tell motels that just seem to attract murderous psychopaths, and there's always some secret killing room or hidden surveillance camera to make your stay even more unpleasant. Remember - stick to Holiday Inns and Best Westerns, and you'll probably be able to rest easy without being stabbed in the shower. Probably.
3. How Would Jesus Travel?
We all know the long and extensively catalogued relationship between morality and ending up on the wrong side of a slasher's machete. The pot-smoking fornicators get pummeled to death in their sleeping bags, while good virginal Jamie Lee Curtis lives to scream another day. We're not trying to be a buzzkill, but it doesn't hurt to mind your manners while traveling abroad. If you spend weeks mindlessly bedding prostitutes in Amsterdam, you can't be that surprised to find yourself, in turn, prostituted out to the highest bidder in an East European torture factory. (See our previous tip about travel irony.) Bad behavior begets bad behavior, so show some vacation moderation and make it home alive.
2. Keep Your Eyes Open
You should always be able to relax on a vacation, but that doesn't mean you shouldn't do your best to stay alert. Just being observant might go a long way to helping you make it home alive. If a random guy at a bar starts talking about the town's bloody history, LISTEN. He's one of life's little narrators who's trying to give you a preview of things to come. If you notice a lot of posters for missing people, pay attention, pack up, and leave. While you're sitting in your hostel or similar accommodations, take a note of your surroundings and mentally catalogue anything that might be used as a weapon later. And try to notice if the marauding madman trying to kill you has any mommy issues or other emotional buttons that you can push in a pinch. Those few extra moments of anguish might help you make it to the embassy in one piece.
1. If You HAVE to Book a Torture Trip...
OK, let's say you're on the other side of the equation - you're a rich trust fund kid or businessman who (for some reason) really, really wants to travel to Slovakia to take a power drill to an innocent victim. Now we don't really agree with your lifestyle choice, but it takes all kinds, particularly on the Internet. So, though we find you completely reprehensible, here's a quick tip - choose your victim carefully. If the person you paid to torture seems like an obnoxious jerk with a lifetime of bad karma behind them (i.e. Brad), go right ahead. Torture away with no worries. If your victim seems like a comic relief kind of guy - funny, but ultimately disposable - proceed with caution. You'll probably get away with killing them, but there's a chance that their affable sense of humor has inspired enough loyalty in their friends to make them come after you later. If your victim seems like a steely leader-type with something to prove or a damaged loner searching to find his or her inner strength again, walk away. They're going to get out of those handcuffs and turn the tables on you any minute. Just excuse yourself and, if you must, go abuse someone who's asking for it, you know, like the guy in the Goofy suit at Disney World.

US backpacker killed in hostel
http://news.bbc.co.uk/2/hi/uk_news/northern_ireland/4550823.stm
Detectives have launched a murder inquiry into the death of a woman at a backpackers' hostel in south Belfast.
The 29-year-old, from the United States, died after sustaining a head injury in Fitzwilliam Street at about 1900 BST on Sunday.

It is understood she was staying at a hostel in the street and it has been suggested that she fell from a window.

One woman has been arrested. It is understood the victim, from New Mexico, arrived in Northern Ireland last month.

She had also visited Scotland on her travels since then, before returning to Belfast.

Other people staying at the hostel were moved to alternative accommodation while the police continued their inquiries.

A house in Camden Street, which runs parallel to Fitzwilliam Street, was also cordoned off.

A post mortem examination was being carried out on Monday.

Police have not yet released the woman's name, although her parents have been informed.
http://www.hostelfilm.com/true_facts/index.html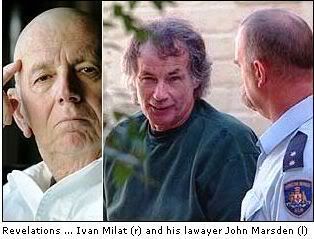 Backpacker murders


http://simple.wikipedia.org/wiki/Backpacker_murders
The backpacker murders is when lots of people were killed in Australia from 1990-1996, and all of their bodies were found in Belangalo State Forest, which is close to Sydney. Police think that a person called Ivan Milat killed all of these people, and they say that 7 people died.




Backpacker murders


http://en.wikipedia.org/wiki/Backpacker_murders
The Backpacker Murders is a name given to a serial killing case that occurred in New South Wales, Australia during the 1990s. The bodies of seven missing young people were discovered partly buried in the Belanglo State Forest, 15 kilometres south west of the town of Berrima, New South Wales. Five of the victims were international backpackers visiting Australia, and two were Australian travellers from Melbourne. Ivan Milat was convicted of the murders and is serving a life sentence in prison.

Belanglo State ForestThe term Backpacker murders specifically refers to the seven murders for which Ivan Milat was convicted. There is some speculation that Milat may have committed up to thirty more killings but this has never been determined




Wolf Creek


http://en.wikipedia.org/wiki/Wolf_Creek_(film)
Wolf Creek is a 2005 Australian horror film, written, produced and directed by Greg McLean and starring Cassandra Magrath, Kestie Morassi, John Jarratt and Nathan Phillips. It was released in the United Kingdom and the Republic of Ireland on 16 September 2005, on 3 November 2005 in Australia (apart from the Northern Territory), and on 25 December 2005 in the United States.

Natalee Holloway

http://en.wikipedia.org/wiki/Natalee_Holloway
Natalee Ann Holloway (born October 21, 1986), from Mountain Brook, Alabama, United States, disappeared on May 30, 2005 during a graduation trip in Aruba. Holloway remains officially missing to this day, although according to Aruban authorities, she is most likely dead.[1] The disappearance generated a media sensation in both the U.S. and Aruba and sparked considerable interest in the Netherlands.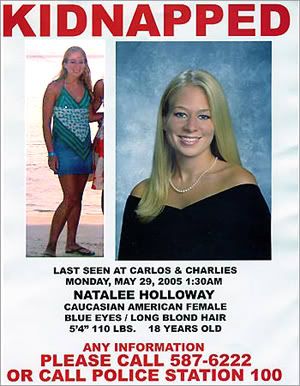 Disappearance of Madeleine McCann
http://en.wikipedia.org/wiki/Madeleine_McCann


The disappearance of Madeleine McCann occurred on the evening of Thursday, 3 May 2007, when a then three-year-old British girl, Madeleine McCann, went missing from a holiday apartment in Praia da Luz in the Algarve in Portugal, in which she was staying with her parents. Investigation by the Portuguese Police concluded that Madeleine, who was in a bedroom with her two two-year-old siblings, had been abducted.
Despite extensive publicity, firm leads have been few though there has been speculation that a paedophile gang was involved with attention currently focussing on Morocco.


What Happened to Madeleine McCann?


http://crimeblog.us/?p=399


Scottish man arrested for tourist murder in Canaries resort


http://www.typicallyspanish.com/news/publish/article_10863.shtml


A German tourist was fatally stabbed in what police say was a crime of passion within the gay community
A Scottish man named by the EFE news agency as C.B. was escorted to court on Gran Canaria on Thursday, following his arrest for the murder of a 44 year old German tourist on the Playa del Inglés last Saturday. His court appearance was delayed after he was admitted to hospital on Wednesday following what may have been an attempt at suicide.

The assault took place on Calle Timple at 5am on Saturday, near the Hotel Rondo where the victim was staying. Named as K.H.J., he was fatally stabbed in the chest.

The suspect was arrested on Sunday afternoon: police say robbery was not the motive, describing it as a 'crime of passion' within the gay community.

The Canary Islands newspaper 'Canarias 7' reports that the victim was on holiday with his partner, but had gone out alone on the night he was attacked.


Man accused of killing gay tourist 'was banned GP'


http://news.scotsman.com/international.cfm?id=898012007
AN Edinburgh man accused of killing a gay German tourist in a Spanish holiday resort was today reported to be a former GP who was banned from practising after battling drug addiction.

Spanish officials have named Colin Brown, 39, as the main suspect in the killing of German tourist Karl Heinz Thonningen, 44, in Gran Canaria at the weekend.

Officers believe Mr Thonningen, who was stabbed through the heart, was killed in a "crime of passion" after the attacker found out he had a long-term partner.

Brown was remanded in custody after appearing in court yesterday. He had been arrested after taking an overdose in an apparent suicide attempt.

In the San Bartholome de Tirajana court yesterday, Brown denied meeting the victim on the night of the killing or sharing a drink with him in a gay bar in the resort of Playa del Ingles.

A court spokesman said: "Colin Brown has appeared before an investigating judge in connection with the murder of Karl Heinz Thonningen.

"He has denied knowing the victim or being with him the night the victim died. The judge has formally declared him a suspect and remanded him."

Reports today said Brown, who is believed to live in the Broughton area of the city, was a former doctor who had his successful medical career ruined by an addiction to cocaine and date rape drug GHB.

Brown is said to have been a successful GP in Brighton until he became involved in the coastal city's drug scene.

When he moved to Scotland, he tried unsuccessfully to beat his addiction and is reported to have become a regular in the city's gay pub and club circuit. It was also claimed that Brown had been arrested twice for bizarre drug-fuelled behaviour while living in Edinburgh.

In one case, he shouted and swore at police who found him repeatedly banging his head against a wall while in another, after he was stopped in his car by officers, he tried to drive away from them when he was barely able to stand.

Brown has since been suspended from practising medicine and has had his driving licence suspended by the DVLA.

Following an hour-long hearing, investigating judge Francisco Juan Sanchez remanded Brown to a local jail.

The judge will now hold interviews with potential witnesses, including local bar owners in the area where the German tourist - who was on holiday with his boyfriend - is thought to have been drinking.

The area of the killing is packed with bustling gay bars and the German is understood to have left at about 4.30am.

He had gone out for the night while his partner stayed in the hotel.

At about 5am, he was walking along a quiet street called Calle Timple, just 150 yards from the trendy Hotel Rondo, where they were staying with friends, when he was attacked and stabbed through the heart. His body was later found by another holiday-maker who immediately called police.

Although forensic officers cordoned off the area and took fingerprints from cars, lamp posts, and bottle tops in the road, they have so far been unable to trace a murder weapon.

Two ambulances attended but according to reports Mr Thonningen was covered in blood after a violent attack and paramedics were unable to resuscitate him.




Travel Security -- Isn't it dangerous out there?


http://ease.com/~randyj/secure1.htm



There are lots of dangerous things in the world if you know where to look. The important thing is to have fun


http://danger.mongabay.com/

Travel Health Tips
Health Conditions
How to Survive Kidnapping
Kidnapping Statistics
How to Survive Hijackings
How to Survive Culture Shock
How to Avoid Hotel Crime
How to Survive Hotel Fires
How to Survive Civil Unrest
How to Survive Acts of Terror
How to Manage Important Papers
How to Survive Malaria
How to Survive Civil Unrest
How to Survive Airports
How to Survive Planes
How to Survive Public Transportation
How to Survive Car Rentals
How to Survive A Shooting
Videointerview with Juan, owner of Riga Hostel