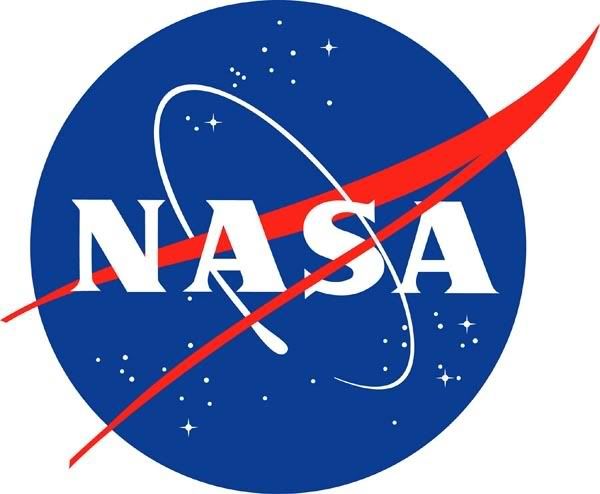 The National Aeronautics and Space Administration (NASA) is an agency of the United States federal government, responsible for the nation's public space program. Established on July 29, 1958, by the National Aeronautics and Space Act,[2] its annual funding for fiscal year 2007 (FY2007) amounts to US$16.8 billion.
In addition to the space program, it is also responsible for long-term civilian and military aerospace research. Since February 2006 NASA's self-described mission statement is to "pioneer the future in space exploration, scientific discovery, and aeronautics research."
Its motto is per aspera ad astra, Latin for "through hardships to the stars."
http://en.wikipedia.org/wiki/NASA
NASA World Wind
http://worldwind.arc.nasa.gov/
National Aeronautics and Space Administration (NASA) first landed men on the moon in 1969; now NASA is looking to return to the moon...and land men on Mars. NASA runs the Space Shuttle program and launches unmanned satellites and probes to explore space. The agency developed a new "building block" strategy that includes replacing the Shuttle by the end of the decade, sending men to the moon by 2020, and getting men to Mars. In 1958 the government formed NASA, partly in response to the Soviet Union's launch of Sputnik. Ironically, NASA partnered with Russia in the troubled $60 billion International Space Station, which houses astronauts conducting space research.
http://www.answers.com/topic/nasa
Mission Atlantis: Space Station Power Play
http://www.space.com/missionlaunches/070604_sts117_payload.html

STS-117
http://www.nasa.gov/mission_pages/shuttle/shuttlemissions/sts117/index.html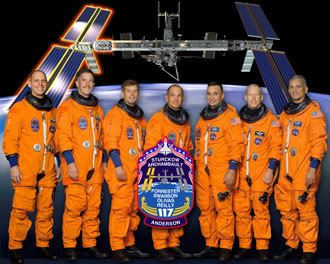 Image above: The crew of STS-117 pose for their official portrait. From left: Expedition 15/16 Flight Engineer Clayton C. Anderson, mission specialists James Reilly II, Steven Swanson, Commander Frederick Sturckow, Pilot Lee Archambault and mission specialists Patrick Forrester and John D. Olivas. Image credit: NASA


Atlantis astronauts arrive at the Cape for launch
http://www.spaceflightnow.com/shuttle/sts117/070604arrival/

The crew of shuttle Atlantis flew to the Kennedy Space Center today for final preparations before blastoff Friday on a long-delayed space station assembly mission. Arriving in two waves aboard T-38 jet trainers, the astronauts took a moment to greet reporters at the Shuttle Landing Facility around 6:45 p.m.

"It's great to be down here in Florida," said commander Rick Sturckow. "We appreciate this great weather you got for us today to fly in here. If you can just get some weather like this for us on Friday evening, we'll appreciate that, too.

"The crew is very excited to be in Florida. We've spent a long time training for this mission. As you know, we had a little bit of a setback, we were supposed to go in March. We especially appreciate all the great work that was done on ET-124, our external tank. ... We just flew by the launch pad on the way in here. It looks great."

Running three months late because of hail damage to the shuttle's external fuel tank insulation, Atlantis' crew plans to deliver and install a $367 million set of solar arrays and a powerful rotary joint to help them track the sun. They also plan to complete the retraction of another set of arrays so it can be moved as required later this year.

Three spacewalks are planned and the crew is prepared to stage a fourth, supplies permitting, if they run into problems retracting the P6-2B solar array wing.

The countdown for shuttle mission STS-117 is scheduled to begin at 9 p.m. Tuesday, setting up a launch attempt at 7:38:02 p.m. Friday. NASA's Spaceflight Meteorology Group has not yet released a launch forecast, but the National Weather Service in nearby Melbourne predicts partly cloudy skies and a 30 percent chance of scattered showers and thunderstorms Friday, decreasing to 20 percent Saturday night.

If all goes well, engineers will pump liquid hydrogen and oxygen aboard the orbiter Wednesday evening to power the ship's three electricity producing fuel cells. NASA's mission management team will meet Friday morning to assess launch processing and the weather. If no major problems develop, the shuttle's huge external fuel tank will be loaded with a half-million gallons of liquid hydrogen and oxygen starting around 9:42 a.m.

Sturckow and his crewmates are scheduled to suit up and head for pad 39A a few minutes before 4 p.m. Friday to strap in for launch.

Today's crew arrival kicks off a busy week of space activity. Aboard the international space station, Expedition 15 commander Fyodor Yurchikhin and flight engineer Oleg Kotov are gearing up for a six-hour spacewalk Wednesday to complete the installation of micrometeoroid shields on the Zvezda command module.

Yurchikhin and Kotov installed five panels during a spacewalk last week and another 12 are to be installed Wednesday. The spacewalk is scheduled to begin at 10:30 a.m.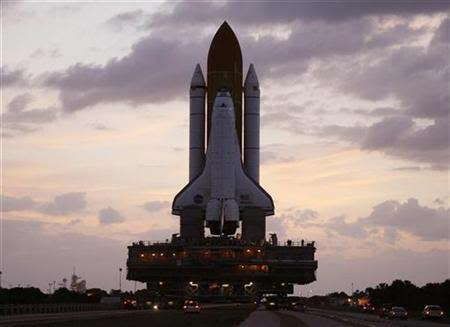 AIRSPACE, BRIDGES AND WATERWAY RESTRICTIONS IN EFFECT FOR STS-117
http://bbsnews.net/article.php/20070604205024175
NASA via BBSNews - 2007-06-04 -- For the STS-117 launch of Space Shuttle Atlantis, NASA managers are urging all aircraft pilots and boaters to fully comply with the airspace, bridges and waterway restrictions imposed around Kennedy Space Center prior to and during shuttle launches and landings.

"As always, we are coordinating with officials from the U.S. Air Force Eastern Range, Federal Aviation Administration and the U.S. Coast Guard to help provide a safe launch environment for the shuttle crew and for interested spectators," said KSC Launch Director Mike Leinbach. "Violating these restrictions is not only unsafe for the astronauts and support crews, it's unsafe for the violator."

The first launch opportunity is Friday, June 8, with liftoff targeted for 7:38p.m. EDT. This launch time is approximately in the middle of a 10-minute launch window. At NASA's request, Air Force and Coast Guard surveillance aircraft will patrol KSC's airspace boundaries on launch day. Violators will be intercepted by patrol forces, thoroughly investigated and subject to FAA enforcement action. A number of restrictions remain in effect around KSC during the hours immediately following the launch of a space shuttle.

The following are restrictions that apply to pilots, boaters and motor vehicle operators using the airspace, waterways, or roads and bridges that lead to KSC.

KSC AREA AVIATION RESTRICTIONS

For the launch of Atlantis on mission STS-117, all restricted areas surrounding KSC will be active and the area covered by flight restrictions has once again been expanded for this launch.

Due to international terrorist activities, heightened security is essential to protect the space shuttle as a national asset. An inadvertent unauthorized incursion into the area of the Cape Canaveral Temporary Flight Restriction, or TFR, could cause a scrub in the launch of Atlantis, the activation of airspace defenses and an FAA enforcement action. Local pilots are asked to help NASA by respecting these temporary but necessary restrictions so the launch can occur on time and without incident.

The Eastern Range restricted airspace for KSC and Cape Canaveral Air Force Station is in effect on a continuous basis and is off limits to general aviation pilots. Access is limited to official aircraft only. The restricted airspace normally covers the area bounded by the Indian River to the west, Port Canaveral to the south, the city of Oak Hill to the north, and three miles over the Atlantic Ocean to the east. Pilots are encouraged to consult the current FAA aeronautical chart for Orlando Class B airspace.

On launch day, these restricted areas will be expanded by the TFR and will be activated seven hours before the launch window opens. It will continue in effect until 30 minutes after launch, after which the standard restricted areas for KSC and Cape Canaveral Air Force Station will be in effect. On Friday, June 8, the TFR will be activated at 12:38 p.m. EDT. The launch is targeted to occur at 7:38 p.m. EDT. If the launch is scrubbed, pilots should check NOTAMs for the hours the TFR will be in effect for the next launch attempt.

General aviation and VFR operations are prohibited within a 30-nautical-mile radius of Launch Pad 39-B from the surface to (but not including) 18,000 feet (located on the Melbourne VOR/DME 004-degree radial at 30.6 nautical miles). Among the public-use general aviation airports affected within this area are Space Coast Regional Airport in Titusville, Arthur Dunn Airpark in Titusville, Merritt Island Airport on Merritt Island and Massey Ranch in Edgewater.

Within an airspace radius between 30 and 40 nautical miles of Pad 39-A, a discrete transponder code must be obtained and clearance granted from air traffic control before entering this airspace. Continuous radio communications must be maintained.

Among the public-use airports affected within the 30- to 40-nautical-mile radius in which flight is permitted but under positive air traffic control are Orlando International Airport, Orlando Executive Airport, Orlando-Sanford International Airport, the New Smyrna Beach Municipal Airport, Melbourne International Airport and Valkaria airport.

Before flight, pilots should contact the St. Petersburg FAA Flight Service Station at 1-800/WxBrief (1-800/992-7433) for details of the restrictions contained in the NOTAMS. In flight, outside Orlando Class B airspace, pilots should contact Orlando Approach control on 134.95. In the Melbourne area, contact Orlando Approach control on 132.65. In southern Volusia County, contact Orlando Approach control on 125.35. Flight Service can also be reached locally by radio on the Titusville RCO at 123.6 or the Melbourne RCO on 122.6. Advisories will also be available from the control tower at Space Coast Regional Airport in Titusville at 118.9 megahertz.

Between L-7 hours and L-3 hours, (12:33 to 4:33 p.m.) pilots will be permitted to depart and return to the airports managed by the Titusville-Cocoa Airport Authority. These include Space Coast Regional Airport, Arthur Dunn Air Park and Merritt Island Airport. After L-3 hours, no aircraft departures or landings at these airports will be permitted. It is important that pilots read the NOTAM for further details before planning a departure at these three local airports.

At Space Coast Regional Airport, pilots should contact ground control prior to departure at 121.850 Mhz for air traffic control instructions. At Arthur Dunn Air Park and Merritt Island Airport, pilots should telephone Orlando Approach Control at 407-825-3398. Departure instructions, radio frequency to be used and discrete transponder code will be provided.

After departure, pilots must maintain continuous radio communications, squawking the assigned transponder code at all times while within the TFR airspace. Remain vigilant for the possibility of fighter aircraft within the TFR. In the event of radio failure, pilots should squawk 7600 and depart the TFR on a heading away from the NASA restricted areas.

BRIDGES AND ACCESS HIGHWAYS CONTROLLED FOR LAUNCH

The opening and closing of bridges over waterways surrounding KSC will be strictly controlled during the hours immediately before and after the launch period for each space shuttle mission.

Bridges affected by the launch include:


Port Canaveral Barge Canal (State Road 401);

Indian River/NASA Causeway West (Intracoastal Waterway);

Merritt Island Barge Canal (Merritt Island State Road 3);

Haulover Canal Bridge (State Road 3, north of KSC).


Restraints on bridge openings for boat traffic begin three hours before launch. The bridges may be opened for five minutes at the following points in the launch countdown: T-180 minutes, T-150 minutes, T-120 minutes, T-90 minutes and T-65 minutes. Adding 20 minutes to these times and then subtracting the total number of minutes from the opening of the 10-minute launch window (7:33 p.m.) will result in an approximate time of openings.

Bridges will remain closed to boat traffic until 90 minutes after liftoff (T+90). They may then open for five minutes at T+90, T+120 minutes and T+150 minutes. Bridge operations will return to normal three hours after launch (T+180 minutes).

Should the shuttle be required to perform a return-to-launch-site landing at KSC, all bridges would remain closed to boat traffic from 45 minutes before landing until at least one hour after landing.

State Road 3 from the Gate 2 Pass and Identification Building to State Road 405 (NASA Causeway) via Space Commerce Way will be closed on launch day, June 8, beginning at noon. NASA Causeway between the KSC Visitor Complex and the U.S. Astronaut Hall of Fame will also be closed starting at that time. Only badged employees and guests with passes will be permitted access. These roads will reopen approximately two hours after launch.

On the Merritt Island Wildlife Refuge, State Road 406 and County Road 402 leading to Titusville, as well as State Road 3 south of the Haulover Canal bridge, will close at 6:30 p.m. on Monday, June 4, and reopen approximately two hours after launch.

KSC AREA BOATING RESTRICTIONS

Waterways and boating near KSC will be strictly controlled prior to and during the launch of Atlantis on STS-117.

Safety and security requirements, including Air Force range safety impact limit lines, will go into effect three days before launch. Other requirements will be phased into effect through sunset the night before launch. A general description of the area follows:

ATLANTIC OCEAN: Beginning on L-3 days (Tuesday, June 5, at 7:30 p.m.) and continuing through launch, a general exclusion zone will be in effect three miles offshore from the Haulover Canal, near the north end of KSC, and southward to Port Canaveral. Four hours prior to launch, all ocean-going traffic will be restricted from entering an area measured from nine miles north and south of the launch pad and extending 64 miles east into the ocean. An additional three-mile-wide exclusion zone will be extended eastward along the flight path of the space shuttle.

INDIAN RIVER: Restrictions apply from the NASA Causeway north to the Haulover Canal and east of the Indian River's main channel. Restrictions begin on L-3 days (Tuesday, June 5).

MOSQUITO LAGOON: This area south of the Haulover Canal in the Mosquito Lagoon is off limits to all boats beginning on L-1 day (Thursday, June 7).

BANANA RIVER: Security limits begin at the Banana River Barge Canal south of KSC at the State Road 528 crossing and extend north. This restriction is effective 16 hours prior to launch (Friday, June 8, at 3:30 a.m.).

All boating restrictions will be lifted approximately one hour after launch. Boating interests should monitor Coast Guard Channel 16 broadcasting from Port Canaveral. The Coast Guard, the Fish and Wildlife Service, and KSC security forces share responsibility for enforcing the boating guidelines.


Weather for shuttle launch still looks good


http://www.elpasotimes.com/breakingnews/ci_606526
There is a 70 percent chance of good weather for Friday's launch of Atlantis according to a report on the Florida Times' space blog.
The report cites a NASA briefing going on this morning. The 45th Weather Squadron at Patrick Air Force Base has determined there is a 70 percent chance of acceptable launch weather for attempts Friday, Saturday and Sunday, the report says. The official countdown to launch is set to start at 9 p.m. today.

El Pasoan John "Danny" Olivas is one of the seven astronauts scheduled to be a part of the next mission, STS-117, launching Friday.


T-38 jets bring STS-117 crew to Kennedy for Friday's launch


http://www.itwire.com.au/content/view/12674/1066/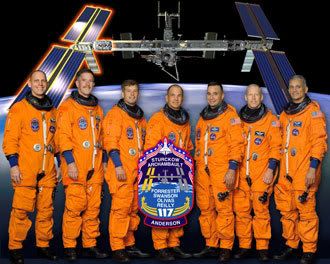 Northrop T-38 Talon trainer jets, the world's first and most popular supersonic trainer jet, brings in, on June 5th, the seven crew members of the upcoming STS-117 mission scheduled to liftoff on 7:38 p.m. EDT June 8, 2007.


The launch of STS-117 can be viewed live on NASA TV beginning at 1:30 p.m. EDT with a scheduled lift-off at 7:38 p.m.

The T-38 jets are used widely in the U.S. Air Force and by NASA for its astronauts. The astronauts fly them, normally, from the Johnson Space Center (in Clear Lake City, near Houston, Texas), where they train for Space Shuttle and International Space Station missions, to the Kennedy Space Center (Florida), where they are launched into space.

Once produced by the Northrop Corporation, the T-38 jets are also used by the Portuguese Air Force and the Turkish Air Force. The maiden flight of the T-38 occurred on March 10, 1959 and was operationally introduced in 1961.

At 7:38 p.m. EDT, the STS-117 mission will begin with the launching of the Space Shuttle Atlantis from Launch Pad 39A. The eleven-day mission will be the 21st NASA mission to the International Space Station (ISS). STS-117 is the 118th shuttle flight for NASA.

The STS-117 crew includes commander Frederick Sturckow, pilot Lee Archambault, ISS Expedition 15/16 flight engineer Clayton C. Anderson, and mission specialists James Reilly II, Steven Swanson, Patrick Forrester, and John D. Olivas,

International Space Station (ISS) Expedition 14/15 flight engineer Sunita L. Williams will return to the Earth from the ISS aboard Atlantis with the STS-117 crew. ISS expedition 15/16 flight engineer Clayton C. Anderson will replace Williams. He will return to the Earth aboard Space Shuttle Discovery on mission STS-120.

The crew will deliver the second and third starboard truss segments (S3/S4) to the Space Station, along with a pair of solar arrays. Atlantis and crew will return to the Earth on June 19, 2007 with a scheduled landing at the Kennedy Space Center.

For more information about the STS-117 mission and crew (including profiles on each member of the crew), go to the NASA website "Mission Information: STS-117".


70 Percent Chance Atlantis Will Launch Friday


http://www.space.com/missionlaunches/070605_sts117_update.html
Preparations are on track for Friday's evening launch of the space shuttle Atlantis from Florida, despite a small chance of a scrub due to weather.

"We are tracking no issues at the moment," said NASA test director Steve Payne.

However, there is a 30 percent chance that thunderstorms could encrouch within 20 nautical miles of the shuttle facility at NASA's Kennedy Space Center and delay launch.

"We do expect to see some afternoon thunderstorms in the area on launch day, but by launch time all that weather should move inland with the sea breeze," said shuttle weather officer Kathy Winters.

"The weather looks reasonably promising for launch," Winters added.

The eight-member STS-117 crew led by commander Frederick Sturckow arrived at KSC Monday evening and inspected the shuttle payload, which includes the S3/S4 truss segment and a new pair of solar arrays for the International Space Station (ISS).

The traditional call-to-stations will take place at 8:30 pm EDT tonight ( June 6, 0030 GMT) tonight, and T-43 countdown will begin at approximately 9 pm EDT (June 6, 0100 GMT).

Atlantis is set to lift off on Friday, June 8 at 7:38 pm EDT (2338 GMT). Atlantis has a clear launch window from June 8 to 12. If the shuttle fails to launch by June 12, it will stand down for four days to allow the scheduled launch of a Lockheed Martin Atlas rocket on June 14. The next launch opportunity will then be June 17.

During the 11-day mission, the STS-117 astronauts will perform up to four spacewalks to install the new space station parts. STS-117 crewmember Clay Anderson will also swap places with Expedition 15 flight engineer Sunita Williams, who has been living aboard the station since December. Williams and the rest of the STS-117 crew are scheduled to return to Earth on the afternoon of June 19.

The STS-117 mission was originally slated to begin on March 15, but was delayed due to hail damage to the orbiter's foam-covered external tank following a late-February storm.

"We're relieved that we're finally here. It's been a long waiting period" Payne said. "The team is really excited, and we're ready to get off the ground."

Payne said that a planned strike by 570 United Space Alliance space shuttle program workers, which could begin as early as June 10, will not affect mission operations.

"We have a plan in place," Payne said. "For those personnel, if it becomes an issue, we have personnel identified that can do the job and are certified and ready to go."


NASA, 13 Space Agencies Join in Historic Space Cooperation Agreement


http://www.satnews.com/stories2007/4550/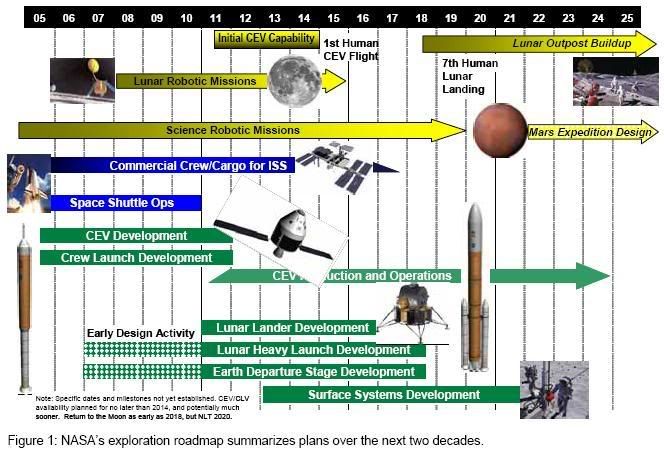 SARTEANO, Italy, June 5, 2007 - Satnews Daily - The U.S. National Aeronautics and Space Administration (NASA) and 13 of the world's top space agencies have agreed to work together and coordinate future space missions. They did not, however, agree to create a single global space program.

The partner space agencies include ASI (Italy); BNSC (UK); CNES (France); CNSA (China); CSA (Canada); CSIRO (Australia); DLR (Germany); ESA (European Space Agency); ISRO (India); JAXA (Japan); KARI (South Korea); NASA (USA); NSAU (Ukraine) and Roscosmos (Russia).

The group released a 25-page document, "The Global Exploration Strategy: The Framework for Coordination," that highlights a shared vision of space exploration focused on solar system destinations such as the Moon and Mars where humans may someday live and work. The document is the latest product of their Global Exploration Strategy discussions.

The document says that sustainable space exploration is a challenge that no one nation can do on its own, and recommends a voluntary, non-binding forum, the international Coordination Mechanism, through which nations can collaborate to strengthen both individual projects and the collective effort. The framework should help different nations exchange ideas and mission plans. The document also will help identify gaps in space organization and duplication of similar missions among participating parties.

The completely voluntary framework allows space organizations to participate in joint missions, along with distributing scientific data amongst those participating in the program. The partners have high hopes for planned missions to the Moon and Mars. The document was written following intensive discussions that began after a space exploration conference held in Washington in April 2006. With different backgrounds, interests and capabilities, the agencies have started to develop a mutual understanding of, and language for, space exploration.

British Science and Innovation Minister Malcolm Wicks said the document marks the start of a new era of space exploration. "During this century we are sure to see some fantastic voyages of discovery as robots and humans venture further into our Solar System," said Wicks. "What they learn will excite and inspire new generations to get involved in science and create new technology that could benefit the whole economy."

The Global Exploration Strategy identifies the Moon as the group's nearest and first goal. The Moon will also be a base from which to study the Earth and the universe, and to prepare humans and machines for venturing farther into space. Mars is a prime space exploration target with missions also planned for Jupiter's moon Europa, and Saturn's moons, Titan and Enceladus.

The agencies said a partnership between humans and robots is essential to the success of these ventures. They note that robotic spacecraft are their scouts and proxies, venturing first into hostile environments to gather critical intelligence that makes human exploration feasible.

The United States has developed its Vision for Space Exploration while the European Space Agency has its Aurora space exploration program. China, India, Japan and Russia have ambitious national projects to explore the Moon or Mars. Canada, Germany, Italy, South Korea and the United Kingdom have their own space projects.


NASA STS-116 Space Shuttle Launch 09/12/2006
Massive NASA Rocket Explosion





NASA Shuttle Engine Upgrades Improve Safety and Reliability
http://www.nasa.gov/home/hqnews/2007/jun/HQ_07130_Shuttle_Engine_Upgrades.htm
l
HUNTSVILLE, Ala. - A main engine computer upgrade developed by NASA's Marshall Space Flight Center in Huntsville, Ala., will fly on space shuttle Atlantis during the STS-117 mission, targeted for launch June 8. The upgrade is part of NASA's continuing efforts to improve space shuttle safety and reliability.

The Advanced Health Management System, or AHMS, will provide new monitoring and insight into the performance of the two most critical components of the space shuttle main engine: the high-pressure fuel turbopump and the high-pressure oxidizer turbopump.

This latest improvement is to the controller, the on-engine computer that monitors and controls all main engine operations. The improvement allows an engine to shut down during launch if vibration levels exceed safe limits. AHMS consists of advanced digital signal processors, radiation-hardened memory and new software.

AHMS first flew on Discovery's STS-116 mission in December 2006 with a single controller on one engine, but in monitor-only mode, meaning AHMS collected and processed vibration data but could not shut down the engine. AHMS will operate in active mode - the ability to shut down an engine if an anomaly is detected - on a single engine during the upcoming STS-117 mission and is scheduled to fly in active mode on all three engines during the STS-118 mission later this year.

In the event of an engine shut down, the shuttle has several options available to abort the ascent. They include returning to the launch site, a transatlantic abort landing, landing at an alternate site in the United States or rendezvous with the International Space Station. Each scenario would depend on when an engine shuts down during flight, the mission trajectory and mission specific requirements, such as payloads.

The system uses data from three existing sensors, or accelerometers, mounted on each of the high pressure turbopumps. It measures how much each pump is vibrating. High-pressure fuel and high-pressure oxidizer turbopumps rotate at approximately 34,000 revolutions per minute and 23,000 revolutions per minute, respectively. To operate at such extreme speeds, the turbopumps are equipped with highly specialized bearings and precisely balanced components. Output data from the accelerometers is routed to the new digital signal processors installed in the main engine controller. These processors analyze the sensor readings 20 times each second, looking for vibration anomalies that are indicative of impending failure of rotating turbopump components such as blades, impellers, inducers and bearings. If the magnitude of any vibration anomaly exceeds safe limits, the upgraded main engine controller would shut down the unhealthy engine immediately.

"The Space Shuttle Main Engine Project has, for many years, pursued a reliable means to monitor high-pressure turbomachinery health in real time," said Tim Kelley, deputy manager of the Space Shuttle Main Engine Project Office. "AHMS provides that capability and significantly improves shuttle flight safety."

AHMS is the sixth major upgrade to space shuttle main engines since the first shuttle flight in 1981. The series of shuttle main engine enhancements have increased safety and reliability through such improvements as the addition of a two-duct powerhead, a single-coil heat exchanger, a new high-pressure oxidizer turbopump, a large-throat main combustion chamber and a new high-pressure fuel turbopump.

The shuttle's three main engines start approximately 6.5 seconds prior to lift-off. Once running, the solid rocket boosters ignite, and lift-off occurs. During ascent, the solid rocket boosters burn for approximately 120 seconds and are then jettisoned. The shuttle, still attached to the external tank with three main engines running, continues ascent until main engine cut-off at 510 seconds, or eight and one-half minutes after liftoff - long enough to burn more than 500,000 gallons of fuel. The engines shut down just before the shuttle, traveling at about 17,000 mph, reaches orbit. The three main engines are never restarted during the mission, re-entry or landing. The shuttle returns to Earth as a glider.

Space shuttle main engines operate at greater temperature extremes than any mechanical system in common use today. These powerful engines are clustered at the aft end of the shuttle and have a combined thrust of more than 1.2 million pounds. Each is 14 feet long, is seven and one-half feet in diameter at the nozzle exit, weighs approximately 7,750 pounds and generates more than 12 million horsepower.

Space center faces striking workers as NASA tries for first space shuttle launch of yearhttp://abclocal.go.com/wls/story?section=nation_world&id=5365686
June 4, 2007 CAPE CANAVERAL, Fla - As the countdown toward a launch of Atlantis on the first space shuttle flight of the year was set to begin, another clock ticked away Monday toward a possible strike by several hundred workers at Kennedy Space Center.

The 569 space workers who last weekend rejected a contract offer from United Space Alliance could go on strike as early as Saturday, just a day after the first attempt to launch Atlantis, officials said. The company is the space agency's primary contractor for preparing space shuttles for launch.
NASA officials said a strike would not affect the launch. So far, no decision has been made on when to strike.

"Unless they decide to come to their senses a little bit, I'm sure that it's likely," said Johnny Walker, directing business representative for the International Association of Machinists and Aerospace Workers District Lodge 166. "I would urge NASA to not let the company put them in a bad situation."

The workers represent only a drop in the bucket of Kennedy Space Center's 17,000-person work force. Most of them labor in support areas, and few have any direct role in the final preparations for space shuttle launches, said Tracy Yates, a company spokeswoman.

Many of the workers work in logistics, warehousing, shipping and receiving, ground systems equipment and facilities maintenance. Others operate cranes and maintain the crawler-transporter used to deliver space shuttles to launch pads.

Most of the work for Friday's launch already has been completed by the employees who may strike. If there were a strike, managers and nonunion workers who have experience or certification in those jobs would be pressed into service, Yates said.

But Walker said those people wouldn't be up to the jobs.

"The guys that operate the crawlers and do the crane work, it takes our guys years to do the certification," Walker said. "It's not something that they teach somebody for three weeks or a couple of days, and then they walk in and do. That's dangerous business."

United Space Alliance was formed more than a decade ago and is owned equally by The Boeing Co. and Lockheed Martin Corp. Yates said the company was open to further talks, but as of Monday none were occurring.

NASA spokesman Bill Johnson said the space agency didn't expect any disruption in services provided by the company.

Atlantis and its seven astronauts are scheduled to blast off at 7:38 p.m. EDT Friday on a mission to deliver a third pair of solar arrays and continue construction on the international space station.

The astronauts were set to fly to Florida from Houston later Monday, and the countdown clock was set to start Tuesday night.

The launch originally was set for mid-March but was postponed after a hail storm damaged insulating foam on the shuttle's external fuel tank. Technicians worked more than two months repairing thousands of dings in the foam.

The astronauts flew to Florida from Houston in training jets Monday evening, and the countdown clock was set to start Tuesday night.

"As you know, we had a little bit of a setback when we were supposed to go in March," said Atlantis commander Rick Sturckow after landing in Florida. "We appreciate all the great work ... that was done on our external tank."




Ali G interviews NASA




NASA To the moon and beyond

Space shuttle Challenger