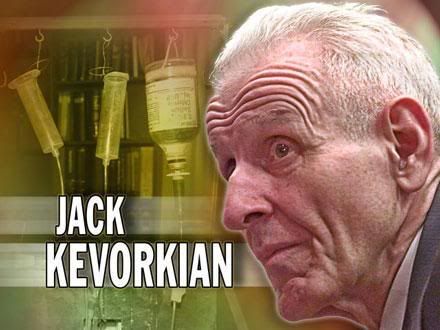 Jack Kevorkian, Medical Pathologist / Activist / Convict
http://www.answers.com/topic/jack-kevorkian
Jack Kevorkian (born 1928) became known as "Dr.Death," in part, because he assisted many people in committing suicide. Kevorkian considered the right to die to be a basic personal right, having nothing to do with government laws. He felt there could be a time when a suffering person may choose death and that physicians should be allowed to assist.
Jack Kevorkian originally wanted to be a baseball radio broadcaster, but his Armenian immigrant parents felt that he should have a more promising career. So he became a doctor, specializing in pathology. Kevorkian worked primarily with deceased people, performing autopsies in order to study the essential nature of diseases. His parents never imagined that he would be the one to design the first modern Thanatron (Greek for "death machine") nor that he would be the first to help people use this machine.
Kevorkian was born on May 28, 1928, in Pontiac, Michigan. He was raised in an Armenian, Greek, and Bulgarian neighborhood. Kevorkian attended the University of Michigan medical school and graduated in 1952. Kevorkian initially received his macabre nickname, "Dr. Death," for his pioneering medical experiments in the 1950's. He photographed the eyes of dying patients in order to determine the exact time of death. He believed that this precise knowledge would yield valuable information about diseases. Kevorkian served as associate pathologist in three Michigan hospitals: St. Joseph's, Pontiac General, and Wyandotte General. He also worked as a pathologist in some Los Angeles hospitals. Kevorkian was the founder and director of the Checkup Multi-Phase Medical Diagnostic Center in Southfield, Michigan and Chief of Pathology at the Saratoga General Hospital in Detroit. He published more than 30 professional journal articles and booklets, including Prescription Medicine: The Goodness of Planned Death.
As Kevorkian witnessed the suffering of terminally ill patients, he became convinced that they had a moral right to end their lives when the pain became unbearable, and that doctors should assist in this process. To that end, he designed and constructed a machine that started a harmless saline intravenous drip into the arm of a person wishing to die. When the patient was ready, he or she would press a button that would stop the flow of the harmless solution and begin a new drip of thiopental. This chemical would put the patient into a deep sleep, then a coma. After one minute, the timer in the machine would send a lethal dose of potassium chloride into the patient's arm, stopping the heart in minutes. The patient would die of a heart attack while in a deep sleep. The death, according to Kevorkian, would be quick, painless and easy. For a person suffering from the pain of terminal cancer or some other disease, the machine would provide what Kevorkian called a painless "assisted suicide."
First Assisted Suicide
In June 1990, Kevorkian assisted in the first of many physician-assisted suicides. He used his machine to hasten the death of Janet Adkins, a 54-year-old woman from Portland, Oregon, who was suffering from Alzheimer's disease. The State of Michigan immediately charged him with murder, although the case was later dismissed, largely due to the unclear state of Michigan law on assisted suicide. By 1999, Kevorkian had been present at the death of nearly 130 people. In each case he made his assistance known to the public, as part of a determined campaign to change attitudes and laws on physician-assisted suicide.
Public Reaction
Many agreed with what Kevorkian was doing. On June 21, 1996, during an interview with a Detroit radio station, famed broadcast journalist Mike Wallace said, "I am an old man. I'd be the first, if necessary, to go to Kevorkian." Wallace said he could imagine seeking Kevorkian's services if he were suffering from a painful and lingering disease. "You have the right as a human being to do what you want to do with yourself," said Wallace.
Others disagreed with this opinion. The National Spinal Cord Injury Association opposed assisted suicide because there were better ways around the problem. "Refusing medical treatment is your choice to die how you wish-in your own home with your family or in your hospital bed. Assisted suicide is you giving somebody the power to take your life away. A person is given the power to kill."
Legal Issues
Despite constant legal problems, Kevorkian continued to assist with suicides. In 1994, he faced murder charges in the death of Thomas Hyde, who suffered from a terminal nerve illness known as Lou Gehrig's disease. Jurors agreed with the argument that there was no statute against assisted suicide in the state of Michigan, and thus Kevorkian could not be found guilty.
The Kevorkian team of defense lawyers won yet another acquittal. They successfully argued that a person may not be found guilty of criminally assisting a suicide if that person had administered medication with the "intent to relieve pain and suffering," even it if did hasten the risk of dying. Kevorkian was prosecuted four times in Michigan for assisted suicides, and he was acquitted in three of those cases; a mistrial was declared in the fourth.
In 1998, the Michigan legislature enacted a law making assisted suicide a felony punishable by a maximum five year prison sentence or a $10,000 fine. This law went into effect months before a ballot proposition legalizing assisted suicide was defeated by Michigan voters. It closed the loophole on relief of pain and suffering, which Kevorkian's lawyer's relied upon to obtain acquittals. The statute provides that a person who knows another intends to kill himself and provides the means, participates in the suicide, or helps to plan the suicide, is guilty of a felony.
Kevorkian proceeded with what he thought was right, and challenged authorities to arrest and prosecute him. On September 17, 1998 he took the ultimate step in the assisted suicide of Thomas Youk. Instead of asking the patient to press the button to inject the fatal dose of drugs, Kevorkian, after speaking gently to the man suffering from Lou Gehrig's disease, administered the drug himself. Furthermore, he videotaped the entire event so there would be no doubt of what he had done. He then gave the tape to the television show 60 Minutes. The episode was aired for the whole world to see.
Shortly thereafter, Kevorkian was arrested in Michigan for first-degree murder. In this case, when he injected Thomas Youk with the lethal drugs, he committed euthansia, or mercy killing, not assisted suicide. Kevorkian was also charged under the felony law that bans assisted suicide, which went into effect approximately two weeks before Youk's death. Kevorkian decided to represent himself in the Youk murder trial. On March 26, 1999, he was convicted of the lesser offense of second degree murder by a Michigan jury.
In the maelstrom of opinion created by his beliefs, Kevorkian continued his campaign for legalized physician-assisted suicides. He expected to be arrested, and he often was. He felt he was doing his best for people who were terminally ill and suffering great discomfort. In so doing, Kevorkian raised national awareness of assisted suicide and forced the courts and legislatures to make decisions on this controversial issue
Jack Kevorkian, M.D. (IPA pronunciation: [k?.'v???.ki.?n] [1]) (born May 20, some sources say May 26[2], 1928) is a controversial American pathologist. He was born in Pontiac, Michigan to Armenian-American parents. He is most noted for publicly championing a terminal patient's "right to die" via physician-assisted suicide and claims to have assisted at least 130 patients to that end. This has earned him the nickname of Dr. Death. He is famous for his quotation, "dying is not a crime."
Imprisoned in 1999, he served eight years out of his 10-to-25-year prison sentence for second-degree murder in the 1998 poisoning of Thomas Youk, 52, of Oakland County, Michigan. Kevorkian was released from prison on June 1, 2007, but is expected to live less than 1 year due to a case of Hepatitis C that he contracted during service in Vietnam.
http://en.wikipedia.org/wiki/Jack_Kevorkian
The law catches up with 'Dr. Death'
http://www.courttv.com/casefiles/kevorkian/kevorkian.html
The Un-Official Dr. Kevorkian Homepage
http://www.chevychase.com/dr.death.html
Raw Video: Kevorkian Released From Prison
http://my.earthlink.net/article/vid?guid=video/0601dv_kevorkian_release
Jack Kevorkian Is Out Of Prison
Doctor Served 8 Years For Helping Man Commit Suicide; Says He Won't Again
http://www.cbsnews.com/stories/2007/06/01/national/main2874213.shtml
(CBS/AP) Frail but still feisty, 79-year-old Jack Kevorkian, the man known by some as "Dr. Death," walked to freedom today with a smile.

He said his release was "one of the high points of life" as he walked out with his attorney.

Inmates inside the prison had been milling about all morning for a glimpse of the 79-year-old, while reporters and television vans greeted him on the outside with cameras, microphones and questions.

"60 Minutes" correspondent Mike Wallace will talk to Kevorkian in his first post-prison interview, to be broadcast this Sunday at 7 p.m. EDT. Click here to read a preview.

Kevorkian attorney Mayer Morganroth said his client planned a news conference next week.

This doctor made house calls, with his homemade suicide machine, saying he was on a mission to help people who wanted to end their lives. He admitted to helping along more than 100 people to their deaths, leaving bodies in hotels and at hospitals. And for the better part of a decade he got away with it.

Throughout the 1990s, Kevorkian challenged authorities to make his actions legal — or try to stop him. He burned state orders against him and showed up at court in costume.

Then in late 1998, 22 million Americans saw a video of Kevorkian injecting ALS victim Thomas Youk with a lethal substance on CBS's 60 Minutes. Kevorkian was charged in Youk's death and convicted of second degree murder.

But Youk's family stood by Kevorkian, then … and now.

"Jack Kevorkian was the only person providing people with a choice when they found themselves in a difficult position at the end of life," Terry Youk, Thomas's brother, told CBS News correspondent Cynthia Bowers.

But many felt his unorthodox methods and unusual personality turned off potential supporters.

"He was kind of a wild-eyed fanatic," bioethicist Art Caplan told Bowers. "He got people's attention, but when you look more carefully, it wasn't the kind of person you wanted to lead the movement."

Kevorkian received a 10- to 25-year sentence, but he earned time off his sentence for good behavior.

He is expected to now move to Bloomfield Hills, just outside Detroit, where he will live with friends and resume the artistic and musical hobbies he missed in prison. His lawyer and friends have said he plans to live on a small pension and Social Security while doing some writing and make some speeches.

Kevorkian has promised never to help in another assisted suicide. But Ruth Holmes, who has worked as his legal assistant and handled his correspondence while he was in prison, said his views on the subject haven't changed.

"This should be a matter that is handled as a fundamental human right that is between the patient, the doctor, his family and his God," Holmes said of Kevorkian's beliefs.

In a recent interview, Kevorkian also made it clear that his support for letting people decide when they want to die hasn't wavered.

"It's got to be legalized. That's the point," he told a Detroit radio station in Detroit. "I'll work to have it legalized. But I won't break any laws doing it."

Kevorkian re-enters a society still largely undecided whether physician assisted suicide should be a right or whether it is wrong. Efforts to legalize it in six states (Maine, Vermont, Wisconsin, Washington, Hawaii and Michigan) have failed. The Michigan Catholic Conference says it will oppose any effort to renew the push for assisted suicide in Michigan.

Today only one state — Oregon — allows doctors to offer patients an option, a prescription to end their suffering.

As a condition of parole, Kevorkian promised not to participate in any more deaths. And in an exclusive interview he tells Wallace that if asked to assist a suicide, he would refuse:

"It would be painful for me but I'd have to refuse it, because I gave my word that I won't do it again."

Kevorkian's release stirs up mixed emotions
http://newsok.com/article/3061207
Jack Kevorkian on his release: 'It's wonderful'
http://www.freep.com/apps/pbcs.dll/article?AID=/20070601/NEWS06/70601012/1008/news&theme=KEVORKIAN052007
COLDWATER – Dr. Death is a free man.
Jack Kevorkian walked out of state prison today for the first time in more than eight years, flanked by his attorneys, two family friends and "60 Minutes" correspondent Mike Wallace, who greeted Kevorkian with a hug.
"It's wonderful," said a smiling Kevorkian, who eschewed a business suit his attorneys had brought for him for a trademark blue cardigan. "It's one of the high points of life."
When asked how he felt, he told pool reporters, "good."
Mayer Morganroth, one of Kevorkian long-time lawyers, said his client was grateful for supporters who wrote him over the years and said: "he just wants a little privacy for the next few days."
Kevorkian, 79, got into a white conversion van, rented by Morganroth, and drove away from the Lakeland Correctinal Facility shortly after 10 a.m. They avoided a media horde gathered by the prison's administrative building by taking another exit.
The assisted-suicide doctor, who claimed to have helped 130 people die during the 1990s, served about 8 ½ years of a 10-20 year sentence for second-degree murder.
Before resting today, Kevorkian will interview with "60 Minutes" for a segment scheduled to air Sunday night on CBS. Wallace, a correspondent for the news show, has stayed in contact with Kevorkian throughout his time in prison and has visited him.
Kevorkian also is expected to interview with Larry King for a show to air Monday on CNN. Morganroth has said Kevorkian will answer questions from other media at a news conference on Tuesday.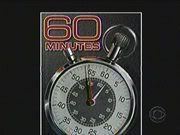 'Dr. Death' Kevorkian will no longer help end lives
http://uk.reuters.com/article/healthNews/idUKN0342102420070604
NEW YORK (Reuters) - Euthanasia proponent Dr. Jack Kevorkian, dubbed "Dr. Death" for assisting in some 130 suicides, vowed on Sunday he will no longer help people end their lives, even if they come to him in desperation.
"It would be painful for me, but I'd have to refuse them, because I gave my word that I won't do it again," Kevorkian told CBS's "60 Minutes" in an interview following his release from prison on Friday after serving eight years for a second-degree murder conviction.
Instead, he said he would "work with activist groups trying to get it legalized ... either through legislatures or through courts if possible."
Kevorkian, who said he didn't feel like a free man since being on parole constituted "a virtual tether," said he did not regret helping terminally ill patient Tom Youk die in 1998. The tape of the procedure led to Kevorkian's conviction.
"Why would I regret that?" he told reporter Mike Wallace, adding that Youk's "life didn't measure up anymore," by the patient's own standards and choice.
Kevorkian contended that even with only Oregon having an assisted suicide law on the books, "Doctors now are sneaking around and doing it."
"There's where the law creates immorality in medicine," Kevorkian said. "Any ... medical act should never be done in an atmosphere of fear and concern and secrecy."
Kevorkian thwarted four attempts by prosecutors to convict him and flouted a Michigan ban on assisted suicide aimed at him. State regulators revoked his medical license in 1991.
As to his own health, Kevorkian, 79, said he is "just fair ... That liver disease is a fright ... it concerns me."
But, he insisted, he is "content" with his life now. "I'm doing what I think is important."
Dr. Kevorkian highlights Wallace's full 60 Minutes
http://www.chron.com/disp/story.mpl/ent/4854029.html
Dr. Jack Kevorkian will give his first post-prison interview to veteran 60 Minutes correspondent Mike Wallace, CBS said Thursday. The interview will air Sunday.

Kevorkian, 79, is scheduled to be released from a Michigan prison today after serving eight years of a 10- to 35-year sentence. He was convicted of second-degree murder in the death of a man with amyotrophic lateral sclerosis, also known as Lou Gehrig's disease.

In an unusual move, CBS said Sunday's 60 Minutes (6 p.m., Channel 11) will be an all-Wallace show. In addition to the new interview with Kevorkian, Wallace, 89, will talk with Vanessa Redgrave, a Tony nominee for The Year of Magical Thinking. A previously aired Wallace interview with Iranian President Mahmoud Ahmadinejad will fill out the telecast.

In addition, Andy Rooney will close the show with a Wallace tribute.

Wallace's 1998 interview with Kevorkian was used by prosecutors in the doctor's conviction. In it, he showed himself on videotape injecting lethal chemicals into ALS sufferer Thomas Youk, who wanted to die.


Kevorkian tells "60 Minutes": I'll never assist in another suicide


http://blogs.orlandosentinel.com/entertainment_tv_tvblog/2007/06/kevorkian_tells.html

Jack Kevorkian, who is known as "Dr. Death," tells "60 Minutes" that he'll never assist in another suicide. Kevorkian made the comments in a Friday interview with Mike Wallace; the chat will be broadcast Sunday.

"I gave my word [to the parole board] that I wouldn't do it again," Kevorkian said after being released from eight years in prison. "And I won't."

Kevorkian said he won't talk specifically about euthanasia. "I won't discuss it like they stipulate. I won't ... I gave my word," Kevorkian tells Wallace.

Kevorkian says he can't be an advocate for euthanasia and assisted suicide, but he can urge that they be legalized.

"I always say, 'It should be legal,' " he tells Wallace.

But Wallace says even that comment could imply advocacy.

"Could be," Kevorkian replies. "Yeah, you could read a lot of things into that."

You can see the interview at 7 p.m. Sunday on WKMG-Channel 6. The hour will spotlight Wallace as interviewer and features a new chat with actress Vanessa Redgrave. Andy Rooney will pay tribute to Wallace.