The Life and Career of Dick Cheney
http://www.washingtonpost.com/wp-srv/photo/gallery/070622/GAL-07Jun22-78887/
Richard Bruce "Dick" Cheney (born January 30, 1941), is the 46th and current Vice President of the United States, serving under President George W. Bush. Previously, he served as White House Chief of Staff, member of the U.S. House of Representatives from Wyoming, and Secretary of Defense. In the private sector, he was the Chairman and Chief Executive Officer of Halliburton Energy Services; he is still a major stockholder. On June 29, 2002, he briefly assumed the powers and duties of the Presidency as Acting President when President Bush underwent a medical exam involving anesthesia.
Although his last name is very often pronounced ['t?e?ni] (chAYnee), the Vice President himself and his family pronounce it as ['t?i:ni] (chEEnee).
http://en.wikipedia.org/wiki/Dick_Cheney
Dick Cheney, post election interview November 4th, 1976
Born: 30-Jan-1941
Birthplace: Lincoln, NE
Gender: Male
Religion: Methodist
Race or Ethnicity: White
Sexual orientation: Straight
Occupation: Politician
Party Affiliation: Republican
Nationality: United States
Executive summary: Dubya's VP, ex-CEO of Halliburton
http://www.nndb.com/people/598/000022532/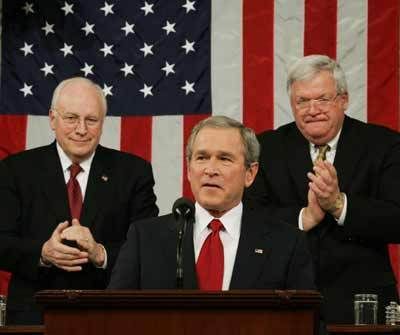 Cheney, Richard (1941-) U.S. congressman, secretary of defense, and vice president, born in Lincoln, Nebraska. In the House of Representatives (1979-89) and as minority whip, he supported President Ronald Reagan's military buildup and aid to the Nicaraguan Contras. Despite lack of military service, he was appointed by President George H. Bush as secretary of defense (1989-93) after Congress rejected nominee John Tower. Cheney reformed procurement, curtailed some weapons programs, and followed orders to downsize the U.S. military. Following Iraq's invasion of Kuwait (August 2, 1990), Cheney helped persuade Saudi Arabia to permit basing of U.S. military forces and to join the Allied Coalition in the Persian Gulf War (1991) against Saddam Hussein's Iraqi army. In 2000 he was elected vice president on the Republican ticket with George W. Bush.
http://www.answers.com/topic/dick-cheney

The real Cheney
Dick Cheney
http://topics.nytimes.com/top/reference/timestopics/people/c/dick_cheney/index.html?inline=nyt-per
Dick Cheney's Youthful Indiscretions
http://www.thesmokinggun.com/archive/cheney_doc.html
When news of George W. Bush's drunken driving arrest surfaced during the final week of the 2000 presidential campaign, Republicans tried to dismiss it as one of those "youthful indiscretions" Bush had steadfastly refused to discuss. Of course, when he got popped in Kennebunkport in 1976, Bush was 30 years old, hardly a kid.
Vice President Dick Cheney, on the other hand, could actually argue that his two DWIs came when he was young and reckless.
Court and police records obtained by The Smoking Gun show that Cheney was convicted of drunk driving twice during an eight-month period in the early 1960s in his home state of Wyoming. The two convictions came when Cheney was 21 and 22 and resulted in fines and a brief suspension of his driver's license.
On November 2, in the wake of the Bush DWI discovery, a Cheney spokesperson told reporters that the vice presidential candidate also had a rap sheet. But the Bush-Cheney campaign refused to provide any further details about the DWI busts. So TSG will now handle that chore.
Cheney first privately disclosed the arrests in 1989, after he had been nominated for Secretary of Defense. According to an account in Bob Woodward's "The Commanders," Cheney told members of the Senate Armed Services committee about the DWI arrests during a closed confirmation hearing. Cheney told the senators that he believed it would be best to publicly disclose the busts. But Armed Services committee members said there was no need for the disclosure and subsequently confirmed Cheney in a 20-0 vote.
Following the May 1991 publication of Woodward's book, there was no mention of Cheney's arrests until the brief confirmation offered by the candidate's spokesperson last November. But the vice president himself mentioned his rap sheet in an interview in the current issue (dated May 7) of The New Yorker. Cheney noted that after dropping out of Yale in early 1961, he found himself "working, building power lines, having been in a couple of scrapes with the law." The busts, he said, made him "think about where I was and where I was headed. I was headed down a bad road, if I continued on that course."
Cheney's first DWI conviction came in November 1962 when he was 21. According to this docket from Cheyenne's Municipal Court, Cheney was nailed for drunkenness and "operating motor vehicle while intoxicated." A Cheyenne Police Judge found Cheney guilty of the two charges and hit him with a 30-day suspension of his driver's license. Cheney also had to forfeit a $150 bond posted at the time of his arrest. Further information about the case--such as the defendant's blood alcohol content or whether Cheney was jailed following the bust--is unavailable since other court records from that period have been destroyed, according to Wyoming officials.
Details of Cheney's second Wyoming arrest, in July 1963, have also fallen victim to time and records destruction practices at the local Municipal Court. But a police arrest card (similar to the one that haunted Dubya) maintained by the Rock Springs Police Department shows that Cheney was fined $100 for his second DWI conviction. The card lists the charge against Cheney, who was then working as a groundman laying power lines, as "11-44," the criminal code classification for drunken driving, according to Police Chief Neil Kourbelas. At the time of the Rock Springs arrest, Kourbelas said that local cops and judges would not have known that young Cheney was a boozing 'n driving recidivist. The police department, Kourbelas said, "wouldn't have had the ability to automatically check with other jurisdictions to find out if anyone had had prior arrests or convictions. We could have arrested Jack the Ripper back then and had no idea what he had done."
Since that second Wyoming arrest, Cheney has kept his nose clean.
Sources: Cheney curses senator over Halliburton criticism
http://www.cnn.com/2004/ALLPOLITICS/06/24/cheney.leahy/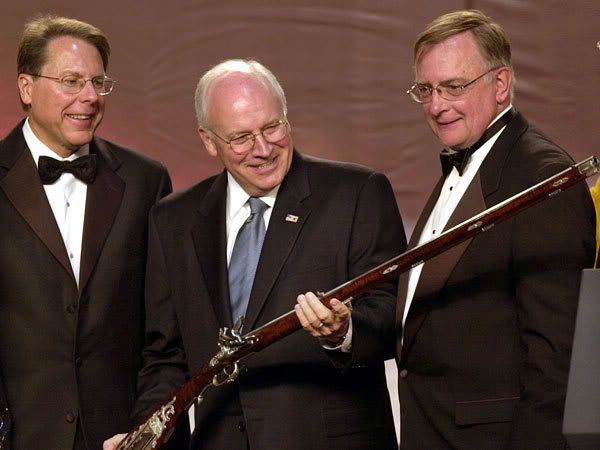 Cheney accidentally shoots fellow hunter
http://www.cnn.com/2006/POLITICS/02/12/cheney/
Dick Cheney Timeline
http://www.mapreport.com/countries/cheney.ht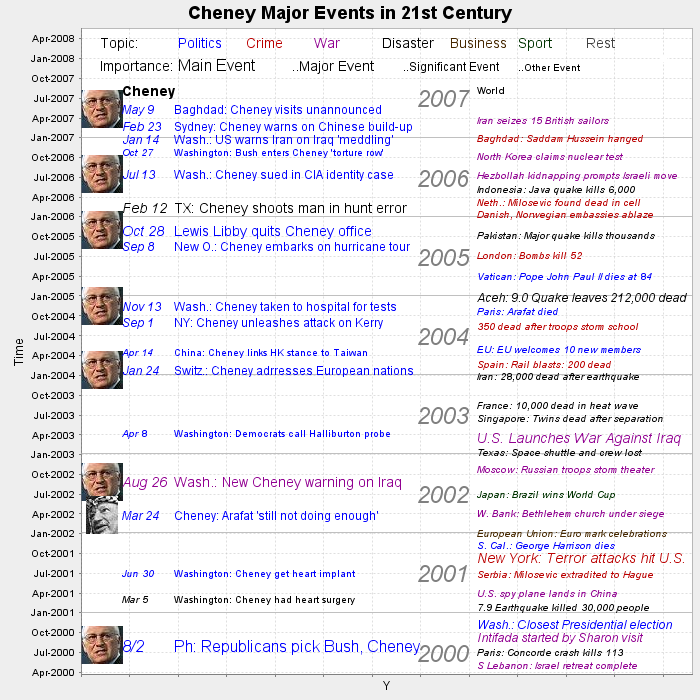 The World of Dick Cheney
White House, Cheney's Office Subpoenaed
http://www.washingtonpost.com/wp-dyn/content/article/2007/06/27/AR2007062701787.html
WASHINGTON -- The Senate subpoenaed the White House and Vice President Dick Cheney's office Wednesday, demanding documents and elevating the confrontation with President Bush over the administration's warrant-free eavesdropping on Americans.
Separately, the Senate Judiciary Committee also is summoning Attorney General Alberto Gonzales to discuss the program and an array of other matters that have cost a half-dozen top Justice Department officials their jobs, committee chairman Patrick Leahy announced.
Leahy, D-Vt., raised questions about previous testimony by one of Bush's appeals court nominees and said he wouldn't let such matters pass.
"If there have been lies told to us, we'll refer it to the Department of Justice and the U.S. attorney for whatever legal action they think is appropriate," Leahy told reporters. He did just that Wednesday, referring questions about testimony by former White House aide Brett Kavanaugh, who now sits on the U.S. Court of Appeals for the District of Columbia.
The escalation is part of the Democrats' effort to hold the administration to account for the way it has conducted the war on terrorism since the Sept. 11, 2001, attacks. The subpoenas extend the probe into the private sector, demanding among other things documents on any agreements that telecommunications companies made to cooperate with the surveillance program.
The White House contends that its search for would-be terrorists is legal, necessary and effective _ pointing out frequently that there have been no further attacks on American soil. Administration officials say they have given classified information _ such as details about the eavesdropping program, which is now under court supervision _ to the intelligence committees of both houses of Congress.
Echoing its response to previous congressional subpoenas to former administration officials Harriet Miers and Sara Taylor, the White House gave no indication that it would comply with the new ones.
"We're aware of the committee's action and will respond appropriately," White House spokesman Tony Fratto said. "It's unfortunate that congressional Democrats continue to choose the route of confrontation."
In fact, the Judiciary Committee's three most senior Republicans _ Arlen Specter of Pennsylvania, former chairman Orrin Hatch of Utah and Chuck Grassley of Iowa _ sided with Democrats on the 13-3 vote last week to give Leahy the power to issue the subpoenas.
The showdown between the White House and Congress could land in federal court.
Also named in subpoenas signed by Leahy were the Justice Department and the National Security Council. The four parties _ the White House, Cheney's office, the Justice Department and the National Security Council _ have until July 18 to comply, Leahy said. He added that, like House Judiciary Committee Chairman John Conyers, D-Mich., he would consider pursuing contempt citations against those who refuse.
Gonzales, in Spokane, Wash., on Wednesday to discuss gang issues with local officials, said he had not seen the subpoena documents and could not comment on them directly.
"There are competing institutional interests," Gonzales said.
The Judiciary committees have issued the subpoenas as part of a look at how much influence the White House exerts over the Justice Department and its chief, Gonzales.
The probe, in its sixth month, began with an investigation into whether administration officials ordered the firings of eight federal prosecutors for political reasons. The Judiciary committees subpoenaed Miers, one-time White House legal counsel, and Taylor, a former political director, though they have yet to testify.
Now, with senators of both parties concerned about the constitutionality of the administration's efforts to root out terrorism suspects in the United States, the committee has shifted to the broader question of Gonzales' stewardship of Justice.
The issue concerning Kavanaugh, a former White House staff secretary, is whether he misled the Senate panel during his confirmation hearing last year about how much he was involved in crafting the administration's policy on enemy combatants.
The Bush administration secretly launched the eavesdropping program, run by the National Security Agency, in 2001 to monitor international phone calls and e-mails to or from the United States involving people the government suspected of having terrorist links. The program, which the administration said did not require investigators to seek warrants before conducting surveillance, was revealed in December 2005.
After the program was challenged in court, Bush put it under the supervision of the Foreign Intelligence Surveillance Court, established in 1978. The president still claims the power to order warrantless spying.
The subpoenas seek a wide array of documents from the Sept. 11 attacks to the present. Among them are any that include analysis or opinions from Justice, NSA, the Defense Department, the White House, or "any entity within the executive branch" on the legality of the electronic surveillance program.
Debate continues over whether the program violates people's civil liberties. The administration has gone to great lengths to keep it running.
Interest was raised by vivid testimony last month by former Deputy Attorney General James Comey about the extent of the White House's effort to override the Justice Department's objections to the program in 2004.
Comey told the Judiciary Committee that Gonzales, then-White House counsel, tried to persuade Attorney General John Ashcroft to reverse course and recertify the program. At the time, Ashcroft lay in intensive care, recovering form gall bladder surgery.
Ashcroft refused, as did Comey, who temporarily held the power of the attorney general's office during his boss' illness.
The White House recertified the program unilaterally. Ashcroft, Comey, FBI Director Robert Mueller and their staffs prepared to resign. Bush ultimately relented and made changes the Justice officials had demanded, and the agency eventually recertified it.
Fratto defended the surveillance program as "lawful" and "limited."
"It's specifically designed to be effective without infringing Americans' civil liberties," Fratto said. "The program is classified for a reason _ its purpose is to track down and stop terrorist planning. We remain steadfast in our commitment to keeping Americans safe from an enemy determined to use any means possible _ including the latest in technology _ to attack us."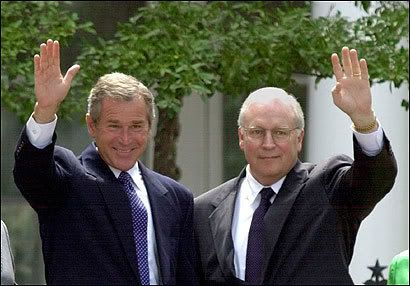 Dana Perino White House Press Briefing on VP Dick Cheney
Dick Cheney Above The Law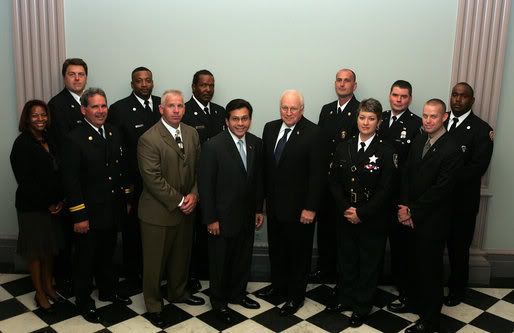 Above the Law? Gonzales and Cheney Seem to Think So
Bush Won't Supply Subpoenaed Documents
http://www.washingtonpost.com/wp-dyn/content/article/2007/06/28/AR2007062800567.html?hpid=topnews

The White House said today it would not comply with congressional subpoenas for documents and testimony relating to the firings of federal prosecutors last year, setting up a potential constitutional confrontation over its claim of executive privilege.
In a letter to the chairmen of the House and Senate judiciary committees, President Bush's counsel, Fred F. Fielding, said the White House would not turn over documents that were subpoenaed by the two committees on June 13. The deadline for handing over most of them was today.
"I write at the direction of the President to advise and inform you that the President has decided to assert executive privilege and therefore the White House will not be making any production in response to these subpoenas for documents," Fielding wrote in the letter to Sen. Patrick J. Leahy (D-Vt.), chairman of the Senate Judiciary Committee, and Rep. John Conyers (D-Mich.), chairman of the House Judiciary Committee.
"With respect, it is with much regret that we are forced down this unfortunate path which we sought to avoid by finding grounds for mutual accommodation," Fielding said. "We had hoped this matter could conclude with your committees receiving information in lieu of having to invoke executive privilege. Instead, we are at this conclusion."
The committees are seeking the documents to determine the extent of White House involvement in the firing of nine U.S. attorneys last year. The action by the Justice Department has caused an uproar in Congress and prompted many Democrats and some Republicans to call for the resignation of Attorney General Alberto R. Gonzales.
In a separate action, the Senate Judiciary Committee yesterday issued subpoenas for White House documents related to the National Security Agency's warrantless wiretapping program. The White House did not immediately say whether it would turn over those documents by the July 18 deadline. The subpoenas were delivered to the offices of the president, Vice President Cheney, Bush's national security adviser and the Justice Department.
In his letter, Fielding rejected a demand from Leahy for documents from Sara M. Taylor, the former deputy assistant to the president and White House director of political affairs, relating to the prosecutor dismissals. He also spurned a subpoena from Conyers for documents from Bush's former counsel, Harriet E. Miers, with a deadline of July 12. Both Taylor and Miers have left their White House positions.
"Counsel for Ms. Taylor and Ms. Miers have been informed of the President's decision to assert executive privilege and have been asked to relay to Ms. Taylor and Ms. Miers a direction from the President not to produce any documents," Fielding wrote.
He said Bush "is satisfied that the testimony sought from Sara Taylor and Harriet Miers is subject to a valid claim of executive privilege and is prepared to assert the privilege with respect to that testimony if the matter cannot be resolved."
Fielding added, however, that while Bush is "unwilling to submit to subpoenas compelling the production of documents and testimony," he remains willing to provide information "in the absence of any subpoenas" under a previously offered arrangement.
The White House has said it would allow current or former White House officials to speak to the committee only under strict limitations. Specifically, Bush has insisted that the officials not be compelled to testify under oath, that their testimony not be recorded or transcribed and they speak to a limited number of lawmakers in private.
"In short, the President requests that your inquiry proceed in a balanced manner, respectful of important constitutional principles of both institutions, rather than through confrontation," Fielding wrote. "It is hoped you will reconsider your present position, accept the President's offer, and bring closure to this controversy so we may all return to more productive activity on behalf of the nation."
The Democratic-controlled Congress is investigating whether the dismissals of the nine U.S. attorneys last year were motivated by improper political considerations. Administration officials have offered varying reasons for the firings but have denied that they were improper. The White House has argued that, in any case, U.S. attorneys serve "at the pleasure of the president" and that he has the authority to remove them.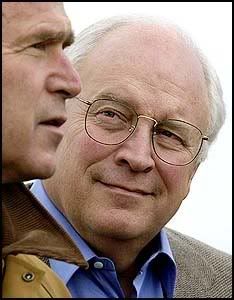 Agency Is Target in Cheney Fight on Secrecy Data
http://www.nytimes.com/2007/06/22/washington/22cheney.html?_r=1&oref=slogin
For four years, Vice President Dick Cheney has resisted routine oversight of his office's handling of classified information, and when the National Archives unit that monitors classification in the executive branch objected, the vice president's office suggested abolishing the oversight unit, according to documents released yesterday by a Democratic congressman.
The Information Security Oversight Office, a unit of the National Archives, appealed the issue to the Justice Department, which has not yet ruled on the matter.
Representative Henry A. Waxman, Democrat of California and chairman of the House Committee on Oversight and Government Reform, disclosed Mr. Cheney's effort to shut down the oversight office. Mr. Waxman, who has had a leading role in the stepped-up efforts by Democrats to investigate the Bush administration, outlined the matter in an eight-page letter sent Thursday to the vice president and posted, along with other documentation, on the committee's Web site.
Officials at the National Archives and the Justice Department confirmed the basic chronology of events cited in Mr. Waxman's letter.
The letter said that after repeatedly refusing to comply with a routine annual request from the archives for data on his staff's classification of internal documents, the vice president's office in 2004 blocked an on-site inspection of records that other agencies of the executive branch regularly go through.
But the National Archives is an executive branch department headed by a presidential appointee, and it is assigned to collect the data on classified documents under a presidential executive order. Its Information Security Oversight Office is the archives division that oversees classification and declassification.
"I know the vice president wants to operate with unprecedented secrecy," Mr. Waxman said in an interview. "But this is absurd. This order is designed to keep classified information safe. His argument is really that he's not part of the executive branch, so he doesn't have to comply."
A spokeswoman for Mr. Cheney, Megan McGinn, said, "We're confident that we're conducting the office properly under the law." She declined to elaborate.
Other officials familiar with Mr. Cheney's view said that he and his legal adviser, David S. Addington, did not believe that the executive order applied to the vice president's office because it had a legislative as well as an executive status in the Constitution. Other White House offices, including the National Security Council, routinely comply with the oversight requirements, according to Mr. Waxman's office and outside experts.
Tony Fratto, a White House spokesman, said last night, "The White House complies with the executive order, including the National Security Council."
The dispute is far from the first to pit Mr. Cheney and Mr. Addington against outsiders seeking information, usually members of Congress or advocacy groups. Their position is generally based on strong assertions of presidential power and the importance of confidentiality, which Mr. Cheney has often argued was eroded by post-Watergate laws and the prying press.
Mr. Waxman asserted in his letter and the interview that Mr. Cheney's office should take the efforts of the National Archives especially seriously because it has had problems protecting secrets.
He noted that I. Lewis Libby Jr., the vice president's former chief of staff, was convicted of perjury and obstruction of justice for lying to a grand jury and the F.B.I. during an investigation of the leak of classified information — the secret status of Valerie Wilson, the wife of a Bush administration critic, as a Central Intelligence Agency officer.
Mr. Waxman added that in May 2006, a former aide in Mr. Cheney's office, Leandro Aragoncillo, pleaded guilty to passing classified information to plotters trying to overthrow the president of the Philippines.
"Your office may have the worst record in the executive branch for safeguarding classified information," Mr. Waxman wrote to Mr. Cheney.
In the tradition of Washington's semantic dust-ups, this one might be described as a fight over what an "entity" is. The executive order, last updated in 2003 and currently under revision, states that it applies to any "entity within the executive branch that comes into the possession of classified information."
J. William Leonard, director of the oversight office, has argued in a series of letters to Mr. Addington that the vice president's office is indeed such an entity. He noted that previous vice presidents had complied with the request for data on documents classified and declassified, and that Mr. Cheney did so in 2001 and 2002.
But starting in 2003, the vice president's office began refusing to supply the information. In 2004, it blocked an on-site inspection by Mr. Leonard's office that was routinely carried out across the government to check whether documents were being properly labeled and safely stored.
Mr. Addington did not reply in writing to Mr. Leonard's letters, according to officials familiar with their exchanges. But Mr. Addington stated in conversations that the vice president's office was not an "entity within the executive branch" because, under the Constitution, the vice president also plays a role in the legislative branch, as president of the Senate, able to cast a vote in the event of a tie.
Mr. Waxman rejected that argument. "He doesn't have classified information because of his legislative function," Mr. Waxman said of Mr. Cheney. "It's because of his executive function."
Mr. Cheney's general resistance to complying with the oversight request was first reported last year by The Chicago Tribune.
In January, Mr. Leonard wrote to Attorney General Alberto R. Gonzales asking that he resolve the question. Erik Ablin, a Justice Department spokesman, said last night, "This matter is currently under review in the department."
Whatever the ultimate ruling, according to Mr. Waxman's letter, the vice president's office has already carried out "possible retaliation" against the oversight office.
As part of an interagency review of Executive Order 12958, Mr. Cheney's office proposed eliminating appeals to the attorney general — precisely the avenue Mr. Leonard was taking. According to Mr. Waxman's investigation, the vice president's staff also proposed abolishing the Information Security Oversight Office.
The interagency group revising the executive order has rejected those proposals, according to Mr. Waxman. Ms. McGinn, Mr. Cheney's spokeswoman, declined to comment.
Mr. Cheney's penchant for secrecy has long been a striking feature of the Bush administration, beginning with his fight to keep confidential the identities of the energy industry officials who advised his task force on national energy policy in 2001. Mr. Cheney took that dispute to the Supreme Court and won.
Steven Aftergood, who tracks government secrecy at the Federation of American Scientists and last year filed a complaint with the oversight office about Mr. Cheney's noncompliance, said, "This illustrates just how far the vice president will go to evade external oversight."
But David B. Rivkin, a Washington lawyer who served in Justice Department and White House posts in earlier Republican administrations, said Mr. Cheney had a valid point about the unusual status of the office he holds.
"The office of the vice president really is unique," Mr. Rivkin said. "It's not an agency. It's an extension of the vice president himself."
Dick Cheney Believes He's Above the Law
Dick Cheney is above the law
Cheney is His Own Branch of Government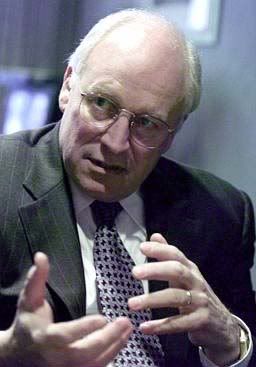 Cheney's loopy excuses
http://www.chicagotribune.com/news/nationworld/chi-0628edit2jun28,1,89848.story?coll=chi-newsnationworld-hed
Perhaps you learned in grade school that the president and vice president are in the executive branch of the federal government. But what do teachers know? Vice President Dick Cheney's underlings recently tried to argue that his office actually is in two branches at once.
How so? Well, since the Constitution provides that the vice president serves as president of the Senate and may vote to break ties in that chamber, Cheney's office contended that it is not an "entity within the executive branch."
Credit this creative reading of the Constitution to Cheney's four-year fight to resist oversight of his office's handling of classified documents. The veep's staff was looking for a way to exempt him from President Bush's executive order that requires agencies in the executive branch to report information to National Archives officials who keep records on those documents.
The notion that the vice president isn't a plain-as-your-nose member of the executive branch brought well-deserved hoots of derision from congressional Democrats. Constitutional duties do not make vice presidents members of the Senate any more than one famous duet with Mick Jagger made Tina Turner a member of the Rolling Stones. Rep. Rahm Emanuel of Illinois shrewdly proposed stripping $4.8 million in executive-branch funding from Cheney's office until the vice president agreed to stay in what Emanuel feels is his proper place.
The subtext to this squabble is that the vice president's penchant for secrecy appears to know no bounds. He successfully fought all the way to the Supreme Court to protect the confidentiality of industry officials who advised his national energy policy task force in 2001. He has passed up few chances to expand the rights of executive officials to keep mum.
Now he is stretching a dispute over bureaucratic paperwork far enough to exempt himself from one of his own president's executive orders. Cheney once suggested that the National Archives unit be abolished, according to documents released by Rep. Henry Waxman (D-Calif.), chairman of the House oversight committee. And Cheney's office in 2004 allegedly blocked an on-site inspection of its records.
On Tuesday, Cheney's chief of staff David Addington appeared to back away from the two-branch argument in favor of a new contention: that the executive order exempts both Bush and Cheney from oversight provisions that apply to "agencies." The Washington Post noted Wednesday that neither Addington nor Cheney's spokeswoman could cite specific language in the executive order supporting this view.
Here's how our scorecard now reads:
Having distanced itself from one loopy excuse, the office of the vice president now has settled on ... another loopy excuse.
If We-Won't Version 2.0 has more to prop it up than Cheneyesque brusqueness, we'd like to hear it.
Otherwise, Cheney has two options. He can persuade President Bush to rewrite his order. Or, better yet, Cheney can obey it.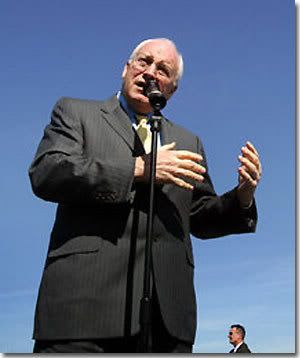 Dems: Investigate Cheney for role in salmon die-off
http://seattletimes.nwsource.com/html/localnews/2003765692_salmon28m.html
WASHINGTON — West Coast Democrats called for a hearing Wednesday into the role Vice President Dick Cheney may have played in the 2002 die-off of about 70,000 salmon near the California-Oregon border.
An article in The Washington Post on Wednesday said Cheney played a crucial role in developing a 10-year water plan for the Klamath River that courts later called arbitrary and in violation of the Endangered Species Act. Democrats charged that Cheney's action resulted in the largest adult salmon kill in the history of the West.
"The ramifications of that salmon kill are still being felt today as returns to the Klamath River are so low that commercial, sport and tribal fishing seasons have been curtailed for the past three years," Democrats said in a letter calling for the hearing.
Commercial fishing in California and Oregon was cut by more than 90 percent last year — the largest commercial-fishing closure in the history of the country — resulting in more than $60 million in damage to coastal economies, the letter said.
U.S. Rep. Mike Thompson, D-Calif., whose district includes the area where the fish died, said Democrats want to have a hearing in the House Natural Resources Committee.
"We know that science was manipulated and the law was violated," Thompson said. "Did in fact the vice president of the United States put pressure on midlevel bureaucrats to alter the science and circumvent the law in order to gain political votes for his re-election or the election of other people in Oregon?"
Thompson's office drafted the letter, which was signed by 36 House Democrats in California and Oregon, including all four Democratic House members in Oregon and all Democrats but House Speaker Nancy Pelosi in California. Thompson said he did not ask Pelosi to sign the letter.
Megan McGinn, a spokeswoman for the vice president's office, said late Wednesday she had not seen the letter and could not comment.
The salmon die-off and water usage in the drought-plagued Klamath Basin have long been a source of political controversy. In 2004, the Interior Department's inspector general found no basis for a claim by Democratic presidential candidate John Kerry that White House political advisers interfered in developing water policy in the Klamath.
The inspector general said President Bush's top political adviser, Karl Rove, was not involved in a 2002 decision to divert water from the Klamath River in Oregon to irrigate farms. While Rove mentioned the Klamath in passing during a briefing with senior Interior officials, "we found nothing to tie Karl Rove's comments ... to the Klamath decision-making process," Inspector General Earl Devaney said.
Three months after Rove's meeting in early 2002, administration officials increased the water supply to more than 200,000 acres of farmland in California and Oregon — a decision bitterly opposed by environmentalists and commercial fishermen.
In September 2002, tens of thousands of chinook salmon died in the Klamath River in Northern California. The California Department of Fish and Game laid much of the blame on low water flows controlled by the federal government, saying it created conditions that allowed a fatal gill-rot disease to spread through the fish.
A report by the U.S. Fish and Wildlife Service said low river flows played a role but said other factors, including a large return of fish, also contributed to the fish kill, the worst in decades.
Dems try to restrict funds for Cheney
http://www.concordmonitor.com/apps/pbcs.dll/article?AID=/20070627/REPOSITORY/706270358/1013/NEWS03
House Democrats, responding to Vice President Dick Cheney's assertion that his office is exempt from certain national security disclosure requirements, said yesterday they will try to strip some of his funding.
A Cheney spokeswoman said the Democrats were just playing politics.
The proposal could come up tomorrow as an amendment to an annual spending bill, said House Majority Leader Steny Hoyer, a Democrat from Maryland.
Washington Post Profile Reveals Stealthy Cheney Spies On White House Staffers
http://thinkprogress.org/2007/06/24/cheney-wp-profile/
Today, the Washington Post unveiled the first in its lengthy four-part series on the unprecedented influence and power of the vice president.
Shortly after Bush was elected, "Cheney preferred, and Bush approved, a mandate that gave him access to 'every table and every meeting,' making his voice heard in 'whatever area the vice president feels he wants to be active in.'"
According to the article, Cheney used that influence to bypass key presidential aides and thwart any dissent about Bush's authorization of the unconstitutional military commissions to try detainees. The Post reports "almost no one" had seen the legal draft establishing the commissions, except Cheney's closest aides. Cheney then took astonishing measures to ensure that internal objections would not reach the President, even resorting to spying on White House staff:
At the White House, [White House national security lawyer John] Bellinger sent Rice a blunt — and, he thought, private — legal warning. The Cheney-Rumsfeld position would place the president indisputably in breach of international law and would undermine cooperation from allied governments. …
One lawyer in his office said that Bellinger was chagrined to learn, indirectly, that Cheney had read the confidential memo and "was concerned" about his advice. Thus Bellinger discovered an unannounced standing order: Documents prepared for the national security adviser, another White House official said, were "routed outside the formal process" to Cheney, too. The reverse did not apply.
Powell asked for a meeting with Bush. The same day, Jan. 25, 2002, Cheney's office struck a preemptive blow. It appeared to come from Gonzales, a longtime Bush confidant whom the president nicknamed "Fredo." Hours after Powell made his request, Gonzales signed his name to a memo that anticipated and undermined the State Department's talking points. The true author has long been a subject of speculation, for reasons including its unorthodox format and a subtly mocking tone that is not a Gonzales hallmark.
A White House lawyer with direct knowledge said Cheney's lawyer, Addington, wrote the memo. Flanigan passed it to Gonzales, and Gonzales sent it as "my judgment" to Bush. If Bush consulted Cheney after that, the vice president became a sounding board for advice he originated himself.
Attorney General John Ashcroft "was astonished" to learn he had been pushed aside. "What the hell just happened?" Secretary of State Colin Powell asked upon learning through the media that the order had been signed. "National security adviser Condoleezza Rice, incensed, sent an aide to find out."
The Post notes, "Stealth is among Cheney's most effective tools." The talking points for reporters drafted by Cheney's office are "sometimes stamped 'Treated As: Top Secret/SCI.' Experts in and out of government said Cheney's office appears to have invented that designation, which alludes to 'sensitive compartmented information,' the most closely guarded category of government secrets. By adding the words 'treated as,' they said, Cheney seeks to protect unclassified work as though its disclosure would cause 'exceptionally grave damage to national security.'"
UPDATE: Laura Rozen writes, "Cheney will go to his grave like others before him thinking he was a great patriot who should not be bound by the laws of this country, or the laws of war. But even with all that secret extra-legal power he yielded and bestowed for all these years, he couldn't show success on any front when it mattered."

Halliburton
Halliburton Energy Services (NYSE: HAL) is a multinational corporation with operations in over 120 countries. It is based in Houston, Texas in the United States, but has announced that it will establish a new headquarters in Dubai in the United Arab Emirates, where Chairman and CEO David J. Lesar will work and reside. However, corporate offices will remain in Houston [2] and the company will remain incorporated in the United States. [3] The company will consider Houston and Dubai as dual headquarters. Halliburton operates two major business segments: The Energy Services Group provides technical products and services for oil and gas exploration and production. Halliburton's former subsidiary, KBR, is a major construction company of refineries, oil fields, pipelines, and chemical plants. Halliburton announced on April 5, 2007 that it had finally broken ties with KBR, which has been its contracting, engineering and construction unit as a part of the company for 44 years.
http://en.wikipedia.org/wiki/Halliburton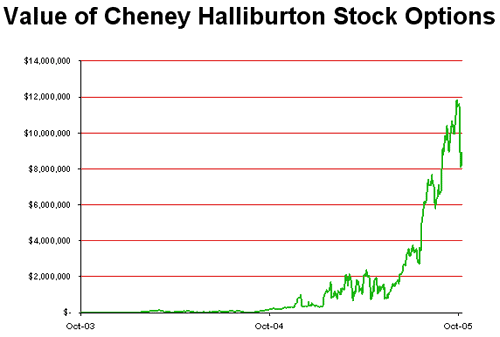 Cheney's Halliburton Ties Remain
Contrary To Veep's Claims, Researchers Say Financial Links Remain
http://www.cbsnews.com/stories/2003/09/26/politics/main575356.shtml
A report by the Congressional Research Service undermines Vice President Dick Cheney's denial of a continuing relationship with Halliburton Co., the energy company he once led, Sen. Frank Lautenberg said Thursday.
The report says a public official's unexercised stock options and deferred salary fall within the definition of "retained ties" to his former company.
Cheney said Sunday on NBC that since becoming vice president, "I've severed all my ties with the company, gotten rid of all my financial interest. I have no financial interest in Halliburton of any kind and haven't had, now, for over three years."
Democrats pointed out that Cheney receives deferred compensation from Halliburton under an arrangement he made in 1998, and also retains stock options. He has pledged to give after-tax proceeds of the stock options to charity.
Cheney's aides defended the assertion on NBC, saying the financial arrangements do not constitute a tie to the company's business performance. They pointed out that Cheney took out a $15,000 insurance policy so he would collect the deferred payments over five years whether or not Halliburton remains in business.
Lautenberg, D-N.J., asked the Congressional Research Service to weigh in.
Without naming Cheney or Halliburton, the service reported that unexercised stock options and deferred salary "are among those benefits described by the Office of Government Ethics as 'retained ties' or 'linkages' to one's former employer."
Lautenberg said the report makes clear that Cheney does still have financial ties to Halliburton. "I ask the vice president to stop dodging the issue with legalese," Lautenberg said.
Cathie Martin, Cheney's spokeswoman, said the question is whether Cheney has any possible conflict of interest with Halliburton, "and the answer to that is, no."
Cheney was chief executive officer of Halliburton from 1995 through August 2000. The company's KBR subsidiary is the main government contractor working to restore Iraq's oil industry in an open-ended contract that was awarded without competitive bidding.
According to Cheney's 2001 financial disclosure report, the vice president's Halliburton benefits include three batches of stock options comprising 433,333 shares. He also has a 401(k) retirement account valued at between $1,001 and $15,000 dollars.
His deferred compensation account was valued at between $500,000 and $1 million, and generated income of $50,000 to $100,000.
In 2002, Cheney's total assets were valued at between $19.1 million and $86.4 million.
Earlier this month, a federal judge dismissed a lawsuit that accused Halliburton and Cheney of misleading investors by changing the way the company counted revenue from construction projects.
The lawsuit was filed last year by Judicial Watch, a conservative public interest group, on behalf of three small investors, who said the company tried to polish financial results by booking revenue on cost overruns before it was certain of getting paid.
Halliburton has contracts worth more than $1.7 billion for its work in Iraq, and it could make hundreds of millions more from a no-bid contract it was awarded by the Army Corps of Engineers, The Washington Post has reported.
According to The Post, while Cheney was defense secretary the Pentagon chose Halliburton subsidiary Brown & Root to study the cost effectiveness of outsourcing some military operations to private contractors. Based on the results of the study, the Pentagon hired Brown & Root to implement an outsourcing plan. Cheney became Halliburton CEO in 1995.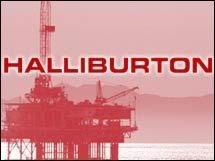 Cheney Coordinated Halliburton Iraq Contract: Report
http://www.commondreams.org/headlines04/0531-02.htm
WASHINGTON - A Pentagon e-mail said Vice President Dick Cheney coordinated a huge Halliburton government contract for Iraq, despite Cheney's denial of interest in the company he ran until 2000.
US Vice President Dick Cheney. A Pentagon e-mail said Cheney coordinated a huge Halliburton government contract for Iraq, despite Cheney's denial of interest in the company he ran until 2000. (AFP/Robert Sullivan)
The March 5, 2003 e-mail, from an Army Corps of Engineers official, said that top Pentagon official Douglas Feith got the job of shepherding the contract, according to the newsweekly Time that hits newsstands Monday.
Feith had approved the multi-billion-dollar deal "contingent on informing WH (the White House) tomorrow. We anticipate no issues since action has been coordinated w(ith) VP's (vice president's) office," said the e-mail obtained by Time.
The newsweekly said it was three days later that Halliburton won the contract, although no other bids had been submitted.
"As vice president, I have absolutely no influence of, involvement of, knowledge of in any way, shape or form of contracts led by the Corps of Engineers or anybody else in the federal government," Cheney told NBC's "Meet the Press" in September, Time said.
Cheney had been Halliburton's CEO until 2000, when he accepted the vice presidential spot.
Cheney's spokesman Kevin Kellems told the magazine that since 2000, the vice president "has played no role whatsoever in government-contract decisions involving Halliburton."
The e-mail was sent "in anticipation of controversy over the award of a sole-source contract to Halliburton, we wanted to give the vice president's staff a heads-up," a Pentagon spokesman said.
Under Secretary of Defense for Policy Douglas Feith was handed the job of coordinating the contract by his boss, Deputy Secretary of Defense Paul Wolfowitz, Time said.
Feith, Wolfowitz and Cheney, along with Secretary of Defense Donald Rumsfeld and Cheney's Chief of Staff Lewis "Scooter" Libby, form the core of Bush administration "hawks" who pushed for the war in Iraq.
Cheney's Halliburton stock options rose 3,281% last year, senator finds
http://rawstory.com/news/2005/Cheneys_stock_options_rose_3281_last_1011.html
Sen. Frank Lautenberg (D-NJ) asserts that Cheney's options -- worth $241,498 a year ago -- are now valued at more than $8 million. The former CEO of the oil and gas services juggernaut, Cheney has pledged to give proceeds to charity.
Dick Cheney: War Profiteer
http://www.commondreams.org/views05/1117-22.htm
Questions persist about Vice-President Cheney's role in the ongoing investigation and scandal swirling about the White House. His chief of staff and confidante Lewis "Scooter" Libby has been indicted for perjury and obstruction of justice. Let's take a look at some personal incentives for Cheney's selling war to our country.
Cheney has pursued a political and corporate career to make himself very rich and powerful. He is the personification of a war profiteer who slid through the revolving door connecting the public and private sectors of the defense establishment on two occasions in a career that has served his relentless quest for power and profits.
As Defense Secretary, Mr. Cheney commissioned a study for the U.S. Department of Defense by Brown and Root Services (now Kellogg, Brown and Root), a wholly owned subsidiary of Halliburton. The study recommended that private firms like Halliburton should take over logistical support programs for U.S. military operations around the world. Just two years after he was Secretary of Defense, Cheney stepped through the revolving door linking the Department of Defense with defense contractors and became CEO of Halliburton. Halliburton was the principal beneficiary of Cheney's privatization efforts for our military's logistical support and Cheney was paid $44 million for five year's work with them before he slipped back through the revolving door of war profiteering to become Vice-President of the United States. When asked about the money he received from Halliburton, Cheney said. "I tell you that the government had absolutely nothing to do with it."
The Bush administration has dished out lucrative reconstruction contracts in Iraq to favored U.S. based corporations including Halliburton and denied contracts to many Iraqi and foreign based companies. To the conquerors go the spoils was the message on December 11, 2003 when Bush said, "The taxpayers understand why it makes sense for countries that risk lives to participate in the contracts in Iraq, It's very simple. Our people risk their lives, friendly coalition folks risk their lives, and therefore the contracting is going to reflect that."
Bush's statement is a stunning admission of how much corrupt corporations control our foreign policy. Under Cheney's leadership Halliburton out did Enron in using offshore subsidiaries as tax shelters to hide profits to bilk U.S. taxpayers. Halliburton also utilized off-shore subsidiaries to contract for services and sell banned equipment to rogue states like Iran, Iraq and Libya. This would be illegal if done directly by Halliburton.
At last count Halliburton had 58 offshore subsidiaries in Caribbean tax havens. With Cheney at the helm Halliburton's tax payments to the U.S. went from $302 million in 1998 to zero in 1999, when they also received a refund of $85 million from the Internal Revenue Service.
During Cheney's tenure as CEO from 1995 to 2000, Halliburton Products and Services set up shop in Iran. The Halliburton subsidiary does approximately $40 million a year worth of oil field service work for the Iranian government. 60 Minutes correspondent Lesley Stahl visited the subsidiary in the Cayman Islands and found that it had no office and no employees. The mailing address was a local bank with which the subsidiary is registered. Stahl was met there by the bank's manager who informed her that all mail to the subsidiary is forwarded to Halliburton headquarters in Houston. Halliburton had created the subsidiary to allow itself to do illegal business with a rogue state and to skip out on its taxes in the process.
With Iran's president vowing to destroy Israel and being accused by the Bush administration of harboring and aiding al-Qaeda operatives, Cheney's company is doing business with Iran through a subsidiary and dodging its tax obligations to the U.S.
Halliburton has been more closely associated with the invasion of Iraq than any other corporation. Before the Iraq War began, it was 19th on the U.S. Army's list of top contractors and zoomed to number 1 in 2003. In 2003 Halliburton made $4.2 billion from the U.S. government. Cheney stated he had , "severed all my ties with the company, gotten rid of all my financial interest."
Sen. Frank Lautenberg (D-NJ) recently asserted that Cheney's stock options which were worth $241,498 a year ago, are now valued at more than $8 million-- for an increase of 3,281% . Cheney has pledged to give the proceeds to charity. Cheney continues to received a deferred salary from the company. He was paid $205,298 in 2001; $162,392 in 2002; $178,437 in 2003; and $194,852 in 2004.
The Congressional Research Service has concluded that holding stock options while in elective office does constitute a "financial interest" whether or not the holder of the options donates the proceeds to charities, and deferred compensation is also a financial interest.
Calling on Cheney to sever his financial ties to Halliburton, Lautenberg points out that the company has already raked in more than $10 billion for work in Iraq, and was handed some of the first Katrina contracts. The company has been criticized by auditors for its handling of no-bid contacts in Iraq, and there have been numerous allegations of over charging for services. Auditors found the firm marked up meal prices for troops and inflated gas prices in a deal with a Kuwaiti supplier. The company also built the American prison at Guantanamo Bay. Lautenberg said, "It is unseemly for the Vice President to continue to benefit from this company at the same time his Administration funnels billions of dollars to it."
Cheney's war profiteering requires redress and justice.
Dick Cheney on Iraq
Dick Cheney's Role in the Invasion of Iraq
Cheney's Fall From Grace
http://www.time.com/time/nation/article/0,8599,1597226,00.html

George Bush's sense of humor has always run more to frat-house gag than art-house irony, so he may not have appreciated the poetic justice any more than the legal justice on display in the Libby verdict.
Or, to be more precise, the Cheney verdict.
Bush stumped just about everyone seven years ago when he tapped the safe and solid Dick Cheney to be his running mate. But Bush didn't want any trouble. He didn't want a Vice President who preened before the cameras. He didn't want a policy sparring partner. And he didn't want someone who would check out after five years and run for President himself. And because Bush got exactly the kind of partner he wanted, he now faces the very problem he tried to avoid. Cheney has become the Administration's enemy within, the man whose single-minded pursuit of ideological goals, creaking political instincts and love of secrecy produced an independent operation inside the White House that has done more harm than good.
On an imaginary political balance sheet, Cheney is the Democrats' most valuable asset. And reversing that situation is getting close to impossible. Cheney recently made his weekly pilgrimage to the Senate, where he had lunch on March 6 with Republicans. He took his usual seat on one side of the stately Mike Mansfield Room and watched the proceedings quietly. Various Senators came by to ask him about his health after a blood-clot scare the day before. Others quietly lent support in the wake of that morning's four-count guilty verdict of Cheney's top aide, I. Lewis "Scooter" Libby. But for all the personal shows of support, more Republicans with each passing week have acknowledged privately what is felt across Washington when it comes to the Vice President: his time has passed.
And what a time it was. Back in the days of Bush's first term, aides to Cheney loved to regale journalists with tidbits about the scope of the Vice President's influence and the intensity of his commitment to protecting the U.S. from a terrorist attack. He was so driven and hands-on, the aides would say, that he and Libby would routinely ask to see raw intelligence rather than the processed analysis put together by the cia and other agencies. "He's a voracious consumer of intelligence," said an admiring aide to the Vice President. "Sometimes he asks for raw intelligence to make his own judgment. He wants it all."
He may have come across as deferential to the President in public, but friends and advisers in the fall of 2002 described Cheney as nothing less than the engine of the Administration. "There's no way in which he is not driving the train on this," said one, referring to Cheney's role in pushing Bush and the Administration inexorably toward an invasion of Iraq. "Analysis, advocacy — it's all done by Cheney or his prot?g?s or his former mentor [Secretary of Defense Donald Rumsfeld]. It's about context. It's reflective not so much of Cheney's direct influence on the President as it is of his influence on — his dominance of — the decision-making process. It's about providing the facts and analysis to the decision maker that the decision maker needs. Bush is making the decision, but the Veep is directing the process toward the decision that he thinks is the right one." In other words, Cheney had so rigged the process that important decisions were foregone conclusions, ones that had been reached by the Vice President well in advance.
So when the verdict against Libby came down, it was also a rebuke to that hermetic power-sharing arrangement at the top of the White House. The legal outcome was never in doubt. Federal prosecutor Patrick Fitzgerald had been massing evidence of perjury for months and then unveiled it piece by piece until even the defendant chose not to testify in his own defense. Libby's highly touted defense lawyers, meanwhile, seemed weak and scattered. Their promise to reveal how the White House had left Libby to be the fall guy for higher-ups was introduced and then abandoned. And it would have taken them down a road Libby steadfastly refused to travel: the one that led to the Vice President's door.
From the start, the case was only marginally about Libby. What was really on trial was the whole culture of an Administration that treated the truth as a relative virtue, as something it could take or leave as it needed. Everyone knows now that Bush and Cheney took the country into a deadly, costly and open-ended war on flimsy evidence of weapons of mass destruction. Yes, Congress went along. And yes, the public on balance supported it. But no one was more responsible than the Vice President for pushing the limits of the prewar intelligence that did all the convincing. And when former ambassador Joseph Wilson questioned the credibility of that intelligence — and the motives that helped polish it — it was Cheney who led the fight to bring him down.
None of that was illegal. So four years later, the Libby trial still prompts the question, Why did Libby get into legal trouble in the first place? Why did the Vice President's top aide not simply admit to what everyone knew was true — that he discussed the identity of Wilson's wife Valerie Plame, a CIA officer, with at least one reporter? Since most experts agree that Libby was unlikely to be prosecuted on a charge of revealing her identity, it is hard not to conclude that Libby cooked up his stories to protect Cheney. If Libby had gone a different route and admitted in his grand jury testimony that he had told a reporter about the identity of Wilson's wife, Fitzgerald's next question would have been, Were you acting on Cheney's orders? And it would not have been long before Cheney was giving testimony under oath. There was, said Fitzgerald in his summation, "a cloud over what the Vice President did."
Libby's conviction comes at the end of a dreadful year for Cheney: last February he accidentally sprayed a friend with bird shot while hunting in Texas. A week before the midterms, in a gift to Democrats, he all but endorsed waterboarding on a North Dakota radio talk show as an interrogation technique. Mary Cheney, his openly gay daughter, ran afoul of conservative activists in December when it was revealed that she and her partner were expecting a baby. Late last month, while he was touring Bagram air base in Afghanistan, a suicide bomber attacked the camp's perimeter and killed at least 23 people in what the Taliban called an assassination attempt. Then on March 5, doctors found a blood clot in Cheney's leg, for which he will be treated with blood-thinning medication for several months.
But the personal setbacks have merely been the counterpoint to the larger policy reversals Cheney has suffered in internal debates in the past year. Secretary of State Condoleezza Rice is executing an unmistakable course correction in U.S. foreign policy, quietly stepping away from the strident and unilateral positions of the neoconservatives and cutting deals with — or opening lines to — the remaining members of the axis of evil. Backed by a strong new team of career diplomats, Rice prevailed on Iraq to invite Iran to a regional conference on security and then swiftly agreed to attend, unwinding Washington's vow just a few weeks ago that it would have no direct contact with Tehran until it stopped enriching uranium.
A few weeks earlier, after working for months with the Chinese, President Bush signed off on a deal with North Korea to freeze its primary nuclear reactor in exchange for economic aid and closer diplomatic ties. That deal was strikingly reminiscent of a controversial pact that Bill Clinton inked with North Korea in 1994 — and that the Bush team criticized in the first term. When hard-liners inside the government complained to reporters that the White House was selling out to a dictator, Bush backed Rice in public. Even in intelligence matters, the area in which Cheney was once most dominant and in which he invited the most trouble in the Libby case, his hand has been weakened. For example, in public testimony before Congress lately, intelligence officials have emphasized more ambiguities and uncertainties in their conclusions about threats overseas than was commonplace at the height of Cheney's power. Democratic Senators report that a refreshing new degree of candor has returned in classified sessions as well. "Cheney's influence on intelligence has declined markedly," said Democratic Senator John D. Rockefeller IV of West Virginia, chairman of the Senate Intelligence Committee.
Cheney is hardly unaware of Rice's new dominance. A senior Administration official told TIME last week that Cheney has been part of all the arguments and has simply begun to lose some. But that alone means ideas that would have been unthinkable just a year or two ago — early engagement, muscular multilateralism, even patient negotiation — are becoming more acceptable in Bushland. American diplomats have asked the Jordanians for their notes on the Clinton-era negotiations between the Palestinians and Israelis, seeking to restart the Middle East peace talks that fell apart abruptly at the end of 2000. That's yet another turnabout for an Administration that lampooned those very talks in 2002.
Of course, some of the repositioning was inevitable, and most of it was long overdue. Even if Bush and Cheney didn't want to listen to the polls on the home front, they couldn't ignore the few allies they had left overseas. Britain's Tony Blair announced a partial pullout from Iraq last month, and then moderate Arab neighbors in the region began to clamor for Bush to pull up before he crashed. On Wednesday, King Abdullah II of Jordan made an impassioned public appeal in a joint meeting of Congress for Washington to take the lead on Middle East peace talks.
While Rice rewires foreign policy, White House chief of staff Joshua Bolten is showing signs that he can match Cheney on domestic matters. The Bush Administration has said it will retreat on the issue of domestic surveillance and abide by laws regulating wiretaps passed years ago by Congress. And the Democrats in Congress are finding Administration officials far more forthcoming with facts and figures about the conduct of the war in Iraq, in part because the White House knows that the next step — subpoenas — won't help their dwindling poll ratings. "There has been an ebb and flow," said Pennsylvania Republican Arlen Specter, "and the President has come to realize that the broader assertions of executive power had to be tempered."
But there is another force driving the Bush team to pivot: the ticking of the clock. "It's very hard to do things at the very, very end," said Wendy Sherman, who coordinated North Korean policy in the Clinton State Department. "If the President wants to end eight years and have people say, 'You lost Iraq, you lost Iran, you lost North Korea, and you made the Middle East worse,' it's not a good moment in history. And so the pragmatists are predominant at the moment. This is their window."
How did Cheney, a man once considered by members of both parties to have a feel for the golden mean, create a culture in which his top aide perjures himself? Some of it is his solitary roots: Cheney has never been a natural politician. He's more of a High Plains drifter who hailed from one of the least populated states in the nation, who took up the lonely job of utility lineman when he dropped out of college. Although he won a seat in Congress six times, he didn't have to work at it the way some lawmakers did. He easily rolled up huge margins in his Republican-tilted Wyoming district that literally covered the whole state. Personal charm wasn't so much Cheney's secret — the census was. In those days, everyone in Wyoming pretty much knew everyone else. Most years Cheney outpolled his rivals by more than 2 to 1.
So when he decided to give running for President a try in 1994, he soon realized he was unsuited for the big game. He raised a million dollars and built a good organization, but he found that the little things got to him. His fund-raising dinners, Cheney told aides, "weren't substantive enough." He didn't care to pal around with donors. He therefore called it off and never ran on his own again. This removal from people, from politics, from the sensors that make leaders responsive to people, turned into Cheney's Achilles' heel. And it actually deepened when he became Vice President. Bush picked Cheney because Cheney would never run again, but that also meant the newly minted Veep never had to put his ear to the ground.
Then came the war, which changed all of us but affected Cheney more than most. He was still wired in on everything, but that didn't mean he was in touch. He was convinced he was right about grave matters — that Saddam Hussein was a threat that had to be removed, that Iraq possessed weapons of mass destruction and was intent on using them, that critics of Administration policy were at best misguided and at worst traitorous. "It's always been a joke in his office that his staff is extraneous," said a staff member. "The only thing you can do is provide him with information he doesn't possess yet. He doesn't need your analytical skill and judgment. He has that already."
Even in his own family, Cheney has a reputation for simply not being there. At times he simply departs the room, not physically but mentally, says a family friend who has also worked for him. He loses himself in thought or a book or whatever he's doing and can't be raised or roused. When that happens, his daughters have a nickname for him: the Bull Walrus. And so they will wave their hands and affectionately call out their pet name for their dad — "Hey! Bull Walrus!" — as if he were sleeping on a big rock near the Arctic Sea. And then he'll come to.
So long as Bush remains Commander in Chief, however, and Cheney his faithful lieutenant, the Vice President's power will flow through the Oval Office. Cheney remains the Administration's point man in its war of words with Iran and helped persuade the President to send an extra carrier group to the Persian Gulf last month. He remains a force in White House debates about the conduct of the war, and though he has been forced to retreat in some areas, he has not walked away from the fight. He remains Bush's best messenger when delivering the tough love that Washington spoons out from time to time, as it did two weeks ago when the Administration pushed Pakistan's General Pervez Musharraf to take the war on al-Qaeda up a couple of notches.
Libby's four-count conviction guarantees that Cheney's White House role will remain in the news for most of the year. At the moment, Libby faces 18 months to three years in prison, though Judge Reggie Walton has discretion over the sentence he will hand down on June 5. In Libby's favor is the Columbia Law School grad's otherwise clean criminal record. Meanwhile, Libby's lawyers will try to argue for a new trial — something few observers expect Walton will permit — and then will ask the judge to allow Libby to postpone his jail sentence until an appeal can be heard. Retired Federal Judge Stanley Sporkin maintains that an appeal could be considered — and ruled on — in as little as six months, but it could stretch into 2008 if the appeal briefs are extensive. Given the way his lawyers tried to slow down the process with pretrial motions last year, they are likely to be.
And that's part of the plan. If his appeal fails, Libby's only recourse is a presidential pardon, and the chances of that go up as Bush's days in office dwindle. That means the longer Libby can keep the wheels of justice turning, the more likely he is to avoid spending any time in jail. Already the betting on a pardon is running at 65% by the end of Bush's term, and the Washington Post has announced a pool to predict the date. Democrats have called on Bush to swear off a pardon, but that outcome is not likely. If Bush ruled one out now, he might encourage Libby to seek leniency from Fitzgerald in his sentencing phase in return for cooperating with the prosecutor. In his first comments after the verdict was announced, Fitzgerald left the door open to such negotiations: "Mr. Libby is like any other defendant. If his counsel or he wish to pursue any options, they can contact us."
Then there is the argument that Bush should boot his Vice President before he strikes again. It's an often forgotten fact that three of the past six Presidents either dumped or tried to dump their Vice Presidents: Richard Nixon tossed Spiro Agnew for Gerald Ford in 1973, Ford tossed Nelson Rockefeller and tapped Bob Dole as a running mate in the 1976 campaign, and Bush's father George Herbert Walker Bush let his top aides try to give the heave-ho to Vice President Dan Quayle when he was dragging down the G.O.P. ticket by three or four points in 1992.
The father's instincts have never been the son's. Replacing the Veep now would create exactly the unpleasant succession scenario Bush had hoped to avoid when he chose Cheney in the first place. He didn't want someone soaking up all the attention and energy as he headed into his last 18 months in office. It seemed like a good idea at the time.
Excerpts from PBS documentary "The Dark Side" about Dick Cheney conscious lying about Iraq and its connection with 9-11.
Mineta and the Secret Orders of Cheney
Bush, Cheney Involved in Leak of CIA Agent's Identity
A citizen telling the VP to go fuck himself during an interview.
Cheney versus Blitzer
Vice President Dick Cheney Refuses to Answer Libby Questions
Dennis Kucinich issues impeachment papers on Dick Cheney
Cheney: "You're dead wrong" on cost of Iraq war
The Daily Show - You Don't Know Dick