Princess Diana emotional tribute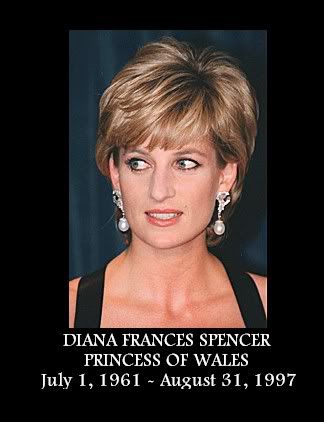 Diana, Princess of Wales (Diana Frances;[2] née Spencer; 1 July 1961 – 31 August 1997) was the first wife of Charles, Prince of Wales. Her two sons, Princes William and Harry, are second and third in line to the thrones of the United Kingdom and 15 other Commonwealth Realms.
http://en.wikipedia.org/wiki/Diana,_Princess_of_Wales
Princess Diana, Royalty
* Born: 1 July 1961
* Birthplace: Norfolk, England
* Died: 31 August 1997 (automobile crash)
* Best Known As: The "People's Princess" and ex-wife of Britain's Prince Charles
Lady Diana Frances Spencer was 20 when she married Prince Charles, heir to the throne of Britain, on 29 July 1981. Her beauty and youthful charisma quickly earned Diana the nickname of "the people's princess." She and Charles had two sons, William (b. 1982) and Harry (b. 1984). However, the marriage was troubled almost from the start, and its breakdown was daily fodder for tabloids during the 1990s. Diana and Charles were divorced in 1996 and Diana devoted her life to her two sons and to worldwide charities. She and her boyfriend, Dodi Fayed, were killed in 1997 in a high-speed car crash while being followed by paparazzi in Paris, France. A French investigation showed that their driver, Henri Paul, was intoxicated. There followed years of allegations, led in part by Fayed's father Mohamed Al Fayed, that the pair had been victims of a conspiracy. A three-year British investigation concluded in 2006 that "there was no conspiracy to murder any occupants of that car. This was a tragic accident."
The British investigation also dismissed claims that Diana and Fayed were engaged to be married, and that Diana was pregnant... Mohamed Al Fayed owns the department store Harrods... A memorial concert for Diana, arranged by her sons, is planned for 1 July 2007 in London's Wembley Stadium. The date would have been Diana's 46th birthday, and 2007 is the 10th anniversary of her death. According to Reuters, "A separate formal church memorial service will be held August 31 in London"... According to the web site of the Royal family, "The Princess was the first Englishwoman to marry an heir to the throne for 300 years (when Lady Anne Hyde married the future James II from whom the Princess was descended)"... Diana's nicknames included Lady Di, the People's Princess, and the Queen of People's Hearts... At Diana's funeral Sir Elton John sang "Goodbye England's Rose," a reworking of the tune "Candle In the Wind" which he had written earlier about Marilyn Monroe.
http://www.answers.com/topic/diana-princess-of-wales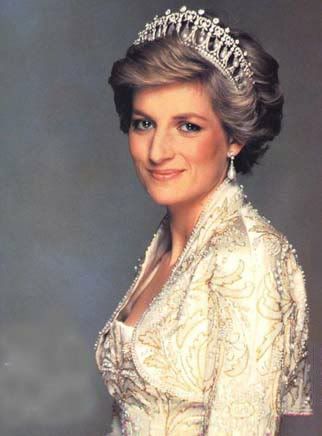 The Amazing Life Of Princess Diana
Princess Diana: 1961-1997
http://www.time.com/time/daily/special/diana/
The Diana, Princess of Wales Memorial Fund
http://www.theworkcontinues.org/about.shtml
Diana: A Remembrance
http://edition.cnn.com/WORLD/9708/diana/
Timeline: Diana, Princess of Wales
http://news.bbc.co.uk/1/hi/uk/3868403.stm
Princess Diana Timeline
http://www.twoop.com/people/princess_diana.html
July 1, 1961- Diana Frances Spencer is born to Frances and Edward John (Johnnie) Spencer.
Summer 1967: Parents separate and a court battle over the children follows.
Dec. 1967: Father wins custody over Diana and her younger brother Charles and enrolls Diana in Silfield Day School.
Sept. 1970: Sent to Riddlesworth Hall in Norfolk, her first boarding school where she excels in diving, swimming and ballet. She doesn't do as well in academics.
July 1977: Graduates from West Heath secondary school in Kent.
July 14, 1977: Her dad, now known as Earl Spencer, marries the Countess of Dartmouth, Raine. Diana and her younger brother dub their stepmother "Acid Raine."
Nov. 1977: Prince Charles notices Diana at a party in the Spencer estate in Northamptonshire.
July 1980: She begins dating Prince Charles during a polo playing weekend.
Feb. 24, 1981: Her engagement with Prince Charles is announced. Reporters ask Diana if she is in love. She replies, "Of course," When they ask Prince Charles the same question, he replies, "Whatever 'in love' means."
July 29, 1981: She weds Prince Charles in St. Paul's Cathedral. 600,000 people line London streets to cheer the couple on.
June 21, 1982: After seventeen hours of labor, she gives birth to their first child, Prince William Arthur Philip Louis Windsor.
Mar. 1983: She and Charles tour Australia and New Zealand for six weeks.
June 14, 1983: They commence an eighteen day trip to parts of Canada, starting from the Atlantic region, then to Ottawa, and lastly Edmonton.
Sept. 15, 1984: Gives birth to her second child, Prince Henry Charles Albert David.
Apr. 30, 1986: Visits British Columbia, Canada for the opening of Expo 86 in Vancouver.
Late 1986: She begins an affair with Capt. James Hewitt.
1989: During this time, perhaps earlier, Prince Charles is having an affair with Camilla Parker-Bowles.
June 3, 1991: Her son Prince William is involved in a golf accident where he is accidentally hit by a golf club on the side of head and suffers a skull fracture. Diana stays by his side in the hospital while Charles attends to a royal engagement.
Sometime in 1991: She ends her affair with Capt. James Hewitt.
July 1991: Helps dispel the myth that AIDS victims can give you the disease just by touch as she hugs AIDS patient at an English hospital.
Oct. 23, 1991: Visits Ontario, Canada with Charles and sons for six days. This will be their final trip to Canada together.
Mar. 29, 1992: Her dad dies of a heart attack.
June 1992: Andrew Morton has his biography Diana, Her True Story publised. It covers her bout with bulimia, depression, and her unhappy marriage. She approves of the publication.
Aug. 1992: Reports of Diana's phone conversation with James Gilbey surface. He supposedly calls her "Squidgy" and professes his love for her.
Dec. 9, 1992: Buckingham Palace announces the separation of Diana and Charles.
May, 1994: She and a Finnish student save a man from drowning in a pond located in London's Regent's Park.
Aug. 28, 1996: She and Charles officially divorce. She receives a thirty million dollar settlement. She keeps her title as "Princess" but cannot be called "Your Royal Highness."
Jan. 1997: Launches her campaign against land mines in Angola.
July 1997: Pictures are taken of her and new boyfriend, Dodi Al Fayed, on his dad's yacht on the Riviera.
Aug. 1997: Continues her campaign on land mines by going to Bosnia.
Aug. 31, 1997: Diana, Al Fayed, and their driver Henri Paul try to escape the paparazzi by speeding in a Paris tunnel. They crash and die.
Sept. 4, 1997: The Queen orders the Union Jack to fly half mast at Buckingham Palace.
Sept. 6, 1997: Mourners line the streets of London as Diana's body leaves Westminster Abbey and passes them for her final resting place on an island on the Althorp estate for burial.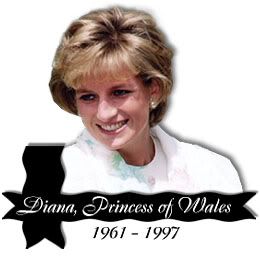 Death of Diana, Princess of Wales
On 31 August 1997, Diana, Princess of Wales was killed in a car crash in the Pont de l'Alma road tunnel in Paris, along with her companion Dodi Fayed, and their driver Henri Paul. Fayed's bodyguard Trevor Rees-Jones was the only occupant of the car who survived the accident.
Most reports and findings concluded that the cause was a car crash occasioned by a chauffeur who had consumed too much alcohol and had lost control speeding whilst trying to evade press photographers. There was controversy about the initial finding, and Dodi's father Mohamed Fayed (the owner of the Hôtel Ritz for which the chauffeur worked) has spent several years attempting to obtain a full disclosure of the investigation. The police inquiry in France concluded that there was no evidence of conspiracy. A subsequent police inquiry in the UK specifically into the conspiracy allegations, which reported in 2006, concluded that Fayed's questions had no genuine basis for concern, and should be dismissed.
http://en.wikipedia.org/wiki/Death_of_Diana,_Princess_of_Wales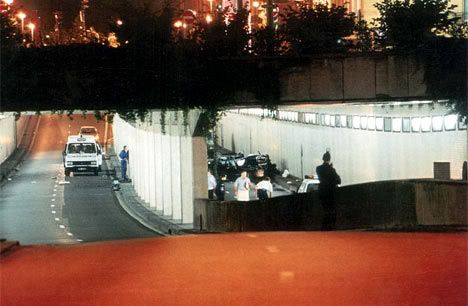 Princess Diana's car crash, BBC rolling news footage.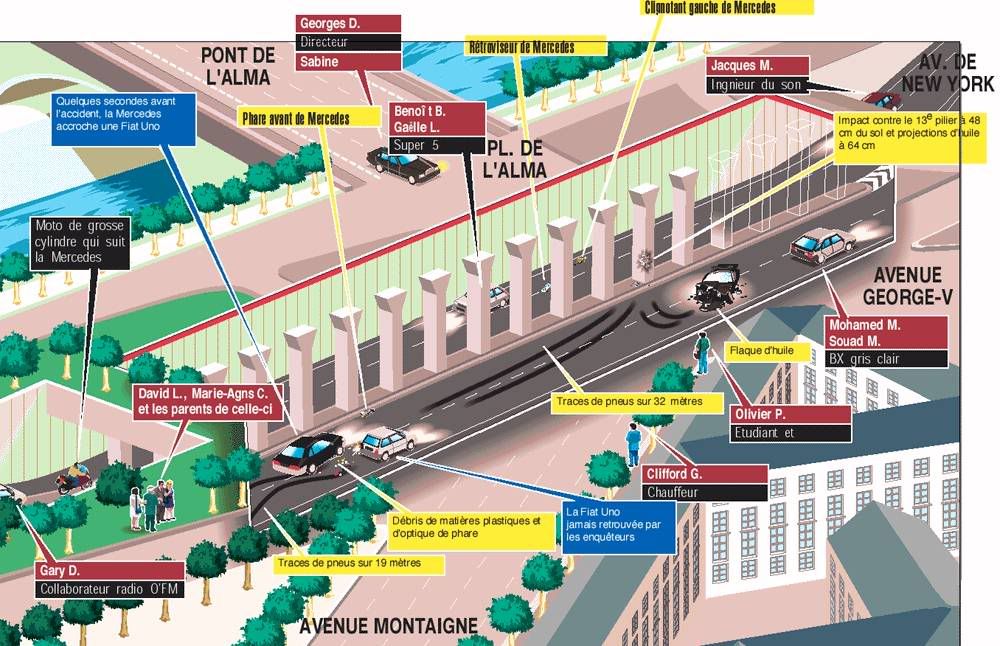 ITN News Report of Princess Diana's death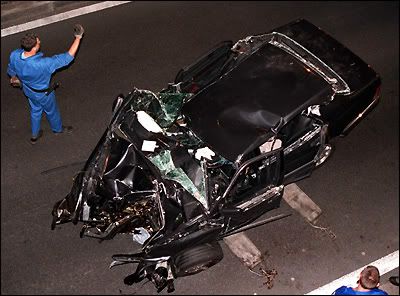 In life and death, Diana shook the House of Windsor
http://uk.news.yahoo.com/rtrs/20070822/tuk-uk-britain-diana-legacy-fa6b408_2.html
LONDON (Reuters) - In life and death, Princess Diana shook the House of Windsor to the core.
Critics have not always been kind to "The People's Princess" in the decade since her death in a Paris car crash on Aug 31, 1997, but none would deny she mattered.
Among royal watchers who spent their careers following the world's most photographed woman live out a royal soap opera, few doubt her effect on a staid royal household that abhorred histrionics and never abandoned the British stiffer upper lip.
"She gave the monarchy a jolt. She was determined to make it less remote and she led by example on that," said former BBC royal correspondent Jenni Bond, who spent almost 15 years covering the tribulations of the royals.
"The Queen said afterwards that lessons had to be learned from Diana's death. Slowly they have been. There has not been a massive change -- it's a question of evolution not revolution."
The Observer newspaper, summing up her contradictions when reviewing a flood of Diana biographies, asked "Was she shy or just sly? Compassionate or coldly calculating? The Queen of Hearts or the self-promoting chief executive of Brand Diana?"
Diana espoused a string of causes -- AIDS patients, lepers and landmine victims -- which, by the force of her fame, became headline news.
"The royal family are not stupid and they looked at the effect she was having and realised they were missing a trick," said royal biographer Penny Junor.
"She was behind a lot of modernisation. The way that things are done now has been largely influenced by her."
HAGIOGRAPHIES, HATCHET JOBS
The 10th anniversary of her death has sparked the publication of at least a dozen Diana biographies that range from fawning hagiography to hatchet job.
Sarah Bradford, author of an authoritative study that avoids any gushing praise, said Diana had a paradoxical attitude to fame, bemoaning the paparazzi who hounded her to the end while at the same time assiduously cultivating tabloid contacts.
"She could be funny, witty, a lovely friend. She could also turn on people, she could be cruel, she could be hysterical."
And of course there was the fairytale marriage to heir-to-the-throne Prince Charles, which ended in an acrimonious divorce played out in the full glare of publicity.
What biographer could resist such a concoction?
After writing three books on the Kennedys, American biographer Christopher Andersen turned to Diana, arguing "What's not to love? It's the royal family, the world's longest running soap opera."
A decade on, the British look back in astonishment at the uncharacteristically emotional way they mourned Diana -- captured in "The Queen" with Helen Mirren, a film deemed to have built sympathy for the monarch.
"Helen Mirren and 'the Queen' have done an awful lot in terms of global popularity," said Evening Standard royal correspondent Robert Jobson. "But I don't think you will ever match the fame, impact and notoriety of Diana."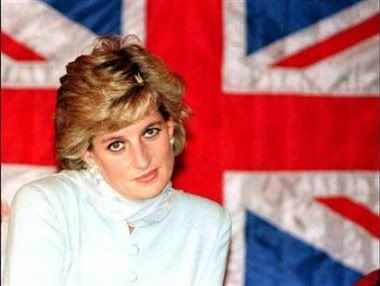 Suicide rate rises after funeral of Princess of Wales
http://www.pubmedcentral.nih.gov/articlerender.fcgi?artid=1173485
A rise in the suicide rate in England and Wales followed the funeral of Princess Diana three years ago, a new study shows. The University of Oxford Centre for Suicide Research found that the overall suicide rate in England and Wales rose by 17% in the four weeks after her funeral, compared with the average reported for that period in the four previous years (British Journal of Psychiatry 2000;177:469-72).
The number of people taking their life in this period increased by 40, but the impact was greatest on women, particularly women closest in age to Diana herself, who died at 37. The rate of suicide in women increased some 34% in the month after Diana's death, and in women aged 25-44 the rate increased by over 45%. The researchers suggest an "identification" factor partly explains the findings—in other words the kind of people who most identified with the princess were most affected by her death.
It might be that women close to her in age and who identified with her relationship and psychological difficulties became more pessimistic about their own ability to conquer similar problems, leading to depression and hopelessness, so paving the way to suicidal thoughts. Particularly intriguing was the finding from the national confidential inquiry into suicide and homicide by people with mental illness that there was no change during this period in the proportion of suicides known to mental health professionals. This suggests that many people affected by Diana's death were not those who would traditionally be classified as "vulnerable," as they were not known to mental health professionals.
The findings contrast with the period immediately after President Kennedy's assassination, when the national suicide rate in the United States temporarily declined. The theory advanced then was that the bringing together of the nation in mourning meant people felt more connected with each other and their community, so reducing isolation and loneliness. But this new British research found that suicide rates mysteriously peaked most in the fourth week after Princess Diana's funeral. This suggests to the authors that these events set in train such fundamental upset that the group support provided by the crowds soon dispersed after the funeral.
The researchers also found deliberate self harm presenting to a general hospital in Oxford increased significantly (by 44%) only in the week after the death of the princess, especially in women (65%). A review of these patients' case notes suggested that the influence of Princess Diana's death was largely through "amplification of personal losses and exacerbation of existing distress."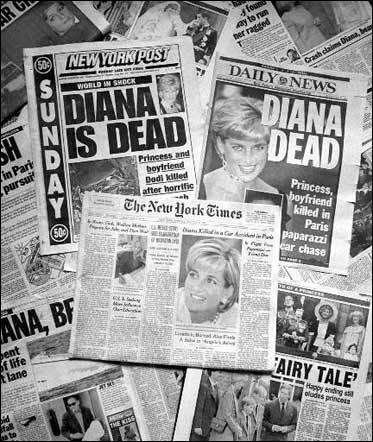 1997: Princess Diana dies in Paris crash
http://news.bbc.co.uk/onthisday/hi/dates/stories/august/31/newsid_2510000/2510615.stm
Diana, Princess of Wales, has died after a car crash in Paris.
She was taken to hospital in the early hours of Sunday morning where surgeons tried for two hours to save her life but she died at 0300 BST.
In a statement Buckingham Palace said the Queen and the Prince of Wales were "deeply shocked and distressed".
Prince Charles broke the news of their mother's death to Princes William and Harry at Balmoral Castle in Scotland where the royal family had been spending the summer.
The accident happened after the princess left the Ritz Hotel in the French capital with her companion, Dodi Al Fayed - son of Harrods owner, Mohammed Al Fayed.
Criminal investigation
Dodi Al Fayed and the vehicle's driver were also killed in the collision in a tunnel under the Place de l'Alma in the centre of the city.
The princess' Mercedes car was apparently being pursued at high speed by photographers on motorbikes when it hit a pillar and smashed into a wall.
Mr Al Fayed and the chauffeur died at the scene but the princess and her bodyguard were cut from the wreckage and rushed to hospital.
The French authorities have begun a criminal investigation and are questioning seven photographers.
Tributes to the princess have been pouring in from around the world.
Speaking from his home in South Africa, the princess' brother, Lord Charles Spencer, said his sister had been "unique".
While it was not the time for recriminations there was no doubt the press had played a part in her death, the earl added.
Hundreds of mourners have gathered at the princess' London home, Kensington Palace and many have laid flowers at the gates.
Princess Diana Crash Site: Pont de l'Alma
Diana: Secret Documents Revealed
48 Hours Investigates Truth About Death Of Princess Diana
http://www.cbsnews.com/stories/2004/04/20/48hours/main612794.shtml
In life, it was Princess Diana's vibrancy and glamour that captured the world's attention. Today, it is the mystery surrounding her death. Correspondent Erin Moriarty reports. "She was convinced she was going to be killed," says Diana's old friend, Argentinean businessman Roberto Deverik, who recalls Diana often speaking of murderous plots against her.
"She said, 'When it's not convenient anymore, I will-- they will blow me in a car or in a helicopter.'"
The questions and puzzles remain nearly seven years after Diana's tragic death in a Paris tunnel. Billionaire Mohamed Al Fayed has relentlessly accused the British government of orchestrating the death of Princess Diana, and his son, Dodi.
Al Fayed, who has refused numerous requests to talk to 48 Hours, believes that his son and Diana were killed in order to prevent the princess from marrying his son, a Muslim, and having his child.
Conspiracy theories continued because the details of the French probe into the accident were never made public.
But 48 Hours has obtained a report produced by the French government that was never made public until now. The report contains thousands of pages of confidential police documents, scientific analysis and images that tell what really happened to Princess Diana, beginning with the night she died. "As I approached the tunnel, I saw smoke in the middle of the tunnel," recalls Frederick Maillez, a doctor who told French authorities that he was driving through the Alma Tunnel in Paris that night -- moments after the Mercedes carrying Princess Diana and Dodi Fayed crashed into a pillar.
"I went to the wreckage to see what was going on inside," says Maillez, who tended to the seriously injured princess after the crash. "I can tell you her face was still beautiful. She didn't have any injuries, main injury on her face. She was unconscious. She didn't speak at all."
Eerie black and white photos, taken just moments after the crash, have never been shown until now. Part of the official report, they were confiscated from the paparazzi who were chasing the couple that night.
"You could absolutely tell it was her. She was a pretty woman, and even a few hours before she died, she's still pretty," says lawyer Virginie Bardet, who saw the confidential French dossier when she defended three of the seven photographers who were initially accused of causing the accident. "The investigation is important," she says.
Family and associates of Princess Diana expressed anger Thursday at the use of the photos taken moments after a car accident.
Diana's brother, Charles Spencer, said he was sickened by the action. "Lord Spencer and his family are shocked and sickened by CBS' actions," said a brief statement released by the family.
Outrage focused on two back and white photos taken by paparazzi at the scene, showing an unconscious Diana being treated by a doctor as she lay slumped in the back of a car. They were included in a confidential French investigators' file on the accident, but no major media outlet had previously run pictures of the injured princess.
Britain's tabloid newspapers gave the story prominent, outraged coverage on Thursday.
CBS News released an official statement Wednesday: Tonight's (21) edition of 48 Hours Investigates is a one-hour report on Princess Diana that addresses the circumstances surrounding her death almost seven years ago. Included in the broadcast is information from a 4,000-page confidential French government report on Diana's death obtained by 48 Hours Investigates. In addition to important information that dispels many of the rumors and allegations surrounding her death, photocopies of photos from the French government report taken at the scene of the crash also will be included in the broadcast. These photocopies are placed in journalistic context -- an examination of the medical treatment given to Princess Diana just after the crash -- and are in no way graphic or exploitative.The French investigation is clear: The crash was an accident, and not the fault of the photographers or foreign intelligence agents. Instead, it was the fault of Henri Paul, the driver of Diana's car, who was impaired by alcohol and prescription drugs.
Paul, who was driving at nearly twice the speed limit, nicked a Fiat Uno, lost control of the car and smashed into a pillar.
French authorities, however, were wrong if they thought their account of the crash would put the matter to rest. This past January, the British government opened its own investigation into the accident.
One claim that Al Fayed has made is that Paul wasn't drunk at all that night – but that the French switched the blood samples either by accident or on purpose.
48 Hours provided the forensic data from the French dossier to Dr. Robert Forrest, one of England's leading forensic toxicologists, to see if he could find any evidence of a mistake or a cover-up.
"This is the first time I have seen these data and it has been absolutely fascinating," says Forrest.
The dossier documents that multiple tests were conducted on blood, hair and tissue. Paul's body was also photographed and identified by an ankle tag, #2147 – the same number listed on the samples.
"There is nothing in the trail of evidence, which suggests there is anything funny about the way in which the samples have been taken," says Forrest, who adds he didn't see any sign of a conspiracy.
Not only do the tests indicate three times the legal limit of alcohol in Paul's system at the time of the accident, Forrest says, they also indicate an alarming amount of various prescription drugs: "Let me put it this way. If I knew that I was going to be driven by someone in that condition, I would not get into the car with them. No way."
This evidence disproves Al Fayed's allegations and proves that there is no question that Paul was drunk. But was he paid by British intelligence services to help kill Princess Diana? And what about Al Fayed's claim that the princess was killed because she was pregnant? This past January, The London Mirror reported that just months before her death, she had written a note saying, "My husband is planning an accident in my car – brake failure and serious injury."
How real were her fears? Did someone tamper with the Mercedes to make it appear like an accident?
48 Hours took a similar model Mercedes and the analysis contained in the French report to Murray MacKay, one of Europe's most prominent vehicle-safety experts.
MacKay says French investigators examined every component of the crashed Mercedes, particularly the brakes, to determine if either a mechanical failure or deadly tampering caused the accident. "I think they did a very thorough job," says MacKay. "There was nothing wrong with the car at all … the driver was drunk. He was going excessively fast and couldn't cope."
But the French dossier still raises questions, especially about Paul, the driver who was also chief of security for Mohamed Al Fayed's Ritz Hotel. We found documents that reveal a number of significant bank deposits in French francs made by Paul, beginning nine months before the crash.
French investigators were unable to pinpoint the exact source of the mysterious money, but the dossier reveals that they searched Paul's home and office, interviewed his friends and associates, and analyzed his phone records. They found no evidence of a conspiracy – even though there was a theory that Paul was a security services informant.
"He could have been that, too. But they don't pay that much money," says author Tom Bower, who wrote an extensive biography of Mohamed Al Fayed.
Bower says Al Fayed would regularly carry large amounts of cash to pay employees and others: "He was a man who handed out, on his own admission, $100,000 pounds a week, sometimes in cash."
The cash was often a bonus, but Bower says that Al Fayed also paid his security men to conduct surveillance of certain guests who stayed at his Ritz Hotel: "He presents himself as such a warm, bubbly, warm, lovable Arab uncle. But in fact, that he was a man who was rather sinister and dangerous. I mean, he was a great friend and a great enemy."
Bower says that Princess Diana, who knew Al Fayed through her father, had also come to rely on him. "She was a lonely woman. He is a terrific seducer of people if he wants to be," says Bower. "And he gave her what she wanted." Since her death, Al Fayed has made outrageous claims about his friendship with the princess. But the most controversial is his assertion that Diana was pregnant with his grandchild, which he said in an interview with ABC News last fall. Al Fayed's claims were bolstered by photographs of Diana that show a noticeable bulge.
The details of Diana's autopsy have been a closely guarded secret, but 48 Hours contacted Robert Thompson, who was there. "Any death within the royal family, that was referred to the coroner, would come to us," he says.
And what about claims that Diana was pregnant at the time of her death? Was there any reason to believe that?
"The pathologist spoke to me. And he was closer to me than we are to one another, and said to me and to the room at large, 'Well, she wasn't pregnant,'" says Thompson. "He divided the womb, looked inside, and was quite certain that this lady in this instance was not pregnant."
And curiously, Al Fayed never mentioned the phone call from Diana about the pregnancy until nearly five years after her death. "He constructed a complete fantasy out of the last hours of Diana's death and everything else," says Bower. "Completely rubbish."
But what about the photographs that allegedly show a pregnant Princess? They were taken even before she started dating Dodi. Princess Diana was hounded by paparazzi the summer before she died.
Photos of Diana were taken by James Andanson, a successful French celebrity photographer. But he found himself in the middle of the French investigation six months after Princess Diana died.
Gaskon Sipagholu and his wife, Phyllis, ran the Sipa photo agency in Paris. Andanson was one of their stars.
"I never saw in my life, a photographer like him, never. He was working all the time and he was getting very good money," says Sipagholu. "He was making about $500,000 a year, even more, from his photographs."
Andanson had a chateau in the Loire valley in central France, an apartment in Paris, and drove an expensive BMW. But what brought him to the attention of French authorities was another car he owned: a white Fiat Uno.
Was this the same Fiat Uno that was sideswiped by the Mercedes in the tunnel the night Diana died?
"It was our investigators, not the French police, who found the Fiat Uno. It was found in a garage in Paris and traced to paparazzi named James Andanson," says John McNamara, Al Fayed's former security chief, on the Al Fayed documentary.
Al Fayed and McNamara are convinced that some of the paparazzi, and possibly the driver of the white Fiat Uno, were MI-6 agents whose mission was to stop the announcement of the forthcoming engagement.
As the car carrying Princess Diana raced into the Paris tunnel, it sideswiped a slow-moving white vehicle. Paint on the Mercedes and debris on the roadway confirm it was a Fiat Uno. But despite a massive search, neither the car nor driver was ever found.
Conspiracy theorists believe the driver deliberately caused the crash as part of a plan to kill Princess Diana. And the charge was credible enough that the lead French investigator, Jean Claude Mullez, questioned Andanson.
Mullez says that finding the driver of the Fiat Uno has been a challenge. "Andanson wasn't in Paris," he says through a translator. "He told me his timetable, we checked it out and found it to be accurate. We determined that he was not in Paris that night."
What's more, Mullez says, his investigators found Andanson's car on blocks inoperable.
Is it possible that Andanson's car was the car that was involved in the accident the night that Diana died? "Absolutely impossible," says Mullez. The probe into Andanson and his white Fiat Uno should have stopped there, but three months later, Andanson got into his BMW, drove to the post office to mail a letter, and was never seen again.
Hundreds of miles south of Andanson's home, a farmer discovered a BMW ablaze in a remote forest. An autopsy determined that the driver was Andanson.
Two months later, the mystery surrounding his death only deepened. According to Al Fayed's documentary, three masked men broke into Andanson's office in Paris and shot the security guard. The burglars spent three hours ransacking the office. Some people at the photo agency actually thought the burglars were from the French security services.
But 48 Hours' investigation led to a very different conclusion. While three gunmen did break into the SIPA photo agency in Paris and a night watchman was shot, the owners of the agency say the thieves were not in search of Andanson's work. They left that untouched, but they were looking for compromising photos of a French celebrity.
As it turns out, Andanson's mysterious death was not the work of intelligence agents seeking to keep him quiet, but that of a deeply troubled man.
"He committed suicide," says Sipagholu. "This is 100 percent, I am sure."
French investigators found evidence that Andanson had purchased gas in a can at a station the day of his death and that he sent a letter to his old friends, requesting that, from that day on, they send his royalty checks to his wife. However, Al Fayed continues to promote the idea of a murder plot rather than accept the unacceptable - that his son and his employees may have been in part responsible for the death of the beloved princess.
"He has a remarkable self interest in maintaining the fiction because he, in the end, is protecting his own reputation and his own culpability in causing the crash," says Bower.
When Princess Diana left the Paris Ritz hotel owned by Al Fayed, it was, after all, his head of security, a drunk Henri Paul, who was behind the wheel. And it was his son, Dodi, who concocted the crazy plan to evade the paparazzi.
"I think Mohammed is the architect, the master disseminator, the perpetuator, the fantasist extraordinaire who started this whole ludicrous idea that she was murdered," says Bower.
There will be always be those who wonder. But for French lawyer Virginie Bardet, the trail ends in the tunnel. "The investigation, it's not to answer all the question, it's to know why did Lady Diana and Dodi al Fayed died. And this question is answered," says Bardet. "It's clear. We know why this Mercedes had an accident. It was because the driver."
It seems clear that, for many people, even the latest conclusions about Diana's death won't be the last word. In a CBS poll, an overwhelming majority, 76 percent, believe we will never know the whole truth.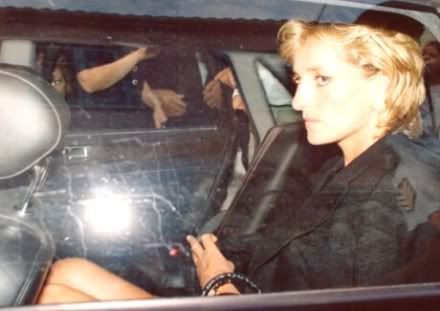 Conspiracy Theories
http://www.londonnet.co.uk/ln/talk/news/diana_conspiracy_theories.html
Famous people meeting strange ends is a phenomenon that always seems to bring out the conspiracy theorists. The death of Diana, Princess of Wales is no exception.
Here we look at the major conspiracy theories to have seen the light of day so far. Then come some of your own bizarre thoughts. If you know of any more, let us know.
Faked Death
1. Plot
Fed up with the constant intrusions into her private life by the media, Diana, helped by the huge resources of Dodi, arranges a spectacular 'death' from which she can retreat into blissful isolation. One version of the theory claims that the crash was an attempt at a faked death that went horribly wrong.
2. Evidence
a. Bodyguard Trevor Rees-Jones still lives, but testimony from Mercedes auto experts says that it would have been almost impossible for anyone to have survived a crash in the tunnel in a car going at 121 mph. Maybe, as driver Henri Paul's lawyers claim, the car was not going that fast. Maybe the crash was faked by the army-trained Rees-Jones who had previously deposited Di and Dodi elsewhere.
b. Dodi's usual driver was not used. Mystery still surrounds Henri Paul, the security officer who stepped in at the last minute to drive the Mercedes S-280. It took a full two days for his name to be revealed, for instance. Co-workers at the Ritz Hotel say he kept himself to himself and never socialised with them. One version of this conspiracy has it that Paul simply did not exist, another that he was quickly whisked away from the hospital after being declared dead by doctors in cahoots with the Al Fayed family.
c. Just six hours before she died Di let slip to Daily Mail reporter Richard Kray that she was about to withdraw completely from public life.
Likelihood: 2/10
Parts of it sound feasible but what about Di's two children? It is almost inconceivable that she would want to miss out on the rest of their lives. The chances of her coming back to see them without being noticed are surely slim, though plastic surgery permitting it might be prudent to look out for a similarly built 'nanny' appearing on the scene in the future.
MI6 Killed Di
1. Plot
Rogue elements in the British secret service decide that Di is a threat to the throne, and therefore the stability of the state. They take her out.
2. Evidence
a. Recent revelations have shown that there are rogue elements in the secret service who act as more or less autonomous cells. Some of these have been revealed to have a pretty strange view of what constitutes a threat to the state. For instance, they have files on John Lennon, current British Home Secretary (Interior Minister) Jack Straw and they once tried to destabilise the 1970s Labour government. It is not inconceivable that the same agents who believed Lennon was capable of leading revolution also believed Diana was capable of fomenting popular unrest.
b. MI6 is suspected of bugging Diana throughout her years in the Royal limelight, and many believe they were behind the leaking of the 'Squidgygate' phone tapping tapes which damaged her image during the break up with Charles.
c. Bodyguard Trevor Rees-Jones was a former member of the crack Parachute Regiment, one of the most toughest in the British army. He also completed two stints in Northern Ireland and served in the Royal Military Police, just the kind of background that would have seen him come into contact with members of the secret service. Theorists cite the fact Rees-Jones survived the crash as evidence that he was in on the plot to snuff out the Diana threat.
Likelihood: 3/10
Few doubt that the nutters at MI6 are capable of anything but surely even they would have had qualms about bumping off Diana, if only for the reason that her death might bring on the very things they most fear, the drift toward a republican state in the UK, as Charles loses still more popularity.
Did MI6 Kill Diana? We examine the evidence
Target Dodi
1. Plot
Business enemies of Dodi and his father Mohammed Al Fayed assassinate Dodi, with the death of Di a magnificent cover for their operation.
2. Evidence
Al Fayed has not got to the top without making some serious enemies along the way. The owner of Harrods fought a bitter battle for the top London store some years ago and has also been denied British nationality after question marks were raised about his business practise. His activities have included under the counter payments to Conservative MPs. as his oldest son and heir, Dodi would be an obvious target for anyone wanting to settle a score with Al Fayed.
Likelihood: 1/10
With Di involved, the police operation is likely to be one of the biggest in Paris history so any assassin would be taking one hell of a risk by cutting the break cable, say, of Dodi's car. Then again, the day of the Jackal is a Paris story.
Who killed princess Diana?
Diana conspiracy theories flourish
http://news.yahoo.com/s/nm/20070823/ts_nm/britain_diana_conspiracy_dc
LONDON (Reuters) - Two major investigations by French and British police concluded that Princess Diana's death in a Paris car crash was a tragic accident, but 10 years on many remain convinced she was murdered in a sinister plot.
The usual suspects cited by conspiracy theorists include Britain's royal family -- because they were unhappy Diana was to marry her lover, Muslim Dodi al-Fayed -- or arms dealers, because they were angry at her support for a ban on landmines.
"They were killed as a result of a wicked conspiracy by people who did not want the princess to marry my son and were fearful of what she could say and do," Dodi's father Mohamed, the leading murder theory protagonist, told Reuters.
And there are some truly bizarre hypotheses.
These suggest leaders of a "new world order" assassinated her because she wouldn't marry former President Bill Clinton, or that she was killed as part of a Satanic ritual, or even that she is still alive having faked her own death.
Alasdair Spark, at the Centre for Conspiracy Culture at Britain's University of Winchester, said doubts about the official version of Diana's death reflected a common belief that the public were always deliberately misled by the authorities.
"At the heart of it is this very strong belief we are always lied to, that any government never tells you the truth," Spark told Reuters.
"People believe in conspiracy theories the way they believe in TV adverts. It's a very casual belief, sometimes it's more of a refusal to disbelieve. But people are prepared to entertain that it might be true," he said.
UNANSWERED DETAILS
One of the strengths of conspiracy theories is the focus on unanswered details, and arguments are developed from there.
In the case of Diana, much has been made of the untraced white Fiat Uno car that police reports say collided with the princess's car shortly before the fatal crash.
"If you get into a conversation with a conspiracy theorist, very, very quickly they'll be talking to you about the facts and details in exhaustive levels," Spark said.
"But at the same time actually often it's about the little inconsistent facts. Where is the white Uno? These sort of things, the piece of the jigsaw that doesn't fit, tend to get very exaggerated. You can spin fantasies out of that."
Spark said the Internet had also played a crucial role in the spread of conspiracy ideas by allowing them to be easily disseminated. In the case of Diana, conspiracy theories were hitting Web sites within hours of her death.
And he said there was little authorities could do to convince those who believed in them. Despite the 832-page report by police, skeptics still doubt the official accounts on Diana.
JUDGMENT AFFECTED
Dr Karen Douglas, from Britain's University of Kent, has carried out a study to assess how much people had been influenced by theories surrounding Diana's death.
She found that people exposed to Diana conspiracy theories were influenced by what they had been told when asked to rate how much they agreed with statements such as "Diana was killed by British secret agents."
The study also showed that they did not even realize that their judgment had been affected.
"If people aren't necessarily aware that these conspiracy theories are having an impact on their own attitude, they are much more likely to pass them on to other people. It might be some way in which they get perpetuated over time," she said.
Spark said the questions and doubts about Diana's death might reveal more about society itself than the crash.
"Is it really telling you about what happened in the late 1990s or is telling you about the state of Britain today, when people have become profoundly doubtful of government in the wake of the Iraq war?" he said.
The failure to find weapons of mass destruction in Iraq -- the justification the government gave for the 2003 invasion -- had fuelled doubts about official versions of events.
"Let's say you believe there's a conspiracy and you call for a public inquiry. The public inquiry results come out and people instantly pick it apart and say the public inquiry is part of the conspiracy. So it goes on and on, and on, and on."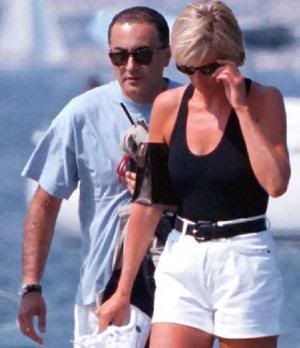 NSA To Deny Bugging Diana's Phone
Official Tells CBS News Agency Had Files On Princess Because She Came Up In Others' Conversations
http://www.cbsnews.com/stories/2006/12/10/world/main2244146.shtml
The National Security Agency is working on a statement that will deny eavesdropping on Princess Diana, a U.S. intelligence official tells CBS News national security correspondent David Martin.
An official British report into the crash that killed Princess Diana concluded that a U.S. intelligence agency was bugging Diana's phone without the approval of its British counterpart on the night of her death, according to British newspaper reports.
A Freedom of Information Act (FOIA) request was filed with the NSA in 1998, asking for any files the agency had on her, the official tells Martin. The response acknowledged that the NSA had files on her. However, the NSA will say it had files on her not because she was being monitored, but because her name was mentioned by other people in conversations that were being monitored.
British newspaper reports say 39 classified transcripts held by an unspecified U.S. agency contain no new information about how the princess died.
CBS News correspondent Sheila MacVicar says it's long been rumored that Princess Diana's work as an anti-land mine campaigner brought her to the attention of the CIA, and it's been widely reported that British authorities were monitoring her closely.
Crispin Black, a former U.K. government intelligence analyst, told CBS News there are two possible motives for the U.S. government to have interest in monitoring Diana.
The first is a simple request from the British government to keep tabs on a former member of the royal family who was stripped of her official security detail, but who they still felt obligated to keep safe.
"Most likely we asked the Americans, 'Look, while she is traveling in America or while she is traveling in parts of the world where our electronic reach doesn't get to, could you keep an eye on her?' And if that is the case, that's interesting but not sinister," Black said.
On the other hand, he pointed out that the contacts in the world of international arms dealing, which Diana may have made in her campaign against land mines, or her research into a formerly legal weapon used by the Pentagon, could have been impetus for surveillance by U.S. agencies — with or without British consent.
Black said if the United States was, in fact, monitoring Diana's conversations without consent from a sister agency in Britain, it "will cause a bit of a spat, not a huge one, but perhaps discussions behind closed doors in Washington."
He added that the British government's response will be a bit more dramatic if it's discovered the U.S. was spying on Diana on U.K. soil.
It isn't know which U.S. agency carried out the alleged phone tapping in France, but Black said that across the American intelligence apparatus, "more than 1,000 pages" are held on the late princess.
But now, the reports of monitoring may become a diplomatic embarrassment, MacVicar reports. With both the British and the French likely to ask what the U.S. was doing and why, for conspiracists, it's given them one more reason to believe that Diana's death was not an accident.
MacVicar reports that the National Security Agency runs one of the world's largest international intelligence gathering centers in northern England, and its function is to rake in millions of electronic transmissions from cell phones, e-mails and all manner of satellite communications ever day from across the globe.
Ken Wharf, a former bodyguard for Diana, told CBS Early Show co-anchor Rene Syler that the reported phone tapping did not surprise him in this age of high-tech spy agencies.
"It's part of 21st-century technology, and it wasn't life-threatening to Diana. It wasn't the searching of that information that killed her, it was her drunken driver and the incompetence of the security provided by Fayed that was the reason," Wharf said, referring to the millionaire father of Diana's boyfriend, Dodi Fayed.
MacVicar reports that the last call Diana was known to have made was from the private dining room of a London restaurant.
It seems just one more incredible story about the death of the princess. In nine years since she died with her boyfriend, conspiracy theorists have had a field day. The report, by Lord Stevens, a former police commissioner, is designed to get at the truth.
The official French investigation found that Diana and Fayed died after their driver, Henri Paul, drunk at the wheel, lost control of their car.
New DNA evidence proves the driver of Diana's car was drunk on the night of her fatal crash in a Paris underpass in 1997, British Broadcasting Corp. said Saturday.
The tests confirm that original post-mortem blood samples were from Paul and that he had three times the French legal limit of alcohol in his blood, the BBC said, quoting from a documentary it will screen Sunday.
Conspiracy theorists have claimed Paul was not drinking that night, contending the blood samples were swapped with blood from someone else who was drunk.
The BBC said a source with access to the French investigation reported that within the past year, French officials took a DNA profile from Paul's blood samples and matched it with his parents' DNA. It did not identify the source.
The driver, the 36-year-old princess and Fayed, 42, died when their Mercedes crashed inside the Pont d'Alma tunnel Aug. 31, 1997, while being followed by media photographers.
Rumors and conspiracy theories continue to swirl around the death of the former wife of Prince Charles, heir to the British throne, despite a French judge's 1999 ruling that the crash was an accident.
Martyn Gregory, author of "Diana: The Last Days," has written extensively about the deaths.
"One thing about the Internet is that it's an evidence-free environment and what Lord Stevens has done, I believe, is to be led by the evidence and that has informed his decisions," Gregory tells MacVicar.
"It was Henry Paul's blood — yes, he was drunk," says Gregory. "I think that Lord Stevens will find that he was going far too fast and that he wasn't qualified to drive the car. So if you put those three elements together, that's the key reason for the crash."
The evidence then still suggests a tragic accident that could have been avoided.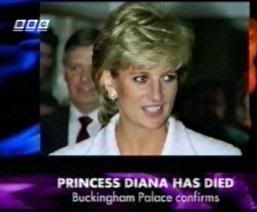 Years after Di's death, theories still spinning
http://www.usatoday.com/news/world/2006-03-08-diana_x.htm
LONDON — Tracy Holmes pauses on the landing at Harrods department store near the memorial statue of Princess Diana and boyfriend Dodi Al Fayed. The dead couple are depicted chained at the legs, beneath the wings of an albatross.
"They were murdered, beyond a shadow of a doubt," says Holmes, 42, from Belfast, Northern Ireland. "Her death," Holmes says of Diana, "solved many problems for the royal family."
Fiona Halsey, who also has stopped by the bronze statue, isn't so certain. "Before, I thought she was killed. Then I leaned toward an accident," says Halsey, 55, of Christchurch on England's south coast. "Now I'm not so sure because there have been so many theories put forward."
More than eight years after Diana and Dodi died along with their driver in a high-speed car crash in a Paris tunnel, questions about the deaths have not been put to rest. Not for Halsey, nor for many others who continue to wonder about the death of the princess. If anything, there is more doubt now about the official version — that Diana was a victim of a drunken driver — and there are more people here willing to believe, as does Holmes, that she was murdered or allowed to die in the tunnel in the early morning hours of Aug. 31, 1997.
"It won't go away," Robert Jobson, a noted royals watcher who co-wrote a book on Diana, says of the questions.
A new wave of doubt about the crash has been kicked up by the man designated to give Britons the last word on Diana's death: Lord John Stevens. Stevens, a former chief of New Scotland Yard, heads the official British investigation, which is still not concluded two years after it began.
Stevens said in a Jan. 29 interview on GMTV that his investigation "is a far more complex inquiry than any of us thought." And it is taking longer than he planned. He originally said it would be completed early last year. Now it's uncertain when it will be done.
No end to speculation
Speculation about the cause of the crash continues to generate reports in the British media, most based on anonymous sources. None of the reports has been supported with evidence or official confirmation.
There are variations, but the typical conspiracy line — one that Dodi Al Fayed's father, Harrods owner Mohamed Al Fayed, has fueled — is that Diana, 36, was murdered because she was pregnant with Dodi's child and the two were about to be engaged. Such a union with a rich playboy of Egyptian heritage could have been an embarrassment to the British royal family.
Although Diana was estranged from the royal family, she could still have become queen mother when her son William ascended to the throne, after his father, Prince Charles. The clinchers for conspiracy theorists: Diana purportedly feared for her life, didn't trust the royal family and predicted in an October 1996 note to her butler that she would be killed in a car "accident." The note came to light in butler Paul Burrell's 2003 tell-all book.
Conflicting reports on the possible causes of the crash have continued to surface — despite a French court ruling in 1999 that it was an accident.
On Jan. 6, 2004, Royal Coroner Michael Burgess announced that he had asked police to look into the conspiracy theories. His request for an investigation came as John Burton, the royal coroner at the time of the crash, disputed at least one of the allegations.
In a story published Jan. 7, 2004, Burton told The Times of London that he was present at a postmortem examination after the princess' body was returned from Paris. (An autopsy was not conducted after the crash.) "I was actually present when she was examined," Burton said. "She wasn't pregnant. I know she wasn't pregnant."
Britain's Daily Mirror published the letter that Diana's butler, Burrell, claimed she had written to him. In it, she said Prince Charles was plotting to kill her in an auto accident. The Daily Mirror called the idea "utterly preposterous to many people" and said there was no supporting evidence.
All of the doubts have taken on a new life since Stevens' remarks in January. A subsequent flurry of stories in the British press raised more questions.
Since then, Stevens' office has refused to comment on unconfirmed reports in the news media. Among them was a Feb. 26 story in The Sunday Times, based on an anonymous source, that said Diana's driver, Henri Paul, was a paid informant for the French intelligence service. French Ministry of Justice spokeswoman Ulrika Weiss said Wednesday that the ministry has nothing in its Princess Diana file on Paul working for French intelligence. The story also said Stevens couldn't get Paul's records from French authorities. The Directorate for Territorial Surveillance, France's security and intelligence agency, would not comment when contacted by USA TODAY.
Similarly, Stevens has been mum about a Feb. 28 Daily Mirror report, also quoting an anonymous source, that laptop computers had been stolen from his private office. Stevens' office did not respond when asked to comment on a March 6 story in The Daily Mail that said Stevens' interim report, which the newspaper said would be released in May, would dismiss the conspiracy theories.
The still-unfinished Stevens investigation and newspaper reports have begun to sway some people, including Yasmin Alibhai-Brown, a columnist for The Independent newspaper in London.
Murder theories emerged almost as soon as word broke that the popular and glamorous princess of Wales had died. Questions lingered, despite the French ruling that it was an accident caused by Paul, the driver, who was drunk and on medication. That probe found Paul could not control the speeding car as it was chased by photographers. The probe lasted 18 months, involved 30 police officers and produced 6,000 pages of evidence.
In a Sept. 1, 2003, poll conducted by London's Sunday Express newspaper, 27% of Britons said they thought Diana had been murdered, and 49% said they thought circumstances of her death were covered up. (Fifty-one percent said she wasn't murdered.)
The theories, which have filled websites and been dissected by television programs and books, won't go away.
"It's because she was such a magical person that (many people think) she couldn't die an ordinary death," says Ingrid Seward, author of the book Diana: The Final Word and editor of Majesty Magazine. "People think she couldn't die in a drunken-driving accident. She was such an icon."
Diana's death "holds the same fascination as JFK, Marilyn Monroe's death and the abdication of Edward VIII," the British king who gave up the throne in 1936 to marry American divorcee Wallis Simpson, Seward says. "There are unanswered questions in all of these things."
'Who are the real loonies?'
Alibhai-Brown, the Independent columnist, wrote Feb. 27 that her fellow journalists call her "loony" when she questions the French finding that Diana was a drunken-driving victim.
Chief British investigator Stevens "says the investigation is proving to be more complicated than he imagined. Now we learn that Henri Paul, the driver, was a paid-up member of France's intelligence services," Alibhai-Brown wrote. "So who are the real loonies? Conspiracy theorists or those who foolishly repudiate all conspiracy theories?"
Mohamed Al Fayed is one who believes a conspiracy exists. In addition to erecting the bronze statue, titled Innocent Victims, to their memory in his department store in September, Fayed has spent millions of dollars investigating the case after initially running into what he says were roadblocks when he sought answers.
Fayed, 72, has said his oldest son, Dodi, 42, and Diana were the victims of a plot carried out by MI6, the British intelligence service, to prevent them from marrying. Fayed declined to be interviewed by USA TODAY, but he was quoted in the Daily Mirror on Feb. 28 as saying Diana and Dodi "were executed by MI6 security personnel who have been identified to me."
"Diana was pregnant," he told the newspaper. "They had both told me that. It was very early on. They planned to get married and were going to announce their engagement on the Monday two days after they were killed."
MI6 did not respond to a USA TODAY request for comment.
Stevens, who promised when he took on the investigation that he would pursue all the various theories, said in his television interview in January that Fayed was "right to raise concerns" and that his probe was pursuing questions that Fayed raised. Fayed has expressed confidence so far in Stevens.
What if Stevens concludes, after his long investigation, the same thing that the French did: that the crash was an accident? Will that satisfy everyone?
Seward, the author and longtime royals watcher who brands the murder conspiracies "absurd," says she doesn't think it will. Neither does royals watcher Jobson. "It will carry on forever," he says. The doubters and conspiracy theorists will never be satisfied, he says. "If they (Stevens and his investigators) come back with the same answer saying it was an accident, people will always say, 'It's what they would say, isn't it?' "
About a half-mile from Harrods and the Diana and Dodi statue, at the fountain erected by the Princess Diana Memorial Fund in her memory in Hyde Park, the water runs cool and quiet. Tourists stop and take photos.
Many Britons, like Rachel Hawkins, 30, of London, pass by with hardly a glance. That doesn't mean they aren't conflicted about what happened to the pretty and popular princess, about the accusations made against Britain's royal family and about the never-ending fascination with Diana.
"I don't know who to believe," Hawkins says. Ultimately, she says, it may make no difference whether Stevens finds that Diana died in an accident or was murdered in a plot. "That's not going to bring her back, is it?"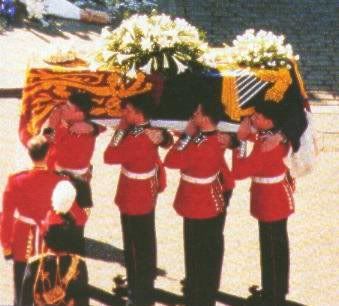 Diana: No murder, no pregnancy
http://edition.cnn.com/2006/WORLD/europe/12/14/diana.report/index.html
LONDON, England (CNN) -- Claims that Diana, Princess of Wales, and her lover Dodi Fayed were murdered were unfounded, according to the official Scotland Yard inquiry released on Thursday.
Lord Stevens, who headed the inquiry, told a news conference that Diana was not pregnant at the time of the crash. Nor was she engaged or about to get engaged to Fayed.
There is nothing to justify further inquiry with members of the British royal family, Stevens, the former head of Scotland Yard, told reporters in London.
The long-running British police inquiry, seeking to bury almost a decade of conspiracy theories, on Thursday ruled that the princess died in a tragic car accident. (Report overview -- 89KB PDF)
"I'm satisfied that no attempt has been made to hold back information and we are confident that the allegations made are unfounded," former Scotland Yard chief Stevens said after a three-year probe into Diana's death in a Paris road tunnel in August 1997.
"On the evidence available now, there was no conspiracy to murder any of the occupants of that car. This was a tragic accident," Stevens told reporters.
Diana, 36, and 42-year-old Fayed were killed when their Mercedes crashed in the Pont de l'Alma tunnel in the early hours of August 31, 1997.
The couple had been pursued by paparazzi photographers after leaving the Ritz Hotel for Fayed's apartment.
They were killed along with chauffeur Henri Paul. Paul was drunk and driving at twice the speed limit before the crash, Stevens said.
Stevens noted allegations by Fayed's father, Mohamed al Fayed, the couple was killed as a result of a conspiracy by the establishment, including Prince Philip and British intelligence agencies.
Stevens added that photographers had prompted Diana and Fayed to change travel plans before their death.
Diana's death unleashed a string of conspiracy theories that British spies or even her ex-husband, heir-to-the-throne Prince Charles, had plotted the accident because the couple's relationship was embarrassing the royal household.
The top-level police investigation was ordered by former Royal Coroner Michael Burgess in January 2004 when he opened a British inquest into Diana's death.
Princes 'deeply upset'
Stevens told how he had interviewed Prince Charles for several hours as part of his inquiry, which he said aimed to draw a line under the issue.
Diana's sons, Princes William and Harry, released a statement saying they wanted the "conclusive findings" of the investigation into their mother's death to bring an end to speculation surrounding the crash.
Prince William and Harry received a copy of the report from Lord Stevens personally, Clarence House said.
Earlier, British media reports said the princes were "deeply upset" at the behavior of the paparazzi after the crash.
French paparazzi took pictures of their mother as she lay fatally wounded in the wrecked Mercedes at the scene as emergency workers battled to save her.
A source told the UK's Press Association: "They feel very strongly about it and it has upset them."
The princes' distress has been heightened by the attention their girlfriends Kate Middleton and Chelsy Davy have faced in recent times.
In 1999, the French investigation formally cleared nine photographers and a press motorcyclist of manslaughter charges.
In February this year, three photographers were convicted of breaching France's privacy laws for taking pictures of Diana and Fayed on the night they died.
A symbolic fine of one euro (70p) was imposed on Jacques Langevin, Fabrice Chassery and Christian Martinez at the end of the long-running legal case.
Fayed defiant
Fayed's father rejected the inquiry's findings as unsatisfactory, with his spokesman telling reporters: "The truth is being covered up."
The Harrods department store owner, who wants a public inquiry into the crash, believes Diana and Dodi were murdered by British secret services because of the embarrassment their relationship was causing to the royal family.
Mohamed al Fayed called himself "the only person who knows the truth" about the death of Diana and his son.
"How can I accept something really shocking?" he told the BBC. "I know deep in my heart that I'm the only person who knows the truth."
Stevens said in January that his investigation was "far more complex than any of us thought." He did not specify what he meant.
The British inquiry, which involved 15 police personnel and is estimated to have cost millions of dollars, used cutting-edge computer technology to reconstruct the crash scene in three dimensions, and examined the wrecked Mercedes in painstaking detail.
Stevens said U.S. officials had assured him that secretly recorded conversations in their possession shed no new light on Diana's death.
The U.S. National Security Agency said Tuesday it had never targeted Diana's communications, but acknowledged it had 39 classified documents containing references to the princess.
The publication of Stevens' report will allow an inquest into Diana's death finally to get under way.
The inquest is due to formally resume next year under a new coroner, retired senior judge, Dame Elizabeth Butler-Sloss. Preliminary hearings will be held January 8-9 at London's Royal Courts of Justice.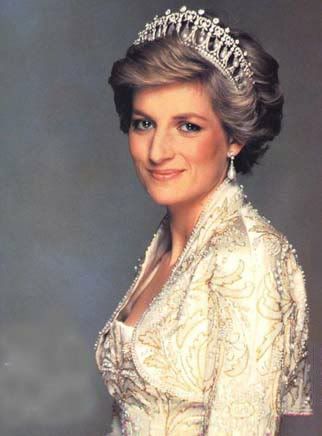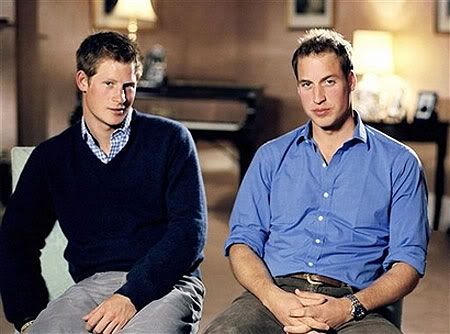 10 years on, Britain still remembers the 'people's princess
http://abc.net.au/news/stories/2007/08/28/2017764.htm?section=world
Britain will pay tribute this week to the life of Princess Diana who, love her or loathe her, has managed to hold onto the posthumous title of "people's princess" since her tragic death 10 years ago.
The focus of commemorations will be a royal memorial service on Friday (local time), the anniversary of the high-speed Paris car crash that claimed her life at the age of 36, attended by her sons, Princes William and Harry, ex-husband Prince Charles and Queen Elizabeth II.
William and Harry, aged just 15 and 12 when their mother died and now officers in the British Army, will both give readings.
Other guests at their regimental chapel in London will include Prime Minister Gordon Brown - who said in The Mail on Sunday newspaper that Diana "still has the remarkable ability to move and inspire". Ex-premier Tony Blair and Sir Elton John, who delivered an adapted version of his song 'Candle In The Wind' at Diana's funeral will also attend the service.
But Camilla, Duchess of Cornwall and Charles's second wife with whom he conducted a lengthy affair during his marriage to Diana, will be conspicuous by her absence.
She pulled out Sunday, saying she thought her attendance "could divert attention from the purpose of the occasion" despite officials previously insisting she would be there after a personal invitation from William, 25, and Harry, 22.
Camilla's affair with Charles prompted Diana to once quip publicly: "There were three of us in this marriage, so it was a bit crowded."
The prospect of Charles' second wife being present at the commemorative ceremonies had raised eyebrows in the media and among Diana's old friends.
"I know such services should be an occasion for forgiveness, but I can't help feeling Camilla's attendance is deeply inappropriate," Rosa Monckton, a close friend of the Princess of Wales, wrote in The Mail on Sunday this week.
'Divisive figure'
Charles and Camilla's marriage, which seemed unthinkable in the months after Diana's death, illustrates how some attitudes have shifted in Britain over the last decade. However, Diana herself remains as divisive a figure as when she died.
While many revere the woman Mr Blair dubbed "the people's princess" for her star quality, charity work and powers of empathy, an equally vocal group abhors the wave of sentimentality unleashed by the passing of the princess who once called herself the "queen of hearts".
Australian feminist Germaine Greer, who labelled her "a moron" earlier this month, took aim again this week, writing in The Sunday Times: "Diana's legacy is no more than endless column inches of adulation and speculation."
While it seems unlikely that tears will flow as freely this week as a decade ago, Diana's memory will loom large not only at the service, but also in a flurry of unofficial tributes around Britain.
The BBC is re-screening her funeral in full on a digital channel, while Diana's former residence, Kensington Palace, and the National Portrait Gallery, both in London, are hosting exhibitions devoted to her.
Flowers are likely to pile up outside the palace as they did in the days after her death in a tribute which has been repeated annually on the anniversary ever since.
And her childhood home and final resting place, Althorp in central England, is breaking with tradition by opening to the public on the anniversary. Tickets have already sold out.
Diana is buried on an island in a lake at the stately home, where her brother Earl Charles Spencer, who spoke at her funeral and captured a widespread mood of resentment at what was perceived as the royals' initial lack of response to her death, still lives.
William and Harry have already held their own event to commemorate their mother - a huge pop concert at London's Wembley Stadium in July attended by more than 60,000 people watching Diana's favourite bands like Duran Duran.
The gig, which took place on what would have been their mother's 46th birthday, was broadcast live to 140 countries and seen by 500 million viewers.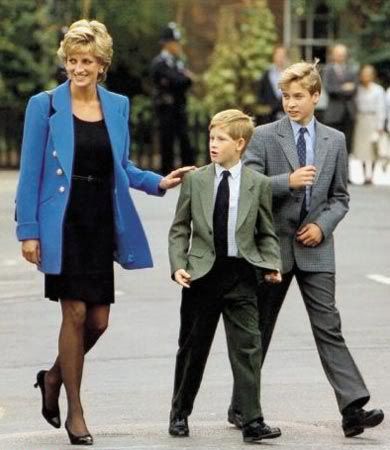 The Princes at the Concert For Diana
Concert For Diana
Concert for Diana - BBC News Coverage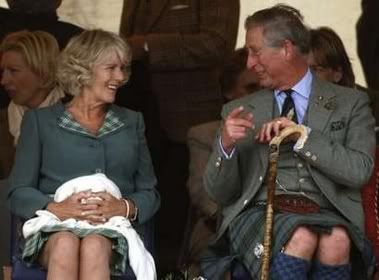 Camilla to Be Absent From Diana Memorial
Prince Charles' Wife Decides Against Attending Diana Memorial, After Criticism
http://abcnews.go.com/International/wireStory?id=3525447
Prince Charles' wife announced Sunday that she will not attend a service marking the 10th anniversary of the death of Princess Diana, after criticism that her presence would be inappropriate.
Camilla, Duchess of Cornwall, had accepted an invitation from Charles and his sons, Princes William and Harry, to accompany them to the service Friday at the Guards' Chapel in London's Wellington Barracks. Some criticized the decision, since Camilla had an affair with Charles when he was still married to Diana.
"I'm very touched to have been invited by Prince William and Prince Harry to attend the thanksgiving service for their mother Diana, Princess of Wales," the duchess said in a statement. "I accepted and wanted to support them. However, on reflection I believe my attendance could divert attention from the purpose of the occasion which is to focus on the life and service of Diana. I'm grateful to my husband, William and Harry for supporting my decision."
Buckingham Palace said Queen Elizabeth II also supported this decision.
Hard-core Diana fans, who accuse Camilla of destroying Diana's marriage, were relieved.
"I couldn't be happier if I'd won the lottery," said Joan Berry, secretary of the Diana Appreciation Society.
Diana, known for her charity work and tabloid celebrity, died in a Paris car crash with her boyfriend, Dodi Fayed, on Aug. 31, 1997.
Diana married Charles in 1981 in a ceremony at St. Paul's Cathedral televised around the world. They had two sons, William and Harry, but divorced in 1996 after admissions of adultery on both sides.
Friday's anniversary will be marked with a nationally televised memorial service and specially commissioned prayers.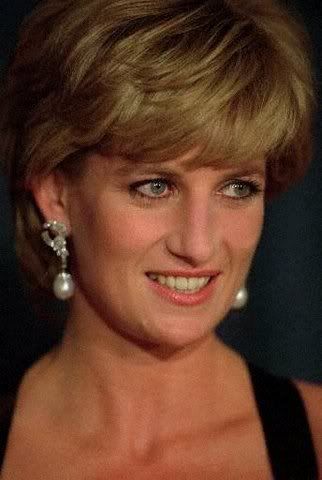 Why Princess Diana still fascinates us
The legend of 'the People's Princess' is still real for most Britons
http://www.msnbc.msn.com/id/20213789/
LONDON — I was walking back into the newsroom when a colleague rushed past me and, over his shoulder, turned and said: "She's dead."
And I said: "Don't joke. She can't be."
It took a while for me to grasp what had happened. It was too big, too unthinkable.
At that moment, and in the hours and days that followed, my own reaction was multiplied many millions of times, as the news sank in around the world.
Diana was young, beautiful and brimming with life. She was a princess. She was the devoted mother of a future king, and was once destined herself to be Queen of England.
Surely my friend was mistaken?
The next days were long and largely sleepless, as the tragedy of that crazed, deadly dash into a tunnel in Paris unfolded piece by piece, and the world's media reported around the clock each and every development in the unfolding drama.
Ten years on, it seems not much has changed. We are still reporting it. Still talking about it.
Still fascinated
There are some moments you truly never forget. For millions of people — whether they liked her or loathed her — Princess Diana's death is one of them.
In those strange days and months that followed, there began an outpouring of public grief that my country has seldom, if ever, seen. Though we have lived through many disasters, both natural and man-made, it was unparalleled.
It was as if we'd been cheated of something.
Ten years on, the death of Princess Diana continues to intrigue and trouble our nation.
There are, of course, those who say: "Move on. Too much fuss. We don't care." There are many who are embarrassed by the outburst of sentimentality that followed and persists to this day. Others, a far fewer number, say: "We never cared."
But many — here and around the world — are still fascinated, still moved, some perhaps even still grieving, for the woman Tony Blair memorably described on the morning of her death as "the People's Princess."
I remember his words at the time, and the effect they had. It was as if he was validating the nation's immediate — and continuing — emotional involvement. In three words, he put a title on the legend that Diana had become.
Royals — aloof, distant figures
For my part, I confess, I have never much loved the royals.
There is in my country, without doubt, a widespread respect for the institution and what it represents. But to my hard-working parents and to me, they were distant and detached, living behind the high walls of their palaces and country estates, while the rest of us muddled through as best we could.
Other than having to stand up whenever the National Anthem was played in public, they didn't much impact my life. They were figures in the landscape.
The newspapers largely used to keep their distance too. The royal family was protected, respected, their lives lived mostly on a pedestal. No paparazzi then. Not much reporting of their private lives. It simply wasn't done.
That's not to say the public wasn't fascinated by them, or that they were perfect.
The Queen Mother was known to have a taste for gin and a love for the horses.
The Queen's sister — the late Princess Margaret — was famously flirtatious. (And she, too, liked a drink.) At 43, married and a mother, she fell in love with a garden designer 18 years her junior. Their affair scandalized her family and much of the country. Five years later she became the first member of the immediate royal family to divorce since Henry VIII.
For the most part, however, the royals remained aloof, cocooned from their subjects.
Suddenly, something different
Then, into this starched and diamond-encrusted world, burst Diana like a gust of wind blowing over a desert. She was natural, shy and pretty. The man she was to marry, on the other hand, was awkward, restrained and older than his years. It seems strange now that anyone might ever have thought them well-matched.
But they fell in love ("Whatever in love means," as Charles revealingly told a TV interviewer on his engagement to Diana) and the country fell in love with them. Their wedding in 1981 was a giant street party across the United Kingdom. Never were the words "fairy-tale romance" so over-used — or undeserved.
Charles was already committed to Camilla, and never wavered. As Diana famously later said: "There were three of us in this marriage, so it was a bit crowded."
What made this truly different was the media's — and thence the public's —obsession with the royal couple. Was there ever a woman more photographed than Diana, or ever so much interest in a marriage? And was there ever a break-up played out so much in public?
It was unprecedented and bloody. In 1994, after years of unhappiness, Prince Charles went on TV and confessed his adultery. A year later the Princess gave her own interview and admitted to hers. It was astonishing, tit-for-tat, toe-curling stuff.
A doe-eyed princess talked of her husband, his affair, her own misjudged extra-marital relations, her depression, her bulimia, her in-laws.
We'd never heard a royal talk this way: "Friends of my husband's were indicating that I was unstable, sick and should be put in a home of some sort to get better so I wouldn't be an embarrassment."
And, tellingly, this: "The most daunting aspect was the media attention, because my husband and I, we were told when we got engaged that the media would go quietly, and it didn't; and then when we were married they said it would go quietly and it didn't; and then it started to focus very much on me, and I seemed to be on the front of a newspaper every single day … and the higher the media put you, place you, is the bigger the drop."
She didn't know how right she was. As she dined at the Ritz Hotel in Paris on August 30, 1997, she was surrounded yet again by the press.
The role photographers played in her ensuing death in the early hours of the next morning is still disputed. But what seems certain is that she was trying to get away from them when her car drove at speed into the narrow Alma tunnel by the Seine.
As the world now knows, her driver, Henri Paul, lost control, smashed into a concrete pillar and bounced into the wall at close to 80 miles per hour.
Ten years on, the fascination seems barely to have diminished.
Legacy continues
Some weeks ago I attended the Concert for Diana at London's Wembley Stadium and watched as two young men spoke nervously to a crowd of thousands and a TV audience of millions.
Prince William and Prince Harry have grown up since we saw those two young boys walking with great dignity behind the gun carriage carrying their mother's casket.
On the stage at Wembley they spoke proudly and warmly of their mother — and the crowd embraced them for it. The cheers that greeted their every appearance seemed to me to speak as much about Diana as of them. They truly are her boys.
The concert was punctuated with video of the Princess of Wales doing what she wanted to be best known for — meeting people during her work for charities.
What struck you was her genuine compassion. In one scene she allows a blind man to move his fingers over her face. In another she hugs an AIDS patient — in one simple action cutting through the ignorance and prejudice that surrounds this condition. Here, for the first time, was a royal who truly was in touch with ordinary people.
The contrast was never more stark when, in the first days after Diana's death, the Queen seemed not to understand what was happening among her subjects.
When she did emerge from behind the palace gates, and saw for herself what was going on right outside her windows, she responded by addressing the nation on TV. Not just as their Queen — but as a "grandmother."
The use of that simple word, identifying herself as an ordinary person as much as a monarch, marked in my view a turning point in the public's perception. You could almost feel their anger beginning to recede.
Legacy lives on in her sons
If Diana could have chosen her legacy, she could not have done better than her two boys. William and Harry are her ambassadors, championing the causes she supported.
They have a strong and affectionate bond with their father, who rose to the challenge of raising them after Diana's death. Their generous acceptance of their stepmother, Camilla, has made it easier for the public to accept her too.
Like their mother, they continue to attract the unrelenting attention of the media, sometimes for what the tabloids love to portray as their occasional wild behavior, but what most parents will tell you is pretty normal in men of their age. And "normal" is not a word long associated with royalty.
As for Diana's epitaph, she effectively spoke her own in that remarkable TV interview three years before her death when she said: "I'd like to be a queen of people's hearts, in people's hearts, but I don't see myself being queen of this country…"
She was right. Never Queen of England. But, ten years on she is still their Princess.
Princess Diana - Tony Blair's tribute
Lady Di dances with John Travolta - exclusive interview
Princess Diana - How To Save A Life
PRINCESS DIANA Funeral Highlights