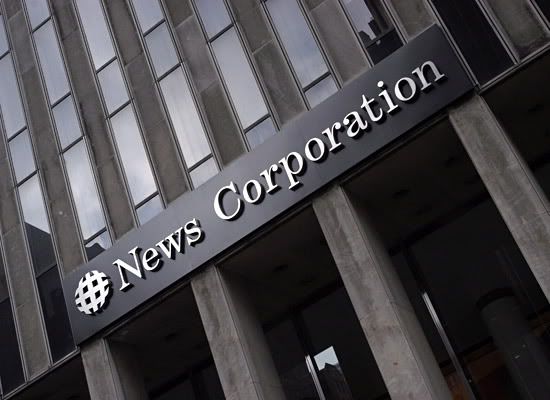 News Corporation (abbreviated to News Corp) (NYSE: NWS, NYSE: NWSa, ASX: NWS, LSE: NCRA) is one of the world's largest media conglomerates. Its chief executive officer is Rupert Murdoch.
News Corporation is a public company listed on the New York Stock Exchange and the Australian Stock Exchange and as a secondary listing on the London Stock Exchange. Formerly incorporated in Adelaide, Australia, the company was re-incorporated in the United States state of Delaware after a majority of shareholders approved the move on November 12, 2004.
News Corporation's headquarters is at 1211 Avenue of the Americas (Sixth Ave.), in New York City, in the newer 1960s-1970s corridor of the Rockefeller Center complex.
Revenue for the year ended June 30, 2005 was US$23.859 billion. This does not include News Corporation's share of the revenue of businesses in which it owns a minority stake, which include two of its most important assets, DirecTV and BSkyB. Almost 70% of the company's sales come from its US businesses.
http://en.wikipedia.org/wiki/News_Corporation
Keith Rupert Murdoch, AC, KCSG (born 11 March 1931) is an Australian-born United States citizen who is a global media executive and is the controlling shareholder, chairman and managing director of News Corporation, based in New York. Beginning with newspapers, magazines and television stations in his native Australia, Murdoch expanded News Corp into British and American media, and in recent years has become a leading investor in satellite television, the film industry, the Internet, and other forms of media.
He is one of the few chief executives of any multinational media corporation who controls the company by reason of his own stake in it, held via a family trust.
http://en.wikipedia.org/wiki/News_Corporation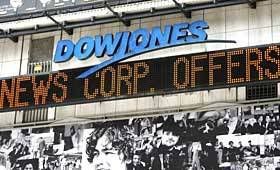 Dow Jones & Company (NYSE: DJ) is an American publishing and financial information firm.
The company was founded in 1882 by three reporters: Charles Dow, Edward Jones, and Charles Bergstresser. Like The New York Times and the Washington Post, the company is publicly traded but privately controlled. The company is led by the Bancroft family, which effectively controls 64% of all voting stock.
The Company is currently the target of a bid by News Corporation. It was reported on 1st August 2007 that the bid has been successful[1][2] after an extended period of uncertainty about shareholder agreement[3]. The deal is worth US$5 billion or $60 a share, giving NewsCorp control of the Wall Street Journal and ending the Bancroft family's 105 years of ownership.
http://en.wikipedia.org/wiki/Dow_Jones
Murdoch set to win Dow Jones
Murdoch wins fight for Dow Jones
http://news.bbc.co.uk/2/hi/business/6923474.stm
Murdoch clinches deal for publisher of Journal
Bancroft family members offer enough support to finalize $5 billion sale
http://www.msnbc.msn.com/id/20032918/
Olbermann on Murdoch's takeover of the Wall Street Journal
Facts about Wall Street Journal publisher Dow Jones and Rupert Murdoch's News Corp.
http://www.iht.com/articles/ap/2007/08/01/business/NA-FIN-US-Dow-Jones-Murdoch-Glance.php
DOW JONES
Early history:
Charles Dow, Edward Jones and Charles Bergstresser founded what was then called Dow, Jones & Co. in 1882 in a basement office on Wall Street. They produce handwritten news updates called "flimsies" that are delivered to subscribers around Wall Street by messenger.
Dow Jones begins compiling an average of 11 stocks — the precursor of the Dow Jones industrial average — in 1884, and publishing it in the "Customers' Afternoon Letter," which became The Wall Street Journal in 1889. In 1902, correspondent Clarence Barron buys control of Dow Jones, which will eventually pass to the descendants of his wife's eldest daughter from a previous marriage, Jane Barron Bancroft.
Key people:
Richard Zannino, 48. Became CEO in February 2006, succeeding Peter Kann, having formerly served as chief operating officer and chief financial officer. A former executive in the garment industry, Zannino is the first non-journalist to run Dow Jones.
_ Gordon Crovitz, 48. Publisher of The Wall Street Journal and president of Dow Jones' consumer media group, which includes the Journal, Barron's and MarketWatch, an online financial news site. A former Rhodes scholar, Crovitz was the founding editorial page editor for the Journal's European edition and also served as editor of The Far Eastern Economic Review, a Hong Kong-based magazine owned by Dow Jones.
Main Businesses:
_ The Wall Street Journal. Daily circulation of about 2 million, including qualified electronic editions, and WSJ.com, the largest paid newspaper subscription site on the Internet.
_ Barron's. A weekly financial publication with circulation of about 300,000.
_ Dow Jones Newswires. An electronic financial news service. Most of its revenue comes from the sale of its news service to real-time terminal customers of Bloomberg LP, Thomson Corp. and Reuters Group PLC who choose to pay extra for it.
_ Dow Jones Indexes. Compiles thousands of stock market indicators, including the Dow Jones industrial average.
_ Factiva. A news database with 1.8 million subscribers. Dow Jones bought the other half of Factiva that it did not already own from Reuters in late 2006 for US$160 million.
_ Ottaway Newspapers. A group of community newspapers Dow Jones acquired in 1970. Former Dow Jones board member Jim Ottaway Jr., who controls about 5 percent of Dow Jones' shareholder vote, is a vocal opponent to ownership by Murdoch.
Annual revenues (calendar year 2006): US$1.78 billion.
Operating income: US$104,584.
___
NEWS CORP.
Key people:
_ Rupert Murdoch, 76. Chairman and CEO of News Corp. Starting with a single newspaper in his native Australia that he inherited from his father, a prominent journalist, Murdoch built News Corp. into a global media conglomerate with newspapers in England, Australia and the United States; the Fox television and entertainment businesses; the MySpace social-networking site and satellite TV in Europe, the United States and Asia.
_ Peter Chernin, 56. News Corp.'s chief operating officer and Murdoch's No. 2. Widely seen as the immediate heir to Murdoch should he no longer serve as chief of News Corp., though Murdoch has said he wants to keep leadership of the company with his family.
_ James Murdoch, age 34. Seen by many as a likely candidate to eventually succeed his father. Currently CEO of British Sky Broadcasting PLC, a British satellite television operator in which News Corp. owns a minority stake. Accompanied his father, along with other advisers, to the initial meeting with Bancroft family representatives June 4.
Main Businesses:
_ Twentieth Century Fox. A major movie and television studio.
_ Fox broadcast network. Home of "American Idol," "24," "The Simpsons" and "House." News Corp. also owns 35 local TV stations, but has agreed to sell nine of them, mainly in smaller markets.
_ Cable television. Fox News Channel, the top-rated all-news cable network; FX, Speed and several regional sports networks.
_ Satellite television. News Corp. owns all of Sky Italia and significant stakes in British Sky Broadcasting PLC and The DirecTV Group Inc. Liberty Media Corp. has agreed to acquire the DirecTV stake in a swap for a large block of News Corp. stock, which will boost the Murdoch family's voting stake in News Corp. from 30 percent to about 38 percent.
_ Newspapers. Numerous newspapers in Australia and the United Kingdom, including The Australian; The Times of London; The Sun and News of the World. Only U.S. newspaper is the New York Post.
_ Magazines. The Weekly Standard and about 40 percent of Gemstar-TV Guide International Inc.
_ Books. HarperCollins, a major U.S. publishing house.
_ Internet. MySpace, the online social hangout; Rotten Tomatoes, a movie review site; IGN, a gaming site; and Scout.com, a sports site.
Annual revenues (fiscal year ending June 2006): US$25.3 billion.
Operating income: US$3.87 billion.
___
SOURCES: The companies, SEC filings.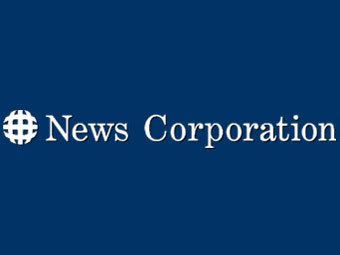 News Corp. to buy Dow Jones for $5.6 billion
NEW YORK (Reuters) - News Corp. said on Wednesday that it would buy Dow Jones & Co Inc. for $5.6 billion, adding the Wall Street Journal to its worldwide media empire and ending a century of family ownership of one of the top U.S. business news sources.
http://www.ibtimes.com/articles/20070801/dow-jones-news-corp-acquisition.htm
The hard-fought deal after long negotiations and intense wrangling among members of Dow Jones's controlling shareholder, the Bancroft family, helps News Corp. chief Rupert Murdoch achieve his decades-long dream of running the venerable financial daily.
The Journal and other Dow Jones properties also add to Murdoch's sprawling media empire -- from the Fox television stations and MySpace online social network to the Times of London and HarperCollins Publishers -- and would aid the launch of a Fox business channel later this year.
In a joint statement, Dow Jones and News Corp. said Bancroft family members holding about 37 percent of Dow Jones's voting power agreed to support the deal.
That level of support represents more than half of the 64 percent voting shares held by the family.
Dow Jones shareholders still must approve the buyout, an outcome that analysts have said is all but guaranteed, given the 65 percent premium Murdoch offered.
Dow Jones, which competes with Reuters Group Plc, also owns the Barron's financial weekly, the MarketWatch.com financial news Web site and Dow Jones Newswires.
Other News Corp. properties include the "American Idol" singing talent show on the Fox Network, and British tabloid newspaper The Sun, which features photographs of topless women on its "Page 3."
MERGER AGREEMENT
Under the terms of the agreement, which has been approved by the boards of both the companies, Dow Jones shareholders will receive $60 in cash for each share of common stock or Class B common stock that they own, the companies said.
Dow Jones reported in its most recent financial filing with the Securities and Exchange Commission that it had 85.4 million shares outstanding on a diluted, weighted average basis, valuing the deal at about $5.1 billion.
It ended the second quarter with $392 million in debt, according to the filing. The companies did not provide detail about how they calculated the deal value.
One Bancroft family member or another "mutually acceptable person" will be appointed to the News Corp. board, the companies said.
They also agreed on a five-member committee to oversee the editorial independence of Dow Jones's news operations.
The members include retired Associated Press Chief Executive Louis Boccardi, Massachusetts Institute of Technology Media Lab co-founder Nicholas Negroponte, former Tribune Publishing President Jack Fuller, former Washington State Congresswoman Jennifer Dunn and former Detroit News editorial page editor Thomas Bray.
Bray also is a writer for Dow Jones's OpinionJournal.com. The Journal reported that he will serve as chairman of the committee.
Dow Jones was also discussing a plan to have News Corp. cover the legal fees incurred by the Bancroft family, amounting to at least $30 million, a source familiar with the matter said on Tuesday.
The acquisition is expected to close in the fourth quarter, the companies said.
NEWSPAPER FAMILY
The Bancrofts are among a group of venerable newspaper families that includes the Sulzberger clan, who run The New York Times Co., and the Chandlers, who cashed out of Tribune Co. earlier this year.
Unlike their peers, the Bancrofts refrained from interfering with the Journal's news operations. But that remoteness amid sweeping changes in the way people get their news due to the Internet led to criticism that the family was neglecting the company.
In selling to Murdoch, the Bancrofts pass Dow Jones to a another media dynasty. Murdoch, who built News Corp from two Australian papers, also controls his global media empire and sees its future some day in the hands of his children.
The family initially rejected 76-year-old mogul's bid over fears that he would tarnish the Journal's image and use Dow Jones's news operations to further his business interests. Many Journal reporters and some other Dow Jones employees also opposed the deal and sought to attract other buyers.
"It's a bad thing for Dow Jones and American journalism," said former Dow Jones board member and executive Jim Ottaway Jr., whose family controls 7 percent of Dow Jones voting shares.
"It's a sad thing that the 105-year family tradition of protecting Dow Jones's independence as a public trust will end," he said in a statement.
In the end, the rich offer proved too attractive for many family members to resist, and it all but eliminated the possibility of competing proposals.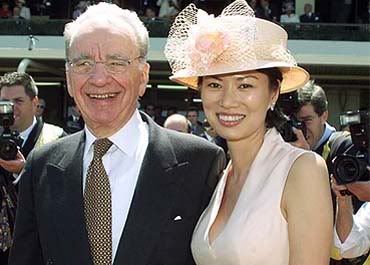 Murdoch and Dow Jones: How The Deal Got Done
http://dealbook.blogs.nytimes.com/2007/08/01/murdoch-and-dow-jones-how-the-deal-got-done/
While Rupert Murdoch finally won his long-coveted prize — gaining enough support from the deeply divided Bancroft family to buy Dow Jones & Company, publisher of The Wall Street Journal — closing the $5 billion deal was a marathon of conference calls and all-nighters for those involved in the deal-making process.
Following four months of back-and-forth, during which some three dozen members of the family engaged in an intense, sometimes tearful debate about The Journal's future, the boards of both Dow Jones and Mr. Murdoch's News Corporation voted Tuesday night to approve the deal.
In a press release early Wednesday, Dow Jones said it had signed a "definitive merger agreement" under which it would be acquired by News Corp.
Speaking to The Times, James B. Lee of J.P. Morgan Chase & Company, who has represented clients in some of the biggest deals in history, said of Mr. Murdoch: "Nobody else I have ever banked could have pulled it off."
With 64 percent of Dow Jones's voting power in their hands, the Bancroft family seemed to be in a powerful position early in the process. But The Financial Times's Lex column suggests they were vastly outgunned by Mr. Murdoch from the start. "It was a mismatch of arch-dealmaker against a group of amateurs," Lex wrote.
The New York Times's David Carr, writing in his Media Equation column, describes Mr. Murdoch's success as "a reminder that the unthinkable is often doable, given the loot and the will."
The merger dance began in earnest in April, when, after some early reconnaissance, Mr. Murdoch decided the time was right to make his move on Dow Jones. On April 17, a messenger delivered to Dow Jones his offer to buy the company for $60 per share.
Martin Lipton, the veteran takeover lawyer, advised the Bancroft family in the often contentious negotiations, frequently "threading the needle to get to a compromise," a person who worked with him told The Journal. Some were concerned, though, that he was pushing too hard to get a deal done despite the family's reservations, The Journal wrote.
The Times notes that the final decision was in doubt well past the 5 p.m. Monday deadline set for the family. In a twist in the already tortured negotiations, some family trustees apparently demanded that the News Corporation pay the fees for the family's bankers and lawyers — which could reach $40 million — in return for their support. After an exhausting night of conferences calls, the deal was made.
Late last week, it appeared that the family might reject the deal, but then two pivotal family elders who had argued against the deal, Jane Cox MacElree and her brother, William C. Cox Jr., shifted positions; she relinquished voting control of some shares, and he switched sides and decided to support the sale, people close to the family said. That left things too close to call.
While the weeks after May 2 had been spent arguing over principles, the last few days were spent haggling over money. Before the deal had a clear majority in support, a lawyer for the family, Lynn Hendrix, based in Denver, who controlled trusts with 9 percent of the overall vote, insisted that those trusts would oppose the deal unless the News Corporation agreed to pay a premium for the supervoting shares that are mostly owned by the Bancrofts.
On Sunday night, David F. DeVoe, the News Corporation's chief financial officer and a board member, called Mr. Hendrix, a partner at the firm Holme, Roberts & Owen, to draw a line in the sand.
Referring to the $60 price, Mr. DeVoe said, "I can do six-zero-point-zero-zero," a person briefed on the conversation told The Times, "not six-zero-point-zero-one."
When Mr. Hendrix kept pushing for more money, Mr. DeVoe made an unusual offer: the News Corporation would consider paying the fees and expenses of the bankers and lawyers advising the trusts. That amounted to an indirect way of sweetening the offer for the supervoting shares without adding much to the cost of the deal. Dow Jones, after consulting with the News Corporation, had already agreed to cover some of the costs of paying Merrill Lynch, the family's primary financial advisers.
After a marathon series of conference calls that night that ran through Monday, involving Mr. Devoe; Mr. Hendrix; Michael B. Elefante, the family's primary lawyer and trustee; and Richard Beattie, a lawyer advising the Dow Jones board, a deal was brokered that would allow the Denver trust to vote in favor. The News Corporation agreed to pay advisory expenses for all of the family trusts, a figure that people involved in the talks told The Times could reach $40 million, which translates to about an additional $2 a share for the Bancrofts.
The largest share, perhaps as much as $18.5 million, will be paid to Merrill Lynch, according to the Times. Another payment of as much as $10 million is expected to be paid to Wachtell, Lipton, Rosen & Katz, a law firm representing the family. Morgan Stanley, which advised the Denver trusts, and a series of law firms are expected to split the rest.
The issue of the News Corporation and Dow Jones paying the family's advisers has raised questions in some circles — including among some family members, The Times said — about the advice's impartiality. Merrill Lynch, in particular, was viewed as an early supporter of the deal and was responsible in large part for making presentations to the family about the current and future health of Dow Jones.
The deal is also a windfall for an army of Mr. Murdoch's bankers and lawyers. Mr. Murdoch was advised by Mr. Lee, who had helped Mr. Murdoch when he explored a bid for Dow Jones in 2001 and had set up Mr. Murdoch's first introduction to Dow Jones's chief executive, Richard F. Zannino.
Blair Effron, a former banker at UBS who started his own boutique firm, Centerview Partners, spent many nights holed up at Mr. Murdoch's headquarters, as did Stanley S. Shuman of Allen & Co., the media investment bank.
By late yesterday, according to the Times, family trusts and family members representing about 40 percent of the total shareholder vote had committed, at least verbally, to support the deal, more than enough to put it over the top in a shareholder vote. Neither Dow Jones nor the News Corporation would officially confirm that, heading into a 7 p.m. Dow Jones board meeting.
To the last, people inside and outside Dow Jones who opposed the sale were trying to arrange alternative deals that would allow some Bancroft family members to sell and others to keep control of the company.
And Tuesday, those who opposed the deal were left with a sour taste in their mouth.
"It's a bad thing for Dow Jones and American journalism that the Bancroft family could not resist Rupert Murdoch's generous offer," James H. Ottaway Jr., a former Dow Jones executive and a major shareholder, told The Times. "I hope Rupert Murdoch, and whoever follows him at News Corporation, will keep his promises to protect and invest in the unique quality and integrity of The Wall Street Journal, Barron's and all the Dow Jones electronic news services."
Leslie Hill, a family member and trustee who became something of a patron saint within the Journal's newsroom for her opposition to the deal, resigned from the company's board late Tuesday.
News Corp.'s board signed off on the deal at a late-afternoon meeting, The Journal said — and then top executives and advisers toasted their coup with an Australian Shiraz.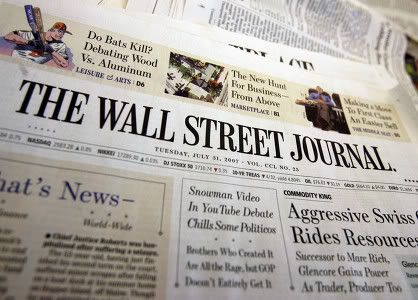 Boards OK News Corp.-Dow Jones deal
Agreement on advisor fees was said to be key to Murdoch's purchase of the Wall Street Journal.
http://www.latimes.com/business/investing/la-fi-dowjones1aug01,1,5765246.story?coll=la-headlines-business-invest

Dow Jones director Christopher Bancroft, left, and Katherine Kavadas leave a Boston hotel where members of the Bancroft family discussed Rupert Murdoch's five billion dollar bid for Wall Street Journal publisher Dow Jones & Co. July 23, 2007. Enough members of the Bancroft family said they would support the takeover by Murdoch's News Corp., a source close to the process said today.
Rupert Murdoch has succeeded in his long quest to buy the Wall Street Journal.
Boards of Dow Jones & Co. and Murdoch's News Corp. approved the $5-billion takeover. The deal came after members of the Bancroft family that controls Dow Jones agreed to sell.
"Rupert is happy," one source said. The key to getting the approval of the holdout members of the Bancroft family was an agreement that the fees for their financial advisors would be paid, he said.
One bloc of Bancroft shareholders with about 9% of the company's voting power had been holding out for more than the $60 a share News Corp. offered in April. The fee arrangement in effect gives that bloc and others who relied on Merrill Lynch and other bankers and lawyers more money per share than will go to regular shareholders.
The Bancroft family members and a few others control Dow Jones through holdings in Class B shares, which have 10 times the voting rights of the widely traded Class A shares. About 30% of the voting power remains with Class A, and those investors are expected to join the 38% who already support Murdoch.
With approval from the Dow Jones board expected tonight, the deal will marry the Journal -- the No. 2 U.S. newspaper by circulation, after USA Today -- with Murdoch's film, television and newspaper empire.
Murdoch's offer was at a price higher than Dow Jones stock had traded in five years. But approval was delayed as the Bancroft family struggled over whether to turn over a widely respected franchise it had controlled for more than a century to a media baron better known for sensationalistic tabloids and news tilted to the political right.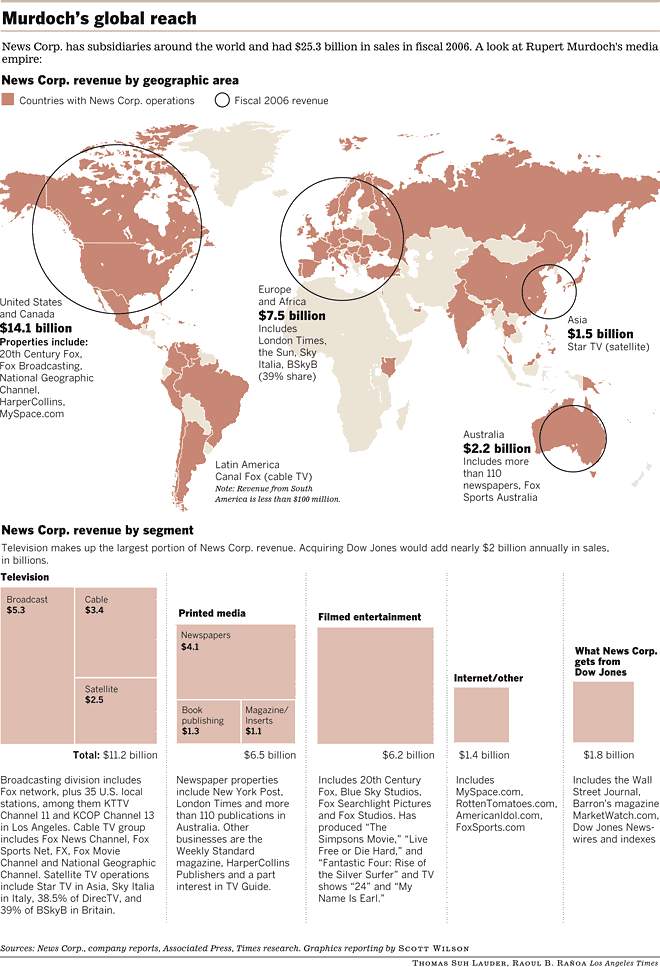 Antitrust No Threat to Dow Jones Deal
http://www.forbes.com/feeds/ap/2007/08/01/ap3974446.html
WASHINGTON -
Antitrust experts say News Corp.'s $5 billion purchase of Dow Jones & Co. will glide through regulatory review because Rupert Murdoch's global media empire is not concentrated in any particular product or region.
The acquisition of The Wall Street Journal's parent company could be approved in 30 days or less, the shortest review possible under antitrust law, said Robert Litan, a former Justice Department antitrust official who is now a senior fellow at the Brookings Institution.
Among other holdings, News Corp. owns the Fox broadcast network, Fox News Channel, the Twentieth Century Fox movie and TV studio and has a one-third stake in satellite provider DirecTV. The company also owns the New York Post and the online social hangout site MySpace.
The sprawling nature of Murdoch's holdings works to his advantage, several experts said, because it avoids the concentration in a particular industry that could trigger antitrust scrutiny.
Murdoch's company has extensive overseas holdings, including satellite broadcasters in Europe and Asia, newspapers in the United Kingdom and Australia, and book publishing and magazine properties.
The deal would probably not face significant challenges from the Federal Communications Commission either, according to several lawyers who spoke about the transaction on the condition of anonymity because News Corp. is a client of their firms.
Federal cross-ownership rules prohibit the same entity from owning both a television station and a newspaper in the same local market. While News Corp. owns two local stations in New York, the Journal isn't considered a local New York City paper under a previous FCC ruling, two lawyers said.
After News Corp. and Dow Jones come to a formal agreement, they must file a notification with the Department of Justice and the Federal Trade Commission. Transactions valued at more than $60 million have to notify those agencies and automatically undergo a 30-day review.
The agencies usually divide antitrust reviews on a case-by-case basis. Justice would likely review a News Corp.-Dow Jones deal, as it generally oversees media transactions, several lawyers said.
Murdoch finally seals deal for Dow
http://www.theglobeandmail.com/servlet/story/LAC.20070801.DOW01/TPStory/National
Rupert Murdoch's decades-long pursuit of the Wall Street Journal came to a successful end last night as the Australian-born mogul added the paper that is required reading for the business elite to an empire that also includes the Times of London, the Fox Television network and the MySpace social networking site.
Mr. Murdoch's News Corp., which made its $5-billion (U.S.) offer in May for the paper's parent, Dow Jones & Co., won its battle as the controlling shareholder, the Bancroft family, finally capitulated. The News Corp. board and Dow Jones board both approved the transaction yesterday.
The family was initially opposed to seeing Dow Jones fall into Mr. Murdoch's hands, but it failed to coax out any competing bids. Enough family members will tender to push the deal through.
The Bancroft family - the majority owner of Dow Jones, which publishes the Journal - was initially opposed to seeing Dow Jones and its primary property, the Wall Street Journal newspaper, fall into his hands. But it failed to coax any competing bids out of the woodwork, and yesterday a Dow Jones official said enough family members will tender to push the deal through.
In the period leading up the deal tensions within the Bancroft family became so fraught that hours before a Monday deadline for a decision, William Cox Jr., the only living Bancroft to have spent his entire career at the company, went into a diabetic shock, the Wall Street Journal reported yesterday. He was treated at hospital and released.
Mr. Murdoch's initial bid for Dow Jones sparked a fierce debate over the future of the Wall Street Journal, as some journalists expressed fears that he would make over the paper in the image of Fox news, considered down-market and vehemently right-wing in its political views.
But many analysts and observers said yesterday that while Mr. Murdoch will likely use the Journal's expertise to bolster the business news television network he is launching this fall, he will likely maintain a hands-off approach to the paper. He has already promised the Bancroft family that hiring and firing decisions will be made through an independent committee.
"I think [there is] public perception that tomorrow, horned Huns will come through the door of the Journal in New York with battle axes. That's not going to happen," said Fred Bayles, a journalism professor at Boston University.
"Murdoch is a businessman. I don't think he bought it to use it as some sort of podium for his political agenda. I think he bought it to make money. And he's not going to make money by driving away a very large, but still very select, readership."
Jeff Jarvis, an associate journalism professor at the City University of New York, said he worked as a television critic at TV Guide magazine when Mr. Murdoch owned the magazine, and "he left us quite alone." There was never any pressure to say good things about Fox television programs, he said.
While Mr. Murdoch does appear to use the tabloid New York Post, which he also owns, to express his views, that does not extend to many of his other properties, Mr. Jarvis said.
Mr. Murdoch, 76, will likely invest more money in expanding the Wall Street Journal and boosting its international operations, Mr. Jarvis said. That's a contrast from the Bancrofts, who were essentially "absentee landlords."
At a time when many newspapers are suffering from declining readership and decreased advertising revenue, "for anyone to want a newspaper is miraculous, and for anyone to invest in a newspaper and try to get it to the future is a blessing."
Still, there remain some concerns that Mr. Murdoch won't be able to resist meddling at the Journal. He has already said he is weary of the lengthy features that are a Journal hallmark, telling The New York Times he is "frustrated by the long stories."
John Morton, a Maryland-based independent newspaper analyst, said changes at the paper will probably be subtle, but they will be there. "I don't think it'll be the sort of thing you'll notice. It'll be stories that aren't covered," he said.
As for Dow Jones's financial future, Mr. Murdoch has an excellent track record with his acquisitions, even ones where he paid top dollar.
A case in point: Mr. Murdoch bought Internet social-networking site MySpace two years ago for $580-million, a price tag that raised eyebrows at the time. Now, it's seen as something of a bargain.
Likewise, his foray into U.S. television in the 1980s was considered extraordinarily risky and expensive, when he plunked down $2-billion for seven stations. While the investment almost bankrupt News Corp., the company survived and the Fox network became a powerhouse of U.S. television.
James Owers, a finance professor at Georgia State University and an expert on mergers and acquisitions in the U.S. media sector, said the purchase of Dow Jones will solidify Mr. Murdoch's rankings in the upper echelons of deal makers in the global media industry.
David Joyce, an analyst with Miller Tabak & Co. in New York, said the one notable failure in Mr. Murdoch's merger record is his investment in Gemstar International in the late 1990s. News Corp.'s TV Guide group merged with Gemstar, which made electronic program guides that let cable television subscribers scroll through channels. But the technology was ahead of its time, the company stock collapsed, and News Corp. had to take a multi-billion-dollar writedown.
News Corp., Dow Jones strike deal-report
Rupert Murdoch and the News Corp Bid for Dow Jones - CNBC
Your World w/ Neil Cavuto: Rupert Murdoch
Bid for Wall Street Journal