As an aircraft, the primary advantages of the helicopter are due to the rotor blades that revolve through the air, providing lift without requiring the aircraft to move forward the way an airplane does. This creates the ability for the helicopter to take off and land vertically without the need for runways. For this reason, helicopters are often used to operate in congested or isolated areas where airplanes are generally not able to take off or land. The lift from the rotor also allows the helicopter to hover in one area for extended periods of time, and to do so more efficiently than other forms of vertical take-off and landing (VTOL) aircraft, making it useful in accomplishing tasks that airplanes are not able to perform.
Although helicopters were developed and built during the first half century of flight, some even reaching limited production, it wasn't until 1942 that a helicopter designed by Igor Sikorsky became the first helicopter to enter full-scale production,[2] totaling over 400 copies. Even though most previous designs utilized more than one main rotor, it was the single main rotor with antitorque tail rotor configuration of this design that would come to be recognized worldwide as the helicopter.
http://en.wikipedia.org/wiki/Helicopter
Helicopter crash seriously injures 3
http://www.theheraldbulletin.com/cnhi/heraldbulletin/homepage/local_story_033121720.htm
l?keyword=leadpicturestory
Helicopter Crash
http://www.helicoptercrashes.com/index.html
WHAT CAUSES HELICOPTER ACCIDENTS?
http://www.helicopterlawyers.com/causes_helicopter_accidents.html
NTSB Helicopter Accident Study
http://www.asias.faa.gov/aviation_studies/ntsb_helicopter_accident_study/helicopter_accident_study.html

A History of Helicopter Flight
http://www.glue.umd.edu/~leishman/Aero/history.html
List of deadliest helicopter crashes
http://en.wikipedia.org/wiki/List_of_deadliest_helicopter_crashes
Mi-26 shot down over Chechnya in 2002. 127 dead. See Khankala attack.
MH-53 crash in Israel in 1997. 73 killed. See 1997 Israeli helicopter disaster.
10 May 1977 CH-53 crash near Yitav-in the Jordan Valley. 54 killed. See 1977 Israeli CH-53 crash
2005 Tallinn Sikorsky S-76 crash. 14 dead.
13 die in two airway accidents in Russia
http://mensnewsdaily.com/2007/07/29/13-die-in-two-airway-accidents-in-russia/
Thirteen people have died in Russia after two accidents, one with an airplane and one with a helicopter.
An Antonov An-12 cargo airplane crashed early Sunday morning in the Moscow airport Domodedovo, leaving no survivors. According to a spokesperson of the Ministry of Emergencies, the airplane "fell four kilometres (2.5 miles) from the runway and caught fire. There were eight people on board, including crew and passengers." Five crewmembers and three passengers were on their way from Moscow to the cities Bratsk and Omsk, in Siberia.
On Saturday, 5 others died, among whom two were children, in the crash of a private helicopter in the Udmurtia Republic, near the Ural mountains. A spokesperson for the Russian aviation agency Rosaviation explained that the helicopter hit power cables and consequently fell into a local water reservoir, and sank.
Learner pilot dies as copter crashes
http://www.iol.co.za/index.php?set_id=1&click_id=139&art_id=vn20070730024310189C343921
4 killed, 3 injured in Hawaii helicopter crash
Passengers were on tour of Kauai when pilot reported hydraulic trouble
http://www.msnbc.msn.com/id/17526915/
Medical helicopter crashes, 1 injured
http://news.yahoo.com/s/ap/20070728/ap_on_re_us/medical_helicopter_crash
Trio Survive Traffic Helicopter Crash
http://www.knbc.com/news/13779806/detail.html
Darkness Spikes EMS Helicopter Crashes, Fatalities
http://www.terradaily.com/reports/Darkness_Spikes_EMS_Helicopter_Crashes_Fatalities.html
A new study examining crashes of emergency medical service helicopters indicates more than three quarters occur at night or when pilots are required to fly by instruments instead of eyeballing. More than half of the crashes occurring in darkness resulted in fatalities, or twice as many as in crashes during daytime.
"If it's nighttime and you have a problem, the pilot doesn't have as many opportunities to make corrections," Susan P. Baker, the study's lead author, told SpaceDaily.com. "The crash forces and impact angles tend to be greater at night."
Baker, a professor at The Johns Hopkins School of Public Health in Baltimore, Md., and colleagues examined U.S. National Transportation Safety Board records of EMS helicopter crashes between Jan. 1, 1983, and April 30, 2005. During that period, 184 occupants died in 182 crashes, of which 77 percent occurred when conditions required instrumentation. In darkness, 56 percent of the crashes were fatal, compared with 24 percent in daylight.
Their study, published online in the Annals of Emergency Medicine, found that one in four EMS helicopters is likely to crash during its expected 15 years of service, and the death rate for EMS flight crew members is 20 times higher than for U.S. workers.
"A new helicopter costs about $4 million," Baker said. "With one chance in four of a crash during its lifetime, it makes good sense both to prevent crashes and to make sure the occupants aren't going to be killed."
The team found that in more than one-third of the crashes, at least one of the EMS helicopter occupants survived, Baker said. "That means there might be an opportunity here for better design, in terms of fuel containment and occupant restraints," she added.
In the published study, Baker's team recommended more research to determine which preventive measures ¿ including equipping pilots with night-vision goggles; reducing night flights, or using better restraints, energy-absorbing landing gear and seats and crash-resistant fuel systems could reduce EMS copter crashes and fatalities most effectively and efficiently.
2 news copters collide over Phoenix; 4 killed
2 News Helicopters Crash in Phoenix, Killing All 4 on Board
http://www.nytimes.com/2007/07/28/us/28chopper.html?ref=us
Two television news helicopters crashed in midair Friday while covering a police chase near downtown, killing all four people aboard.
The helicopters exploded in the air, then crashed in a grassy area of Steele Indian School Park, with at least one helicopter exploding again as it hit the ground, witnesses said.
Two men in each helicopter died at the scene. No one on the ground was injured. The park is surrounded by a Veterans Administration hospital and high-rise office buildings and condominiums.
Three other news helicopters covering the police chase broadcast images of the burning wreckage.
"I saw the helicopters up there," said Frank Bartholic of Phoenix, who was sitting at a nearby bus stop.
"All of a sudden they got up over the park," said Mr. Bartholic, 47. "They looked like they was going to go two different directions. They just came back around and went right into each other. I mean, whoa."
Several police officers who were involved in the chase ran to the wreckage, but were driven back by the flames and heat, witnesses said.
The police arrested the man involved in the chase, a suspect in a car-jacking, several hours later after a stand-off at a private residence.
Those killed were a pilot, Craig Smith, and a photographer, Rick Krolak, of KNXV, the ABC affiliate; and a pilot, Scott Bowerbank, and a photographer, Jim Cox, of KTVK, an independent station.
Six helicopters were in the air at the time of the collision — five news helicopters and a police helicopter.
Accounts of the collision varied. Some witnesses said that the helicopters were hovering one above the other and that the lower one rose and hit the other one. Other witnesses said they hit head to head.
"All of us in this community have had a special loss today," Mayor Phil Gordon of Phoenix said at a news conference.
KNXV was broadcasting the chase live as the collision occurred. One of the men aboard the helicopter, identified by The Associated Press as Mr. Smith, was describing the scene as the driver leading the chase abandoned a utility truck and jumped into a parked pick-up truck. Then Mr. Smith said, "Oh, jeez!" The video went out, but sounds of a collision and swirling continued for a few seconds before the station cut away.
Witnesses said one helicopter fell nose first while the other spiraled down.
Both TV stations covered the crash, though their reporters, photographers and technicians on the scene said they had been instructed not to speak to other members of the news media about the collision.
Flags few at half-staff and the lobby doors were locked at KTVK .
Omar Garcia of Phoenix was outside preparing to have lunch with his co-workers when they heard the first explosion.
Debris sprayed the area, said Mr. Garcia, 31. "I was so scared," he said. "I was trying to hide so it wouldn't reach us." Flames from the wreckage were initially about four-stories high, he said.
Chief Jack Harris of the Police Department told reporters, "This is just a terrible tragedy for both of our families — the media family as well as the Phoenix Police Department."
The authorities will consider charges against the truck driver in connection with the helicopter collision, Chief Harris said.
Officials said the suspect, whom they did not identify, rammed at least two police cars in the chase.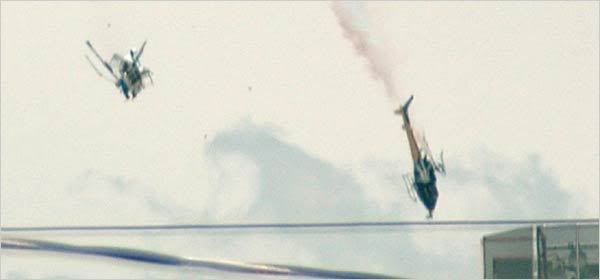 Witnesses: Helicopters seemed fine before collision
http://www.cnn.com/2007/US/07/27/helicopter.crash/index.html?eref=rss_topstories
Eyewitnesses to the collision of two news helicopters in Phoenix, Arizona, in which four people were killed, told investigators they noticed no problems with either aircraft before the collision, a National Transportation Safety Board spokesman said Saturday.
Of the seven witnesses interviewed as of Saturday evening, none saw any pieces fall off the helicopters before the collision or noticed smoke or erratic movement by either aircraft, NTSB spokesman Steve Chealander told reporters. Witnesses also told the NTSB "go team" investigating the collision that they heard no change in the sound of the helicopter engines, Chealander said.
The helicopters were tracking a police chase through the streets of downtown Phoenix when they collided at midday Friday, crashing to the ground in flames and heavy smoke.
KTVK-TV photojournalist Jim Cox and pilot Scott Bowerback were killed, as were KNXV-TV photographer Rick Krolak and pilot Craig Smith.
Witnesses said the KTVK helicopter appeared stationary when the KNXV helicopter struck it, Chealander said. "That's as good as we can tell you right now. That's as much as we know."
Charred debris from the helicopters remained scattered in a downtown park, which was closed to the public. Watch smoke and flames pour from debris »
The rotor blade from one helicopter hit the front windshield of a truck, but the driver was uninjured, and the blade imbedded itself in the asphalt, Chealander said. Another rotor blade was found on top of a parking garage about half a mile away, he said.
Chealander said eight NTSB investigators began arriving in Phoenix late Friday night. They will take the information they collect, including interviews with witnesses, back to Washington for analysis, he said.
The NTSB will issue a preliminary report on the crash within five business days, and the final report will be issued in about nine months, he said.
Chealander said a pond in the park where the helicopters crashed will be partially drained for any further evidence, and police divers would be sent in to recover the rest. Water in the pond has been tested and found not to be hazardous, he said.
"Our condolences go out to the families and friends of the victims," Chealander said. "It's heartbreaking to see these kinds of accidents."
Phoenix Police Chief Jack Harris said the chase began after police received a report of a stolen vehicle and began pursuing a suspect, who abandoned that vehicle and allegedly stole a truck. The truck was being chased at the time of the chopper collision.
The suspect, identified Saturday as Christopher Jones, later bailed out of the truck and barricaded himself in a house, where he was captured, police said.
Jones was arraigned Saturday on four counts of aggravated assault, two counts of theft of means of transportation and one count of resisting arrest. His bond was set at $1 million after a prosecutor told the judge Jones may flee.
"He put the entire community in danger. ... Everyone on the street was a possible victim," the prosecutor said.
Jones said in the hearing he blacked out in the house, and when he came to, police used tear gas and a Taser on him.
"I don't know how all this happened. I really don't," he told the judge.
Harris said Friday that Jones could face charges related to the four deaths
Officials Inspect Debris of News Copters
Federal Investigators in Phoenix Inspect Scene Where 2 News Helicopters Crashed
http://www.abcnews.go.com/US/wireStory?id=3425437
Investigators picked through the charred wreckage of two news helicopters that collided and plummeted to the ground while covering a police chase, the debris scattered about 100 yards in all directions.
They hoped to be done at the scene Sunday and store the debris from Friday's crash elsewhere in Phoenix, said Steve R. Chealander, a member of the National Transportation Safety Board.
After that, they planned to spend the next several days interviewing witnesses and reviewing maintenance records, he said
A preliminary report is expected in five business days and a full report within nine months.
People who saw two news helicopters collide and plummet to the ground while covering a police chase say the choppers did not appear to be in distress beforehand, investigators reported Saturday.
No one described any odd sounds before impact, and they didn't see any smoke or debris from the choppers before Friday's crash, which killed all four people aboard, Chealander said.
"It appears as though the Channel 3 helicopter was stationary and the Channel 15 helicopter came up either from under the Channel 3 helicopter, or was at the same level," Chealander said. "Again, this is eyewitness testimony."
The NTSB has interviewed about 30 witnesses, he said.
On Saturday, investigators allowed reporters into the crash site.
The helicopters' hulls were flipped over and squashed in two twisted heaps. The explosion blackened grass and trees. Curved metal sheets from the choppers floated upside down in a nearby pond.
The pond was laced with fuel from the helicopters, and the air was scented with burnt metal and aviation gas, Chealander said.
Helicopter parts were scattered all around: a foam seat; a disembodied tail rotor; small hunks of metal colored red, orange, yellow. Some parts sprouted frayed wires as if ripped from the engine.
The helicopters from TV stations KTVK and KNXV collided as both circled over the chase. Video from other stations showed white smoke trailing the choppers as they dropped into a grassy downtown park and exploded.
Killed on board the KTVK helicopter were pilot Scott Bowerbank and photographer Jim Cox. On board the KNXV aircraft were reporter-pilot Craig Smith and photographer Rick Krolak. No one on the ground was injured.
The NTSB will use a police hot line number to try to get witnesses to call in, Chealander said. Numerous people saw the helicopters drop to the ground.
Meanwhile, the man suspected of starting the chase was booked into jail on three counts of aggravated assault with a deadly weapon, two counts of theft and one count of resisting arrest.
Christopher Jermaine Jones, 23, also may be held responsible for the helicopter crash, police said.
Formal charges are expected to come later. At an initial court appearance, bail was set at $1 million.
According to court documents, Jones told officers that he didn't remember stealing two trucks, ramming a police cruiser and leading officers on a chase through Phoenix. He said he woke up as officers were trying to arrest him at his friend's house.

Wreckage Retrieval Nearly Complete

http://ktar.com/?nid=6&sid=554168
Federal investigators said Sunday they are finishing up removing wreckage from the site where two news helicopters crashed after colliding in midair, killing all four people aboard.
Work crews on Sunday morning were having trouble draining one of two small ponds at the park in an effort to retrieve wreckage and send it off for analysis. One of the ponds was on auto-fill until crews discovered the problem.
Authorities now say wreckage retrieval should be completed by the end of the day or sooner.
"We don't want to miss anything," NTSB board member Steve Chealander said.
Chealander said investigators will try to piece back together as much of the two helicopters as they can in an attempt to understand what happened.
The team will then spend the next few days reviewing all aspects of the tragedy, Chealander said.
A preliminary report is expected to be finished by next Friday, Chealander said. The NTSB will then issue a full report within nine months, according to Chealander.
The eight-member NTSB team that arrived to start its investigation at Steele Indian School Park is retrieving and storing all the wreckage left strewn across several acres.
Wreckage of the two helicopters came to a rest about 25 to 30 yards away from each other in the center of the park.
Reporters on Saturday were given their first glimpse of the debris field that included, among other things, pieces of a tail rotor, small shards of metal and sections of foam seats.
Authorities took photos and measured distances on Saturday in an effort to understand where and how the helicopters fell.
Chealander told reporters at a news briefing that a piece of rotor blade had hit the windshield of a delivery truck. No one in the truck was injured.
People who witnessed the two news helicopters colliding and called a special hotline with information told federal investigators neither aircraft appeared to be in trouble before they hit and fell to the ground, killing all four aboard, the NTSB said.
A federal probe that opened on Saturday asked witnesses to call a police hotline to help them determine why the choppers tracking a high-speed police chase in central Phoenix collided in midair.
Television viewers did not see the crash since cameras aboard both aircraft were pointed at the ground.
But numerous people in the area saw the helicopters collide and crash, and the NTSB, in conjunction with the Phoenix Police Department, immediately set up a hotline, 602-262-6141, for their eyewitness testimonies.
The NTSB said it handled 30 calls and interviewed seven people by late Saturday.
"It appears as though the Channel 3 (KTVK) helicopter was stationary and the Channel 15 (KNXV) helicopter came up either from under the Channel 3 helicopter, or was at the same level," said NTSB board member Steve Chealander.
Memorial services have been announced for the four victims of the crash.
The services were set as flowers, cards and other items of remembrances continued piling up at KTVK-TV and KNXV-TV.
A joint memorial service for KTVK's helicopter pilot Scott Bowerbank and photojournalist Jim Cox will be held on Tuesday at First United Methodist Church at 11 a.m. The church is located at 5510 North Central Avenue in Phoenix.
Services for KNXV's reporter-pilot Craig Smith is set for Thursday at La Casa de Cristo Lutheran Church at 10 a.m. The church is located at 6300 East Bell Road in Scottsdale.
And services for his colleague, photographer Rick Krolak will be held on Saturday, Aug. 4 at First United Methodist Church at 10 a.m.
The helicopters were covering the police pursuit of a work truck.
The man who allegedly started the chase that at least five Valley helicopters were tracking was arrested later that day after SWAT officers stormed a home in far west Phoenix where he had barricaded himself.
Police identified the man as Christopher Jones, 23, and said he had a criminal record and was on parole.
A SWAT team with canines made a forced entry, police said. Jones suffered a number of dog bites and was treated for the wounds, police said.
As he was led into police headquarters in handcuffs, Jones had a few words for CBS 5 News cameras. "It wasn't a crime spree, it was an accident," he said. "I didn't even know what I was doing. I blanked out, dude."
Jones was booked into jail late Friday night on two counts of vehicle theft, four counts of aggravated assault on a police officer and one count of resisting arrest with other charges expected to be filed later, according to Tranter.
He made an initial appearance on Saturday.
Jones' bond was set at $1 million after a prosecutor told the judge Jones may flee. Formal charges are expected to come later. A status conference has been scheduled for Aug. 3 in Maricopa County Superior Court.
Air conditioning contractor Rick Gotchie told CBS 5 News he saw KNXV's helicopter flying underneath the KTVK aircraft. He said KNXV's rotors hit the tail of the KTVK helicopter. Gotchie said KNXV's helicopter went down nose first and KTVK's chopper crashed tail first.
"The choppers exploded a couple of time on the ground," Gotchie said. "It was like a vacuum. They just got sucked into each other and they both exploded and pieces were flying everywhere."
Gotchie said he kept hoping he would see a door open.
Another witness looked up just before the collision.
"I was standing out on Central Avenue and I was looking over to the park and saw the helicopters get close," Jerry Fender, another witness, said. "The blue one split and went down. The red or orange one went right after it."
"Looked something like 9-11 with debris exploding everywhere," said witness Ryan Kemmet.
Firefighters raced to the area as two columns of thick black smoke rose from the wreckage.
Phoenix Helicopter Crash: Four Killed.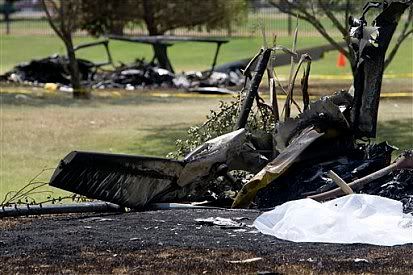 TV station honors 4 killed in copter collision
Investigators to reassemble wrecked choppers that crashed covering chase
http://www.msnbc.msn.com/id/19999896/
Visitors to a park where two news helicopters crashed after a midair collision left flowers, cards and candles as tributes to the four victims Sunday, as federal investigators worked to remove the wreckage and analyze it.
A TV station that used one of the helicopters, which were covering a police chase, also aired video tributes to the victims during Sunday morning programming.
"There's still plenty of grieving, but the good stories are starting to surface," KTVK co-host Dan Davis said.
Co-host Tess Rafols asked the television audience to understand why the program's normal lighthearted banter was largely absent. "It's hard to be that way. We're not going to be fake," she said.
Killed on board the KTVK helicopter were pilot Scott Bowerbank and photographer Jim Cox. On board the aircraft used by KNXV were reporter-pilot Craig Smith and photographer Rick Krolak. No one on the ground was injured.
Wreckage to examined off-site
The wreckage will be laid out at another location in the Phoenix area for detailed examination, National Transportation Safety Board spokesman Terry Williams said.
Witnesses have told investigators that neither helicopter appeared to be in distress before the collision Friday afternoon and that no smoke or debris flew off the helicopters before impact.
The NTSB plans to announce preliminary information at the end of the week. Investigators plan to issue a full report within nine months.
Christopher J. Jones, 23, has been accused of leading police on the chase and has been jailed in lieu of $1 million bond. He has been booked into jail on counts of assault, theft and resisting arrest. He might also be charged in connection with the helicopter deaths, police have said.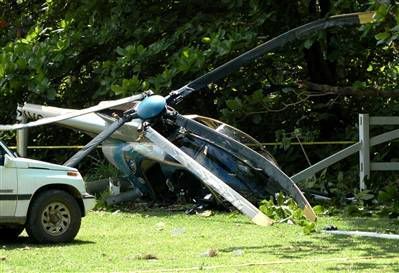 Going Vertical: The Helicopter Industry Climbs
http://www.space.com/businesstechnology/070727_helicopter_industry.html
Many people have never flown in a helicopter and consider them playthings of the rich. But these vertical-takeoff, vertical-landing aircraft impact our lives in many surprising ways.
"The public isn't aware of all the things helicopters do that affect their lives on a daily basis," said Matt Zuccaro, president of the Helicopter Association International (HAI).
Anyone living in a big U.S. city is used to the sight of news and police helicopters buzzing around and knows helicopters are used in search-and-rescue operations at sea and on mountains. But fewer people, perhaps, are aware of the major part helicopters play in providing emergency medical services and in fighting forest fires.
People know that top executives often fly in helicopters, but they may not realize the significant economic benefits that helicopters create by improving business productivity, said Zuccaro.
Intensive use of helicopters by the offshore oil community also benefits the public. "Helicopters provide a major contribution to the oil industry in producing and delivering in a timely manner the petroleum products that we use every day," said Zuccaro.
They can have a positive environmental impact. The U.S. timber industry often uses large helicopters such as the Boeing 234 Chinook to lift logs from remote sites, "obviating the need for cutting logging roads," he said.
But their ability to take off and land vertically in city centers or inaccessible places comes at a price. Helicopters are noisy, relatively slow and fuel-hungry. They are expensive to operate and haven't yet proved suitable for city-to-city service.
However, the helicopter industry is working on new technologies and operational procedures to make its aircraft more community-friendly and efficient.
HAI's "Fly Neighborly" program, used successfully in New York for years, ensures that helicopter operators consult with communities to locate heliports and develop routes in ways that minimize the environmental impact of their aircraft.
One area in which manufacturers are concentrating their technological development efforts is in reducing the aerodynamic noise made by helicopters' main and tail rotors. Aerodynamic noise is responsible for most helicopter noise that people on the ground hear.
Manufacturers are now designing new helicopters with four or more main rotor blades. This avoids the distinctive chopping noise that the older, twin-bladed Bell UH-1 "Huey" helicopter makes, which can be heard miles away.
Meanwhile, Eurocopter uses a technology called the "fenestron" to reduce the noise made by tail rotors. The tail rotor produces a small portion of a helicopter's lift, but its main roles are to prevent the helicopter's fuselage from spinning around (by counteracting the torque produced by the main rotors) and to provide side-to-side control of the aircraft.
The fenestron is a tail rotor enclosed within a duct and positioned in line with the fuselage. This reduces noise and improves safety. Eurocopter also spaces its helicopters' tail-rotor blades unevenly, reducing "phase modulation" effects to make the tail rotors quieter and more pleasant-sounding.
Manufacturers are now using composite materials in helicopter fuselages and rotor blades to make their aircraft lighter and more fuel-efficient. But what prevents helicopters from going faster is "retreating blade stall."
In a traditional helicopter, the main rotor blades revolve horizontally around a central point and move forward and backward during each revolution. They produce most of the lift and all of the thrust that moves the aircraft.
When the helicopter reaches a certain speed, its forward movement negates the lift produced by the backward movement of each rotor blade, causing the blade to stall. That speed -- which varies depending by helicopter model but usually is less than 200 mph -- represents a speed barrier.
However, in a tilt-rotor aircraft such as the Bell/Agusta 609, the main rotors become propellers. The retreating blade problem disappears and the aircraft can fly much faster.
Active blade control is also being studied closely. This technology seeks to control individually the angle at which each rotor blade meets the air during each part of the rotation cycle, rather than controlling the angle communally by means of a "swash plate" attached to the rotor hub, as happens now.
Another approach, being flown experimentally by Piasecki Aircraft on the X-49A (a modified Sikorsky UH-60 helicopter) is to make the tail rotor a "vectored thrust ducted propeller" that faces aft and drives air past a rudder and tailplanes.
This air provides thrust to move the helicopter, provide vertical lift, counteract the main-rotor torque and allow the rudder and tailplanes to control directional stability.
Most U.S. helicopter flying is performed at altitudes below 5,000 feet and outside the National Airspace System. HAI is working closely with the FAA to install new ADS-B navigational and traffic/terrain-avoidance equipment in all oil-support helicopters operating in the Gulf of Mexico, an area in which most airspace is not radar-controlled.
Similar initiatives will follow in Alaska and Hawaii. By means of this and other initiatives, HAI hopes to reduce the worldwide helicopter accident rate by 80 percent within a decade.
Increasingly, organizations are realizing the benefits helicopters can offer. At the recent Heli-Expo show in Orlando, nearly $700 million of orders were placed. "The industry is extremely healthy," said Zuccaro.
Helicopter Safety
This is a very brief over view of safety tips picked up from reading helicopter safety information. If you are going to be involved in a helicopter mission you must do further research. The links below contain useful information regarding helicopter usage/safety.
http://safety.eas.ualberta.ca/node/67
Offshore Safety Course Helicopter Underwater Escape Training
Offshore helicopter crash survival training
Building Helicopter Landing Pads
Two helicopters collided in mid-air.
Helicopter Crash NYC
WNBC Traffic Helicopter Crash
Helicopter Crash
K5 News at 9 helicopter crash
Helicopter Crash
Great Helicopter Crash
WPVI Chopper Six Crash
Helicopter Crashes Into New Hampshire Pond
Russian helicopter crashes in the snow
Helicopter Crashes into Bridge
helicopter crashes into hudson river