A cruise ship or a cruise liner is a passenger ship used for pleasure voyages, where the voyage itself and the ship's amenities are considered an essential part of the experience. Cruising has become a major part of the tourism industry, with millions of passengers each year as of 2006. The industry's rapid growth has seen nine or more newly built ships catering to a North American clientele added every year since 2001, as well as others servicing European clientele. Smaller markets such as the Asia-Pacific region are generally serviced by older tonnage displaced by new ships introduced into the high growth areas.
Cruise ships operate on a mostly set roundabout courses, returning with their passengers to their originating port. In contrast, ocean liners do "line voyages" in open seas, are strongly built to withstand the rigors of transoceanic voyages, and typically ferry passengers from one point to another, rather than on round trips. Some liners also engage in longer trips which may not lead back to the same port for many months.
http://en.wikipedia.org/wiki/Cruise_ship
Classic Cruise Ships
http://en.wikipedia.org/wiki/Cruise_ship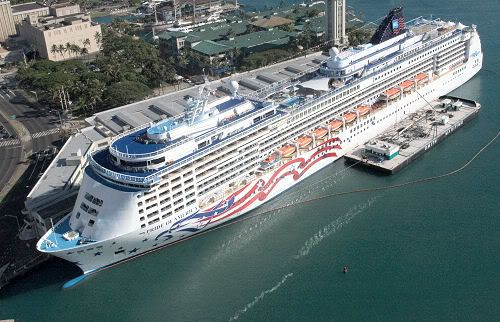 A BRIEF HISTORY OF THE CRUISE LINE INDUSTRY
http://www.jobmonkey.com/cruise/html/a_brief_history.html
Before the dominance of air travel, which began to enjoy commercial success in the late 1960s, passenger liners were the preferred mode of overseas travel. Ships changed very little during the first half of this century. Although engine efficiency improved, passenger staterooms, public lounges, and deck space on a cruise ship built in the 1950s were not much different than those on the S.S. Titanic. Most of the so-called modern ships plying the waters during this time copied the amenities and grand styling of past steamships. Their purpose remained the same as well. Oceangoing vessels were primarily used to get from Point A to Point B, especially for second- and third-class passengers, whose accommodations were in stark contrast to those in first-class staterooms. The most common voyages were transatlantic crossings from New York to London.
You can still visit the original terminal at Tilbury Docks, just east of London, and imagine the hustle and bustle of a bygone era. It sits humbly on the tide flats of the Thames, surrounded by the smoke stacks of the city. It was from here that the grand Queen Elizabeth ran continuous service to New York. In this golden age of ocean liners, ships such as the Lusitania, United States, Ocean Monarch, Paris, Queen Mary, Caronia, and Laconia were sailing the high seas. Every vessel had a unique personality, history, and enough passengers to keep companies financially afloat. But it was an age that would eventually come to an end.
The real blow to the cruise industry came in the 1960s when the Boeing Company began selling 747s and other aircraft worldwide. Meanwhile, a global transportation network of airports with regulated common language and air traffic controllers, in coordination with the United States Federal Aviation Administration, was being established. As the decade came to a close, it was no longer fashionable, practical, or economical to travel by boat. The age of jumbo jets had arrived.
In 1974, to boost a declining market, Cunard Line Limited, the company running transatlantic travel service between New York and London with the Queen Elizabeth II, hired international celebrities to perform cabaret acts
aboard ship.
They advertised the crossing as a vacation/entertainment experience with Las Vegas-caliber shows. The QE2, still one of the fastest passenger liners afloat with a maximum cruising speed of 38 knots, was the perfect vessel to inaugurate these changes. While it was fast enough to whisk passengers from London to New York in just four days, it was elegant enough to stage big productions. The QE2 also ushered in the concept of "one-class" cruising, as the ship's facilities and amenities were made available to all passengers. Regardless of the staterooms or berths passengers had booked, they enjoyed the same service, menus, entertainment, and activities. The idea caught on, and the general public began taking cruises for short vacations, rather than solely as a means of transportation. Of course, it would only be fair to also give credit to the creators of the original "Love Boat" 1970s television series for the resurgence in popularity of romantic cruises for singles and couples. While the show's story lines were made of the usual Hollywood fluff, its gorgeous scenery and exotic ports of call had an undeniable impact on millions of viewers every week.
The cruise industry broke new ground again in the 1980s launching a fleet of giant passenger liners, some capable of carrying over 2,000 people. These megaships were built exclusively for vacationers, maintaining a cruising schedule to sun-drenched locales around the globe. Unlike their predecessors, this fleet was designed as all-inclusive magnificent floating hotels with casinos, running tracks, spas, champagne and caviar bars, basketball courts, private stateroom verandahs, and three-story nightclubs. Suddenly, ports of call were not the main selling point for travelers. Instead, people were interested in the whole experience of just being on board. Carnival Cruise Lines made quite a splash marketing its shipboard experience rather than its destinations to the vacationing public. Quickly, many other major cruise lines followed suit. Throughout these new glittering palaces the message was "luxury for the masses," and for the most part, this is still the rallying cry of the cruise industry.
Where have the wealthy pleasure cruisers gone? The upscale cruise lines found their niche as well by using a fleet of smaller ships that can visit secluded ports, avoiding the popular bustle of big-name destinations. Additionally, concern for the environment has created cruise itineraries that involve ecologically friendly agendas. Termed "eco-tours," this new branch of the tourism industry balances the needs of the environment with the desire to see the world. Companies specializing in eco-cruises focus on education, wildlife, and relaxation, rather than entertainment, gambling, and margaritas. The ships are small and fares are often high, but they guarantee exotic, quiet destinations and a healthy conscience. The markets continue to grow steadily for these specialized companies.
Now that cruise lines have gotten millions hooked on the pleasures of cruising, they're looking for ways to hook millions more. According to Art Rodney, president of Disney Cruise Lines, over 90 percent of Americans who can afford to take a cruise have not. Thus, many of the latest developments in the cruise industry have come about as a result of efforts to lure first-timers on board.
Cruise lines are finding that for many potential cruisers, shipboard pampering is not enough. Many people also want to spend their vacations experiencing foreign cultures or learning new hobbies. To appeal to these people, cruise lines are adding special-interest cruises to their repertoires, focusing on everything from gardening to jazz to oil painting. Silversea began a new program in 1996 that offers passengers an opportunity to learn more about geography, culture, oceanography, photography, and nature from National Geographic Society photographers and journalists. In addition to onboard lectures, there are also shore excursions hosted by National Geographic experts. The '90s are also bringing a returned focus on destinations. Cruises to Europe, the Amazon, Africa, and Asia are growing in popularity.
Along with the boom of the cruise industry there have been a number of company shake-ups, mergers, and rising competition. As with any maturing and expanding business market, larger cruise lines have swallowed up smaller companies in a number of cases. One of the biggest recent mergers was the purchase of Celebrity Cruises by Royal Caribbean, which has resulted in the creation of one of the largest cruise companies in the world.
Since 2000, major cruise lines have launched 64 new cruise ships. The industry shows no signs of slowing and we should see a steady introduction of new cruise ships over the next five years.
Another recent development in the cruise industry has been the divergence between companies building larger and larger ships versus those catering to customers who want a more intimate experience. Companies like Royal Caribbean have been busy building "megaliners" capable of carrying up to 3,000 passengers. These vessels continue to add more and more amenities, such as virtual reality gaming rooms, ice-skating rinks, and multi-story shopping centers, as well as special services, including bookings of onboard wedding ceremonies. America World City will also have four 400-passenger catamarans that will dock inside the ship's hull, enabling passengers to shuttle to any port where the ship is too large to dock. Westin's megaliner will include a number of features to make it attractive to conventioneers, including rooms equipped with dataports and other business amenities, a global business center for executive training, and 100,000 square feet of meeting and exhibit space. Other features will include a Broadway-style theater, restaurants, nightclubs, a museum and planetarium, a sports complex, six swimming pools, shops and boutiques, a TV studio, and a casino.
For a growing number of people, however, sailing on huge ships where it's possible to spend an entire day without even seeing the ocean, and where thousands of passengers pass by in a blur, is not the kind of experience they are seeking. This fact has created a growing market for smaller cruise lines that operate everything from 200-passenger cruise ships to yachts and sailboats that carry only 10 to 30 travelers at a time. Companies like Seabourn Cruise Line operate small luxury vessels that sail to exotic locations such as Asia and South America. Seabourn in particular has been praised as a company that offers a more intimate experience, while at the same time providing all the luxury of a large ship. Windstar Cruises is well known for its romantic, five-masted sailing vessels that carry 200 to 300 passengers. Even more adventurous souls are booking trips on tiny yachts. Some companies, such as Maine Windjammer Cruises, even allow passengers to try their hand at sailing and offer classes in basic seamanship. While it can be more difficult to find work with a smaller vessel, for some it is worth the extra effort to be able to work in an atmosphere that is more intimate and personable.
The tremendous growth in the cruise industry is opening up jobs in both large and small companies. In the last five years over 70,000 new cruise industry jobs have been added. So there has never been a better time to be looking for a cruise line job. We recommend that you read through the free resources we provide on JobMonkey and then if you decide that you are serious about getting a cruise ship job, you should consider a membership to Cruise Job Finder.
CRUISE SHIP JOBS
http://www.cruiseshipjob.com/
Cruise ship information and more
http://travel.travelocity.com/ecruise/ShipFinder.do
YOUR RESOURCE FOR
THE OTHER INFORMATION
ABOUT THE CRUISE INDUSTRY
http://www.cruisejunkie.com/
Cruise Ship Accidents
From LoveToKnow CruisesCruise ship accidents are often highlighted in the media – after all, a vacation is supposed to be a time free from worry and strife, and accidents are all the more tragic when they happen during such a happy occasion. In truth, however, accidents on cruise vacations are far less frequent and less damaging than many reports claim.
http://cruises.lovetoknow.com/wiki/Cruise_Ship_Accidents
Types of Cruise Ship Accidents
Cruise accidents are caused by different factors. There are four types of accidents that can occur while on a cruise vacation, and in many cases, simple precautions every passenger can take will help minimize any negative effects
Passenger-Caused Accidents
Human error causes the majority of accidents on board cruise ships. Passengers who are unwise about their actions and behavior put themselves into dangerous situations where accidents are more likely to happen, but by following common sense precautions many minor accidents can be avoided.
Try not to overindulge on alcoholic beverages that can impair judgment, balance, and motor skills.
Use sporting equipment, lounge chairs, etc. only for intended purposes.
Follow all crew recommendations and instructions, including posted warning labels.
Enter and exit carefully through all doors: cruise ships often have water guards in doorways that could cause tripping.
Use handrails on stairways, gangways, and while near the edge of the deck in case of a sudden list or turn.
[edit]Weather-Related Accidents
Poor weather creates rough seas that can lead to accidents. While crew members and officers make every attempt to avoid bad weather, high winds, choppy waves, and rain increase accident risks. To minimize these risks:
Wear rubber-soled shoes on deck that can grip a wet surface.
Close doors firmly to prevent a wind gust slamming them open and potentially causing injury.
Avoid being on upper decks or near the ship's bow during extreme weather.
Use handrails for additional balance in rough seas.
Secure all cabinets and closets in your cabin to prevent items falling or flying about in rough weather.
If the ship loses power, stay in your cabin or current location until given instructions.
Engineering Accidents
Engineering cruise ship accidents are completely out of passengers' control. These incidents result from crew errors or performance problems with the ship and include fires, malfunctioning stabilizers, and faulty engines. Because of these factors, ships may run aground, be forced to slow down, or be delayed arriving at or departing from ports of call. While passengers cannot prevent these types of accidents, they can keep disruptions to a minimum by:
Knowing where their muster station is.
Following crew directions immediately during a crisis.
Not asking repetitive questions until the problem is resolved.
Providing detailed information if asked to make a statement.
[edit]Shore Excursion Accidents
While exploring ports of call through various shore excursions, it is possible that passengers will be involved in accidents. Those accidents may be a result of passenger negligence or the hazards of the tour, but problems can be minimized by:
Following directions of tour operators carefully and asking for clarification if necessary.
Being honest about abilities and prior experience on tours such as horseback riding, diving, or other physical activities.
Behaving properly and responsibly to avoid causing potential problems.
Wearing proper restraints on tour buses and taxis, including using car seats for young children.
[edit]Recent Cruise Ship Accidents
Each month, there are several reported cruise ship accidents, but most are minor and never make the nightly news. Recent sensational stories have included…
In March 2006, the Star Princess of Princess Cruises caught fire while bound for Jamaica and the resulting blaze damaged 100 cabins on four decks. One passenger died of a heart attack while several others had minor injuries including bruises, abrasions, and smoke inhalation problems. The fire was reportedly caused by an untended cigarette in a passenger cabin.
In July 2005, a honeymooning groom was believed to be overboard on a Royal Caribbean Mediterranean cruise. The man's death may have been the result of foul play.
In April 2005, Norwegian Cruise Line's Norwegian Dawn was struck by a 70-foot rogue wave caused by bad weather. Windows were broken in several forward cabins and approximately 60 cabins were flooded. Several passengers sustained minor injuries during the event.
While most cruise accidents do not rate top story status, other types of incidents include:
Fires in contained areas that do not affect passenger cabins or public areas. Usually these are in the galley or engineering areas of the ship.
Running aground in shallow waters, a particularly prominent hazard for river cruises or ships sailing along the Amazon.
Collisions with piers in different ports of call that cause minor damage to hulls or stabilizer fins. These incidents may cause delays or missed destinations.
[edit]How Passengers are Compensated
When cruise ship accidents occur, cruise lines make every effort to help passengers continue to enjoy their vacation through various compensations, such as:
Relocating passengers to unaffected cabins.
Offering full or prorated refunds.
Offering credits and discounts on future cruises.
Providing vouchers for free drinks, photographs, or souvenirs.
Providing alternative transportation if relocation is unavailable.
The type and amount of compensation is entirely up the cruise line's discretion, and judgments are often made based on the type of incident, the magnitude of the passengers' disruption, and the ability to make immediate restitution.
[edit]What if an Accident Happens on my Cruise?
The first thing to remember if an accident happens on your cruise vacation is not to panic. Seek help from crew members if necessary, and follow instructions carefully. Report to your assigned muster station if required, and try to avoid causing additional problems or delays with excessive questions or noncompliance.
No one anticipates an accident disrupting their vacation, and the truth is cruise ship accidents are exceedingly rare when compared to the hundreds of sailings that offer fabulous getaways to thousands of passengers each month. With common sense precautions, most accidents can be avoided and disruptions kept to a minimum so that everyone can enjoy their vacation.
sinking cruise ship -santorini
2 Missing After Greek Cruise Ship Sinks
Greek Cruise Ship Sinks 15 Hours After Hitting Mediterranean Reef, 2 Missing
http://abcnews.go.com/International/wireStory?id=3014721
A Greek cruise ship that struck a volcanic reef and forced the evacuation of hundreds of tourists sank on Friday, 15 hours after it began taking on water off the coast of a Mediterranean island. A Frenchman and his daughter were missing, officials said.
Passengers on Thursday climbed down rope ladders to coast guard boats below in a three-hour rescue that involved Greece's military, commercial ships and local fishermen from the island of Santorini. Passengers on the cruise were mostly American, and also included groups from Canada and Spain.
Authorities said two French passengers a 45-year-old man and his 16-year-old daughter had still not been accounted for, and lists of rescued passengers were being rechecked.
Tourism Minister Fanny Palli Petralia said she had spoken with the missing passenger's wife.
"The lady said her cabin filled with water when the ship struck rocks and that she narrowly escaped," Petralia said. "She was not sure whether her husband and daughter made it out because things happened so suddenly ... in a few seconds. Her other child was up on deck and was evacuated safely."
Those rescued said most people remained calm though there were some tense moments.
The Sea Diamond struck rocks in the sea-filled crater formed by a volcanic eruption 3,500 years ago. Tourists gathered on clifftop towns and villages to watch the rescue.
"We realized there was a serious problem ... We exited our cabin and it was tough to be able to walk out of the ship. A lot of people were very emotional over it, upset, very frightened," said Stephen Johnson, a Canadian passenger.
An Australian passenger, Katie Sumner, said the early stages of the rescue were chaotic.
"We heard a big shudder and then the whole boat started to tilt," Sumner said.
"All of our glasses were sliding everywhere and our warning that the ship was sinking was some of the staff running down the corridor screaming out 'life jackets' and banging on doors, so we got no time to, sort of, get ready or anything, we just left as we were."
The 469-foot Sea Diamond was operated by Louis Cruise Lines, part of a Cyprus-based tourism group. The Merchant Marine Ministry said 1,195 passengers and 391 crew members were on board.
"Whoever is responsible for this will be held accountable in the strictest way," Petralia said. "Greece is a major tourism destination and incidents like this must not be allowed to occur. ... Authorities handled the rescue very well."
Most of the rescued passengers arrived at Athens' main port of Piraeus Friday on a chartered ferry and a Louis cruise ship.
Authorities on Santorini said they were working to contain a small oil spillage from the sunken ship.
The Sea Diamond's captain and three officers were being interviewed Friday by coast guard investigators who flew to Santorini.
More than 300 rescued passengers arrived at Athens' main port of Piraeus early Friday on a chartered ferry, and more were due to arrive later in the day on another Louis cruise ship.
The Sea Diamond was built in 1986 and refurbished in 1999.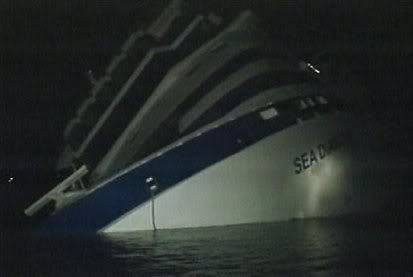 Two Missing After Greek Cruise Ship Sinks
Officers charged in cruise ship sinking
http://edition.cnn.com/2007/WORLD/europe/04/07/greece.cruiseship/index.html
ATHENS, Greece (CNN) -- The captain and five other senior crew members of a Greek-flagged cruise ship which ran aground and sank off an island in the Aegean Sea have been charged with negligence and violating international maritime rules.
Two French passengers were missing Saturday and an official in the prosecutor's office told CNN charges against the captain and crew could be upgraded if they are declared dead. (Watch as ship sinks off Greek island )
The Cyprus-owned Sea Diamond carried 1,153 passengers -- including 731 Americans -- and 391 crew when it ran aground on a rocky reef while trying to dock at harbor of the holiday island of Santorini.
The prosecution official said the captain admitted in an interview that he tried to free the ship from the reef before evacuating the passengers as required by international rules.
The ship's hull was ripped open by the effort to move off the rocks, causing it to sink in Santorini's volcanic lagoon 18 hours later. (Watch the cruise ship's last moments )
Although there were no injuries and the three-hour evacuation process went smoothly, the French pair -- Jean-Christophe Allain, 45, and his 16-year-old daughter, Maud -- were reported missing late Thursday by a family member also on the ill-fated cruise.
Divers continued on Saturday to search for the two missing passengers who disappeared after their cabin flooded with water when the ship struck rocks.
The investigating prosecutor, who presided over a marathon session of interviews, has charged the captain and five crew members with three counts of negligence, according to the prosecution official on the island of Naxos.
All six officers were freed without having to post a bond, the official said. If convicted, the officers face a maximum five-year sentence.
The incident marred the start of Greece's tourist season and cast a pal over heightened demand -- mainly by US nationals -- for Greek cruises this year. Many of the passengers were also from Germany, Spain and the UK.
"We were on the deck watching the ship steer into the harbor, when we heard a loud bump," an unidentified American passenger told Greek national television.
"Then, the water in the pool started to spill out like a tidal wave. And then, the ship started tilting to the right."
The Sea Diamond, which is owned by Cyprus-based Louis Cruise Lines, had set sail from the port of Pireaus last Monday, taking its passengers on a week-long island-hopping cruise in the Aegean Sea.
The Sea Diamond struck rocks in the sea-filled crater formed by a volcanic eruption 3,500 years ago. Tourists gathered on clifftop towns and villages to watch the rescue.
"We realized there was a serious problem. ... We exited our cabin and it was tough to be able to walk out of the ship. A lot of people were very emotional over it, upset, very frightened," Stephen Johnson, a Canadian passenger, told The Associated Press.
Louis Cruise Lines insisted the 143-meter (469-foot) Sea Diamond, which was built in 1986 and refurbished in 1999, had been well maintained.
"The vessel maintained the highest level of safety standards and was equipped with the latest navigation systems," spokesman Giorgos Stathopoulos told AP.
An Australian passenger, Katie Sumner, said the early stages of the rescue were chaotic.
"We heard a big shudder and then the whole boat started to tilt," Sumner said.
"All of our glasses were sliding everywhere and our warning that the ship was sinking was some of the staff running down the corridor screaming out 'life jackets' and banging on doors, so we got no time to, sort of, get ready or anything, we just left as we were."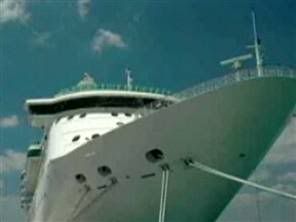 George Allen Smith Controversy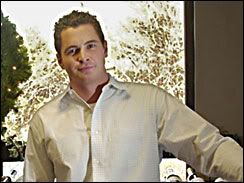 In July of 2005, Royal Caribbean was plagued by a controversy that involved the disappearance of one of the passengers, George Allen Smith. Although the cruise line claims that his death was the result of an accident, evidence has shown that there may have been foul play involved. Blood was found in his cabin and on the side of the ship where he allegedly fell overboard and drowned. The FBI along with the United States Attorneys' office released this statement US Attorney statement Geraldo Rivera aired a news story interviewing Josh Askin, one of the last people seen with George Allen Smith, along with two Russian boys Greg Rozenberg and Zach Rozenberg Geraldo May 23rd Episode. On January 4 2007, it was announced that Royal Caribbean Cruises had agreed to pay compensation of more than $1 million to the dead man's estate.http://en.wikipedia.org/wiki/George_Allen_Smith

Cruise ship murder mystery
Exclusive interview with Ship's captain contrasts sharply with victim's family
http://www.msnbc.msn.com/id/10740178/
Cruise Passenger Mystery Deepens
Connecticut Man Missing Almost A Month, Since Vanishing Off Ship
http://www.cbsnews.com/stories/2005/08/01/earlyshow/main712989.shtml
United States authorities are probing the disappearance early last month of a Connecticut man who was on a honeymoon cruise through the Mediterranean. They say it appears foul play may have been involved.
George Allen Smith IV was halfway into the cruise with his bride, Jennifer Hagel, when he vanished while the ship was off the Turkish coast, according to The Early Show co-anchor Hannah Storm.
"The captain came on and announced to everyone that there was a passenger missing," says Linda Bruck, who was on board the Royal Caribbean's "Brilliance of the Sea" with her husband, Larry Bruck.
They say they didn't see Smith or Hagel, but heard all the rumors.
"That there was a possibility he had winnings that people knew he had won and that they were after," is how Larry Bruck describes one such rumor.
"The most outrageous rumor I heard was that there was an old boyfriend on board," says Linda Bruck.
Another passenger thought something might be amiss when Smith disappeared.
Clete Hyman, who was in an adjoining cabin to that of Smith and Hagel, recently recalled what he heard through the walls in the early morning hours of July 5: "The impact, it sounded like something really heavy, and my first thought was maybe throwing furniture overboard," Hyman said on "Scarborough Country" on MSNBC. "All of a sudden, there (was) some very loud arguing out on the balcony."
Candid testimony like that is unlikely to be repeated anytime soon, Storm observes, since Turkish authorities turned the case over to Washington, and the FBI and U.S. Attorney's Office are now in charge of the investigation.
Witnesses have been gagged, and the U.S. officials are doing all the talking.
Says U.S. Attorney Kevin O'Connor: "This is not going to be an easy case. We have a moving crime scene, we have a group of international passengers who have dispersed. So, it may take a long time to piece together what happened that night."
Turkish authorities had interviewed and released Hagel, and a Turkish prosecutor has said Hagel isn't a suspect.
Defense attorney and CBS News legal consultant Mickey Sherman went to high school in Greenwich, Conn. with George Smith IV's father, though it's been years since they've spoken.
Sherman, who still lives in Greenwich, says he has been watching the case take shape.
On The Early Show Monday, he told Storm the Smiths are a "well-known family. …Everyone has always had nothing but the best regard for this family. Never any trouble. The best reputation. Nice people, active in the community. Again, I don't know them now, but I know of them. No one would have anything negative to say about them at any time."
Hagel and both her and Smith's families have been completely tightlipped, which Sherman says he respects: "A lot of people are not disappointed, but frustrated with that. We in the media seem to be frustrated by that. But, as opposed to some of the other cases that we've seen, whether it's (Michael) Jackson or (Scott) Peterson, I laud them, both sides, for not parading out lawyers or family spokespeople or whatnot.
"According to the U.S. Attorney in Connecticut (Kevin O'Connor), who has now got control of this case, they've been nothing but cooperative, both sides. And that's all they really need to do."
Turkish authorities say Hagel told them she and her husband had been in the casino, drinking and gambling, and she doesn't remember what happened when they got back to their room. Yet, Hyman says he heard arguments, perhaps furniture being moved around.
Sherman discounts the apparent discrepancy: "You have to assume on a cruise ship, everyone is there to enjoy themselves. You can't vilify them that they were drinking. That's what you are supposed to do on vacation and on your honeymoon."
Sherman agrees with O'Connor that probers have their work cut out for them: "(This wasn't) just a crime scene, it was a moving crime scene. And a private crime scene. Who knows if the cruise ship security people are cooperating fully? They have (potential) civil liability."
The Smith family speaks out
What happened to the missing cruiseship honeymooner?
http://www.msnbc.msn.com/id/10523649/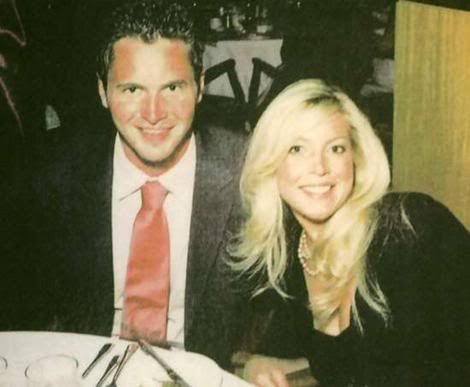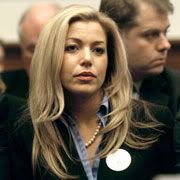 Honeymoon From Hell: Husband Vanishes at Sea
Exclusive Interview With Attorney of One of the Last People to See George Smith Alive
http://abcnews.go.com/Primetime/story?id=1546815
Eight days into George and Jennifer Smith's dream honeymoon cruise aboard the Royal Caribbean ship Brilliance of the Seas, something went terribly wrong. Passengers two floors below the Smiths' cabin woke up on the morning of July 5 and noticed a metal overhang above a lifeboat covered with blood.
Somehow, George Smith had gone overboard and was lost at sea. Since he went missing, his distraught family -- parents George and Maureen, and sister, Bree -- have been highly critical of how the cruise line responded to George's disappearance.
"My brother is dead and missing and Royal Caribbean felt that they didn't need to tell us about what happened on that boat," said his sister, Bree. "They never told me that there were suspicious circumstances and they never told me about blood on the overhang."
The Smiths say the cruise line also failed to tell them about other evidence that they feel points to foul play, such as some blood that was also found in George's cabin.
The Smiths believe, quite simply, that George was murdered.
Heavy Drinking
The last people known to see George Smith alive were four young men also on the ship, and much speculation has centered on 20-year-old Rusty Kofman.
Although his lawyers say he is "the leading target" in the Smith investigation, he has not been charged with any crimes. Kofman has not spoken publicly about the events of the night George Smith disappeared, but his attorneys, Albert Dayan and Tony Mirvis, spoke exclusively to "Primetime" about their client's version of events.
Dayan said that Kofman first met George and Jennifer Smith on the night of July 4 at the ship's casino, and they all sat down together to have drinks.
"At the time, when Rusty comes up to this disco, this lounge, he observes Mr. Smith, as he describes, bombed, extremely intoxicated -- him and Mrs. Smith -- at that time," Dayan said.
According to Dayan, Kofman also observed Jennifer Smith "being flirtatious and actually draping herself over another man. ... The manager of the casino blatantly flirts with her, and in the presence of Mr. Smith."
Dayan says his client then observed George Smith have words with his wife -- which led to a confrontation.
"In fact, my client observes that she kicks him in the groin and she starts walking away with an attitude. And I use the word 'attitude' describing exactly the words Rusty used," Dayan told "Primetime."
Others at the bar recall Jennifer becoming intoxicated and flirtatious that night but do not recall the casino manager's role in any of this.
Last week, Jennifer Smith spoke about that night on "Oprah."
"I remember being at the casino, I remember being around George," Jennifer said on the show. "I remember very vaguely leaving the casino area to go to this revolving bar and then I remember nothing. We must have been drinking heavily. I don't remember anything."
What Happened Next Door?
Other passengers have confirmed the honeymooners were fighting and that Jennifer drunkenly stormed out of the bar. According to several accounts, George was left alone with Kofman and his friends drinking shots of a potent liquor called absinthe.
By the time the bar closed, Kofman's lawyer says George was so intoxicated, he couldn't make it back to his room, so Kofman and the other three men helped him back to his cabin.
"But when they arrive at George's cabin, his wife wasn't there, so Rusty says they helped George search for her," Dayan said.
With no luck finding her, Dayan said Kofman and the others took George back to his room.
A neighbor in the next cabin, Clete Hyman, said he heard what sounded like a party happening in the Smiths' room.
"At approximately 4:05 in the morning, we were awakened by what I would describe as cheering. Multiple individuals in the room, it sounded like they were encouraging somebody to do shooters or, you know, chug a beer," Hyman said.
Hyman, a deputy police chief from Redlands, Calif., with 30 years on the force, called security to complain about all the noise. Hyman added, "And then I banged on the wall a couple of times to hopefully get their attention."
Dayan denies that his client or the others were drinking in the room. According to Kofman's account, they just put George to bed. "In fact, George was so grateful they brought him back to the room that he kissed one of the young men," Dayan said.
But next door, Hyman says he heard things differently.
"Then, kind of suddenly, there was an argument out on the balcony," he said. "This argument was between three, maybe four individuals. It wasn't what I would call a fight, but it was definitely an argument."
Hyman says the argument went on for a couple of minutes, then he heard male voices say goodnight. He opened his door and saw three young men in the hall. Dayan said none of the men stayed behind in the room.
Hyman said he then heard one male voice talking and noises in the room. He also says he heard the sounds of furniture being moved on the balcony -- and then silence.
"There was a couple of minutes of total silence, and then we heard what I would have to describe as a horrific thud. The sound was so loud, it reverberated through our cabin. My first thought was that somebody had fallen out on the balcony," Hyman said.
That was around 4:30 a.m. Kofman's lawyers say their client and the other men were back in their own cabin, eating room service food, before turning in for the night.
More Trouble on the Ship
But where was Jennifer? According to Royal Caribbean, at 4:30 a.m., ship security found her passed out on in a corridor and took her back to her now-empty cabin to sleep it off.
Later that morning, security arrived at Kofman's door.
"My client is asleep at approximately 8:30 a.m. in the morning, there's a knock on his door, saying, 'Wake up, we have a missing person on a ship,'" Dayan said. "He thought that everybody was talking about Jennifer, because they were looking for her the night before."
After a brief investigation, the ship left port in Turkey. Kofman and other three men were still aboard, living it up. By the time the ship reached Italy, they were implicated in yet another terrible situation, this one involving a young woman.
"They're in a Jacuzzi with a young lady," Dayan told "Primetime."
Kofman and another man left the tub, Dayan said. "They go back to their room. They receive a phone call from the other young man who says, 'Look, Rusty, we need to borrow your camera. We want to video a sexual escapade.'"
The young woman involved, however, remembered it differently, and she would accuse Kofman and two of his friends of rape. They all admit they had sex with her, but say it was consensual.
After that accusation, the cruise line booted Kofman, his friends and their families off of the ship. To date, no charges have been brought against Kofman or his friends for either the alleged rape or any role they may have played in George Smith's disappearance.
Family Wants Justice
Smith's relatives, though, say they will not rest until they find out what happened to him.
"We're going to continue until our dying day to make Royal Caribbean accountable and to make sure the perpetrators of the crime are brought to justice," said Bree Smith."They didn't preserve that crime scene, and now six months later there have been no arrests."
Royal Caribbean Capt. Bill Wright rejects the charge that the cruise line failed to preserve a possible crime scene.
"We contacted the authorities, we made the cabin available to them, the cabin was secured, as well as the stained area on the canopy by the captain, immediately," Wright said.
Wright also said the Turkish police came on board the ship and conducted a "full forensic investigation."
"They took blood samples, they took other evidence ... from the cabin, they dusted the entire cabin for fingerprints. All of that information has been turned over to the FBI," he said.
The Smith family is highly critical of the Turkish investigation.
"They were only there for three hours," said George Sr. "Three or four hours to do forensic work, they only took six statements from different people."
And according to his attorney, Kofman and one of his friends were only interviewed by Turkish police for about 10 minutes. Clete Hyman, who heard the commotion that night, says he was not interviewed at all.
Now, this case has taken a new turn. This week, Jennifer Hagel Smith's family hired medical examiner Henry Lee, who testified in the O.J. Simpson case.
Lee recently returned to the scene of George's disappearance -- combing the cabin, the balcony and the metal overhang for clues.
According to Lee, "We did find some evidence. ... But I cannot tell you what I found."
It has now been seven months since George Smith disappeared and his family still has more questions than answers. But for all the confusion and pain this tragedy has caused, the family's desire is simple: justice.
"Bring the perpetrators to trial and have them convicted and go to jail," said Bree Smith.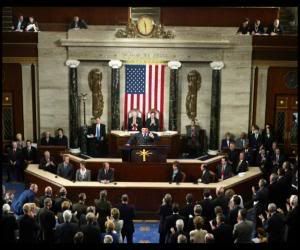 Congress Eyes Cruise Ship Dangers
About a Dozen People Have Gone Missing On Cruises in Last Two Years
http://abcnews.go.com/GMA/story?id=1400466
Lawmakers are set this morning to investigate the potential dangers to vacationers cruising the high seas.
Two congressional committees will hold a joint hearing focusing on cruise-ship disappearances and crimes. The hearing comes on the heels of another cruise-ship disappearance in recent months, this one aboard Royal Caribbean's Jewel of the Sea, which returned to Florida on Sunday with one less passenger than when it departed.
Canadian Jill Begora, 59, was last seen by her husband on Saturday morning as the ship approached the port of Nassau in the Bahamas. A search by a U.S. Coast Guard ship and the Bahamian Navy found no trace of her.
"It's just too much to comprehend," said Thomas Begora, a relative. "I hope everything's all right, but you know how these things are some times."
It is estimated that in the past two years, about a dozen people have disappeared while aboard cruise ships.
"The bottom line is we are suspicious, candidly, that there's some huge problem in the cruise industry," said Rep. Chris Shays, R-Conn. "We think that people are not aware of some of the challenges and some of the potential problems they encounter."
In another high-profile case, George Smith disappeared while on his honeymoon in the Mediterranean last July aboard a Royal Caribbean ship. His family is convinced that Smith was killed because witnesses heard screaming and there was blood on the ship's deck. Smith has not been found. Now his family is planning to sue Royal Caribbean, accusing the cruise line of hindering the investigation.
"We can't hold a funeral, and, you know, as far as Royal Caribbean is concerned, they would merely have another drunk falling into the water, nothing we could do about it," said Bree Smith, George's sister. "That's not good enough and we're going to make changes so this does not happen to another family."
Royal Caribbean says that it has cooperated fully with the FBI in the Smith case and that passenger safety is its priority. In the case of Begora, the company says the ship retraced its path the morning of the disappearance. Because Begora is Canadian and the incident happened in the Bahamas, the FBI is not involved.
The congressional hearing will also touch on last month's pirate attack on a cruise ship off the coast of Somalia.
Cruise Cover-up?
Cruise Line Doesn't Notify Anyone When Woman Disappears on Second Day of Trip
http://abcnews.go.com/Primetime/story?id=1541034
When 40-year-old Merrian Carver went missing on the second day of a seven-day Alaskan Royal Caribbean cruise, the crew didn't respond as one might expect. In fact, the crew acted as though nothing had happened.
Merrian, a former investment banker who loved to write poetry, was divorced and decided to take a cruise in August 2004. Merrian lived in Cambridge, Mass., and her 13-year-old daughter was staying with her ex-husband in England.
No one even knew Merrian had gone away, until her father, Kendall Carver, received a frantic call from his granddaughter.
"She said: 'Do you know where my mother is? I've been calling her, and I haven't gotten a response,'" Carver told "Primetime."
After several days of unreturned phone calls, Carver and his wife, Carol, filed a missing-person report. Weeks later, police learned their daughter had purchased the cruise ticket.
But when Kendall Carver called the cruise line -- three weeks after the ship had docked in Vancouver, British Columbia, officials confirmed that Merrian had boarded the ship, but they weren't sure whether she had gotten off.
"In effect, Merrian vanished from the Earth," he said.
Clothing Given Away, Purse Stored
"It seemed like kind of a rather basic thing. If you put 2,000 people on a ship, you ought to know if 2,000 people got off the ship. They didn't know that. They couldn't tell us that," Carver said.
He became more alarmed when he said the cruise line casually explained that Merrian had stopped using her room after the second night, and that her belongings had remained in her cabin after everyone else had gotten off the ship.
Carver couldn't believe what he heard next: Royal Caribbean explained that it had given Merrian's clothes to charity and locked up her purse.
"They got rid of most of her stuff," he said. "A gold wristwatch, all her clothes were gone, vanished."
And most shocking of all, they told no one she was missing -- not the police, not the family.
"She was gone," Carver said. "And the purse had her name, Social Security number and everything. They just put it in storage, did nothing."
No Clues but Many Questions
Retired and living in Phoenix, Kendall Carver, the former head of an insurance company, went back into CEO mode and launched the type of counteroffensive the cruise line probably hadn't expected. Eventually, he would spend more than $75,000 trying to find out what happened to his daughter.
First, he hired one of the word's largest private-detective agencies.
"We wanted to talk to somebody on that boat that had seen Merrian," Carver said. "Now that seemed like a pretty reasonable request."
Tim Schmolder was the San Francisco private eye dispatched to find out what had happened to Merrian. Schmolder started asking questions, and while he said Royal Caribbean provided some answers, he said it also set up some roadblocks to his investigation.
According to Schmolder, his requests for interviews with passengers or crew were denied, as was his access to the ship's video camera system. He said cruise officials also limited the amount of time he could spend on the ship.
After a few hours, Schmolder left the ship without a single clue as to how Merrian might have disappeared.
"My report became, you know, kind of empty of content," he said. "But full of questions -- questions as to why access wasn't allowed, questions as to why the cabin attendant wasn't available, questions as to why I couldn't interview the security manager for the camera system. Question, after question, after question: Why? Why? Why?"
Was It a Cover-Up?
What was behind the silence? Did the cruise line not know or was it simply not telling? For four months, the Carvers were in limbo, waiting for answers, until, finally, they took legal action.
They demanded Royal Caribbean produce a list of other passengers from the Boston area, where their daughter had lived, in case there was a friend or someone who might know about Merrian.
Carver said that the subpoenas produced a list of the ship's 2,000 passengers, with no contact information, and a poor-quality picture of Merrian getting on the ship.
But the worst news was yet to come. When the Carvers' attorneys forced Royal Caribbean to make the cabin attendant, Domingo Monteiro, available for a deposition, Carver was crushed by what he heard.
"Domingo said he reported Merrian missing daily, and to his boss," Carver said. "And that at the end of the cruise, Merrian's things are in the room where they'd been for five days. He asked his boss, should we report this? The boss says no. He says, 'I'll take care of it. Just put all of her belongings in a bag. Put them in my locker and I'll take care of it.'"
Next they learned that since the Carvers started complaining, Royal Caribbean had held an internal hearing and fired Monteiro's boss. But for the three months that the Carvers had been asking questions, the cruise line had never shared that information with them.
"All along the way they've been lying to us, and leading us down a path. And I say it's tough to lose a daughter, let alone be dealing with a cover-up," Carver said.
Carver said that Royal Caribbean's own documents offer evidence of cover-up. One memo shows that months earlier, company officials knew Monteiro had reported suspicious circumstances to his supervisor.
Not only that, it seemed the company took great pains to make sure that "Domingo … did not speak with anybody." Carver said that one memo showed Royal Caribbean checked with 14 different employees to make sure the cabin attendant didn't speak with outside sources.
Jeffrey Maltzman, Royal Caribbean's attorney, said the memos showed no evidence of a cover-up. "What the company was trying to do was find out if he [Domingo] had talked to anybody," Maltzman said.
"If you look at the document, nowhere does it say: 'Don't talk to someone if they call you,'" he added.
That does not make the Carvers feel any better. "I still am upset," Carver said. "I mean, that was probably one of the worst days of my life, to figure out that they knew Merrian was missing. If only they had done something during that cruise, when she was reported missing daily, we would have known."
Royal Caribbean further infuriated the family when it issued a press release stating that Merrian "appears to have committed suicide on our ship."
Maltzman told "Primetime" that it was not the cruise line's responsibility to say what happened to Merrian. "They don't have the expertise," Maltzman said. "That's law enforcement's job."
Royal Caribbean put out the statement about suicide "because that's what the family has told us they believe happened," said Maltzman.
Carver said that is not true. While he concedes it's a possibility Merrian may have committed suicide, he said Royal Caribbean's handling of the case would prevent the family from ever knowing the truth.
Sympathetic Words Too Late for Family
Rep. Christopher Shays, R-Conn., learned about Carver's case after one of his constituents complained about a similar incident.
"Merrian Carver's case just ignites me because I think of the arrogance of the industry, the cruelty of this industry," Shays said. "In the end, they acted like she was a nonperson."
Shays became so concerned about the cruise-line industry that he called a congressional hearing to look into its practices. He said he was unimpressed when Royal Caribbean's director of security expressed words of sympathy for the Carvers during the hearing.
"It would be better if you cooperated with the family," Shays said at the hearing. "And didn't make them have to seek this information the way they sought it -- having to spend literally tens of thousands of dollars. So your actions would speak more loudly than your statement, frankly, and your actions appear not to support your sorrow."
Merrian's last gift to her father was a picture frame that plays a recorded message that says: "Hi Daddy, this is Merrian. Hope you're having a great day."
It is a message that haunts the Carvers, who worry that they'll never really know how or why their daughter disappeared.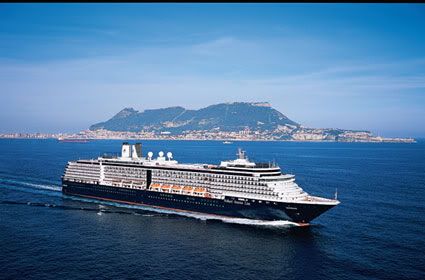 Cruise safety in spotlight
http://www.usatoday.com/travel/news/2005-12-15-cruise-safety_x.htm
The unsolved disappearance of a Connecticut honeymooner has prompted a congressional call for more scrutiny of cruise ship safety and crime.
Husband missing: Jennifer Hagel Smith's husband vanished while the honeymooners were on a Mediterranean cruise.
Kevin Wolf, AP
And his wife and other family members, who believe Smith was murdered, have launched a website offering a $100,000 reward for information leading to the arrest and conviction of anyone who caused his death.
George Allen Smith IV, 26, of Byram, Conn., was last seen in the early hours of July 5 aboard the Royal Caribbean cruise ship Brilliance of the Seas as it sailed from Greece to Turkey. Blood was found in the cabin he shared with his wife, Jennifer Hagel Smith, and on a metal lifeboat overhang below the cabin's verandah.
Hagel Smith, who has been in seclusion since her husband vanished, appeared Tuesday at a congressional subcommittee hearing on international maritime security. Her testimony, read aloud by Rep. Christopher Shays, R-Conn., said the cruise line abandoned her in Turkey with no ticket home after she was interviewed and released by police there and that Royal Caribbean showed "no compassion, sympathy or sensitivity."
At first, the cruise line issued a statement "stating it was an accident and suggesting it was all George's fault," her testimony said. A cruise line official said at the hearing that staffers searched for Smith, called in local authorities and the FBI and turned over security tapes and other evidence.
Smith and his wife were observed partying with others before his disappearance. Occupants of a nearby cabin reported hearing a disturbance in the early hours of July 5.
It's unclear what happened; but some passengers told reporters Smith was taken back to the cabin by drinking companions and that his wife was not there. In a statement July 13, the Royal Caribbean line said Hagel Smith reported that her husband was not in the cabin when she awoke, but she assumed he was with friends onboard. Hagel Smith did not address the hearing.
Shays told the hearing that passengers aren't told of the risks of a vacation at sea.
"Like small cities, cruise ships experience crimes — from petty to profoundly tragic. ... Investigation can be profoundly difficult when the crime scene literally floats away."
Thirteen cruisers are presumed to have gone overboard in the past two years, according to the International Council of Cruise Lines. Nearly 11 million people took cruises in 2004 — 8.3 million of them Americans, the council says.
According to the FBI, about 50 U.S. cruisers are crime victims or disappear each year. Half the reported incidents involve sexual assaults; 20% are assaults; and 10% involve a missing person.
Shays said in an interview Thursday that cruise lines aren't forthcoming about reporting bad things that happen to passengers. "Statistics are only provided on a voluntary basis," he said. "They have a huge incentive to underplay crime."
He said passengers can't assume a ship's security force will be well trained or that U.S. laws will be in force at sea. Most ships fly under foreign flags, and many ply international waters.
Shays said he hopes his continuing investigation will lead to stricter regulations. "Lack of hard data on maritime crime rates engenders a false sense of security."
The Council of Cruise Lines counters that cruising is so popular because of its safety record. "In the rare instance crimes occur on board, cruise lines report and cooperate with the appropriate law enforcement authorities," it says in a press release.
On hagelsmith.com, Hagel Smith says she is "dedicated to finding out the truth about what happened to my husband." Tipsters can e-mail the website or call 800-256-1518.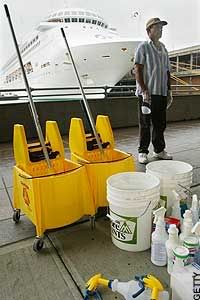 9 tips for cruise safety
Follow these guidelines to avoid the dark side of cruising
http://www.msnbc.msn.com/id/9546629/
Most of the bases for cruising have already been covered: We know how to keep your floating vacation afloat, how to find the best ships for singles, how to survive a cruise with Norwalk virus and how to cruise with the kids. But, as recent news stories have warned us, there may be a dark side to cruising for those who are not prepared.
Terry Riley, Ph.D., author of the book Travel Can Be Murder, says, "Your personal safety while traveling is — and always will be — your responsibility." But just what steps should you take to keep safe on a cruise ship? Follow these nine tips and you will be on your way.
1. Check out the report card
Whenever you get 1,500 or 2,000 or even 5,000 people together in one place, you are bound to share a lot more than a good time (remember the Norwalk-like virus?). Luckily, ships get report cards — just like you did in elementary school.
The best reports come from the Vessel Sanitation Program of the Centers for Disease Control and Prevention (CDC), which routinely inspects ships for cleanliness, repair, food preparation and storage, water quality, hygiene, pest management and many other things. Check out your ship's report card on the CDC website before you book your passage. It will let you know the results of the last inspection and exactly what grade the ship received. It will take you back to fifth grade, believe me.
2. Keep your guard up
It is natural to let your guard down on vacation, especially on a cruise ship. Life is good, the water is warm, the booze is flowing, the food is scrumptious — the ship seems like Paradise Island. You are living large, and that's precisely when you're most apt to get into trouble.
You need to be aware of your surroundings on a ship just as you would in a big city. Don't walk down darkened hallways; keep your distance when tempers flare; don't accept drinks from strangers. If your gut tells you something is wrong, it probably is. And don't keep it a secret, either; notify the Purser's Office the minute you suspect trouble.
3. Use the ship's safe
Leave the Rolex watch and the Gucci handbag at home — no one is looking and you're on vacation, so you don't need to worry about the time. Keep most of your cash and valuables (especially your jewelry, return tickets and passports) in the ship's safe.
The lightweight safe in your cabin is fine for storing small everyday items like your address book and tip money, but never put anything in it that you can't afford to lose. Do you know how many of those cabin safes are left locked when passengers disembark at the end of a cruise? Now guess how many crewmembers know the bypass code for opening them.
4. Watch what you eat
If you are lactose intolerant in the United States, you will be lactose intolerant on a ship. If stateside seafood makes you puff up and itch, so will the onboard seafood. With the myriad options for dining on a cruise ship, you can certainly be adventurous. Just don't be reckless.
Shipboard water is usually pretty good, but you should always insist on bottled water on shore. And make sure it is a sealed bottle (yes, I have seen "bottled" water refilled from the tap on a ship and on a plane).
Know how your food is prepared, too. Is it heavy on the mayo in the hot Caribbean sun? Is the steak served tartare? And if you are served something you don't like, for heaven's sake, send it back. On a port call in Ocho Rios, Jamaica, I was served some "almost-still-clucking" chicken — not what I was expecting at a purportedly five-star restaurant! So be aware, and don't be afraid to ask that your food be prepared the way you like it.
5. Watch the booze
Booze will always compromise your judgment, perception, and behavior. While everyone likes to have a few umbrella drinks aboard ship, don't let them get out of hand. Why not? Because booze on a boat is the same as booze on land — only you are moving forward at 20 knots and perhaps pitching back and forth in 20-foot seas.
And trust me, it is never a good idea to see if you can lean out over the railing like Kate Winslet in "Titanic." Nor should you try to walk what you perceive to be a gangplank. Most of today's ships are equivalent to 10-story buildings … moving forward … with 12-foot propellers underneath. Can you say "Cuisinart"?
6. Watch the gambling
Crooks cruise too, so cash-in your winnings periodically and take them to the ship's safe; if you win big, ask for an escort. Don't ever make a scene; it will only draw attention to you and make you a target for crime. For the same reason, be careful about flashing your money outside the casino, too. If you win, congratulations! Just keep the celebration low-key.
7. Watch out for the crew
No, they are not out to get you, but you need to understand that these are folks whose standard of living is most likely lower than yours by a considerable margin. You will likely be perceived as the wealthiest of the wealthy. Most crewmembers are honest and hard working, but don't give them any opportunity to take advantage of you. Jewelry on the night table — even your loose change or iPod — is but a quick grab for a cabin steward, a maintenance worker, or the kitchen worker who refreshes your fruit plate.
Most ships don't allow crewmembers to interact with guests outside of their regular duties. The exceptions tend to be the cruise director and the captain's staff. While you may be tempted by that cute little honey from Serbia named Irena (or that hunk from Hungary), never agree to go to a "crew-only" section of the ship — the invitation may be a set-up to ensure that your cabin is vacant.
8. Land ho!
Be careful on your shore excursions. The cruise lines organize the shore trips because they are moneymakers for them; in return, you get some assurance of quality and security. You can save a buck (or many) by going it alone, of course, but beware. Make sure you negotiate any fares and fees upfront. Most cabbies are honest when the cards are on the table, but if you do not agree in advance, the sky will be the limit and you may find yourself in a police station for failure to pay the fare.
If you are not happy — speak up early. Once in St. Lucia, a cabbie took my kids and me into an "ambush" of local vendors — all friends of his. We did not buy anything, and we told the cabbie that if it happened again, we were out of the car and he was out of a fare. The rest of our tour was fabulous.
9. Report anything suspicious
While the crew-to-guest ratio looks pretty low in the brochure, much of the crew actually works behind the scenes and is not permitted any guest interaction; moreover, many may not speak your language. Most of the senior crew will be looking out for guest safety, but they cannot be everywhere at once. As Dr. Riley says: Ultimately, your safety is your own responsibility.
Keep your eyes and ears open. If something looks odd to you, it probably is. Is there a creepy guy hanging outside the teen club? A man who is asking dozens of single ladies to dance? A couple that is fighting in public left and right? Take a walk to the Purser's Office and let the staff know. They will appreciate it, and you might just head off tomorrow's top story.
Now that you are rethinking that cruise you just booked, sit back and take a deep breath. This information should not be a vacation-breaker. It's just common-sense advice taken from Main Street and put on the Lido Deck. According to the U.S. Maritime Administration, which keeps tracks of passengers sailing on cruise ships, 9.4 million people cruised in 2004, so it can't be all that bad. In fact, cruising is a fabulous experience, and it's probably a lot safer than crossing your own street.

Cruise ship is caught in a cyclone
Cruise ship sinking
Cruise ship life
Rescuers searching for tourists after ship sinks