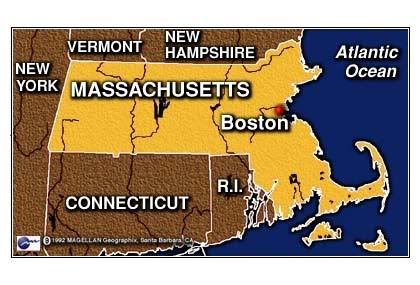 Boston is the capital and most populous city of the Commonwealth of Massachusetts, a state in the United States of America.The largest city in New England, Boston is sometimes considered to be the unofficial economic and cultural center of the New England region;[4] the city of Boston had an estimated population of 596,638 in 2005. However, the city lies at the center of America's eleventh-largest metropolitan area known as Greater Boston, which is home to 4.4 million people and includes the nearby cities of Worcester and Providence. Residents of the city are called Bostonians.
In 1630, Puritan colonists from England founded the city on the Shawmut Peninsula.[5] During the late 1700s, Boston was the location of several major events during the American Revolution, including the Boston Massacre and the Boston Tea Party. Several early battles of the American Revolution, such as the Battle of Bunker Hill and the Siege of Boston, occurred within the city and surrounding areas. After the revolution, Boston became a major shipping port and manufacturing center, and its rich history now attracts 16.3 million visitors annually.[6][5] The city was the site of several firsts, including America's first public school, Boston Latin School (1635),[7] and college, Harvard College (1636) in neighboring Cambridge, as well as the first subway system in the U.S.
Through land reclamation and municipal annexation, Boston has expanded throughout the peninsula. It has become one of the most culturally significant cities in the United States, and is recognized as a global city.[9] With many colleges and universities within the city and surrounding area, Boston is a center of higher education[10] and a center for health care. The city's economy is also based on research, finance, and technology — principally biotechnology. Boston has been experiencing some level of gentrification, and has one of the highest costs of living in the United States.
http://en.wikipedia.org/wiki/Boston,_Massachusetts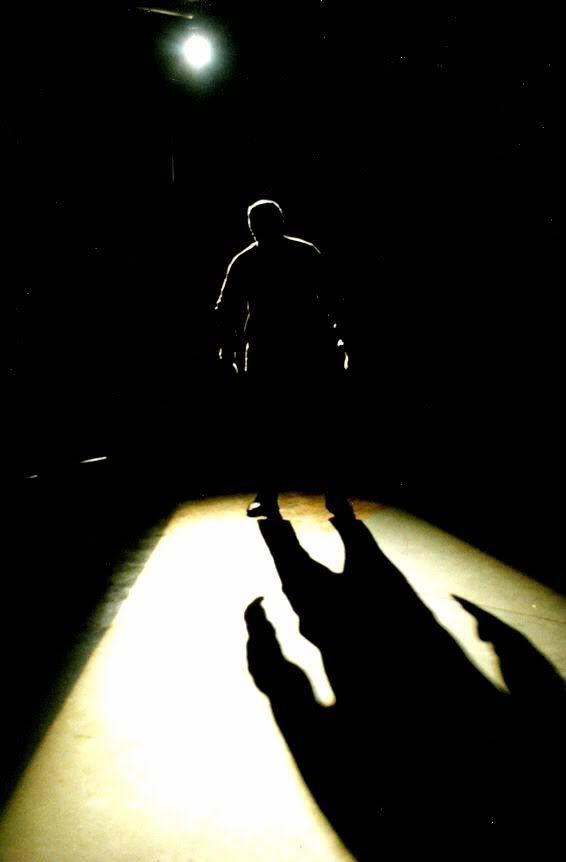 Boston is the site of one of the more prominent families in the American Cosa Nostra. The first boss of the Boston family was Gaspare Messina. Messina started the family in 1916 and died in 1924. Phil Buccola succeeded him and started the move up of the Boston family. Most of his money came from mob staples like loansharking, numbers, and bootlegging. Buccola retired in 1954, and he was succeeded by Raymond Patriarca, Sr. He changed the way that the family was run. Patriarca moved the base of the family to Providence, Rhode Island and appointed an underboss, Jerry Angiulo, to run the family's rackets in Boston. Angiulo organized all of the gambling in the city. Pretty soon, he had a cut off of every game in Boston. He was sending tributes up to Providence, so it was perfectly fine with Patriarca. Patriarca stayed in power until his death in 1985. He was succeeded by his son, Raymond Patriarca, Jr. This was not a very smooth transition. Underboss William Grosso was killed shortly after Jr. took over. The family took a real hit in 1989, when Patriarca and the entire hierarchy of the family was recorded by an FBI bug in an induction ceremony of four new members. This was the first time the FBI had ever recorded an LCN induction ceremony. The hierarchy was sent to jail as a result of the tapes. Francis P. "Cadillac Frank" Salemme took over as boss. He was in control until two years ago, when he was arrested on RICO charges. His underboss, Nicholas "Nicky" Bianco is said to be the acting boss of the family.
http://www.americanmafia.com/Cities/New_England-Boston.html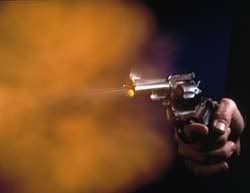 Boston Mob Files
http://www.thebostonchannel.com/bostonmobfiles/index.html
Boston Crime
http://www.boston-online.com/crime/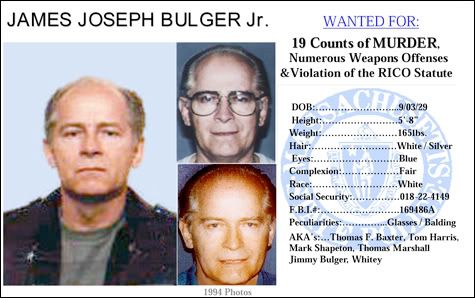 James J. "Whitey" Bulger, Jr. (born on September 3, 1929) is a wanted fugitive and alleged leader, along with fellow mobster Stephen Flemmi, of the Winter Hill Gang, an Irish-American crime family operating in the region of Boston, Massachusetts. He is the brother of William Michael Bulger who rose to become President of the Massachusetts State Senate and president of the University of Massachusetts.
On August 19, 1999 Bulger became the 458th Ten Most Wanted fugitive listed by the Federal Bureau of Investigation (FBI), and as such he currently remains wanted for racketeering (under the Racketeer Influenced and Corrupt Organizations Act (RICO), murder, conspiracy to commit murder, conspiracy to commit extortion, narcotics distribution, money laundering, conspiracy to commit money laundering and extortion.
http://en.wikipedia.org/wiki/James_J._Bulger
Whitey Bulger - A Man of Contradictions
http://www.crimelibrary.com/gangsters_outlaws/mob_bosses/james_whitey_bulger/index.html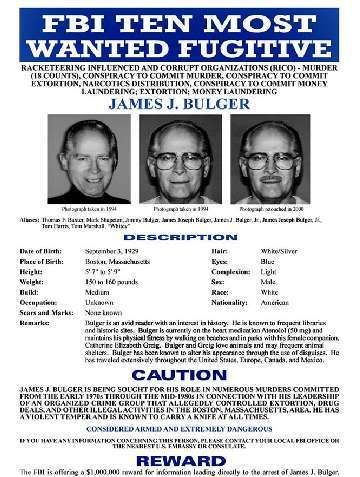 $1m bounty for US fugitive
http://news.bbc.co.uk/2/hi/europe/2634661.stm
One of America's most wanted men is believed to be in hiding somewhere in the British Isles and the FBI is offering a $1m bounty for his capture.
It is thought James "Whitey" Bulger, who is wanted for 18 murders in his native Boston, may have been given shelter by Irish republicans.
In the 1980s Bulger, the head of the so-called Winter Hill Gang, allegedly helped smuggle a cache of weapons from the US to the IRA.
Bulger, 73, went on the run in 1995 after being tipped off about an impending raid by John Connolly Jr, an FBI agent who was on his payroll.
He is thought to be travelling with his lover, Catherine Greig, a dental hygienist who was indicted in her absence in 1997 accused of harbouring a fugitive.
In September he was spotted in London, near Piccadilly Circus, by a former friend who bumped into him by chance.
He looked tanned and sported a goatee beard but pretended he did not know the man and walked off.
Since then he has vanished once again and may have crossed the Irish Sea again.
Bulger has a violent temper and is said to carry a knife at all times.
The FBI has approached the Irish broadcaster RTE about the possibility of making appeal on their Crimeline programme.
There are also plans to put up posters in London, Belfast, Dublin and other cities where Bulger could be harboured.
Bulger, who is on the FBI's list of Ten Most Wanted People, is suspected of 18 murders, drug trafficking, extortion and money laundering.
In the 1980s and early 1990s he was a prized informant for the FBI in Boston and gave much information about rival criminals but it has since transpired that his own gang was responsible for a reign of terror.
A mass grave of some of the Winter Hill Gang's victims was found recently just outside Boston.
On 5 January 1995 Connolly, his former FBI handler, warned him of a looming racketeering and extortion indictment and he fled Boston.
Richard Milano, whose brother Michael was one of those murdered by the Winter Hill Gang in 1973, said: "I want him caught so bad and for justice to prevail. I just don't think that he'll be caught alive.
'He eludes all the nets'
Milano, whose family is suing Bulger's estate, told the American news agency AP: "He seems to be able to elude all the nets put out there. He planned long in advance for this."
Bulger travelled widely in the months before he disappeared and it is thought he may have been setting up secret cash stashes to keep him going while on the run.
Two safety deposit boxes, in London and Dublin, were traced and opened in September 2002.
They contained $60,000 in various currencies, an Irish passport in Bulger's name and a brochure called The World's Top Retirement Havens.
'Armed and dangerous'
The FBI plans to flood Britain, Ireland, France and Switzerland with posters showing what Bulger might look like today and advertising the $1m bounty on his head.
A spokesman for New Scotland Yard's Extradition and International Assistance Unit told BBC News Online: "He is considered dangerous and may or may not be armed, so members of the public should not approach him.
"They should simply contact their local police if they believe they know where he is."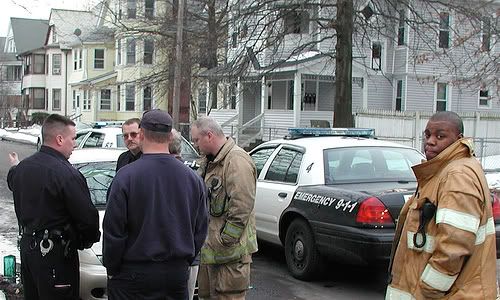 Cops - Boston Youth Violence Strike Force
Boston Crime Statistics
http://www.helloboston.com/crime.cfm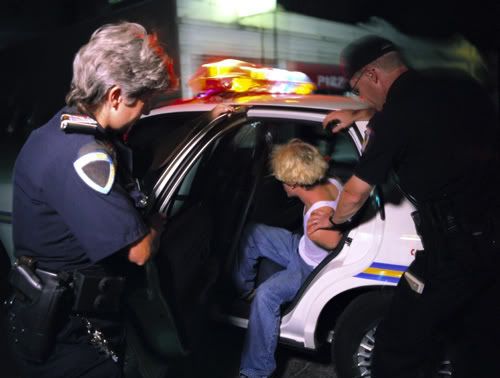 BPD Crime Statistics
http://www.cityofboston.gov/police/divisions/crimestats.asp
Once Upon a Crime
http://www.boston.com/ae/books/articles/2004/08/15/once_upon_crime/
Boston Crime Statistics
http://www.bu.edu/police/statistics/boston_crime_index.htm
Boston Travel Guide
http://www.virtualtourist.com/travel/North_America/United_States_of_America/Massachusetts/Boston-794476/Warnings_or_Dangers-Boston-TG-C-1.html

Nightly News Package - Boston Duck Tours
Boston - Visitor's Guide
http://features.cityguide.aol.com/boston/visitorinfo/
Boston: Where Europe Meets America
History of Logan Airport - Boston
Boston Hotels, Boston Vacations & Tourism, Boston Attractions
http://travel.yahoo.com/p-travelguide-191501945-boston_vacations-i
Boston MA at Night, I-93 Bridge & Tunnel
Boston walk
Rescue 911 - Episode 120 - Segment 2 Boston
On the night that Charles Stuart supposedly shot himself and his pregnant wife, Rescue 911 camera crews happened to be riding with the Boston ambulance that respoded to the shooting. This segment was taken from Episode 120 which aired on February 27, 1990 on CBS. It was also featured with William Shatner's commentary dubbed over by another narrator on the Rescue 911 video "World's Greatest Rescues" which was released on May 27, 1997.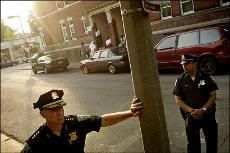 Boston Crime Rate Drops
Shootings, Homicides Decrease Sharply
http://www.thebostonchannel.com/news/13619483/detail.html
Despite several recent high-profile shootings, a report suggests Boston is actually making progress in the war on crime.
Serious crime dropped sharply in the city during the first six months of the year, according to statistics released by Boston police Tuesday.
Shootings were down 31 percent in the first six months of 2007. Homicides dropped by 14 percent and robberies fell 12 percent.
"The great news is there's a downward trend. That's what we work for," Police Commissioner Edward Davis told the Boston Globe.
Community leaders and police officials said the drop is proof that new anti-crime initiatives are working.
Boston PD Sgt. Colombo Wrestles BMV Suspect in Street
Former Crime Lab Administrator Tells Troubling Story
Murder rates may be down, but we're hardly less murderous
http://weblog.signonsandiego.com/weblogs/afb/archives/012547.html
The sins of the media, chapter 237:
One of the most welcome trends in the U.S. has been the gradual decline in crime the past three decades. Whichever of the various theories or combination of theories you buy, it is unalloyed good news. But on the worst crime of all -- murder -- the media never ever bring up this minor detail about why it peaked in 1980:
In a study published in the journal Homicide Studies, [Criminologist Anthony Harris of the University of Massachusetts at Amherst] estimates that without advances in trauma care, there would have been 45,000 to 70,000 homicides nationwide in each of the past five years instead of 15,000 to 20,000.
That's from a 2002 Boston Globe story. Techniques developed by U.S. military doctors in the 1960s and 1970s in treating the badly wounded in Vietnam -- especially those with gunshot wounds to the torso -- gradually spread to the ERs of America.
I don't understand why this fact isn't front-and-center in crime reporting. When there are reports on declining incidence of heart disease, stories always discuss new drugs, treatments, etc. But reports on a declining murder rate carry the implication that we're just getting along better nowadays. Nope. The ER docs get the credit, not our sweeter dispositions.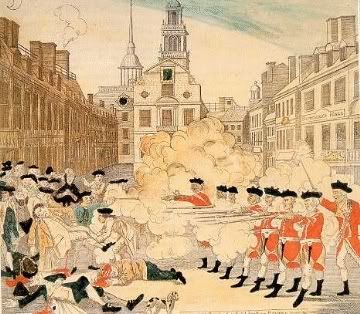 A Tale of Two Bostons
http://www.iboston.org/mcp.php?pid=taleOfTwoBostons
The history of Boston, Massachusetts, intertwines with the history of the United States. Boston is the capital of the Commonwealth of Massachusetts, and the historical center of New England.
Boston was not the first significant area of European settlement in Massachusetts - the Plymouth Colony of 1620 and Salem of 1626 preceded it. The first settlement in the immediate area of Boston was a short way across Boston Harbor at Charlestown. Boston's deep harbor and advantageous geographic position helped it to become the busiest port in the Massachusetts Bay Colony, eventually surpassing Plymouth and Salem. Until the 1760s, Boston was America's largest, wealthiest, and most influential city.
The history of Boston, Massachusetts, intertwines with the history of the United States. Boston is the capital of the Commonwealth of Massachusetts, and the historical center of New England.
http://en.wikipedia.org/wiki/History_of_Boston,_Massachusetts
Boston Timeline
http://www.mapreport.com/countries/boston.html
The Boston Massacre
The Boston Massacre was an incident involving the deaths of five American civilians by British troops on March 5, 1770, and its legal aftermath helped spark the American Revolutionary War. A tense situation due to a heavy British military presence in Boston boiled over to incite brawls between soldiers and civilians, and eventually led to troops discharging their muskets after being attacked by a rioting crowd, 5 civilians were killed as a result.
http://en.wikipedia.org/wiki/Boston_Massacre

Boston Massacre
http://www.americaslibrary.gov/cgi-bin/page.cgi/jb/revolut/boston_1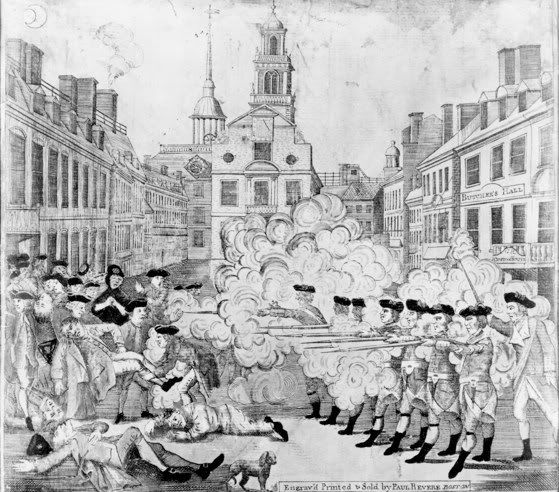 The Boston Massacre
http://americanhistory.about.com/od/revolutionarywar/a/boston_massacre.htm
The town of Boston was a very uneasy city throughout the 1760's. This uneasiness quickly turned to belligerence in the early part of 1770. Tensions had been mounting from the beginning of the year with various clashes between British sympathizers and colonists. However, in early March the tensions erupted into bloodshed.
On March 5, 1770 a small group of colonists were up to their usual sport of tormenting British soldiers. By many accounts there was a great deal of taunting that eventually lead to an escalation of hostilities. The sentry in front of the Custom House eventually lashed out at the colonists which brought more colonists to the scene. In fact, someone began ringing the church bells which usually signified a fire. The sentry called for help, setting up the clash which we now call the Boston Massacre.
A group of soldiers led by Captain Thomas Preston came to the rescue of the lone sentry.
Captain Preston and his detachment of seven or eight men were quickly surrounded. All attempts to calm the crowd proved useless. At this point, the accounts of the event vary drastically. Apparently, a soldier fired a musket into the crowd, immediately followed by more shots. This action left several wounded and five dead including an African-American named Crispus Attucks. The crowd quickly dispersed, and the soldiers went back to their barracks. These are the facts we do know. However, many uncertainties surround this important historical event:
* Did the soldiers fire with provocation?
* Did they fire on their own?
* Was Captain Preston guilty of ordering his men to fire into a crowd of civilians?
* Was he innocent and being used by men like Samuel Adams to confirm the oft-claimed tyranny of England?
The only evidence historians have to try and determine Captain Preston's guilt or innocence is the testimony of the eyewitnesses. Unfortunately, many of the statements conflict with each other and with Captain Preston's own account. We must try to piece together a hypothesis from these conflicting sources.
Part 2: Was Captain Preston to Blame?
Captain Preston's Account
* Captain Preston claimed he ordered his men to load their weapons.
* Captain Preston claimed he heard the crowd yelling fire.
* Captain Preston claimed they were attacked by heavy clubs and snowballs.
* Captain Preston claimed a soldier was hit by a stick and then fired.
* Captain Preston claimed the other soldiers fired in response to the colonist attack.
* Captain Preston claimed he reprimanded his men for firing into the crowd without orders.
Eyewitness Statements in Support of Captain Preston's Statement
* Witnesses including Peter Cunningham claimed they heard Captain Preston order his men to load their weapons.
* Witnesses including Richard Palmes claimed they asked Captain Preston if he intended to fire and he said no.
* Witnesses including William Wyatt claimed the crowd was calling for the soldiers to fire.
* Witnesses including James Woodall claimed they saw a stick thrown and hit a soldier, which prompted him to fire, quickly followed by several other soldiers.
* Witnesses including Peter Cunningham claimed an officer other than Preston was behind the men and that he ordered the soldiers to fire.
* Witnesses including William Sawyer claimed the crowd threw snowballs at the soldiers.
* Witnesses including Matthew Murray claimed they did not hear Captain Preston order his men to fire.
* William Wyatt claimed that Captain Preston reprimanded his men for firing into the crowd.
* Edward Hill claimed that Captain Preston made a soldier put away his weapon instead of allowing him to continue to shoot.
Eyewitness Statements Opposed to Captain Preston's Statement
* Witnesses including Daniel Calef claimed that Captain Preston ordered his men to fire.
* Henry Knox claimed the soldiers were hitting and pushing with their muskets.
* Joseph Petty claimed he did not see any sticks thrown at the soldiers until after the firing.
* Robert Goddard claimed he heard Captain Preston curse his men for not firing when ordered.
* Several soldiers including Hugh White claimed they heard the order to fire and believed they were obeying his commands.
The facts are unclear.
There is some evidence that seems to point to Captain Preston's innocence. Many people close to him did not hear him give the order to fire despite his order to load the muskets. In the confusion of a crowd throwing snowballs, sticks and insults at the soldiers, it would be easy for them to think they received an order to fire. In fact, as noted in the testimony, many in the crowd were calling them to fire. Because of the lack of evidence, it is not hard to see why the jury found Captain Preston innocent. The effect of this verdict was much greater than the Crown could ever have guessed. The leaders of the rebellion were able to use it as proof of Britain's tyranny. For example, Paul Revere created a famous engraving that he entitled, "The Bloody Massacre perpetrated in King Street". This was not the only instance of unrest and violence before the revolution, but the Boston Massacre is often pointed to as the event that presaged the Revolutionary War. Like the Maine, Lusitania, Pearl Harbor, and the Gulf of Tonkin, the Boston Massacre became the rallying cry for the patriots.
The Boston Strangler
The Boston Strangler is a name attributed to the murderer of several women in Boston, Massachusetts, United States, in the early 1960s. Though the crimes were attributed to Albert DeSalvo, investigators of the case have since suggested the murders (sometimes known as the silk stocking murders) were not the handiwork of one person.
http://en.wikipedia.org/wiki/Boston_Strangler
Victims
First Stage (1962)
* Anna E. Slesers, 55, sexually molested with unknown object and strangled with the cord on her bathrobe; found on June 14, 1962
* Mary Mullen, 85, died from a heart attack but in the confession was said to have collapsed as the strangler grabbed her; found on June 28, 1962
* Nina Nicols, 68, sexually molested and strangled with her nylon stockings; found on June 30, 1962
* Helen Blake, 65, sexually molested and strangled with her nylon stockings; found on June 30, 1962
* Ida Irga, 75, sexually molested and strangled; found on August 21, 1962
* Jane Sullivan, 67, sexually assaulted and strangled with her nylon stockings; found on August 30, 1962
Second Stage (1962-1964)
* Sophie Clark, 19, sexually assaulted and strangled with her nylon stockings; found on December 5, 1962
* Patricia Bissette, 23, sexually assaulted and strangled with her nylon stockings; found on December 31, 1962
* Mary Brown, 69, stabbed and beaten found on March 9, 1963
* Beverly Samans, 23, stabbed to death on May 8, 1963
* Evelyn Corbin, 58, sexually assaulted and strangled with her nylon stockings; found on September 6, 1963
* Joann Graff, 23, sexually assaulted and strangled on November 25, 1963
* Mary Sullivan, 19, sexually assaulted and strangled with dark stockings; found on January 4, 1964
The Boston Strangler
http://www.crimelibrary.com/serial_killers/notorious/boston/index_1.html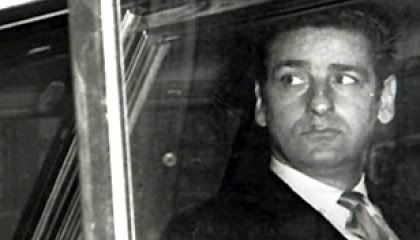 In 1964, Albert DeSalvo Admitted To Killing 13 Women
http://www.cbsnews.com/stories/2001/02/14/48hours/main272108.shtml
Over an 18-month period from 1962 to 1964, the city of Boston was terrorized by a serial killer, the infamous "Boston Strangler." But in 1964, Albert DeSalvo confessed to the brutal killings of 13 women, and authorities and the city at large breathed a collective sigh of relief, believing the killer was finally behind bars.
When he confessed, DeSalvo was a patient in a mental hospital, and his confession could not be used against him. With no evidence linking him to any of the 13 murders, DeSalvo was convicted of unrelated crimes and was sentenced to life in prison.
Now, 36 years later, 48 Hours reports that some investigators, as well as the family of one victim, are not sure that DeSalvo was the killer. They believe DeSalvo lied in his confession, and they want to force the state to open the case.
Diane Dodd, the sister of victim Mary Sullivan, says her instincts told her someone got away with murder. Now she and Albert DeSalvo's brother Richard are pushing the state to reopen the long dormant case.
They have many allies. Susan Kelly, author of The Boston Stranglers, believes DeSalvo fabricated the entire story. She concedes that his confession was accurate on many details but adds, "the newspapers were an excellent source of information - and it's very interesting to me that the details that Albert got wrong in his confession were identical to the details that the newspapers got wrong."
Kelly thinks several different perpetrators committed the murders.
Robert Ressler, a criminologist and former profiler for the FBI, also believes that it is unlikely that one person is responsible for all the Strangler murders. "You're putting together so many different patterns here that its inconceivable behaviorally that all these could fit one individual," says Ressler.
Despite the theories, without new evidence there is little chance the investigation will lead to answers. To gather that evidence, Dodd agreed to have her sister's body exhumed and re-examined. "This is the last resort. maybe there is something," says Dodd.
Forensics expert James Starrs led the team of independent scientists tha performed the second autopsy on Sullivan.
Although the body had deteriorated, they were able to extract several pieces of evidence that may lead to a positive identification of the killer. "The most promising evidence is a head hair from the pubic region," says Starrs. "We do not expect to find head hairs in the pubic region."
Starrs' autopsy also turned up something that may refute DeSalvo's statement that he strangled Mary Sullivan with his bare hands. Starrs found that the hyoid bone in Sullivan's neck was not broken. According to Starrs, that bone would likely have broken if Sullivan had been strangled by hand.
Attorneys Dan Sharp and Elaine Whitfield are helping the families sue the government on the grounds that biological evidence taken is personal property. The State of Massachusetts recently announced that it did find new evidence and will test it. So far the state has refused to share this new evidence, but the families want to be present when the testing is done.
Dodd hopes the newfound evidence can lead to an answer to 36 years of wondering. But she also knows she faces an uphill battle. If it never goes anywhere I'm going to be able to say at least I tried."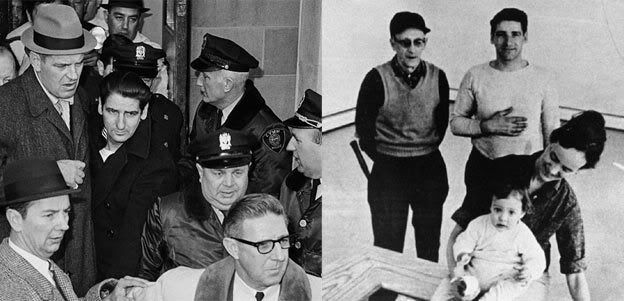 A Killer in the House
When Sebastian Junger was a baby, the Boston Strangler was working in his family's house. How's that for a perfect storm?
http://www.msnbc.msn.com/id/12114351/site/newsweek/page/0/
April 10, 2006 issue - You've done your usual thorough preparation before going to interview Sebastian Junger: you've put on a hoodie, work boots and sunglasses, and you've got a day's growth of beard. But here's Junger with about four days' growth, and his sunglasses (borrowed from his wife, he says) have these reddish lenses that make him look way scarier than you. You take a sidewalk table at the Half King, the low-key restaurant/bar he co-owns on West 23rd Street in Manhattan. He smokes. You've just quit. You talk chain saws: you both own Stihls, but he earned a living with his—and once he cut his leg so badly that he overheard the surgeon ask the nurse, "What do I do with this piece?" Better just roll the tape and ask your little questions.
Some folks—outmacho'd men, macho-averse women, best-seller-haters—still have an attitude about Junger. You'd think he moved all those copies of "The Perfect Storm"—his 1997 account of a fishing boat caught in weather from hell—just on the strength of his image as a Men's Journal roughneck. (Rather than, say, evocative storytelling and a gift for making the arcana of ship stability and wave dynamics fun to read.) True, those rock-star-with-chain-saw publicity photos didn't radiate high seriousness. The New York Observer attacked the book's accuracy and fairness. (While he seems to have been careless with some fact-checking, he's rebutted the graver accusations.) But Junger is a serious journalist—he refuses to call himself a "writer," much less an "author." And his new book, "A Death in Belmont," in stores April 18, ought to make skeptics give the guy a rethink. One reader (who just quit smoking) couldn't put it down for four hours—and then did so only because his flight had landed.
Here's the story. In 1962, when Junger was a baby, his mother, a painter, had a studio built onto the family house in the placid Boston suburb of Belmont, Mass. A family photo shows little Sebastian, his mom, the old carpenter and one Al, the carpenter's young assistant, in the just-completed room. Al, who'd often worked alone in the house with only Sebastian and his mother there, was Albert DeSalvo: the man who later confessed to being the Boston Strangler, who'd raped and murdered a dozen women from 1962 to '64. Junger's mother remembers Al's trying to get her to go down to the basement—something wrong with the washer, he said—and "the strange kind of burning in his eyes." At the time, she said nothing. (Later, DeSalvo said he'd lied about being the Strangler; he was murdered in prison in 1973.) While Al was at the Jungers', a Belmont woman named Bessie Goldberg was raped and strangled—though DeSalvo, even at his most publicity-hungry, would never admit to this murder.
The cops arrested Roy Smith, a black man from Mississippi with a long criminal record, who was cleaning the victim's house that day; her husband found her body not long after Smith left. He was sent up, and died of cancer in 1976; his sentence had been commuted for good behavior (and because of doubts about his guilt), but he was too sick to leave prison. Ultimately, Junger can't definitively exonerate Smith, or tag DeSalvo. But, he says, of all the Massachusetts judges and lawyers he consulted, "I couldn't find one who thought Roy was guilty. Not one."
This was hardly the book he'd started out to write. "I'd thought, 'There's this story in my family nobody knows. DeSalvo was in my parents' house and the black guy's obviously innocent.' This was journalistic catnip—I'm gonna prove the black guy's innocent. Every journalist wants to do that, right? Play detective? But after I read the trial transcript, and started to find out about Smith's past, I realized this guy actually could have done it. I almost felt betrayed by him. I'd find out something that made him look guilty and I'd say, 'Come on, I'm trying to help you here'." Junger thought his book was dead. In fact, he says now, it came to life. "I was on a jury once, a corrupt cop was on trial, and when the prosecutor spoke, the guy was guilty in my mind. Then, when the defense spoke, he was just this poor s.o.b. caught up in a sting. I would go back and forth five times a day. And I was, like, 'That's what I'm gonna do with my book.' And at the end, I'm not gonna tell 'em, and hopefully they'll torment themselves for decades."
We're interrupted by a waitress who hands Junger a fax: another good advance review, this one from Library Journal. So anyway, the ending. "I hope people will get to the end and not only be conflicted about Smith," he says, "but also be thinking more broadly about how we determine the things we can't know for sure. We do it privately, we do it on juries, weather forecasters do it, the military does it. The society's built on that sort of decision-making, and it's got to be rational, not emotional." But hold on: this book is going to be shelved under True Crime. Will readers hooked on the pleasures of guilt and comeuppance savor all this epistemology and ambiguity? "I'm rolling the dice on that," he says. "It better work, because there was no other choice."
Junger admits he tried to make the book reader-friendly with time-tested devices that make best sellers read like ... best sellers; he can even quote one chapter's cliffhanging last sentence from memory. The material, he argues, needed all the pizzazz he could scrape up. "Everyone knows the Boston Strangler: yawn. Nobody knows Roy Smith: yawn. It's 40 years ago. It takes place in Belmont. I felt I had to do everything I could to help the reader feel engaged and suspenseful. For instance, my chapters are really short. Another shameless technique? But this is some dry s--t. I read 3,000 pages of trial transcripts, 20 law books—it was a nightmare. Even the legal profession doesn't fully understand the legal profession." But thanks to a little shamelessness, a lot more tense and trick-free writing—and a hell of a story—nobody's going to be yawning.
Junger's still got to get through a 20-city tour: TV, print, "the whole food chain. I told them, 'I have a month. Do anything you want'." He'll probably spend time at his place on Cape Cod, then do what he did after "The Perfect Storm" changed his life: go reporting overseas. "It's been hard to sit out most of the last three years, doing my homework while my buddies are all out playin' in the street." Where? "It depends on what the world looks like in September. It might look a little different. I can't go to Iraq. I don't want to do that to my wife." Liberia? Well, fun is fun, but he was just there for Vanity Fair, and damn near got killed as an American spy. "My wife now has veto power, so I have to run things past her. I proposed Haiti, but she said, 'No, Haiti is not on the list'." This is journalism's rock-star roughneck talking? He sounds happy about it.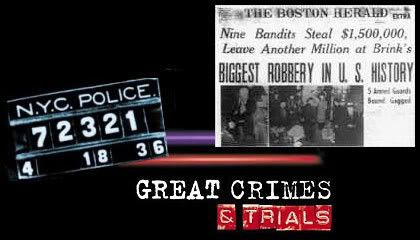 Great Brinks Robbery
The Great Brinks Robbery was an armed robbery of the Brinks Building in Boston,
Massachusetts on January 17, 1950.
The robbery resulted in the theft of $1,218,211.19 in cash, and over $1.5-million in checks, money orders and other securities. At the time, it was the largest robbery in the history of the United States. Skillfully executed with only a bare minimum of clues left at the crime scene, the robbery was billed as "the crime of the century". The robbery was the work of an eleven-member gang, all of whom were later arrested.
http://en.wikipedia.org/wiki/Great_Brinks_Robbery
Brinks Robbery
http://www.fbi.gov/page2/feb07/brinks020907.htm
The Great Brinks Robbery
http://crimemagazine.com/brinks.htm
On January 17, 1950, at 7:30 p.m., a group of armed robbers walked away from the Brinks Building, at 165 Prince Street in Boston, with $1,218,211.19 in cash and more than $1.5-million in checks, money orders and other securities.
It was a textbook robbery – the largest in U.S. history at the time. There had been seven robbers – all wearing Navy P-coats, gloves and caps, and Halloween masks. They wore rubbers and crepe-soled shoes.
The robbers said little and knew exactly what they were doing. They'd come through a series of locked doors to reach the second floor, where Brinks employees were counting and storing money.
The only evidence was a chauffeur's cap one of the robbers left behind, and the tape and rope they'd used to gag and tie up the employees. They also took four revolvers from the employees.
The Boston police rousted every known hoodlum in the city – and other American cities checked out their prominent criminals.
It was billed as the ''crime of the century'', as so many stunning, jaw-dropping crimes are. Brinks offered a $100,000 reward for information leading to the arrest and conviction of the robbers.
Ex-cons began to tell the FBI of conversations they'd heard in prison about plans to rob Brinks. They all turned out to be false. Other criminals, facing charges, volunteered to solve the crime if the FBI would only turn them loose.
While questioning people in the area of the Brinks building, the FBI learned that a 1949 green Ford stake body truck, with a canvas top, had been parked near the Prince Street door of Brinks around the time of the robbery.
On Feb. 5, 1950 some boys found several guns on a riverbank in Somerville, Mass. One of the guns had been taken from a Brinks employe during the robbery. A month later pieces of a green Ford stake body truck, cut up with a torch, were found in Stoughton, Mass. The truck had been stolen in Boston in November, 1949. Several suspects in the Brinks robbery lived in Stoughton.
Among the early suspects were a number of well-known robbers and criminals from the Boston area, such as Anthony Pino, Joseph McGinnis, Joseph ''Specs'' O'Keefe and Stanley Gusciora. A number of these suspects just happened to have alibis that involved them going somewhere at 7 p.m. the day of the robbery.
O'Keefe and Gusciora lived near Stoughton, and after the green Ford truck was found, they came under intense scrutiny.
In June, 1950, O'Keefe and Gusciora were arrested in Pennsylvania, with burglary loot (unrelated to the Brinks job) in their car. O'Keefe was sentenced to three years in the Bradford County Jail. Gusciora was acquitted in Bradford County, but convicted in McKean County, Pa., and sentenced to 5 to 20 years in the Western State Penitentiary at Pittsburgh.
Law enforcement kept hearing rumors that O'Keefe and Gusciora were putting pressure on Boston hoodlums for money to fight their convictions – among those frequently mentioned were Pino, McGinnis, Adolph ''Jazz'' Maffie and Henry Baker.
The FBI visited with O'Keefe and Gusciora, hoping they'd become bitter at their crime partners and talk, but both men claimed ignorance of the Brinks robbery.
A federal grand jury had hearings in late 1952, but issued a report the following January that said it lacked sufficient evidence to indict anyone. (Ten of the 11 men ultimately indicted had appeared before this first grand jury.)
The federal government tried to deport Pino, but he successfully fought deportation when the Supreme Court ruled on April 11, 1955, that a criminal conviction the government had tried to use against Pino ''had not attained such finality as to support an order of deportation.''
When O'Keefe finished his sentence in Towando, Pa., he was taken to McKean County to stand trial for burglary, larceny and receiving stolen goods, as Gusciora had done before him. O'Keefe also had a parole-violation detainer from Massachusetts, for carrying a concealed weapon in 1945.
In McKean County, O'Keefe was released on $17,000 bond. He returned to Boston and was released on bond in the probation-violation case.
On the streets, O'Keefe continued to try to get money from other suspects in the robbery, and he seemed bitter toward some of them.
O'Keefe returned to Pennsylvania for trial, was convicted, posted an appeal bond, and returned to Boston. Shortly afterward, Maffie was convicted for income-tax evasion and sentenced to nine months in a federal prison. Obviously, law enforcement was keeping pressure on the suspects.
On May 18, 1954, O'Keefe and a friend held Vincent Costa (related to Pino) hostage and demanded money. The FBI says a small ransom was paid and Costa was released. Afterward, Costa, O'Keefe and O'Keefe's friend all denied that any such event had occurred.
On June 5, 1954, as O'Keefe was driving in Dorchester, Mass., a car pulled along side of his and sprayed his car with bullets, but he escaped unharmed. Nine days later there was a shooting incident between O'Keefe and Baker, but again no one was hit. Two days after that, again in Dorchester, Mass., Elmer ''Trigger'' Burke – a professional hit man – was given the assignment to get rid of O'Keefe, and did a little better. Using a machine-gun, Burke managed to hit O'Keefe in the chest and wrist – but O'Keefe survived.
The next day (June17, 1954) Trigger Burke was arrested, charged with possession of a machine gun, which proved to be the one used to shoot ''Specs'' O'Keefe.
In August of 1954 O'Keefe was sentenced to 27 months in prison on the probation violation for carrying a concealed weapon. Later that same month, Trigger Burke escaped from jail with the help of outside friends – one of whom was strongly suspected to be Pino. After only a couple of days freedom, Burke was arrested in South Carolina and sent to New York, where he was convicted and executed for murder.
The friend who had helped O'Keefe hold Costa hostage disappeared, and was never found.
The FBI, suspecting that O'Keefe would be the weak link because there was a contract out on his life, continued to visit him in jail. Agents visiting him in October, 1954, noticed that the missing friend was bothering O'Keefe, and he suggested that Pino would be in trouble when O'Keefe was released from jail.
The FBI began to visit with O'Keefe more often and, finally, on Jan. 6, 1956, he cracked. ''All right,'' he said, ''what do you want to know.''
The Planning of the Brinks Robbery
In December, 1948, Brinks moved from Federal Street to 165 Prince Street in Boston. Almost immediately, the gang began laying new plans. The roofs of buildings on Prince and Snow Hill Streets soon were alive with inconspicuous activity as the gang looked for the most advantageous sites from which to observe what transpired inside the Brinks offices. Binoculars were used in this phase of the ''casing'' operation.
Before the robbery was carried out, all the participants were well acquainted with the Brinks' premises. Each of them had surreptitiously entered the premises on several occasions after the employees had left for the day. During their forays inside the building, members of the gang took the lock cylinders from five doors, including the one opening onto Prince Street. While some gang members remained in the building to ensure that no
one detected the operation, other members quickly obtained keys to fit the locks. Then the lock cylinders were replaced. (Investigation to substantiate this information resulted in the location of the proprietor of a key shop who recalled making keys for Pino on at least four or five evenings in the fall of 1949. Pino previously had arranged for this man to keep his shop open beyond the normal closing time on nights when Pino requested him to do so. Pino would take the locks to the man's shop, and keys would be made for them. This man subsequently identified locks from doors that the Brinks gang had entered as being similar to the locks that Pino had brought him. This man claimed to have no knowledge of Pino's involvement in the Brink's robbery.)
Each of the five lock cylinders was taken on a separate occasion. The removal of the lock cylinder from the outside door involved the greatest risk of detection. A passerby might notice that it was missing. Accordingly, another lock cylinder was installed until the original one was returned.
Inside the building, the gang members carefully studied all available information concerning Brinks' schedules and shipments. The casing operation was so thorough that the criminals could determine the type of activity taking place in the Brinks' offices by observing the lights inside the building, and they knew the number of personnel on duty at various hours of the day.
A few months prior to the robbery, O'Keefe and Gusciora surreptitiously entered the premises of a protective alarm company in Boston and obtained a copy of the protective plans for the Brinks building. After these plans were reviewed and found to be unhelpful, O'Keefe and Gusciora returned them in the same manner. McGinnis previously had discussed sending a man to the U.S. Patent Office in Washington, D.C., to inspect the patents on the protective alarms used in the Brinks building.
Considerable thought was given to every detail. When the robbers decided that they needed a truck, it was resolved that a new one must be stolen because a used truck might have distinguishing marks and possibly would not be in perfect running condition. Shortly thereafter – during the first week of November – a 1949 green Ford stake-body truck was reported missing by a car dealer in Boston.
During November and through mid-December, 1949, the robbers repeatedly practiced their approach to and getaway from the Brinks building. Once the dry runs were concluded, they felt ready to strike, but only if conditions at the Brinks building were optimal. To determine those conditions, Costa – equipped with a flashlight for signaling the other men – was stationed on the roof of a tenement building on Prince Street overlooking Brinks. From this lookout post, Costa could determine better than the men below whether conditions inside the building were favorable to the robbers.
During the six weeks preceding the robbery, they made approximately a half-dozen approaches to Brinks. On each occasion, the gang decided to postpone the robbery because conditions at Brinks were not optimal.
The last ''false'' approach took place on Jan. 16, 1950 – the night before the robbery.
The Brinks Robbery
At approximately 7 p.m. on January 17, 1950, members of the gang met in the Roxbury section of Boston and entered the rear of the Ford stake-body truck. Banfield, the driver, was alone in the front. In the back were Pino, O'Keefe, Baker, Faherty, Maffie, Gusciora, Michael Vincent Geagan, and Thomas Francis Richardson.
During the trip from Roxbury, Pino distributed Navy-type P-coats and chauffeur's caps to the other seven men in the rear of the truck. Each man also was given a pistol and a Halloween-type mask. Each carried a pair of gloves. O'Keefe wore crepe-soled shoes to muffle his footsteps; the others wore rubbers.
As the truck drove past the Brinks offices, the robbers noted that the lights were out on the Prince Street side of the building. This was in their favor. After continuing up the street to the end of the playground which adjoined the Brinks building, the truck stopped. All but Pino and Banfield stepped out and proceeded into the playground to await Costa's signal. (Costa, who was at his lookout post, previously had arrived in a Ford sedan which the gang had stolen from behind the Boston Symphony Hall two days earlier.)
After receiving the go-ahead signal from Costa, the seven armed men walked to the Prince Street entrance of Brinks. Using the outside door key they had previously obtained, the men quickly entered and donned their masks. The other keys in their possession enabled them to proceed to the second floor where they took the five Brinks employees there by surprise.
When the employees were securely bound and gagged, the robbers began looting the premises. During this operation, a pair of glasses belonging to one of the employees was unconsciously scooped up with other items and stuffed into a bag of loot. As this bag was being emptied later that evening, the glasses were discovered and destroyed by the gang.
The robbers' carefully planned routine inside Brinks was interrupted only when the attendant in the adjoining Brinks garage sounded the buzzer. Before the robbers could take him prisoner, the garage attendant walked away. Although the attendant did not suspect that the robbery was taking place, this incident caused the criminals to move more swiftly.
Before fleeing with the bags of loot, the seven armed men attempted to open a metal box containing the payroll of the General Electric Company. They had brought no tools with them, however, and were unsuccessful.
Immediately upon leaving, the gang loaded the loot into the truck, which was parked on Prince Street near the door. As the truck sped away with nine members of the gang – Costa departed in the stolen Ford sedan – the Brinks employees worked themselves free and reported the crime.
Banfield drove the truck to the house of Maffie's parents in Roxbury. The loot was quickly unloaded, and Banfield sped away to hide the truck. (Geagan, who was on parole at the time, left the truck before it arrived at the home in Roxbury. He was certain he would be considered a likely suspect and wanted to begin establishing an alibi immediately.) While the others stayed at the house to make a quick count of the loot, Pino and Faherty departed.
Approximately one and one-half hours later, Banfield returned with McGinnis. Prior to this time, McGinnis had been at his liquor store. He was not with the gang when the robbery took place.
The gang members who remained at the house of Maffie's parents soon dispersed to establish alibis for themselves. Before they left, however, approximately $380,000 was placed in a coal hamper and removed by Baker for security reasons. Pino, Richardson, and Costa each took $20,000, and this was noted on a score sheet.
Before removing the remainder of the loot from the house the next day, the gang members attempted to identify incriminating items. Extensive efforts were made to detect pencil markings and other notations on the currency that the criminals thought might be traceable to Brinks. Even fearing the new bills might be linked with the crime, McGinnis suggested a process for ''aging'' the new money ''in a hurry.''
On the night after the robbery, O'Keefe and Gusciora received $100,000 each from the loot. They put the entire $200,000 in the trunk of O'Keefe's car. Subsequently, O'Keefe left his car – and the $200,000 – in a garage on Blue Hill Avenue in Boston.
During the period immediately following the Brink's robbery, the heat was on O'Keefe and Gusciora. Thus, when O'Keefe and Gusciora were taken into custody by state authorities in late January, O'Keefe got word to McGinnis to recover his car and the $200,000 that it contained.
A few weeks later, O'Keefe retrieved his share of the loot. It was given to him in a suitcase that was transferred to his car from an automobile occupied by McGinnis and Banfield. Later, when he counted the money, he found he had been shortchanged $2,000.
O'Keefe had no place to keep so large a sum of money. He would later tell the interviewing agents that he trusted Maffie so implicitly that he gave the money to him for safe keeping. Except for $5,000 that he took before placing the loot in Maffie's care, O'Keefe angrily stated, he was never to see his share of the Brinks money again. While Maffie claimed that part of the money had been stolen from its hiding place and that the remainder had been spent in financing O'Keefe's legal defense in Pennsylvania, other gang members accused Maffie of blowing the money O'Keefe had entrusted to his care.
O'Keefe was bitter about a number of matters. First, there was the money. Then, there was the fact that so much ''dead wood'' had been included – McGinnis, Banfield, Costa, and Pino were not in the building when the robbery took place. O'Keefe was enraged that the pieces of the stolen Ford truck had been placed on the dump near his home, and he generally regretted having become associated at all with several members of the gang.
Before the robbery was committed, the participants had agreed that if anyone ''muffed,'' he would be ''taken care of.'' O'Keefe felt that most of the gang members had ''muffed.'' Talking to the FBI was his way of taking care of them all.
Arrests and Indictments
On Jan. 11, 1956, the U.S. attorney at Boston authorized special agents of the FBI to file complaints charging the 11 criminals with (1) conspiracy to commit theft of government property, robbery of government property, and bank robbery by force and violence and by intimidation, (2) committing bank robbery on Jan. 17, 1950, and committing an assault on Brinks' employees during the taking of the money, and (3) conspiracy to receive and conceal money in violation of the Bank Robbery and Theft of Government Property Statutes. In addition, McGinnis was named in two other complaints involving the receiving and concealing of the loot.
FBI agents arrested six members of the gang –Baker, Costa, Geagan, Maffie, McGinnis, and Pino – on Jan. 12, 1956. They were held in lieu of bail which, for each man, amounted to more than $100,000.
Three of the remaining five gang members were previously accounted for: O'Keefe and Gusciora were in prison on other charges and Banfield was dead. Faherty and Richardson fled to avoid apprehension and subsequently were placed on the list of the FBI's ''Ten Most Wanted Fugitives.'' Their success in evading arrest ended abruptly on May 16, 1956, when FBI agents raided the apartment in which they were hiding in Dorchester, Mass. At the time of their arrest, Faherty and Richardson were rushing for three loaded revolvers that they had left on a chair in the bathroom of the apartment. The hideout also was found to contain more than $5,000 in coins. (The arrests of Faherty and Richardson also resulted in the indictment of another Boston hoodlum, as an accessory after the fact).
As a cooperative measure, the information gathered by the FBI in the Brinks investigation was made available to the district attorney of Suffolk County, Mass. On Jan. 13, 1956, the Suffolk County Grand Jury returned indictments against the 11 members of the Brink's gang. O'Keefe was the principal witness to appear before the state grand jurors.
Part of the Loot Recovered
Despite the arrests and indictments in January, 1956, more than $2,775,000, including $1,218,211.29 in cash, of the loot was still missing. O'Keefe did not know where the gang members had hidden their shares of the take or where they had disposed of the money if, in fact, they had disposed of their shares. The other gang members would not talk.
Early in June, 1956, however, an unexpected break developed. At approximately 7:30 p.m. on June 3, 1956, the operator of an amusement arcade approached an officer of the Baltimore, Md., Police Department. ''I think a fellow just passed a counterfeit $10 bill on me,'' he told the officer.
In examining the bill, a Federal Reserve note, the officer observed that it was in musty condition. The amusement arcade operator told the officer that he had followed the man who passed this $10 bill to a nearby tavern. This man, subsequently identified as a small-time Boston underworld figure, was located and questioned. While the officer and amusement arcade operator were talking to him, the man reached into his pocket, quickly withdrew his hand again and covered his hand with a raincoat he was carrying. Two other Baltimore police officers who were walking along the street nearby noted this maneuver. One of these officers quickly grabbed the man's hand, and a large roll of money fell from it.
The man was taken to police headquarters where a search of his person disclosed he was carrying more than $1,000, including $860 in musty, worn bills. A Secret Service agent, who had been summoned by the Baltimore officers, arrived while the man was being questioned at police headquarters. The agent examined the money and then certified that it was not counterfeit.
The Boston man told the officers that he had found this money. He claimed there was a large roll of bills in his hotel room and that he had found that money, too. He explained that he was in the contracting business in Boston and that in late March or early April, 1956, he stumbled upon a plastic bag containing this money while he was working on the foundation of a house.
A search of the man's hotel room (registered to him under an assumed name) netted another $3,780 in bills, which the officers took to police headquarters. The details of this incident were furnished to the Baltimore Field Office of the FBI. Much of the money appeared to have been stored a long time. When the FBI checked a few of the serial numbers of these bills against serial numbers of bills known to have been included in the Brinks loot, it was determined that the Boston criminal possessed part of the money that had been heisted by the seven masked gunmen on Jan. 17, 1950. Of the $4,822 found in Boston man's possession, FBI Agents identified $4,635 as money taken by the Brinks robbers.
During interviews on June 3 and 4, 1956, the 31-year-old Boston man disclosed that he had a record of arrests and convictions dating back to his teens. He said that he had been conditionally released from a Federal prison camp less than a year before after having served slightly more than two years of a three-year sentence for the interstate transport of a bogus security. At the time of his arrest, there also was a charge of armed robbery outstanding against him in Massachusetts.
During questioning by the FBI, the man stated that he was in business as a mason contractor with another man on Tremont Street in Boston. He advised that he and his associate shared office space with an individual known to him only as ''Fat John.'' He said that on the night of June 1, 1956, ''Fat John'' asked him to rip a panel from a section of the wall in the office; and when the panel was removed, ''Fat John'' reached into the opening and removed the cover from a metal container. Inside this container were packages of bills that had been wrapped in plastic and newspapers. ''Fat John'' announced that each of the packages contained $5,000. ''This is good money,'' he said, ''but you can't pass it around here in Boston.'' He said ''Fat John'' subsequently told him that the money was part of the Brinks loot and offered him $5,000 if he would ''pass'' $30,000 of the bills.
The Boston hoodlum told FBI Agents in Baltimore that he accepted six of the packages of money from ''Fat John.'' The following day (June 2, 1956), he left Massachusetts with $4,750 of these bills and began passing them. He arrived in Baltimore on the morning of June 3 and was picked up by the Baltimore Police Department that evening.
The full details of this important development were immediately furnished to the FBI Office in Boston. ''Fat John'' and the business associate of the man arrested in Baltimore were located and interviewed on the morning of June 4, 1956. Both denied knowledge of the loot which had been recovered. That same afternoon (following the admission that ''Fat John'' had produced the money and had described it as proceeds from the Brinks robbery), a search warrant was executed in Boston covering the Tremont Street offices occupied by the three men. The wall partition described by the Boston criminal was located in ''Fat John's'' office, and when the partition was removed, a picnic-type cooler was found. This cooler contained more than $57,700, including $51,906 which was identifiable as part of the Brinks loot.
The discovery of this money in the Tremont Street offices resulted in the arrests of both ''Fat John'' and the business associate of the criminal who had been arrested in Baltimore. Both men remained mute following their arrests. On June 5 and June 7, the Suffolk County Grand Jury returned indictments against the three men, charging them with several state offenses involving their possession of money obtained in the Brinks robbery.
(Following pleas of guilty in November, 1956, ''Fat John'' received a two-year sentence, and the other two men were sentenced to serve one year's imprisonment.)
(After serving his sentence, ''Fat John'' resumed a life of crime. On June 19, 1958, while out on appeal in connection with a five-year narcotics sentence, he was found shot to death in a car which had crashed into a truck in Boston.)
The money inside the cooler was wrapped in plastic and newspaper. Three of the newspapers used to wrap the bills were identified. All had been published in Boston between December 4, 1955, and February 21, 1956. The FBI also succeeded in locating the carpenter who had remodeled the offices where the loot was hidden. His records showed that he had worked on the offices early in April, 1956, under instructions of ''Fat John.'' The loot could not have been hidden behind the wall panel prior to that time.
Because the money in the cooler was in various stages of decomposition, an accurate count proved difficult. Some of the bills were in pieces. Others fell apart as they were handled. Examination by the FBI Laboratory subsequently disclosed that the decomposition, discoloration, and matting together of the bills were due, at least in part, to the fact that all of the bills had been wet. It was positively concluded that the packages of currency had been damaged prior to the time they were wrapped in the pieces of newspaper; and there were indications that the bills previously had been in a canvas container that was buried in ground consisting of sand and ashes. In addition to mold, insect remains also were found on the loot.
Even with the recovery of this money in Baltimore and Boston, more than $1,150,000 of currency taken in the Brinks robbery remained unaccounted for.
Death of Gusciora
The recovery of part of the loot was a severe blow to the gang members who still awaited trial in Boston. Had any particles of evidence been found in the loot that might directly show that they had handled it? This was a question that preyed heavily upon their minds.
In July, 1956, another significant turn of events took place. Stanley Gusciora, who had been transferred to Massachusetts from Pennsylvania to stand trial, was placed under medical care due to weakness, dizziness, and vomiting. On the afternoon of July 9, a clergyman visited him. During this visit, Gusciora got up from his bed, and, in full view of the clergyman, slipped to the floor, striking his head. Two hours later he was dead. Examination revealed the cause of his death to be a brain tumor and acute cerebral edema.
O'Keefe and Gusciora had been close friends for many years. When O'Keefe admitted his part in the Brinks robbery to FBI agents in January, 1956, he told of his high regard for Gusciora. As a government witness, O'Keefe reluctantly would have testified against him. With Gusciora's passing, O'Keefe was all the more determined to see that justice would be done.
Trial of Remaining Defendents
With the death of Gusciora, only eight members of the Brinks gang remained to be tried. (On Jan. 18, 1956, O'Keefe had pleaded guilty to the armed robbery of Brinks.) The trial of these eight men began on the morning of August 6, 1956, before Judge Feliz Forte in the Suffolk County Courthouse in Boston. The defense immediately filed motions intended to delay or prevent the trial. All were denied. The impaneling of the jury began on Aug. 7.
In the succeeding two weeks, nearly 1,200 prospective jurors were eliminated as the various defense counsels used their 262 peremptory challenges. Another week passed – and approximately 500 more citizens were considered – before the 14-member jury was assembled.
More than 100 persons took the stand as witnesses for the prosecution and the defense during September, 1956. The most important of these, ''Specs'' O'Keefe, carefully recited the details of the crime, clearly spelling out the role played by each of the eight defendants.
At 10:25 p.m. on October 5, 1956, the jury retired to weigh the evidence. Three and one-half hours later, the verdict had been reached. All were guilty.
Judge Forte on Oct. 9, 1956, Pino, Costa, Maffie, Geagan, Faherty, Richardson sentenced the eight men, and Baker received life sentences for robbery, two-year sentences for conspiracy to steal, and sentences of eight years to 10 years for breaking and entering at night. McGinnis, who had not been at the scene on the night of the robbery, received a life sentence on each of eight indictments that charged him with being an accessory before the fact in connection with the Brinks robbery. In addition, McGinnis received other sentences of two years, two and one-half to three years, and eight to 10 years.
While action to appeal the convictions was being taken on their behalf, the eight men were removed to the State prison at Walpole, Mass. From their prison cells, they carefully followed the legal maneuvers aimed at gaining them freedom.
The record of the state trial covered more than 5,300 pages. The defense counsel in preparing a 294-page brief that was presented to the Massachusetts State Supreme Court used it. After weighing the arguments presented by the attorneys for the eight convicted criminals, the State Supreme Court turned down the appeals on July 1, 1959, in a 35-page decision written by the chief justice.
On November 16, 1959, the United States Supreme Court denied a request of the defense counsel for a writ of certiorari.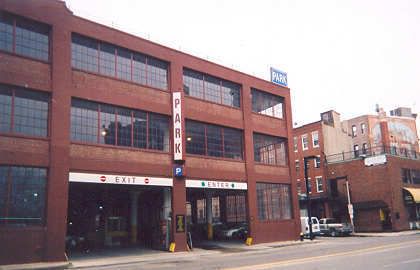 THE BRINKS JOB, 1950
http://www.time.com/time/2007/crimes/6.html
A gang of 11 men set out on a meticulous 18-month quest to rob the Brinks headquarters in Boston, the home-base of the legendary private security firm. The planning and practice had a military intensity to them; the attention to detail -- including the close approximation of the uniform of the Brinks' guards -- was near genius. It all came off without a hitch: the perfect crime of the century. And the haul was astonishing: more than $1.2 million in cash and $1.5 million in checks and securities, the biggest heist at that time in American history. But while the plan was perfect, the participants proved to be all too human. Even as the authorities spent years trying to figure out who was behind the "great Brinks robbery," the 11 were falling out among themselves. Eventually, someone associated with the mob allegedly hired a hit man to kill Joseph "Specs" O'Keefe, a gangmember who had been grousing that he had been cheated of his proper share of the robbery. At that point, O'Keefe -- wounded in the attempted rub-out -- decided to talk to the FBI. By 1957, most of the gang had been sentenced to life in prison, except for O'Keefe who got four years. None would account for the bulk of the stolen funds. To this day, no one has found the money.
1-31-07 Bomb Scare
The January 31, 2007 Boston Mooninite scare (Boston advertising security scare, Aqua-Gate, or Boston bomb scare) occurred when Boston police officers mistakenly identified small electronic devices found throughout Boston and the surrounding cities of Cambridge and Somerville as improvised explosive devices.[1] The devices turned out to be battery-powered LED placards with an image of a cartoon character called a "mooninite". The placards were part of a guerrilla marketing campaign for Aqua Teen Hunger Force Colon Movie Film for Theaters, a film based on the animated TV series Aqua Teen Hunger Force (ATHF) on Cartoon Network's Adult Swim late-night programming block.
http://en.wikipedia.org/wiki/2007_Boston_Mooninite_scare
Guerrilla Marketing Causes Boston Bomb Scare
http://www.marketingvox.com/archives/2007/02/01/guerilla-marketing-causes-boston-bomb-scare/
Viral marketing campaigns are designed to cause an uproar, to get people talking and interested about the marketing itself. Sometimes, they work too well.
Turner's Cartoon Network apparently took it too far when a series outdoor installations consisting of circuit boards to promote its Aqua Teen Hunger Force caused major bridge and subway closings, according to MarketWatch. The bomb squad even detonated one installation that was near a subway stop.
The campaign is currently running in 10 cities and is aimed at promoting the show, which is part of its late-night block of programming targeting men 18-34, reports All Headline News.
The guerilla marketing campaign was orchestrated by Interference Inc. to promote the program - part of Adult Swim - according to the MarketingProfs Daily Fix, which adds that Boson artist Peter Berdovsky, hired by Interference, was arrested for having hidden 38 circuit boards featuring "Mooninites" - little LED-lit guys (with their middle fingers pointing up).
Meanwhile, the answers that the authorities were seeking all day had been online for more than two weeks: "Boston officials could have avoided the emergency response drill if they only read bloggers or trolled Flickr," according to the Daily Fix.
Apparently, interactive Designer Todd Vanderlin found one of the little guys on a Boston bridge two weeks ago - and grabbed it to sell on eBay. He uploaded photos to Flickr on January 15.
Boston Mayor Thomas Menino said whoever planted the objects could face "two to five" years in prison for each device.
Aqua Teen Hunger Force Boston Bomb Scare
Two held after ad campaign triggers Boston bomb scare
http://www.cnn.com/2007/US/01/31/boston.bombscare/
Authorities have arrested two men in connection with electronic light boards depicting a middle-finger-waving moon man that triggered repeated bomb scares around Boston on Wednesday and prompted the closure of bridges and a stretch of the Charles River.
Meanwhile, police and prosecutors vented their anger at Turner Broadcasting System Inc., the parent company of CNN, which said the battery-operated light boards were aimed at promoting the late-night Adult Swim cartoon "Aqua Teen Hunger Force."
Boston officials condemned Turner for not taking proper steps to end the bomb scares earlier and for not issuing an adequate apology to the city. (Watch how the scare unfolded Video)
Turner Broadcasting said in written statements the devices had been placed around Boston and nine other cities in recent weeks as part of a guerrilla marketing campaign to promote the show.
"We apologize to the citizens of Boston that part of a marketing campaign was mistaken for a public danger," Phil Kent, CEO and chairman of Turner Broadcasting System Inc., said in one of two statements issued by the company.
"As soon as we realized that an element of the campaign was being mistaken for something potentially dangerous, appropriate law enforcement officials were notified and through federal law enforcement channels, we identified the specific locations of the advertisements in all 10 cities in which they are posted. We also directed the third-party marketing firm who posted the advertisements to take them down immediately."
Peter Berdovsky, 27, a freelance video artist from Arlington, Massachusetts, and Sean Stevens, 28, were facing charges of placing a hoax device in a way that results in panic, as well as one count of disorderly conduct, said Massachusetts Attorney General Martha Coakley. The hoax charge is a felony, she said. Both men were arrested Wednesday evening.
According to his Web site, Berdovsky is a graduate of the Massachusetts College of Art and a founding member of a video artists group called Glitch who goes by the nickname "Zebbler" and sings in a band called "Superfiction."
Authorities believe Berdovsky was "in the employ of other individuals" as part of the marketing campaign, Coakley said. "How exactly this was executed, we are still investigating." Berdovsky is scheduled for arraignment at 9 a.m. Thursday in Charlestown District Court.
Adult Swim shares channel space with Cartoon Network, another Turner enterprise, but the adult-themed network is a separate entity.
Wednesday evening, Cartoon Network was running a statement during commercial breaks, expressing deep regret for "the hardships experienced as a result of this incident."
The devices displayed a "Mooninite" -- an outer-space delinquent who makes frequent appearances on the cartoon -- greeting passersby with an upraised middle finger. But the discovery of nine of the light boards around Boston and its suburbs sent bomb squads scrambling throughout the day, snarling traffic and mass transit in one of the largest U.S. cities.
"It had a very sinister appearance," Coakley told reporters. "It had a battery behind it, and wires."
The statement from Kent said Turner Broadcasting deeply regrets "the hardships experienced as a result of this incident." (Read the full statement)
Mayor calls situation 'outrageous'
But Coakley, Boston Mayor Thomas Menino and others said the statement offering an apology was not enough, and did not rule out criminal charges or a civil suit to recover the estimated hundreds of thousands of dollars it cost the city to respond to the bomb scares.
Menino told reporters he received a call from a Turner spokesperson about 9 p.m. but had not yet returned it. "I think the city deserves a call, not from a press person, but from somebody in the corporate structure of Turner," he said.
"I just think this is outrageous, what they've done ... It's all about corporate greed."
He and Coakley said Turner did not give authorities the locations of the devices and said they learned the devices were Turner's when the company sent a fax to City Hall at 5 p.m.
Officials believe there are 38 throughout the Boston area, and 14 had been recovered as of 9 p.m., Coakley said. "We heard nothing official from the people who could have resolved this earlier."
Some of the devices were placed on private property, she said, which "raises a lot of questions about, at the very least, the responsibility of anybody who would do this."
Asked about whether Massachusetts authorities would have the jurisdiction to arrest people out of state, Coakley said she believed they would if the offenses took place in Massachusetts. Turner Broadcasting's headquarters is in Atlanta, Georgia.
Boston Police Commissioner Edward Davis called it "unconscionable" that the marketing campaign was executed in a post 9/11 era. "It's a foolish prank on the part of Turner Broadcasting," he said. "In the environment nowadays ... we really have to look at the motivation of the company here and why this happened."
Earlier, Boston police spokeswoman Elaine Driscoll called Wednesday's incidents "a colossal waste of money."
The discovery of the light boards led state, local and federal authorities to close the Boston University and Longfellow Bridges and block boat traffic from the Charles River to Boston Harbor. In addition, the Pentagon said U.S. Northern Command was monitoring the situation from its headquarters in Colorado Springs, Colorado, but said none of its units were dispatched to assist.
The first device reported was at the Sullivan Square commuter rail station, near the suburb of Somerville, Wednesday morning. Wednesday afternoon, four other devices were reported -- near the Longfellow and Boston University bridges over the Charles, at New England Medical Center and near the intersection of Stuart and Columbus avenues in the city itself, and four more turned up over the course of the day.
Rep. Ed Markey, a Boston-area congressman, said, "Whoever thought this up needs to find another job."
"Scaring an entire region, tying up the T and major roadways, and forcing first responders to spend 12 hours chasing down trinkets instead of terrorists is marketing run amok," Markey, a Democrat, said in a written statement. "It would be hard to dream up a more appalling publicity stunt."
Turner Broadcasting said the devices had been in place for two to three weeks in Boston; New York; Los Angeles, California; Chicago, Illinois; Atlanta, Georgia; Seattle, Washington; Portland, Oregon; Austin, Texas; San Francisco, California; and Philadelphia, Pennsylvania.
A Turner source said the displays were a component of a third-party advertising campaign conducted by a New York advertising firm, Interference Inc., which had no comment on the incident.
Boston Ad Prank Suspect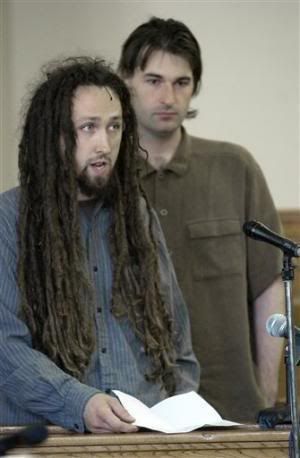 Publicity Stunt Suspects Released
2 Men Accused Of Putting Electronic Ads For Cartoon Around Boston Prompting Scare
http://www.cbsnews.com/stories/2007/02/01/national/main2420426.shtml
Two men who authorities say placed electronic advertising around the city were released from jail Thursday, apparently amused with the publicity stunt that stirred fears of terrorism and shut down parts of the city.
Peter Berdovsky, 27, and Sean Stevens, 28, were released on $2,500 cash bond after each pleaded not guilty to placing a hoax device and disorderly conduct for placing an ad found Wednesday at a subway station. They waved and smiled as they greeted people in court.
Outside, they met reporters and television cameras and launched into a nonsensical discussion of hair styles of the 1970s. "What we really want to talk about today — it's kind of important to some people — it's haircuts of the 1970s," Berdovsky said.
Officials found 38 blinking electronic signs promoting the Cartoon Network TV show "Aqua Teen Hunger Force" on bridges and other high-profile spots across the city Wednesday, prompting the closing of a highway and the deployment of bomb squads. The surreal series is about a talking milkshake, a box of fries and a meatball. The network is a division of Turner Broadcasting Systems Inc.
The 1-foot tall signs, which were lit up, resembled a circuit board, with protruding wires and batteries. Most depicted a boxy, cartoon character giving passersby the finger — a more obvious sight when darkness fell.
"It's clear the intent was to get attention by causing fear and unrest that there was a bomb in that location," Assistant Attorney General John Grossman said at their arraignment.
Berdovsky posted video on the Web of him placing the devices around Boston, reported The Early Show correspondent Joie Chen.
The devices were planted in nine other cities, but with far less dramatic results. New York, Los Angeles, Chicago, Atlanta, Seattle, Portland, Ore., Austin, Texas, San Francisco and Philadelphia all had the devices for the past few weeks, Chen reported.
Chicago police said Thursday they questioned two men who posted 20 electronic advertising devices around Chicago as part of the nationwide publicity ploy.
Police Superintendent Phil Cline says the two men haven't been charged. They were both released after questioning.The signs were recovered yesterday from locations around Chicago, including CTA trains, elevated platforms and storefronts
In the Boston case, the men did not speak or enter their own pleas, but they appeared amused and smiled as the prosecutor talked about the device found at Sullivan Station underneath Interstate 93, looking like it had C-4 explosive.
"The appearance of this device and its location are crucial," Grossman said. "This device looks like a bomb."
Some in the gallery snickered.
Outside the courthouse, Michael Rich, a lawyer for both of the men, said the description of a bomb-like device could be used for any electronic device.
"If somebody had left a VCR on the ground it would have been a device with wires, electronic components and a power source," he said.
Boston officials were livid when the devices were discovered.
"It is outrageous, in a post 9/11 world, that a company would use this type of marketing scheme," Mayor Thomas Menino said Wednesday. "I am prepared to take any and all legal action against Turner Broadcasting and its affiliates for any and all expenses incurred during the response to today's incidents."
Berdovsky, an artist, told The Boston Globe he was hired by a marketing company and said he was "kind of freaked out" by the furor.
"I find it kind of ridiculous that they're making these statements on TV that we must not be safe from terrorism, because they were up there for three weeks and no one noticed. It's pretty commonsensical to look at them and say this is a piece of art and installation," he said.
Fans of the show mocked authorities for what they called an overreaction.
About a dozen fans gathered outside Charlestown District Court on Thursday morning with signs saying "1-31-07 Never Forget" and "Free Peter."
"We're the laughing stock," said Tracy O'Connor, 34.
"It's almost too easy to be a terrorist these days," said Jennifer Mason, 26. "You stick a box on a corner and you can shut down a city."
Authorities vowed to hold Turner accountable for what Menino said was "corporate greed," that led to at least $750,000 in police costs.
As soon as Turner realized the Boston problem around 5 p.m., it said, law enforcement officials were told of their locations in 10 cities where it said the devices had been placed for two to three weeks: Boston, New York, Los Angeles, Chicago, Atlanta, Seattle, Portland, Ore., Austin, Texas, San Francisco and Philadelphia.
"We apologize to the citizens of Boston that part of a marketing campaign was mistaken for a public danger," said Phil Kent, chairman of Turner, a division of Time Warner Inc.
Kent said the marketing company that placed the signs, Interference Inc., was ordered to remove them immediately.
Interference had no comment. A woman who answered the phone at the New York-based firm's offices Wednesday afternoon said the firm's CEO was out of town and would not be able to comment until Thursday.
Messages seeking additional comment from the Atlanta-based Cartoon Network were left with several publicists.
Authorities are investigating whether Turner or other companies should be criminally charged, Attorney General Martha Coakley said. "We're not going to let this go without looking at the further roots of how this happened to cause the panic in this city," Coakley said.
In Seattle and several suburbs, the removal of the signs was low-key. "We haven't had any calls to 911 regarding this," Seattle police spokesman Sean Whitcomb said Wednesday.
Police in Philadelphia said they believed their city had 56 devices.
The New York Police Department removed 41 of the devices — 38 in Manhattan and three in Brooklyn, according to spokesman Paul Browne. The NYPD had not received any complaints. But when it became aware of the situation, it contacted Cartoon Network, which provided the locations so the devices could be removed.
"Aqua Teen Hunger Force" is a cartoon with a cultish following that airs as part of a block of programs for adults on the Cartoon Network. A feature length film based on the show is slated for release March 23.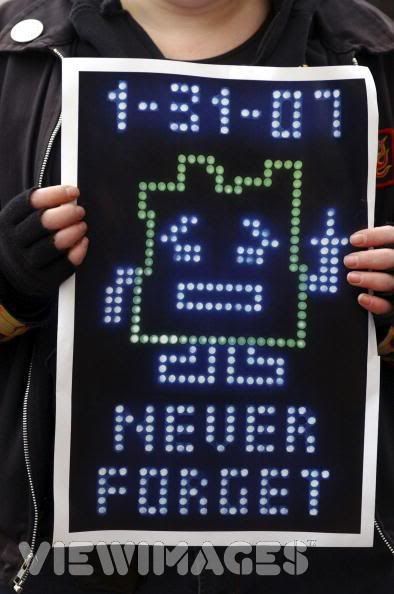 Fenway | Kenmore Neighborhoorhood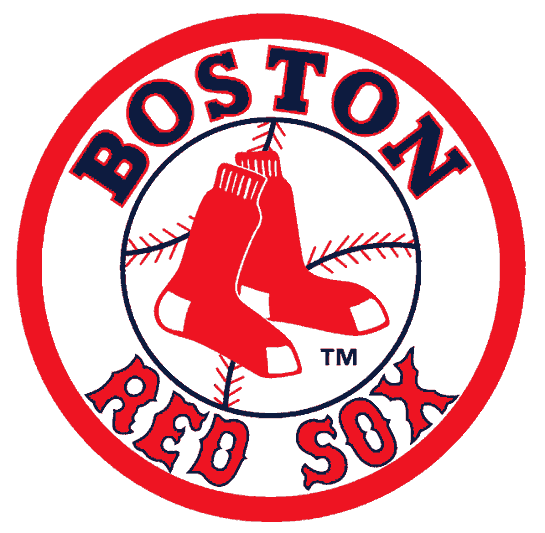 Boston Red Sox
The Boston Red Sox are a Major League Baseball team based in Boston, Massachusetts.
The team is a charter member of the American League East Division. They play home games at Fenway Park, which opened on April 20, 1912, making it the oldest major league ballpark still in operation. The Red Sox won the first World Series as the Boston Americans in 1903 against the Pittsburgh Pirates. They won their most recent World Series championship in 2004, after an 86-year interval.
The Yankees-Red Sox Rivalry is one of the longest standing and most storied rivalries in North American sports.
http://en.wikipedia.org/wiki/Boston_Red_Sox
The Boston Red Sox Historical Timeline
http://pubpages.unh.edu/~tgoday/pages/historical.html
1912
Fenway Park opened its gates in April of 1912, when the Sox moved from Huntington Avenue Grounds to Fenway. Fenway was built specifically for the Boston Red Sox.
1914
The Red Sox purchased 19 year-old George Herman "Babe" Ruth from the Baltimore Orioles. He started his career as a left handed pitcher, but eventually moved
to the outfield.
1918
Defeating the Chicago Cubs, the Sox won their 4th World Series in seven years. Previous years were 1912, 1915, and 1916.
1920
The Red Sox sold Babe Ruth to the New York Yankees.
1933
Tom Yawkey became the owner of the Sox when he bought the ballclub in 1933. He spent the next four decades building a successful franchise.
1934-1964
During this time many Red Sox household names were brought into the club.
* 1934: Lefty Grove
* 1935: Joe Cronin
* 1936: Jimmy Foxx
* 1937: Bobby Doerr
* 1939: Ted Williams
* 1942: Johnny Pesky
* 1947: Mel Parnell
* 1961: Carl Yastremski
* 1963: Rico Petrocelli
* 1964: Tony Conigliaro
1967
"The Impossible Dream" team. Behind Yastremski, the Sox won their first pennant in 21 years. Yaz held the team on his back with many clutch hits and plays in the field.
The Sox would have eventually gone on to lose the World Series that year.
1969-1974
More Red Sox household names were brought in.
* 1969: Carlton Fisk
* 1971: Luis Tiant
* 1972: Fred Lynn
* 1972: Jim Rice
1975
Carlton Fisk makes history in the '75 World Series. In the famous game 6 at Fenway Park between the Sox and Cincinnati's "Big Red Machine", Carlton Fisk hit his famous home run.
In the bottom of the 8th, with 2 outs and losing 6-3, Fisk came to bat. Fisk danced down the first baseline, begging the ball to stay fair
by waving his arms towards fair territory. The ball was fair and the Sox won game 6. However, they would go on to lose game 7.
1978
In a one-game playoff game between the Sox and Yankees at Fenway Park, Bucky Dent hit a 3-run homerun in the top of the 7th to end the Red Sox '78 season.
1986
One out away from winning the World Series, Bill Buckner let a ground ball go between his legs that eventually led to a Red Sox loss and a loss on the series.
1996
Roger Clemons tied his Major League record by recording 20 strikeouts against the Tigers on September 18. This would also be the "Rocket's" last season.
1997
Nomar Garciaparra was Rookie of the Year with a .306 avg, 209 hits, 44 doubles, 11 triples, 30 homeruns, and 98 RBIs.
1998
Pedro Martinez is acquired and the Red Sox producted their first 90-win season since 1996.
2001
Manny Ramirez signs with the Red Sox
2002
John Henry, Tom Werner and Larry Lucchino took of the club. The Sox went 93-69, but missed the playoffs.
2004
The Red Sox won their first World Series Championship in 86 years. Manny Ramirez was named MVP of the series.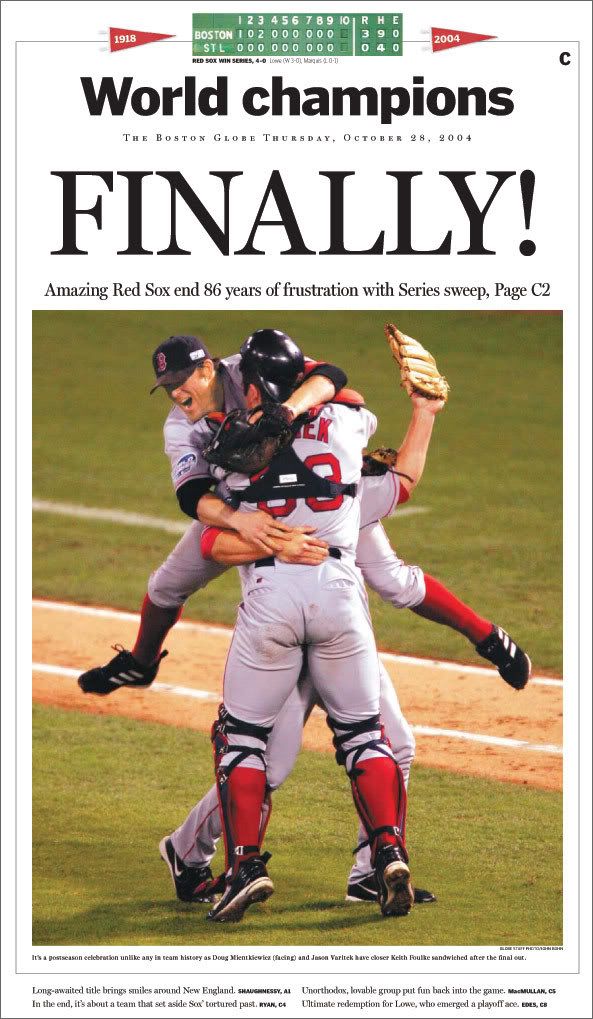 Finally! Red Sox win World Series
http://www.usatoday.com/sports/baseball/playoffs/2004-10-27-ws-game4_x.htm
ST. LOUIS — The Boston Red Sox, the symbol of heartbreak and human foible to sports fans for nearly a century, are world champions. No more curses. No more moral victories. No more next year.
After their four-game sweep of the World Series, there was nothing left for the Red Sox to do but celebrate.
The Red Sox completed an unprecedented 11-day turnaround Wednesday night when they defeated the St. Louis Cardinals 3-0 to win their first World Series since 1918.
The victory was as stunning as their inexplicable failures over the last 86 years — coming back from a three-games-to-none deficit against the New York Yankees in the American League Championship Series and sweeping the National League champion Cardinals, who won 105 games in the regular season.
"We did it, man. We're the champs," said Red Sox outfielder Manny Ramirez, who was voted Most Valuable Player of the Series.
Boston, the third consecutive wild-card team to claim baseball's championship, became the first team to win eight consecutive playoff games in a single postseason and never trailed even for an inning in winning four in a row against the Cardinals.
"We didn't want to let them back in it. We knew what happened to us," Red Sox manager Terry Francona said.
Nearly 5,000 Red Sox fans, who made most of the noise in Busch Stadium the last three innings, stood around the Boston dugout, cheering and chanting "Thank you Red Sox" for more than 40 minutes after the game.
"No more having to go to Yankee Stadium and having to listen to '1918.' Finally," said Boston pitcher Derek Lowe, who threw seven shutout innings to record the biggest Red Sox victory in history.
St. Louis' collapse was just as shocking and complete as Boston's surge. The Cardinals managed just four hits Wednesday and a total of 13 in the final three games of the Series. Regulars Scott Rolen, Jim Edmonds and Reggie Sanders combined for just one hit the entire series — Edmonds' bunt single against an over-shifted infield in his first at-bat in Game 1.
"They outplayed us in every category," said Cardinals manager Tony La Russa.
While many sports franchises have endured years of losing, no team has tantalized its faithful by coming so close and continually falling short.
The heartbreaks spawned the Curse of the Bambino, said to have started after Red Sox owner Harry Frazee sold Babe Ruth to the Yankees after the 1919 season. The legend soared in popularity after the Sox came within one strike of winning the 1986 Series, only to collapse as a ground ball went between first baseman Bill Buckner's legs.
This year, however, it's all heroes, many with their own tales of redemption.
Lowe, bounced from the starting rotation for the first round of the playoffs after faltering in September, allowed just three hits in seven innings, retiring 13 Cardinals in a row after allowing a lead-off single in the first.
Ramirez, who was nearly traded in the aborted Alex Rodriguez deal, chipped in only a single Wednesday but hit .412 in the Series and .350 in the 14 games of the playoffs.
"God sent me back for a reason, and that's why I'm here," he said. "I proved a lot of people wrong."
Asked afterwards how he wanted this team to be remembered, Francona had a simple answer.
"As winners," he said.
Red Sox World Series Win 2004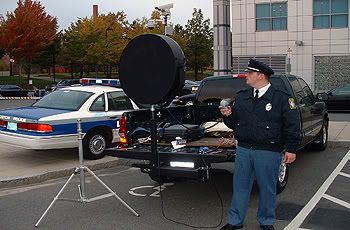 Foot Patrols Lead To Less Crime In Boston
More Cops On The Street Have Helped Cut Down On Serious Crime
http://www.cbsnews.com/stories/2007/07/07/eveningnews/main3027615.shtml
Looking for the main reason serious crime — murder, shootings and robberies — have nose-dived in Boston this year? Try old-fashioned foot patrols.
Officer Joe Singletary, who volunteered for the new "Safe Street" teams, told CBS News correspondent Randall Pinkston that he can see the difference.
"You don't see much drug-dealing," he said " "You don't see a lot of the people hanging around."
The idea came from Boston's new police commissioner, Edward Davis.
"Officers on foot have an effect on crime," said Davis. "Officers in cruisers do not have a major effect on lowering the crime rate."
Sgt. Nora Bastion, who heads a team of six officers, said it was tough getting residents to accept them.
"They didn't believe us, first of all," she said. "They thought it was show."
And now …
"We see the cops every day, so we start to get a sense of trust and you know, 'you're my buddy and I like you, so it's a confidence builder,'" said café owner Saki Freeman.
Police officials began Operation Safe Street teams in March, putting foot patrols on the streets of three of Boston's high-crime neighborhoods. In just three months, the numbers already show that the foot patrols are already making a big difference.
For the first six months of the year, homicides were down 14 percent. Robberies were down 12 percent. And shootings were down 31 percent. Until this year, murders had been on the riser for the past decade.
"Gang violence has been the underlying cause of the increase in homicide over the last several years," said Davis. "A gang is not going to hang around in a neighborhood where there's a police officer walking."
Foot patrols are helping police turn attitudes around.
"It's a whole totally different feeling out here, like a sense of security," said Millicent Bodden, a hair stylist. "Definitely, that's what we needed." That didn't exist before, she added, "because anything can happen to you around here, anything."
For that reason, police make special efforts to connect to neighborhood kids to prevent them from connecting to neighborhood gangs.
"I feel safer," one youngster told Pinkston when asked about having more cops pounding the pavement. "There's not as much hoodlums around," another said.
Davis is so convinced foot patrols work that he's planning to expand them to other areas of Boston later this year.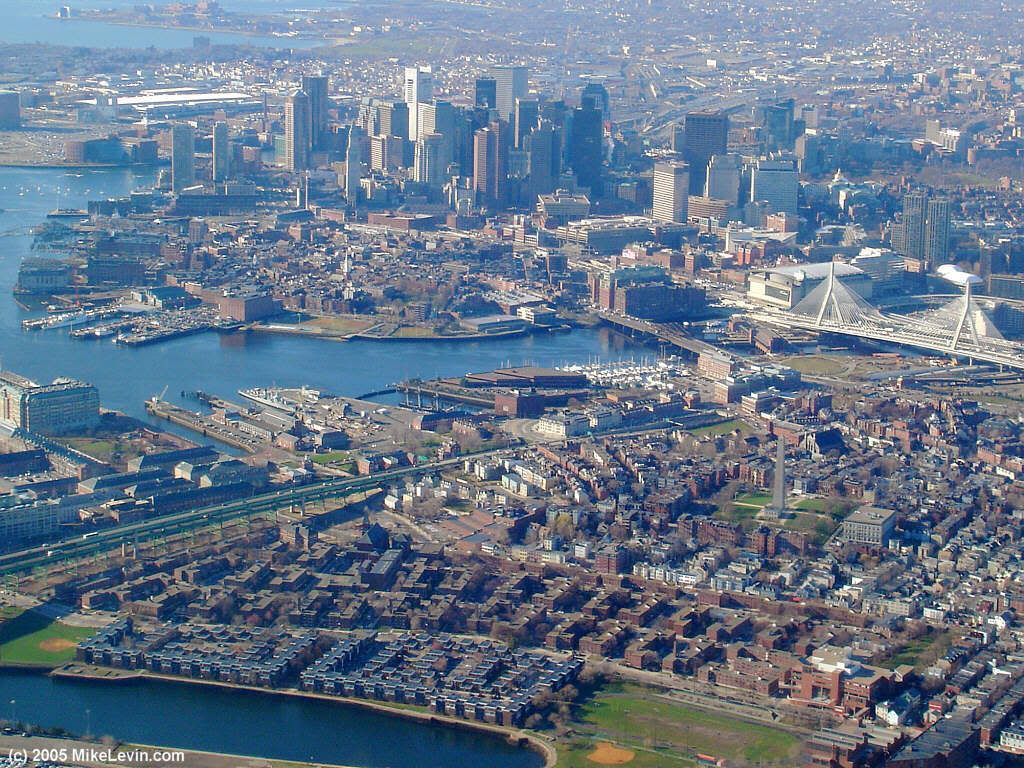 A picture of Boston in 2100: more smog, less cod
Climate change could alter many aspects of life in the Northeast, according to a new report.
http://network.nature.com/boston/news/articles/2007/07/12/a-picture-of-boston-in-2100-more-smog-less-cod
New England's output of signature products like maple syrup, cranberries, and cod could fall sharply by 2100 due to climate change, according to a report released yesterday by the Cambridge, MA-based nonprofit group, Union of Concerned Scientists (UCS). But reducing greenhouse gas emissions by about 3 percent per year over the next several decades could lessen these impacts by roughly half.
The study draws on peer-reviewed research by some 60 experts from universities, government agencies, and nongovernmental organizations (mostly in the Northeast) to predict specific impacts of rising temperatures in a wide range of areas, including agriculture, air quality, and weather events, under two different scenarios of varying greenhouse gas emission levels. "Under the high scenario, we lose the character of seasons and climate in New England that we've grown up with," says University of New Hampshire associate professor Cameron Wake, co-leader of the project's climate modeling team.
The report, Confronting Climate Change in the U.S. Northeast, is the second from the Northeast Climate Impact Assessment (NECIA), a collaboration between the Union of Concerned Scientists and other researchers. The first report in October 2006 used three global climate models to forecast regional temperature changes through 2100. If today's high-emission path continues, it estimated, annual average temperatures will rise 6.5 to 12.5oF. Sharp cuts in greenhouse gas emissions would reduce this warming to between 3.5 and 6.5oF.
The newest report predicts that Boston's 100-year flood zone—the maximum flood elevation likely to occur once a century—will stretch from Faneuil Hall to North Station by 2100 in the high-emission scenario, in which greenhouse gas levels continue to rise at the current rate. Today, that flood zone covers limited areas along the waterfront east of Atlantic Avenue.
Hot and smoggy
Rising temperatures will likely produce more summer heat waves, the study says. From 1961 through 1990, temperatures in Boston exceeded 100oF on average once a year. By the late 21st century, NECIA projects, the mercury will hit triple digits six to 24 days annually.
With hotter temperatures come higher levels of ground-level ozone, the main component of smog. The report estimates that the number of days when ozone concentrations exceed federal limits in Boston, Buffalo, New York City, and Philadelphia will increase by 50 percent in the low-emission scenario and quadruple in the high-emission scenario.
"They've done a great job of showing how climate change alone will affect air quality," says Praveen Amar, director of science and policy at Northeast States for Coordinated Air Use Management, a Boston nonprofit that provides research support to Northeast state air regulators. However, Amar says, the actual forecast is more complicated because regulations now in place will reduce air pollutants that contribute to ozone formation over the next several decades. "This report assumes that traditional pollutants will stay constant," he says.
Other impacts predicted by NECIA include lower yields of crops that need cold weather to flourish, including cranberries and many apple varieties. Warmer temperatures will extend the northern ranges of insect pests like the hemlock woolly adelgid and invasive weeds like kudzu. Suitable habitat for most of the region's tree species will shift 350 to 500 miles northward by 2100. Ocean waters south of Cape Cod will become too warm for cod, a major New England fishery. And spruce-fir forests could virtually disappear under the high-emission scenario, along with associated animals such as snowshoe hares and Canadian lynxes, according to the report.
Next steps
The study recommends reducing greenhouse gas emissions worldwide to 80 percent below current levels. That would mean cutting emissions by a little more than 3 percent annually, which would put the Northeast well on track to reach the 80 percent goal by about 2050.
"We're far from helpless. We have the intellectual capital to lead on this issue," says UCS president Kevin Knobloch, citing initiatives such as a regional agreement in the Northeast to cap carbon dioxide emissions from power plants and a new Boston building code requirement for large projects to meet "green" building standards.
Work begins on Boston's building renaissance
http://www.msnbc.msn.com/id/19944653/
In a shabby parking lot in Boston's theatre district, work has begun on a 25-storey hotel that includes 100 luxury residential condominiums. Just a few blocks away, in the city's leather district, developers have broken ground on the 12-storey Two Financial Center office building at South Station. And earlier this month, construction started on an apartment complex in the Bulfinch Triangle near North Station.
After years of stagnant growth, the city of Boston looks like one giant construction site. Indeed, the city is in the midst of a building boom not seen since the last big construction wave that took place in the late 1980s.
"The development that's taking place in Boston right now is unprecedented," said Susan Elsbree at the Boston Redevelopment Authority. "Cities are very hot. People want to live in cities. And from a corporate perspective, Boston is a quick flight to Europe which gives us a leg up on the West Coast."
Boston's building renaissance is happening across the city and is emanating from a broad base of sectors: from hospitals, universities and hotels to industrial companies filling the demand for office space.
Ms Elsbree attributes the boom in development to the $20bn investment that the city has made in public infrastructure over the past two decades. Boston's Big Dig, the highway project that replaced an elevated freeway downtown with a widened road and provided a third tunnel connecting the area with Logan International Airport, has made the city more accessible. Meanwhile, the harbour cleanup and the Rose Kennedy Greenway, a series of parks and public spaces in downtown Boston, have improved the city's image. "The confluence of these things is coming to fruition, and having an economic impact on our city," Ms Elsbree said.
Boston's economy took a hit after the technology bust. Office vacancies soared and in the course of several years the city lost a series of corporate headquarters including Fleet Bank, John Hancock Insurance Company and Gillette. Today, however, Boston – like a lot of other US cities – is enjoying an environment of low interest rates and favourable capital markets.
At the moment there are 75 development projects taking place in the city, worth $3.3bn (£1.6bn, €2.4bn). A further 100 projects worth $5.6bn have been granted permits, but will not begin construction until the autumn or early next year. A "project" is defined as any prospective building over 50,000 square feet. According to the BRA, office vacancy rates were 7 per cent in the first quarter of this year – half of what they were two years ago. Rents have risen dramatically, as well.
The city – home to Harvard and MIT among other universities – has a highly educated workforce. According to US census data, nearly 36 per cent of Boston residents have at least a bachelor's degree, compared with 24 per cent nationwide.
Ed Bayone, professor of real estate and finance at Brandeis International Business School in Waltham, Massachusetts, said the development was also powered by efforts to make Boston a more prominent city for businesses. "Boston was once a 12-hour city, today it's an 18-hour city, and there's a movement to make it a 24-hour city," he said. "That shift is fuelling hotel construction, retail development and high-end condo construction."
But some are sceptical the boom will continue. Michael Harrity, real estate investment professor at Babson College, in Wellesley, Massachusetts, said: "Boston is doing well, but growth in jobs is slow and our population growth is small."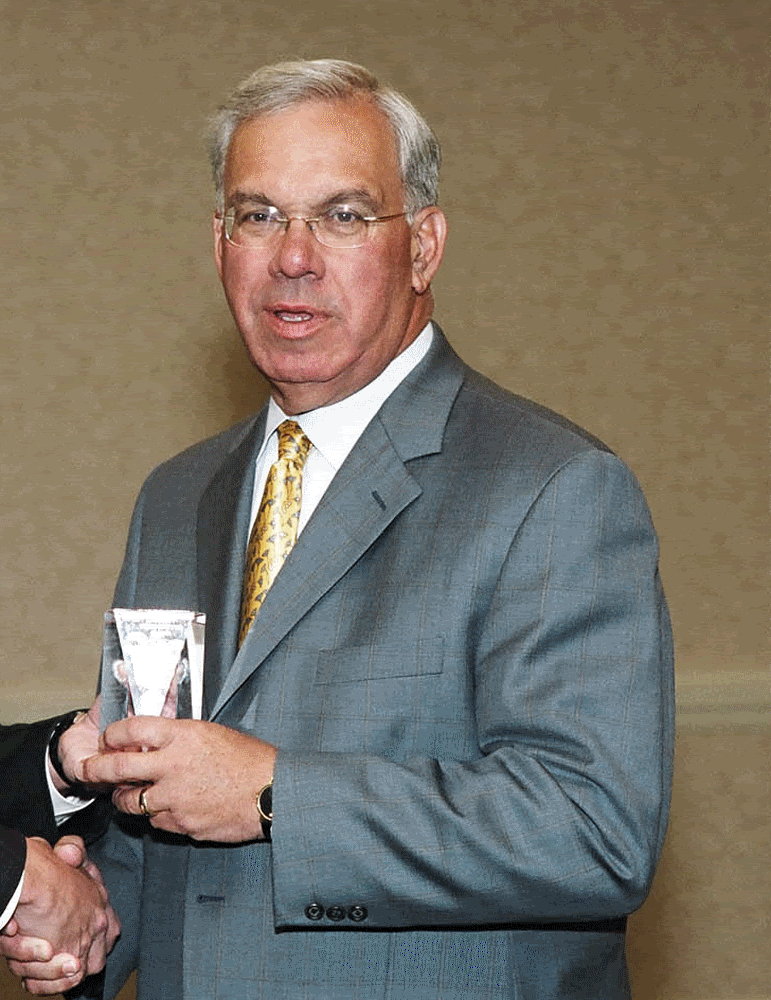 Menino Unveils Plans for Boston City Hall
Boston PD Bagpipers at Doyles
Boston Police
Beantown Irish Trailer
Stolen Trailer
Boston
Witness Protection Program
Augustana-Boston
Boston Apartment - from Bostonpads.com
Boston (Charlestown) waterfront real estate for sale
Harborview at the Navy Yard - Boston Real Estate