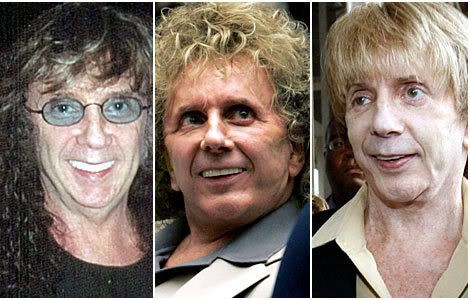 Harvey Philip Spector (born December 26, 1939) is an American musician, songwriter and record producer.
Coming to prominence in the early 1960s, Spector became one of the most distinctive producers in the history of popular music. He was hailed in his heyday by Tom Wolfe as the "Tycoon of Teen." The originator of the famous "Wall of Sound" production technique, Spector was a pioneer of the 1960s' girl group sound. Later he worked with various artists, including Ike and Tina Turner, The Beatles, and Ramones. In 1989, Spector was inducted into the Rock and Roll Hall of Fame as a non-performer.
The 1965 song "You've Lost That Lovin' Feelin'", co-written by Phil Spector, is listed by BMI as the song with the most U.S. airplay in the 20th century.[1] The original version was performed by The Righteous Brothers and produced by Spector.
In later years, Spector increasingly became known for eccentric outbursts, reclusive temperament and obsessive behavior which culminated with a mistrial in a second-degree murder case.
http://en.wikipedia.org/wiki/Phil_Spector
Phil Spector

http://www.answers.com/topic/phil-spector?cat=entertainment
Coming to prominence in the early 1960s, Spector became one of the most distinctive producers in the history of popular music. He was hailed in his heyday by Tom Wolfe as the "Tycoon of Teen." The originator of the famous "Wall of Sound" production technique, Spector was a pioneer of the 1960s girl group sound. Later he worked with various artists, including Ike and Tina Turner, the Beatles, and the Ramones. In 1989 he was inducted into the Rock and Roll Hall of Fame as a non-performer.
The song "You've Lost That Loving Feeling", co-written by Phil Spector, is listed by BMI as the song with the most US airplay in the 20th century.[1] The original version was performed by The Righteous Brothers and produced by Spector.
In later years, he increasingly became known for eccentric outbursts, litigiousness, and a reclusive temperament. In 2003, Spector returned to the public eye when he was arrested on suspicion of murdering 40-year-old actress Lana Clarkson. His trial began March 19, 2007, with opening statements commencing on April 25, 2007.
Early life
Spector was born into a Jewish family in the Bronx, New York.[2]
Following his father's death by suicide in 1949, Spector and his mother and sister moved to Los Angeles, California in 1953, where he became involved with music, learning the guitar. At 16, he performed Lonnie Donegan's "Rock Island Line" at a talent show at Fairfax High School.[3] While there at Fairfax, he joined a loosely knit community of young aspirants, including Lou Adler, Bruce Johnston, and Sandy Nelson, the last of whom played drums on Spector's first record release, "To Know Him Is To Love Him."[4]
The Teddy Bears
With three friends from high school, Marshall Lieb, Harvey Goldstein, and singer Annette Kleinbard, Spector formed a group, the Teddy Bears. During this period Spector also began hanging out at local recording studios, and he eventually managed to win the confidence of Stan Ross, co-owner of Gold Star Studios in Hollywood, who began to tutor the young man in record production and who exerted a major influence on Spector's production style.
By the spring of 1958 Spector and his bandmates had raised enough money to buy two hours of recording time at Gold Star. With Spector producing, the Teddy Bears recorded the Spector-penned "Don't You Worry My Little Pet," which helped them secure a deal with Era Records. At their next session, they recorded another song Spector had written -- this one inspired by the epitaph on Spector's father's tombstone. Released on Era's subsidiary label, Dore Records, "To Know Him Is to Love Him" went to #1 on Billboard's Hot 100 singles chart, selling over a million copies by year's end.
Following the success of their debut, the group signed with Imperial Records, but their next single, "I Don't Need You Anymore," only reached #91. While several more recordings were released (including an album The Teddy Bears Sing!), the group never again charted in the Hot 100. The Teddy Bears went their separate ways in 1959.
Record producer
After the split, Spector's career quickly moved from performing and songwriting to production. While recording the Teddy Bears' album, Spector had met Lester Sill, a former promotion man who was a mentor to Jerry Leiber and Mike Stoller. His next project, the Spectors Three, was undertaken under the aegis of Sill and his partner Lee Hazlewood. Though it reaped little commercial reward, Sill in 1960 arranged for Spector to work as an apprentice to Leiber and Stoller in New York.
Having perfect pitch, Spector quickly learned how to use a studio. He co-wrote the Ben E. King Top 10 hit "Spanish Harlem" with Jerry Leiber and also worked as a session musician, most notably playing the guitar solo on the Drifters' "On Broadway." His own productions during this time, while less conspicuous, included releases by LaVern Baker, Ruth Brown, and Billy Storm, as well as the Top Notes' original version of "Twist and Shout."
Leiber and Stoller recommended Spector to produce Ray Peterson's "Corrina, Corrina," which reached #9 in January 1961. Later he produced another major hit for Curtis Lee, "Pretty Little Angel Eyes," which made it to #7.
Returning to Hollywood, Spector agreed to produce one of Lester Sill's acts. After both Liberty Records and Capitol Records turned down the master of "Be My Boy" by the Paris Sisters, Sill formed a new label, Gregmark Records, with Lee Hazlewood and released it. It only managed to reach #56, but the follow-up, "I Love How You Love Me," was a smash, reaching #5.
Philles Records
In the fall of 1961 Spector formed a new record company with Lester Sill, who by this time had ended his business partnership with Hazlewood. Philles Records combined the names of its two founders. Through Hill and Range Publishers, Spector found three groups he wanted to produce: the Ducanes, the Creations and The Crystals. The first two signed with other companies, but Spector managed to secure the Crystals for his new label. Their first single "There's No Other (Like My Baby)" was a success, hitting #20. Their next release, "Uptown," did even better, making it to #13.
Spector continued to work freelance with other artists. In 1962 he produced "Second Hand Love" by Connie Francis, which reached #7. In the early 60's he briefly worked with Atlantic Records' R & B artists Ruth Brown and LaVerne Baker. Ahmet Ertegun of Atlantic paired Spector with Broadway star Jean DuShon for "Talk to Me", the B-side of which was "Tired of Trying", written by DuShon.
Spector briefly took a job as head of A&R for Liberty Records. It was while working at Liberty that he heard a song written by Gene Pitney, for whom he had produced a #41 hit, "Every Breath I Take" a year earlier. "He's a Rebel" was due to be released on Liberty by Vicki Carr, but Spector rushed into Gold Star Studios and recorded a cover version using Darlene Love on lead vocals. The record was released on Philles, attributed to the Crystals, and quickly rose to the top of the charts.
By the time "He's a Rebel" went to #1, Lester Sill was out of the company, and Spector had Philles all to himself. He created a new act, Bob B. Soxx and the Blue Jeans, featuring Darlene Love and Bobby Sheen, a singer he had worked with at Liberty. The group had hits with "Zip-a-Dee Doo-Dah" (#8), "Why Do Lovers Break Each Other's Hearts?" (#38) and "Not Too Young To Get Married" (#63). Spector also released solo material by Darlene Love in 1963. In the same year, he released "Be My Baby" by the Ronettes, which went to #2.
Although predominantly a singles-based label, Philles did release a few albums, one of which was the perennial seller A Christmas Gift for You in 1963.
The Wall of Sound
Main article: Wall of Sound
Spector's trademark during that era was the so-called Wall of Sound, a production technique yielding a dense, layered effect that reproduced well on AM radio and jukeboxes. To attain this signature sound, Spector gathered large groups of musicians (playing some instruments not generally used for ensemble playing, such as electric and acoustic guitars) playing orchestrated parts — often doubling and tripling many instruments playing in unison — for a fuller sound. Spector himself called his technique "a Wagnerian approach to rock & roll: little symphonies for the kids."
While Spector directed the overall sound of his recordings, he took a relatively hands-off approach to working with the musicians themselves (usually a core group that became known as The Wrecking Crew, including session players such as Hal Blaine, Steve Douglas, Carol Kaye, Glen Campbell, and Leon Russell), delegating arrangement duties to Jack Nitzsche and having Sonny Bono oversee the performances, viewing these two as his "lieutenants".
Spector frequently used songs from songwriters employed at the Brill Building, such as the teams of Ellie Greenwich and Jeff Barry, Barry Mann and Cynthia Weil, and Gerry Goffin and Carole King. Spector often worked with the songwriters, receiving co-credit for compositions.
Spector was already known as a temperamental and quirky personality with strong, often unconventional ideas about musical and recording techniques. Despite the trend towards multi-channel recording, Spector was vehemently opposed to stereo releases, claiming that it took control of the record's sound away from the producer in favor of the listener. Spector also greatly preferred singles to albums, describing LPs as "two hits and ten pieces of junk".
The first time Spector put the same amount of effort into an LP as he did into 45s was when he utilized the full Philles roster and the Wrecking Crew to make what he felt would become a hit for the 1963 Christmas season. A Christmas Gift for You arrived in the shops the day of the assassination of President Kennedy, November 22 1963. The somber mood of the country may have contributed to the album being a flop in its initial release. Despite its initially poor reception, selections from the album are now Yuletide mainstays on radio stations, and the album has since been a regular seller during the holiday season.
The mid-Sixties
In 1964 the Ronettes appeared at the Cow Palace in San Francisco. Also on the bill were The Righteous Brothers. Spector, who was conducting the band for all the acts, was so impressed with Bill Medley and Bobby Hatfield that he bought their contract from Moonglow Records and signed them to Philles. In early 1965, "You've Lost That Lovin' Feelin'" became the label's second #1 single. Three more major hits with the group followed: "Just Once in My Life" (#9), "Unchained Melody" (#4) and "Ebb Tide" (#5). Despite having hits, Spector lost interest in producing the Righteous Brothers and sold their contract and all their master recordings to Verve Records. However, the sound of the Righteous Brothers' singles was so distinctive that the act chose to replicate it after leaving Spector, notching a second #1 hit in 1966 with the Bill Medley-produced "(You're My) Soul and Inspiration".
The Spector-produced recording of "Unchained Melody" had a second wave of popularity 25 years after its initial release, when it was featured prominently in the hit movie Ghost. A re-release of the single recharted on the Billboard Hot 100, and went to number one on the Adult Contemporary charts. This also put Spector (as a producer) back on the Top 40 charts for the first time since his last appearance in 1971 with John Lennon's "Imagine."
Spector's final signing to Philles was the husband-and-wife team of Ike and Tina Turner in 1966. Spector considered their recording of "River Deep - Mountain High", to be his best work, but it failed to go any higher than #88 in the United States. The single, which was essentially a solo Tina Turner record, was more successful in Britain, reaching #3.
Spector subsequently lost enthusiasm for his label and the recording industry. Already something of a recluse, he withdrew temporarily from the public eye, marrying Veronica "Ronnie" Bennett, lead singer of the Ronettes, in 1968. Spector emerged briefly for a cameo as a drug dealer in the film Easy Rider in 1969.
Comeback
In 1969 Spector made a brief return to the music business by signing a production deal with A&M Records. A Ronettes single ("You Came, You Saw, You Conquered") flopped, but Spector returned to the Hot 100 with "Black Pearl" by Sonny Charles and the Checkmates, Ltd. Although the record reached #13, the A&M deal was short-lived.
In 1970 Allen Klein, manager of the Beatles, brought Spector to England. While producing John Lennon's hit solo single "Instant Karma," which went to #3, Spector was invited by Lennon and George Harrison to take on the task of turning the Beatles abandoned "Get Back" recording sessions into a usable album. Spector went to work using many of his production techniques, making significant changes to the arrangements and sound of some songs. The resulting album, Let It Be, was a massive commercial success and yielded a #1 single, "The Long and Winding Road." Although viewed as a major creative comeback for Spector, it may also have contributed to the contentious Beatles breakup, as Spector added what many considered inappropriate choir and orchestral arrangements to Lennon's "Across the Universe" and Harrison's "I Me Mine". His overdubbing of "The Long and Winding Road" infuriated its composer, Paul McCartney, especially since the work was allegedly completed without his knowledge and without any opportunity for him to assess the results. In 2003, McCartney spearheaded the release of Let It Be... Naked, which stripped the songs of Spector's input.
However, both John Lennon and George Harrison were satisfied with the results, and Let It Be led to Spector co-producing albums with both ex-Beatles. For George Harrison's multi-platinum album All Things Must Pass (#1, 1970), Spector provided a cathedral-like sonic ambiance, complete with ornate orchestrations and gospel-like choirs. The LP yielded two major hits: "My Sweet Lord" (#1) and "What Is Life" (#10). That same year, Spector co-produced John Lennon's Plastic Ono Band (#6) album, which featured a very different, spare and raw sound.
In 1971 Spector was named director of A&R for Apple Records. He only held the post for a year, but during that time he co-produced the single "Power To The People" with John Lennon (#11), as well as Lennon's chart-topping Imagine album, including the #3 title track. With George Harrison, Spector co-produced Harrison's "Bangla-Desh" (a #23 hit), Ronnie Spector's "Try Some, Buy Some" (which made it to #77), and the music for the #1 triple album The Concert For Bangla Desh.
Lennon retained Spector for the 1971 Christmas single "Happy Xmas (War Is Over)," the poorly-reviewed 1972 album Some Time In New York City (#48) and the 1973 sessions for the album Rock 'n' Roll (#6). Spector's relationship with Lennon ended during these sessions; some versions claim that the producer suffered a breakdown in the studio, brandishing a gun and disappearing with the Rock 'n' Roll tapes, although Spector biographer Dave Thompson places most of the blame on the out-of-control behaviour of Lennon and his entourage. After several months, Lennon retrieved the tapes and finished the album himself.
Later years
In 1974 Spector established the Warner-Spector label which undertook new recordings with Dion, Cher, Harry Nilsson and others, as well as several reissues. A similar relationship with Britain's Polydor Records led to the formation of the Phil Spector International label in 1975.
The majority of Spector's classic Philles recordings had been out of print in the U.S. since the original label's demise, although Spector had released several Philles Records compilations in Britain. Finally, he released an American compilation of his Philles recordings in 1977 which put most of the better known Spector hits back into circulation after many years.
As the seventies progressed, Spector became a recluse. Proabably the single most significant reason for his withdrawal -- recently revealed by biographer Dave Thompson -- was that Spector was seriously injured when he was thrown through the windscreen of his car in a crash in Hollywood. According to a contemporary report published in the New Musical Express, Spector was almost killed and it was only because the attending police officer detected a faint pulse that Spector was not declared dead at the scene. He was admitted to the UCLA Medical Centre on the night of 31 March 1974, suffering serious head injuries which necessitated several hours of surgery with over 300 stitches to his face and more than 400 stitches to the back of his head. His head injuries, Thompson suggests, were the reason that Spector began his habit of wearing outlandish wigs in later years.
Spector began to re-emerge in the late 1970s, producing a controversial album by Leonard Cohen (Death of a Ladies' Man, 1977) and the much-publicised Ramones album End of the Century, 1980. Worked with Yoko Ono in 1981 and co-produced Season of Glass, her first work after her husband's death.
Spector remained inactive throughout most of the 1980s, 1990s and early 2000s. He attempted to work with Céline Dion on her album Falling Into You, but that fell through. His most recent released project has been "Silence Is Easy" by Starsailor, released in 2003. He was originally supposed to produce the entire album, but was fired because of personal and creative differences. Plans to work with The Vines were halted due to his murder trial.
Influence
Many producers have tried to emulate the Wall of Sound, and Brian Wilson of the Beach Boys—a fellow adherent of mono recording—considered Spector his main competition as a studio artist. Bruce Springsteen emulated the Wall of Sound technique in his recording of "Born to Run". Shoegazing, a British musical movement in the late 1980s and early 1990s, was heavily influenced by the Wall of Sound.
For his contributions to the music industry, Spector was inducted into the Rock and Roll Hall of Fame in 1989. In 2004, Rolling Stone Magazine ranked him #63 on their list of the 100 Greatest Artists of All Time.[5]
Spector's early musical influences included Latin music in general, and Latin percussion in particular. This is apparent from the percussion in many of his hit songs: shakers, guiros (gourds) and maracas in "Be My Baby" and the son montuno in "You've Lost That Lovin' Feeling", heard clearly in the song's bridge. Phil would visit Spanish Harlem clubs and schools to hone his listening and practical skills. He'd ask his pre-teen coffee boy from "El Barrio", Roberto Tirado, to borrow his parent's best Puerto Rican recordings in order to listen to these at odd times. Unknowingly, Phil instilled some of his musical influence on little Roberto as he also became enmeshed in the music field later as an adult. But the Latin influence is keenly perceptible in many, if not all, of Spector's recordings. Session bassist Carol Kaye plays the haunting son montuno in "You've Lost That Loving Feeling" while the same repeating refrain is played on harpsichord by keyboardist Larry Knechtel.
The Beach Boys paid tribute to Spector in the lyrics of their song "Mona":
"Come on/Listen to "Da Doo Ron Ron," now/Listen to "Be My Baby"/I know you're gonna love Phil Spector"
The character of Ronnie "Z-Man" Barzell in Beyond the Valley of the Dolls, a 1970 Russ Meyer film, is based upon Phil Spector.
Eccentricity
Spector has had many conflicts, sometimes bizarre, with the artists, songwriters and promoters he worked with. Describing the dissolution of their Philles Records partnership, Lester Sill said, "I sold out for a pittance. It was shit, ridiculous, around $60,000. I didn't want to but I had to. Let me tell you, I couldn't live with Phillip . . . I just wanted the fuck out of there. If I wouldn't have, I would have killed him. It wasn't worth the aggravation."
As a peevish farewell gesture, shortly after Lester Sill's departure from Philles Records, Spector wrote, and had The Crystals record, a single entitled "(Let's Dance) The Screw". Six minutes long and completely lacking Spector's customary Wall of Sound production techniques, "The Screw" was neither releasable (by 1963 music industry standards) nor intended for general release. Indeed, only a handful of copies of the single were pressed, one of which Spector had delivered to Sill as a parting shot at his former partner. (Legend has it that the recording of "The Screw" served a second purpose: to cheat Sill out of royalties due him from sales of the next Philles recording. However, this claim is considered unlikely.) [1] It has also been said that Spector brought one of his own lawyers into the recording studio to yell out the chorus of the song ( "--do the screw!" )
Spector's domineering attitude toward Ronnie Spector led to the dissolution of their marriage. Ronnie Spector has claimed that Spector showed her a gold coffin with a glass top in his basement, promising to kill and display her should she ever choose to leave him; he had earlier forbidden her from speaking to the Rolling Stones or touring with the Beatles for fear of infidelity. During Spector's reclusive period in the late 1960s, he reportedly kept his wife locked inside their mansion. She claimed he also hid her shoes to dissuade her from walking outside, and kept the house dark because he didn't want anyone to see his balding head. Spector's son later claimed that he was kept locked inside his room, with a pot in the corner to be used as a toilet. Ronnie Spector did leave the producer and filed for divorce in 1972. She wrote a book about her experiences, and said years later, "I can only say that when I left in the early '70s, I knew that if I didn't leave at that time, I was going to die there." In 1998, Ronnie Spector and the other Ronettes sued Phil Spector for allegedly cheating them of royalties and licensing fees, winning a $3 million judgment; however, an appeals court later reversed the decision, upholding the terms of the group's 1963 contract as binding. In 2007, Ronnie Spector discussed her Ronettes' much-delayed entry into the Rock and Roll Hall of Fame: "He wrote the Hall of Fame to tell them not to put me in. He did everything he could to stop me. He's bitter that I left him. He wants everyone to think he's the mastermind. He thought everything was because of him."[6]
Stories of Phil Spector's gunplay mounted over the years, including his discharging a firearm while in the studio with John Lennon during the recording of his cover album Rock 'n' Roll, placing a loaded pistol at Leonard Cohen's head during the sessions for Death of a Ladies' Man, and forcing Dee Dee Ramone to play bass guitar to Spector's specifications at gunpoint. Cohen told "Rolling Stone" magazine in 1978 that "Phil couldn't resist annihilating me. I don't think he can tolerate any other shadows in his darkness."
The Ramones reportedly had to play the opening chord to the song "Rock and Roll High School" for eight hours straight; Years later, Johnny Ramone described Spector as "a little man with lifts in his shoes, the wig on top of his head and four guns." But he also described the session philosophically: "It was a positive learning experience. And that chord does sound really good." Marky Ramone said, "A lot of these things were overblown, and a lot of these things were alcohol-induced."
Murder trial
On February 3 2003, Spector was arrested on suspicion of murder after the body of 40-year-old nightclub hostess and B movie-actress Lana Clarkson of Los Angeles was found at his faux-castle mansion (called Pyrenees Castle) in Alhambra, California.[7] Police responded to a 9-1-1 phone call from Spector's driver and discovered Clarkson, who had been shot. She was pronounced dead at the scene. On November 20 2003, Spector was indicted for Clarkson's murder.
Four weeks before the death of Clarkson, Spector stated in an interview with the British Daily Telegraph that he has bipolar disorder and that he considered himself "relatively insane".[8] [9] In September 2004 he was ordered to stand trial in Los Angeles.
Spector has stated that Clarkson's death was an accidental suicide[7], however on October 28 2005, a judge ruled that potentially damning statements Spector allegedly made to police can be used against him at trial. Spector's lawyers had sought to suppress an apparent statement made by Spector after Clarkson was found dead. Spector allegedly said, "I think I killed somebody." His lawyer argued that comments attributed to the music producer should be thrown out because he was suffering from prescription-drug withdrawal symptoms at the time. The judge has also ruled that transcripts from a deposition Spector made several months before Clarkson's death can also be introduced by the prosecution at trial.
So far Spector has gone through three attorneys. Defense attorney Robert Shapiro (an original O.J. Simpson "dream team" member) represented Spector at his arraignment and early pretrial hearings, and arranged for his release on ($1 million) bail. He was later replaced by Leslie Abramson and Marcia Morrissey. They, in turn, were later replaced by Bruce Cutler, the former longtime lawyer of New York City mafia boss John Gotti.[10] Spector was also involved in a civil suit against Shapiro, who refused to return his $1 million retainer.[11] In December, 2005, Spector dropped all claims against Shapiro. [12]
Spector remained free on $1 million bail while awaiting trial, which had been scheduled to begin on April 24 2006, but has been postponed several times since then, first to January 16 2007, then to March 5 and finally to March 19. On February 16 2007, Los Angeles Superior Court Judge Larry Paul Fidler stated that he would allow Spector's trial to be televised, though he also indicated that he would reverse course should the media abuse this access.[13]
Jury selection began Monday, March 19, 2007 at the Clara Shortridge Foltz Criminal Justice Center in downtown Los Angeles. Three-hundred prospective jurors were screened over two days. Those not granted hardship exemptions by Fidler filled out 18-page questionnaires including queries as to whether celebrities are entitled to act as they please, and whether police treat celebrities with greater leniency. Voir dire began April 16 2007. A jury of nine men and three women (along with four male and three female alternate jurors) was sworn in on April 19, 2007. A list of possible witnesses shown to prospective jurors included long-time Spector studio associates Hal Blaine and Nino Tempo, limo driver Adriano de Souza and writer Anne Beatts. [14] Opening statements in the trial began April 25, 2007 in Los Angeles.
The charge in the case against Spector is second-degree murder. Spector could receive a 15-year-to-life sentence if convicted.[7]
Family
Spector was married to Veronica "Ronnie" Bennett, former lead singer of The Ronettes (a girl group that he had managed and produced), from 1968 to 1974. They adopted three children.
Louis Phillip - Born May 12 1966 (Adopted: age 5)
Gary Phillip - Born May 12 1966 (Adopted: age 5)
Donté Phillip - Born March 23 1969 (Adopted: age 8 Months)
Other children:
Nicole - Born 1982
Phillip - Born 1982 (passed away Dec. 25, 1991)
Spector married aspiring singer and actress Rachelle Short on September 1, 2006. According to IMDB.com, the 26-year-old Pennsylvania native had a small role in 2000's "Tigerland," a film about soldiers training during the Vietnam-era, starring Colin Farrell. She also appeared in Playboy magazine before her marriage to Spector, although the appearance was not in a nude pictorial spread, the magazine said. Rather, a single, black & white topless photo of Short appeared in the magazine's "Grapevine" section.
Prior to the move to California, Short was a music major at Lenoir-Rhyne College in Hickory, NC, near Charlotte. Short also sang and modeled in the Charlotte area, and was a member of a short-lived group of promotional swimsuit models.
Phil Spector Trial News...
Lana Clarkson Murder Case
http://www.tabloidcolumn.com/phil-spector.html
The Phil Spector Murder Case Timeline
http://www.showbuzz.cbsnews.com/stories/2007/03/20/people_hot_water/main2587962.shtml
Phil Spector Case Full Coverage - The Crime library
http://www.crimelibrary.com/notorious_murders/celebrity/phil_spector/spector-jumppage.html
Timeline in Phil Spector Murder Trial
http://www.kfwb.com/Timeline-in-Phil-Spector-Murder-Trial/1005749
2003:
-Feb. 3: Actress Lana Clarkson dies of a gunshot through the mouth at Spector's Alhambra mansion. He is booked for investigation of murder and released on $1 million bail.
-March 11: Sheriff's officials discount suicide. Spector sends an e-mail to friends calling the shooting ``an accidental suicide.''
-June 4: Spector tells Esquire Magazine, ``She kissed the gun. I have no idea why.''
-Sept. 22: Coroner rules the death a homicide.
-Nov. 20: Spector is charged with murder and pleads not guilty.
2004:
-Aug. 24: New York lawyer Bruce Cutler takes over defense after first team is fired and second team resigns.
-Sept. 27: Spector is indicted on a murder charge.
2005:
-Feb. 3: Clarkson's mother sues Spector for wrongful death.
2007:
-March 19: Jury selection begins, leading to a nine-man, three-woman panel.
-April 24: Jury selection completed with seating of four men and two women as alternates.
-April 25: Opening statements begin.
-Aug. 27: Cutler, often absent from the trial to tape a TV show, formally leaves the defense team.
-Sept. 7: Closing arguments end.
-Sept. 10: Jurors begin deliberations.
-Sept. 18: Foreman reports a 7-5 impasse.
-Sept. 20: Judge withdraws one instruction and issues another, and jury resumes deliberations.
-Sept. 26: The judge declares a mistrial because the jury could not reach a verdict.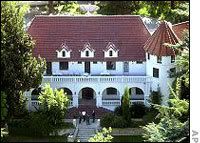 Shooting death in Spector mansion ruled homicide
Record producer had said actress may have shot herself
http://www.cnn.com/2003/LAW/09/22/spector.homicide/index.html
LOS ANGELES, California (CNN) -- After a nearly eight-month investigation, the shooting death of actress Lana Clarkson, whose body was found in the mansion of legendary record producer Phil Spector, has been ruled a homicide, coroner's officials said Monday.
Clarkson, 40, was found dead in Spector's home February 3. The couple had met at a blues club earlier that evening.
"It was a single gunshot wound to the head and neck by another," said Los Angeles County coroner spokesman David Campbell, who declined to release the autopsy results or discuss details of the report pending a review by state prosecutors.
Spector, 63, was arrested on suspicion of murder the same day Clarkson's body was found but was released after posting $1 million bail that day. Sheriff's officials presented their case to the Los Angeles district attorney Thursday after examining more than 100 pieces of evidence, including the handgun used in Clarkson's death.
The night Clarkson was killed, she and Spector were seen together at the House of Blues on the Sunset Strip in Hollywood, where she worked as a hostess. The couple left together in Spector's chauffeur-driven Mercedes and went to his castlelike estate in Alhambra, a suburb east of downtown Los Angeles, authorities said.
Police found Clarkson's body a few hours later in the foyer of Spector's home after his chauffeur called 911 to report gunfire inside the estate, investigators said.
Sheriff's detectives declined to comment on Monday's autopsy report or on a possible motive for the shooting.
Earlier this summer, they issued a statement calling Clarkson's death "a criminal act" after Spector told Esquire magazine that Clarkson may have committed suicide.
A spokeswoman for the Los Angeles district attorney's office said prosecutors are examining the case but declined to comment about Monday's autopsy report.
Spector's attorney, Robert Shapiro, did not return several calls in response to the autopsy report.
The winner of two Grammy Awards, Spector produced records for Elvis Presley, Ike and Tina Turner, and John Lennon, and brought international fame in the 1960s to such groups as the Ronettes, the Crystals and the Righteous Brothers. He is credited with revolutionizing the recording industry for his concept of the "wall of sound," a technique that combined instruments, vocals and sound effects in the studio.
His work included a number of rock classics such as "Da Doo Ron Ron" and "Then He Kissed Me" by the Crystals, and "Walking in the Rain" by the Ronettes.
Spector shared a Grammy for album of the year in 1972 with George Harrison, Bob Dylan, Eric Clapton and others for producing the Concert for Bangladesh album. He was inducted into the Rock 'n' Roll Hall of Fame in 1989 but has remained reclusive over the past decade.
Clarkson appeared in small roles throughout her acting career, including "Scarface," "Fast Times at Ridgemont High," "Deathstalker" and "Blind Date."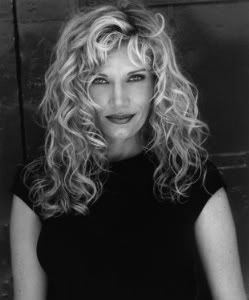 Lana Clarkson - Official Website
http://www.livingdollproductions.com/

Lana Clarkson (April 5, 1962 – February 3, 2003) was an American actress. She was born in Long Beach, California.
http://en.wikipedia.org/wiki/Lana_Clarkson
Clarkson is best known for her film work with Roger Corman, appearing first in his fantasy epic Deathstalker (1983). Her work as a sword wielding vixen led to her being offered the title role in Corman's next film, the cult classic Barbarian Queen (1985), a role Corman has fondly referred to as 'the original Xena.' Clarkson reprised her role in a sequel titled Barbarian Queen II: The Empress Strikes Back (1989). In 1987 she appeared in the John Landis spoof Amazon Women on the Moon. Lana's work in that genre inspired a cult following, making her a favorite at comic book conventions, where she made some promotional appearances signing autographs for her fans.
She is also remembered for her brief role as Mrs. Vargas from the film Fast Times at Ridgemont High. She also appeared in numerous B movies as well as a range of television and commercial performances. Her television appearances include parts on Night Court, Silk Stalkings, Riptide, Three's Company, Knight Rider and Wings.
On February 3, 2003, Clarkson met legendary music producer Phil Spector at the House of Blues in West Hollywood, where she worked as a hostess. She was later shot dead in Spector's mansion in Alhambra, California. On September 27, 2004, Spector was formally charged with Clarkson's murder. Spector denies the allegations, claiming Clarkson's death was an accidental suicide. As of September 26, 2007, the judge declared a mistrial because the jury was unable to settle on a verdict.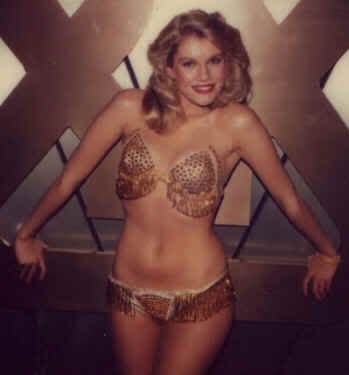 Pop producer Spector arrested in killing
L.A. woman found shot in '60s icon's mansion
http://sfgate.com/cgi-bin/article.cgi?file=/c/a/2003/02/04/MN99817.DTL
Phil Spector, the influential but erratic rock 'n' roll producer best known for his layered "Wall of Sound" recording technique, was arrested on suspicion of murder early Monday after a woman was found shot to death in his hilltop mansion.
Police said they were called to the gated estate in Alhambra (Los Angeles County) about 5 a.m. by a limousine driver who reported hearing shots fired after he dropped off the couple. Officers arrived to find the victim -- identified by authorities as 40-year-old Lana Clarkson of Los Angeles -- already dead, her body sprawled in the marble foyer. They quickly arrested Spector, 62, the soundboard genius behind such hits as "Be My Baby" and "You've Lost That Lovin' Feelin'."
Investigators did not characterize what Clarkson's relationship was to Spector.
Spector posted $1 million bail and left the Alhambra jail shortly after 7 p. m. through a back door, far from the line of television cameras waiting for him in front. Accompanying him was his lawyer, Robert Shapiro, who also had been a part of the O.J. Simpson defense team.
Los Angeles County sheriff's investigators said Clarkson and Spector were the only people in the house at the time of the shooting, although other people may have been on the wooded estate, which towers over a modest, middle- class neighborhood of single-story homes.
FROM MUSIC LEGEND TO RECLUSE
Legendary in the music industry for his work in the 1960s and '70s with such varied artists as the Beatles, the Righteous Brothers and the Ronettes, Spector built a reputation by the 1980s as a recluse, chased behind mansion walls by personal demons, haunted by drinking and reckless behavior. Friends said they thought he had put that behind him in recent years and expressed bewilderment at the charges.
"None of this equates," said guitarist Dave Kessel, one of Spector's closest friends. "He has been in great spirits and great shape, and feeling so good about everything. "
Lt. Daniel Rosenberg, the sheriff's homicide detective in charge of the investigation, said investigators recovered a gun that was believed to be the murder weapon. Although he would not say how many times the gun was fired, one neighbor, who declined to identify herself, said she heard three or four shots.
Asked if Spector had admitted committing the crime, Rosenberg said, "No. There has not been a confession by Mr. Spector."
CRIME SCENE INVESTIGATION
Investigators pored over the estate throughout the day Monday, paying special attention to the foyer, where the shooting is believed to have occurred, and the driveway, where a newly purchased black Mercedes-Benz sat facing the front gate, its driver's-side door agape.
Spector purchased the 33-room Alhambra chateau -- built in 1926 by a Basque rancher and called the Pyrenees Castle -- for $1.1 million in 1998. Spector commented later in Esquire magazine that he had bought "a beautiful and enchanting castle in a hick town where there is no place to go that you shouldn't go."
But Spector's move to Alhambra also appeared to reflect his desire to stay out of trouble following his wild years, when he was dogged by accusations of domestic abuse and public drunken rages. The Ramones accused him in 1980 of brandishing a gun in the studio; singer Leonard Cohen called him a madman out of control three years earlier.
In a 1991 interview, Spector fretted that his reputation as a recluse and tales of his drinking and violence would taint his legacy, and he compared himself with a late friend, troubled comedian Lenny Bruce.
"I started asking myself, 'Do they remember Lenny Bruce as the philosophical genius and great comic mind -- or do they remember him as some sick, stupid morphine addict?' "
Spector has been married several times. Among his marriages was one to Ronnie Spector, lead singer of the Ronettes. Another ex-wife, Janice Spector, had been working for him until two weeks ago, when she quit, said Bob Merlis, a longtime music industry publicist and Spector confidant.
FRIEND SPEAK OUT
In recent years, friends said, Spector seemed to have found a harmony in his life that matched the buoyant sound of his classic early hits.
Those friends said Spector had re-engaged the music world, becoming a frequent figure at Rock and Roll Hall of Fame events and checking out new bands at Sunset Strip concerts, while becoming more outgoing in his personal life.
Spector's music was infused with a shimmering magic and an orchestral bombast that made it jump out of the radio in the late 1950s through the '70s.
Spector is one of the rare pop music producers to achieve brand-name recognition with the general public and the history books, joining the likes of Quincy Jones, George Martin, Sam Phillips and Jerry Wexler.
For Spector, the fame was shaped by his layered, orchestral work, the famous Wall of Sound, which gave a luminosity and power to 1960s songs such as "Then He Kissed Me" by the Crystals. He called the songs "pop symphonies for teens."
"He showed he was a genius," Wexler said. "He created these records out of his own imagination and created a way of recording. The Wall of Sound is something we all learned from."
Born Harvey Phillip Spector in New York City, Spector was a 17-year-old high school student in Los Angeles when he wrote and produced his first hit, "To Know Him Is to Love Him," a title taken from an inscription on his father's tombstone. By 21, Spector was a millionaire and a maverick dubbed the "teen tycoon" by author Tom Wolfe.
By the end of the 1960s, Spector was working with the music of the Beatles and popping up as a cocaine user in the film "Easy Rider."
He put strings on "The Long and Winding Road" for the Beatles, built the music foundation of "You've Lost that Lovin' Feelin' " for the Righteous Brothers, and shaped the raucous backdrop to John Lennon's "Instant Karma." His other credits included Lennon's "Imagine," George Harrison's "My Sweet Lord," Ben E. King's "Stand by Me," and "River Deep -- Mountain High" by Ike and Tina Turner.
Phil Spector Murder Trial
Murder trial begins for Phil Spector
http://uk.reuters.com/article/entertainmentNews/idUKN1620185020070320
Jury selection began on Monday in the murder trial of pioneering rock producer Phil Spector, who came to court in Los Angeles sporting a new blond, Beatles-style shag and smiling broadly as he made his way past photographers.
The trial gets under way more than four years after B-movie actress Lana Clarkson was killed at Spector's faux castle outside Los Angeles on February 3, 2003, and it promises to be the biggest celebrity court case since pop star Michael Jackson's 2005 acquittal on child molestation charges.
A smiling Spector, 67, arrived at court like one of the 1960s rock stars he made his name producing -- escorted by lawyers and beefy bodyguards. He was greeted by a throng of photographers, his once-wild hair newly styled into a blond moptop reminiscent of the Beatles.
Opening statements are still more than a month away, following a lengthy jury selection process in which Superior Court Judge Larry Paul Fidler and the lawyers will pick 12 jurors from a pool of 300 people.
Spector, best known for his innovative "Wall of Sound" recording technique and work with The Beatles, The Ronettes, The Righteous Brothers, Tina Turner and Cher, left at the noon break and was not expected to return on Monday.
The judge has ruled that the trial can be broadcast live, making it the biggest celebrity case to be televised from Los Angeles since O.J. Simpson was acquitted of murder in 1995, bringing scorn on the city's legal system. Fifty news organizations asked for seats.
Prosecutors and defence lawyers both say Clarkson, 40-year-old star of such films as "Amazon Women on the Moon" and "Barbarian Queen," met Spector the night before her death while working as a waitress at a Sunset Strip rock club.
There is no dispute that the actress was killed early the next morning by a single shot from a .38-calibre revolver in the foyer of Spector's mansion, which was designed to resemble a castle.
But the two sides disagree on the fundamental question of who pulled the trigger: Prosecutors say it was Spector, who according to pre-trial hearings owned a dozen guns and had pulled them on women in the past.
Defence lawyers say Clarkson put the gun in her mouth and shot herself. It was not clear whether Spector, who has said he hates being in the public eye, would take the stand.
Andrew J. Smiley, Esq. talks about Phil Spector Murder Trial
Phil Spector trial: A bizarre noir thriller
http://www.iht.com/articles/ap/2007/09/03/america/NA-GEN-US-Phil-Spector.php
In the annals of celebrity crime, the Phil Spector murder trial may stand as one of the strangest.
The saga of a forgotten music industry legend and a fading cult movie actress found dead in his hilltop castle is the stuff of film noir, those dark epics that explore a world of glamour, dread and danger.
At the center of the drama is Spector, 67, a diminutive figure in long frock coats and wild hairdos, a millionaire rock music producer past his heyday, holed up in a mansion far from the Hollywood music industry he once ruled.
The tragic figure is Lana Clarkson, 40, a gorgeous 6-foot (1.83-meter) tall actress with Marilyn Monroe dreams who craved fame more than anything, but was so down on her luck that she took a $9-an-hour hostess job at the House of Blues night club.
Ironically, she became more famous in death, her picture splashed across newspapers and TV screens the morning after Feb. 3, 2003 when she was found with a bullet through her mouth in the formal red foyer of Spector's home.
It would take eight months for police to charge Spector with a crime and four years to bring the case to trial. Now, after five months of testimony, the end is near. Final arguments are scheduled Wednesday and Thursday and jurors will begin deliberations Friday. And, like any intriguing murder mystery, the outcome is unpredictable.
Photos of the scene, shown at the trial, were startling and gruesome, as if a set decorator had staged them for a horror film. A crystal chandelier illuminated the body slumped in an ornate white chair, Clarkson's face smeared with blood, her long legs extending out from her black mini dress. In one photograph, a crowd of police and coroner's investigators mill about, seemingly oblivious to the body next to them.
And slung over her shoulder is a key piece of evidence, a leopard print purse. Prosecutors would point to it repeatedly as proof that she was trying to leave Spector's house when she was shot.
Prosecutors, haunted by the acquittals of stars such as O.J. Simpson, Robert Blake and Michael Jackson, seem invested in making Spector the first showbiz star to be convicted in a major criminal case. But his lawyers have fought fiercely to prove that Clarkson pulled the trigger.
Spector rose to fame in the 1960s with what became known as the "Wall of Sound" recording technique that changed pop music. Clarkson was best known for her role in Roger Corman's 1985 cult film "Barbarian Queen."
They met after Spector spent a night on the town drinking with women friends. He wound up very late at the House of Blues. When the club closed at 2 a.m. he asked Clarkson, the hostess, to go home with him for a drink.
What happened next is the heart of the case, with each side presenting compelling evidence.
Prosecutor Alan Jackson claimed at the start that it would be a simple case.
"The evidence is going to paint a picture of a man who on Feb. 3, 2003, put a loaded pistol in Lana Clarkson's mouth — inside her mouth — and shot her to death," he said in his opening statement to jurors.
But by the time 77 witnesses had testified and more than 600 pieces of evidence were submitted, the case was anything but simple.
On the prosecution side, five women returned from Spector's past to tell of being threatened by a drunken Spector, even held hostage in his home, with a gun pointed at them and threats of death if they tried to leave. The parallels with the night Clarkson died were chilling even if the stories were very old — 30 years in one instance.
The chauffeur who delivered Spector and Clarkson to the mansion on the fateful night, testified that he waited outside and heard the "pow" of a gun some two hours later.
Adriano De Souza would recall Spector emerging from the house, a gun in his hand, declaring, "I think I killed somebody."
He was the only witness to place the gun in Spector's hand. The prosecution's scientific experts could not say for sure if the gun was in Spector's hand or in Clarkson's when it was fired.
Defense lawyer Linda Kenney-Baden had promised jurors at the outset that scientific evidence would show the truth.
"We have one unimpeachable witness who has no motive to lie, no memory problems, no language problems and that witness is science," said Kenney-Baden, who specializes in forensic evidence.
"The science will tell you that Phil Spector was not holding the gun in the decedant's mouth, that he was not close enough," Kenney-Baden said.
Scientific experts on both sides of the trial often disagreed.
Dr. Louis Pena, the deputy medical examiner who did the autopsy, said that Clarkson had gunshot residue on both of her hands and that he classified the case as "pending" for seven months until he finally called it a homicide on the death certificate. He said the residue did not necessarily mean she fired the gun.
Defense witness Dr. Vincent DiMaio disagreed: "She died of a self-inflicted wound. There is no objective scientific evidence that anyone else held the gun. Everything else is speculative."
Experts also debated Clarkson's mental state. Pena thought she was a hopeful person, not prone to contemplate suicide.
But jurors saw an e-mail she wrote saying, "I really feel like I'm losing it. I'm kind of feeling like giving up the dream and therefore the struggle."
Beyond legal points and science, the case came down to the two personalities involved: Spector and Clarkson.
Jackson began his case with the tales of Spector's encounters with other women and he is likely to end with them as well. Among them was Dorothy Melvin, a former Spector girlfriend who was manager for comedienne Joan Rivers.
"Phil is a very brilliant and charming man," she said. "Only when drinking he snaps and becomes a lunatic."
Another ex-girlfriend, Diane Ogden, testified that Spector seemed to undergo a personality change as she tried to leave a party he had in 1989.
"He was screaming at me, the F-word," she said. "He wasn't my Phil, not the man I loved. It wasn't him. He was demonic. It scared the hell out of me."
The defense claims what is more relevant is the despair that gripped Clarkson before her death.
Two of her friends told of the financial desperation that drove her to take the House of Blues job and a producer testified that she drank too much and poured her heart out to him for two hours five days before she died.
"She was reaching a certain level of sadness, hitting a wall in her personal life," said Greg Sims.
In a poignant effort to show that Clarkson was facing the future with hope, her mother, Donna, who had sat through every day of the trial, took the stand and told how her daughter bought seven pairs of shoes for her new job as a nightclub hostess some 12 hours before she died.
While a defense lawyer said last week that the case comes down to who pulled the trigger, prosecutor Jackson offered a different view when his case ended.
He said a second-degree murder conviction on an implied malice theory only required that the music producer committed an act dangerous to Clarkson's life — pointing the gun at her.
"He had the gun in his home, loaded with his bullets," Jackson said. "Whether he pulled the trigger, whether he sneezed or she slapped his hand away or there was an earthquake — it doesn't matter. It's implied malice."
Phil Spector jurors visit crime scene
http://www.usatoday.com/life/people/2007-08-09-spector-jurors_N.htm
Jurors visited Phil Spector's mansion Thursday to get a firsthand look at the place where actress Lana Clarkson died four years ago.
Jurors, lawyers and Spector himself arrived at the home, 15 miles northeast of Los Angeles, in several vans shortly before 10:30 a.m. They stopped at the home's parking area before going inside to the foyer where Clarkson's body was found, slumped down in a chair, with a gunshot wound through her mouth.
The parking area is where a chauffeur who took Spector and Clarkson to the home has testified he was waiting in his car when he heard a gunshot from inside the house. He said Spector came out and told him, "I think I killed somebody."
Defense attorneys have contended that the noise from a large fountain, which was running Thursday, may have caused the chauffeur to misunderstand Spector.
Spector is accused of murdering Clarkson four years ago after she went home with him for a drink. The question of where Spector was standing when she was shot and how far blood can travel have been key issues in the case.
Prosecutors contend that blood spatter on Spector's jacket got there when he shot Clarkson. The defense says Clarkson shot herself and the spatter could have hit him when he stood as far as six feet away.
Later in the day, jurors were expected to return to the courtroom to hear testimony from a fifth woman who claims Spector threatened her with a gun.
Devra Robitaille's testimony follows accounts from four other women who each said earlier in the trial that Spector had threatened them.
The prosecution has made the women's testimony the cornerstone of its case against Spector, claiming he showed a pattern of taking women home with him, holding them at gunpoint and refusing to allow them to leave.
They say the pattern was repeated with deadly results when Clarkson was shot Feb. 3, 2003.
Defense attorney Bradley Brunon argued against the additional witness, saying that prosecutors deliberately held back Robitaille's testimony until near the end of the trial to give it added impact.
Superior Court Judge Larry Paul Fidler said allowing Robitaille to testify would indicate that "other witnesses are telling the truth and there is strength in numbers."
Spector, 67, gained fame with his "Wall of Sound" music recording technique on hits such as Be My Baby and You've Lost That Lovin' Feeling. Clarkson found modest fame as the star of a cult movie, Barbarian Queen, in the 1980s, but was working as a nightclub hostess at the time of her death.
Expert: Actress shot at Phil Spector's home breathed in before she died
http://www.courttv.com/trials/spector/082307_ctv.html
Did Lana Clarkson die immediately after a gun discharged in her mouth, or did she survive long enough to take a few blood-choked breaths?
The length of time between gunshot and death has become a central issue in Phil Spector's murder trial as the case limps to a conclusion.
The music legend's defense has suggested Clarkson may have aspirated blood, offering a benign explanation for some of the prosecution's most damning evidence — tiny red drops on Spector's jacket. (VIDEO)
For more than three hours Thursday, a defense expert insisted that blood in Clarkson's lungs is proof she breathed in after a bullet from a .38 Special struck her spinal cord Feb. 3, 2003.
Dr. Werner Spitz, a Michigan forensic pathologist who testified previously in the case, returned to the stand to describe a mixture of air and blood in the air sacs of Clarkson's lungs, which he said could only be the result of a drawn breath.
There was inhalation," he told jurors.
He rejected a prosecution expert's testimony earlier this week that gravity forced the blood into Clarkson's lungs. Clarkson, 40, died sitting upright in a chair in Spector's foyer, and her body remained in that position for 12 hours.
Prosecutors claim Clarkson was immediately incapacitated by the injury. They have said the 18 spots on Spector's white dinner jacket are proof he was standing within 3 feet of Clarkson when the gun went off.
Under direct examination, Spitz said that he had read a textbook recommended by the prosecution expert to prepare for his testimony and that its chapter on respiration convinced him that she could have inhaled even if her spinal cord was severed completely.
"I didn't even know that until I read this. There will be an intake of air and expulsion of air for a period of time," Spitz said.
Later, under cross-examination, a prosecutor charged that the pathologist had misread the textbook and that, in fact, there was no way for nerve impulses to activate the breathing muscles if the spinal cord was severed.
Spitz, whose career spans 54 years, acknowledged that it had been five decades since he studied physiology, but refused to concede the point.
He said that perhaps the bullet had only partially torn the spinal cord, allowing some nerve signals to get through, but that in the end, the blood in the lungs left no doubt that breathing took place.
Spitz was the third pathologist to testify at length about the possibility of dying breaths, and jurors appeared to struggle to pay attention to his testimony. Only one of the 17 panelists took notes consistently during his time on the witness stand.
Jurors also heard from a psychologist contacted by Clarkson a month or two before her death. Dr. Mary Goldenson testified that the actress phoned her in late 2002 or early 2003.
"She wanted to come in and discuss issues with me," Goldenson recalled.
She said Clarkson was concerned about her fees. "She told me she had no insurance and that she was handling the matter and would get back to me," Goldenson said.
Clarkson never called back.
The defense is to call the final witnesses in the trial Monday. Scheduled to testify are two of Clarkson's friends, Jennifer Hayes-Riedl and Punkin Irene Elizabeth Laughlin. Both women previously described Clarkson as depressed at the time of her death.
Spector, 67, faces 15 years to life in prison if convicted of murder. His defense claims the actress shot herself.
Blood-spatter analyst supports Spector's story
Expert says Spector didn't have to be within arm's length of Clarkson
http://www.msnbc.msn.com/id/19921974/
A forensic expert told jurors in Phil Spector's murder trial Monday that the record producer didn't have to be within arm's length of Lana Clarkson to have gotten blood on his jacket when she suffered a fatal gunshot wound.
Stuart James said blood spatter from a gunshot wound can travel as far as 6 feet. The testimony is critical to the defense claim that Spector was too far from the actress to have shot her but close enough that blood hit stained his white coat.
Prosecutors allege that Spector shot Clarkson, 40, on Feb. 3, 2003. His lawyers claim she shot herself in the mouth.
During a long cross-examination, prosecutor Alan Jackson led James to acknowledge that under another theory of blood spatter analysis, Spector could have been standing about two feet from Clarkson when blood spattered on his jacket.
James, a Fort Lauderdale, Fla., scientist who lectures around the world and has written a book on bloodstain pattern analysis, showed jurors photographs from his book including one depicting blood spatter produced by a high-velocity mechanism such as a gunshot.
"At 6 feet you are still getting millimeter-size stains or less. Even small droplets can travel that distance," he said.
But James said he has never specifically studied intra-oral gunshot wounds because "You see so few of them. Intra-oral gunshot wounds are not that prevalent."
Defense attorney Linda Kenney-Baden reminded jurors that a key prosecution witness, sheriff's criminalist Lynne Herold, said she had taken one of James' courses on blood spatter. Herold gave the opinion that blood spatter could travel only about 2 to 3 feet.
Clarkson died while seated in a chair in the foyer of Spector's mansion. James analyzed bloodstains on the arm of the chair, Clarkson's black slip dress and Spector's jacket.
At one point, Kenney-Baden walked up to the witness, held out her arm and put her finger to his mouth at point-blank range, asking whether a bloodstain on the back of one arm of Spector's jacket would be consistent with someone shooting in that position.
"No," James said.
Later, prosecutor Pat Dixon belatedly rested the prosecution's case two weeks after the defense began. Prosecutors wanted to present final testimony on a persistent issue in their case — whether the defense withheld a fingernail-size white object allegedly found at the scene.
Lead sheriff's investigator Richard Tomlin identified items turned over to prosecutors after defense forensic expert Henry Lee searched Spector's residence. There were carpet fibers, dried blood and a piece of bloodstained carpet cut from Spector's foyer, but no fingernail-size object.
The defense denies any such item was found.
Monday's session also was marked by the return of defense attorney Bruce Cutler, who was absent for three weeks while shooting a TV show in which he plays a judge.
He told The Associated Press that he may have to leave again to finish the show, but that he plans to deliver the defense closing argument for Spector.
Spector, 67, revolutionized rock music recording decades ago with a technique that became known as the "wall of sound." He is charged with murdering Clarkson after she went home with him from her job as a hostess at the House of Blues nightclub. Her most famous role was in the 1985 cult film "Barbarian Queen."
Testimony has been under way in Spector's trial since late April.
Phil Spector: 'I Have Devils Inside That Fight Me'
Last Journalist to Interview Spector Reveals Tapes of Their Unusual Discussions
http://abcnews.go.com/Nightline/story?id=3199836
From head to toe, Phil Spector is a decidedly odd-looking man -- from his ever-ever-evolving hair to his 3-inch Cuban heels. He is also an undisputed musical genius. And despite his strange appearance, he has viewed life from the top of the musical pinnacle.
When Spector was 17 years old, he wrote the song "To Know Him Is to Love Him," a tribute to his father, who committed suicide when Spector was only 9 -- a family secret his mother told him he must always keep. The title came from the inscription on his father's tombstone, and by the time Spector turned 18, the record had sold 1 million copies.
According to Mick Brown, a British journalist who has written a book about Spector, "[He] was indisputably the kingpin in American music. He was a unique figure, a towering figure."
He was also a troubled figure, according to Brown.
Brown's book is called "Tearing Down the Wall of Sound: The Rise and Fall of Phil Spector." He was the last person to interview Spector before the music legend was arrested for the murder of actress Lana Clarkson in his home.
"His whole life has been a tragedy," said Brown.
In their four-hour interview, Brown said Spector was painfully honest about his own fragile psyche, and about his childhood in his New York Bronx neighborhood and later California.
"He was a very lonely little boy. When they moved to California, he was small. Physically unprepossessing," said Brown. "And here he is, this little kid, moving to California, into a classroom full of vitamin-enriched, sun-kissed giants, which Phil Spector certainly wasn't. Hopeless at sports, not the best-looking kid in the class. But at the same time, a very smart kid."
By the late 1950s, Spector wrote and produced music for doo-wop groups and then went on to produce for groups such as the Ronnettes, the Ramones and the Crystals.
"He really is the link, if you like, between Elvis and the Beatles," said Brown.
The 'Spector Cake'
In the 1960s, Spector produced for the Rolling Stones, and he produced other classics like "You've Lost That Loving Feeling" for the Righteous Brothers and "River Deep Mountain High" for Ike and Tina Turner.
But perhaps Spector's most stunning achievement came with the Beatles. In 1970 he produced the "Let It Be" album, and the next year he produced the "Imagine" album with John Lennon.
And what did Phil Spector bring to artists like the Beatles? A whole new sound.
"He dreamed of creating a kind of orchestral pop …" said Brown. "Back in those days, the basic components of a rock 'n' roll group, in a recording session, would be bass, drums, guitar, piano maybe, saxophone maybe. Spector wanted to get a bigger sound than this. So instead of having one guitarist, you'd have six guitarists. Instead of having one pianist, he'd have three pianists."
"And then the final garnish on top of all Phil Spector's records is this extraordinary percussion … there's sleigh bells, there's castanets, there's maracas. It's this wonderful tintinnabulation, which is really the sort of … keynote garnishing on the Spector cake," he said.
But it wasn't only about the sound, it was about the words.
"There's a kind of pouring out of the heart in these records," said Brown. "'Today I met the boy I'm going to marry.' Fantastic. It's a dream world that he is creating. But the sense you get is these records are being created by someone to whom all of these feelings have been denied. And what I see this as, really, is it's like the little boy with his nose pressed against the sweet shop window … who can describe all the goodies inside but can never quite reach inside, and get them, himself."
'Sequestered Away in His Castle'
This brings us to the strange collision of events that led Mick Brown to write this new book about Phil Spector, a man who is, after all, three decades removed from his musical prime. Three years ago, Brown and his editor at London's Telegraph Magazine came up with a wish list of past musical greats, and Spector was at the top. "I mean, he hadn't given a major interview for 25 years," said Brown. "And so we set out to find him, and to our astonishment, he agreed to be interviewed."
Mick Brown sat down with ABC News at Spector's house recently to relive the long afternoon he'd spent inside.
"The grounds struck me as being very neglected, not well kept, but inside very beautiful, but in this rather fake baronial sort of style. Lots of marble, lots of red carpet, but beautifully furnished. There are echoes of Sunset Boulevard about this -- the great rock 'n' roll producer from yesteryear, locked away, sequestered away in his castle. A rather sort of odd atmosphere about it," Brown said.
Brown said he was given a tour of the house, and waited an hour and half before Spector's assistant announced Spector was ready for the interview.
"A few minutes later, there he was, walking down the steps," Brown recalled. "Extraordinary looking character with shoulder-length curls and black silk pajama suit monogrammed with the letters 'PS,' and 3-inch Cuban heels, blue-tinted shades, Handel playing on the inner house stereo. Diminutive little man. He looked bizarre, but in a peculiar way, rather magnificent, and walked up to me and I stood up to greet him and his first words to me were 'My, you are tall.'"
A Story Written. A Woman Dead.
The day after Brown's story ran in the Telegraph, a stunning blond woman named Lana Clarkson was shot dead in Spector's front hall.
Clarkson had appeared in a handful of movies and television shows, with probably her best known performance in the cult classic "Barbarian Queen." But recently Clarkson had been hoping to make contacts in her coveted new job as the hostess at the VIP room at Hollywood's House of Blues. That's where she met Spector, although Clarkson told a fellow employee that she didn't recognize him.
Spector's chauffeur also testified that at first Clarkson didn't know who Spector was, but that eventually she agreed to go home with in him in his limo for a drink. Two hours later, Clarkson was dead. Spector now stands charged with her murder -- a charge he denies, saying that Clarkson committed accidental suicide.
Already, four women have taken the stand and said Spector threatened them with guns. His horrified chauffeur testified that Spector ran out of his home that evening, with the gun in one hand and blood on the other saying, he "thought he'd killed someone."
'I'm My Own Worst Enemy"
What was going on inside this house and inside the mind of this man? The audio tapes of Brown's interview, which he says he recorded five weeks before Lana Clarkson died, give a glimpse inside Spector's psyche. "I don't play if I can't win," Spector said. "I don't play anything if I can't win. If you can't win, don't play."
"He says to me, 'Winning is everything,'" said Brown. "And that's a sentiment that, you could say, drives American society, drives American culture."
Spector also told Brown that he succeeded because he was "smarter than most," adding, "That's how I figured I'd get by. I cheated."
"I think he meant at something deeper than that," said Brown, "because he said, 'You know, cheat. … If you have to cheat, cheat.'"
In 1993, Spector's 10-year-old son, Phillip, died of leukemia. Spector told Brown that when his son died he'd lost his best friend, and in some ways, his grip on reality.
"It was a difficult time and all my close friends throughout my life -- Lenny Bruce, John Lennon -- had all passed on," he said. "All the people I could talk to were done … and I chose after the loss of Philip to get my life back on track, but it took almost 10 years. … I was crippled inside. Emotionally, insane is a hard word, but it's manic depressive, bipolar."
"He said, 'I take medicine for schizophrenia, although I'm not schizophrenic,'" Brown recalled.
"But I have a bipolar personality, that is strange," Spector said in Brown's taped interview. "I have devils inside that fight me. And I'm my own worst enemy."
Inside Spector's Character
At the time, Spector told Brown his current goal was to be a reasonable man, in part so he could have a better relationship with his son's surviving twin, Nicole, now 24.
But now Nicole's father is on trial for murder.
What else does this interview help us understand about how Spector sees himself? A key to his character, he said in the interview, is control.
"It's all about control," said Spector. "It's what everybody hates about me. In other words, you're never going to be successful if people don't hate you. And that's what everybody hates about me. If you come down to what people really hate about Phil Spector, its that he controls everything. And that's too $%(&# bad."
Whether Spector's desire to control the people in his personal life led to murder is still unclear, though it is worth noting that all four of the women who testified that Spector pulled a gun said he did so when they tried to leave his presence.
Was Clarkson attempting to leave when the gun went off? "She's found sitting beside the back door, right at the back door, with her purse slung over her shoulder," said Brown. "They'd been drinking in the living room, which is where I interviewed Spector. The case the prosecution are clearly making is that it was time to go. That Lana Clarkson wanted to leave. And she'd gone to the back door specifically, in order to leave. And at that point, something happens."
"What Spector said happened is, she kissed the gun. 'Accidental suicide.' Those are the words that he's used in interviews," said Brown. "What the prosecution says happened, is that he didn't want her to leave, that he reached for a gun, and that he shot her."
Reckless or Reclusive?
There are conflicts and contradictions in all of our lives. In Phil Spector's life, one of the greatest is his relationship with the fame he worked so hard to create. One friend once said that Spector was reckless, not a recluse.
"I think he was both," said Brown. "I mean, clearly he was a recluse. You know, he withdrew from the world. There's the sign on the castle wall: 'Phil Spector's Piranese Castle' … beside it is the sign that says, 'Electrified Fence, Security Cameras, Electric Gates, Do Not Step Across This Threshold.' [He's saying] 'Here I am. Don't come close.' It's the classic dichotomy, right there in that picture. "
A jury will not have to solve that riddle. They will have to decide whether the man who lives inside is a murderer.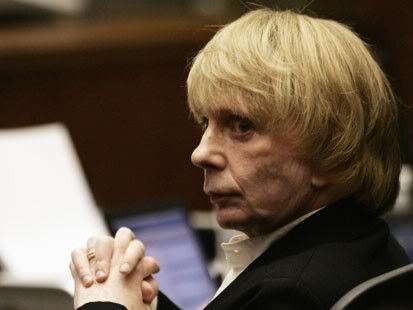 Phil Spector's Fate in Jury's Hands
http://www.eonline.com/news/article/index.jsp?uuid=b10a72f2-f028-420d-a5d9-71b803f720de
The time to argue gunplay and blood spatter is over. The time for Phil Spector to find out whether his high-priced lawyers earned their paychecks has just begun.
Six months after being empaneled, the nine-man, three-woman jury finally started deliberating Spector's fate Monday morning—but only after fielding questions as to whether they've been keeping tabs on the British tabs.
At issue was a report that surfaced in London's Mail on Sunday, which boasted quotes purportedly straight from Spector himself, in which the Wall of Sound legend allegedly ranted that "the judge doesn't like" him and that 20 percent of the jurors harbor a bias against him, think he is "insane" and had already made their minds up that he was guilty of murdering B-movie actress Lana Clarkson.
"The only thing that concerns me is the verdict," the paper quoted Spector as saying. "And for that I'm in the hands of 12 people who voted for George Bush."
But with the jury out of earshot, Spector, 67, insisted he never uttered those words or gave any semblance of an interview to the tabloid.
"I did not make those statements," he told Los Angeles Superior Court Judge Larry Paul Fidler. "They are reprehensible and false. Whoever made them on my behalf should be put in jail. I'm sure the jury will do a good job."
His lead attorney, Linda Kenney Baden, seconded the remarks, telling the judge her client "absolutely trusts this jury."
The Mail, meanwhile, claimed Spector made the comments to a documentary filmmaker who had been working with the Rock and Roll Hall of Famer over a five-month period earlier this year.
Brought back into the courtroom and asked whether they were privy to the article, none of the jurors raised a hand and, after a half-hour instruction session from Fidler, they were excused to begin deliberations at roughly 10:45 a.m.
Fidler himself did not comment on the article during the court session, though after the jury was excused, he said, "Anyone who wants to make a comment like that to a jury that's about to deliberate their fate isn't thinking about it."
While the jury's still out, so to speak, on whether Spector really made the statements printed in the Mail, his missus, Rachelle Spector, has made no qualms about her media contacts.
Over the weekend, the 27-year-old sent emails to various media outlets informing them of a TV interview she had given earlier in the week to Court TV. To ensure no other information was leaked to the press, Fidler imposed a gag order on both Spectors.
"Ma'am, I'm going to do something I've never done before," Fidler told Rachelle Spector, who was seated in the gallery, behind her husband.
"You are here in the courtroom. You will not talk to the press...until a verdict or other decision is arrived at in this case. If you do, you're in violation of my order and you know what I do to people who violate my orders."
That set her off. She told the judge she wasn't a witness in the case and continued grousing until Fidler finally cut her off.
"Ma'am, you're in front of me. You're in front of me! I'm making an order. You want to violate my order, go ahead and do so. I can assure you I will hold you in contempt of court for violating my order, and I will treat it accordingly," he said, before being interrupted once again.
"I am talking to you, and what you need to do is listen."
The gag order was also applied to the Clarkson family, though Fidler took care to note that their order was a preemptive one and that they had so far refrained from speaking out publicly.
Phil Spector, famous for his production work with the Righteous Brothers, the Ronettes and the Beatles, has been charged with second-degree murder in connection with the death of Lana Clarkson on Feb. 3, 2003. Clarkson suffered a fatal gunshot to her mouth while in the foyer of Spector's Alhambra mansion. Spector's defense has termed the death an accidental suicide.
If convicted of the charge, Spector faces 15 years to life in prison.
The jury finished the day shortly after 4 p.m. without reaching a verdict. Before wrapping up, however, jurors requested to see the revolver that killed Clarkson.
Hung Spector Jury Is Polled
Phil Spector jury deadlocked
http://www.nydailynews.com/news/crime_file/2007/09/18/2007-09-18_phil_spector_jury_deadlocked.html
The jury weighing a murder charge against Phil Spector told the judge Tuesday they are deadlocked after deliberating for seven days and cannot agree on a verdict.
Los Angeles County Superior Court Judge Larry Paul Fidler sent the jury home for the day. He told attorneys he would consider whether to tell the jury to consider the lesser charge of manslaughter.
The panel told the judge it had taken four ballots but was split 7-5 over the verdict. The jurors did not indicate which way they were leaning.
The defense asked for a mistrial, but Fidler denied the request.
Spector, 67, a music producer known for his "Wall of Sound" recording technique, is charged with second-degree murder in the Feb. 3, 2003, shooting death of Lana Clarkson, 40, an actress who had been working as a hostess at the House of Blues.
Prosecutors said Clarkson, star of Roger Corman's 1985 cult film "Barbarian Queen," had gone home with Spector after her shift at the House of Blues ended. They said Spector shot her in the mouth when she tried to leave.
The prosecution's case included testimony from several women who said the diminutive music maestro had pulled guns on them after they spurned his sexual advances.
The defense claimed Clarkson was depressed over her failing acting career and either committed suicide or shot herself by accident.
The jury got the case Sept. 10.
Spector jury deadlocked
Spector judge to drop instruction
http://news.bbc.co.uk/1/hi/entertainment/7004823.stm
The judge in Phil Spector's murder trial has said he plans to withdraw an instruction given to the jury because he says it misreads US law.
Jurors will be told they now no longer have to conclude that Mr Spector held a gun to Lana Clarkson's mouth before the weapon fired to find him guilty.
The 12-member jury is split 7-5 at Los Angeles Superior Court.
Mr Spector, 67, denies killing the actress at his home in February 2003. The defence says she killed herself.
The jurors told Judge Larry Paul Fidler on Tuesday that they had reached an impasse. He sent them home early on Wednesday and told them to return on Thursday.
The judge had offered the defence an opportunity to reargue their case, but Mr Spector's lawyers said they did not want to give the prosecution the chance to argue a new theory.
Another option - to give the jury the option of finding Mr Spector guilty of the lesser crime of involuntary manslaughter - was rejected in case it was seen as telling the jurors what to do.
Judge Fidler came to his decision after interviewing the jurors.
'High risk'
Lawyer Harland Braun, who is not involved with the case, but has worked with high profile clients, said the move "sort of takes your breath away".
"I've never heard of withdrawing an instruction after deliberations started," he told Associated Press.
Law professor Laurie Levenson called the plan a "high risk move".
She told AP that jury instructions were "the tea leaves jurors read in reaching their verdicts".
"It would have been proper not to give the instruction in the first place," Ms Levenson said.
"It's more problematic to withdraw it. He may be doing it to get a verdict, but the irony is if there's a conviction, we may be trying this case again after it gets to the appellate [appeal] court."
Judge gives Spector jury hypothetical scenarios
One was that Spector forced her to put a gun in her own mouth
http://www.msnbc.msn.com/id/20893192/
The judge in Phil Spector's murder trial on Thursday gave the deadlocked jury new instructions with several scenarios as to how the record producer might have killed actress Lana Clarkson.
Among the scenarios was that Spector forced her to put a gun in her own mouth and it went off.
Spector's attorneys had vehemently objected outside the jury's presence that Superior Court Judge Larry Paul Fidler was turning the defense against itself at the last minute.
They said they had presented scientific evidence that the 40-year-old Clarkson had probably pulled the trigger herself, either by accident or in a suicide.
The prosecution supported the judge's move on grounds there was "a plethora of evidence" that would support such a scenario, and the judge commented, "It's a reasonable inference that can be drawn."
The jury, which got the case Sept. 10, was sent back into deliberations after also receiving instructions including suggestions such as reverse role-playing in which jurors argue opposing jurors' views.
The panel talked for less than an hour before recessing for the night.
Spector, 67, is charged with killing Clarkson in the foyer of his Alhambra mansion on Feb. 3, 2003, a few hours after she met him at her job as a nightclub hostess and went home with him.
The new instructions came two days after the panel reported a 7-5 impasse on the implied-malice, second-degree murder charge against Spector.
Several jurors told the judge they were having trouble with one so-called pinpoint instruction concerning the prosecution's theory of how the shooting occurred.
That instruction said that in order to convict Spector of second-degree murder the jury had to find that "the defendant must have committed an act that caused the death of Lana Clarkson." It went on to specify the act was pointing a gun at her, which resulted in the gun entering her mouth while in Spector's hand.
After the impasse was reported, the judge decided to retract the instruction on grounds that it misstated the law. When the jury was summoned, he told them to no longer use that instruction and issued a new one.
Fidler told the panel that to prove Spector guilty, prosecutors must prove that Spector "committed an act with a firearm that caused the death of Lana Clarkson, such as placing a gun in her mouth or forcing her to place the gun in her mouth at which time it discharged, pointing the gun at or against her head at which time it entered her mouth and discharged, pointing the gun at her to prevent her from leaving the house, causing a struggle which resulted the gun entering her mouth and discharging."
Fidler then added a caution.
"By using these examples I am not suggesting that any of these acts took place. These are inferences you may draw from the evidences but are not required to do so. You may reject them. These are only possibilities that you may consider," the judge said.
The judge also told jurors that to convict, the act by the defendant must be more than "drawing or exhibiting a firearm in the presence of Lana Clarkson in a rude, angry or threatening manner" and that he had to have had a state of mind called "malice aforethought," which does not require hatred or ill-will toward the victim, or deliberation.
Defense attorney Bradley Brunon objected during the legal debate, saying the judge was drafting an instruction that offered the jury numerous hypotheticals on how Spector might have caused Clarkson's death but did not include any of the defense arguments on how Clarkson might have caused her own death.
"Why don't we give them equivalent scenarios" for the defense point of view, Brunon said.
The exasperated judge said that if the defense wanted to reargue the case "that opportunity exists."
"You can't retry the case after a week of deliberations ... there really is no viable alternative other than to mistry it and do it right the next time. There's no way out of it," Brunon said.
The judge refused to declare a mistrial.
"The judge gave the prosecution everything they wanted and some things they didn't even ask for," said Stan Goldman, a Loyola University Law School professor who was observing in the courtroom. "He has in some respect turned the defense team's case potentially against them. All of the defense experts said she fired the gun."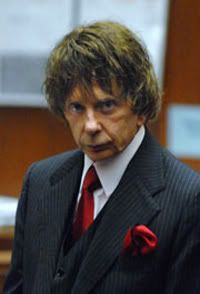 Jury resumes deliberations in Phil Spector murder trial
http://www.nydailynews.com/news/crime_file/2007/09/21/2007-09-21_jury_resumes_deliberations_in_phil_spect.html
Deadlocked jurors went back to debating the murder case against Phil Spector on Friday after receiving new instructions from the judge.
Outside the jury's presence, defense lawyers had argued against Los Angeles Superior Court Judge Larry Paul Fidler's new instructions, which they said offered new theories on how Spector, 67, may have killed Lana Clarkson.
Spector, a music producer known for his "Wall of Sound" recording technique, is charged with second-degree murder in the shooting death of Clarkson, 40, an actress who had been working as a hostess at the House of Blues.
Prosecutors contend Spector shot Clarkson in the mouth in the early hours of Feb. 3, 2003, when she tried to leave his mansion.
The defense has suggested Clarkson shot herself, either by accident or because she wanted to commit suicide.
The jury got the case Sept. 10 but, after seven days of deliberations, told the judge they were deadlocked 7-5. They did not say which way they were leaning.
After two days off, the panel went back to work with clarified instructions. Fidler told the panel that to prove Spector guilty, "the people must prove that ... the defendant committed an act with a firearm that caused the death of Lana Clarkson."
Fidler said such a scenario could mean that Spector placed the gun in Clarkson's mouth or forced her to put the weapon in her mouth, and then it went off. The judge cautioned the jurors that he was not telling them that this actually happened.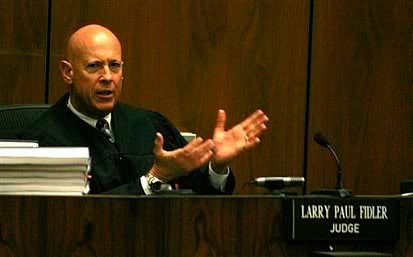 Judge declares mistrial in Spector case
'He acted like a guilty man,' said one juror after the cas
e
http://www.msnbc.msn.com/id/20997237/
mistrial was declared Wednesday in the murder case against Phil Spector when the jury reported that it was deadlocked 10-2 in favor of convicting the music producer of killing actress Lana Clarkson more than four years ago. The prosecutor's office announced it would seek to retry Spector, and the family of the actress also pledged to press on.
"We will not rest until justice is done," said John C. Taylor, a lawyer for the family.
Spector and his wife, Rachelle, left the courthouse shortly after the mistrial. The producer's attorneys later met with the jury.
"We thank the people of Los Angeles for keeping an open mind and the jury for their very hard work and their willingness to share their thoughts with us," defense attorney Linda Kenney-Baden said after the meeting.
The mistrial came after months of a trial in which jurors had to decide who pulled the trigger of a revolver — leaving no fingerprints — that went off in Clarkson's mouth early Feb. 3, 2003. The jury had met for about 44 hours over 12 days since getting the case Sept. 10.
A week ago, the jury foreman had reported a 7-5 split. After that, Superior Court Judge Larry Paul Fidler withdrew a jury instruction that he decided misstated the law and issued a new one giving examples of what panelists could draw from the evidence, including the possibility that Spector forced Clarkson to place the gun in her own mouth.
Fidler polled the jury, and each member agreed that a unanimous decision was not possible.
'He acted like a guilty man'
Some jurors agreed to talk to reporters at the courthouse but did not give their names. The foreman would not say which way he voted; the other two said they voted for guilt.
One juror said that the holdouts argued over whether Clarkson was suicidal and that the entire jury would have liked to see a psychological profile of the actress. Another juror was troubled by what Spector, who did not call 911, did in the 40 minutes between the death and the time police arrived.
"He acted like a guilty man," the juror said.
The foreman noted that the "inability to reach a decision is controversial to most."
"Even on the jury there's deep regret that we were unable to reach a unanimous verdict," he said.
The mistrial also disappointed prosecutors.
"We will seek the court's permission to retry the case and begin immediately to prepare for a retrial," prosecutor Steve Cooley said in a statement. A hearing was set for Oct. 3.
Prosecutors had charged Spector under a second-degree murder theory that did not require premeditation or intent.
They called women from his past who claimed he threatened them with guns when they tried to leave his presence, and a chauffeur who testified that on the fateful morning Spector came out of his home with a gun in hand and said, "I think I killed somebody," while Clarkson's body sat slumped in a foyer chair behind him.
The defense countered with a scientific case, suggesting Spector did not fire the gun and offering forensic evidence that she killed herself — either intentionally or by accident. Gunshot residue on her hands, blood spatter on his coat and the trajectory of the bullet were the subjects of weeks of testimony from experts.
Legendary producer, struggling actress
Spector, 67, rose to fame in the 1960s with the "Wall of Sound" recording technique, which revolutionized pop music. Clarkson starred in the 1985 cult film "Barbarian Queen."
Their life stories reflected different sides of the pop culture landscape.
The breadth of Spector's contributions to popular music in the 1960s and early 1970s was astounding. Early in his career, he produced hits including "He's a Rebel" and "Be My Baby," which made pop stars of the Crystals and the Ronettes.
Later, after the Beatles shelved the tapes from some of their last recording sessions, he turned them into their final album, 1970's "Let it Be." From there, he went on to produce critically acclaimed solo albums by John Lennon and George Harrison. He also co-wrote and produced the Ben E. King standard "Spanish Harlem" and the Righteous Brothers' "You've Lost That Lovin' Feelin'," cited by BMI as the most-played song in the history of American radio.
But by the time he met Clarkson, the music industry wunderkind who struck it rich in his teens and changed the face of pop music had aged into an eccentric, reclusive millionaire with a castle in the suburbs.
Clarkson, 40, was an ambitious dreamer, a statuesque beauty who idolized Marilyn Monroe and chased fame but was beaten down by rejection. Friends testified that she was at the end of her rope financially and humiliated by having to take a hostess job at the House of Blues, where she met Spector.
Jurors heard of her decision to go home with Spector for a drink after the club closed at 2 a.m. Little more than three hours later, she was dead.
What happened in those three hours was never clear. Spector did not testify, and prosecutors stated no motive for him to kill her other than her apparent decision to leave the house.
No prosecution forensic expert was able to place the gun in Spector's hands. But blood spatter on his coat and in his pants pockets were analyzed by prosecution experts to suggest that showed he was the shooter.
Defense experts said he stood too far away to have shot her. Blood spatter, they said, can travel up to 6 feet.
The defendant's changing appearance during the case was a reminder that this was a show business figure on trial. During pretrial, Spector arrived in a stretch Hummer, his hair frizzed out. For trial, he adopted a blond pageboy reminiscent of the early Beatles. But his wife, who said she styled his hair, later changed it to a short, tousled and darker look.
Wife stands by Spector
Rachelle Spector, 27, whose Web site says she is a singer, songwriter and trombone player, married Spector nearly a year ago and was with him every day of the trial.
The couple usually dressed in color-coordinated outfits. Spector wore long, foppish frock coats with vests, colorful shirts and ties. A diminutive figure, he always wore boots with high Cuban-style heels. Rachelle Spector wore stiletto heels, and the couple appeared to totter as they walked down the hall flanked by bodyguards.
Jurors saw a different side of the couple when they visited Spector's home for a court-supervised jury tour. The Spectors stood silently arm in arm, dressed in casual clothes, as jurors surveyed the scene of Clarkson's death.
In the last days of the trial, Rachelle Spector gave a TV interview defending her husband and was scolded by the judge and told to stop talking or face contempt charges.
On Tuesday, authorities revealed they were investigating a posting on a "Team Spector" page on MySpace.com that said "The EVIL Judge should DIE!!!!" and was signed "xoxo Chelle." A Spector defense attorney said Rachelle Spector denied having anything to do with the posting.
The Phil Spector Trial: End Of Act One/Intermission
http://www.rollingstone.com/rockdaily/index.php/2007/09/27/the-phil-spector-trial-end-of-act-oneintermission/
WHAT HAPPENED YESTERDAY?
Phil Spector avoided a lengthy jail sentence … for now. By the final score of 10-2, guilty votes almost convicted Spector for the murder of Lana Clarkson, but thankfully for Phil, a unanimous decision could not be reached, so we're back to square one. Three of the twelve jurors spoke to the media following the mistrial, including the jury foreman, who only made a brief statement to explain what went down during the twelve-day deliberations. All three men said they think Spector is guilty, and noted the two non-guilty votes stemmed from jurors who felt there wasn't enough reasonable doubt to prove that Lana Clarkson didn't commit suicide that night in Spector's mansion. An in-depth psychological report on Clarkson would have helped sway the two renegade jury members, said their fellow juror.
The same juror lambasted Team Spector for putting on a "fake" defense that created scientific theories, paid for high-priced witnesses, and even employed the forensic scientist husband of one of its lawyers. He also criticized the defense for character-assassinating Lana Clarkson. In fact, the juror was pretty unable to mask his disappointment that two of his peers allowed Spector to slip away. As for the prosecution, strip away all female witnesses that claimed Spector pointed a gun at them and the missing evidence, and it's still evident that Spector was the murderer, the juror remarked. Both jurors, however, said that if the charge was manslaughter, and not second degree murder, that Spector might be wearing an orange jumpsuit in San Quentin by now. Manslaughter is the key word as the prosecution seeks to rebound from this mistrial.
WHAT HAPPENS NEXT?
Judge Fidler will meet with the prosecution and defense sometime next week to discuss how the State of California will proceed. District Attorney spokeswoman Sandy Gibbons made it abundantly clear that Spector will face a retrial "immediately." For the time being, both sides will likely cue up their TiVos, study the hours and hours of Court TV trial footage, and figure out what they need to do to win. So while Spector might have been donning his party wig last night as he celebrated in his faux-mansion, he better make sure all his flamboyant suits are pressed and cleaned, as the curtain will rise on Act Two of this trial in the near future.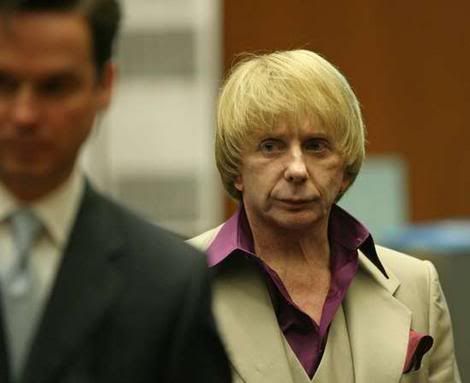 What will be Spector's legacy?
http://www.usatoday.com/life/people/2007-09-26-phil-spector-legacy_N.htm
A deadlocked jury sent Phil Spector back into the California sun a free man Wednesday. But while the mistrial spared him, at least temporarily, his legacy was already being debated in music circles.
Although he was not convicted of murdering actress Lana Clarkson, Spector nonetheless remains tainted by the accusation, much as Robert Blake is known better for being acquitted of murdering his wife than as TV's Baretta. It remains to be seen whether Spector's considerable musical triumphs — from his days as a doo-wop singer to his reign as girl-group starmaker — can outlive his personal saga.
Among music industry observers, there is no clear consensus. "This event profoundly affects Spector's legacy," says Mick Brown, who covered the trial for London's Telegraph newspaper and is the author of Tearing Down the Wall of Sound: The Rise and Fall of Phil Spector. "The seeds planted in this trial produced a weed that is bound to choke his reputation."
Spector is "forever damaged by this," says Brown, whose interview with Spector just weeks before Clarkson's murder was the catalyst for his book, which paints the portrait of a moody genius with a love of gunplay. "Of course, the artifacts of his work could well endure."
FIND MORE STORIES IN: Jackson | Clarkson | Phil Spector | Robert Blake | Baretta | Producer | Sound | Wall of Sound | Joe Levy | Robyn Beck | Bob Merlis
The power within that body of work is not to be ignored, says Bob Merlis, a former Warner Bros. music publicist who got to know Spector when the producer formed his own label, Warner-Spector Records, in the 1970s.
"What he did was simply epochal," says Merlis, citing the Spector-produced Righteous Brothers hit, You've Lost That Lovin' Feelin', as the most frequently played song in the history of radio. "He changed everything with that wall of sound. Think of any classical giant. Do most of us talk about what they did in life? No, we listen to the music."
Another Spector acquaintance seconds the notion that his accomplishments outweigh his infamy.
"I know we're in an era of sensationalist celebrity news and all, but I still think that his legacy will remain sterling," says Gene Sculatti, a former Billboard magazine editor and longtime music industry writer. "One advantage of our modern times is that everything is available to everyone. And that means that if people really want to know what Phil was about, the music is there."
With an ear for what would sound great booming out of a transistor radio, the producer melded the raw singing talent of unknowns with his technical expertise to create layered, echo-laden pop operas — the so-called Wall of Sound — that were idolized and imitated by Bruce Springsteen and countless others who came of age during the Spector-laden '60s.
That four-decade gap between the producer's heyday and the shooting at his opulent home ensures that the man will forever remain separate from the music, says Howard Kramer, curatorial director at the Rock and Roll Hall of Fame.
"He was a legend in retirement before (Clarkson's death) occurred," Kramer says. "It's sad how things turned out for him, but it's not like people are going to erase (Ike and Tina Turner's) River Deep, Mountain High from their iPods."
Kramer points to a number of music legends who have had their brushes with the law or their own demons — from James Brown, who had a variety of run-ins with the law, to Michael Jackson, who was accused of child molestation — in arguing that it's unfair to judge a body of legendary work by the misdeeds of legend.
"We all love to focus on fame and celebrity, but ultimately, I hope people respond mostly to the art those people created," he says.
Joe Levy, executive editor of Rolling Stone, says the similarity in the Spector and Jackson stories is "the fact that we're talking about incidents that came up over and over again in their lives."
But the music made by both blind us to anything but their brilliance, Levy says. "At the MTV Video Awards, Chris Brown made a quick reference to (Jackson's) Billie Jean in his performance, and people went crazy because it is simply one of the best pop songs of our time."
He suggests that the greatest hope for any tainted legend is that the music never stops.
"Put a great song on, and all you can remember is how much you admire the person who created it," he says. "But when the song is over, what we're often left with are the headlines and the punch lines."
Ramones and Phil Spector (1979) - End of the Century
Phil Spector - On John Lennon Day