A miscarriage of justice is primarily the conviction and punishment of a person for a crime that he or she did not commit. The term can also be applied to errors in the other direction — "errors of impunity" — and to civil cases, but those usages are rarer, though the occurrences appear to be much more common. Most criminal justice systems have some means to overturn, or "quash", a wrongful conviction, but this is often difficult to achieve. The most serious instances occur when a wrongful conviction is not overturned for several years, or until after the innocent person has been executed or died in jail.
"Miscarriage of justice" is sometimes synonymous with wrongful conviction, referring to a conviction reached in an unfair or disputed trial. Wrongful convictions are frequently cited by death penalty opponents as cause to eliminate death penalties to avoid executing innocent persons. In recent years DNA evidence has been used to clear many people falsely convicted.
Scandinavian languages have a word, the Norwegian variant of which is justismord, which is literally translated "justice murder". The term exists in several languages and was originally used for cases where the accused was convicted, executed and later cleared after death. With capital punishment decreasing, the expression has acquired an extended meaning, namely any conviction of a person of a crime he/she did not commit. The retention of the term "murder" both demonstrates universal abhorrence against wrongful convictions and awareness of how destructive wrongful convictions are. How many people are needed to testify against someone charged for treason who is denying it?
http://en.wikipedia.org/wiki/Miscarriage_of_justice
A miscarriage of justice is primarily the conviction and punishment of a person for a crime that he did not commit. The term can also be applied to errors in the other direction — "errors of impunity" — and to civil cases, but those usages are rarer, though the occurrences appear to be much more common. Most criminal justice systems have some means to overturn, or "quash", a wrongful conviction, but this is often difficult to achieve. The most serious instances occur when a wrongful conviction is not overturned for several years, or until after the innocent person has been executed or died in jail.
"Miscarriage of justice" is sometimes synonymous with wrongful conviction, referring to a conviction reached in an unfair or disputed trial. Wrongful convictions are frequently cited by death penalty opponents as cause to eliminate death penalties to avoid executing innocent persons. In recent years DNA evidence has been used to clear many people falsely convicted.
General issues
Causes of miscarriages of justice include:
confirmation bias on the part of investigators
withholding or destruction of evidence by police or prosecution
fabrication of evidence
editing of evidence
poor identification
overestimation/underestimation of the evidential value of expert testimony
contaminated evidence
faulty forensic tests
false confessions due to police pressure or psychological weakness
misdirection by a judge during trial
perjured evidence by the real guilty party or their accomplices
perjured evidence by the supposed victim or their accomplices
perjured evidence by police officers or their accomplices
perjured evidence of confession given by jailhouse informants
errors of due process and errors of impunity
failure or incompetence of the defense
Often, whether a case is in fact a miscarriage of justice remains controversial for a long time. The criminal justice system in most countries is also predisposed against changing its mind, only overturning a wrong conviction when the evidence against the conviction is overwhelming. The result is that many wrongly-convicted people spend many years in prison before their convictions are quashed and they are released.
The risk of miscarriages of justice is one of the main arguments against the death penalty. Where condemned persons are executed promptly after conviction, the most significant effect of a miscarriage of justice is irreversible. (Wrongly-executed people are nevertheless occasionally posthumously pardoned — which is essentially a null action — or have their convictions quashed.) Many states that still practice the death penalty hold condemned persons for ten years or more before execution.
Even when a wrongly-convicted person is not executed, spending years in prison often has an effect on the person and their family that is irreversible and substantial.
Cases in numerous countries
England, Wales and Northern Ireland
In the United Kingdom a jailed person whose conviction is quashed may be paid compensation for the time they were incarcerated.
It was a noted problem that the parole system assumes that all convicted persons are actually guilty, and it poorly handled those who are not. In order to be paroled, a convict was required to sign a document in which, among other things, they confessed to the crime for which they were convicted. Some wrongly convicted people, such as the Birmingham Six, therefore refused parole, and ended up spending longer in jail than a genuinely guilty person would have. In 2005 the system changed in this respect, and a handful of prisoners started to be paroled without ever admitting guilt.
In the event of a "perverse" verdict that involves the conviction of a defendant who should not have been convicted on the basis of the evidence presented, English law has no means of correcting this error: appeals being based exclusively upon new evidence or errors by the judge or prosecution, (but not the defence), or because of jury irregularities. This assumes that juries are perfect and do not make mistakes.
During the early 1990s there was a series of high-profile cases revealed to have been miscarriages of justice. Many resulted from police fabricating evidence, in order to convict the person they thought was guilty, or simply to convict someone in order to get a high conviction rate. The West Midlands Serious Crime Squad became notorious for such practices, and was disbanded in 1989. In 1997 the Criminal Cases Review Commission [1] was established specifically in order to examine possible miscarriages of justice. See, for example:
the Darvell brothers
Danny McNamee
the M25 Three
Jonathan Jones
Sheila Bowler
Other miscarriages include:
Robert Green, Henry Berry and Lawrence Hill were hanged in 1679 at Greenberry Hill on false evidence for the unsolved murder of Edmund Berry Godfrey.
Adolph (or Adolf) Beck, whose notorious wrongful conviction in 1896 led to the creation of the Court of Criminal Appeal.
Timothy Evans' wife and young daughter were killed in 1949. Evans was convicted of killing of his daughter and hanged. It was later found that the real murderer was Reg Christie, another tenant in the same house, who eventually killed six women. Evans was the first person in Britain to receive a posthumous free pardon.
Derek Bentley, executed for murdering a police officer. The charge was based on the fact that during a police chase, he shouted to an armed friend 'Let him have it'. The case is often said to be a miscarriage of justice, and the verdict was overturned half a century later. It should be noted, however, that the grounds for overturning the verdict was that the trial had not been fair, due to various procedural defects. Had Bentley still been alive, there would certainly have been a retrial; he was not pronounced innocent by the Court of Appeal.
Stephen Downing was convicted of the murder of Wendy Sewell in a Bakewell churchyard in 1973. The 17-year-old had a reading age of 11 and worked at the cemetery as a gardener. The police made him sign a confession that he was unable to read. The case gained international notoriety as the "Bakewell Tart" murder. After spending 27 years in prison, Stephen Downing was released on bail in February of 2001, pending the result of an appeal. His conviction was finally overturned in January 2002.
John Joseph Boyle aged 18 was convicted under the pretences of an alleged confession to membership of the convicted at Belfast City Commission on 14 October 1977 of possession of firearms and ammunition with intent to endanger life, and membership in the I.R.A. He was sentenced to ten years in prison on the first count, and to two years in prison on the second count, the terms to run concurrently. A suspended sentence of two years imprisonment imposed for a previous offence was also invoked, making a total of twelve years in prison. When released he underwent a long fight to prove his innocence. In 2003, his conviction was quashed but he has been denied compensation.
Andrew Evans served more than 25 years for the murder of 14-year-old Judith Roberts. He confessed to the 1972 murder after seeing the girl's face in a dream. His conviction was overturned in 1997.
In 1974 Judith Ward was convicted of murder of several people caused by a number of IRA bombings 1973. She was finally released in 1992.
The Birmingham Six were fraudulently convicted in 1975 of planting two bombs in pubs in Birmingham in 1974 which killed 21 people and injured 182. They were finally released in 1991.
The Guildford Four were wrongly convicted in 1975 of being members of the Provisional IRA and planting bombs in two Guildford pubs which killed four people. They served nearly 15 years in prison before being released in 1989. (See Tony Blair's apology under The Maguire Seven below.)
The Maguire Seven were convicted in 1976 of offences related to the Guildford and Woolwich bombings of 1974. They served sentences ranging from 5 to 10 years. Giuseppe Conlon died in prison. Their convictions were quashed in 1991. On 9 February 2005 British Prime Minister Tony Blair issued a public apology to the Maguire Seven and the Guildford Four for the miscarriages of justice they had suffered. He said: "I am very sorry that they were subject to such an ordeal and such an injustice. They deserve to be completely and publicly exonerated."
Stefan Kiszko was convicted in 1976 of the sexual assault and murder of an 11-year old Lesley Molseed in 1975. He spent 16 years in prison before he was released in 1992, after a long campaign by his mother. He died of a heart attack the following year at the age of 41. His mother died a few months later.
The Bridgewater Four were convicted in 1979 of murdering Carl Bridgewater, a 13-year-old paper boy who was shot on his round when he disturbed robbers at a farm in Staffordshire. Patrick Molloy died in jail in 1981. The remaining three were released in 1997.
The Cardiff Three, Steven Miller, Yusef Abdullahi and Tony Paris were falsely jailed for the murder of prostitute Lynette White, stabbed more than 50 times in a frenzied attack in a flat above a betting shop in Cardiff's Butetown area on Valentine's Day 1988, in 1990 and later cleared on appeal. In 2003, Jeffrey Gafoor was jailed for life for the murder. The breakthrough was due to modern DNA techniques used on evidence taken from the crime scene. Subsequently, in 2005, 9 retired Police Officers and 3 serving Officers were arrested and questioned for false imprisonment, conspiracy to pervert the course of justice and misconduct in public office.
Peter Fell, a former hospital porter, described in the media as a "serial confessor" and a "fantasist", was sentenced to two life terms in 1984 for the murder of Ann Lee and Margaret "Peggy" Johnson, who were killed whilst they were out walking their dogs in 1982. His conviction was overturned in 2001.
Sally Clark was convicted in 1996 of the murder of her two small sons Christopher and Harry, and spent 3 years in jail, finally being released in 2003 on appeal. The convictions were based solely on the analysis of the deaths by the Home Office Pathologist Alan Williams, who failed to disclose relevant information about the deaths, and backed up by the paediatric professor Sir Roy Meadow, whose opinion was pivotal in several other child death convictions, many of which have been overturned or are in the process of being challenged. In 2005 Alan Williams was found guilty of serious professional misconduct and barred from practicing pathology for 3 years. In July 2005 Meadows was also struck off for serious professional misconduct and barred.
Donna Anthony, 25 at the time, was wrongly jailed in 1998 for the death of her 11 month old son, and finally released in 2005, also because of the opinion of Sir Roy Meadow.
The Gurnos Three, also known as the Merthyr Tydfil Arson Case (Annette Hewins, Donna Clarke and Denise Sullivan). Wrongly convicted of the arson attack on the home of Diane Jones, aged 21, in October 1995. Someone had torn away part of the covering of her front door and poured in petrol to start the fire. The fire spread so rapidly that Ms Jones and her two daughters, Shauna, aged two and Sarah-Jane, aged 13 months, were all killed. The convictions of Ms Hewins and Ms Clarke were quashed at the Court of Appeal in February 1998 and a retrial ordered in the case of Ms Clarke.
Michelle and Lisa Taylor, wrongly convicted for the murder in 1991 of Alison Shaughnessy, a bank clerk who was the bride of Michelle's former lover. The trial was heavily influenced by inaccurate media reporting and deemed unfair.
Paul Blackburn was convicted in 1978 when aged 15 of the attempted murder of a 9-year old boy, and spent more than 25 years in 18 different prisons, during which time he maintained his innocence. He said he had never considered saying he was guilty to secure an earlier release because it was a matter of "integrity". He was finally released in May 2005 when the Court of Appeal ruled his trial was unfair and his conviction 'unsafe'.
The Cardiff Newsagent Three, Michael O'Brien, Darren Hall and Ellis Sherwood, were wrongly convicted for the murder of a newsagent, Phillip Saunders. On October 12 1987 Mr Saunders, 52, was battered with a spade outside his Cardiff home. The day's takings from his kiosk had been stolen, and five days later he died of his injuries. The three men spent 11 years in jail before the Court of Appeal quashed the conviction in 1999. The three have since been paid six figure compensation, but South Wales Police had still not apologised or admitted liability for malicious prosecution or misfeasance.
Andrew Adams, wrongly convicted of the murder of a retired teacher. His conviction was finally quashed on 12th Jan 2007, after spending 14 years in jail.
http://www.answers.com/topic/miscarriage-of-justice?cat=biz-fin
The Innocence Project is a national litigation and public policy organization dedicated to exonerating wrongfully convicted people.
http://www.innocenceproject.org/
Innocence Project - Wrongfully Convicted Man
Innocence Project Event - The Wrongfully Convicted
Steven Avery (born July 9, 1962), after serving 18 years on a rape conviction in which DNA analysis later linked the crime to another man, was, after his exoneration and release from prison, convicted of the murder of Teresa Halbach.
Background
At age eighteen, Avery pled guilty to burglarizing a bar and was sentenced to ten months in prison.[1] When he was twenty, Avery and another man pled guilty to animal cruelty after pouring gas and oil on Avery's cat and throwing it into a fire; Avery was sentenced to prison again for that crime.[2] In 1985, Avery was charged with assaulting and flashing his cousin and possessing a firearm as a felon, and with the rape for which he was later exonerated.[3] He served six years for assaulting his cousin and illegally possessing firearms, and twelve years for the rape he did not commit.[4]
The Wisconsin Innocence Project took Avery's case and eventually he was exonerated of the rape charge. After his release from prison, Avery and his attorneys (Stephen Glynn and Walter Kelly) filed a $36 million federal lawsuit against Manitowoc County, its former sheriff, Thomas Kocourek, and its former district attorney, Denis Vogel. On October 31, 2005, the same day that Halbach went missing, state legislators passed the Avery Bill to prevent wrongful convictions. The bill has since been renamed out of respect for the Halbach family.
[edit] Halbach murder
Sometime during the day on October 31, 2005, photographer Teresa Halbach, was scheduled to meet with Steven Avery, one of the owners of Avery Auto Salvage, to photograph a maroon Plymouth Voyager minivan for Auto Trader Magazine. She had been there at least fifteen times before, taking pictures of other vehicles for the magazine. Halbach disappeared that day.
On November 11, 2005, Avery was charged with the murder of Halbach. Avery protested that authorities were attempting to frame him for Halbach's disappearance to make it harder for him to win his pending civil case regarding the false rape conviction. To avoid any appearance of conflict, Mark R. Rohrer, the Manitowoc County district attorney, requested that neighboring Calumet County authorities lead the investigation. Manitowoc County Circuit Court Judge Patrick Willis presided over the trial.
On March 18, 2007, Steven Avery was found guilty of murdering Halbach, not guilty of mutilating a corpse, and guilty of illegally possessing a firearm. On June 1st, 2007, he was sentenced to life in prison without the possibility of parole for the murder. He was also sentenced to 10 years in prison for felony possession of a firearm, which will run concurrent to the murder sentence.
http://en.wikipedia.org/wiki/Steven_Avery
Avery Found Guilty
http://www.crimelibrary.com/serial_killers/predators/steven_avery_halbach/12.html
Man cleared of rape now to face murder charge
Freed after 18 years by DNA tests, man linked to woman's disappearance
http://www.msnbc.msn.com/id/10003226/
CHILTON, Wis. - A man who spent 18 years in prison for a rape he didn't commit will be charged with killing a woman whose vehicle was found near his home, a prosecutor said Friday.
Steven Avery's blood was found inside Teresa Halbach's sport utility vehicle, said Calumet County District Attorney Ken Kratz, who plans to charge Avery with first-degree intentional homicide by Tuesday.
"It is no longer a question, at least in my mind as special prosecutor in the case, who is responsible for ... the death of Teresa Halbach," Kratz said.
Avery, who was freed from prison two years ago, has denied involvement in the disappearance of Halbach, 25, who was last seen Oct. 31.
Blood also was found in Avery's trailer home and garage, according to search warrants filed Friday. Eleven spent .22-caliber shell casings also were found in Avery's garage, and two guns were found in his home, authorities have said.
Avery, 43, remained jailed after being arrested and charged Wednesday with a weapons violation.
DNA tests exonerated him
Avery served 18 years in prison for sexual assault but was freed in 2003 after a law school group persuaded a judge to allow new DNA testing, which ruled him out and linked another man to the crime.
Authorities in neighboring Calumet County are handling the case because Avery has sued Manitowoc County over his wrongful conviction.
Relatives of Halbach, a freelance photographer, found her sport utility vehicle at Avery's salvage yard on Saturday.
Jerry Pagel said.
Pagel also said investigators found the key to Halbach's SUV in Avery's bedroom.
On the day she disappeared, Halbach was on assignment for a magazine, taking pictures of cars for sale. One stop was at the Avery salvage yard near Mishicot, about 25 miles from Green Bay.
Halbach's relatives and friends spent days searching for her until Thursday, when the sheriff asked them to stop looking, said her brother, Mike Halbach.
"It hurts. Everything hurts," he said.
Human remains found
Investigators said human remains were also found but would not say where, though Pagel said deputies were focused on a burn barrel on the Avery property during their search.
The remains had not been identified Friday, but Calumet County Sheriff Jerry Pagel said investigators believe they are Halbach's.
Kratz said officers questioned Avery about Halbach's disappearance Wednesday, but the prosecutor would not say what Avery told them. Kratz said Avery did not ask to have a lawyer present.
A public defender was not immediately assigned to Avery, whose brother, Chuck, refused to comment about the case Friday.
Steven Avery was sentenced to 32 years in prison for sexual assault but was freed after the law school group persuaded a judge to allow new DNA testing, which linked another man to the crime.
Demand for DNA testing creating national backlog
http://archives.cnn.com/2001/LAW/08/29/dna.backlog/
Raymond Holder spent nine months in a Virginia jail falsely accused of brutally raping a 12-year-old girl.
Holder was eventually freed by DNA evidence. He had asked police to conduct a DNA test when he was arrested, telling them it would clear him. But he had to wait nine months before test results exonerated him.
With an accuracy rate of more than 99 percent, DNA testing has become a valuable crime-fighting tool. But the demand for its use has grown so large that government laboratories are struggling to keep up.
A backlog of untested DNA samples is limiting the technology's effectiveness, say forensic experts.
The Justice Department estimates more than 750,000 samples collected from convicts across the United States are waiting to be tested, with another 50,000 coming in each month.
An additional 180,000 rape kits collected from the scenes of sexual assaults have not been tested.
U.S. Attorney General John Ashcroft said the average DNA sample is not tested for six months, and that in some cases, the statute of limitations for prosecuting a case expires before the tests are completed.
Earlier this month, Ashcroft announced the Justice Department would offer $30 million in grants to help state DNA labs catch up.
Justice Correspondent Kelli Arena examines the impact the backlog has had on Raymond Holder's life, as well as the effort to cut away the backlog of DNA cases waiting testing..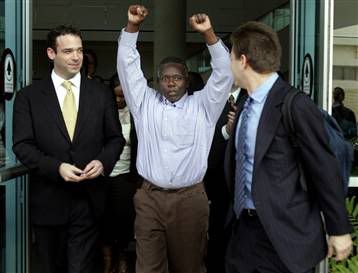 Man exonerated by DNA is freed after 24 years
Accused of robbery, rape, Floridian is glad for day 'a long time coming'
http://www.msnbc.msn.com/id/10995872/
TAMPA, Fla. - Alan Crotzer stepped into the warm sunlight outside the courthouse Monday and raised his arms to the sky, celebrating his freedom after more than 24 years behind bars for crimes he didn't commit.
A judge freed the 45-year-old Crotzer after DNA testing and other evidence convinced prosecutors he was not involved in the 1981 armed robbery and rapes that led to his 130-year prison sentence.
"It's been a long time coming," said Crotzer, his black hair graying at the temples. "Thank God for this day."
Crotzer walked free more than three years after he wrote to the Innocence Project in New York, a legal clinic that seeks to exonerate inmates through DNA testing.
"Are you ready for what you waited so long to hear?" Circuit Judge J. Rogers Padgett said to Crotzer during the brief hearing. "Motion granted — you're a free man."
Members of Crotzer's family and other courtroom spectators clapped and cheered as a bailiff removed the shackles from his wrists and ankles.
Hailed by prosecutor
Prosecutor Mike Sinacore congratulated him. "Trying to fix an error in the system is just as important as trying to convict someone who is guilty," he said.
DNA has been used to clear at least 172 people wrongly convicted of crimes in 31 states since 1989, according to the Innocence Project.
Crotzer and brothers Douglas James and Corlenzo James were convicted of robbing a Tampa family in 1981. Douglas James and Crotzer were also found guilty of kidnapping and raping a 38-year-old woman and her 12-year-old girl at gunpoint.
A victim picked Crotzer out of a photo lineup. But Douglas James says Crotzer is innocent. He said he and his brother were the rapists and a childhood friend was their accomplice.
Crotzer, who has never held a paying job, said he will go live with a sister in St. Petersburg and try to find work. His attorneys said they will seek compensation from the state for him.
'I'm not bitter'
In December, Gov. Jeb Bush signed a bill allowing Wilton Dedge to receive $2 million for the 22 years he spent in prison for a rape he did not commit. Dedge, 44, also was exonerated by DNA evidence.
"There ain't no compensation for what they done to me," said Crotzer, whose mother died while he was in prison. "But I'm not bitter."
Crotzer said he was looking forward to a barbecue with his family, who promised him his favorites — pork chops and banana pudding. Then, he said, he wanted to take a bath in a real bathtub.
"I want to soak," he said. "I want to get some of this off me."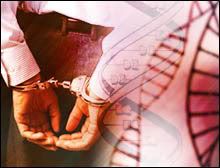 Innocence Lost: DNA Tests Expose Justice System's Flaws
http://www.alternet.org/story/11866/
When innocent prisoners are exonerated through DNA tests, we celebrate. But DNA is no magic bullet: only 94 innocent people, out of perhaps 100,000, have been freed since 1988.
It's the morning of Thursday, October 11 and Anthony Michael Green makes a quick stop at a convenience store. Purchase in hand he pockets his change, all except for one coin, which he stares at intently as he exits. Finally, he turns to the journalist walking at his side, the coin held up for closer examination. "What kind of money is this, some kind of Canadian quarter?" he asks, the confusion on his face evident.
Laughing, the reporter assures Green that it is indeed American money. "It's a state quarter," he says, "that one's from Connecticut." Noting his companion's bewilderment, he then explains how for several years now the government has been releasing different quarters for each of the 50 states.
"I've been gone a long time," Green mutters in reply, still staring fixedly at the silvery disk, and for a moment his brow furrows and his face grows dark. But within seconds his expression abruptly shifts, a spreading grin indicating his previous good humor is restored. "This is my first quarter," he chuckles, "I'm going to save this one."
There's an obvious reason why Michael Green (he prefers to go by his middle name) has never seen a state quarter, why even mundane acts carry an emotional punch for the handsome, well spoken 35 year-old. You see, it is only the second full day of Michael's freedom. In fact, for the previous 13 years -- nearly the entire span of his adult existence -- he has been locked away and largely forgotten in a maximum security penitentiary, the result of his 1988 conviction "beyond a reasonable doubt" in an Ohio courtroom for the brutal rape of a dying, cancer-stricken woman at the famed Cleveland Clinic.
Of course, that's all changed now. Released on on bail October 9, his freedom became final nine days later when, on the basis of a legal motion by famed O.J. defense attorney and DNA expert Barry Scheck, a Cleveland judge vacated Green's conviction.
It is just the latest coup for Scheck's Innocence Project, the non-profit legal advocacy organization he co-founded nine years ago to harness fast developing DNA technology in the service of the wrongly convicted. Judges, prosecutors and much of the press will tell you that this proves the system works, that it can and will correct its mistakes. But the truth is, Green's case embodies exactly the opposite; examined closely, it reveals everything that is wrong with the criminal justice system, and exemplifies why DNA evidence, at least for the vast majority of wrongly convicted individuals, hasn't been the magic bullet the press and public think it is.
No Fault
Dr. Ed Blake of Richmond, California is the nationally renowned scientist who first introduced forensic DNA testing to the United States, and it is he who conducted the testing and produced the report for the Innocence Project that finally set Green free. "You don't convict someone beyond a reasonable doubt by accident," he says bluntly. "What happened to Anthony Green was not an error. The only way you prove an innocent man guilty is if the guy was framed."
And while there will likely never be an official assessment of why Green was wrongly convicted, the case has received enough scrutiny to make the key factors in the miscarriage of justice evident. In a nutshell, at the moment Green was chosen as a suspect by Clinic cops -- he roughly fit the victim's description of her assailant and had been recently fired by the hospital -- he was essentially as good as convicted. As with so many other Innocence Project cases, standard investigatory safeguards were violated and scientific evidence manipulated and misrepresented in order to make him appear guilty.
Along with a flawed identification from the victim, prosecutors used what seemed like solid scientific evidence to link Michael to the rape. One item from the crime scene was particularly important: a washcloth used by the assailant to wipe himself off after the rape was concluded. Based on stains on the washcloth, a Cleveland Police Department forensic lab employee named Joseph Serowick provided testimony concerning blood type that pointed to Green.
That testimony was later examined in detail by Dr. Blake. His conclusions were devastating, and led Michael's Innocence Project lawyers to describe Serowick's testimony as "scientifically irresponsible and misleading to the jury." Start with the fact that Serowick was well aware (or should have been) that, since the rapist had wiped off his genitals after the rape, the stain obviously contained both semen from the attacker and vaginal secretions from the victim. Though that was perfectly clear from the victim's account, if he had any doubts he could have confirmed it from a simple microscopic examination of the washcloth stain, which should have been standard procedure anyway, according to Blake. Nevertheless, Serowick testified that he was testing a pure semen stain, rather than a co-mingled one, and that therefore the "type B secretor" test result must have come from the rapist. He then told the jury that not only was Green a type B secretor, but also that fully 84 percent of the male population could not have produced such a result, a fact that the prosecution stressed in its summation.
However, Serowick knew, from a test of the victim's saliva, that she too had the same blood type, which essentially rendered his result meaningless. As Blake concludes, Serowick's test "excluded no one" because the substances he found could just as easily have come from the victim as from Green.
Usual Suspects
These sorts of serious errors in the prosecution's case against Green, as well as a host of others, have been found in previous wrongful convictions. Taken together, DNA exonerations make it clear that there is far too much shoddy investigation, bungled or misleading pseudo-scientific analysis, and tunnel-vision prosecution presented in American courtrooms. Dozens of stories reminiscent of Michael's are collected in Actual Innocence, written by Barry Scheck along with partner Peter Neufeld and double-Pulitzer Prize winner Jim Dwyer. They build a compelling case for the establishment of strict guidelines covering how evidence is collected and presented in criminal prosecutions.
"Now the fabric of guilt is laid bare," the authors write in reference to the mounting number of false convictions exposed by DNA. "Sometimes eyewitnesses make mistakes. Snitches tell lies. Confessions are coerced or fabricated. Racism trumps the truth. Lab tests are rigged. Defense lawyers sleep. Prosecutors lie. DNA testing is to justice what the telescope is for the stars… It is a revelation machine."
What's needed not only in the Green case, but in all post-conviction DNA exonerations, both Scheck and Blake argue, is an Innocence Commission -- an appointed panel of legal experts armed with subpoena powers in order to comprehensively investigate how and why an innocent person ended up imprisoned. The point, they say, is not only to apportion blame and ferret out the dishonest and incompetent, though that is extremely important, but also to establish comprehensive recommendations for the reform of the justice system.
"Such investigations happen everywhere else in the English-speaking world. It's only here in the U.S. that we refuse to do this," Blake says. He points to a Canadian example of such a commission, at which he testified, which looked into why an Ontario man was first acquitted and then later convicted of the murder of a nine year-old girl before being conclusively exonerated by Blake's DNA tests in 1995. It found that just about everything that could go wrong with the case did, including misidentifications, tunnel vision prosecution, fabricated police and snitch testimony and shoddy and fraudulent forensic scientific work.
The Canadian commission's detailed report (the executive summary alone runs to 40 pages), compiled after 146 days of open public hearings and perusal of more than 100,000 pages of documents, provides a blueprint for how authorities ought to handle exonerations, Blake believes. The actions of individual police officers, prosecutors, defense attorneys, forensic scientists, jailhouse snitches, and witnesses should be assessed, and recommendations should be made to correct the any investigatory, scientific or judicial errors.
Yet at a press conference held in the immediate aftermath of Green's exoneration, head prosecutor Bill Mason made it clear that he sees no need for any kind of official inquiry into what went wrong at Michael Green's initial trial. "We could do something like that," he says in answer to a reporter's question. "But you have to remember that the victim positively identified him as her attacker." In other words, Michael's conviction was an honest mistake that can be laid at the doorstep of one individual's fallible memory, he implies, and it would be a mistake to blame the system. "Our system is not without its flaws," he contends, "but every day we work to make it better."
The real explanation as to why post-exoneration inquiries don't happen is that they hold the potential to embarrass too many important people, Blake says. That's why, after all the DNA-driven reversals of the last decade, there hasn't been a single one in the U.S. Told that the lead prosecutor in the case is now a judge, Blake replies, "that's a common scenario. Now you understand why no one likes suggesting these things.
"But if we don't want to face more cases like Anthony Green's, we've got to start holding people accountable," he argues. "It shouldn't matter who it involves, whether it be judges, appellate judges, cops, prosecutors or defense attorneys, every person responsible for Anthony Green's [conviction] should have their malfeasance articulated and should be held up to public ridicule and removed from public service if necessary."
Dizzying Numbers
No one has any real idea how many innocent people are incarcerated in America's prisons, but it is clear the number is substantial, far more than most people realized prior to the widespread availability of DNA testing. And while DNA has already freed scores of people, thousands more either have yet to enjoy the benefit of testing, or remain beyond its reach.
According to nationally recognized defense attorney Terry Gilbert, the best estimates we have of the number of wrongful convictions is around five percent of the total. "To some people five percent may not seem like a lot," he says, "but when you consider how many thousands of people are convicted of crimes each year, you begin to get a sense of the size of the problem."
Based on the five percent figure, and given that roughly 2 million people are incarcerated nationally, there may be 100,000 innocents locked away across the country today. Compare that to the 94 DNA-based exonerations nationally in the last 13 years, and the discrepancy is stark.
Still, there is no question that DNA testing has had a profound impact on the criminal justice system. Scheck points to FBI pre-trial DNA results, which prove that in general, about 25 percent of those considered "prime suspects" by police turn out to be innocent. There is no question that without the benefit of genetic tests many of those unfortunates would have ended up convicted.
"It's unparalleled as a truth-finding tool," explains James Wooley, who is now a member of the National Commission on the Future of DNA Testing, a national blue ribbon panel set up three years ago by then-Attorney General Janet Reno.
It doesn't get the same level of media attention, but DNA testing has aided prosecutors at least as much as it has defense attorneys, Wooley explains: "Pretty much every prosecutor's office in America uses DNA testing, because when you have DNA results fewer cases need to be litigated because the evidence is so hard to challenge. Prosecutors nowadays win a lot of convictions with DNA, it's just that the press doesn't write about those cases as much."
But while DNA testing has already become part of the day-to-day routine in cases that produce biological material, usually murders or especially rapes, post-conviction reversals driven by DNA remain the most dramatic example of its power. The first occurred in 1988, and involved a Chicagoan by the name of Gary Dotson, who served 10 years for rape until tests by Blake won his release. Since that time no less than 93 others, Michael included, have been freed, most after spending years behind bars, and about 50 of those owe their freedom directly to the Innocence Project's efforts. Even worse, 11 of the 94 had been sentenced to death.
But for every person freed by DNA, there are dozens if not hundreds of others who never get the chance to have their convictions reversed. "We get hundreds of letters every week, and thousands every month," reveals Vanessa Potkin, staff attorney for the Project in New York. The vast majority of those requests go nowhere, some because an exclusionary DNA result would still not prove the innocence of the prisoner. Moreover, in more than three-quarters of the cases the evidence from the crime scene needed for testing has either been lost or destroyed.
The problem is that police suffer no repercussions for destroying evidence from ostensibly closed cases, says Gilbert. Michael Green was truly lucky; his stepfather and his attorneys searched fruitlessly for more than a year before they turned up the stained washcloth, which survived only because it had been buried and forgotten for nine years in a courtroom evidence locker. "It's a gift from God that the evidence survived," Mandell says.
Then there's the problem of cost. DNA testing is not cheap. At a reputable independent lab like Blake's Forensic Science Associates, the requisite tests can cost $5,000 or more. While the Innocence Project provides legal services for free, the convict or his family has to come up with the money to pay for the testing. Again, Michael was lucky, since Mandell was able to borrow the $3,000 downpayment from his retirement account.
Even if the Project chooses to take up a case -- they have about 200 active at present -- and sufficient money is available to pay for the testing, the process of getting authorization for the testing is complicated and extremely slow. "There's a lot of footwork involved," Potkin says. "You've got start making calls to see if you can search out the evidence. Then you've got to see if the D.A. is willing to consent to the testing. More times than not they do agree, but when they oppose it, their opposition is vigorous and they fight to the end."
The net result of all of these factors combined is that out of the large pool of incarcerated people who believe DNA testing would help prove their innocence, only a tiny fraction end up actually getting the tests done. And then add in all the wrongly convicted people whose cases did not involve biological evidence, and so have no DNA-based recourse. Liz Kelley, Green's co-counsel, estimates that only about 20 percent or so of felony cases generate such material.
Even when it does happen, it can take years. Potkin says she would never use the word "eager" to describe how prosecutor's offices generally react to Innocence Project requests for testing, and her assessment is borne out by Green's experience. He first contacted the Innocence Project in 1997, and while local prosecutors did not outright deny testing, they didn't jump at the chance either. When they first learned of the Project's intention to run DNA tests on the washcloth, they repeatedly delayed granting permission before finally capitulating. In the end the whole process consumed four more years of Green's life before he was finally freed.
Damage Control
While the Green case suggests that the full implications of what DNA testing has revealed about the justice system remains controversial, it has nonetheless proven itself to be so reliable and useful that pressure is mounting to extend its potential benefits to a much wider group of convicted felons than ever before.
Already, 22 states have passed post-conviction DNA testing laws designed to make it easier for those wrongfully convicted in the past to get access to the breakthrough technology that holds out their only hope of exoneration. But those laws vary widely from state to state. Some, like those on the books in New York and Illinois, are considered model statutes by the Innocence Project because of their broad scope and reasonable standards.
However, many others – at least five by Scheck's reckoning – are so restrictive that they seem to be directed more at managing a problem than at seeking out truth or righting wrongs. Such laws sharply limit those eligible by denyinig access to those who pled guilty, for instance, or by setting strict time limits on when a convict can petition for testing. And this is in spite of the fact that many innocents plead to crimes in order to avoid harsher sentences, while many others don't learn of the Project's existence until years after their conviction – Green, for example, didn't hear about Scheck's organization until eight years into his sentence.
For these reasons, the Innocence Project categorically rejects such restrictions. "We need to permit people to prove their innocence," Scheck explains, "as I think all fair-minded people would agree."
On a Mission
It's true, Michael Green says, that anger and hatred no longer burn white hot within him as they did during the initial years of his imprisonment. But that doesn't mean he's letting the system off the hook, or that he's sanguine about what was done to him. He well knows there are far too many more like him, doomed to oblivion in countless prisons, and his concern for them weighs heavily, even during this first taste of freedom.
"I feel like I'm on a mission for the brothers who are still inside," Green says, reeling off the names of a half dozen former prisonmates he believes to be innocent, but who lack access to the DNA tests that salvaged his life. "Because I know what it's like to go for years saying you're innocent and not have anyone pay attention. Believe me, if it hadn't been for Barry Scheck, the Innocence Project and the law students who did such an excellent job, I'd still be locked up, treated by the world as a convicted sex offender." And therein, perhaps, lies the real, and sad, meaning of the Michael Green story.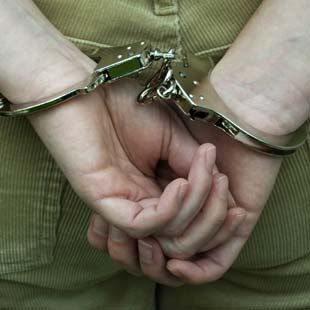 Wrongly Convicted Offer Some Tips
http://www.truthinjustice.org/conference.htm
When Sonia Jacobs met Troy Lee Jones this weekend, his first question was heart-warmingly familiar to her: ``How long have you been out?'' His second: ``Do you feel angry?''
Ms. Jacobs was freed from a Florida prison six years ago after being locked up for 16 years, five of those on death row. Anger is natural, she told Jones, who spent more than 14 years on California's death row.
On Wednesday, Jones marks two years since the magical night he turned his back on San Quentin. He's still struggling to adjust to a world where he feels like a dinosaur. ``Where I've been and not to be able to hate is a miracle to me,'' he said.
They were among more than 30 survivors of death row gathered Saturday for the first National Conference on Wrongful Convictions and the Death Penalty at Northwestern University law school.
In the emotional climax of the event Saturday afternoon, a ceremony was held to honor those wrongly convicted. One by one, 29 of the wrongfully convicted who attended the conference stepped out on stage, recited their names and gave the dates of their incarceration. Each concluded that if the state that convicted them had ``gotten its way, I would be dead today.''
After placing a sunflower in a vase to symbolize the life they regained, each took a seat on stage amid warm, thunderous applause from an audience of about 750.
These people who once spent their days waiting to be executed were brought together with some 1,200 lawyers and anti-death penalty activists, among them Rubin ``Hurricane'' Carter.
Carter, now 62, was a prizefighter aiming at the middleweight world championship when he was convicted in 1966 of a triple murder in New Jersey and sentenced to life. He was exonerated in 1985 and now heads the Association in Defense of the Wrongly Convicted, based in Toronto.
All wrongful convictions are death penalties, Carter said in an interview.
``There is no separation, between being on death row or being held unjustly for the rest of your life,'' he said. ``Prison is death.''
Conference organizers identified 73 men and two women released from death row, their cases reversed, since the U.S. Supreme Court allowed rewritten death penalty laws to go back into effect beginning in 1976. The death penalty is now on the books in 38 states, plus the federal government and the military, and the NAACP Legal Defense and Educational Fund says 3,517 people were on death rows as of Oct. 1.
People freed from death row ``speak to the emotional, human side as opposed to the intellectual side'' of the death penalty debate, said Lawrence Marshall, a Northwestern law professor who organized the conference and has helped win three reversals.
A DNA test exonerated Kirk Bloodsworth nearly 10 years after he was condemned to die in 1984 for the rape and murder of a 9-year-old girl.
``People say, 'Oh, that means the system works,''' said Bloodsworth, a burly, 38-year-old crabber from Cambridge, Md. ``No it didn't. It backfired. ... For 8 years, 11 months and 19 days I was in a place I didn't belong, and for two years they were going to kill me.''
And reversals don't impress Randall Padgett, who little more than a year ago won acquittal at his retrial after 51/2 years facing Alabama's electric chair for the death of his estranged wife.
``If there's 75 people on death row who have gotten exonerated, I've got to believe there's a lot more that haven't gotten that chance,'' Padgett said.
At age 48, he lives with his mother and works as a chicken farmer in Arab, Ala., after having to sell his house to pay legal bills.
Some, like Jones, came to the conference seeking reassurance that their confused feelings were normal. He was sentenced to die in 1982 in the killing of a girlfriend in Bakersfield, Calif.
The state Supreme Court ruled in 1996 that his lawyer was inept and reversed his conviction. Charges were then dropped.
He feels stuck in the 1970s. ``When I got out, I didn't know how to work an ATM machine,'' said Jones, eyes wide behind gold-rimmed glasses. ``Right today, I haven't touched a computer. CDs! When I left, they were still playing eight-track tapes.''
In Ms. Jacobs case, to avoid a new trial in the killing of two police officers, she allowed a technical guilty plea of second-degree murder to be entered without forfeiting her claim of innocence.
``I was tired,'' says the 51-year-old Los Angeles Yoga instructor. ``I wanted to go home.''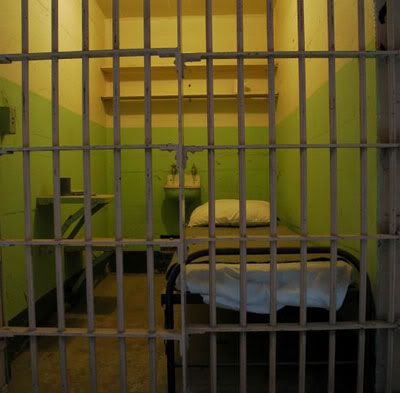 Report: Thousands wrongly convicted each year
http://www.usatoday.com/news/nation/2005-02-11-wrongly-convicted_x.htm
WASHINGTON (AP) — Thousands of suspects unable to afford lawyers are wrongly convicted each year because they are pressured to accept guilty pleas or have incompetent attorneys, the American Bar Association says in a report.
The study by a committee of the nation's largest lawyers' group says that legal representation of indigents is in "a state of crisis." These defendants are at constant risk of wrongful conviction and unjust punishment, including the death penalty, according to the study being released Friday.
"The fundamental right to a lawyer that Americans assume apply to everyone accused of criminal conduct effectively does not exist in practice for countless people across the United States," the study states. "All too often, defendants plead guilty, even if they are innocent, without really understanding their legal rights."
The ABA committee wants Congress and local governments to spend more money and create oversight groups to guard against shoddy legal representation. Judges also are asked to be more vigilant in ensuring defendants have competent counsel.
It has been more than 40 years since the Supreme Court ruled the government must provide legal counsel to indigent defendants who are charged with serious crimes.
The report comes one week after President Bush called for more training for lawyers who represent accused killers and greater use of DNA testing. That proposal is not on the agenda at the ABA winter meeting in Salt Lake City, which runs through Tuesday.
The ABA study points to people like Brandon Moon of Kansas City, Mo., who served nearly 17 years for the rape of an El Paso, woman before DNA tests determined he was not responsible; and Ryan Matthews, a Louisiana man who sat on death row for five years before he was exonerated.
More than 150 people who were convicted in 31 states and the District of Columbia served a total of 1,800 years in prison for crimes they did not commit. All were exonerated due to DNA evidence.
"The challenge is coming up with politically viable ways to fix the problem," said Douglas Berman, a law professor at Ohio State University who tracks death penalty cases. "The long-term costs of underfunding defense counsel are hard to see when a state is facing budget crises.
"Needless to say, criminals or accused criminals are not a very powerful lobby or a group that particularly draws sympathy for more dollars and cents," Berman said.
The report also pointed to negligent or otherwise unprepared lawyers, leading to faulty convictions or more serious punishment. No formal training existed for lawyers for the indigent in Louisiana, Montana, Nevada, New Mexico, New York, Pennsylvania and Texas, which puts more people to death than any other state.
In the majority of states surveyed, money for prosecutors outpaced public defenders. For example, California allocates defense counsel an average of $60.90 for every $100 the prosecution receives.
In the South, the report cited a problem of "meet 'em and plead 'em lawyers" where lawyers in states such as Alabama, Mississippi, Louisiana and Georgia often negotiate a plea agreement the first day they meet their clients.
In Texas, Rhode Island and elsewhere, legal experts reported incdances where indigent clients languished in jail for months without access to a lawyer or were improperly urged by prosecutors to accept plea deals without a lawyer present.
The report recommends that:
_states provide money for public defenders that is on par with prosecutors.
_states establish oversight organizations to police potential abuses such as forced plea agreements or otherwise negligent or inadequate counsel.
_lawyers refuse new cases if workloads are so excessive that id would substantially impair their defense preparation.
_judges report prosecutors who seek to obtain waivers of counsel and guilty pleas that are not voluntary and on the record.
The study was based on research and testimony gathered from 22 states. The states are: Alabama, California, Georgia, Illinois, Indiana, Louisiana, Maryland, Massachusetts, Michigan, Mississippi, Montana, Nebraska, Nevada, New Mexico, New York, Oregon, Pennsylvania, Rhode Island, South Dakota, Texas, Virginia and Washington.
Wrongly convicted walk away with scars
http://www.usatoday.com/money/workplace/2004-10-13-dna-exonerated-jobs_x.htm
Even after his pardon, they called Kirk Bloodworth a child killer. After nearly nine years in prison, Bloodworth walked away in 1993 when DNA tests showed he was wrongly convicted of raping and murdering a 9-year-old girl.
He was now a free man, the first death row prisoner exonerated because of DNA evidence. But his trials weren't over.
Employers were leery of hiring someone who'd spent so long in jail. When he landed a job at a tool company, co-workers left newspaper clippings about the crime at his workstation. Suspicions followed him like a shadow. Bloodworth got a door-to-door fundraising job, but a homeowner recognized him and began yelling "child killer" at him as Bloodworth stood on the front stoop.
"I never got a fair shake," says Bloodworth, 44, of Cambridge, Md., who works as a crab fisherman on his boat, Freedom, and is a program officer with The Justice Project, a group that campaigns for criminal justice reform. "It's hard to come back to this world and be accepted after you've been in prison so long, especially to the workplace. That's very sad."
With the advent of DNA testing, more prisoners are being freed after wrongful convictions. The pace of exonerations has jumped sharply, from about 12 a year through the early 1990s to an average of 43 a year since 2000, according to a study by the University of Michigan. There have been at least 328 exonerations since 1989, and about half of those since 1999 were based on DNA evidence. There are at least 41 Innocence Projects in 31 states providing legal assistance to inmates.
But as the number of exonerees grows, concerns are mounting about the difficulties these former prisoners experience in finding employment once they're free. While prison parolees typically get free job placement assistance, temporary housing and counseling, the exonerated often are released into an employment no-man's land.
They get scant help finding work. They have résumé gaps from spending years in prison. The average time from conviction to exoneration is more than 11 years, according to the University of Michigan study. They often get little more than a new overcoat or bus money.
Only 18 states, the federal government and Washington, D.C., have laws for compensating the exonerated. Compensation can take years to get, and the laws often aren't used by exonerees because they may need an official pardon or a court must declare them innocent.
Compensation amounts can vary widely. Some states, such as West Virginia, have no cap on the amount that can be received; others, such as Maine, set a maximum of $300,000.
Employers are leery of hiring convicts who may have been wrongfully convicted. Job skills are so obsolete that some exonerees have never sent an e-mail or typed on a computer.
A large number of these men — more than 95% are men, according to the Michigan study — grapple with emotional problems. Some have narrowly escaped execution on death row. Others have been assaulted by other inmates or kept in isolation. Many are angry. Some resort to crime after their release.
"Innocent people do some of the hardest time. They never reconcile themselves to why they're in prison. They feel their lives have been taken away," says Justin Brooks, executive director of the Innocence Project chapter at California Western School of Law in San Diego. "We expect them to just start functioning in the workforce. But there's a stigma to having been incarcerated."
Help finding jobs
Now, new efforts are getting underway to provide some employment help. A project, Life After Exoneration, formed last year to provide support services to the wrongly convicted after they're freed. The Berkeley, Calif.-based group is negotiating with a private job agency in hopes of launching a first-ever national employment services program for the exonerated. The program would include skills assessment, training for three or four months and job placement.
t's a potent need: A survey of nearly 60 exonerees found a third are financially dependent on family or friends after they are freed.
"Exonerees identified employment as their No. 1 need," says Ernest Duff, executive director. "These are pretty macho guys. They don't want to go right into counseling. What they want is to go back to work."
But they have no legal right to get their former jobs back. And many find that new employers are wary of hiring anyone who's been in jail, even if it turned out to be a wrongful conviction.
Ray Krone, 47, of Dover, Pa., has become a public speaker against the death penalty, traveling across the country and to Europe. He was convicted of the 1991 murder of a female bartender and sent to Arizona's death row. In 1995, that conviction was reversed and a new trial was ordered. A second jury found him guilty, and he was sentenced to life in prison. In 2002, new DNA evidence cleared him of the crime. He was free.
Before serving a decade in prison, he'd held a $30,000-a-year job as a postal worker. Now, he had nothing. He thought about getting his job back but realized it was a long shot because the U.S. Postal Service was under no legal obligation to rehire him. So he moved to a small town to be closer to his family and now does speaking engagements and odd jobs, such as mowing lawns, to help get by.
"Employers ask you what your job history is. What are you going to tell them as an exoneree?" Krone says. "Coming out, it's like you're an 18- or 19-year-old again."
The past also follows the exonerated when they apply for jobs. Job applications typically ask if applicants have an arrest or conviction record. The exonerated must still answer "yes," even if their conviction has been thrown out by a judge.
Employment experts say that an affirmative answer can scare off potential employers. Some desperate exonerees even take pardon papers to job interviews in hopes of allaying concerns.
Records often not updated
In other cases, exonerees may be freed, but their records will continue to show they were arrested, tried and convicted. Records are not automatically expunged, even in cases of a gubernatorial pardon. That means that employers doing a background check may come across the information and opt not to interview the applicant, especially with unemployment at 5.4%, as it was in September.
There are exceptions. Some exonerees have put themselves through law school, have parlayed their experiences into careers by going on the public-speaking circuit, or — in a very few cases — have been hired back by employers.
After a judge overturned his 1986 rape convictions, Lonnie Erby was freed in 2003. He'd served 17 years. He was rehired at the DaimlerChrysler plant in Fenton, Mo., where he'd worked before his sentence.
Some exonerees win millions of dollars in civil lawsuits, but legal experts say that's rare. Winning a case often means exonerees must show that those who prosecuted them engaged in misconduct. Some government agencies also have immunity if they acted in good faith.
Instead, many exonerees get by with help from friends and family. In some cases, the lawyer who helped clear the client sets up re-entry help, such as counseling, or finds the client a job.
Gary Gauger considers himself one of the lucky ones. He worked as an organic farmer before being sentenced to death for killing his parents in 1993. He was freed in 1996, and a year later two members of a motorcycle gang went to prison for the murders. He received a gubernatorial pardon. He was able to live temporarily with his sister and return to farming. Without that fallback, he says, he would have been lost.
"I was lucky that I could go back to farming and had an established career," says Gauger of Richmond, Va. He inherited his parents' farm. "I was screwed up. I didn't want to talk to anyone. All the money I had I gave to my lawyer. I still don't trust anyone."
Many exonerees feel such anger or alienation. Landing and keeping a steady job can be difficult because of the emotional fallout from years of resentment over the time they lost to prison.
Dana Holland can't find a job. The 36-year-old spent 10 years in prison but was released in June 2003 after a judge found him not guilty in a retrial of the 1993 attempted murder and armed robbery of a woman in Chicago. He also was convicted of rape, but DNA evidence helped clear him. He was sentenced to more than 100 years for both crimes.
The father of two teenagers worked at an industrial laundry facility before his incarceration. But after winning his freedom, Holland says, he's been unable to find work. He's received no compensation and is living with his brother. He says he is in the process of trying to get some compensation from the state, but that takes time.
He has applied to Walgreen's, food stores, meat companies and UPS. No employer will hire him, he says, because the crimes he was acquitted of are still on his record.
At first, he tried not telling employers about convictions. Now, he tells them and tries to show them records from his lawyers regarding his case.
"I'm a burden on my family," Holland says. "I'll do anything that pays bills and puts food on the table. But once you're a convicted sex offender, employers aren't going to hire you, because they think they'll put their company in jeopardy. You get all this publicity when you get out. Then it dies down and you get forgotten."