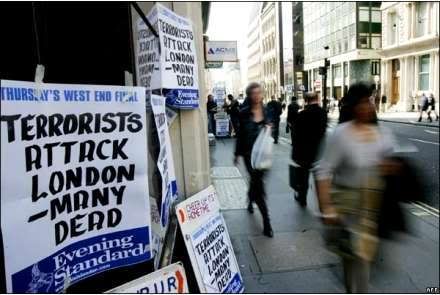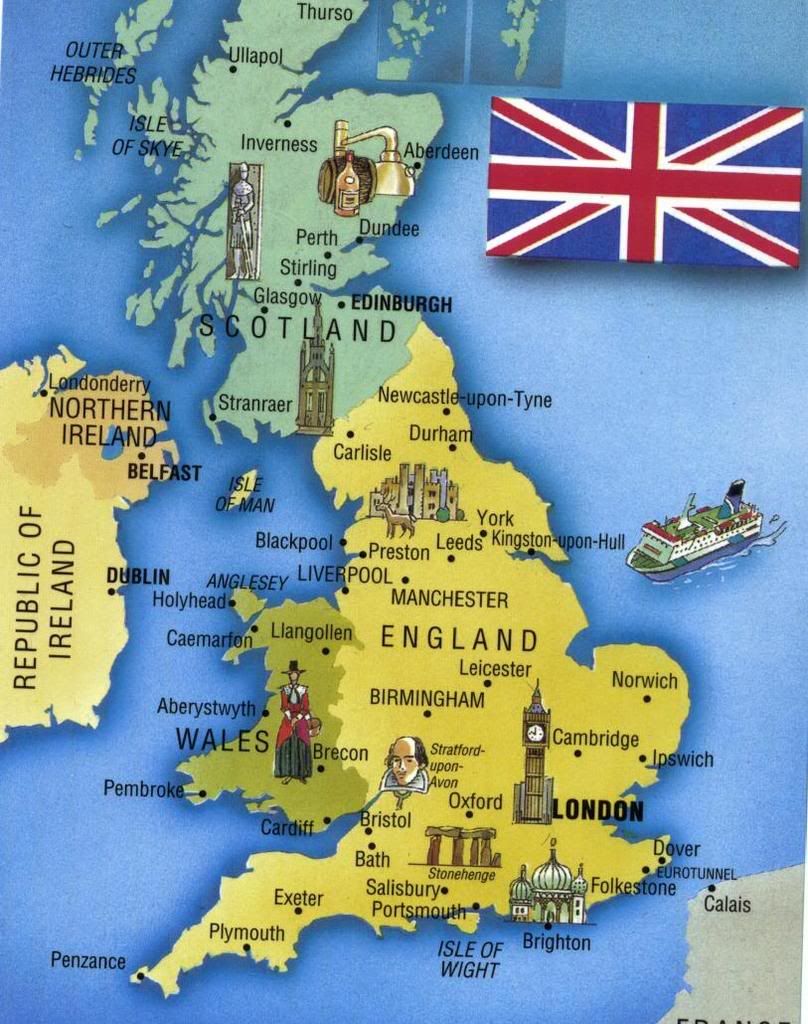 The 7 July 2005 London bombings were a series of coordinated terrorist bomb blasts that hit London's public transport system during the morning rush hour. At 8:50 a.m., three bombs exploded within fifty seconds of each other on three London Underground trains. A fourth bomb exploded on a bus nearly an hour later at 9:47 a.m. in Tavistock Square. The bombings killed 52 commuters and the four suicide bombers, injured 700, and caused a severe day-long disruption of the city's transport and mobile telecommunications infrastructure countrywide.
http://en.wikipedia.org/wiki/7_July_2005_London_bombings
London Attack 7-7-2005
security and terrorism
http://www.guardian.co.uk/terrorism/
london explosions
http://news.bbc.co.uk/1/hi/in_depth/uk/2005/london_explosions/default.stm
UK Terror Scare
http://www.cnn.com/SPECIALS/2007/news/uk.terror/
London Bombings
In the deadliest act of terrorism in the United Kingdom since the 1988 bombing of Pan Am Flight 103 over Lockerbie, Scotland, in which 270 people died, a series of four bomb explosions struck London's transport system during the morning rush hour on July 7, 2005. Three London Underground trains were hit almost simultaneously, and a London double-decker bus was hit nearly an hour later. Fifty-two people were killed and some 700 were injured in the attacks.
Though at first it was thought that the explosion in the Underground was due to a power surge, it soon became clear that the explosions were an act of terrorism. The bombs in the trains were placed on the floor and detonated by timers. Following the explosions, the London Underground network was completely shut down, as were many roads near the affected stations. Mainline train services into many London stations terminated outside the city for most of the day, and the city's bus network was shut down in the central zone (Zone 1).
The bombings came while the UK hosted the first full day of the 31st G8 summit at Gleneagles Hotel in Perthshire and a day after London was chosen to host the 2012 Summer Olympics. Two weeks later, on July 21, four more explosions took place, three in the Underground and one on a bus. The bombs only partially detonated and there were no fatalities
.
http://www.answers.com/7%2F7%2F05
7/7 Drills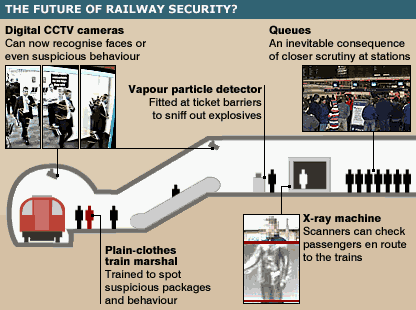 Harold Ford Ad - Airplane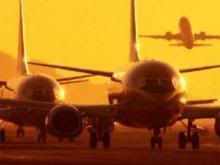 Airlines terror plot' disrupted
http://news.bbc.co.uk/2/hi/uk_news/4778575.stm
A plot to blow up planes in flight from the UK to the US and commit "mass murder on an unimaginable scale" has been disrupted, Scotland Yard has said.
It is thought the plan was to detonate explosive devices smuggled in hand luggage on to as many as 10 aircraft.
Police are searching premises after 21 people were arrested. Home Secretary John Reid said they believed the "main players" were accounted for.
High security is causing delays at all UK airports.
The threat level to the UK has been raised by MI5 to critical after the arrests in London, High Wycombe and Birmingham.
Critical threat level - the highest - means "an attack is expected imminently and indicates an extremely high level of threat to the UK".
Three US airlines are believed to have been targeted.
Mr Reid said had the attack gone ahead it would have caused a loss of life of "unprecedented scale".
He said they were "confident" the main players were in custody, but neither the police nor government are "in any way complacent".
Prime Minister Tony Blair, on holiday in the Caribbean, paid tribute to the the police and the security services.
He said they had tracked the situation for a "long period of time" and had "been involved in an extraordinary amount of hard work."
"I thank them for the great job they are doing in protecting our country.
"There has been an enormous amount of co-operation with the US authorities which has been of great value and underlines the threat we face and our determination to counter it," he said in a statement.
BBC security correspondent Gordon Corera said the plot was thought to have involved a series of "waves" of simultaneous attacks, targeting three planes each time.
He also said the plan "revolved around liquids of some kind".
"Officials say the explosives would have been sophisticated and extremely effective," our correspondent said.
Airport 'crammed'
Meanwhile, at Heathrow Airport incoming short-haul flights have resumed, but long-haul services are seriously delayed. Several outbound services have been cancelled.
The airport is crammed with thousands of passengers, while at Stansted more than 2,000 people are queuing to pass through customs.
Metropolitan Police Deputy Commissioner Paul Stephenson said the alleged plotters had intended "mass murder on an unimaginable scale".
"We are confident that we have disrupted a plan by terrorists to cause untold death and destruction and to commit, quite frankly, mass murder," he said.
"We believe that the terrorists' aim was to smuggle explosives on to aeroplanes in hand luggage and to detonate these in flight. We also believe that the intended targets were flights from the United Kingdom to the United States of America."
Police had spoken to a "good number of community leaders to make them aware that a major operation was under way," he added.
Head of the Met's anti-terrorist branch Deputy Assistant Commissioner Peter Clarke said the investigation had had "global dimensions" and had seen an "unprecedented level" of surveillance.
The decision to take action had been taken on Wednesday night, he added.
According to BBC sources the "principal characters" suspected of being involved in the plot were British-born. There are also understood to be links to Pakistan.
BBC home affairs correspondent Andy Tighe said police sources had told him they had found "interesting items" which were being examined.
In other major developments:
Houses in High Wycombe, Buckinghamshire, are evacuated by police
US air marshals are being sent to the UK to provide extra air security
The US Department of Homeland Security increased the threat level applied to US-bound commercial flights originating in the UK to "red" - the first time it has done this for flights coming in from another country
The Home Office confirmed there had been meetings overnight and on Thursday morning of the Cabinet's emergency committee, Cobra, chaired by Home Secretary John Reid, to discuss the terror alert
A spokesman for Number 10 said Tony Blair had briefed US President George Bush on the situation during the night
BBC home affairs correspondent Daniel Sandford said despite the arrests the threat level had been raised "in case there is some other sub-plot, back-up plot around this that the police aren't aware of".
The Department for Transport set out the details of the security measures at UK airports.
Passengers are not allowed to take any hand luggage on to any flights in the UK, the department said.
Only the barest essentials - including passports and wallets - will be allowed to be carried on board in transparent plastic bags.
"We hope that these measures, which are being kept under review by the government, will need to be in place for a limited period only," the statement said.

7/7 London attacks - the facts
http://www.news24.com/News24/World/News/0,,2-10-1462_2142803,00.html
London - On the morning of July 7 2005, London was rocked by synchronised suicide attacks on the public transport system which killed 56 people, including the four bombers.
Here are the main facts about the blasts and the investigation into them:
The attacks: In the morning rush hour of July 7, four suicide bombers exploded devices carried in rucksacks on three London Underground trains and a bus.
In the worst attack, near Russell Square station in central London, 26 people died. Seven died at Aldgate station to the east, six at Edgware Road to the west and 13 were killed in a blast on a Number 30 bus in Tavistock Square in the centre.
The total death toll, including the four bombers, was 56, while some 700 people were injured.
The attackers: The four were all British nationals.
Edgware Road: Mohammad Sidique Khan, 30, the apparent ringleader, was a teaching assistant of Pakistani origin and lived just outside Leeds, northern England. He made repeated trips to Pakistan where he is thought to have converted to an extreme form of Islam.
Number 30 bus: Hasib Mir Hussain, 18, of Pakistani origin from Leeds, became a devout Muslim just before his death. Wrote "Al-Qaeda No Limits" on a schoolbook and openly supported the terror network while still a student.
Aldgate: Shehzad Tanweer, 22, a keen sportsman and former university student, also of Pakistani origin and from Leeds. From mid 2002, religion had become the main focus of his life.
Russell Square: Jermaine Lindsay, aged 19. Married with a young child, he was born in Jamaica and had converted to Islam.
The claims: The attacks were apparently motivated by a grievance about perceived injustices by Western countries against Muslims.
One video emerged showing Tanweer, before his death, saying that the blasts were "only the beginning" and that atrocities would continue until Britain pulled its forces out of Afghanistan and Iraq.
A similar film featuring Khan also appeared.
Tanweer's video was accompanied by a message from senior al-Qaeda figure Ayman al-Zawahiri, though the extent of any link the bombers may have had with the network is unclear.
The investigation: The authorities took over 12 500 statements, seized 142 computers and studied more than 6 000 hours of closed circuit television footage.
On May 9 2007, four people were arrested over the attacks, including Hasina Patel, 29, Khan's widow.
Her brother Arshad Patel and two other men, named by sources as Khalid Khaliq and Imran Motala, were also detained on suspicion of the commission, preparation, or instigation of acts of terrorism under the Terrorism Act 2000.
On May 15, three of the four were released without charge, although police did not confirm which one remained in custody.
July 21 attacks: Exactly two weeks after the July 7 bombings, London was gripped by a series of failed attacks, again on the London transport network, initially triggering suspicion of a planned repeat or copycat attack.
However, they turned out to be separate. Six men went on trial in January over the attacks - involving home-made devices consisting of hydrogen peroxide and chapati flour. The jury retired last month to consider its verdict.
U.K. Suspect in Court Amid 7/7 Tension
Court Date Coincides with London Attack Anniversary
http://www.abcnews.go.com/WN/story?id=3355799
The first person charged in the Glasgow car bomb plot spent less than 10 minutes in court today. Dr. Bilal Abdullah was the passenger in the Jeep that rammed into the terminal building at Glasgow airport one week ago.
The 27-year-old left the vehicle as it exploded into a ball of fire. Police arrested him on the scene.
Authorities accuse Abdullah of conspiracy to cause explosions in Glasgow and London. The charge carries a maximum life sentence.
New video was released recently showing the driver of the Jeep, Kafeel Ahmed, with serious burns, being dragged from the scene by police.
Community leaders in Glasgow, including Muslim leaders, held an anti-terrorism rally in the Scottish city today.
In London, Muslim leaders held a meeting today to discuss ways to combat extremism.
"We have to try and convince these people that their path is the wrong path," said Mohammed Shafiq of the Ramadan Association. "Islam totally condemns violence. It's forbidden in Islam and that's unanimous."
British officials have lowered the country's threat level from "critical" to "severe," meaning a terror attack is still considered "highly likely."
Britain is hosting several high-profile public events this weekend, including the Wimbledon Tennis Finals and a Live Earth Concert in London, where security officials are on high alert.
And as Britain copes with the latest attack, the country is also marking the anniversary of the London bombing on July 7, 2005. Fifty-two people died when bombs exploded on three subway trains and a public bus, the worst terror attack in Britain's history.
At King's Cross Station, where the bombers set out, there was a moment of silence today to honor the victims.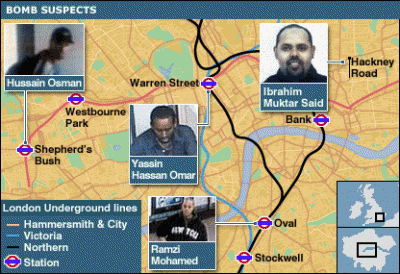 Trying to prevent a repeat of 7/7
http://news.bbc.co.uk/2/hi/uk_news/6279624.stm
The terrible events of 7/7 are often described as a wake-up call. Islamic suicide bombers had finally struck in the heart of Britain's capital.
But the bombings - in which 52 people were killed - came as no surprise to the government, police or intelligence services. For some time they had been predicting it was not a case of "if" but "when" the UK would suffer an attack.
Since hijacked planes crashed into the World Trade Center on 9/11, counterterrorism became a top priority. Spending doubled to more than £2bn a year. And new laws were drafted to meet the evolving threat.
But it was not until our TV screens showed the bleeding, terrified victims of 7/7 emerging from smoke-filled Underground stations that many people appreciated just how vulnerable they had become.
Security measures
But questions were soon raised about whether the authorities could have done more to prevent the attacks; about whether intelligence was properly shared and acted upon.
While an independent report laid no blame, measures were soon taken to strengthen Britain's counterterrorism capability.
The domestic security service MI5 stepped - partially - from the shadows, with a recruitment drive, a more informative website and new offices in the north of England.
The police, too, were reorganised with new counterterrorist units set up outside London.
More controversially, the government passed a series of new laws, and battled to extend the period of pre-charge detention for terror suspects.
After a drawn-out parliamentary wrangle it settled at 28 days, though there are indications that further changes could be on the way.
Setbacks
What did all this achieve? The authorities point to a series of successful convictions, including the jailing of Dhiren Barot, a senior al-Qaeda figure who plotted bombings in London and America.
But there have been setbacks. The system of control orders - to deal with terror suspects who have not been put on trial - has been widely criticised, with a number of individuals absconding.
Muslim leaders have complained about the large number of young Asian men arrested under anti-terrorist laws but later released without charge.
And while the police and MI5 have managed to accumulate an unprecedented database of terrorist suspects, they cannot be sure that every dangerous individual is on their books.
The threat is constantly evolving. The attacks in London and Glasgow at the weekend were foiled not by intelligence-led operations but by a combination of sheer luck and the bravery of a few individuals.
After 7/7, some senior security officials felt that many people did not fully appreciate that it signalled the beginning of a new phase of extremist activity, that further attacks were not only possible but likely.
With fresh horrors now on our screens, one of the police officers leading the current investigation told me a few days ago: "If this isn't a wake-up call, I don't know what is."
U.K. Fails to Share Terrorism Data, Interpol Says
http://www.bloomberg.com/apps/news?pid=20601085&sid=aN9MwTLwOEfA&refer=europe
July 9 (Bloomberg) -- The head of the 186-nation international police agency Interpol accused the U.K. of failing to share information on terrorism investigations and not carrying out adequate checks on people crossing its borders.
The U.K. hasn't sent its own list of terrorism suspects to Interpol and isn't checking enough of the 30 million visitors it receives yearly against the agency's global database of 7 million stolen passports, Interpol Secretary General Ronald Noble said.
``My view is the U.K.'s anti-terrorist effort is in the wrong century,'' Noble said in an interview with British Broadcasting Corp. television today. ``The way to investigate terrorism now is to share as much information as you can, as fast you can, to see if the person you're interested in is of interest to others.''
Noble's comments come after a failed plot to explode car bombs in central London on June 29 and at Glasgow International Airport the following day. Bilal Abdullah, 27, an Iraqi doctor, has been charged with conspiring to cause explosions and appeared in court in London on July 7. Five other suspects are still being questioned and another is under armed guard in a hospital. The investigation stretches to Australia and India.
Noble's criticisms weren't confined to the U.K. Only 17 of Interpol's member countries systematically check the passport numbers of incoming travelers against the agency's stolen- passports database, said Noble, an American who was the U.S. Treasury Department's first undersecretary for enforcement.
The U.K. currently makes only 50 checks a month on the Interpol database, while France makes 700,000 and Switzerland 300,000, Noble said.
`Nothing From U.K.'
There is currently no British anti-terrorist officer assigned to Interpol and the U.K. hasn't shared information gleaned from the recent car-bombs investigation, Noble said.
``We have received not one name, not one fingerprint, not one telephone number, not one address, nothing from the U.K. about the recent thwarted terrorist attacks,'' he told the BBC. The U.K. has ``great investigators but doesn't trust Interpol,'' he said.
The U.K. government defended its contribution to the global anti-terrorism effort, saying it does work closely with Interpol and that Britain's Serious Organised Crime Agency does consult databases maintained by Interpol, which is based in Lyon, France.
``The government is committed to improving the recording and sharing of criminality data with our European partners,'' the Home Office said today in a statement.
Prime Minister Gordon Brown said yesterday he wants to ``tighten up'' the system.
``We do now need more information flowing internationally about who are potential terrorists and who are potential suspects,'' Brown said in an interview with Sky News.
It will take more than $1 billion dollars a year and an increase in human resources deployed through Interpol to fill ``significant terrorist security gaps'' worldwide, Noble said in a statement on the Interpol Web site.
Eye To Eye: U.K. Terror Plot (CBS News)
London Terror Attack Attempt 29th June 2007
Bomb Threat In London
Terrorists Car Bombs Defused in London

Terror timeline: The foiled car bombs
http://www.telegraph.co.uk/news/main.jhtml?xml=/news/2007/07/02/nterror1002.xml
Since paramedics stumbled on a car bomb in central London, events have rapidly unfolded to an inquiry that reaches as far as Australia.
Friday June 29, 1.25am:An ambulance is called to the Tiger Tiger nightclub in central London to treat a person who had been injured in a fall. Paramedics notice smoke coming from a Mercedes parked in front of the club in Haymarket, in the West End, and alert police. The car is packed with petrol, nails, gas cylinders and a detonator. The squad defuse the explosives.
2.30am: A second Mercedes parked illegally in Cockspur Street, which runs between Haymarket and Trafalgar Square, is towed away an hour later to a car compound off Park Lane.
It, too, is found to contain explosive materials. A huge hunt is launched for the bombers.
Saturday June 30: Two men ram a Jeep Cherokee into the main entrance at Glasgow airport.
The vehicle crashes into the glass doors and bursts into flames before the two occupants are wrestled to the ground and arrested by police.
One suspect suffers serious burns. The other man is later named as an Iraqi doctor, Bilal Abdullah.
The Government raises Britain's security alert level to critical - the highest possible level, indicating terror attacks are "imminent".
Another two people, a 26-year-old man and a 27-year-old woman, are arrested on the M6 in Cheshire in connection with the attacks.
The man is named as Dr Mohammed Asha, 26, of Newcastle-under-Lyme, Staffordshire. The woman, dressed in traditional Muslim dress, is believed to be his wife.
Sunday July 1, 12.50pm: Police confirm a fifth person, a 27-year-old man, has been arrested in Liverpool. Officers say a controlled explosion was carried out on a car at the Royal Alexandra Hospital in Paisley, where one of suspected Glasgow airport attackers was taken after being injured.
Monday July 2: Detectives say two more men, aged 28 and 25, were arrested at the Royal Alexandra Hospital in Paisley. Strathclyde Police confirm that two more controlled explosions have been carried out on a vehicle in the car park of the Royal Alexandra Hospital.
Tuesday July 3, 1.30am: Australian police announce they have detained a man at Brisbane Airport after receiving advice from UK authorities. The man, a 27-year-old registrar at Gold Coast Hospital, in Queensland, had been due to get on a international flight, with a one-way ticket. Australian police say they are also interviewing a second doctor.
Police say a controlled explosion has been carried out on a suspicious vehicle parked outside Forth Street Mosque in Glasgow. Three of the four Scottish suspects have been transferred to London, it emerges.
Same men believed to be behind both U.K. plots
Officials: 2 suspects responsible for incidents; al-Qaida link investigated
http://www.msnbc.msn.com/id/19544193/
GLASGOW, Scotland - The suspects who parked explosive-laden cars in London are believed to be the same two suspects who rammed a Jeep Cherokee into Glasgow airport last Saturday, British officials said Tuesday.
It was the latest theory in the quick-moving investigation, in which police have turned their focus to a growing number of physicians with roots outside Britain — including a doctor seized at an Australian airport.
Meanwhile, Britain on Wednesday cut its national securityrating to "severe" from its highest level "critical," saying the threat of a terrorist attack was no longerimminent.
A "severe" rating means an attack is "highly likely."
A British government security official said investigators were looking into the connection between the drivers of the vehicles in London and in Scotland, and NBC News confirmed that authorities, speaking on condition of anonymity, believed the same two men were behind both attacks.
Also Tuesday, a senior U.S. counterterrorism official told NBC News' Robert Windrem that British authorities suspect and are investigating a connection between the doctors involved in the London and Glasgow attacks and al-Qaida in Iraq.
"The concern is serious," the official said. "There are suspicious contacts, but they haven't yet put flesh on the bones."
The official hinted strongly that British attention is focused on Bilal Abdullah, the Iraqi diabetes doctor who was educated at the University of Baghdad and came to the U.K. in 2004. He worked in a hospital in Iraq, according to reports.
Senior U.S. intelligence officials told Windrem that British authorities now believe "the key of the key suspects" in the terrorist plot have now all been detained. The official stopped short of ruling our further arrests.
One official said the investigation moved quickly because the suspects did not cover their tracks. "These guys left behind a gold mine of evidence," the official said.
Police said at least four suspects had worked as doctors in Britain: two from India, one from Iraq, one from Jordan.
Staff at a hospital near Glasgow on Tuesday identified a fifth suspect — the man badly burned Saturday after trying to ram a Jeep loaded with gasoline canisters into the airport Saturday — as Khalid Ahmed, a Lebanese doctor on staff there.
The investigation into attempts to set off two car bombs Friday in London and to ram the Jeep loaded with gasoline into the Glasgow airport was expanding overseas and into Britain's medical community.
Arrested in Australia
One of the suspects from India, 27-year-old Muhammad Haneef, was arrested late Monday at the international airport in Brisbane, Australia, where he was trying to board a flight with a one-way ticket, the Australian attorney general said.
Authorities there also are questioning a second doctor, Australian Prime Minister John Howard said.
Haneef worked in 2005 as a temporary doctor at Halton Hospital in England, hospital spokesman Mark Shone said. Australian officials said he studied medicine in India before working in Liverpool, England, and then going to Australia.
Another suspect, a 26-year-old arrested Saturday in Liverpool, also practiced at Halton Hospital as well as at nearby Warrington Hospital, Shone said. He refused to identify him.
Police said two other men, ages 25 and 28, were arrested Sunday in residences at the Royal Alexandra Hospital near Glasgow. Staff identified them as a junior doctor and a medical student.
None of the suspects named so far are on U.S. terror watch lists that identify potential suspects, according to a senior U.S. counterterror official who spoke on condition of anonymity because of the sensitivity of the issue.
Pakistan and several other nations have been asked to check possible links with the suspects, a British security official said. British-born terrorists behind the 2005 London transit bombings and other thwarted bomb plots have had ties to terror training camps and foreign radicals in Pakistan.
Exclusive: U.K. Terror Plot -- Why the Bombs Failed
Fuel-Air Bombs Notoriously Difficult
http://abcnews.go.com/Blotter/story?id=3345743&page=1&CMP=OTC-RSSFeeds0312
The London bomb plot allegedly planned by a cell of doctors failed early last Friday morning because a medical syringe used as part of the firing mechanism caused a malfunction, ABC News has learned.
According to nonclassified documents reviewed by ABC News, and confirmed by multiple sources, both mobile telephones initiated firing mechanisms rigged inside a Mercedes E 300 parked several yards from the front door of Tiger Tiger nightclub failed despite multiple calls to the cell phones designed to remotely trigger the devices.
Had the fuel-air bombs successfully ignited into a superhot fireball filled with roofing nails, casualties were almost a certainty among the 500 or so patrons who partied late at the 1,700-person occupancy nightclub that perhaps best symbolizes London's vital nightlife scene.
Instead, at about 1:42 a.m., a vigilant ambulance crew on an unrelated call spotted a plume of cold propane from a slightly opened window of the car that contained patio fuel cylinders in the foot wells behind the driver and passenger seats, ABC sources said. When a bomb technician in a 90-pound Kevlar suit walked down to the vehicle to examine it, he also found a firing system rigged inside the car and another inside its trunk along with four jugs of gasoline. The technician successfully disarmed the devices..
A second Mercedes rigged with a similar incendiary device was parked several hundred yards away. Several experts on improvised explosives tactics suggested that the second device might have either been meant for patrons who escaped the first or to target rescue workers.
Within 14 hours after the plot failed, the same two men believed to have planted the bombs in London attempted what appears to have been a suicide incendiary attack on the doors to a terminal at Scotland's Glasgow Airport. That attack failed too. The vehicle failed to reach the doors, and its contents failed to ignite even after one of the occupants tried to douse the car in gasoline, setting himself on fire in the process.
Fuel-air bombs, whether professionally made or rigged by novices, are notoriously difficult to get to perform as intended, which analysts said is why they are so rarely used. Despite some surface similarities to vehicle born improvised explosives used in Iraq, these incendiaries are essentially different.
The Iraqi bombs are explosives linked to gases either in the idea of increasing their effectiveness or spreading a chemical cloud. The London and Glasgow devices are not explosives at all, but firebombs.
Glasgow Airport Car Bomb Attack 30-6-2007
Glasgow and London bomb suspects are the same
'No Al Qaeda link with UK terror plot suspects': Bangalore police
http://www.indiaenews.com/nri/20070709/59883.htm
Police are yet to find an Al Qaeda-link with the two doctors and an engineer from the city reportedly involved in last week's failed terror plots in London and Glasgow, police said Monday, after a senior minister declared there was 'conclusive evidence' against one of them.
The city's police commissioner said police were investigating whether or not there was a link between the June 29- and 30-UK attacks and the December 2005 terror attack at the Indian Science Institute (IISc) in Bangalore.
Karnataka Home Minister M.P. Prakash told reporters Monday that the state police had given him 'conclusive evidence' that Kafeel Ahmed, son of Bangalore-based doctors Maqbool and Zakia Ahmed, was the man who drove a blazing jeep into the Glasgow airport terminal building June 30.
But hours later, Police Commissioner N. Achuta Rao told reporters here that in the absence of information or request for inquiry from the British police so far, he was not in a position to confirm whether the alleged Glasgow bomber was indeed Kafeel Ahmed.
'There is no confirmation from the family about Kafeel's identity or his whereabouts. The British intelligence or the Scotland Yard has not contacted us so far,' he said.
'In the wake of unconfirmed media reports about the alleged involvement of Kafeel, his doctor brother Sabeel Ahmed and their doctor cousin Mohammad Haneef in the terror strikes, we have set up teams to ascertain whether there are links between the terror suspects and India in general and Bangalore in particular.
'Our own investigations so far have not yielded anything substantial to share with the media. We will do so as and when we have something definite on the suspects, their terror links, if any, and to what extent they were involved in the failed blasts,' he added.
Rao and Joint Police Commissioner (Law and Crime) Gopal Hosur refuted newspaper and television reports about Kafeel's reported involvement, saying media reports claiming to quote police sources were in fact based on sources other than those of the police or law enforcement agencies.
'Based on inputs from our sources and other sources, the anti-terrorist central crime branch in the last couple of days has taken up inquiries regarding the failed London and Glasgow blasts. In this connection, a number of persons, including the family members, relatives, friends and associates of Ahmed brothers and Haneef were examined to unearth details of the suspects' alleged involvement.
'As part of the investigations, we have recovered a hard disk of high capacity, a few CDs (compact discs) and some other materials from the Ahmeds' house in the southern suburb of the city. The hard disk and CDs, left behind by Kafeel before leaving for London in May, are being examined to ascertain their contents and find out whether there was any link between the recent UK blasts and the terror attack at the Indian Institute of Science (IISc) here in December 2005,' Rao said.
Besides questioning family members and relatives of the Ahmed brothers and Haneef, separate police teams have been set up to find out if there are any sleeper cells or modules operating in the city for terrorist outfits and their possible involvement in terror incidents in Mumbai, Malegaon, Delhi, Hyderabad and Jammu and Kashmir.
Asked whether any 'jihadi' literature was found from the Ahmeds' house or from the hard disc or CDs that can throw light on the failed blasts or the trio's alleged involvement, he said as the investigations were still continuing, he would not be able comment or reveal more than what he had already said about the unconfirmed reports in the media.
Earlier in the day, Minister M.P. Prakash said that Haneef, who has been detained by the Australian police, was a 'misguided youth' who was involved indirectly in the UK plot.
With Bangalore, India's IT capital, coming under focus in the aftermath of the British terror plots, Prakash said the state's anti-terrorism cell and intelligence gathering would be overhauled and the cyber crime department strengthened.
Rao's department has submitted a proposal to the government pointing to the need to strengthen the anti-terrorist cell with trained personnel, equip them with modern gadgets and continuously upgrade their skills in view of the sophisticated methods used by terrorist networks.
The state government had promised to strengthen the intelligence network in December 2005 when the city witnessed its first major terror attack on the IISc. A retired professor of the Indian Institute of Technology (IIT), Delhi, who was attending a seminar there, was killed in the attack by a lone gunman.
But little has improved at the anti-terrorist cell since then, said senior Karnataka police officials who did not want to be named.
Overstaying foreigners is thought to a particularly weak area, with the media reporting that about 100 foreigners, especially Pakistanis, are overstaying in Karnataka. Police officials acknowledge the phenomenon but contest the number.
Police say it is very difficult to detect South Asians who overstay because of the similarity in physical appearance and the reluctance of locals to report such people to police.
Immigration controls are lax as well - there have been several cases in the past year of people flying out with fake passports or tampered visas.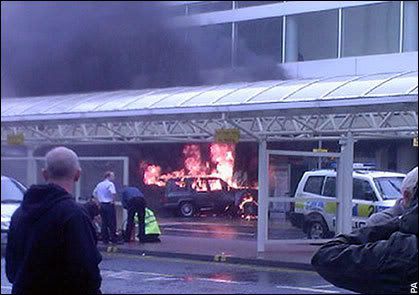 More time to quiz bomb plot suspects
http://www.imdb.com/board/bd0000044/threads/
Police have been given more time to question five terror suspects over a week after the failed London and Glasgow bombings.
The four men and one woman are being held at London's high security Paddington Green police station.
Two are trainee doctors, aged 25 and 28, who were arrested at the Royal Alexandra Hospital in Paisley. They can be held for a further day, until July 15.
The others being detained include Dr Mohammed Asha, 26, of Newcastle-under-Lyme, Staffordshire, who was arrested with his wife, Marwa Asha, on the M6 motorway in Cheshire on June 30.
On the same day, a 26-year-old doctor from Bangalore, India, who worked at Halton Hospital in Runcorn, Cheshire, was arrested in the Lime Street area of Liverpool.
Dr Asha, his wife the 26-year-old doctor from Bangalore can be questioned until Saturday, July 14.
Also under police guard is a man arrested after a flaming Jeep was driven at Glasgow Airport. He is being treated for burns and is in a critical condition in hospital.
In Brisbane, Australia, a judge has ruled that police can have another 48 hours to question Mohamed Haneef, 27, an Indian doctor held over failed British attacks.
Haneef is one of six Indian doctors to be questioned in Australia over the suspected al-Qaeda-linked plot in the UK. The others have already been released. Police conducted searches of several properties in the country.
Australian police are examining more than 30,000 documents seized during searches in three states, including files on Dr Haneef's laptop PC and mobile phone SIM cards left with the alleged UK bombers. British police arrived last week to help.
Meanwhile, an Australian security agent had travelled to India to work with local authorities there on material seized during a series of raids across Australia.
On Saturday, an Iraqi doctor became the first person to appear in court charged in connection with the suspected car bomb plots in London and Glasgow.
Bilal Abdulla was remanded in custody when he appeared at City of Westminster Magistrates' Court in London. The 27-year-old, who was arrested after the Glasgow Airport incident a week ago, is accused of conspiring to cause explosions.
Police have revealed that there were no armed police on duty at Glasgow airport when the alleged suicide bombers attacked the building.
Most other UK airports were protected by an armed police presence that day, after a potentially lethal car bomb was found in London.
Strathclyde Police said armed officers were only deployed to the airport when the national threat level required it.
2 UK Terror Suspects Looked Into US Jobs
http://www.forbes.com/feeds/ap/2007/07/06/ap3890182.html
Two suspects in the failed car bombings in Britain made inquiries about working in the United States, the FBI said Friday, and British prosecutors said an Iraqi arrested after the attack on Glasgow airport should face terrorism charges.
An FBI spokeswoman said Mohammed Asha and another suspect had contacted the Philadelphia-based Educational Commission for Foreign Medical Graduates, as first reported in The Philadelphia Inquirer. Asha, a Jordanian physician of Palestinian heritage, contacted the agency within the last year, but apparently did not take the test for foreign medical school graduates, said the spokeswoman, Nancy O'Dowd.
"He was applying, (but) we don't believe he took the test," she said. She could not confirm the name of the second suspect to make inquiries.
Later, Britain's Crown Prosecution Service said police should charge 27-year-old Bilal Abdulla, an Iraqi-born physician arrested at Glasgow's airport after a Jeep Cherokee he was allegedly traveling in rammed into a terminal building.
"I have now made the decision that there is sufficient evidence and authorized the charging of Bilal Abdullah with conspiracy to cause explosions following incidents in London and Glasgow," said Susan Hemming, an anti-terrorism prosecutor.
On June 29, authorities defused two car bombs that had been set to explode near packed nightclubs and pubs in central London. The following day, two people rammed a car loaded with gasoline canisters into the main terminal at Glasgow's airport. The car crashed and caught fire, seriously burning one of the suspects. Both men were arrested.
All eight suspects were foreigners working for Britain's National Health Service, six from countries in the Middle East and two from India.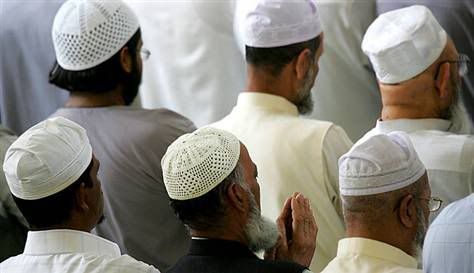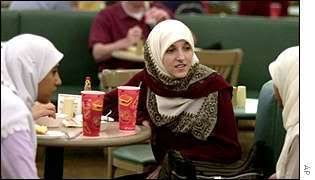 In wake of botched terror plot, Scottish Muslims fear retaliation
http://www.iht.com/articles/ap/2007/07/08/europe/EU-GEN-Britain-Terror-Backlash.php
GLASGOW, Scotland: In the row of shops, a Pakistani immigrant owns the only one that was targeted. Shafiq Ahmed says vandals rammed a car into his "One Stop Shop" and set it on fire — an assault disturbingly reminiscent of the terror attack just days earlier on the airport of this gritty but until now racially well-integrated Scottish city.
Police say there has been a backlash against Glasgow's Muslims in the wake of the attempted airport bombing, with at least 24 attacks, ranging from graffiti on a mosque to firebombings of businesses.
Soaping off soot with his family in his charred convenience store, Ahmed is hoping that the attack on his family business wasn't racially motivated. After 30 peaceful years in Scotland, the idea that some may no longer welcome him and his Scottish-born children is simply too uncomfortable.
"I haven't got words to describe it. I'm hoping it's not retaliation," Ahmed said Sunday, in a thick Glasgow accent. "It's a shame to think you can't work with people and enjoy the company of people and instead have to worry."
British police are still threading together the terror plot investigation, reaching out to India, Australia, Jordan, Iraq and to communities here in Scotland where Muslims and non-Muslims have long lived in peace together — and where the majority are determined to keep it that way.
Unlike in Muslim enclaves in northern England, Asian Muslims in Glasgow do not live in complete isolation. White customers are common in the curry restaurants and ethnic grocery stores. Glaswegians wearing the colors of the local soccer team — Glasgow Rangers — share the sidewalks with Muslim community elders clad in long tunics and matching baggy trousers traditionally worn in Pakistan.
In the former industrial towns of northern England where much of Britain's Asian diaspora is settled, the far right British National Party with its fiercely anti-Muslim rhetoric has made inroads. But in Glasgow — Scotland's most populous Muslim city — the BNP has hardly any presence despite repeated efforts to foment racial division.
Problems of unemployment, poverty, and alcohol and drug abuse are shared by the community, not divided along racial lines.
Two Muslims allegedly rammed a Jeep Cherokee packed with gas cylinders and gasoline into the terminal building of Glasgow's airport on June 30. Bilal Abdullah, a 27-year-old doctor born in Britain and raised in Iraq, was charged on Friday. Kafeel Ahmed, from Bangalore, India, was believed to be driving the jeep. Hospitalized in critical condition with severe burns, he has not been charged. Six others remain held in custody over that plot and a failed car bomb attack 24 hours earlier in London's theater district.
In Glasgow, some Muslims fear that they will now face the same unwelcome scrutiny, even alienation and violence, that others across the border in England have complained of since four British-born Muslims blew themselves up on trains and a bus in London on July 7, 2005, killing 52 people and injuring more than 700.
Senior officials have since urged Muslims to better integrate. Jack Straw, the justice secretary and lord chancellor in the new government of Prime Minister Gordon Brown, spoke out in October against the head-to-toe black veils worn by some Muslim women.
"After 7/7 it was not that bad for Muslims here," said Imran Ali, a 22-year-old in Pollokshields, the most populous Muslim district of Glasgow. "It's going to be worse now."
John Neilson, one of Glasgow's most senior police officers, told The Associated Press that they have made 25 arrests in the 24 attacks they suspect were revenge for the airport assault. But he also pointed out that for every attack, there were hundreds more expressions of support for Scotland's 60,000 Muslims.
"We showed resilience that some other nations don't have the capacity to show," Neilson said.
Ahmed's store is on a row of shops that includes a Chinese take-out restaurant, a betting shop, a kebab restaurant, a bank, a post office and a pub, The Princess. Plywood boards now cover part of the front of his store, that still gives off a strong burnt smell.
Robert Wishart, who lives opposite, said he was woken by a loud bang in the early hours of Tuesday morning, and saw from his bedroom window that a silver car had smashed into the shop front. It was set on fire five minutes later by a man who arrived in another car with an accomplice. They then sped off. Police say they are investigating.
"He's always been a friendly guy," Wishart said of Ahmed. "We all get on."
Like in Muslim communities across the length of Britain, there is seething resentment in Glasgow at the British government's foreign policy. The Iraq war, the alliance with the United States and a perception of one-sidedness in the Israel-Palestine conflict all fuel hostility. But terrorism in the name of Islam is abhorred in equal measure.
Unlike in the aftermath of the Sept. 11, 2001, attacks in the United States or the 2005 bombings in London, where some young British Muslims saluted the terrorists, the latest terror plot drew nothing but condemnation here.
"We are not going to tolerate any racists or terrorists coming in and dividing us," said 23-year-old youth worker Javed Aslam.
Pointing to other young Muslims gathered around him, Aslam added: "If one of these guys supported any terrorism, we would all let them him know that we were ashamed."
Several hundred people — from Muslims to Quakers, teenagers to trade unionists — rallied in central Glasgow's George Square on Saturday to denounce the attacks. Blue and white Scottish flags fluttered symbolically alongside banners that declared "Terrorism has no Religion".
"We want to send the message that this country is united," said organizer Osama Saeed of the Muslim Association of Britain. "It won't be shaken by terrorism."
American Muslims Fear Backlash After Foiled UK Terror Plot
Muslim Leader Bedier Debates Impact of Foiled UK Terror Plot
Area Islamic leader decries U.K. terror attacks
Atta backs report cautioning against marginalizing Muslims
http://www.jsonline.com/story/index.aspx?id=629718
Disturbed by terrorist bombing attempts in England and Scotland, the head of Milwaukee's Islamic Society has decried supporters of such violence and endorsed a task force report by The Chicago Council on Global Affairs that cautions against marginalizing Muslims in the United States.
Othman Atta, a Milwaukee attorney and president of the society, had strong words for radical Muslim clerics in England who have justified bombings of civilians.
"To be frank, if I was in England and I was in control of the laws, I would deport someone who came out with those kind of statements," Atta said. "I don't believe there is any place for that kind of rhetoric in any society. I really don't."
The Chicago report, "Strengthening America: The Civic and Political Integration of Muslim Americans," was released last month. The national task force was co-chaired by Lynn Martin, a former Illinois congresswoman and former U.S. secretary of labor, and Farooq Kathwari of New Rochelle, N.Y., president and chief executive of Ethan Allen Interiors Inc., one of the largest U.S. furniture chains.
It cites independent studies that say that, unlike in Europe, there is little, if any, publicly available evidence here of widespread or entrenched extremist activity with links to global terrorist organizations. Yet it notes that the voices of Muslim-American leaders and organizations are not being heard by the American public, some of whom continue to view Muslim-Americans with suspicion and question the compatibility of Islam with American values.
"The gathering climate of suspicion and mutual mistrust, exacerbated by the lack of engagement and dialogue, threatens to marginalize and alienate some Muslim Americans to the point where the danger of radicalization of a small minority could become a real possibility," the report's executive summary says.
"It would take only a single, significant act of terrorism in the United States involving Muslim Americans to cement the impression that rampant radicalism has taken root in the community.
"Therefore, the task force believes that creating full and equal opportunities for civic and political participation of Muslim Americans is an urgent national need. It is vital that Muslim Americans find ways to demonstrate visibly their commitment to America, its institutions and its values," the report says.
Muslims in the United States are more integrated into the middle class and have higher educational levels than Muslims in Europe, Atta said. But he fears that those gains could be lost amid a stream of negative views and stereotypes of Islam by bloggers and some conservative talk shows and right-wing groups with agendas.
The paradox in this is that several foreign-born doctors or medical students have been arrested as suspects in the recent failed bombing attempts in London and Glasgow.
"I was seriously, obviously troubled, not only with these physicians, but even in the (earlier) attacks on the subway," Atta said. "I still have a hard time understanding how individuals who are living in these countries are able to basically go out and commit these kinds of atrocities. . . . I really cannot understand it. To see that these are supposedly doctors, it's appalling, to be frank."
Karnataka to hold meeting on failed UK terror plot
http://economictimes.indiatimes.com/Karnataka_to_hold_meeting_on_failed_UK_terror_plot/articleshow/2188970.cms
BANGALORE: The Karnataka government will hold a high-level meeting on Tuesday to take stock of the situation in the wake of revelations about the alleged involvement of suspects from Bangalore in the foiled UK terror plot.
The meeting of senior police and home department officials, to be chaired by Chief Minister H D Kumaraswamy, would debate vital leads gathered by cops and intelligence wings on the links of Kafeel Ahmed, who is suspected to have driven a burning jeep into the Glasgow airport, his brother Dr Sabeel Ahmed and their cousin Dr Mohammed Haneef, according to sources.
"Our police and intelligence wings have gathered several pieces of information so far in their investigation into the Bangaloreans' links to the UK terror conspiracy. But they cannot be disclosed now," the Chief Minister told newspersons here on Monday.
The state police department has also been directed to submit a proposal on the requirement for sophisticated gadgets that would aid them in unravelling terror plots and activities of naxalites to ensure that these elements do not create trouble in the state, Kumaraswamy said.
The government would do everything to foil any terror attempts, he said, adding, "Certain issues cannot be discussed in public."
"The Intelligence Bureau and the state police have been working seriously," Kumaraswamy stressed and appealed to the media not to glorify "certain aspects" concerning the ongoing investigations.
It was shocking to know that educated people were falling prey to terrorist organisations, he said.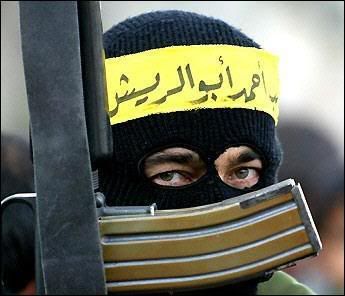 U.K. terror chief warns of 15-year fight
http://news.bostonherald.com/international/europe/view.bg?articleid=1010175
LONDON - Britain's new security chief warned the battle against terrorism could take up to 15 years, while Prime Minister Gordon Brown said in an interview broadcast Sunday he wanted an expanded European system to share information on potential threats.
"I want the system that we are trying to expand between Europe - a system whereby we know who are potential terrorist suspects," Brown told Sky News television. "It is very important that we tighten this up and it is something we are looking at as a matter of urgency."
Adm. Sir Alan West, the former navy chief who was recently named Brown's security minister, said Britain faced an unprecedented threat and a new approach was critical.
One of those approaches included challenges to the British psyche, he said.
"Britishness does not normally involve snitching or talking about someone," he told The Sunday Telegraph. "I'm afraid, in this situation, anyone who's got any information should say something because the people we are talking about are trying to destroy our entire way of life."
He said prevention and dealing with the radicalization of young Muslims was his top priority.
"This is not a quick thing," he said. "I believe it will take 10 to 15 years. But I think it can be done as long as we as a nation apply ourselves to it and it's done across the board."
West also said it was wrong to talk of "the Muslim community" as if they were separate from the rest of the population. He said Muslims see themselves as British and that terrorists have hurt them as well.
"I think they have severely damaged one of the world's great religions _ the one they purport to support," West said.
Counterterrorism agents claim they have foiled several attacks in Britain since the July 7, 2005, suicide bombings that killed 52 people on London's transit system, including a plot to blow up several trans-Atlantic flights.
An Iraqi doctor appeared in court Saturday as the first suspect to face charges over a plot to bomb London's entertainment district and Glasgow's main airport.
Bilal Abdullah, a 27-year-old doctor born in Britain and raised in Iraq, is accused with another man of crashing a Jeep Cherokee laden with gas cylinders and gasoline into the terminal.
Iraqi authorities were gathering information about Abdullah and will cooperate with British authorities, Iraqi Interior Ministry spokesman Maj. Gen. Abdul-Karim Khalaf said. He said the ministry was trying to establish whether Abdullah was part of al-Qaida or belonged to other insurgent groups.
Seven other people are in the attacks - six in Britain and one in Australia - but have not been charged.
Two cars packed with gas cylinders and nails were discovered June 29 in the busy heart of London's West End _ one outside a crowded nightclub, the other near Trafalgar Square. The next day, a Jeep Cherokee smashed in flames into the security barriers at Glasgow airport.
The charge against Abdullah refers to a plot taking place between Jan. 1 and July 1, suggesting prosecutors believe the attacks were planned well in advance.
Prosecutors suspect Abdullah and Kafeel Ahmed, believed to be the driver of the Jeep, carried out the attempted bombings in London before returning to Scotland - where Abdullah worked at a Glasgow-area hospital - and attacking the airport.
Britain remains on "severe" terrorism alert _ the second-highest level - following the attacks.
Ahmed is hospitalized in critical condition in Scotland with severe burns from the attack on the airport.
Ahmed, who is from Bangalore, India, holds a doctorate in aeronautical engineering and studied at Queen's University in Belfast, Northern Ireland, and at Anglia Polytechnic University in Cambridge, England. Abdullah also lived for a time in Cambridge, a quiet university city north of London.
Another suspect is Sabeel Ahmed, 26, an Indian doctor arrested in Liverpool, who relatives confirmed in media reports is the brother of Kafeel Ahmed.
Most of the suspects worked for Britain's health service and come from countries in the Middle East and India.
U.K. To Change Focus Of Terror Fight?
Britain's Likely Future Prime Minister May Shift Emphasis From Military To Monetary
http://www.cbsnews.com/stories/2006/10/10/world/main2077419.shtml
Britain's treasury chief outlined steps Tuesday designed to cut off terrorism funding, declaring in a major speech on security issues that no safe haven should exist for terrorists.
Gordon Brown laid out a multifaceted approach to combating terror in remarks seen as part of a bid to bolster his public image as he makes a case to succeed Tony Blair as prime minister.
The speech touched on tightening border controls, new asset-seizure laws and proposals to extend the length of time suspects can be held without charge.
"There should be no safe haven in the world for terrorists and there should be no hiding place anywhere in the world for those that fund them," Brown told an audience of academics and reporters at the Chatham House think tank in London.
Brown emphasized shared values between the United States and Britain in fighting terror and promised to make security a high priority in his review of government spending.
"Closer cooperation between America and Europe in addressing the roots of terrorism should lead to practical new approaches to isolating extremism," Brown said.
As part of new measures to combat terror, Brown said Britain would now use classified intelligence to freeze assets of those suspected of having links to terrorism.
The new measures allow law enforcement agencies to keep sources of information under wraps after it is used in tracking down and freezing bank accounts, Brown's top deputy, Economic Secretary Ed Balls, said Tuesday.
A terrorism finance analyst contracted by the U.S. government told CBSNews.com that Tuesday's announcement may have broader implications for the way the U.K. fights terrorism.
Timothy Wittig, President of TerroristFinancing.com says it may indicate that Brown, likely to take over from Blair in a matter of months, "will make fighting terrorist financing the center of his overall counterterrorism strategy, representing a shift away from the Blair and Bush approaches."
Wittig says the proposal could be a strong tool in the fight against terrorism in the U.K. if it is adopted by the government and accepted by the public.
"It would help isolate 'homegrown' terrorists from many of the funding channels, such as charities and cross-border remittances, which have been used by terrorists in the U.K. in the past. This would likely disrupt the ability of all but the most well-connected and professional terrorist from receiving enough funds to execute a successful operation," Wittig said.
He tells CBSNews.com's London bureau that the challenge will be for the government to use the legislation without violating the trust of citizens whose bank accounts could be seized "without a public hearing or explanation."
"In general, the U.K. has much more stringent privacy laws than the U.S. In fact, there is no law that prohibits the U.S. government from gaining access to an individual's financial records from a 'third party' i.e. a bank," explained Wittig.
However, he says that due to the structuring of U.S. counterterrorism laws, financial disruption is underused as a tool against terrorism in the United States. "In this respect, Brown's proposal would present a distinct alternative to the Bush administration's military-led counterterrorism strategy," Wittig said.
TerroristFinancing.com is also contracted by banks and other private and public institutions to provide research and analysis on the subject matter, which has come into high demand since the Sept. 11 attacks.
Britain has frozen nearly 200 bank accounts suspected of being linked to terrorism since the Sept. 11 attacks in the United States.
In the last year alone, businesses have also reported more than 2,000 suspicious transactions leading to 650 investigations in Britain and overseas, Brown said, citing progress in drying up the funds that support terror groups.
Around $934,000 of suspected terrorist funds have now been frozen, in the U.K., according to Balls. He said the government would also seek to strengthen regulations on currency exchanges to tackle rogue operations that launder money.
The treasury plans to publish a report with recommendations to protect charities from becoming unwittingly involved in financing terrorism.
In August, Britain's Charity Commission, on the advice of the treasury, launched an investigation into the Islamic charity Crescent Relief over suspected links to a plot to blow up U.S-bound airliners.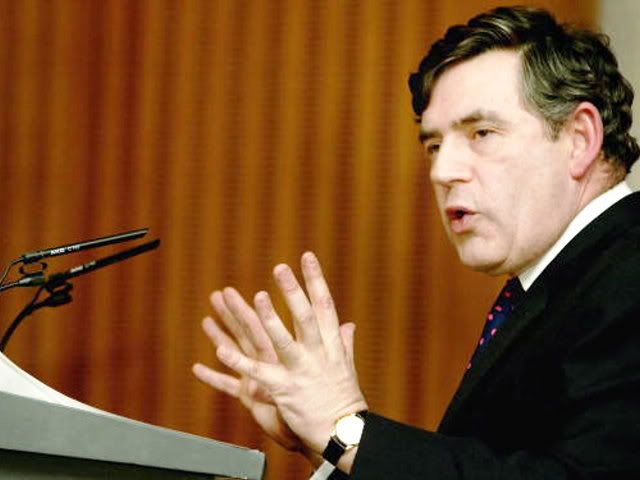 Gordon Brown's fight against terror
http://www.sundayobserver.lk/2007/07/08/fea01.asp
Gordon Brown is going through a difficult period since he assumed duties as the Prime Minister of Great Britain after having patiently awaited for a very long period as the Chancellor of and Prime Minister in waiting. He brought about draconian and drastic changes to combat terrorism which includes long term detention and internment.
He was talking about cultural action against terrorist extremism and he said that by fulfilling the responsibilities as Chancellor to deny terrorists' finance and complex nature of sophistication of terrorist activity that he has taken on short and long term solutions. He stated by saying that global challenges must be globally dealt with all the means at their disposal military, security, political, economic and cultural. Tough anti terror measures including detaining suspects without charged beyond 28 days and the use of phone/tap evidence in Court, are being considered by Gordon Brown following the London and Glasgow attacks.
Unlike in Sri Lanka in the UK, the Conservatives promised to co-operate with Mr. Brown and indicated that they may be willing to drop their opposition to the extension of the 28 day detention period, provided it was shown that the Police need the extra time. In the United Kingdom the Conservatives helped Tony Blair to bring about a peaceful settlement on the Northern Ireland issue where the Northern terrorists laid down arms and entered the democratic process.
Northern Ireland originally has been an independent unit which was incorporated subsequently to form the United Kingdom. In Sri Lanka neither North nor East were independent entities. Therefore there are no similarities in the Northern Ireland and North and East issues as far as the basis of the conflict is concerned. But it is very salutary to state that all the parties in the United Kingdom have got together to resolve their conflict which destabilized the day to day lives over two decades. These are examples that we should follow and it is the duty of the opposition to help the government in power rather than going round the world tarnishing the good image of Sri Lanka.
Extended detention without charge is expected to be brought forward by Mr. Brown in a terrorism bill in the autumn to tighten the security. Two years ago Tony Blair wanted to push through 90 days continuous detention for which Conservatives and Liberals objected. Now having considered the volatile security situation in the United Kingdom all the parties have decided to rally round Mr. Brown to combat terror in the UK and international terrorism which includes attack by LTTE which according to the world community, of the most ruthless terrorist organization in the world.
Mr. Brown has long term plans to combat terrorism. He has realized how imminent and dangerous the situation in the UK and globally. The following quotation of Mr. Brown shows how far he has considered the gravity of the situation.
QUOTE BY MR BROWN:
"The terrorists were making a long term and sustained attack on Western values and it would have to be countered by not just military and security means, Mr. Brown said.
It is also about hearts and minds. If in the long term we cannot separate the moderates from the extremists and the extremists prey on young lives both in this country and in other parts of the world, then we will see culturally a distancing of people with extreme views from the rest of the community."
This indicates how difficult it is to differentiate the terrorists, terrorism, moderate and the innocents. The LTTE uses civilians, children and soft targets to achieve their ends. They are easy infiltrated into Colombo where the majority citizens are Tamils. It is to the advantage of President Mahinda Rajapaksa that Gordon Brown too has realized the gravity and multitude of the situation. It is time for the two leaders to get together in combating terrorism locally and internationally with the help of their two respective Secretaries of State. President Rajapaksa has spelt out his plans for a permanent solution after combating and eradicating terrorism completely and to pave the way for everybody to enter the path of peace as follows:
"My primary aim would be to arrive at a peaceful political settlement where the power of each and every citizen is strengthened to the maximum, without being trapped within concepts such as traditional homelands and right to self determination. My intention is to devolve power to the level of the citizen. I believe that by developing a strong citizen, we would be able to reach a solution in this national conflict."- Mahinda Chintana -
The bomb near London's bustling nightclub and theatre district that defused on Friday would have killed hundreds, after an ambulance crew spotted smoke coming from Mercedes filled with Lither mixed with gasoline, propylene and nails. Incidentally the pattern of bomb making in Sri Lanka too is similar to that of this device which shows a clear indication of a direct connection with the bomb making network of the underground movements in the UK and Sri Lanka LTTE net.
Thereafter British new Home Secretary Jacqui Smith called an emergency meeting of the top officials and later said the attempt attack was "international terrorism". He further said that they are currently facing the most serious and sustained threat to their security from international terrorism. He said "this reinforces the need for the public to remain vigilant to the threat we face all the times."
This is a lesson and an example to Sri Lankan government, the opposition and the people who are victims of terrorist's attacks. It is sad but true that some missions and NGOs have double standards distortions myths and misunderstandings on Sri Lanka. It is time for the Sri Lankan affairs raise above these odds and to work together in combating terrorism and those forces knowingly or unknowingly helping terrorism.
Gordon Brown called it stark reminder that Britain faces a serious and continuous threat of terrorist attacks. The double-decker bus on No 205 travelling on Grace inn near Kings-cross station caused a scare and a chilling warning to the UK and the government and also the network of diplomatic missions all over the world monitoring human rights situations in other countries on the basis that the UK has a right to interfere and intervene in Human Rights situations being a signatory to main human rights instruments.
His Excellency Mr. Dominick Chilcott in his detailed speech at Bandaranaike Centre for International Studies (BCIS) justified the steps taken by him in Sri Lanka on the basis that, that it is their mandate to intervene and interfere on human rights situations in Sri Lanka and other parts of the world including Afghanistan and Iraq where the human rights situation is deteriorating fast.
The discovery of the bombs to blow London came hours after Gordon Brown named a cabinet to succeed Tony Blair. The first duty of the government is the security of the people and the police and the security services have said on so many occasions that they face a serious and continued security threat to their country. Therefore security around London was stepped up with Police body searching drivers of vehicles entering London. Large areas packed with tourist theatres, restaurants and pubs were sealed off.
The people in the UK have understood the threat to the country and the community and assisting the forces to solve it by taking all preventive measures militarily and strategically. When the UK, a world power and a rich nation does it for safety it is justified by the international community whereas in Sri Lanka when Sri Lankan government is taking measures to safe guard the lives of the majority of people, the international community including British agitates that human rights standards should be maintained even during extreme terrorist conditions.
This is technically correct but in reality a difficult task, an innocent Immigrant worker in the UK was followed and killed by British security forces by shooting him continuously at a short range on suspicion when there was no such tense atmosphere. The international community pardoned UK as having made a genuine mistake. In Colombo the atmosphere is serious as the LTTE has infiltrated into Colombo. Colombo mainly consists of non Sinhalese which is to credit and the tolerance of Sinhalese who live in harmony with all other ethnic groups. Sinhala as a minority in Colombo leads a very exemplary life, as peace loving, moderate citizens when Muslims and Tamils own the majority of property, wealth and businesses inn the capital which is a very harmonious and salutary situation.
Unfortunately the picture shown by sine Diplomatic Missions and NGOs to the world are the reverse. Some Diplomatic missions and NGOs, minutes after "Lodgers Incident" has transmitted to the world of mass ethnic cleansing by security forces on the steps taken to evacuate few hundred lodgers who could not give satisfactory answers with regard to identify themselves. How could there be ethnic cleansing when the majority of residents in Colombo are Tamils which amount to 125,456 and Muslims which amount to 120,109 as against Sinhala minority which amounts to 117,090. In fact real ethnic cleansing took place when all the Muslims in Jaffna were driven away by the LTTE some years ago. For some reason the Diplomatic Missions and NGOs who agitated for the lodgers were silent when there was real ethnic cleansing of Muslims by the LTTE.
By the mid 1990s the UK Intelligence Agencies and the Police were well aware that London was being used as a base by individuals involving promoting, funding and planning terrorism. London has been the centre and the heaven for LTTE. They managed, controlled and fought the war from abroad using funds raised legally and illegally. Though late it is a good sign that UK has taken steps to curb terrorism from their soil by terrorists organizations mainly headed by LTTE by freezing the accounts and rounding up the hard core activists.
LTTE terrorism has number of links and branches. Drug smuggling, humans smuggling, shipping, extortion are the main sources of income. For human smuggling the easiest and mostly used path is asylum process which is prevalent in the United Kingdom which is a signatory to the convention of refugees.
The definition a refugee for the purpose of the convention in Article 1A of the Convention of Refugees is important to note in this context which reads as follows:
"Owing to a well-founded fear of being persecuted for reasons of race religion nationality membership of a particular social group or political opinion, is outside his country of nationality and is unable or, owing to such fear, is unwilling to avail himself of the protection of that country; or who, not having a nationality and being outside the country of his former habitual residence ... is unable or, owing to such fear, is unwilling to return to it".
The human smuggle trade is directly interconnected to asylum where immigrants claim asylum on the grounds of race, religion, nationality, political opinion, social group etc.
It is important to have documents to substantiate the claim. In Eastham and Wembley forged Sri Lankan passports, birth certificates and identity cards are plenty for sale. What they need is paper reports and web information to substantiate. Most of the entries on abductions and disappearances are people from Kilinochchi and the NGOs promptly give wide and world publicity for disappearances and abductions. Now the truth is coming out of abductions and disappearances.
As a result of this back up work, UK government has relaxed the immigration rules which were tightened previously as a result of bogus asylum claims. Sri Lanka recently was in the white list, which means it is a safe place for Tamils to live. Now things have changed. It is no longer in the white list. It is a country not safe for Tamils to live and return which means it is easy for asylum claims and once asylum is granted free housing, free education, free income supports and many benefits to follow and Indian end up as a British and EU citizen.
Gordon Brown has an up hill task to fight terrorism and also the influx of immigrants who are misusing the facilities offered by the British for those who need help. London has been the most peaceful city with peace loving people.
It is no longer a peaceful place for tourists and a place for investments. It is time that the two countries to work out a common programmed to combat the common enemy, the terrorism, terrorists and the LTTE.
In the Name of Security (UK ID CARDS)
Terror Attacks Remembrance Video
London Attacks - Before, During, After
British jihadi Hassan Butt Renounce's Islamic Terror