A wildfire, also known as a wildland fire, forest fire, vegetation fire, grass fire, peat fire ("gambut" in Indonesia), bushfire (in Australasia), or hill fire, is an uncontrolled fire that pops up fire often occurring in wildland areas, but which can also consume houses or agricultural resources. Common causes include lightning, human carelessness, arson, volcano eruption, and pyroclastic cloud from active volcano. Heat waves, droughts, and cyclical climate changes such as El Niño can also have a dramatic effect on the risk of wildfires.
In medieval times, the word "wildfire" was a synonym for Greek fire as well as a word for any furious or destructive conflagration. According to the Oxford English Dictionary, the earliest known usages are specifically for lightning-caused conflagrations. The modern usage may have arisen in part from people misunderstanding the expression "spread like wildfire"
http://en.wikipedia.org/wiki/Wildfire
Total Fires and Acres 1960 - 2005
These figures are based on end-of-year reports compiled by all wildland fire agencies after each fire season, and are updated by March of each year. The agencies include: Bureau of Land Management, Bureau of Indian Affairs, National Park Service, US Fish and Wildlife Service, USDA Forest Service and all State Lands.
http://www.nifc.gov/stats/wildlandfirestats.html
The Silent Fire
Tragic and Destructive North American Wildfires - 1950 to 2006
http://forestry.about.com/od/forestfire/ss/top_fires_na.htm
WHAT IS A WILDFIRE?
http://www.smokeybear.com/wildfire-science.asp
Wildfire is one of the most destructive natural forces known to mankind. While sometimes caused by lightning, nine out of ten wildfires are human-caused. Put simply, "wildfire" is the term applied to any unwanted and unplanned fire burning in forest, shrub or grass.
The current increase in instances of wildfire can be explained by four key factors:
1. Past fire suppression policies, including one of "total suppression," which allowed for the accumulation of fuel in the form fallen leaves, branches, and excessive plant overgrowth in forest and wildland areas
2. Increasingly dry, hot weather.
3. Changing weather patterns across the US.
4. Increased residental development in the wildland/urban interface.


Charcoal reveals wildfire history
http://news.bbc.co.uk/2/hi/science/nature/5180924.stm
UK scientists have traced the history of wildfires by studying lumps of ancient charcoal from around the world.
The fossils show the incidence of fires through time is closely related to the level of atmospheric oxygen.
Andrew Scott and Ian Glasspool say huge swathes of the planet were ablaze when concentrations of the gas peaked some 275 million years ago.
Their research is published in the US scientific journal Proceedings of the National Academy of Sciences.
"People might think the charcoal they pull out of a bonfire is just rubbish; but look at it under a microscope and you see that it has beautiful anatomical preservation," said geologist Professor Scott, from Royal Holloway, University of London.
"In other words, the charcoal retains information not just about the fire but about the type of plants that were being burned. This means we can tell whether the fires moved through surface plants or big trees," he told BBC News.
Oxygen feeder
Charcoal is almost pure carbon and is left virtually unchanged in the fossilisation process.
Scott and Glasspool, who is affiliated to Chicago's Field Museum, examined charcoal residues preserved from about 440 to roughly 250 million years ago.
It covers the period when scientists believe plants first got a strong foothold on land and spread rapidly across the surface.
The charcoal samples studied came from all around the world, including the US, Australia, Scotland, India, Norway, South Africa and Antarctica.
The researchers examined the material to ascertain the types of fires that produced the charcoal and their likely incidence. They then compared this with models other scientists have produced to describe how oxygen in Earth's atmosphere is thought to have changed over time.
There appears to be a strong link.
The team found that fires were rare and localised for the first 50 million years of plant evolution but then they increased in frequency as the levels of oxygen in the atmosphere rose.
From around 365 million years ago, severe fires became widespread across the planet. Oxygen levels peaked at 30% 275 million years ago, in comparison with only 21% today. In this period even damp vegetation would have ignited easily causing many more fires.
Whole Earth
"From the Late Devonian - from about 365 million years ago - there was a rapid increase in fire," Professor Scott explained.
"One might have expected that to occur earlier but it seems to have coincided with this rapid rise in atmospheric oxygen that people have modelled. So, this is the first time anyone has used the charcoal record to constrain the atmospheric oxygen models."
The Royal Holloway scientist has spent the best part of 30 years studying charcoal.
He says the material's importance has been overlooked by many geologists.
It is clear, he argues, that fires have been an integral part of the Earth system and that changing atmosphere and climate are both influenced by, as well as influencing, fire occurrence.
"Fire sustains certain systems. If more carbon is bound up and buried as charcoal, you are taking carbon dioxide out of the atmosphere, which changes the climate.
"In the time we looked at, we had the 'global ice house' (a period worldwide cooling) and a fall in sea levels; you have therefore more area to be colonized by plants which can burn. And as the oxygen levels rise, you can burn more and more of the wetter material. So, you get various feedbacks.
"From an Earth systems point of view, factoring in fire is quite important. Too many geologists in the field dismiss charcoal as detrital plant material and throw it away.
"As people recognise the information content of charcoal and its significance, hopefully more people will collect it."
Esperanza Firefight
This map shows locations that experienced wildlfires greater than 250 acres, from 1980 to 2003. Map not to scale.
Natural Hazards - Wildfires
http://www.usgs.gov/hazards/wildfires/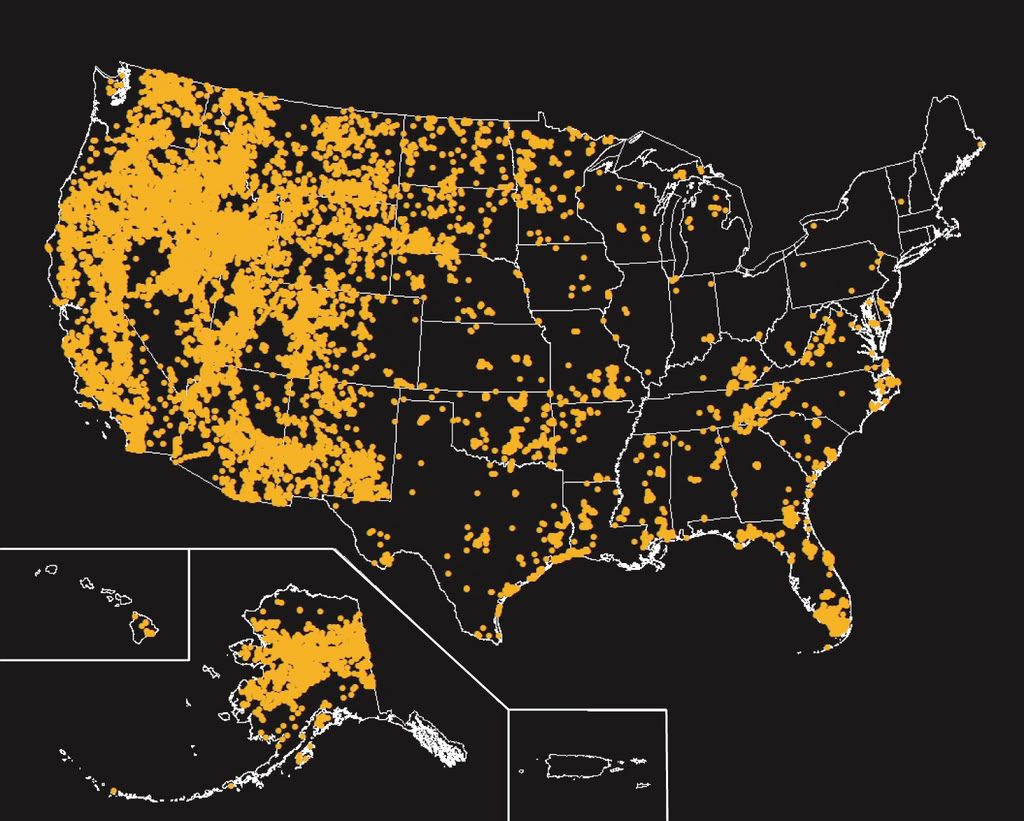 How Wildfires Work
http://science.howstuffworks.com/wildfire.htm
An average of 5 million acres burns every year in the United States, causing millions of dollars in damage. Once a fire begins, it can spread at a rate of up to 14.29 miles per hour (23 kph), consuming everything in its path. As a fire spreads over brush and trees, it may take on a life of its own -- finding ways to keep itself alive, even spawning smaller fires by throwing embers miles away. In this article, we will look at wildfires, exploring how they are born, live and die.
On a hot summer day, when drought conditions peak, something as small as a spark from a train car's wheel striking the track can ignite a raging wildfire. Sometimes, fires occur naturally, ignited by heat from the sun or a lightning strike. However, the majority of wildfires are the result of human carelessness.
Common causes for wildfires include:
* Arson
* Campfires
* Discarding lit cigarettes
* Improperly burning debris
* Playing with matches or fireworks
* Prescribed fires
California Wildfires: Up in Flames

Nationwide Heat Wave Adds Fuel To Numerous Wildfires
http://www.wcsh6.com/news/article.aspx?storyid=65736
A heat wave is gripping the nation from coast to coast, causing dangerous temperatures in the east and increasing the fire danger in the west.
After several days of near record heat in parts of Colorado, there was a slight break Monday with temperatures in the upper 80's. But there wasn't any break in many other parts of the country, where heat and drought are causing big problems.
Record heat and dry conditions are driving wildfires in more than a dozen states from Colorado to California.
Firefighters are battling large fires in the Los Padres and Inyos National Forests in California, where flames threatened a major power line supplying Los Angeles.
"I've been out for 27 years and this situation is so extreme that it scares me everyday that I come to work," said L.A. Fire Department Battalion Chief Craig Fry.
In Utah, where the largest fire in the state's history charred more than 300,000 acres, thick black smoke forced the closure of two major highways and flames threaten 300 homes.
"We've seen fires, but it has not gotten this close to home," said Glenna Davis.
In South Dakota fire near Hot Springs killed a man who returned home hoping to save his belongings.
Close to 30 homes nearby burned to the ground.
The heat has also strained utility companies, from electric lines to the fire lines, and forecasters warn we're in for a long, hot, and dangerous summer.
Lightning strikes, dry ground spark fires in West
http://www.usatoday.com/weather/wildfires/2007-07-09-wildfires-rw_N.htm
DENVER — Another wave of "dry lightning," the leading cause of summer wildfires in the West, threatens to ignite more blazes this week across the parched region.
Thousands of firefighters battled 41 major fires Monday in a dozen Western states. All but a handful were triggered late last week when thunderstorms raked brush and forest lands from Arizona to South Dakota with too many lightning bolts and too little rain.
The number of large wildfires at one time is not unusual for the summer. What was unusual was the swiftness with which the fires grew. The widespread dry thunderstorms were to blame.
The worst is the 468-square-mile Milford Flat blaze in southern Utah, the largest wildfire in the state's history.
"The fire is erratic, and the winds are blowing. It's still moving," said Susan Marzec of the federal Bureau of Land Management.
The fire was started by lightning Friday. Still uncontained Monday, the fire has charred brush and woods along Interstate 15 about 120 miles south of Salt Lake City.
On Saturday, two California motorcyclists were killed on I-15 after smoke obscured their way, and they were hit from behind. They were Utah's fourth and fifth wildfire fatalities in 10 days.
Three other people were killed in a separate wildfire in northeastern Utah.
Fire managers deployed 250 firefighters over the weekend and awaited hundreds more Monday. "Before we're done, (firefighters) can be even into the thousands," Marzec said.
Hot spots elsewhere include:
•California. More than 1,100 firefighters worked to corral two fires on the east slope of the Sierra Nevada range. The lightning-caused blazes have scorched 37,000 acres. Four crewmembers were injured. The fire was 55% contained Monday, and Forest Service spokeswoman Nancy Upham says it may be fully contained by Wednesday. A forecast for dry lightning today is worrisome, she says.
•South Dakota. In the Black Hills, light rain Monday helped dampen a third lightning blaze that destroyed 27 houses, killed a homeowner and injured two firefighters. Crews hope to contain the 7,000-acre fire by Thursday.
•Nevada. Firefighters labored in triple-digit heat on range fires that blackened 115,000 acres and threatened Winnemucca, about 170 miles northeast of Reno.
The heat that helped set up the western wildfires has spread east. New York City opened 290 cooling centers Monday after the temperature hit 90 degrees in Central Park. High temperatures were forecast in the 90s through Wednesday. The state of Virginia issued a hazardous weather alert.
The heat worsens fire danger in the West by more quickly drying out grasses and ground-level "fuels" that carry fires into the trees.
Lightning triggers about 70% of wildfires in the West, says Rick Ochoa, fire weather program manager at the National Interagency Fire Center in Boise. Last weekend's flare-up was the work of widespread thunderstorms over parched ground, tinder-dry grasses and very low humidity in the air.
Ochoa says the same conditions are in place for another round of dry lightning this week. Potential hotspots include the eastern side of Oregon's Cascade Range, the coastal mountains of Southern California and more inland states, including Idaho, Montana and Wyoming.
The current outbreak could have been worse, says wildland fire analyst Tom Wordell of the fire center. He notes most of the large fires are burning in lower-elevation brushlands, not thick forest stands high in the mountains.
"Had the fuels at upper-elevation areas been ready for ignition and spread, we would have had a much worse situation," he says. "Unfortunately, we've got another bad week in front of us, setting ourselves up for another lightning episode."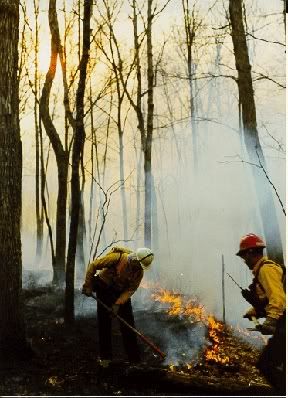 Hot weather aids Western wildfires
http://www.mlive.com/newsflash/national/index.ssf?/base/national-88/11840265018140.xml&storylist=national
SAN FRANCISCO (AP) — Dry thunderstorms forecast for most of central California on Tuesday could hamper firefighters' efforts to contain massive wildfires burning by the coast and in the Sierra foothills, officials said.
Hot temperatures also were expected to bedevil firefighters in other Western states coping with fast-moving fires.
Cooler temperatures and lighter winds allowed crews to make significant progress on taming a 35,000-acre fire in California's Inyo National Forest on Monday. The state's largest blaze, sparked by lightning on Friday, was 71 percent contained by evening, after destroying six homes and closing down trails into a popular wilderness area north of Mount Whitney.
On Sunday, the fire temporarily forced 200 residents of Independence to leave their homes and closed down a long stretch of Highway 395. A total of 11 firefighters had suffered minor injuries, U.S. Forest Service spokeswoman Pam Bierce said.
Along the coast, firefighters lost some ground in the Los Padres National Forest as flames there chewed through brittle brush and trees unburned in four decades.
The 9,500-acre fire, which was 30 percent contained, threatened more than 20 unoccupied cabins in Zaca Lake Retreat and the historic Manzana Schoolhouse. Officials did not order evacuations, but flames that came as close to a quarter-mile to a mineral spring lake forced the resort to cancel camping reservations at the height of the tourist season.
In Nevada, firefighters battled another day of triple digit temperatures, choking smoke and difficult terrain Monday as they challenged lightning-sparked wildland fires that blackened more than 245 square miles across northern Nevada but spared dozens of homes.
The 20,500-acre Thomas fire burned into the back yards of a residential area of Winnemucca, about 170 miles east of Reno, but was stopped short of the houses. An electrical substation and a handful of outbuildings were destroyed.
Wildfires kept Kitt Peak National Observatory in southern Arizona closed Monday and three small communities in the northern part of the state remained under evacuation orders as gusty winds and hot weather hampered firefighters' efforts. At least nine fires larger than 100 acres were burning across the state, although most were in remote areas and not affecting people.
In central Utah, meanwhile, firefighters were able to contain 10 percent of a 468-square- miles blaze thanks to low winds and increased resources. So far the fire, burning about 120 miles south of Salt Lake City, has raced through 300,000 acres of extremely dry sagebrush, cheat grass and pinion juniper.
A southwestern Colorado wildfire believed to have been caused by lightning destroyed a house and blackened 1,526 acres in southwest Colorado, but no injuries were reported, firefighters said Monday.
The fire, about 11 miles south of Mancos and 240 miles southwest of Denver, was about 50 percent contained Monday, firefighters said. Flames reached 100 feet high, said Eric La Price, a spokesman for the Bureau of Land Management.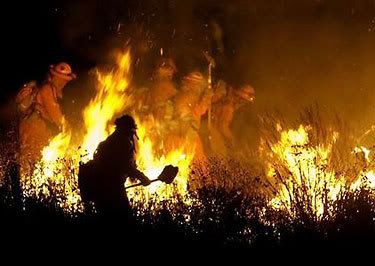 1,500 evacuees allowed home after wildfire reaches Nevada town
http://www.signonsandiego.com/news/nation/20070708-1915-nv-nevadawildfires.html
RENO, Nev. – About 1,500 evacuees were allowed home hours after a 25,000-acre wildfire burned into the northern Nevada town of Winnemucca, but the danger to residents still was not over, fire officials said Sunday.
The wind-whipped blaze burned up to the backyards of at least a couple dozen homes Saturday in Winnemucca, and destroyed an electrical substation and five to seven outbuildings, authorities said.
Initial reports by officials that the blaze had damaged an unknown number of homes proved untrue after crews were able to scour the area, fire information officer Pete Jankowski said Sunday evening.
The fire also shut down Interstate 80, delayed Union Pacific and Amtrak trains and killed livestock. No injuries were reported.
"It was pretty hairy for quite a while and people thought they would go back to nothing," Humboldt County Undersheriff Curtiss Kull said. "It was a huge wall of flame coming at the homes. It's amazing that no homes were lost."
Residents from 600 to 700 homes in Winnemucca, about 170 miles east of Reno, were subject to a mandatory evacuation over at least a six-hour period ending late Saturday night, Kull said.
Some residents decided to stay and fight the fire themselves, while most relied on crews with engines to protect homes, the undersheriff said.
Jamie Thompson, a spokesman for the U.S. Bureau of Land Management, said a 10-mile-long fire line that had previously been installed around much of the town played a major role in keeping damage to a minimum.
While crews were able to make progress Sunday with no major problems, Jankowski said the danger to residents still was not over.
"The weather will determine what happens with it," Jackowski said. "There's still a large area of fire and there's the potential for problems if we have the same erratic winds we had yesterday."
Winds were calmer Sunday, with gusts hitting only 20 mph compared with 40 mph the day before. The temperature reached 100 degrees on Sunday in Winnemucca, up from 99 the previous day.
The fire was 10 percent contained Sunday evening and no estimate was provided as far as when full containment would be reached, Jankowski said.
Since Friday afternoon, about two dozen lightning-caused wildfires had blackened about 200 square miles, or 130,000 acres, of rangeland across northern Nevada.
One Nevada fire had scorched about 90 square miles, or 58,000 acres, about 25 miles west of Winnemucca and was 20 percent contained Sunday night.
Another blaze near Jackpot along the Idaho line had blackened 78 square miles, or 50,000 acres, and was 15 percent contained.
The fires near Winnemucca shut down the interstate off and on Saturday. It also delayed an eastbound Amtrak train by 9 1/2 hours and six Union Pacific trains for varying amounts of time.
"They shut down the line because we couldn't safely go through," Amtrak spokesman Cliff Cole said. "There was power on the train and the passengers never deboarded the train. They gave them announcements of what was going on."
Fire officials reported progress on a string of blazes in Elko County in northeastern Nevada, including the one near the Idaho border.
A blaze about five miles southwest of Carlin was fully contained Saturday night after burning 17 square miles, or 10,949 acres. It burned two mobile homes and several smaller structures, and shut down a section of Interstate 80 for six hours.
"We're holding our own and making good progress on this series of fires in Elko County," said Sam Hicks, fire management officer for the Nevada Division of Forestry. "More resources are arriving and are giving us a much-needed hand."
Type 1 fire management teams on Sunday took over command of both the fires near Winnemucca and the Idaho line.
A 1,000-acre fire west of Elko was threatening a government facility under construction that will commemorate covered-wagon pioneers who crossed Nevada in the 19th century, BLM spokesman Mike Brown said.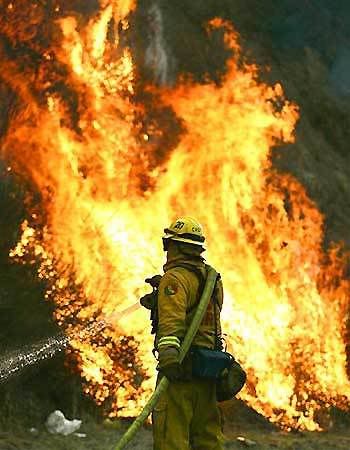 Wildfires in western US kill one, destroy 27 homes
http://www.taipeitimes.com/News/world/archives/2007/07/10/2003368927
One of dozens of fires across the western US raced out of a canyon in South Dakota's Black Hills "with a vengeance," killing a homeowner and destroying 27 homes, authorities said.
Residents of about 50 homes had fled the wildfire near Hot Springs, which also injured two firefighters and closed a section of a state highway, state and federal officials said on Sunday. An area of roughly 23km2 has burned since the fire was sparked on Saturday by lightning.
One person was killed while trying to retrieve possessions from a home. The identity of the person was withheld until relatives could be notified, authorities said.
"This thing blew up because of extreme hot temperatures and the winds," said Joe Lowe, state wildland fire coordinator. "It came out of the canyon with a vengeance."
High wind near Wenatchee, Washington, overnight spread a brush fire that threatened homes. By Sunday morning, 250 to 270 homes had been evacuated, and at least three outbuildings were destroyed.
In fire-swept Nevada, about 1,500 evacuees from Winnemucca were allowed back to their home hours after a wildfire destroyed an electrical substation and several outbuildings, shut down the interstate highway, delayed trains, and killed livestock. No injuries were reported.
In Utah, the largest wildfire in state history grew to 114,500 hectares on Sunday. The blaze has swept through about 1,144m2 of extremely dry sagebrush, cheat grass and pinion juniper in central Utah.
A fire in Arizona burned at the base of a mountain that is home to several expensive telescopes. A spokesman at Kitt Peak told KSAZ-TV that he was concerned but not alarmed. Tankers were dropping retardant between the fire and the observatory, the station reported.
Other fires blackened the rural landscape in California, Colorado, Arizona, Idaho, Montana and Oregon.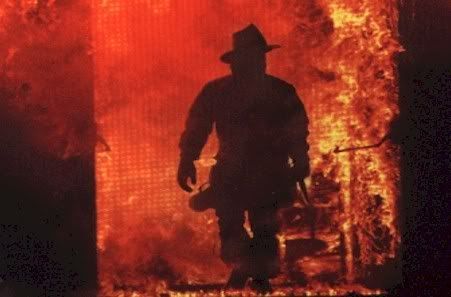 Hundreds more firefighters due on record-setting wildfire
http://www.signonsandiego.com/news/nation/20070709-1412-wst-utahwildfires.html
SALT LAKE CITY – A wildfire in central Utah grew to more than 468 square miles Monday as authorities awaited the arrival of hundreds of firefighters to battle the blaze.
The Milford Flat fire, burning about 120 miles south of Salt Lake City, has raced through extremely dry sagebrush, cheat grass and pinion juniper.
"It's still dry with erratic gusty winds. We're still looking at extreme fire danger," said Susan Marzec, a spokeswoman with the U.S. Bureau of Land Management.
Interstate 15 was a priority. If wind conditions are favorable, crews planned to intentionally set a fire to eliminate brush and other vegetation that could burn and threaten the major north-south route.
The goal is to keep the freeway open while firefighters work on the wildfire, Marzec said.
"As is true with fire, you don't do things like that unless the conditions are safe enough," she said. "It's extremely difficult to predict what the winds are going to do."
The fire grew to more than 300,000 acres in Millard and Beaver counties and was sparked Friday by lightning. It is the largest wildfire in Utah history, easily surpassing a 148-square-mile fire.
About 250 people were fighting the fire, along with two helicopters and three air tankers. The number of firefighters could surpass 500, Marzec said.
A Type I fire team, an elite unit, took over management Monday.
"We've got crews coming in left and right," Marzec said.
Meanwhile, the mountains surrounding Salt Lake City were shrouded in a smoky haze, the result of wildfires across the region. It was a factor in the unhealthy air alert posted for Salt Lake, Davis, Weber and Utah counties.
"It's like California," Carie Reese, 28, said as she walked downtown. "It's perpetuating the problem."
No evacuations were ordered because of the Milford Flat fire, and the blaze was threatening only a few structures and some ranch areas, Marzec said. Ranchers were getting help in rounding up cattle.
The fire forced the evacuation of historic Cove Fort over the weekend. The fort was built in 1847 to offer protection and refreshment to pioneers traveling through the newly settled West.
"We didn't even have 30 seconds notice," said Marleen Hodges, who owns the Cove Fort Chevron with her husband. "We literally ran. We could feel the heat and we were being pelted with charcoal and ash."
A California couple on a motorcycle died after they were hit from behind Friday. The crash threw them into oncoming traffic and they were struck by a truck.
At least six other fires were burning across Utah. The Black Rock Gulch fire on the Utah-Arizona border more than doubled in size to 13,700 acres, or 21 square miles.
"The fire increased in all directions. ... Extreme fire behavior is expected to continue," said Scott Sticha of the BLM.
The Neola North fire in northeastern Utah has burned 43,511 acres, or about 68 square miles, since June 29. It was 65 percent contained. Three died while trying to escape the flames.
Scorched Earth: Wildfires Rage in Western U.S.
Fire Is Blamed for at Least Four Deaths Across Western States
http://www.abcnews.go.com/GMA/story?id=3358449&GMA=true
A massive wildfire engulfed nearly 300,000 acres of land in central Utah, making it the largest fire in the history of the state.
Dozens of families fled their homes as the wildfire raced out of a canyon in the Black Hills, destroying 27 houses and killing one homeowner who was trying to save some belongings, authorities said.
Record heat in the southwest part of the country and a prolonged drought have created ideal conditions for the spread of wildfires.
Marlene Hodges was in her convenience store when a wall of flames bore down on her.
"We were literally running to our cars. Flames were all around the perimeter of building," Hodges said.
Ignited by lightning Friday, the flames jumped Interstate 15, consuming 442 square miles of parched land and closing 60 miles of highways, backing up traffic with blinding smoke.
Dense smoke is blamed for a fatal crash that killed a couple traveling by motorcycle.
The Utah Highway Patrol reopened closed highways today.
Helicopters are battling the fire from the air, while firefighters are trying to beat back the flames on the ground.
Damage and death tolls are mounting from fires that raged across 10 western states over the weekend.
Lightning triggered a fire Sunday that killed a homeowner in Hot Springs, S.D.
Smoky skies a health concern for wildfire-area towns
http://www.sltrib.com/news/ci_6339872
The smoke filling southcentral Utah skies this week isn't just scary - it is unhealthy.
"The smoke - it's bad. We've actually had ash falling in town almost like snowflakes," says Karla Evans, chief nursing officer with Beaver Valley Hospital.
She told the Spectrum newspaper that the "smell of smoke - of cedar burning - woke me up in the middle of the night."
Evans says that so far, there has not been a huge influx of people with breathing problems - but the hospital is bracing for that as wildfires continue to burn in the area.
The Cajon Valley Wildfire: by Larry R. Erickson

Rise in wildfires linked to climate change
Researchers see connection to higher temperatures, earlier spring
http://www.msnbc.msn.com/id/13738516/
A recent increase in wildfire activity has been correlated with rising seasonal temperatures and the earlier arrival of spring, a new study concludes.
Looking at a database of 1,166 forest wildfires from 1970 to 2003 in the western United States, researchers compared the number and potency of wildfires to spring and summer temperatures and the timing of snowmelts.
Wildfire season and potency increased "suddenly and dramatically" in the late 1980s, the scientists say.
"The increase in large wildfires appears to be another part of a chain of reactions to climate warming," said study co-author Dan Cayan, director of Scripps Institution of Oceanography's Climate Research Division. "The recent ramp-up is likely, in part, caused by natural fluctuations, but evidence is mounting that anthropogenic effects have been contributing to warmer winters and springs in recent decades."
Fired up
Cayan and colleagues noted that in the mid-1980s there was a jump of four times the average number of wildfires in the West, compared with the early 1980s and 1970s. The total area burned was six and a half times greater in the mid-1980s than the earlier years examined.
The wildfire season has also extended by 78 days in the more recent period of 1987 to 2003, compared with 1970 through 1986.
The researchers also found that 56 percent of the wildfires and 72 percent of the total burned area occurred during the years when the snow melted early. When the snowmelt season occurred later than average, only 11 percent of wildfires occurred.
"At higher elevations, what really drives the fire season is the temperature. When you have a warm spring and early summer, you get earlier snowmelt," said study co-author Anthony Westerling of Scripps Institution of Oceanography at the University of California at San Diego. "With the snowmelt coming out a month earlier, areas then get drier earlier overall, and there is a longer season in which a fire can be started — there's more opportunity for ignition."
Changing the forest
The increased frequency of large wildfires could reduce the density of trees and change forest landscapes.
The country's Western forests, which traditionally act as storage "sinks" for sequestering 20 to 40 percent of all U.S. carbon output, are now transforming into a source of atmospheric carbon dioxide as they burn up, the authors write.
"I see this as one of the first big indicators of climate change impacts in the continental United States," said study co-author Thomas Swetnam, director of the Laboratory of Tree-Ring Research at the University of Arizona in Tucson. " Lots of people think climate change and the ecological responses are 50 to 100 years away. But it's not 50 to 100 years away — it's happening now in forest ecosystems through fire."
Summit Valley/Oak Hills Brush Fire
Wildfires blamed for greenhouse gas rise
http://news.bbc.co.uk/2/hi/science/nature/2413375.stm
New research has shown that the forest fires which ravaged South East Asia five years ago caused a massive increase in levels of the greenhouse gases which are blamed for global warming.
Scientists from Indonesia and Europe believe that between 0.8 and 2.6 billion tonnes of carbon entered the atmosphere after the fires in Indonesia - contributing to the biggest annual increase in carbon emissions since records began.
Almost a million hectares of forest were destroyed in the fires, mainly in Borneo and Sumatra, which produced a choking smog across much of southeast Asia.
It is thought they were sparked off by loggers, industrialists and farmers after the failure of seasonal rains created ideal conditions for a blaze.
Land clearance blamed
The scientists, whose research is published in Nature, also found that most of the carbon did not come from the burnt trees but from smouldering deposits of peat.
Tropical peatlands store huge amounts of carbon which, the scientists say, could be released by forest fires in the future.
"Carbon dioxide is known to be responsible for the global warming of the atmosphere of the Earth," said the head of the team of scientists, Dr Susan Page, from the University of Leicester in the UK.
"Recurrent fires have, therefore, the threatening potential of making a very significant contribution to this warming."
Carbon produced by the fires accounted for 13%-40% of that year's total worldwide emissions - produced by the burning of fossil fuels such as oil, coal and gas.
The scientists warned that the continued use of fire as a means of clearing land would lead to higher emissions of carbon dioxide unless policies were changed.
The Indonesian fires five years ago were set off when timber and plantation companies tried to clear land.
The fires then spread due to a prolonged drought blamed on the El Nino climate phenomenon.
El Nino is a swell of warm water in the Pacific Ocean that affects global weather patterns.
Dr Page's team worked in the Central Kalimantan province of Borneo, where 8,000 square kilometres of swamp forest were scorched.
They used satellite data to estimate the amount of carbon released by the wildfires.
In total, the fires covered about 60,000 square kilometres of Indonesia's peat swamp overall - an area twice the size of Belgium.
That makes up around one-third of the archipelago's total peat swamp.
Wind Forecast Worries Tahoe Fire Crews
WILDFIRE SAFETY TIPS
http://www.michigan.gov/dnr/0,1607,7-153-30301_30505_30816-33537--,00.html
Contact your local fire official before burning to obtain information about the burning regulations in your area. Some communities forbid burning debris, such as leaves, grass, brush, and trash--others allow burning only during specified hours.
Obtain a burning permit (free) from your local fire agency. State law (Part 515, Natural Resources and Environmental Protection Act, 451 PA 1994) requires a permit for open burning whenever the ground is not snow-covered--even on your own property. On dry, windy days, burning restrictions may be in effect. State law prohibits burning anything other than yard debris, brush, or household trash.
All burn barrels must be covered with a weighted metal cover, with holes no larger than 3/4 inch--it's the law!
Consider alternatives to burning--leaves and grass make a fine mulch for gardens, or they can be composted; newspapers and many other every-day household items may be recycled. Recycling and composting eliminates the risk of wildfire and the smoke that comes with burning of trash and yard wastes.
Always use the ashtray when smoking in your vehicle. Matches tossed from a car window, farm vehicle, or off-road vehicle (ORV) can ignite leaves or grass, causing a wildfire. Never grind a cigarette, cigar, or pipe tobacco out on a stump or log.
Use a spark-arresting screen on your fireplace or woodstove chimney. Use a wire mesh grating, with holes no larger than 1/2 inch. Make it a practice of keeping your roof clear of leaves and other debris. This will prevent sparks from falling on your roof and igniting leaves and pine needles trapped in roof valleys and gutters.
Maintain a ring of safety around your home to protect it from wildfires. Keep grass mowed within 30' of all buildings--a mowed lawn will help protect your home from wildfires. Thin out trees within 30 feet of any building so that their crowns don't touch, and trim the bottom branches of all evergreen trees to six feet above the ground.
Make sure your house number is visible from the street, so fire fighters can locate your home quickly. Keep your driveway wide, accessible, and in good condition for fire trucks to get to your home. Plan safe evacuation routes in case of a large wildfire. Have more than one means of getting to your home.
Extinguish all outdoor fires properly. Drown fires with plenty of water, then stir. Continue adding water and stirring until everything is cold to the touch. Dunk charcoal in water until cold. Do not throw live charcoal on the ground and leave it; it will smolder and could start a wildfire.
Always build your campfire in a metal or masonry fire ring. If none are available, scrape away any burnable material until you get to mineral soil, which will not burn. Keep your fire small and have an adequate water supply to extinguish it properly. Make sure every unburned piece is cold to the touch before you leave.
Never leave a fire unattended. Sparks can blow into leaves or grass and quickly spread. Keep a shovel and charged garden hose nearby while burning so that they can be quickly used to extinguish a fire in an emergency. Maintain a 10-foot diameter circle around your debris pile or burn barrel clear of tall grass and other burnable material.
Always store ashes in a metal container with a tight-fitting lid. Do not place them in a paper bag, cardboard box, or plastic bucket. When dumping ashes outdoors, place them on snow or dispose of them on a rainy day. Wet them thoroughly with water to be sure all coals are out completely
Be careful with matches. Keep all matches and lighters out of sight and reach of children. In only 10% of the child-caused fires do children have to work to obtain matches or a lighter.
Parents, caution your children about playing with matches or lighters. Teach them that fire is a useful tool, not a plaything. Also teach them to report any fire they see, or any child playing with fire, to an adult.
Keep all internal combustion engines used outdoors properly tuned. Such engines must also have a properly functioning spark arrestor. Poorly tuned engines without spark arresting mufflers can emit carbon sparks, causing a wildfire.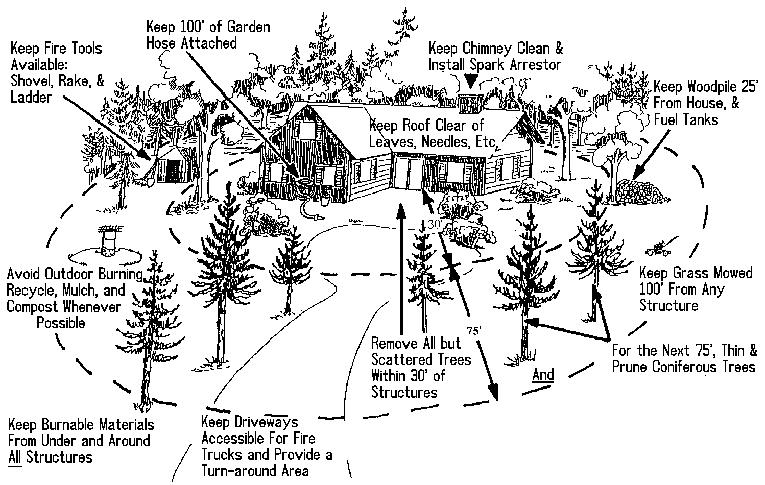 Wildfires can be part of a natural cycle that helps to maintain the health of our forests, or they can be devastating resulting in loss of life and property. An immense wildfire danger exists where homes blend together with the wildland, creating the wildland/urban interface. The addition of homes interrupts the natural cycle of wildfires. Ultimately, this contributes to a dangerous build-up of old vegetation, leading to an uncontrollable wildfire.
http://www.ci.brea.ca.us/articlePrint.cfm?id=462
Carbon Canyon, located in Northern Orange County and adjacent to Los Angeles and San Bernardino Counties, comprises approximately 1,758 acres and is part of the wildland/urban interface in Brea. Carbon Canyon Road bisects the Canyon and serves residents in El Rodeo, Olinda Villiage, Holleydale Park and La Vita Hot Springs.
Homeowners and residents can take a proactive approach to dealing with wildland fires by practicing some simple guidelines.
Roofs should be made of noncombustible material, use a "Class A" fire-resistive material
Trees need to be trimmed away from the roof and 10 feet away from the chimney
Plants should be low growing and less combustible
Combustible materials should be stored away from the home
Make sure the yard is well trimmed and free of debris
Roof and gutters should be cleaned of leaves and pine needles
Make sure there is a 30-foot non-combustible fire break surrounding your home
Make sure an adequate water supply is available to fight fire
Be sure good access is provided for emergency vehicles
Make sure your home can be well identified
Plant vegetation should be kept away from windows and inside corners
Water and maintain vegetation, remove dead materials
Install double-pane tempered glass windows
Install a spark arrestor
Before a wildfire strikes:
Know where your gas, electric and water main shut-off controls are and how to use them.
Become familiar with your community's disaster-preparedness plans and create a family plan.
Plan several escape routes from your home and neighborhood and designate an emergency meeting place.
Put together an emergency kit.
During a wildfire:
Listen to your portable radio for reports and evacuation information.
Back your car into the garage or park it in an open space facing the direction of escape.
Close garage windows and doors, but leave them unlocked.
Confine pets to one room.
Arrange temporary housing.
When advised to evacuate, do so immediately.
Wear protective clothing.
Take your emergency kit.
Lock your home.
Follow the evacuation route that your local officials have identified.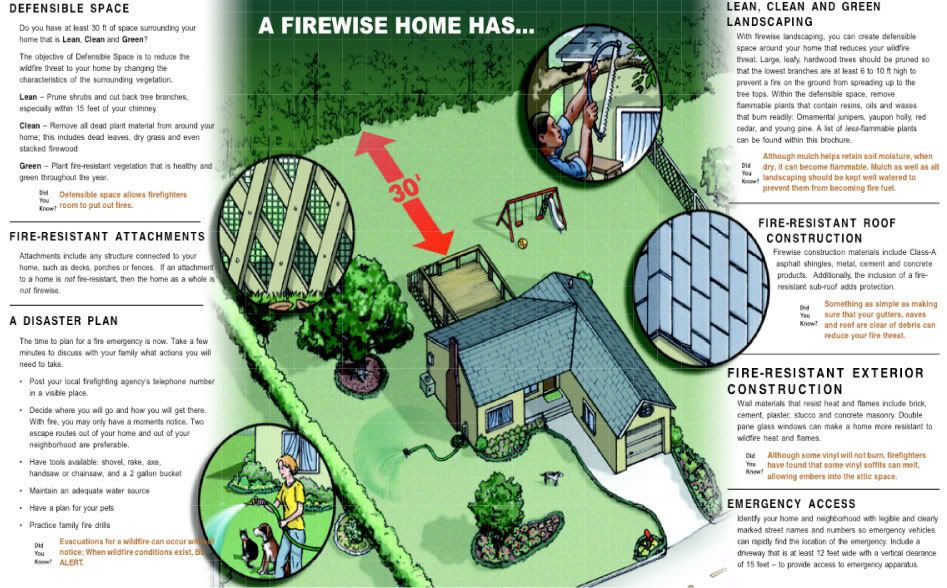 Red Cross offers wildfire preparation tips
http://www.ktvz.com/Global/story.asp?S=6766233
As we watch more than a dozen wildfires rage across Oregon, charring areas and threatening homes we are reminded of how vulnerable we are.
"With temperatures heating up drying out our landscapes, homeowners in Central Oregon face the very real threat of wildfire," said Kevin Doroski, Executive Director of the local Red Cross chapter. "As we have seen, wildfires can spread quickly, igniting brush, trees and homes. The time to get prepared is now, before disaster strikes."
The American Red Cross encourages everyone to follow the steps listed below to protect your family, home and property this wildfire season:
Practice Wildfire Safety
• Meet with your family to decide what to do and where to go if wildfires threaten your area.
• Plan several escape routes away from your home by car and by foot.
When Wildfire Threatens
• If you are warned that a wildfire is threatening your area, listen to your battery-operated radio for reports and evacuation information. Follow the instructions of local officials.
• Back your car into the garage or park it in an open space facing the direction of escape. Shut doors and roll up windows.
• Confine pets to one room. Make plans to care for your pets in case you must evacuate.
• Arrange temporary housing at a friend or relative's home outside the threatened area.
• Listen to local radio stations for location of Red Cross Shelter/Information center
If Advised to Evacuate, Do So Immediately
• Wear protective clothing - sturdy shoes, cotton or woolen clothing, long pants, a long-sleeved shirt, gloves and a handkerchief to protect your face.
• Take your Disaster Supplies Kit.
• Lock your home and tell someone when you left and where you are going.
• Choose a route away from fire hazards. Watch for changes in the speed and direction of fire and smoke.
Waycross, Georgia Wildfire
Surrounded by Fire
Train Goes Through Fire in New Meixco
The Cross Plains Fires