Tuberculosis (abbreviated as TB for Tubercle Bacillus) is a common and deadly infectious disease that is caused by mycobacteria, primarily Mycobacterium tuberculosis. Tuberculosis most commonly affects the lungs (as pulmonary TB) but can also affect the central nervous system, the lymphatic system, the circulatory system, the genitourinary system, bones, joints and even the skin. Other mycobacteria such as Mycobacterium bovis, Mycobacterium africanum, Mycobacterium canetti and Mycobacterium microti[1] can also cause tuberculosis, but these species do not usually infect healthy adults.
Over one-third of the world's population now has the TB bacterium in their bodies and new infections are occurring at a rate of one per second.[2] Not everyone who is infected develops the disease and asymptomatic latent TB infection is most common. However, one in ten latent infections will progress to active TB disease which, if left untreated, kills more than half of its victims. In 2004, 14.6 million people had active TB and there were 8.9 million new cases and 1.7 million deaths,[2] mostly in developing countries. A rising number of people in the developed world contract tuberculosis because their immune systems are compromised by immunosuppressive drugs, substance abuse or HIV/AIDS.
The rise in HIV infection levels and the neglect of TB control programs have enabled a resurgence of tuberculosis. Drug-resistant strains of TB have emerged and are spreading (in 2000–2004, 20% of cases were resistant to standard treatments and 2% were also resistant to second-line drugs).[3] TB incidence varies widely, even in neighboring countries, and this appears to be caused by differences in healthcare.[4] The World Health Organization declared TB a global health emergency in 1993, and the Stop TB Partnership proposed a Global Plan to Stop Tuberculosis which aims to save 14 million lives between 2006 and 2015.
http://en.wikipedia.org/wiki/Tuberculosis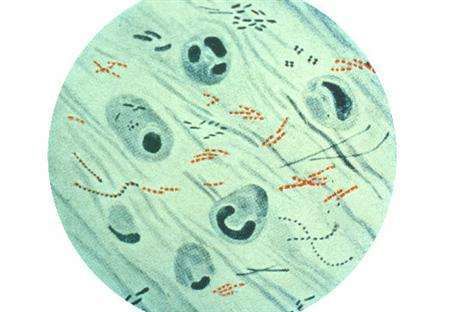 TB is an airborne disease which can affect anyone but it is more likely to affect people whose immune systems are already weakened. For this reason it is more likely to affect people in poor countries - who may be malnourished and have poor access to healthcare generally.
The 22 countries shown on the map accounts for 80% of the TB cases in the world
http://www.tbalert.org/worldwide/world.php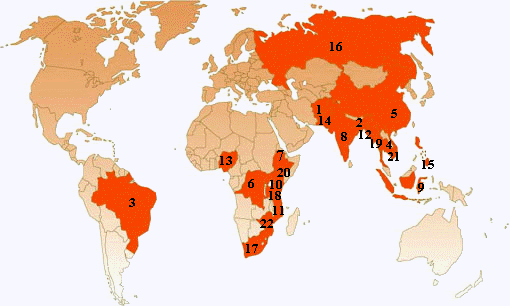 Tuberculosis: What you need to know
http://abclocal.go.com/wls/story?section=health&id=5353170

May 30, 2007 - This week, a man infected with tuberculosis who took two trans-Atlantic flights against his doctor's orders sparked global concern, highlighting the challenges associated with detecting and containing this potentially deadly disease.

Caused by the bacteria Mycobacterium tuberculosis, TB is spread through the air from person to person. In most cases, it is treatable with a course of medications.
But an increasing presence of drug-resistant strains -- such as in this case -- underscores the need for heightened efforts in containing the disease.

Doctors say that everyone from health workers to air travelers is potentially at risk of TB. But they say the best way to ensure your health is to know how the disease is transmitted, and to seek help immediately if you suspect that you have been infected.

How Common Is TB?

According to a report released by the World Health Organization in March, it appears that the rate of TB infection worldwide stabilized in 2005. However, the actual number of people who suffer from the disease is still on the rise worldwide.

There were an estimated 8.8 million new TB cases in 2005, 7.4 million of which were in Asia and sub-Saharan Africa. Most recent figures from the WHO suggest that a total of 1.6 million people worldwide died of TB in 2005. At this rate, nearly 4,500 people die from the disease every day.

Though TB is less prevalent in industrialized countries, it is not just a disease of the developing world. Around 14,000 U.S. cases were reported to the Centers for Disease Control and Prevention in 2005.

In addition to those with active tuberculosis, an estimated 10 million to 15 million people in the United States are thought to have "latent" TB, which shows no symptoms or signs of infection. It is thought that about 10 percent of these infected individuals will develop active tuberculosis at some point in their lives.

How Does Exposure Lead to Disease?

On average, disease researchers say, it takes eight hours of contact with someone who has TB to become infected.

As the average travel time of both of the flights on which the infected man was a passenger were about eight hours, health officials with the CDC say there's a risk -- albeit small -- that people on the flight may have been exposed to the antibiotic-resistant TB.

Air filters on the plane would likely have prevented the bacteria from traveling throughout the cabin; however, the CDC has strongly recommended that people next to the passenger, two rows in front and two rows behind, get checked for the disease.

It is important to remember that not everyone who is exposed to TB develops active tuberculosis. In many cases, an individual's immune system can keep the bacteria under control for years, or even for a lifetime.

What Is Drug-Resistant TB?

As the overall number of TB cases continues to grow throughout the world, so has the number of TB cases that don't respond to conventional medications.

According to the WHO, each year there are 420,000 cases of multidrug-resistant tuberculosis, or MDR-TB, which lead to 66,000 deaths.

And in addition to MDR-TB, there is extensively drug-resistant tuberculosis, or XDR-TB. This strain is resistant not only to the two first-line drugs, but to three or more of the six classes of second-line drugs.

This XDR strain is the one carried by the man now being held in isolation.

Few, if any, of the current therapies work against this strain, making it a growing problem worldwide.

In fact, the number of countries in which XDR-TB has surfaced has recently nearly doubled from 19 to 35 in a single year. Some of these outbreaks have occurred in European nations.

Worse, while the test for TB infection takes several days at most, the test to determine infection with XDR-TB can take between six weeks and 16 weeks, according to the CDC.

How Do I Know If I Have TB?

The most common symptoms of tuberculosis are fever, chills, night sweats, weight loss, fatigue, loss of appetite and coughing up blood.

Since most of those exposed to the disease will first pass through a latent phase, they will usually be symptom-free shortly afterward, and they will not be contagious during this time.

If you think you may have been exposed to tuberculosis, you can visit your doctor for a skin test that will reveal in 48 hours to 72 hours whether you have been infected.

If the test is positive and you do not have symptoms, your doctor will prescribe a course of medications that you will take over the next nine months or so. These medications decrease the chance that you will get active tuberculosis in the future.

If your doctor believes that you have active tuberculosis, you will most likely be hospitalized and placed in an isolated room while doctors conduct further tests.

The isolation period for preliminary tests is at least three days, but it can stretch to two weeks or more if your test results are positive.

Is TB Curable?

In most cases, the answer to this question is yes. Treatment for active tuberculosis consists of four drugs to be taken anywhere from four months to a year, or even longer.

However, resistant strains of tuberculosis such as XDR-TB cannot be treated with regular medications. Even when these patients are treated with the best medications available, half of people with MDR-TB, and almost all with XDR-TB will die.

So far, these resistant infections have been very rare in the United States. The best way to avoid resistant TB is to make sure that everyone with TB gets the full course of appropriate treatment.

If you or someone you know has been exposed to tuberculosis, or has any of the symptoms discussed above, you should contact your doctor or the local health department to get tested.

Reports from Dr. Sami Beg and Beata Casanas contributed to this piece.
TB patient was on honeymoon, U.S. newspaper reports
http://www.sciam.com/article.cfm?alias=tb-patient-was-on-honeymo&chanID=sa003&modsrc=reuters

WASHINGTON (Reuters) - A tuberculosis patient held under the first U.S. isolation order in more than 40 years was on his honeymoon abroad and decided to "run" when he heard authorities wanted to lock him up and force treatment, the Atlanta Journal-Constitution reported on Wednesday.

"We're sitting in a hotel room in Italy and we're looking at each other and we're on our honeymoon and the authorities are coming in hours," the newspaper quoted the man as saying. So they fled.

The man's decision to travel while ill prompted the U.S. Centers for Disease Control and Prevention to do something it had not done for 44 years: They ordered the patient held in isolation because he was infected with a severe form of tuberculosis called extensive drug-resistant TB or XDR TB.

This strain of the common bacterial infection resists virtually all antibiotics, and requires a long and expensive course of therapy to cure.

The man told the newspaper he did not want to put anyone at risk but wanted to get home for treatment.

The patient, a Georgia resident whose name was withheld by the newspaper, said he knew he had tuberculosis but not that it was the XDR type when he went abroad, heading first to Greece. He said he was receiving antibiotic treatment.

"We headed off to Greece thinking everything's fine," the newspaper quoted him as saying.

Tuberculosis is contagious and can infect people through airborne droplets or if they pick up the dried bacteria from a surface.

TB kills about 1.6 million people a year, mostly in developing countries as it can be treated with antibiotics.

Experts around the world are increasingly concerned about XDR TB, which requires 18 months to two years of treatment with a mixture of four to six drugs.

The treatment can often require surgery as well as the newest drugs and can cost $500,000 per patient.

MAN SAYS COOPERATING

The patient who is now isolated in an Atlanta hospital said he would be getting the surgery at National Jewish Medical and Research Center in Denver and the long course of antibiotics.

He said he was puzzled by the handling of his case.

"This is insane to me that I have an armed guard outside my door when I've cooperated with everything other than the whole solitary confinement in Italy thing," the newspaper quoted him as saying.

Tests on his wife and other close contacts showed none were infected.

According to the newspaper, the man said, "The county health department knew I was going over to have a honeymoon."

He said the health officials told him they "preferred" that he not travel but did not forbid him to do so.

The newspaper quoted Dr. Steven Katkowsky, director of public health and wellness for Fulton County, Georgia, as saying the man was advised not to travel but attempts to hand-deliver a directive failed.

The patient said a CDC official reached him in Rome and asked him to turn himself into Italian health authorities the next morning to go into indefinite isolation and treatment.

"I thought to myself: 'You're nuts,"' the newspaper quoted him as saying.

"I wasn't going to do that. They told me I had been put on the no-fly list and my passport was flagged."

So he traveled to Prague, from where he flew to Canada and then drove across the U.S. border. According to the newspaper, he wanted to return to the United States because he feared Italian specialists did not have the expertise to treat him successfully.

CDC Director Dr. Julie Gerberding said authorities in the United States and other countries were trying to notify passengers who traveled on Air France flight 385, arriving in Paris from Atlanta on May 13, and on Czech Air flight 0104, arriving in Montreal from Prague on May 24.


Fliers potentially exposed to TB
TB on a Plane? Sign of the Times
TB on a Plane? Such Cases Rare So Far, but More Likely in the Future, Experts Say
http://abcnews.go.com/Health/wireStory?id=3229500
SARS on a plane. Mumps on a plane. And now a rare and deadly form of tuberculosis, on at least two planes. Commercial air travel's potential for spreading infection continues to cause handwringing among public health officials, as the case of a jet-setting man with a rare and deadly form of TB is demonstrating.

"We always think of planes as a vehicle for spreading disease," said Dr. Doug Hardy, an infectious disease specialist at UT Southwestern Medical Center in Dallas.


In the latest incident, reported by health officials on Tuesday, a Georgia man with extensively drug-resistant TB ignored doctors' advice and took two trans-Atlantic flights, leading to the first U.S. government-ordered quarantine since 1963.

The man, who officials did not identify, is at Atlanta's Grady Memorial Hospital in respiratory isolation. He was not considered highly contagious, and there are no confirmed reports that the illness spread to other passengers.

But his case illustrates ongoing concerns about the public health perils of plane travel, as well as the continuing problem of Typhoid Mary-like individuals who can almost be counted on to do the wrong thing.

The man decided to proceed with a long-planned wedding trip despite being advised not to fly.

"There's always going to be situations where there is a lack of understanding and appreciation of responsibility to the community in a situation like this," said Dr. John Ho, an infectious diseases specialist at New York-Presbyterian Hospital/Weill Cornell Medical Center.

The incident also points out weaknesses in the system: The man was able to re-enter the United States, even though he said he had been warned by federal officials that his passport was being flagged and he was being placed on a no-fly list.

CDC officials said they contacted the Department of Homeland Security to put the man on a no-fly list, but it doesn't appear he was added by the time he flew from Prague to Montreal and drove across the border from Canada.

The case also points out weaknesses in the system: The man was able to re-enter the United States, even though he said he had been warned by federal officials that his passport was being flagged and he was being placed on a no-fly list.

CDC officials said they contacted the Department of Homeland Security to put the man on a no-fly list, but it doesn't appear he was added by the time he flew from Prague to Montreal and drove across the border from Canada.

A Transportation Security Administration spokesman could not be reached for comment Wednesday.

Challenges in coordinating with airlines and in communicating with the media also have emerged, said Glen Nowak, a spokesman for the U.S. Centers for Disease Control and Prevention.

"This clearly is going to have some relevance to our pandemic influenza preparedness," Nowak said.

There have been several prominent disease-on-a-plane incidents in recent years.

Perhaps best known is severe acute respiratory syndrome, or SARS, which erupted in Asia in 2003. Over three months, CDC workers delayed on the tarmac 12,000 airplanes carrying 3 million passengers arriving from SARS-affected countries, isolating people with SARS symptoms.

Last year, CDC officials worked with airlines and state health departments to track two infected airline passengers who may have helped spread a mumps epidemic throughout the Midwest.

And in March, a flight from Hong Kong was held at Newark International Airport for two hours because some on board reported feeling ill from a flu-like illness. They were released when it became clear they had seasonal flu, and not an avian variety.

Medical experts say TB is significantly less contagious than flu, SARS and other maladies that have led to airport alerts.

"This is not as easily transmissible as what we're concerned about with a flu pandemic," said Dr. William Schaffner, chairman of the department of preventive medicine at Vanderbilt University.

A more contagious bug, carried by a stubborn or evasive passenger, could be much more problematic, experts said.


It's remarkable how rarely serious contagions are on planes, Ho noted.


"If you count the number of international flights there are on a daily basis, this is really a minuscule event" in terms of rate of occurrence, he said.

"However, this underscores the interrelatedness of the global community. We can no longer escape things considered foreign" in this age of jet-travel, Ho said.


Associated Press writer Malcolm Ritter in New York contributed to this report.


Extremely Drug Resistant Tuberculosis



Authorities hunting 70-80 passengers who sat near TB patient on flights
http://bodyandhealth.canada.com/channel_health_news_details.asp?news_id=12449&news_channel_id=1020&channel_id=1020&rot=11
TORONTO (CP) - Public health officials in the United States and Canada revealed Wednesday they are looking for roughly 70 to 80 people on two recent transatlantic flights who were seated in close proximity to a man infected with a rare and potentially deadly form of tuberculosis.

In Canada, officials are seeking anyone who sat in Row 12 - plus the two rows ahead and behind - of Czech Airline flight 0104 to Montreal from Prague on May 24.

Officials of the Public Health Agency of Canada have obtained the passenger manifest - the airline's official list of passengers - and are using it to try to trace the passengers to urge them to undergo testing for TB.

The man, an American citizen, flew to Europe on May 12, arriving in Paris on the morning of May 13, travelling against the advice of public health officials in the Atlanta, Ga., area who were in charge of his case. The man has extensively drug resistant tuberculosis or XDR-TB, a strain of the TB bacterium that does not respond to most of the drugs used to treat the disease.

The man was travelling to Europe to get married in Greece. He and his new wife then travelled to Italy to honeymoon.

In the course of their travels they took seven flights, though public health authorities believe only the two international flights were of long enough duration to pose a possible infection risk to passengers located near the man.

Authorities with the U.S. Centers for Disease Control in Atlanta reached the man in Rome on May 23 to urge him not to board any more commercial aircraft and to seek treatment in isolation until a way to safely return him to the United States could be found. But the man and his wife fled, flying to Prague where they boarded a flight to Montreal in the hopes they could slip into the United States from Canada.

After arriving in Montreal, they travelled by car to New York State, crossing at the Champlain, N.Y. border crossing.

The airline that transported the man from Prague issued a statement Wednesday saying it handed him over to local health authorities when the plane arrived in Montreal.

But officials of the Public Health Agency of Canada dispute the claim, saying there is no record the pilot notified quarantine services at Montreal's Pierre Elliott Trudeau International Airport that they should meet the plane when it arrived from Prague on May 24.

"Under the Quarantine Act, there is a requirement for advance notification, so the pilot, if he or she becomes aware of an ill passenger onboard, is required to report ahead and cause one of our quarantine officers in our quarantine program to be aware of the situation," said Dr. Howard Njoo, director-general of the Public Health Agency of Canada's centre of emergency preparedness and response.

"That did not happen in this case because we checked with our quarantine station in Montreal. There was no advance notification by the pilot of a situation of an ill passenger onboard."

A statement issued by Czech Airlines on Wednesday said the company learned five hours after Flight 0104 left the Czech capital that they had a passenger onboard who was believed to be infected with tuberculosis.

The airline said it notified both Canadian and U.S. health authorities and handed the man over to local health officials when the plane arrived in Montreal.

Officials of the airline were not immediately available to answer questions about the statement.

Njoo also disputed the airline's claim that it informed Canadian health authorities, saying the first Canadian officials learned of the incident was when they were informed of it by the U.S. Centers for Disease Control the day after the flight arrived, and after the man had slipped back into the United States.

Njoo said he checked with counterparts in Quebec and they too say they received no notification from the airline.

Public health authorities around the globe are extremely concerned about the rise of XDR-TB, a form of the disease that is fatal in roughly 50 per cent of regular cases and 90 per cent of cases where the person is also infected with HIV-AIDS.

The unidentified man, a U.S. citizen, denies the claims of U.S. authorities that he was told he should not travel to Europe earlier this month for a planned wedding and extended honeymoon.

He admitted in an interview with the Atlanta Journal-Constitution that he flew back via Canada to evade a U.S. no-fly order that had been issued to prevent him from taking a long-haul flight.

Health officials in both countries are looking for people who sat in the same row as the man and in the two rows behind and in front of him, saying they should be tested for TB. They suggest others on the flights were probably at very low risk of infection.

Near Misses Allowed Man With Tuberculosis to Fly
http://www.nytimes.com/2007/05/31/us/31tb.html
A series of "understandable" near misses accounted for a Georgia man's odyssey to Europe in which he might have exposed fellow passengers on a series of commercial flights to an exceptionally dangerous form of tuberculosis, federal officials said yesterday.

The man is being detained under a federal isolation order in an Atlanta hospital for treatment of extremely resistant tuberculosis, which is often lethal.

American officials and those in many other countries, meanwhile, are seeking to advise more than 100 passengers who sat closest to him on the longest flights and crew members to be tested for the infection. Health officials are also offering testing to hundreds of other passengers on the flights.

It was the first airline-contact tracing investigation for extremely drug-resistant tuberculosis, and it exposed many flaws that need to be fixed for future episodes, officials of the Centers for Disease Control and Prevention said at a news conference in Atlanta.

While many infectious-disease experts and ethicists supported the agency's action, at least one strongly criticized it as over-reacting.

Among the problems the agency identified were dealing with time zone differences; a lack of coordination between American and international authorities concerning how to medically isolate the man while he was abroad; and how to speed the retrieval of passenger manifests from airlines.

The episode also raised questions about how rapidly health officials could respond to a similar emergency with other deadly infectious diseases.

Even after the news conference, many other questions remained unanswered, including why it took health officials in Georgia so long to try to deliver a letter that explicitly told the man, whose identity was not disclosed, not to fly abroad for his honeymoon.

In an interview published yesterday in The Atlanta Journal-Constitution, the man disputed statements from disease agency officials about warnings it said Fulton County officials gave him about flying abroad. The agency said he was told not to fly. The man told the paper that Fulton County health officials said they "preferred" that he not go abroad for his honeymoon and did not advise him to take any precautions.

"There are different perspectives on who said what to whom when," said Dr. Martin S. Cetron, who directs agency's division of global migration and quarantine.

"It is very unfortunate that this whole situation wasn't prevented" before the man flew with 432 other passengers and 18 crew members to Paris from Atlanta on Air France 385 on May 12, Dr. Cetron said.

He took at least five flights within Europe and then flew with 190 other passengers and nine crew members from Prague to Montreal on Czech Air 104 on May 25.

The Fulton County health department in Atlanta met with the man and his family on May 10, two days before he flew to Paris, and told them that he should not travel because he had multi-resistant tuberculosis, the disease agency said. No legal order was issued at the time, Dr. Cetron said in referring further questions to the Fulton County health department.

Calls to the Fulton County health department yesterday were not returned.

The extraordinary dangerous form of the tuberculosis was not detected until May 22, while he was in Europe.

Dr. Cetron said that an agency officer telephoned the man in Rome and explicitly told him not to fly on a commercial plane — doctors believe prolonged exposure is needed to spread tuberculosis — while the agency worked out options to bring him back to the United States. They included an air ambulance.

By the time a former disease agency doctor, who is working in Rome, arrived at the man's hotel, the couple had left, Dr. Cetron said. The agency was in the process of putting the man's name on a no-fly list. But by this time he had cut short his honeymoon that was supposed to last into June and was landing in Montreal.

The efforts "weren't fast enough," Dr. Cetron said, adding that "we certainly will be learning lessons and looking to improve" current systems.

The man drove to the United States and somewhere between Albany and New York spoke with Dr. Cetron, who instructed him on how to continue to Bellevue Hospital in Manhattan. There, he was isolated for 72 hours until the disease agency flew him in its plane to Atlanta on Monday.

The man told the Atlanta paper that tuberculosis was detected by accident when he had a chest X-ray in January for another undisclosed problem.

Dr. Cetron said that lesions showed up in the upper lobe of the man's right lung, making doctors suspicious for tuberculosis because the infection often affects that area. Because the man had no symptoms and little cough, his doctors performed a procedure to obtain the secretions from which the tuberculosis bacteria were detected.


That process and additional testing to determine to which antibiotics might be effective can take weeks, even months. But some doctors not connected with the case questioned why four months passed between the X-rays and the letter from the health department.

A standard initial test for tuberculosis is to smear a sample of a patient's sputum on a glass slide, stain it with a chemical and look for the microbes under a microscope. Doctors also try to grow the organism in a laboratory. It was from this test that doctors initially detected the man's tuberculosis.

At some point he began taking standard medication for the treatment of tuberculosis, but it was stopped because it was not effective, Dr. Cetron said.

Repeated subsequent smear tests of the man's sputum performed at Bellevue Hospital in Manhattan and at Grady Memorial Hospital in Atlanta were negative. Those findings suggest a low chance that the man transmitted the infection to others. But in 17 percent of tuberculosis cases the source is a patient whose smear is negative, according to studies from Vancouver, British Columbia, and from San Francisco.

The man's bride is not infected.

Initial plans to drive the patient for treatment at the National Jewish Medical and Research Center in Denver were aborted at least temporarily, a health official said, because of concerns of news media attention while he travels. But officials said they were trying to work out the logistics.

While most patients voluntarily agree to isolation for medical problems, government officials, doctors and ethicists interviewed said that issuing federal orders for isolation or quarantine must be done with care to balance an individual's liberties and the public's health.

Dr. Robert Klitzman, a co-founder of the Columbia University Center for Bioethics, said that there are legitimate concerns about abuses in isolating patients to avoid infecting others.

Dr. Philip Alcabes, an epidemiologist and professor at Hunter College School of Health Sciences in Manhattan, was adamant in arguing that the disease agency had overreacted. The act of isolating the patient, Dr. Alcabes said, was "a maximum penalty for a minor medical problem," since the patient was not likely to be infectious.

But another expert, Dr. Richard P. Wenzel, president of the international society for infectious diseases, called the patient "grossly irresponsible."

"It's irresponsible in active tuberculosis for anyone to be on an airplane — whether it's multi-resistant or not," said Dr. Wenzel, an infectious disease expert at Virginia Commonwealth University in Richmond.

At a time when airline passengers have to discard shampoo bottles in the airport security line, Dr. Wenzel said, "We don't have a simple sort of wand at the airport to wave to say, 'You have tuberculosis.' It really counts on the responsibility of the individual."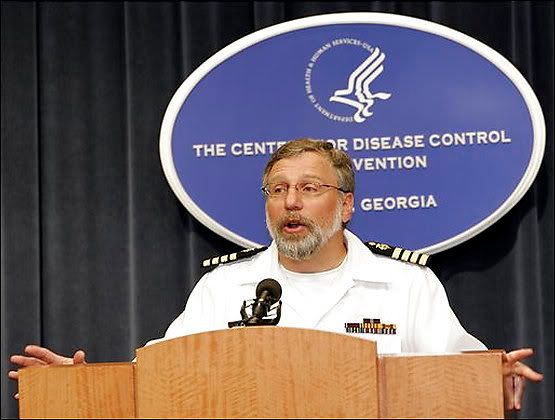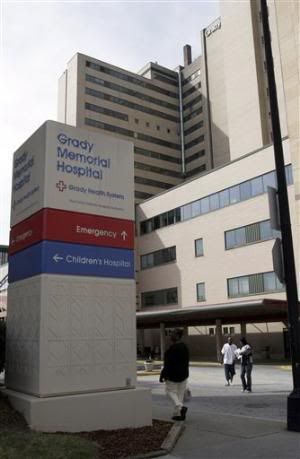 CDC update on investigation of extensively drug-resistant tuberculosis


http://foodconsumer.org/7777/8888/Non-f_ood_Things_27/053106292007_CDC_updates_investigation_on.shtml

Man with dangerous form of TB isolated under armed guard in US hospital
http://www.metimes.com/storyview.php?StoryID=20070531-102325-9055r
A man infected with a dangerous tuberculosis strain is being held in isolation and under armed guard at a US hospital in a saga that started with a Greek wedding and has led to a global health alert, authorities said Thursday.

The newlywed had ignored US instructions to surrender to health authorities during his Italian honeymoon, opting instead to fly back to the United States through a circuitous route before turning himself in.

The first person in more than four decades to be placed under mandatory isolation by US health authorities, he is being guarded by an armed sheriff's deputy at the Grady Memorial Hospital in Atlanta, Georgia.

His extraordinary story involves seven flights, a no-fly order, and an overland trip from Canada.

He was in the thick of planning May nuptials when doctors found out in January that he had TB.

Standard treatment was ineffective, as were stronger drugs. He told the Atlanta Journal-Constitution newspaper in a phone interview that he planned to undergo cutting-edge treatment in Denver, Colorado, after his honeymoon.

He insisted that the government's Centers for Disease Control (CDC) was aware that he had drug-resistant TB at the time but did not prevent him from flying out with his fiancée May 12 to get married.

"We headed off to Greece thinking everything's fine," the man, who declined to be identified, told the daily.

But officials say that local health authorities had warned him against traveling. "He was clearly instructed not to," said Martin Cetron, who heads the CDC's Global Migration and Quarantine division.

Speaking at a news conference Wednesday, Cetron admitted no legal order had been issued preventing the man from traveling, and that "no laws have been broken."

Once they realized just how serious the case was, health officials found out the man had already left the country, and tracked him down to Rome, where he was on honeymoon.

A CDC official told him at the time he should turn himself in to Italian health authorities to be placed in isolation.

"They told me I had been put on the no-fly list and my passport was flagged," he told the daily, insisting he had no intention of undergoing treatment in Italy.

To avoid detection, he and his fiancée flew via Prague to Montreal and then drove to the United States, where he called the CDC and agreed to be placed in isolation. He was then transferred from New York to Atlanta on a CDC plane.

"This is insane to me that I have an armed guard outside my door when I've cooperated with everything other than the whole solitary confinement in Italy thing," he told the Atlanta Journal-Constitution.

The CDC said the man's level of infectiousness is "quite low" and that his wife tested negative so far.

But the health agency urged about 80 people sitting in the five rows closest to him on the two transatlantic flights to contact authorities for testing, and stressed those on the shorter flights did not face a significant risk.

The infected passenger traveled on Air France from Atlanta to Paris May 12 and to Athens two days later. He flew on Olympic Airlines to the Greek island of Kyra May 16, returned to Athens from Mykonos May 21, and traveled on to Rome the same day.

On May 24, he flew on Czech Airlines to Prague and then to Montreal.

The CDC said it was working on arrangements to take him, still under isolation conditions, to the National Jewish Medical and Research Center in Denver, which touts itself as a world-renowned facility for the treatment of respiratory, immune, and allergic disorders.

In September, the World Health Organization (WHO) confirmed 53 XDR TB cases in South Africa, all but one of them fatal, triggering a worldwide health alert. Most of the patients were also infected with the Aids virus.

More than 5,000 people in 18 countries have been diagnosed with the virulent TB strain, but with a far lower mortality rate, according to the WHO.



Tuberculosis Patient Transferring to Denver for Treatment


Man Causes TB Scare after Traveling to Europe with the Disease
http://www.myfoxcolorado.com/myfox/pages/News/Detail?contentId=3359981&version=4&locale=EN-US&layoutCode=TSTY&pageId=3.2.1
DENVER, Colo. --
A man who traveled on two transatlantic flights, with a rare and dangerous form of tuberculosis, was coming to Denver for treatment Thursday morning.


WAGA-TV in Atlanta reported that the patient left Atlanta early Thursday, to fly to Denver. Grady Memorial Hospital in Atlanta said the patient had left their facility.

Reports say the man traveled on his wedding trip to Europe against doctors' advice.

Officials are not identifying the patient, but this is the first government-ordered isolation in more than 40 years.

The Georgia man was in a hospital in Atlanta until early Thursday.

He will start receiving treatment at National Jewish Medical and Research Center in Denver Thursday.



He's coming to Denver because he has Extensively Drug Resistant Tuberculosis (XDR TB), which is a disease that the experts at National Jewish specialize in treating.

The man is not symptomatic but he will be held in one of five isolation rooms at the hospital. Doctors will have to wear masks when treating him. A ventilation system in the hospital room keeps air from leaving, and ultra violet rays in there will help kill germs.
Doctors say it's possible the patient may have to undergo lung surgery, but they will first try several drugs typically used to treat pneumonia and leprosy.



World Tuberculosis Day





When drug-resistant tuberculosis goes extreme
http://www.theglobeandmail.com/servlet/story/RTGAM.20070531.wxltb31/BNStory/specialScienceandHealth/home
Until recently, researchers thought that multidrug-resistant tuberculosis, or MDR TB, was as bad as the disease got.

They were wrong.

In 2005, doctors in South Africa discovered a new strain of the disease. Extremely drug-resistant tuberculosis - or XDR TB - was found to withstand all of the front-line drugs in the tuberculosis treatment arsenal.

Officials in Canada and the United States are searching for passengers who may have travelled with a U.S. man infected with XDR TB on two transatlantic flights this month.

The man flew to Paris on May 12 en route to his wedding in Greece, and then returned home via Prague and Montreal on May 24 before driving into the United States to avoid no-fly restrictions imposed on him during his honeymoon.

MDR TB is resistant to at least two varieties of front-line antibiotics, while XDR strains are resistant to all of them.

Doctors turn to a number of secondary antibiotics that can be used to treat XDR and MDR TB. Most of those drugs are more expensive than the front-line varieties and often have greater side effects.

"It's just more difficult to treat, given the extent of the resistance," said Dr. Andrew Simor, head of microbiology and infectious diseases at Sunnybrook Health Sciences Centre in Toronto.

This kind of antibiotic-resistant tuberculosis is extremely rare in Canada.

Although he has yet to treat someone infected with XDR TB - there have only been two reported cases in Canada, and both times the patient contracted the disease outside the country - Dr. Simor said that treatment would probably last beyond the 18 months required for most MDR patients.

Treatments can last from six months to more than a year for tuberculosis that responds to front-line drugs.

Dr. Simor said that XDR TB could be treatable if detected at an early stage.

"There just aren't good studies to guide us as to how long [patients with XDR TB] should be treated," he said. "You'd treat them ... until there was no evidence of ongoing disease, and then you'd still treat for six months after that."

Tuberculosis remains one of the most common diseases in the world and causes more than two million deaths each year, mostly in the developing world.

Caused by the bacterium Mycobacterium tuberculosis, the disease infects about one in three people in the world, although not all of them exhibit symptoms, experts say.

Treatment-resistant tuberculosis arises when patients are prescribed the wrong antibiotics or fail to complete their prescriptions. In these cases, the bacteria can become resistant to antibiotics, causing the MDR and XDR strains.

Health-care workers in Canada are required to immediately report any diagnoses of tuberculosis to public-health officials, who follow a series of protocols designed to limit the spread of the disease, according to Dr. Howard Njoo, director-general of the Public Health Agency of Canada's centre for emergency preparedness and response.

However, "there's nothing to suggest that XDR is neither more nor less contagious than other strands of tuberculosis," Dr. Simor said.

***

Retro diseases

MEASLES

Symptoms: It begins with a fever, runny nose and cough, and develops into a rash around the face, chest and limbs.

How it's spread: Sneezing and coughing.

Dangers: One in 1,000 people infected may develop brain inflammation, which could lead to convulsions, deafness or brain damage.

MUMPS

Symptoms: Fevers, headaches and swelling of the salivary glands. (One-third of people infected don't experience swollen salivary glands.)

How it's spread: Coughing, sneezing, kissing and sharing food, drinks and cigarettes.

Dangers: One in four men experience swollen testicles and one in 20 women face swollen ovaries, rarely resulting in permanent damage or sterility.

TUBERCULOSIS

Symptoms: Loss of appetite, weight loss, fatigue, fever or night sweats. TB in the lungs may produce chest pains, shortness of breath or a cough.

How it's spread: TB bacteria are spread through the air by coughing or sneezing. To become infected, you have to spend several hours a day with an infected person. Someone with TB infection is at the highest risk of developing the disease within the first two years.

Dangers: The fatal disease damages the lungs and other parts of the body, including lymph nodes, kidneys, urinary tract and bones.

The BC Centre for Disease Control, the Public Health Agency of Canada.



How to Cure Tuberculosis


http://www.live-life-healthy.com/article.php/27-12-2006How-to-Cure-Tuberculosis.htm



The New Threat From Tuberculosis
Histopathology Lymph node --Tuberculosis