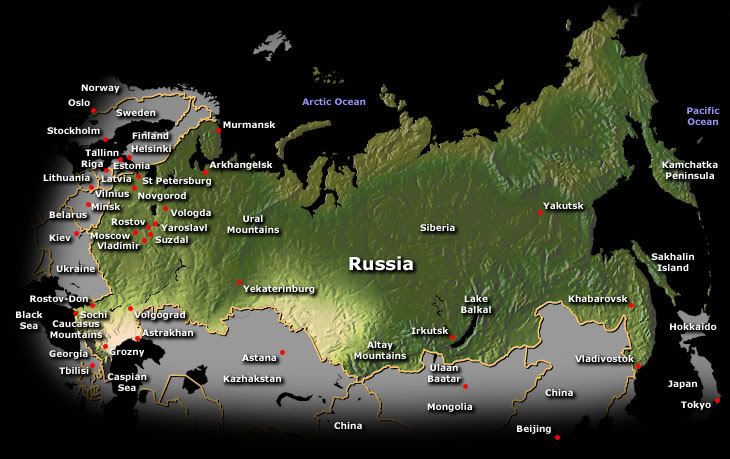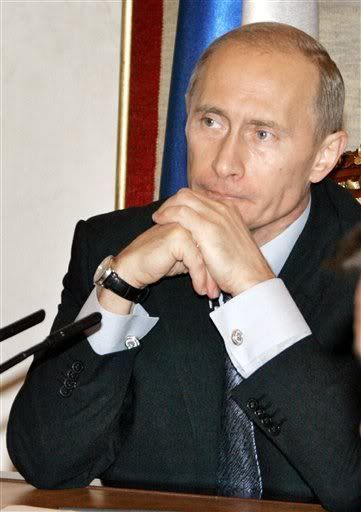 Russia and America Pining for the cold war
http://economist.com/displayStory.cfm?story_id=9175335
RUSSIA is a strong, sovereign and prosperous country, surrounded by enemies and traitors who are bent on undermining its geopolitical power. Upstarts such as Estonia and Poland are trying to spoil Russia's far more important relationships with proper European countries, such as Germany or France. The freshly-baked European Union (EU) members act on the instructions of America, a hypocritical and arrogant dictator of the world order, which pretends to be a democracy but in fact is closer to the Third Reich.

This, in short and perhaps a bit exaggerated, is the view of Europe from behind the Kremlin wall, intensified by the state media, and shared by many Russians. And it is with this view in mind that Vladimir Putin, Russia's president, greets Condoleezza Rice, America's secretary of state, on Monday May 14th. She, seven years ago, famously argued that Russia was a weak and incoherent country.

Russia's sense of power has been enhanced over the weekend by Mr Putin's brinkmanship in central Asia. To the irritation of the White House, Russia has apparently persuaded Kazakhstan and Turkmenistan to build a pipeline for the export of gas through, rather than around, Russia. If it actually goes ahead this would spoil American plans for a trans-Caspian pipeline which is seen as crucial for diversifying sources of energy to Europe.

Russia's rhetorical hostility towards America is reaching levels unseen since the cold war ended. Indeed, even in the late Soviet period anti-American propaganda was less emotional and certainly less sincere than it is today. The question now is whether the noisy words will be translated into action. That may become a bit clearer at the end of Ms Rice's two-day long visit to Moscow.

There is a fundamental difference in how Russia and America see each other. To Russia, America is more a domestic concern than a foreign one. Russia's sense of self-esteem has long been inseparable from its relationship with America. A confrontation with the world's most powerful country restores to Russians a sense of purpose and urgency which had been lost in the post-Soviet years. "America is a crucial part of Russian life and its self-consciousness. America consolidates Russia's elite and prolongs their existence," says Lilia Shevtsova of the Carnegie Moscow Centre.

America has no such obsession with Russia. Russia is an important consideration in the country's foreign policy—no more and no less. In the words of one Russianist in Washington, DC, it is not Russian-American relations that shape world affairs, but world affairs that shape Russian-America relations. Russia matters to America mainly as a factor in other important policy areas such as Iran and Kosovo. As a veto-wielding member of the UN Security Council, Russia has the ability and, perhaps, the inclination to block important international decisions.

One immediate concern is Russia's position on the independence of Kosovo. Russia vocally opposes a plan by Martti Ahtisaari, a former Finnish president, that would see Kosovo become independent under EU supervision. Russia's sympathies for Serbia, which opposes independence for Kosovo, could be enough to produce a veto from Moscow. So Ms Rice is trying, during this trip, to persuade Mr Putin that Russia should merely abstain on the Kosovo resolution when it comes before the UN.

The danger of Russia blocking the UN resolution is that it would make Kosovo's move to independence more fraught. It would also help bring to the fore the fact that the EU is divided over Kosovo. For some time Russia has been trying to split the new and old members of the union. The latest arguments in Brussels suggest that it might be succeeding. Tension is high ahead of the Russia-EU bi-annual summit which starts on Friday May 18th. For example Lithuania, which is fed up with Russian bullying and the blockage of an oil refinery, proposes to block wide-ranging negotiations with the Kremlin, to the infuriation of Germany which holds the EU's rotating presidency. Lithuania argues it is meaningless to talk about close ties with Russia and the EU must not hide behind diplomatic niceties. That suggests a rancorous summit is on the cards. The prospect for Mr Putin's meeting with Ms Rice does not appear to be much better.


Are we entering a new Cold War?
http://www.rctimes.com/apps/pbcs.dll/article?AID=/20070523/OPINION01/705230447/1007/MTCN0305
U.S. should try to rebuild ties with past, present adversary.

When Presidents Bush of the United States and Vladimir Putin of Russia meet at a G-8 summit in Germany in June, will it feel more like December?

Despite assurances from Secretary of State Condoleezza Rice, there are serious concerns that relations with Russia are slipping into another Cold War; or at least, its 21st century equivalent.


At one time, Bush and Putin were on a friendly footing, similar to that of Bush and British Prime Minister Tony Blair. But that warmth has chilled over the Russian leader's backsliding on Western-style reforms, handling of nearby states and his aggressive energy policy. In return, Russia has sounded alarm over the Bush administration's plans for missile installations in countries that were part of the former Soviet bloc, and taken umbrage at being lectured by the U.S. over Putin's consolidation of power.

Yes, it appears that the two world powers are as dysfunctional as ever, and the brewing impasse is coming at a bad time. The American focus is on the Middle East, and the worsening war of words with Iran. As the Bush administration continues to be baited into belligerence by hard-liner Mahmoud Ahmadinejad, longtime Iran ally Russia has taken Iran's side, even using its clout on the U.N. Security Council to water down U.S.-proposed sanctions against Iran.

As for the missile installations the Bush administration wants in Poland and the Czech Republic, the reason given is that they are to guard against attacks by Iran in case it develops nuclear warheads. However, Putin feels their placement breaks promises about U.S. intentions in the region and that the weapons could easily be turned on Russia.

It is strange that the situation has deteriorated so, because Secretary Rice is purported to be an expert on Russia. But some observers say her heavy involvement in the war on terrorism has distracted her from relations with the nation she knows best.

The U.S., as the most powerful nation in the world, cannot let itself be distracted. Russia may not be a priority with the State Department and Pentagon just now, but it must not be forgotten that Russia possesses all the weapons of mass destruction that Saddam Hussein only dreamed of having. Coupled with the shift away from democratic institutions by Putin and the fact that he seems to be hand-picking his successor as president, it is clear that the U.S. is not doing enough diplomatically to sway its old foe.

This Cold War, if it comes, will be different in a number of ways. Russia is by far the world's largest natural gas producer. Putin has eliminated the entrepreneurial aspect of the Russian energy sector, and is using control of natural gas reserves to get its way politically. If the U.S. cannot find a way to stabilize the Middle East and work with Russia, it will find itself at a disadvantage in fossil fuel resources.

In addition, the Bush administration desperately needs the help of Russia in trying to prevent Iran and North Korea from developing nuclear weapons, and in forging an agreement between Israel and the Palestinians.

To avoid the mistakes of the past and worse missteps in the future, the U.S. need not condone the actions of Putin's government, but it should not lecture Moscow on its political and economic systems, either. And there should be an open discussion between the two countries about whether to go forward with missile installations on Russia's doorstep.

Openness — isn't that what the collapse of the Iron Curtain was supposed to be about?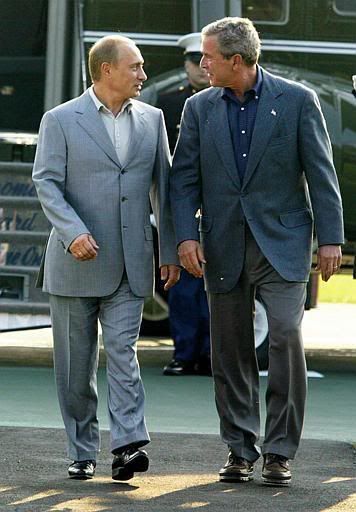 DIPLOMATIC FRENZY AS NEW COLD WAR LOOMS
http://jamestown.org/edm/article.php?article_id=2372166
This week U.S. Secretary of State Condoleezza Rice, en route to Moscow, told journalists that Russo-American relations are "not easy," but that the tensions do not amount to a new Cold War (AP, RIA-Novosti, May 14).

During the Cold War era there were times of acute tension between East and West, and times of mutual détente, when relations were seemingly better than today. Rice's rejection of a "new Cold War" is mostly semantic in nature and a good starting point for future academic discussions: Was the original Cold War a unique event in human history or could it be replayed in other circumstances? Currently, there is an acute crisis in relations between Russia and the Euro-Atlantic community. This crisis is rapidly spreading, encompassing additional issues, while attempts to defuse the tension do not work.

Rice came to Russia to discuss proposed U.S. missile defense deployments in Europe, independence for Kosovo, Moscow's decision to halt compliance with provisions of the 1990 Conventional Forces in Europe (CFE) treaty, Iran's nuclear program, and the clampdown on democracy in Russia. As Rice was in Moscow, German Foreign Minister Frank-Walter Steinmeier also arrived on an unscheduled visit. Germany currently holds the rotating presidency of the EU and is trying to salvage the Russo-EU summit planned for Friday, May 18, near Samara on the Volga River (RIA-Novosti, May 15).

In addition to missile defense, CFE, democracy in Russia, and Kosovo independence, Steinmeier intends to discuss specific Russo-EU conflicts: Russia's two-year ban on meat and plant imports from Poland; Lithuania's complaint that Russia has cut off supplies to its oil refinery; Russia's plans to drastically cut timber exports that have upset Finland, and the conflict with Estonia over the relocation of a Soviet-era World War II monument from central Tallinn. On Tuesday, May 15 Moscow announced that it plans to build a nuclear reactor and research center in Burma -- a state run by a ruthless military dictatorship that is an international outcast (Itar-Tass, May 15). This latest move may also strain relations.

At previous summits, the EU and Russia have regularly issued joint declarations to underline areas of agreement. Today negotiations on a new Russo-EU strategic partnership agreement are frozen and the EU Commission is talking of postponing Russia's long-sought WTO membership. Germany -- Russia's closest ally in Europe for many years -- is scrambling to prevent the Samara summit from degenerating into an open public fray.

Russia's present confrontation with the West, unlike the Cold War standoff, covers not only military and political issues, but also economic and financial ones. During the Cold War Russo-U.S. summits were grand events that centered on nuclear arms control and often effectively defused East-West tensions on many issues. Nowadays summits are not that effective. Attempts to solve problems the old way -- by trying to revitalize Russo-U.S. nuclear arms control -- do not help to clear other obstacles.

The joint visits to Moscow by Rice and Steinmeier did not and could not do much. At least everyone, including the Russians, put on a brave face and pretended that it is still business as usual and that the problems between Russia and the West are not as bad as they are.

Separately the United States and the EU cannot bridge the present East-West rift. The EU cannot do much about planed U.S. missile defense deployments in Europe. Nor is Washington too concerned about Russian plans to scrap CFE, since the Pentagon has installed a superb intelligence-gathering network that gives it more information about the Russian military than the CFE confidence-building regime of notification and onsite inspection. Of course, the Pentagon does not share much of its intelligence with European allies. European states have been shocked by the apparent sudden end of CFE, while Washington is much more concerned about Iraq, Iran, and the situation in, say, Georgia.

Last week in Brussels Russia's chief of the General Staff, General Yuri Baluyevsky, told NATO generals the Russian Defense and Foreign Ministry lawyers are working on ways to implement President Vladimir Putin's declaration of a "moratorium" on CFE observance (RIA-Novosti, May 10). In fact Russian diplomats say openly that Putin's CFE "moratorium" is a legal impossibility and only a formal abrogation is possible (see EDM, May 2). At present officials do not know what to do next and are waiting for additional guidance from the Kremlin.

For the Kremlin the CFE and most other multiple issues that today wreck relations with the West are not, in fact, decisive. Russia is today reasserting itself and wants a new grand pact with the West, something like the Yalta accord of 1945, that would clearly delineate Russia's new sphere of imperial influence in Europe and Asia, with the West assuring noninterference within that zone. Today even if the West would want to make such a deal, there is no legal framework within which to negotiate.

It seems the most important event of Rice's visit was her official working dinner with First Deputy Prime Minister Sergei Ivanov (RIA-Novosti, May 14). Legally, Ivanov's current assignment does not cover foreign or security policy -- that is the Kremlin's sole purview. But Rice's talks with Ivanov before she met with Putin are solid evidence that today Ivanov is in fact an unofficial vice president. This seems to be an open declaration by the Kremlin that Ivanov is Putin's chosen successor, someone who is already taking over responsibility for the Russo-U.S. dialogue on defense and security.



Frosty, but no Cold War, Rice contends


http://www.boston.com/news/world/europe/articles/2007/05/15/frosty_but_no_cold_war_rice_contends/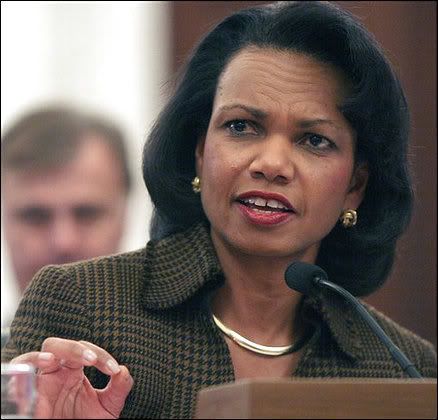 MOSCOW -- Secretary of State Condoleezza Rice said yesterday there's no "new Cold War" between Washington and Moscow, although she acknowledged growing strains ahead of talks with President Vladimir Putin of Russia.


It's time for intensive diplomacy," said Rice, who meets face-to-face with the Russian president today amid major differences over US missile defense plans and Putin's increasing criticism of American policy.

Rice said Washington is committed to working through the differences, notably over US plans for a missile defense system in Europe, Russia's threat to suspend a major military treaty, and Moscow's opposition to a UN plan for Kosovo independence.

There is also growing US concern about Moscow's treatment of former Soviet republics and steps Putin has taken to consolidate power in the Kremlin -- seen as democratic backsliding as the nation prepares for presidential and parliamentary elections next year.

"I don't throw around terms like 'new Cold War,' " Rice said. "It is a big, complicated relationship, but it is not one that is anything like the implacable hostility" between the United States and the Soviet Union for a half-century after World War II.

"It is not an easy time in the relationship, but it is also not, I think, a time in which cataclysmic things are affecting the relationship or catastrophic things are happening in the relationship," Rice said aboard her plane to Moscow. "It is critically important to use this time to enhance those things that are going well and to work on those things that are not going well."

She noted that the United States and Russia are working together in numerous areas: on Iran and North Korea's nuclear programs, the global spread of weapons of mass destruction, and efforts to achieve Middle East peace.

"Russia is not the Soviet Union, so this is not a US-Soviet relationship, this is a US-Russian relationship," said Rice, an expert on the Cold War who first visited Moscow in 1979. "A great deal has changed."

The two nations have traded increasingly sharp barbs, despite ostensibly warm personal feelings between Putin and President Bush, who spoke to each other just last week and are expected to meet at a summit of leaders in Germany next month.

A planned event at which Rice and Putin were to be photographed together and make brief remarks was canceled by the Kremlin, according to US officials.

And a senior Russian diplomat warned the United States not to try to go it alone in world affairs.

"Unilateral steps, the more so unilateral force reaction, interference in affairs of other states under various pretexts . . . lead to a deadlock," the chief of the foreign ministry's North America department, Igor Neverov, told the Russian ITAR-Tass news agency as Rice arrived.

Last month, simmering Russian anger over US plans to place missile defense components in Poland and the Czech Republic, both former Warsaw Pact members, boiled over despite Washington's pledges to cooperate with Moscow on the system.

Russia views the plan as an attempt to alter the strategic balance. Rice has dismissed such concerns as "ludicrous," but top Russian military officials have hinted the system might be targeted.

"Moscow is not convinced by Washington's assurances that [missile defense] in Europe will not be directed against Russia," Neverov told ITAR-Tass.

Last month, hours before the United States and its NATO allies met in Norway to discuss the matter, Putin threatened to suspend Russia's participation in a key treaty limiting military deployments in Europe.

Rice said yesterday that NATO and the United States want to keep the Conventional Forces in Europe pact alive but cannot unless Russia abides with its treaty commitments.


U.S. senators back missile defense plan


http://www.ledger-enquirer.com/252/story/48068.html


MOSCOW --Sen. Trent Lott said Wednesday he would try to convince Russian lawmakers that a planned missile defense system for Europe poses no threat to their country and that concerns about the project were "a relic of Cold War thinking."

Lott and Sen. Ben Nelson arrived at Russia's Federation Council, the upper house of parliament, for the start of two days of talks with officials about strategic and economic issues.

The discussions come a time when many analysts say relations between the two nations are at their lowest point since the Soviet era.

On Tuesday, Russia tested a new multiple-warhead, intercontinental ballistic missile, and President Vladimir Putin warned that the planned U.S. missile shield for Europe would turn the region into a "powder keg."

President Bush, Secretary of State Condoleezza Rice and Secretary of Defense Richard Gates have all tried to reassure the Russians that the missile system is aimed at preventing Iran from someday threatening Europe.

The Kremlin says the system threatens the strategic balance of forces in Europe by weakening Russia's ability to retaliate against an offensive strike.

"We are still convinced that the only target of that shield would be not the purely hypothetical threat that might come from Iran or some other remote state, but the only real target will be our country," Kremlin spokesman Dmitry Peskov told The Associated Press on Tuesday.

Lott and Nelson said these concerns were unfounded.

"This is a relic of Cold War thinking," Lott, R-Miss., told reporters. "This is about defensive capability, not about offensive strikes ... I thought we were over that."

Nelson, D-Neb., said the defensive system was "aimed at any kind of attack coming from Iranian areas." The planned deployment of 10 interceptor missiles in Poland and a radar system in the Czech Republic could not prevent a large-scale missile attack from Russia, he said.

Mikhail Margelov, chairman of the Federation Council's foreign affairs committee, said Russia seeks assurances that the U.S. is not planning hostile military moves.

"We consider any American missile and any American radar in Europe as a kind of remnant of the Cold War, because many of us do have that Cold War-style mentality," Margelov said. "Many people are scared about American military activity in Europe, especially on Russian borders."

Lott, the ranking minority Republican on the Senate's foreign relations committee, cited several areas where Moscow and Washington still work closely together, despite tensions, including in the fight against international terrorist groups and efforts to stop nuclear proliferation.

Lott and Nelson said they also planned to discuss energy and economic issues.

"The growing economy of Russia which will lift the people up to higher living standards. that's in Russia's best interest, and in America's best interest," Lott said.



US Missile defense program in Europe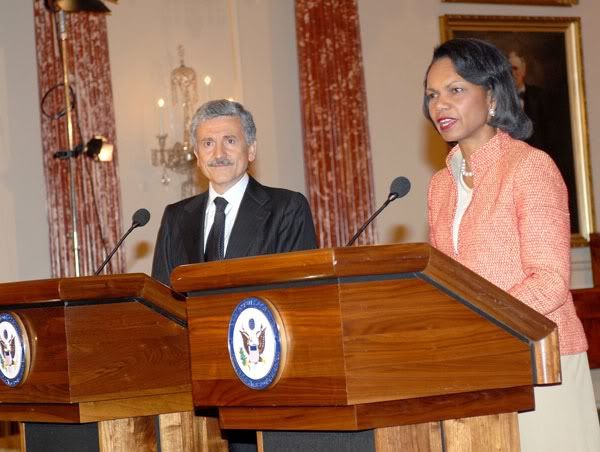 D'Alema: Europe and U.S. must unite to prevent "new Cold war
http://www.ilvelino.it/articolo.php?Id=362685
Rome, 29 mag (Velino) - Europe and the United States must agree on a fresh common agenda to stop the Middle East sinking into "three parallel civil wars" in Iraq, Palestine and Lebanon and avert "a new cold war" with Russia, Italian Foreign Minister Massimo D'Alema says.

"My basic premise is that the relationship with the US is as crucial as ever both for Italy and for Europe. But just repeating that certainly isn't enough to develop a solid transatlantic relationship for the new century," Signor D'Alema told the Council of European-American Relations in Venice Monday. "The solidity of the transatlantic relationship is going to depend on … the extent to which Europe and the United States manage to respond in a cohesive way to new key challenges."
The Italian foreign minister also strongly defended Italian peace-keepers' efforts in Afghanistan. Signor D'Alema's remarks are sure to be studied closely by diplomats seeking clues as to how the Government of Romano Prodi, the centre-left Italian Prime Minister, is preparing for a visit by U.S. President George W. Bush to Rome in June.
"We Europeans have realized that when we are split among ourselves and over our relations with the United States, we also lose the ability to exercise any influence," said Signor D'Alema. "It's now equally clear that Europe's identity cannot be built in opposition to the United States: the theory of Europe as a potential "counterweight" belongs to the past. Indeed, the opposite is true: we need a stronger and more united EU if we wish to have a transatlantic relationship that works."

"We are in difficulty when we are forced to choose between Europe and the United States. And I think that one of the mistakes that the United States made in 2003 was precisely to force its leading allies to choose sides. In so doing, the United States actually lost international support: it is far better for America, too, to be able to rely not on a handful of Europeans but on the collective strength of Europe."

The election of French President Nicolas Sarkozy means Paris as well as Germany and Italy are adopting positions that could be labelled "euro-Atlantic" and oppose the U.S.-led war in Iraq, said the Italian foreign policy supremo.
"Like the current Italian government, both Merkel and Sarkozy continue to believe that the intervention in Iraq was a mistake. Their view, and my view, is that a stronger Europe is more useful to the US even if it does sometimes disagree with US policies. Disagreements are normal, I would even say they are healthy, when the relationship as a whole is sound."
The Italian foreign minister turned to what he sees as the urgent tasks of the United States and Europe in tandem, on the Middle East and on relations with Moscow.
"Politically, we are facing two main, urgent challenges: how to prevent the Middle East from sinking into three parallel civil wars (Iraq, Palestine, and Lebanon); and how to prevent a new kind of Cold War with Russia from breaking out. From an economic point of view, we need a new convergence on climate change and energy security, plus deeper transatlantic integration capable of countering the risk of protectionism."

"The war in Iraq has indeed triggered a knock-on domino effect, but in a negative rather than a positive sense. The mission in Lebanon, which Italy sponsored in a major way, succeeded in halting the clash between Israel and Hizbollah in 2006, but it has not managed to strengthen the Siniora government. And today, the outbreak of violent clashes in the Palestinian camps in Tripoli shows us how strong the terrorist threat is also in Lebanon. I believe that we have very little time left to reverse the trend. "

Signor D'Alema added that "We have been wasting time in a fairly sterile debate over the extent to which Iraq should be considered a greater priority than the Israeli-Palestinian question. In actual fact, it is quite clear that the various fronts are all important. In the long term, either we succeed on all of them, or we lose on all of them. My firm opinion is that a peace agreement on the Palestinian front remains decisive. I think that we still have a window of opportunity to reverse the trend."

On Russia, Signor D'Alema, a former Eurocommunist, said that "nobody can afford to return to a situation of confrontation or a to a new Cold War: neither Europe nor the US. Russia is a crucial partner for Europe, particularly – but not only – in the area of energy security. Russia's cooperation is essential in resolving the most crucial security issues, from Kosovo to Iran and, of course, instability and the 'frozen conflicts' in the Caucasus. It is equally true that Russia needs Europe – mainly economically (the EU accounts for 50% of Russia's foreign trade) . And it needs the US – mainly politically – both for security reasons and in order to maintain the international status that it has won back. Thus all sides have a common interest in exercising prudence and in fostering cooperation. That means, for instance, handling the missile defense issue with greater sensitivity."

Moscow also needs to work to create mutual trust with the West, Signor D'Alema underlined. "We – Europe – certainly need to do our utmost to reassure Russia against its feeling of exclusion. But Russia also needs to reassure us of its democratic credentials and its acceptance of the rules of the game in the international system. A more open and pluralistic Russia would be in Russians' own interest first and foremost."

In his wide-ranging speech, Signor D'Alema stressed the contribution by some 10,000 Italian peace-keeping troops in Kosovo, Lebanon, Afghanistan and elsewhere.
"History teaches that dealing with Afghanistan is by definition difficult, even with the best of intensions. Despite our complex domestic debate and the public's fatigue, the Prodi government decided to maintain in the country what is in effect one of the largest European contingents in ISAF, part of which is currently deployed in a province that is exposed to serious military risks and becoming more so. Also, we have recently decided to enhance the operational capability of our contingent. Italy is thus making a very earnest and determined effort; and our military commitment is a crucial part of a broader effort to stabilize the country.

"I think that it is unfair to point the finger at national caveats, among other reasons because all the NATO countries – without exception – have their own caveats. Nor should we forget that ISAF and Enduring Freedom were launched as separate missions, and remain distinct to this day … There will be no ultimate and self-sustaining "success" without popular support. "




Massimo D'Alema


http://en.wikipedia.org/wiki/Massimo_D'Alema
Massimo D'Alema (born April 20, 1949) is an Italian politician, currently Italian Minister of Foreign Affairs and Vice President of the Council of Ministers of Italy. He is also a journalist, a former national secretary of the PDS, Partito Democratico della Sinistra, and he was the first President of the Council of Ministers coming from Italian Communist Party.


Russia Tests New Missiles, Warns U.S.


http://news.aol.com/topnews/articles/_a/russia-tests-new-missiles-warns-us/20070529130809990001


MOSCOW (May 30) - Russia tested new missiles Tuesday that a Kremlin official boasted could penetrate any defense system, and President Vladimir Putin warned that U.S. plans for an anti-missile shield in Europe would turn the region into a "powder keg."

First Deputy Prime Minister Sergei Ivanov said Russia tested an intercontinental ballistic missile capable of carrying multiple independent warheads, and it also successfully conducted a "preliminary" test of a tactical cruise missile that he said could fly farther than existing, similar weapons.

"As of today, Russia has new tactical and strategic complexes that are capable of overcoming any existing or future missile defense systems," Ivanov said, according to the ITAR-Tass news agency. "So in terms of defense and security, Russians can look calmly to the country's future."

Ivanov is a former defense minister seen as a potential Kremlin favorite to succeed Putin next year. Both he and Putin have said repeatedly that Russia would continue to improve its nuclear arsenals and respond to U.S. plans to deploy a missile defense system in Poland and the Czech Republic - NATO nations that were in Moscow's front yard during the Cold War as Warsaw Pact members.


Russia has bristled at the plans, dismissing U.S. assertions that the system would be aimed at blocking possible attacks by Iran and saying it would destroy the strategic balance of forces in Europe.

"We consider it harmful and dangerous to turn Europe into a powder keg and to fill it with new kinds of weapons," Putin said at a news conference with visiting Portuguese Prime Minister Jose Socrates.

Russian arms control expert Alexander Pikayev said the new ICBMs appeared to be part of Russia's promised response to the missile defense plans and, more broadly, an effort to "strengthen the strategic nuclear triad - land-based, sea-based and air-based delivery systems for nuclear weapons - which suffered significant downsizing" amid financial troubles after the 1991 Soviet collapse.

The ICBM, called the RS-24, was fired from a mobile launcher at the Plesetsk launch site in northwestern Russia. Its test warhead landed on target some 3,400 miles away on the Far Eastern Kamchatka Peninsula, the Strategic Missile Forces said in a statement.

The new missile is seen as eventually replacing the aging RS-18s and RS-20s that are the backbone of the country's missile forces, the statement said. Those missiles are known in the West as the SS-19 Stiletto and the SS-18 Satan.

The RS-24 "strengthens the capability of the attack groups of the Strategic Missile Forces by surmounting anti-missile defense systems, at the same time strengthening the potential for nuclear deterrence," the statement said.

Ivanov said the missile was a new version of the Topol-M, first commissioned in 1997 and known as the SS-27 in the West, but one that that can carry multiple independent warheads, ITAR-Tass reported. Existing Topol-M missiles are capable of hitting targets more than 6,000 miles away.

Pikayev, a senior analyst at the Moscow-based Institute for World Economy and International Relations, said that little had been revealed about the missile's development, but that Russia has been seeking to improve its capability to penetrate missile defense systems and that the new missile would likely answer to that goal.

He said Russia had been working on a version of the Topol-M that could carry MIRVs - Multiple Independently Targetable Re-entry Vehicles - and that its development was probably "inevitable" after the U.S. withdrew from the 1972 Anti-Ballistic Missile treaty in 2002 in order to develop a national missile defense.

Pikayev concurred with the missile forces' statement that the RS-24 conforms with terms laid down in the START-I treaty, which is in force, and the 2002 Moscow Treaty, which calls for reductions in each country's nuclear arsenal to 1,700-2,000 warheads.

Ivanov also announced the successful "preliminary" test of an improved tactical cruise missile designed for a mobile Iskander-M launcher, ITAR-Tass reported. Ivanov said last year that Russian ground forces would commission 60 short-range Iskander-M missiles by 2015.

While Ivanov's saber-rattling about missile defense penetration was clearly aimed at the United States - and at Russians who will vote in March for a successor to Putin - he suggested Russia's armament efforts were also aimed to counter a potential treat from the Middle East and Asia.

"We see perfectly how our eastern and southern neighbors here, there and everywhere are acquiring short and medium-range missiles," Ivanov said in televised comments at Kapustin Yar, the southern Russian site where the tactical missiles were tested.

Ivanov said the 1987 Soviet-American treaty limiting such missiles - the Intermediate-Range Nuclear Forces treaty, or INF - is no longer effective because "dozens of countries _ many of them along our borders - have acquired them. All of this is a real danger for us, and the consequences can be unpredictable."

He emphasized the need to equip the armed forces with "the most modern, precise weapons" and suggested Russia could arm itself with missiles whose range exceeds the lower limit of 310 miles set in the INF. The ranges of Russia's missiles are "for now within the commitments that Russia has taken upon itself, but I stress: for now," ITAR-Tass quoted him as saying.

Matthew Bunn, a senior research associate at Harvard University's Belfer Center for Science and International Affairs, said the missile test was "in line with Russia's renewed emphasis in recent years of maintaining their weapons systems after years of decline."

Bunn said he did not think the Russians had planned the test as a reaction to U.S. plans to deploy the missile shield in Poland and the Czech Republic, although they may have worded Tuesday's announcement to make it appear that way.

"I think if anything, the wording of the announcement may have been changed to emphasize the missile's ability to evade defense systems, but the test was probably planned way before," Bunn said.

Andrew Kuchins, director of the Russia and Eurasia Program at the Washington-based Center for Strategic and International Studies, said the test was Russia's way of showing the U.S. and its own people that it was investing more in national security.

"The Russians have been talking about developing and testing new weapons for years now, so this isn't a surprise. They have a very aging nuclear missile structure and this test fits in with a broader trend of upgrading security," said Kuchins.

"After years of spending little on their military, they're now showing us and showing the Russian population that they're paying more attention to defense."

Russia is also embroiled in a dispute with the West over another Soviet-era arms pact, the 1990 Conventional Forces in Europe Treaty.

Putin has announced a moratorium on observance of the treaty and threatened to withdraw altogether if the United States and other NATO members do not ratify an 1999 amended version.

Russia said Monday that it lodged a formal request for a conference among treaty signatories in Vienna next week.


RUSSIA ARMS WARNING TO U.S.


http://www.express.co.uk/posts/view/8336/Russia+arms+warning+to+U.S.
RUSSIA yesterday tested a missile capable of piercing any defence shield erected by the United States, sparking fears of a new Cold War-style arms race.

At the same time, President Vladimir Putin stepped up his attacks on US plans for a missile shield, saying its deployment in Europe would turn the continent into "a powder keg".

Russian military experts said the new missile was part of the "highly effective response" promised earlier this year by Mr Putin to the shield, which is fiercely opposed by Moscow as a threat to its security.

"It can overcome any potential entire missile defence systems developed by foreign countries," Colonel-General Viktor Yesin told the official Russian Today television channel.

The test-firing took place from a mobile launcher at the Plesetsk cosmodrome in northern Russia yesterday, about 500 miles north of Moscow.

Kremlin chiefs said the controversial new missile, called RS-24, can be armed with up to 10 warheads and was designed to evade missile defence systems.

"The RS-24 will strengthen the military potential of Russia's strategic rocket forces to overcome anti-missile defence systems and thereby strengthen the potential nuclear deterrent of Russia's strategic nuclear forces," the Strategic Missile Forces command said in a statement.

It comes after complaints from Russia that US plans to base parts of an anti-missile system in central Europe threaten its security.

The Americans maintain that their hi-tech defence system, known as the "Son of Star Wars", is not directed at the Russians, saying the shield is intended to counter "rogue states".

The US wants to deploy interceptor rockets in Poland and a radar base in the Czech Republic — both former Warsaw Pact countries - to counter what it describes as a potential threat from states such as Iran and North Korea.

The first interceptor site in Poland, in use by 2012, would be expected to destroy a missile launched from Teheran or North Korea as it enters space.

Mr Putin issued his latest broadside against the shield after meeting visiting Portuguese Prime Minister Jose Socrates at the Kremlin.

"We consider it harmful and dangerous to turn Europe into a powder keg and to stuff it with new weapons," Putin told Mr Socrates, whose country assumes the European Union's rotating presidency on July 1.

"It creates new and unnecessary risks for the whole system of international and European relations".

Relations between Russia and the West are at their frostiest for 20 years. Last month, the Russian president warned the defence shield plan would raise the risk of "mutual destruction".

That phrase harked back to the rhetoric of the Cold War, when strategists in Russia and the US relied at least partly on the theory of Mutually Assured Destruction (MAD) to prevent nuclear war.

An hour after the test launch, the Russian Strategic Missile Forces released a statement saying the test missile had successfully struck its target 3,400 miles away on the far eastern Kamchatka peninsula.

The statement said the missile would replace two ageing ICBM systems - the RS-18 and RS-20, known in the West as the SS-19 Stiletto and SS-18 Satan, respectively.

Russia has grown increasingly concerned in recent months about the treaty between the US and the former Soviet Union that banned intermediate-range nuclear weapons.

This treaty is still in force and now applies only to the US and Russia.

Defence spending has quadrupled since Mr Putin came to power in 2000, and an ambitious strategy to modernize the military was announced last year.

Russian First Deputy Prime Minister Sergei Ivanov said the deployment of medium- and short-range missiles by Russia's neighbours to the east and south now posed a "real threat".

"The Soviet-American treaty (on intermediate nuclear forces) is not effective because since (its signature) scores of countries have appeared that have such missiles, while Russia and the United States are not allowed to have them," he told a military-industrial commission in the southern city of Znamensk.

"In these conditions, it is necessary to provide our troops with modern, high-precision weapons."

Ivanov, a former defence minister and leading Kremlin hawk, is widely seen as a front-runner to succeed Mr Putin in an election next March although he has not said whether he will run.


Is America Prepared for Disaster?


http://www.washingtonpost.com/wp-dyn/content/article/2007/05/29/AR2007052901710.html


ow prepared is America for the next terrorist attack or natural disaster?

Government and the private sector have spent billions of dollars since the Sept. 11, 2001 terrorist attacks in an effort to make America more secure. The money for this ramped up security has come from all of us, collected in the taxes we pay and in higher prices for the goods we buy.


Ordinary citizens see the extra security when we encounter more barricades around buildings, have to remove our shoes at airport security screenings and see extra security guards at shopping malls.

Far less visible measures have been implemented as well. For example, governments at all levels have prepared new emergency response plans, formed new response teams and outfitted them with equipment.

But despite all this, there is no satisfactory answer to a very basic question: are we prepared enough? Simply measuring how much America spends on homeland security won't answer the question. It's important to determine if the money is spent wisely and effectively.

Since the Sept. 11 attacks, members of both political parties in Congress have questioned America's level of emergency preparedness. That questioning helped prompt the creation of the Department of Homeland Security.

When a disaster strikes, the country depends on a national response system made up of organizations at all levels of government, non-governmental groups, the private sector and the public to respond. It is all too obvious when that system cannot respond adequately to meet victims' needs. Nothing illustrated this more dramatically than the failure to respond quickly and effectively to the tragic suffering caused by Hurricane Katrina.

While it's easy to see what happens when things go wrong, it's hard to know before disaster strikes what needs to be done to make sure things will go right. Indeed, some have argued that because the emergency response system is so complex, there is no way to gauge if we are prepared until after disaster strikes.

When attempting to determine our level of preparedness, we make the mistake of focusing on what we have done to become more prepared. For example, we discuss new equipment purchases for first responders, or describe preparedness exercises to examine how the response system performs when tested by a simulated emergency. These things are certainly important, but they are the ingredients for preparedness -- not the final product.

What we really need to know is: Will the whole system work when a disaster strikes?

One way that a city can measure how prepared it is for one type of emergency that happens somewhere every day -- house fires -- is to determine the average time it takes a fire truck to get to the scene when it is called. Based on these findings, city officials can decide how confident they are in their level of fire protection and then make resource allocation decisions to save lives and property.

Assessing preparedness for a major disaster or a terrorist attack is much more complicated than calculating how quickly fire trucks can get to the scene, but it is not impossible.

The Pentagon faces similar concerns in assessing whether U.S. forces can respond to the wide range of contingencies that could happen across the world. For example, during and immediately after the Cold War, American officials had to decide if the nation was "prepared enough" for everything from small-scale conflict to nuclear war.

U.S. leaders do not wait for war to break out to gauge if the American armed forces could defend the nation. Instead, they invest in analytical and other approaches to measure readiness and make it possible to reasonably judge preparedness against a variety of threats.

Much of the work done at the RAND Corporation and other institutions during the Cold War focused on answering questions about America's preparedness for war. Such assessments didn't provide exact answers or 100 percent certainty -- but they did offer a basis for deciding how much to invest on defense and how to allocate resources among different defensive options.

Since Sept. 11 and Hurricane Katrina, America has not made similar investments to measure our level of preparedness for homeland security contingencies. As a result, we have not gained the knowledge needed to make good resource allocation and policy decisions. The nation needs to do so now.

The United States should get beyond just talking about what we are spending for homeland security and learn how we can actually measure the effectiveness of what we are buying. Only at that point can we decide how confident we should be that the national preparedness system will be able to deliver the next time disaster strikes.

Brian A. Jackson is the associate director of the Homeland Security Research Program at the RAND Corporation, a nonprofit research organization.



This report focuses on the current tensions between the US and Russia over the anti-missile defense system in Eastern Europe





Russian nuclear test