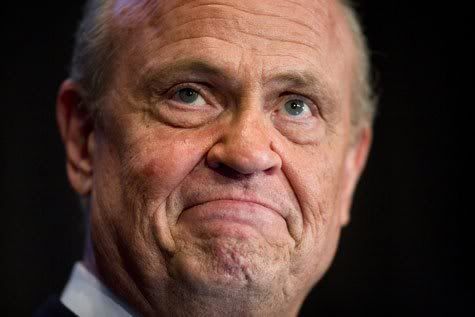 http://www.InTheAgora.com
Frederick Dalton "Fred" Thompson (born August 19, 1942) is an American politician, lawyer, lobbyist, and character actor. He represented Tennessee as a Republican in the U.S. Senate from 1994 through 2003.
Thompson is a member of the Council on Foreign Relations and a Visiting Fellow with the American Enterprise Institute, specializing in national security and intelligence.[1][2] He resides in McLean, Virginia near Washington, D.C..[3]
As an actor, Thompson has performed in film and on television. He has frequently portrayed governmental figures.[4] In the final months of his U.S. Senate term in 2002, Thompson joined the cast of the long-running NBC television series Law & Order, playing New York City District Attorney Arthur Branch.
On May 30, 2007, Fred Thompson asked to be released from his television duties, potentially in preparation for a presidential bid.[5] Then on June 1, 2007 he formed a presidential exploratory committee regarding his possible 2008 campaign for President. On September 5, 2007 Thompson announced on The Tonight Show: "I'm running for president of the United States,"[6][7] and he steered viewers to www.fred08.com for a 15-minute video announcement of his candidacy.
http://en.wikipedia.org/wiki/Fred_Thompson
Fred Thompson, Actor / Politician / Lawyer
http://www.answers.com/topic/fred-dalton-thompson?cat=entertainment
* Born: 19 August 1942
* Birthplace: Sheffield, Alabama
* Best Known As: Actor and U.S. Senator from Tennessee (1994-2003)
Fred Dalton Thompson is a Washington-Hollywood hybrid: Twice elected to the U.S. Senate, he is also a screen actor who has starred in the TV series Law & Order. He grew up in Tennessee and began a law career in 1967. He served as a U.S. Attorney (1969-72) and got involved in national politics under Tennessee Senator Howard Baker, an association that put Senate co-counsel Thompson smack in the middle of the investigation of Watergate and the Richard Nixon White House (1973-74). Thompson later worked as a lawyer and lobbyist in Nashville and Washington D.C. He fell into acting when invited to play himself in the movie Marie (1985), a drama based on a real-life political scandal in Tennessee, in which Thompson defended whistleblower Marie Ragghianti. Thompson was a natural on screen, and during the 1980s he had a remarkable run of authoritarian character roles in top-tier features such as No Way Out (1987, starring Kevin Costner), Days of Thunder (1990, starring Tom Cruise), The Hunt for Red October (1990, starring Sean Connery) and In the Line of Fire (1993, starring Clint Eastwood). Thompson returned to Tennessee and national politics in 1994 and was elected to the U.S. Senate (filling the seat formerly held by Al Gore, who had become vice president under Bill Clinton). A Republican, Thompson was re-elected in 1996, but chose not to run for re-election in 2002. He then joined the cast of TV's Law & Order, but continued to maintain a profile in Washington. (He reportedly helped John Roberts get through his 2005 confirmation to the Supreme Court.) Thompson's camera-friendly paternalism and conservative ideology have brought comparisons to former actor/president Ronald Reagan. Thompson quit his role on Law & Order in May of 2007, saying he was thinking strongly of running for president in 2008. After months of dropping hints, Thompson finally announced his candidacy on comedian Jay Leno's late night variety show on 6 September 2007.
Thompson attended Memphis State University and got his law degree from Vanderbilt... He made a deal with ABC News Radio in 2006 to serve as an on-air commentator. He occasionally fills in for radio legend Paul Harvey... Thompson is 6'6" tall, according to a 2007 article in USA Today.
Fred Thompson Interview with Hannity
Fred '08 - Friends of Fred Thompson
http://www.fred08.com/
Fred Thompson on the Issues
http://www.ontheissues.org/Senate/Fred_Thompson.htm
Fred on the issues
Fred Thompson Polls Analyzed
http://www.usaelectionpolls.com/2008/articles/fred-thompson-polls-analyzed.html
Fred Thompson - 1994
Political positions of Fred Thompson
http://en.wikipedia.org/wiki/Political_positions_of_Fred_Thompson
The political positions of Fred Thompson can be seen mainly through his actions as a Tennessee senator, and through his recent statements. Fred Thompson has an "86.1 percent lifetime (1995-2002) Senate vote rating compiled by the American Conservative Union (ACU)," compared to 89.3 for Bill Frist and 82.3 for John McCain.[1] Even so, some conservatives are skeptical.[2] Following are some of Thompson's remarks and positions on various particular issues.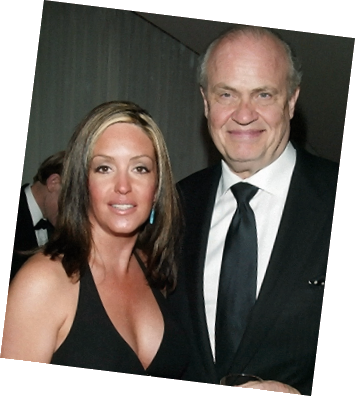 Juan WIlliams Targeted for Using Words "Trophy Wife"
Fred Thompson's 'trophy wife' runs the show
http://www.telegraph.co.uk/news/main.jhtml?xml=/news/2007/07/29/wuspols129.xml
She has sometimes been dismissed as a tanned and bleached blonde "trophy wife", only ever glimpsed in sleek and glamorous outfits on the arm of her much older spouse.
But in the past few days Jeri Thompson has suddenly emerged as the real political power behind her husband Fred's presidential campaign.
Mr Thompson, 64, a former senator and actor who is running second in most polls of Republican nominees even before he has officially declared his candidacy, last week replaced his campaign manager in a shake-up of his top team - which, it has emerged, was initiated by his wife.
Another senior aide quit after clashes with Mrs Thompson, a youthful-looking 40, who is in effect managing her husband's White House bid and has hiring and firing authority over staff, according to campaign insiders.
The upheavals have highlighted the key role of Mr Thompson's second wife, a lawyer and Republican political operative widely believed to have encouraged him to enter the fray. As her husband's de facto campaign manager, Mrs Thompson has the greatest hands-on role of any spouse in the presidential campaign, even though she has so far steered well clear of the political hustings.
Despite her political pedigree as a former spokesman for the Republican National Committee, her sway over day-to-day operations is troubling some of her husband's supporters. "I do worry that Jeri is the one really running his campaign," said a Republican in Congress who describes himself as "likely" to support Mr Thompson. "She's smart, but that could be a recurring problem."
A campaign aide, also speaking anonymously, told The Washington Post that Mrs Thompson decided everything from the content of direct mailings to the date for her husband to make his official declaration, now expected at the end of the summer. "You name it - anything," said the aide.
Mr Thompson met Jeri Kehn in July 1996 and they married in June 2002, since when they have had two children. Her good looks and penchant for figure-hugging dresses with plunging necklines inevitably draw attention to their 25-year age gap. They have also reminded commentators of Mr Thompson's reputation as a "ladies' man" after his 1985 divorce - something that may not play well with the social conservatives he is courting in his bid to become the Republican candidate.
The upheavals in Mr Thompson's campaign came after reports that his fundraising activities have tailed off since the initial excitement about his likely entry into the fray, earlier this year. Most polls show him running second to the former New York mayor, Rudolph Giuliani, and his efforts to portray himself as a Washington outsider have been undermined by revelations about his past as a lobbyist, lawyer and politician.
Dick Morris, an influential political strategist, last week highlighted how the consulting firm of Daniel Thompson, one of Mr Thompson's adult sons from his first marriage, had benefited financially from his father's political operations.
Mr Thompson's Political Action Committee - a vehicle used to support candidates - has so far paid his son's firm $170,000 (£83,000) in consulting fees, far more than the $70,000 given to other Republican election campaigns.
The political impact of Mrs Thompson's higher profile is unclear, but it has already provoked comments by some of America's more unreconstructed media pundits. Joe Scarborough, a television news show host and former Republican congressman, caused controversy when, after a report on the use of strippers' poles in exercise routines, he wondered aloud whether Mrs Thompson "worked the pole".
Nor is Mrs Thompson the only woman involved in the White House race to become the focus of media attention about her appearance. The campaign of Hillary Clinton has sought to turn comments about their candidate's cleavage in a newspaper fashion article to her advantage, highlighting the remarks to supporters in an appeal for funds.
Robin Givhan, a respected fashion writer for The Washington Post, noted that Sen Clinton wore a black top with a low neckline during an appearance in the Senate. "It was startling to see that small acknowledgment of sexuality and femininity," she wrote.
In an email to potential donors Ann Lewis, a senior Clinton advisor, urged them to "take a stand against this kind of coarseness and pettiness in American culture". She added: "Frankly, focusing on women's bodies instead of their ideas is insulting."
Fred Thompson's Wife Forces Head Of Non-Campaign To Quit
A 'Law & Order' Presidential Candidate?
Actor, Ex-Senator Thompson May Run
http://www.washingtonpost.com/wp-dyn/content/article/2007/03/28/AR2007032802195.html
"Law & Order" star and former U.S. senator Fred Dalton Thompson is considering a bid for the White House that would test whether Hollywood can once again launch a Republican to the world's premier political stage.
His interest, confirmed in a brief interview this week, is generating buzz in Washington. He was third among Republican-leaning voters in a recent Gallup-USA Today survey, behind Sen. John McCain (Ariz.) and former New York mayor Rudolph W. Giuliani and ahead of former Massachusetts governor Mitt Romney.
The onetime senator from Tennessee is known to many Americans for playing New York District Attorney Arthur Branch on "Law & Order" and an admiral in the film "The Hunt for Red October." But his real-life record as a no-nonsense lawmaker who also served as the minority counsel to the Senate Watergate committee is appealing to party activists dissatisfied with the current crop of Republican hopefuls.
"He has a conservative bearing and a conservative presence, but he's independent in his thinking and his voting record," said Sen. Lamar Alexander (R-Tenn.), who added that Thompson is "seriously considering" a presidential campaign at the urging of many friends. "He has a commanding television presence that makes every other politician in America jealous."
Alexander, a friend of 40 years and twice a presidential candidate himself, said Thompson is likely to take his time deciding and could wait to enter the contest until around Labor Day. Recalling a well-attended Washington cocktail gathering held Sunday, Alexander said: "Fred Thompson was the talk of the party."
If he decides to run, Thompson would face many steep challenges, not the least of which is financial. McCain, Giuliani and Romney could each report having raised at least $10 million during the first three months of the year, and it would take months for Thompson, a trial lawyer, to develop the kind of campaign organizations that several others have already built. And Thompson has already drawn fire from some social conservatives.
As a senator, he produced a conservative voting record but broke with the Republican leadership to support McCain's campaign finance legislation. Recently, he joined other Washington politicians who came to the defense of convicted White House aide I. Lewis "Scooter" Libby. Thompson has urged Bush to pardon Libby for lying to investigators.
At the same time, Thompson is a certified television and movie star. His face is seen daily in millions of homes, and his character on "Law & Order" exudes the kind of blunt-spoken, get-it-done leadership that voters tell pollsters they crave.
"I've often said if I had his voice I'd be president of the United States today," McCain, a longtime friend, told Wolf Blitzer on CNN this week. Thompson was among a handful of Senate colleagues who endorsed McCain for president in 2000. Another, Sen. Chuck Hagel (Neb.), is also considering a White House bid.
Thompson traded on his movie and TV celebrity in his 1994 Senate candidacy, when he captured the seat vacated by then-Vice President Al Gore, employing his Southern drawl as he traveled across Tennessee in a bright-red pickup truck.
That image evolved as he campaigned, said Tom Griscom, a press secretary to former senator Howard Baker (R-Tenn.) and now editor and publisher of the Chattanooga Times Free Press. Griscom described Thompson as "sort of a maverick -- very independent-minded and willing to speak what's on his mind."
The idea of a Thompson campaign has been bubbling for a few weeks, and it was given new life this month when the former senator confirmed in an interview on "Fox News Sunday" that he was thinking about it.
"I'm giving some thought to it. Going to leave the door open," he told host Chris Wallace.
In a brief interview Tuesday on his cellphone, Thompson declined to elaborate but said he is still thinking about running. "I'm not talking about that right now," he said, directing calls about the subject to a media consultant.
His supporters -- mostly from Tennessee -- are touting his prospects every chance they get. Baker was the first to float his name. Rep. Zach Wamp (R-Tenn.) has launched a Draft Thompson Web site at http://www.fred08.com/.
"It is all serious business. This is no flirtation," Wamp said. "People want someone they can trust and someone that is strong. He has charisma coming out of his ears." Wamp said Thompson will spend April 18 on Capitol Hill to talk with former colleagues about his interest in the White House.
Former Senate majority leader Bill Frist (R-Tenn.), writing in his blog, has urged Thompson to run and said he recently talked to his former colleague about the idea.
"Now is the time for big ideas . . . big, true conservative ideas that rise above the fray," Frist, who decided against a White House campaign after he left the Senate, wrote last week. "Fred is listening. He will carefully consider running over the next several weeks."
For now, anyway, Thompson's supporters are apparently stuck with reruns of "Law & Order." But his fans could be disappointed on one front if he does ultimately run.
Election law requires that TV stations give all candidates equal time. Experts said Thompson -- like the last movie-star candidate, Ronald Reagan -- would probably vanish from the airwaves except in news programming. That would probably mean that he would leave "Law & Order" and that networks would not air his reruns during the campaign.
In the 1970s and 1980s, stations dropped "Bedtime for Bonzo" and other Reagan movies during his campaigns for governor of California and for president.
Fred Thompson in 2008?
Fred Thompson Moves Toward a Run for President
http://www.nytimes.com/2007/05/30/us/politics/30cnd-thompson.html?ex=1189224000&en=8e69ef4bdf87a100&ei=5070
WASHINGTON, May 30 — Former Senator Fred D. Thompson of Tennessee shook up the Republican presidential field today by making clear that he is likely to run for the White House.
Mr. Thompson is creating a committee that will let him begin raising money towards a full-blown national campaign, supporters said today. They hope his high name recognition as an actor and radio commentator, his conservative stands on issues like immigration and government spending, and his strength in the South will differentiate him from a field that has not yet struck a chord with the Republican base.
The disclosure of his intensifying activities sent ripples through the party today, with the campaigns of two of the main Republican candidates checking with their deputies in Iowa and New Hampshire to monitor any hiring or fund-raising efforts by Mr. Thompson. One campaign held a brief strategy session to review poll results on Mr. Thompson, and found him well-positioned even as an unannounced candidate.
His moves come as Republicans have failed to coalesce around a candidate, as they struggle with the war in Iraq, President Bush's unpopularity and questions about the party's ideological direction. That has created the potential for someone to fill a void in a campaign field that, judging by polls and other reaction, has left Republican voters wanting more.
"Thompson is a credible conservative, he has a strong voting record, he has strong, almost Reagan-esque communication skills," said Scott Reed, who managed the presidential campaign of Republican Bob Dole in 1996 and who is unaffiliated with any campaigns. "And like Reagan, he believes in an ideological agenda in an undiluted way. He doesn't have a bunch of qualifiers on things when he defends the Reagan years."
In a conference call Tuesday, 75 to 100 Republicans who had offered to back the politician better known for his acting career were urged to raise roughly $50,000 each to provide the financial underpinnings for a Thompson bid that has been in the making for months.
Participants on the call said Mr. Thompson, currently in the cast of NBC's "Law and Order," was enthusiastic about becoming an alternative to current contenders led by former New York Mayor Rudolph W. Giuliani, Senator John McCain of Arizona and former Massachusetts Gov. Mitt Romney. They said he was not ready to formally announce without evidence he could draw the necessary financial support.
"You have to raise money to be competitive even if you are Fred Thompson," said Representative Zach Wamp, a Tennessee Republican who has headed up an effort to draft Mr. Thompson.
By joining the race relatively late in the game, Mr. Thompson may face questions about his ability to compete against the top-tier Republicans who have already raised at least $10 million each for their bids. Also, he will not participate in Tuesday's Republican debate in New Hampshire.
Tony Fabrizio, a Republican pollster and strategist who is not working for any candidate, said he was "surprised and a little sad" that Mr. Thompson was not declaring himself a full-fledged candidate.
"Thompson will be competing against three guys who have been running flat out for months and working their tails off for well over a year," Mr. Fabrizio said. "If you're not going to get in this race and double time on work, effort, and commitment, how do you expect to win? You need to send signals that say, 'I'm here and I'm going to win.' "
Although Mr. Thompson planned in the coming days to create what is known as a "testing the waters" committee that would allow him to raise and spend money, members of his inner circle said that if the next few weeks were encouraging, he could officially enter the race as early as July or later in the summer.
"Fred Thompson is doing everything he has to do to gauge support to come to a final decision in a timely manner," said Mark Corallo, who has been acting as a spokesman for Mr. Thompson.
The degree and immediacy of interest in Mr. Thompson's trajectory reflected concern in the rival Republican camps about the former senator's possible appeal across the South, among conservative and evangelical voters, who might be attracted to his mainstream conservative stances, like opposition to abortion and strong support for states rights.
"There are still a lot of undecided voters in South Carolina, and Fred Thompson comes with enormous appeal — I'd call it Ronald Reagan-like appeal," said Katon Dawson, the chairman of the Republican Party in South Carolina, which holds one of the first presidential primaries. "He has a lot of admirers and friends here, and I think he could convert those people into a political operation very quickly. All it takes is an appearance here, and money."
Allies of Mr. Thompson said they were confident he would attract big-name contributors and elected supporters from other candidates. But potential competitors questioned his ability to make such inroads.
Kevin Madden, a spokesman for Mr. Romney, disputed that Mr. Thompson might peel away conservative and evangelical voters whom the former Massachusetts governor has been courting. Mr. Madden noted that Mr. Romney might make his own gains in Thompson country when he appears Saturday as the keynote speaker at the Tennessee Republican Statesmen's Dinner in Nashville.
"The governor looks at these events as opportunities — it could be a Romney crowd by the end of the night," Mr. Madden said.
Anthony Carbonetti, an adviser to Mr. Giuliani, called Mr. Thompson "a good senator who was entitled to run." But Mr. Carbonetti played down any concern in the Giuliani campaign that Mr. Thompson would run strongly among voters who are deeply concerned about national security and want a candidate who is socially conservative as well. Mr. Giuliani supports abortion rights.
"I think Rudy's credentials speak for themselves in so many different way," Mr. Carbonetti said.
Mr. Thompson, who was counsel to the Watergate committee, served in the Senate for eight years before retiring in 2002 and was an ally of Mr. McCain. Mr. Thompson's support for the campaign finance measure authored by his colleague from Arizona is one area in which he has come under criticism from conservatives, who have also raised some questions about his anti-abortion credentials.
For the past few months, Mr. Thompson has been running something of a shadow campaign, courting potential contributors, giving selected interviews and speeches, weighing in on conservative blogs and lining up key staff. At the same time, he has continued on the television show and as a commentator on ABC radio as a replacement for Paul Harvey.
The "testing the waters" group, to be formed as Friends of Fred Thompson, Inc., allows him to take his political activities to another level but it does not commit him entirely. As a result, it frees Mr. Thompson to gauge his support while leaving time for him to sort out his lucrative acting and commentating careers, which would have to be curtailed if he became a candidate or create equal time issues for his network employers.
The committee being set up does not yet fall under the Federal Election Commission reporting requirements, but if he enters the race all financial activity would have to be reported by mid-October.
With that in mind, Thompson advisers said the budding campaign would follow conventional campaign rules, including a $2,300 limit per individual contribution for the primary season. Allies said that on the conference call, backers were urged to collect at least $46,000 — or maximum donations from 20 individuals each. Advisers said several already had commitments above that total.
"Money is a good test of whether the interest is as real as it seems," said one person advising Mr. Thompson.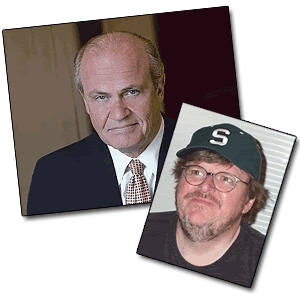 Fred Thompson, Michael Moore Go Head to Head, Sort of
http://www.foxnews.com/story/0,2933,272558,00.html

Fred Thompson responds to Michael Moore challenge
WASHINGTON — TV star and former Tennessee Sen. Fred Thompson declined Tuesday to meet with Michael Moore, suggesting the filmmaker instead might want to check himself into a mental hospital after Moore challenged Thompson to a one-on-one debate on health care.
The response follows a letter by Moore in which he scolded the Law & Order actor. Noting Thompson's fondness for Cuban cigars, Moore wrote that Thompson is in no position to criticize Moore for traveling to Cuba with several ailing Sept. 11 emergency responders to make the argument that Cuba's health care system is superior to the United States'.
"Putting aside the fact that you, like the Bush administration, seem far more concerned about the trip to Cuba than the health care of these 9/11 heroes, I was struck by the fact that your concerns (including comments about Castro's reported financial worth) apparently do not extend to your own conduct," Moore wrote in a letter sent to Thompson dated Tuesday.
"In light of your comments regarding Cuba and Castro, do you think the 'box upon box of cigars — Montecristos from Havana' that you have in your office have contributed to Castro's reported wealth?" reads the letter, which also points out that Thompson earned "hundreds of thousands" in campaign contributions from the health care industry and worked as an industry lobbyist.
In a video rebuttal, Thompson, cigar in hand, says that he doesn't have time in his schedule to debate Moore, but he may be the least of Moore's problems. The potential 2008 presidential candidate suggests Moore inquire of Cuban dictator Fidel Castro about documentary filmmaker Nicolás Guillén Landrián, who was tortured by Castro's henchman because of his film.
"He did something Castro didn't like and they put him in a mental institution for several years, giving him devastating electroshock treatments. A mental institution, Michael, it might be something you ought to think about," Thompson says.
Click here to watch Fred Thompson's video response to Moore.
The latest back-and-forth follows an article written by Thompson in The National Review criticizing Moore for going to Cuba to film "Sicko," his latest feature on the quality of life in America and a follow-up to the Academy Award-winning movie "Fahrenheit 911," which slams the Bush administration.
In the article, Thompson bemoans Moore's storytelling abilities and the cozying up of Hollywood to Castro, who he notes didn't take advantage of Cuba's health care system when he recently took ill.
"According to Forbes magazine, by the way, Castro is now personally worth approximately $900 million. So when he desperately needed medical treatment recently, he could afford to fly a Spanish surgeon, with equipment, on a chartered jet to Cuba. What does that say about free Cuban health care?" Thompson wrote.
Moore is currently being investigated by the Treasury Department for his trip to Cuba, which U.S. officials say may be in violation of a U.S. trade embargo restricting travel to Cuba.
"This office has no record that a specific license was issued authorizing you to engage in travel-related transactions involving Cuba," Dale Thompson, the chief of general investigations and field operations at the Treasury's Office of Foreign Assets Control, wrote in a letter to Moore dated May 2. The letter acknowledged that Moore applied for permission to go to Cuba last year, "but no determination had been made by OFAC."
After receiving the notice from OFAC, Moore placed a copy of the film in a "safe house" outside the country to protect it from government interference. The film is premiering at the 11-day Cannes film festival, which opens Wednesday evening.
In his letter to Thompson, Moore made light of the extra protection, and suggested that the winner of the debate could "light a Victory cigar with one of your Montecristos (though we may want to consider shopping them to the safe house where I have put a master copy of Sicko in the event that the Bush administration tries to seize the film.)"
Hardball Exclusive: Michael Moore Interview
Key Bush backers rally to Fred Thompson
http://www.politico.com/news/stories/0607/4309.html
George P. Bush, a nephew of President Bush, has contributed to the prospective presidential campaign of Fred Thompson and signed an e-mail asking friends and associates to do the same, The Politico has learned.
"In a field of candidates without a clear favorite among our fellow Republicans, my sincere hope is that you consider joining us in this effort to encourage Fred to run," the e-mail says.
The involvement of a Bush family member highlights a stream of former Bush-Cheney aides and supporters who are signing on with Thompson, in some cases quietly. Thompson, the "Law & Order" actor and former Tennessee senator, filed papers Friday that allowed him to begin raising money. Aides say he remains on track to formally announce his candidacy the week of the Fourth of July, although they say no date is set in stone.
Mary Matalin, the former counselor to Vice President Cheney, says she will be advising Thompson. A campaign source says she will be an unpaid adviser. Matalin is friends with Thompson and his wife, Jeri, and her involvement began informally, the source says.
Advisers say the head of economic policy for Thompson's fledgling team will be Lawrence B. Lindsey, who was President Bush's first economic policy adviser and an architect of his tax cuts. Lindsey was chief economic adviser to Bush's first presidential campaign and is a former member of the Board of Governors of the Federal Reserve System. Lindsey will also have a hand in the campaign's broader policy formulation, sources say.
The head of domestic policy is to be David M. McIntosh, a lawyer and former congressman from Indiana who was an official in the Ronald Reagan and George H.W. Bush administrations, according to the sources. The chief foreign policy adviser will be chosen soon, the sources say.
Adding to the Bush-Cheney ties, the campaign has said that the chief operating officer will be Thomas J. Collamore, a former aide to the older Bush when he was vice president and also an official in the Reagan administration.
And Michael Turk, e-campaign director for George W. Bush's reelection campaign, will take a leave of absence from his current job with the National Cable & Telecommunications Association to assist in getting the Thompson website off the ground. He may continue in a webmaster capacity for the campaign.
George P. Bush, the chief operating officer of a real estate development firm in Fort Worth, Texas, sent the appeal Friday afternoon along with Timothy P. Berry, the firm's president. The e-mail closes "Devotedly," then has both of their signatures.
"Friends and Colleagues," the e-mail begins. "We are writing you on behalf of Sen. Fred Thompson to ask for your support as he considers running for president. As you know, Sen. Thompson has generated buzz this election cycle because of his likable personality and approachable brand of politics, which, consequently, has attracted tremendous grassroots support of his potential candidacy. Additionally, his consistent record in public service and sincere vision to pursue a reform-based agenda in Washington, D.C., has primarily contributed to strong national polling numbers without having even announced."
George P. Bush was unavailable to discuss the e-mail, although associates confirm its authenticity. He is a son of former Florida Gov. Jeb Bush and was a popular surrogate for his uncle's first presidential campaign, drawing comparisons to John F. Kennedy Jr. when he spoke to the Republican National Convention. Since then, he has served as a clerk for a federal judge, married and become involved in several business and charitable groups. In March, he joined the Navy Reserve as an intelligence officer.
Using language similar to other appeals for Friends of Fred Thompson, the e-mail continues: "As a 'Friend of Fred Thompson,' your support will finance Sen. Thompson's efforts to test the political waters starting on June 4, 2007. If Sen. Thompson decides not to seek the presidency, any unspent funds that you contribute will be returned to your attention. Donations must not exceed federal contribution limits; therefore, an individual may contribute up to $2,300. If a joint checking account is used, the total can be $4,600, but both individuals must sign the check. Corporate and foreign national contributions are prohibited. It is very important that your check be dated June 4, 2007, even if you make out your check before this date."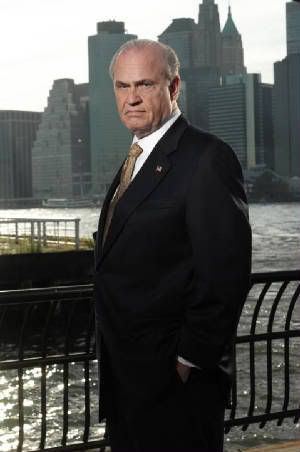 Thompson Uses Loophole to Avoid Reporting Fundraising
Opponents Claim Ex-Senator In Violation of Campaign Finance Reform Law
http://abcnews.go.com/Politics/story?id=3379643&page=1
Former Sen. Fred Thompson, R-Tenn., has avoided revealing his fundraising figures by exploiting a legal loophole whereby he says he is simply "testing the waters" for a campaign — even as his supporters build an infrastructure for his all-but-official run.
But supporters of campaign finance reform, as well as Thompson's opponents, say that he is violating at least the spirit of the law, despite his past support for openness in government and the McCain-Feingold campaign finance reform law.
With the help of a former FEC chairman on Thompson's payroll, the ex-Tennessee senator is evading, at least for now, the requirements of the campaign finance system that he helped reform. In the words of an attorney associated with another campaign, Thompson is "playing footsie" with the campaign rules.
Federal election law allows prospective clients to raise limited funds to test the waters and determine whether they will be viable candidates without declaring their candidacy or being required to disclose their contributors and expenditures.
However, the statute provides that a candidate is no longer "testing the waters" if he raises funds in excess of amounts reasonably required for exploratory activity, or amasses funds to be used after candidacy is established.
The "testing the waters" funds must be limited to those amounts needed to determine whether to make a run, such as conducting public opinion polls, traveling and making phone calls.
If a candidate raises more than $5,000, "once the individual decides to run for office," the candidate is no longer "testing the waters" and must file with the FEC to declare himself a candidate.
In short, once you have decided to make a run and begin building a campaign operation, you are no longer testing.
Thompson appears to have gone well beyond the limits imposed by federal law. His supporters boast that he is raising millions of dollars and has hired a campaign manager and staff in national and regional positions.
His campaign operatives have explained his delayed entry into the race by telling the press that additional time is needed to gear up their operations and meet the high expectations about his candidacy. For example, Bob Novak reported that Thompson sources stated "they want to put all arrangements in place before formally announcing his candidacy."
Last week, the Washington Post reported how Thompson campaign aide Mary Matalin explained that "the announcement will be made when the campaign infrastructure is ready to make the most of the surge in interest she believes will follow."
The Post quoted Matalin as saying, "He has made up his mind. And one can appreciate that planning the announcement of what's on his mind needs to take place in a deliberative fashion."
Moreover, in an interview with Sean Hannity last week Thompson himself declared that he had already made his decision whether to run, and added, "But, I'm not gonna tell you right now."
Thompson spokesman Mark Corallo declined to address whether Thompson's own statements have taken him beyond "testing the waters," but insisted "the testing the waters committee is well within the letter and spirit of the law."
Melanie Sloan, executive director of Citizens for Responsibility and Ethics in Washington — a nonprofit organization which promotes ethics and accountability in government — disagreed. "You don't need to hire a policy director and other operational staff just to test the waters. In addition, he appears to have raised far more money than necessary to prove he has national support," she said.
"At this point he's abusing the testing the waters exception to avoid having to disclose his contributors."
Paul Ryan, FEC program director and associate legal counsel of the Campaign Legal Center — a nonprofit organization that works in the areas of campaign finance and government ethics — noted that Thompson has 15 days to file declaration of his candidacy from the time he decides to become candidate. But if he does not, according to Ryan, "to the extent he has decided he is a candidate but has not registered as a federal campaign committee or disclosed his funds, at the very least, he has violated the spirit, if not the actual letter, of the law."
Thompson sponsored and worked alongside Sen. John McCain as one of the few Republicans who pushed for passage of campaign finance reform in 2001. At the time the bill was passed, Thompson issued a press release declaring, ""The McCain-Feingold bill will restore a campaign finance system that has become more loophole than law."
When President Bush signed the bill, Thompson declared, "I want to applaud President Bush for showing both foresight and courage in signing a bill that will help to restore confidence in our electoral system and reduce cynicism among the American people. This is a major step toward changing the way we do business here in Washington."
Opposition campaigns are sure to seize on Thompson's current strategy as a departure from his earlier support of a transparent campaign finance system.
An aide from a rival campaign commented, "You just can't help marvel at the utter hypocrisy of the situation. This is, after all, the same guy who stood on a soapbox as the champion of transparency and disclosure while campaigning for McCain-Feingold-Thompson."
Thompson, in his efforts, is aided by legal counsel Michael Toner, former FEC chairman, who certainly knows the ins and outs of campaign finance reform.
From experience, they know the legal risk to Thompson is low because the FEC investigative process can take years, and the amount of fines are often very minimal.
For example, under Toner's chairmanship, the FEC investigated and reached a settlement with Al Sharpton in 2003 based on declarations in Sharpton's book that he was a candidate in October 2002 while Sharpton claimed to only be "testing the waters."
By the time any legal complaint concerning Thompson might be filed and resolved, the next president most likely will have been sworn in.
The Thompson camp, in an article in Politico.com on Saturday, suggested that they might "take the wind out of the sails" of those complaining about his strategy by filing a different document, IRS form 8872, on July 31, which would reveal his expenditures and contributions in the month of June.
Filing this form would maintain Thompson's campaign's tax exempt status without conceding he has become an actual candidate. Legal experts suggest this may have been his strategy all along, noting that in June, when he filed a form indicating his intent to set up a "testing the waters" committee, he indicated he would file the IRS form on July 31. If Thompson opts for this legal maneuver and maintains his position that he is not a real candidate, he will be banking that the legal risks are low and his opponents will be loathe to complain about his prolonged water testing.
By doing this, he also will avoid — at least until October 15 — filing the detailed financial disclosure form for actual candidates, which would include items like cash on hand and campaign debt.
As a non-candidate he can also continue to duck candidate debate appearances with his more practiced opponents.
Moreover, by delaying an official announcement of his candidacy, Thompson will avoid triggering the "equal time" FEC requirements which are expected to eventually force his lucrative television series "Law and Order" off the air and, thereby, halt residual payments to Thompson.
An NBC spokesman was quoted in the Washington Post on Sunday that the network will stop scheduling further reruns only when Thompson "formally announces" his candidacy.
TNT To Air Thompson On 'Law & Order'
Testing Equal Time Rules, TNT Says It Will Air Fred Thompson's 'Law & Order' Episodes
http://www.showbuzz.cbsnews.com/stories/2007/09/03/ap/tv/main3228844.shtml
While Fred Thompson's "Law & Order" character disappears from NBC starting Saturday because of concerns over federal equal time provisions, cable viewers will still have plenty of opportunities to see his District Attorney Arthur Branch.
TNT will air 23 episodes of the drama next week alone, apparently unworried about limiting Branch's airplay even as the Tennessee Republican plans to announce his presidential candidacy.
"TNT has no plans to alter its schedule," spokeswoman Shirley Powell said, a stance that could provoke a fight in the courts or before the Federal Communications Commission.
Equal time rules require TV stations to provide the same airtime to opponents when a candidate appears on the air. The many exceptions _ news shows, talk shows, interviews, documentaries _ essentially mean the rules apply to entertainment programming.
Thompson's expected post-Labor Day entrance into the race triggered NBC's decision to stop airing "Law & Order" reruns featuring him starting Sept. 1. Next week Thompson will essentially shift time slots on NBC: The "Tonight" show announced said that he will appear as a guest with Jay Leno on Thursday.
The equal time rules were written when cable was in its infancy, and it has never been clear whether or not they apply only to broadcast stations. It would seemingly take a challenge from one of Thompson's opponents to force a clarification.
When Arnold Schwarzenegger first ran for California governor, Sci Fi and FX decided against broadcasting his movies because of equal time worries.
But TNT and its sister station TBS both showed "Terminator" in 2003. "The Last Action Hero," "Conan the Barbarian," "Conan the Destroyer" and "Kindergarten Cop" all aired on one of the Turner networks that year, too.
Powell said the network wouldn't discuss its decision further.
Cable's growth could make it harder for its executives to argue that it should receive different treatment from broadcasters. TNT dramas like "The Closer" and "Saving Grace" this summer had larger audiences than much of what was shown on broadcast networks.
Thompson appeared on "Law & Order" for five seasons, more than 100 episodes. Taking him from the air isn't much of a hardship for NBC; once a new season starts, a network is unlikely to air reruns from previous seasons.
Yet "Law & Order" reruns are a backbone of TNT's schedule, and eliminating some 100 episodes from the rotation would be a serious hardship.
Thompson to announce bid on Sept. 6
http://news.yahoo.com/s/ap/20070831/ap_on_el_pr/thompson_campaign_19
DES MOINES, Iowa - Republican Fred Thompson will officially launch his presidential bid Sept. 6 in a Webcast on his campaign site, followed by a five-day tour of early primary states.
"I believe that there are millions of Americans who know that our security and prosperity are at risk if we don't address the challenges of our time; the global threat of terrorism; taxes and spending that will bankrupt future generations, and a government that can't seem to get the most basic responsibilities right for its citizens," the former Tennessee senator and "Law & Order" actor said in a statement Thursday that laid out themes of his campaign.
Thompson, 65, is vying to be seen as the most consistent mainstream conservative in the race.
Aides disclosed details about how he will formally enter the race in a conference call with supporters.
Evening house parties will be held nationwide on Sept. 6. A tour of Iowa, New Hampshire and South Carolina will quickly follow the Internet announcement on http://www.imwithfred.com, with later stops in Florida, and a homecoming event in Lawrenceburg, Tenn., on Sept. 15.
Next Wednesday, Thompson will appear on NBC's "Tonight Show with Jay Leno" but he won't participate with his Republican rivals in a debate that same night in New Hampshire.
Thompson brings to the eight-man GOP field a right-leaning Senate voting record with a few digressions from GOP orthodoxy and a healthy dose of Hollywood star power. He is hoping to attract conservatives who are lukewarm about the current crop of candidates.
Earlier this year, Thompson saw his popularity soar in polls when he acknowledged he was considering a run. Since then, he's consistently ranked among the top Republicans in national polls and surveys in key states alike. In April, he disclosed that he was diagnosed in 2004 with non-Hodgkin's lymphoma, a highly treatable form of cancer.
He has spent months "testing the waters" of a presidential campaign, playing coy with the public about his intentions even as he opened campaign offices, started raising money and hired a campaign staff. But his preliminary campaign stumbled this summer, fueling doubts that Thompson has what it takes to mount a challenge to top contenders Rudy Giuliani, Mitt Romney and John McCain.
Organizationally, Thompson underwent a series of staff changes — including the replacement of his manager-in-waiting — and other departures amid consternation about the active role of Thompson's wife, Jeri. At the same time, little progress was made setting up organizations in key states.
Thompson also failed on the fundraising front to reach the $5 million goal his backers had set for the first month he sought to bring in cash, and he dramatically lags his top rivals in money. He reported a lackluster $3.5 million.
He also faced questions this summer about his career as a lobbyist, including his work for a family planning group seeking to relax an abortion rule and work on behalf of a Tennessee savings and loans in favor of legislation that loosened federal oversight.
His delayed entrance into the race — which at one point was to occur in July — has prompted rumblings in Washington and early primary states that he may have missed his window.
The campaign opted for an Internet announcement because aides contend Thompson will be able to showcase an ability to take his message directly to voters. He has made extensive use of the Internet in the run up to his formal entrance into the race, and an independent Web-based draft movement generated buzz.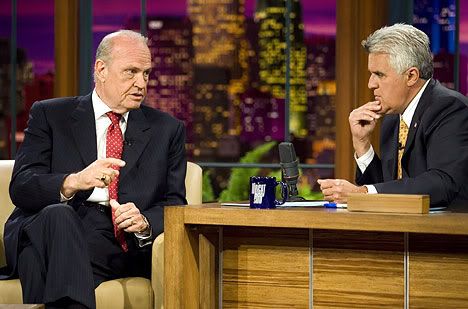 Thompson Enters Race From 'Tonight Show' Couch
http://www.nytimes.com/2007/09/06/us/politics/06thompson.html
DES MOINES, Sept. 5 — After months of false starts, staff shake-ups, and questions about the seriousness of his intention to run for president, Fred D. Thompson rolled out his candidacy last night with a two-pronged entry into the race that sought to take the spotlight from his Republican opponents as they squared off in a debate.
Choosing "The Tonight Show With Jay Leno" to declare "I'm running for president of the United States," Mr. Thompson said, "I don't think people are going to say, 'That guy would make a very good president, but he just didn't get in soon enough.' "
Mr. Thompson's announcement, which has been expected for months, was released to reporters about an hour before the other Republican candidates took part in a debate sponsored by Fox News in the early primary state of New Hampshire. But as if to poke fun at his opponents, he ran an advertisement, titled "Debate," that was broadcast directly before the Republican candidates took their places to face live cameras in a much more traditional political ritual.
In a dark suit with the backdrop of an American flag, Mr. Thompson, a former senator from Tennessee, said in the ad: "On the next president's watch, our country will make decisions that will affect our lives and our families far into the future. We can't allow ourselves to become a weaker, less prosperous and more divided nation."
He then directed viewers to his Web site, Fred08.com, where on Thursday he will detail a platform and his reasons for entering the race.
In choosing took announce his candidacy on the couch next to the jovial Mr. Leno, Mr. Thompson was following the example of Arnold Schwarzenegger, who chose that forum to declare his candidacy for governor of California.
On the show last night, Mr. Leno joked, in reference to Mr. Thompson's long "testing the waters" of a candidacy phase, "You've been in the water for a while now, are you starting to get a bit wrinkly?"
Mr. Thompson, 65, said his wrinkles did not come from water, and added: "We're where we need to be right now, and that's one of the things I need to talk to you about. I'm running for president of the United States."
After some applause, he continued: "We started around the kitchen table in late March, talking about it, thinking about it, thinking about what kind of world and what kind of country our kids would grow up in," he said. "I decided it was time for me to step up, for them."
In skipping the debate and a more formal announcement in a news conference or on a news program, Mr. Thompson provided himself a pleasant, risk-free forum, safe from potential negativity and tough questioning from reporters, a debate moderator or the public. But he came under criticism during the debate for not taking part in the event, with Senator John McCain of Arizona saying, "Maybe we're up past his bedtime."
It is perhaps no coincidence that several of Mr. Thompson's main communications strategists also worked on Mr. Schwarzenegger's campaign, similarly re-introducing an actor as a serious political contender. The talk-show setting in Los Angeles allowed Mr. Thompson to capitalize on his pop-cultural appeal as an actor and simultaneously reinforce his contention that he is a Washington outsider — although he lives in a suburb of the capital and worked extensively there as a lobbyist when not in the Senate.
His first day as an official candidate held up to the promise of an unconventional campaign and followed a path already set by other presidential candidates — including Senator Hillary Rodham Clinton, Democrat of New York — who announced their candidacies online. The talk-show circuit, even on satirical news shows, is a common forum for the candidates these days.
But already, there are questions about the wisdom of Mr. Thompson's television and Internet tactics, his late entry and the decision not to participate in the debate. On CNN, he was being called a "no show," and in New Hampshire, there was outright disappointment.
"There is a genuine interest in Senator Thompson here, a real curiosity about him," said Fergus Cullen, the chairman of the New Hampshire Republican Party. "But that curiosity is giving way to skepticism, and maybe even cynicism about him in part because of how he's handling his grand entrance. For him to then go on Jay Leno the same night and be trading jokes while other candidates are having a substantive discussion on issues is not going to be missed by New Hampshire voters."
The flurry of activity is to be followed on Thursday with an announcement tour that will see Mr. Thompson on the road for five days through the early contest states of Iowa, New Hampshire and South Carolina.
In his advertisement, Mr. Thompson said, "Today, as before, the fate of millions across the world depends on the unity and resolve of the American people. I talk about this tomorrow on Fred08.com. I invite you to take a look and join us."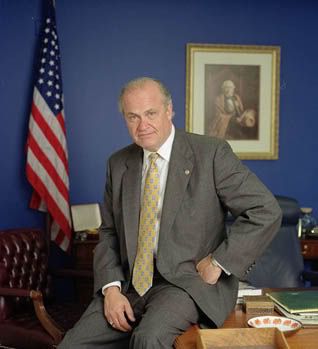 Thompson gambles on unusual strategy
http://www.boston.com/news/nation/articles/2007/09/06/thompson_gambles_on_unusual_strategy/

DES MOINES - While other Republican presidential candidates debated last night in New Hampshire, the newest candidate, Fred Thompson, was nowhere near the first-primary state. Instead, he was launching his campaign in an unusual style that will either go down in political history as a brilliant strategic stroke or a classic blunder.
In short order yesterday, Thompson taped an appearance on "The Tonight Show With Jay Leno" and released a 30-second campaign advertisement that aired during the Republican debate. Thompson's decision to skip the debate upset the sponsors, who include New Hampshire's Republican Party.
At 12:01 a.m. today, Thompson released an online video in which he ended months of speculation and indecision, declaring, "I intend to run for president."
The video, posted on his campaign website (fred08.com), provided a glimpse of what is likely to become a staple of his campaign, showing the gravelly-voiced Thompson telling the story of his unlikely rise from the son of a used-car dealer to become a US senator, television and movie star and, now, presidential candidate.
Describing himself as a "teenage husband" - he married shortly after turning 17 - Thompson said: "My story is an American story - like one of many our country has produced - where a small-town kid of modest means and modest goals grows up to realize that he has been a very lucky person."
Thompson then laid out his political strategy, appealing both to the conservative base and to a broader cross-section of voters, portraying himself as someone who can bring people in both major political parties together. "Our basic rights come from God and not from government," Thompson said in the video, adding that "not every problem should have a federal solution."
He also took a shot at the Democratic front-runner, Hillary Clinton, noting how her husband became president in 1992 and declaring that Republicans don't want "another Clinton victory. Our country needs us to win next year, and I'm ready to lead that effort."
Thompson plans to deliver his first speech on the campaign trail as a full-fledged candidate this afternoon in Des Moines, then go for a bus tour across Iowa, the first caucus state. He will then head to New Hampshire for a Sunday bus tour before heading to South Carolina and other early primary states.
Meet The Press discusses Fred Thompson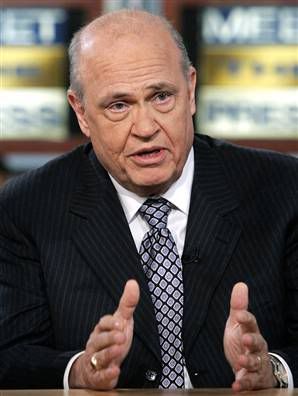 Thompson wants to be 2008's outsider
http://www.usatoday.com/news/politics/2007-05-30-thompson_N.htm
STAMFORD, Conn. — Politician-turned-actor Fred Thompson has been coy with audiences as he flirts with a bid for the Republican presidential nomination.
In an interview with USA TODAY, however, the former Tennessee senator not only makes it clear that he plans to run, he describes how he aims to do it. He's planning a campaign that will use blogs, video posts and other Internet innovations to reach voters repelled by politics-as-usual in both parties.
I can't remember exactly the point that I said, 'I'm going to do this,' " Thompson says, his 6-foot, 6-inch frame sprawled comfortably across a couch in a hotel suite. "But when I did, the thing that occurred to me: 'I'm going to tell people that I am thinking about it and see what kind of reaction I get to it.' "
His late start carries some problems but also "certain advantages," he says. "Nobody has maxed out to me" in contributions, he notes, and using the Internet already "has allowed me to be in the hunt, so to speak, without spending a dime."
Thompson could reshape a GOP contest in which each of the three leaders has significant vulnerabilities and none of the seven second-tier contenders has broken through. Without formally joining the race — he's preparing to do that as early as the first week of July — Thompson already is placing third and better among Republican candidates in some national polls.
Dissatisfaction among one-third of Republicans with the 2008 field has opened the door for the candidate, whose folksy tone, actor's ease before an audience and conservative credentials drew comparisons to Ronald Reagan at the annual Connecticut GOP dinner here. Thompson addressed the dinner last week to a sold-out audience.
"People listen to him and see someone who's very comfortable with who he is and confident about what he believes in," state Republican chairman Chris Healy says. "That's a skill that, obviously, Ronald Reagan took to great heights."
Thompson, who has left a five-season stint playing Manhattan District Attorney Arthur Branch on NBC's Law & Order, says his model will be the untraditional campaign he ran in his first political bid for the Senate in 1994.
After a lackluster start, Thompson swapped his tailored suit for a plaid shirt and jeans and began driving a red Chevy pickup across the state in a bid to fill the final two years of Al Gore's term. Despite his background as a Washington lawyer and lobbyist, Thompson derided Congress as larded with legislators who had lost touch with their constituents and, in some cases, their principles.
He came from behind to swamp his Democratic opponent by 21 percentage points in a year Republicans capitalized on anti-pathy toward President Clinton to win control of the House and Senate.
"I feel some of the same feelings that I felt in the latter part of that '94 campaign about what is going on in the country today … only greater," says Thompson, citing public cynicism toward the Republican president and the new Democrat-controlled Congress. "You can't drive the truck all the way across the country, but since '94 other opportunities have opened up in terms of ways to communicate."
A candidate could use the Internet "to cut through the clutter and go right to the people," he says.
And the red pickup, now parked and rusting outside his mother's home in Franklin, Tenn.? "You might drive it a few places," he allows.
Waiting for Mr. Right
It's rare: The Republican presidential nomination is as up-for-grabs as the Democratic one.
Even in Connecticut — the backyard of former New York mayor Rudy Giuliani and former Massachusetts governor Mitt Romney and a state whose primary Arizona Sen. John McCain carried in 2000 — many Republican activists are still trying to decide whom to support.
"We're looking for someone who can be dynamic, who can bring together the troops," Stephen Bessette, 44, the vice president of a software company and a Stonington selectman, says as he waits for Thompson to begin speaking. "There are still people with their hands in their pockets, waiting for the right candidate."
None of the current contenders seems to have the stuff to win an "uphill battle" in the general election, says John Nazzaro, 49, a lawyer from Stonington and member of the GOP state central committee. He wonders whether Thompson's persona might have a better chance.
Despite what seems to have been a charmed life as a politician and actor, Thompson can project an outsider's demeanor — as much the working-class kid who grew up in Lawrenceburg, Tenn., as the celebrity who now lives in the tony Washington suburb of McLean, Va. He has a Southern drawl, a loping gait, a lined face and a balding pate.
Although he's never spotlighted the social issues that energize much of the Republican base, Thompson consistently voted against abortion and in favor of gun rights in the Senate. Giuliani's support of abortion rights and Romney's conversion to oppose them have raised qualms among some social conservatives toward them.
On Iraq, Thompson voted to authorize the invasion in October 2002 and now opposes setting a timetable to withdraw U.S. troops. Still, his fortunes aren't as inextricably tied to the war as those of McCain, who has been one of the war's leading defenders.
In any case, Thompson argues that Republicans lost control of the House and Senate in November not because of the war but because of out-of-control spending and unrestrained partisanship. What's surprising — and encouraging for Republicans — is that Democrats didn't gain more ground, he says.
"It's been kind of a pox on both your houses," he says. "There's a disconnect out there between the people and Washington. … It seems lately whoever has power, whoever has control makes the same predictable mistakes."
Does he have the drive?
His campaign themes: tighter borders, smaller government and lower taxes.
He says he doesn't underestimate how difficult a campaign will be. Most of the top GOP strategists have signed up with other campaigns. The current contenders have been furiously fundraising with hopes of amassing impressive amounts in the second quarter. Those reports are due in July.
Some skeptics question whether Thompson has the drive for a national campaign. "He didn't have a particularly distinguished Senate career, though that has never been a bar to anybody else being president," says David Keene, president of the American Conservative Union, who isn't supporting any candidate. "The book on him is he's lazy. I don't know whether that's true or not."
Thompson bristles at the suggestion that he's lazy or running on a lark — dismissing those as "shots by concerned future competitors." He acknowledges a campaign involves "working your fanny off" and predicts his late start means he'll need less money than the others.
He made his first appeal to 100 fundraisers in a conference call Tuesday. He hopes to make a splash by amassing an impressive fundraising total of his own as soon as he launches a testing-the-waters committee on Friday.
Frist's departure was catalyst
The Tennessee Republican running for president in 2008 was supposed to be senator Bill Frist.
Stung by controversies over intervening in the case of a brain-dead Florida woman and changing positions on stem-cell research, Frist announced in November he was retiring from politics and returning to medicine.
That weekend, Tennessee Rep. Zach Wamp was meeting with the dean of the state's Republicans, former senator and White House chief of state Howard Baker, as part of an effort to persuade Toyota officials to locate a Highlander SUV assembly plant in Chattanooga.
That campaign failed — Toyota announced in February the plant would go to Tupelo, Miss. — but a presidential draft was launched.
Wamp asked Baker, Thompson's mentor, to call Thompson and urge him to jump in the presidential race. "You've known him a long time," Baker replied, according to Wamp. "Call him yourself."
Thompson had been easily re-elected to the Senate in 1996 and briefly considered a presidential bid before the 2000 race. In 2002, however, devastated when his 38-year-old daughter, Elizabeth Thompson Panici, died of an accidental prescription-drug overdose, he decided not to run for another Senate term.
He signed on for the Law & Order role — he has been a character actor since playing himself as a whistle-blower's lawyer in a 1985 movie about a Tennessee political scandal — and went on the speaking circuit. He began blogging and regularly appearing on ABC Radio, sometimes filling in for idiosyncratic commentator Paul Harvey. Divorced for nearly 20 years, he married Jeri Kehn, a Washington lawyer who had been active in Republican politics, in 2002. They have a 4-year-old daughter and a 6-month-old son.
When Wamp first called, Thompson demurred. When none of the GOP candidates seemed to catch fire, he reconsidered. In February, Thompson told Wamp he was "very open-minded to this."
In March, Thompson announced on Fox News Sunday that he was "going to leave the door open" to a bid. Two weeks later, he finished in third place among Republicans in a USA TODAY/Gallup Poll, beating Romney out of the box and trailing only Giuliani and McCain.
In April, he disclosed that he had been diagnosed in 2004 with non-Hodgkin's lymphoma, though he says the slow-growing cancer hasn't caused him any problems, and his doctors tell him he may well live a normal lifespan.
Last week, he won an unofficial straw poll of GOP activists in Georgia, besting by 2-1 the No. 2 finisher — former House speaker Newt Gingrich, who's from Georgia and isn't formally in the race yet, either.
A video offensive
His biggest challenge, Thompson says, will be to avoid getting cautious — that is, to forget the lessons he learned in his 1994 plaid-shirt-and-red-truck campaign.
Consider how he responded two weeks ago when liberal filmmaker Michael Moore challenged him to a debate on health care and called him a hypocrite for favoring embargoed Havana cigars. In the conservative National Review, Thompson had chided Moore's new documentary, Sicko, which unfavorably compares the U.S. health care system with the one in Cuba.
It was 9:30 that morning when Jeri told her husband that Moore's debate challenge had been posted the night before on the gossipy Drudge Report.
" 'Jeri said, 'You know, we could have some fun,' " Thompson recalls. " 'Why don't you do something on the Internet?' So I got to thinking about it and I got to thinking about what I might do. …"
"And Mark Corallo and Ed McFadden had that camera there in 40 minutes," Jeri, who is sitting in on the interview, breaks in. Corallo and McFadden, aides to John Ashcroft when he was U.S. attorney general, have been helping Thompson behind the scenes.
In the video, sitting in at the desk in his study, Thompson seems to be studying his calendar, an unlit Cuban Montecristo in his mouth.
"You know, I've been looking at my schedule, Michael, and I don't think I have time for you," Thompson begins. "But I may be the least of your problems. You know, the next time you're down in Cuba visiting your buddy Castro, you might ask him about another documentary filmmaker. His name is Nicolas Guillen. He did something Castro didn't like, and they put him in a mental institution for several years, giving him devastating electroshock treatment.
"A mental institution, Michael," he says. "Might be something you ought to think about."
'I've got to … have the guts'
By 11:30 a.m., two hours after his first chat about the furor, the 38-second video was done. By early afternoon it was posted on Breitbart.tv, a website for news videos launched last month. As of Wednesday, versions of the video on YouTube.com had been viewed more than 83,000 times.
His challenge will be to keep taking risks and trying unconventional tactics, Thompson says.
"I've got to fight to have the guts enough to follow my own instincts," he says. "Everybody is going to make mistakes anyway. Things are going to happen. You're going to have good days and bad. You might as well do it your way."
Senator Fred Thompson speaking about terrorism in Nashville, TN on September 16, 2001. Conducted at a Patriotic church service just 5 days after 9/11. The Senator speaks clearly and directly about terrroism, patriotism, responsibility, and leadership.
Fred Thompson on the Immigration Bill
Bill Maher on Larry King Live - Presidential Candidates
Fred Thompson Is No Ronald Reagan
Fred Thompson visits New Hampshire
Fred Thompson Apologizes For Playing General Grant
Fred Dalton Thompson's Best Movie Moments
FRED THOMPSON WORST PERSON IN THE WORLD!!!

Brit Hume and Carl Cameron talk about Fred Thompson