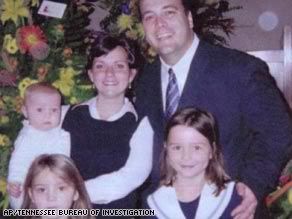 Mary Carol Winkler, (born December 10, 1973) was charged with first degree murder in the shooting death of her husband, Matthew Winkler, the pulpit minister at the Fourth Street Church of Christ in the small town of Selmer, Tennessee. On April 19th 2007, she was found guilty of voluntary manslaughter[1].She was arrested and remanded on March 23, 2006. On August 15, 2006 she was released on bond. Mary graduated in 1992 from South-Doyle High School, part of the Knoxville public school system. At the time of her arrest, Winkler was a part time student at Freed-Hardeman University in Henderson, the same institution from which her husband graduated with a degree in Bible Studies. She was working toward a Bachelor's degree in Education.
Criminal case
According to police, Mary Winkler had confessed to the March 22, 2006 fatal shooting of her husband, whose body was discovered in their home by church members after he missed that night's services. He had been shot in the back with a 12 gauge shotgun.
The couple had been married since 1996 and -- according to friends and church members -- were seemingly the perfect family, though one neighborhood family reported that Matthew Winkler had repeatedly threatened to shoot that family's dog after it strayed onto the Winklers' lawn. After police issued an Amber Alert due to fears of kidnapping, Mary Winkler and the children (Patricia, 8; Mary Alice, 6; Breanna, 1) were discovered in Orange Beach, Alabama, where she was placed into custody and later extradited to Tennessee to stand trial.
The police did not release motive, leading to rampant speculation in the media as to what could have gone wrong with this apparently perfect couple.
A grand jury decided to indict Mary Winkler on Monday, June 12, 2006, accusing her of first-degree murder.
On Friday, June 30, 2006, Mary Winkler's bond hearing was held. A Tennessee Bureau of Investigation agent read a statement Mary Winkler gave to authorities in Alabama, where she was arrested a day after her husband's body was found. In it, Winkler says she did not remember getting the gun but she did know her husband kept a shotgun in their home. The next thing she heard was a loud boom. Matthew Winkler was shot in the back as he lay in bed. He rolled from the bed onto the floor, and, still alive, he asked his wife, "Why?" to which she responded, "I'm sorry." When she left the home, Matthew Winkler was still alive.
According to the statement, she and her husband had been arguing throughout the evening about many things, including family finances. She admitted some of the problems were "her fault." Furthermore, she said, "He had really been on me lately criticizing me for things — the way I walk, I eat, everything. It was just building up to a point. I was tired of it. I guess I got to a point and snapped."
Authorities believe that Mary Winkler had been involved in the perpetration of a financial scam. She had deposited checks totalling $17,500 in bank accounts from unidentified sources in Canada and Nigeria in what agents described as a check kiting scam, also known as an 419 scam.
Bond was later set at $750,000, an amount defense lawyer Steve Farese claimed was excessive and "tantamount to no bond at all." A plea for reduction of bond was filed and subsequently denied.
Mary's lawyers also filed motions to throw out her confession on a technicality, to require prosecutors to state whether or not they will seek the death penalty (they did not), to give potential jurors an extensive questionnaire, and other motions relating to voir dire.
Winkler made bond on August 12, 2006, and was set for release from jail. Initially, problems stemming from a 1999 suspension of her bail bond company kept her in jail. However, she was able to post $750,000 bond and was released on August 15, 2006, on the stipulation that she live with Rudolf and Kathy Thomsen, friends in McMinnville, Tennessee. Questions surrounding her post-release behavior became prominent when photos of Winkler with friends at a bar on New Year's Eve surfaced in the media in February 2007. [2]
The trial commenced on April 9, 2007, with the prosecution resting on April 16. The defense rested two days later.
Verdict
On April 19, 2007, the jury came back with a verdict: guilty of voluntary manslaughter. Winkler showed no emotion as the verdict was read. Prosecutors had asked that Winkler be convicted of first-degree murder, but the jury settled on the lesser charge after deliberating for eight hours.
The sentencing phase was set to begin on May 18, 2007, but was delayed due to a scheduling conflict by one of the attorneys. The sentencing is now scheduled for June 8, 2007 [3]. A voluntary manslaughter verdict in Tennessee carries a standard three to six years in prison, but Winkler may have to serve no more time behind bars. She will receive credit for the five months served in the McNairy County jail, and could possibly receive a sentence suspension and probation. If she does go to prison, she will be eligible for parole after serving thirty percent of her sentence .
Sentencing
On June 8, 2007, a Tennessee judge sentenced Mary Winkler to 210 days in prison for the conviction of voluntary manslaughter. She has credit for already serving 5 months and the judge permitted her to spend up to 60 days in a Western State Mental Health Facility in Bolivar, Tn. That will be all the time she has remaining. She will be put on probation for the rest of her sentence.
Reaction
Many claim that this is not justice for the killing of Matthew Winkler. [5]. Men's rights activists such as Glenn Sacks are questioning why men like Scott Peterson are getting the death penalty, while women like Mary Winkler are being treated as if they committed a misdemeanor. They point to society's biased view that only males are victimizers. They claim that society believes that Mary Winkler killed because she was being abused and that "abuse" now includes such minor things as "being critical" of someone therefore giving anyone who does not like being criticised justification to commit murder in order to end the criticism, while men kill wives as an escalation of their abuse.
Release
On August 14, 2007, Mary Winkler was released after spending a total of seven months in custody, five months in a county jail and two months in a mental health facility.
http://en.wikipedia.org/wiki/Mary_Winkler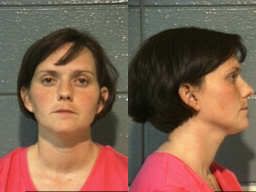 A preacher and his wife looked like they had a marriage made in heaven -- until a body was found in the parsonage. Was it cold-blooded murder or something else?
http://www.msnbc.msn.com/id/19678541/
Mary Winkler - The Secret Pictures
http://www.wmctv.com/Global/story.asp?S=5996728
Matthew and Mary Winkler Marriage Profile
http://marriage.about.com/od/infamous/a/winkler.htm
Murder in a Small Town
Why Did Preacher's Wife Mary Winkler Shoot Her Husband in the Back?
http://abcnews.go.com/2020/story?id=3350281&page=1
Matthew Winkler preached from the pulpit at the 4th Street Church of Christ in Selmer, Tenn., a picturesque country town on the buckle of the Bible Belt, rich in its Southern roots.
A fifth-generation minister, he was known for having a voice full of passion and a love for the Lord that made his congregants think hard about their relationship with God.
Along with his passion, Winkler had what seemed to be an ideal family: three daughters and a wife, Mary, whom he had met at Bible College. Winkler was, by all accounts, welcomed into Mary's family. According to Tabatha Freeman, one of Mary's sisters, "She was really happy. They fit so well together. We're very loud, outgoing — everyone talks at the same time — and he seemed to fit right in with that."
Mary came from a devout Church of Christ family, where the husband is the undisputed head of the household, divorce is frowned upon and, as Winkler preached, sinners are warned they will pay for their sins.
Kevin Redmond, a deacon at the church, said that Winkler always had a smile for his congregation and that his wife was similarly accepted. "We loved her as well. It was a total package. Him and her was a total package," he said.
The Night Everything Changed
But some of Winkler's neighbors in the rural, pious town had a different impression of the preacher, and over time, Mary's sisters saw a new side to him — one with a temper.
"Anything could make him mad. You wouldn't know what it was. And you couldn't tell because it was always like 'Mary, go to the other room,'" Freeman said. In fact, she continued, he spoke to Mary "… the way you would think a very stern father would talk to his child. And that disturbs me because I don't see that being a happy marriage."
No one could foresee the tragedy that was about to unfold. One spring night, Winkler didn't show up for the weekly Wednesday night service at the church. Concerned, Redmond and the church elders went to his house.
The deacon described the horrifying scene inside the master bedroom, the kind of scene that just doesn't happen in a sleepy town like Selmer. "I saw Matthew laying there on his back, the covers of the bed were all under him. … The foam was protruding from his mouth and nose and we knew pretty obviously that he was dead at that time."
The 31-year-old preacher had been shot in the back with a shotgun and left on the floor to die, choking on his own blood. His wife and daughters were nowhere to be found. Redmond and the elders assumed they had been abducted, and Selmer police put out a nationwide Amber Alert while the town anxiously awaited any news, hoping they would be found unharmed.
Finding Mary
The night after the discovery of Winkler's body, Officer Jason Whitlock of Orange Beach, Ala., a town hundreds of miles away, identified the missing minivan, wondering whether authorities would find Mary and the girls kidnapped, or worse, dead.
To his surprise, he found Mary and the girls unharmed. "There's four police cars around you. They've got a gun pulled on you. You would be scared most likely and you would probably want to know, 'Hey, what's going on?' She never asked one question. She never looks scared to me. It was almost like she was expecting it to happen."
What followed turned Mary from a victim to a suspect in a matter of seconds. Inside the car, police discovered the shotgun that had killed her husband. Furthermore, her recorded interrogation sounded a lot like a confession.
"I have obviously done something very bad so let me just, you know, be the, get the bad. That would be my request," she said. Detective Stan Stabler interrogated Mary, and asked her why she did it — a question Mary never really answered. She continued. "I love him dearly, but gosh, he just nailed me in the ground. I just took it like a mouse."
Stabler had what he considered a confession. She told him, "My ugly came out. I made the choice to do something that was evil and was wrong and illegal."
Strangely enough, through the course of her interrogation, Mary kept expressing her concern for Winkler's reputation. And back home in Selmer, the news that the preacher's wife would stand trial for murder sparked a media sensation.
The Secrets Behind Closed Doors
The question why was still unanswered, but prosecutor Walt Freeland had a theory — greed. He said Mary was involved in a series of financial schemes that she had hid from her husband.
The defense had a different theory: dark, perverted family secrets involving pornography, violence, sodomy and child abuse. Secrets that would shake the faith of the Bible Belt town of Selmer to its core.
According to Mary, Winkler threatened her with a shotgun many times, kicked her in the face and asked her to engage in sex acts she found to be "unnatural." It was a very different picture than the ideal public image the couple portrayed at the church.
Mary's father, Clark Freeman, suspected something terribly wrong was going on but was unsure exactly what. He said, "I tried to persuade her to leave him. She just did not want to. And she would hang her head and shake it, 'No daddy, no daddy. … I'm going to work it out.'"
To many of the jurors on the case, the recording of Mary's interrogation was an admission that she had fatally shot Winkler on purpose.
Even though the case seemed straightforward, Mary's big-city attorneys, Steve Farese and Leslie Ballin, were about to turn the case around.
They argued that Mary was the victim, that Mary was "his whipping boy," Farese said. The lawyers also found witnesses who saw glimpses of this dark side of Winkler. In fact, one of the Winklers' neighbors nicknamed him the "Tasmanian devil," because his explosive temper had earned him a reputation on their street.
Mary testified about Winkler's threats to kill her in graphic ways, his physical and emotional abuse. She told the jury of the painful sexual acts he'd make her engage in, but there were no police reports, she never confided in anyone. There was nothing for the jury to go on but Mary's word and pornographic photos found on the Winkler's computer.
According to church doctrine, divorce wasn't really an option for Mary — not if Winkler wanted to keep his position in the church. The defense seemed to be convincing the jury that Mary was indeed abused, but convincing jurors that his behavior justified a killing was another story.
There was, however, one more chilling family secret to come out in the trial.
The Tipping Point
Mary recounted the events of the night she shot Winkler in the back. Her story began with them in bed, asleep. Mary said her daughter Brianna's crying woke them up, but Winkler kicked her out of their bed and walked out of the room. According to Mary, past experience had taught her that Winkler had a cruel way of silencing their crying children. She explained that he would cover their babies' mouths and noses, momentarily suffocating them, to get them to stop crying.
That night, Mary wouldn't take Winkler's methods anymore. She said she "just wanted to talk to Matthew. … I just wanted him to stop being so mean." So she grabbed his shotgun, intent on getting him to listen.
The next thing she remembers is hearing the gun go off and seeing him lying on the floor, bleeding. She didn't call 911, and she didn't try to help him. Instead, she fled with her daughters to Alabama.
"I just thought something terrible had happened and nobody would believe that was an accident and I'd just lose the girls," she said. Mary made the shocking claim that the shotgun had fired accidentally.
The Verdict
The jury of 10 women and two men was split — one group of women wanted Mary to go free. Others, including but not limited to the men, thought murder in the first degree was the way to go. After eight hours of deliberation, the jury found Mary guilty of voluntary manslaughter. She would not spend the rest of her life in jail. She had a chance at a new life.
Even more surprising was the judge's sentence, which after credit for time already served, amounted to only one more week in county jail, and 60 days in a facility with counseling services. The argument that Mary was a battered wife was successful.
Saying that she was caught in a vicious cycle of abuse, Mary addressed the court at sentencing and said, "I think of Matthew every day and the guilt, and I'll always miss him and love him. There were bad times but there were good times, and I wish I could have that good Matthew and we could live together forever."
The jury foreman, Bill Berry, and some of the other jurors thought she deserved a stiffer sentence. "Mary, you're going to have to live [with] yourself the rest of your life. And then you're going to have to face God and judgement."
To Mary, though, God had everything to do with it. "I'm convinced God put me in this place for a reason," she said.
mary winkler sentenced today 6-8-07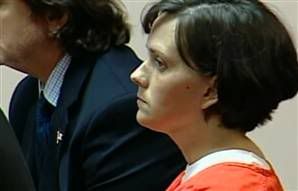 Preacher's Wife Killed Husband Because of Abuse, Family Says
Mary Winkler's Family Talks for the First Time About Why She Shot Her Husband
http://www.abcnews.go.com/GMA/LegalCenter/story?id=2667042&page=1
It was a crime that stunned the nation. In March, 32-year-old Mary Winkler, a soft-spoken preacher's wife, was charged with the murder of husband Matt, a Church of Christ minister in the small town of Selmer, Tenn.
Shocked parishioners discovered Matt's bloodied body, riddled with a blast of bird shot, in the home the couple shared with their three daughters.
When Winkler was questioned the day after the shooting, authorities said she confessed to the crime, saying she had snapped after years of abuse.
Now out on bail, Winkler is working in a dry-cleaning shop and preparing for her trial, where she will tell her side of the story.
In an exclusive interview with "Good Morning America," Winkler's family said she killed her husband because she was abused.
"Physical, mental, verbal," said Clark Freeman, Winkler's father. "I don't know how she took it. She's a stronger individual than I am."
Freeman says the abuse became more apparent the last three years of Winkler and Matt's marriage.
"I saw bad bruises. The heaviest of makeup covering facial bruises," Freeman said. "So one day, I confronted her. I said, 'Mary Carol, you are coming off as a very abused wife, very battered.'"
But Freeman says she denied the accusations.
"[She] would hang her head and say, 'No, daddy, everything's all right. Everything's all right.'"
Friends say Winkler didn't talk about the abuse, but her growing fear of her husband was obvious.
"One Sunday, Mary came into the church and I looked at her and she had a black eye," said Winkler's friend Rudie Thomsen.
Another friend, Amy Redmon, said it was clear who was in charge in the relationship.
"He was an authority figure, and he made the decisions basically. It was obvious," Redmon said.
Sisters Say Winkler Is More Like Her Old Self
Winkler's sisters, Tabatha Freeman, 25, and Amanda Miller, 24, told "GMA" that she seemed caught in a difficult situation and that they weren't sure how to respond.
"We didn't know if it could get worse if we were to confront [it]," Miller said.
Freeman and Miller also say that Matt kept Winkler from seeing her family.
"As these years went on, she seemed to be nervous to show love towards us," Miller said. "Now it's back to the old Mary [who] loves us and doesn't care to come and hug us and gives us a kiss on the cheek."
Winkler's attorneys say there are also indications that Matt may have sexually abused her as well.
"What went on behind their closed doors is going to have to be told," said Winkler's attorney Leslie Ballin. "Some of what we've got from the state of Tennessee touches on sexual abuse."
What's striking to many outsiders is how accepting and supportive the majority of the community has been to Winkler.
That sense of forgiveness, community members say, stems from the town's Christian roots and from its tendency to give people the benefit of the doubt.
Winkler's daughters are currently living with Matt's parents.
"She misses her daughters, but she's staying busy," said Miller, of her sister. "She's the loving Mary we used to know."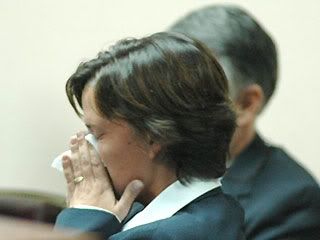 Court denies Winkler's custody bid
http://www.djournal.com/pages/story.asp?ID=248050&pub=1&div=News
The Tennessee Court of Appeals on Wednesday denied Mary Winkler's request to proceed with efforts in juvenile court to regain custody of her three daughters.
Attorney Kay Farese Turner of Memphis filed the appeal May 23 on her client's behalf after Tennessee law blocked Winkler's April 2007 petition for custody.
Mary Winkler was convicted in April and sentenced in May of voluntary manslaughter in the death of her husband, Matthew Winkler, a Church of Christ preacher in Selmer.
After the conviction, Matthew Winkler's parents filed a suit to terminate Mary Winkler's parental rights and to adopt the girls - Patricia, 9, Allie, 7 and Brianna, 2.
Dan and Diane Winkler have cared for the girls since their mother was arrested March 23, 2006, the day after Matthew Winkler's death.
Tennessee law places adoption petitions, which are heard in chancery court, ahead of custody petitions heard in juvenile court.
Now the Court of Appeals decision allows Dan and Diane Winkler to continue pursuing permanent custody of the girls.
The order also assessed all court costs in the matter to Mary Winkler, who received free legal services throughout her murder trial.
Tenn. Preacher's Wife to Be Freed Soon
http://www.guardian.co.uk/worldlatest/story/0,,-6847124,00.html
SELMER, Tenn. (AP) - A woman convicted of manslaughter in the shooting death of her preacher husband is expected to be released from custody this week, her lawyer said Monday.
Attorney Steve Farese Sr. said he expects Mary Winkler to be freed Tuesday or Wednesday from the mental health facility where she has been in treatment for about two months.
``I'm waiting to make sure the time is calculated correctly,'' Farese said. ``We've got to make sure we're doing what the judge wants.''
Winkler, 33, was convicted of voluntary manslaughter in the 2006 fatal shooting of her husband, Matthew, at the Selmer parsonage where the couple lived with their three young daughters.
She was given a three-year sentence June 8, but she was required to serve only 67 days in custody because of credit for time served, and because she had no previous criminal record.
Circuit Court Judge Weber McCraw ruled that up to 60 of those 67 days could be served while confined for mental health treatment.
Winkler will have been in custody for 67 days on Tuesday and will be on probation after her release.
Farese said he did not know what Winkler would do next but said he assumed she would return to McMinnville, where she lived and worked for eight months while she was free on bond before trial.
Paul Pillow, who co-owns the McMinnville dry cleaners where Winkler worked, said he expected her to return to work, though not immediately.
``She has some personal things to take care of, some things with moving and her house, and then she'll probably be back at work in September,'' he said.
The Winklers lived in McMinnville, where Matthew was a church youth group director, before he took the minister's job at the Fourth Street Church of Christ in Selmer.
Winkler had been charged with first-degree murder, but jurors convicted her of the lesser charge. She testified that her husband hit and kicked her, emotionally abused her, forced her to look at pornography and demanded sex she considered unnatural.
A psychologist testified she suffered from mild depression and post-traumatic stress disorder.
Winkler is in a custody fight with her husband's parents over her daughters.
mary winkler is now a free woman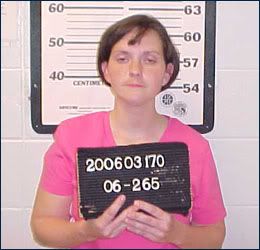 Wife who killed preacher set free
http://www.cnn.com/2007/US/law/08/14/preacher.slain/
After spending a total of seven months in custody, the Tennessee woman who fatally shot her preacher husband in the back was released on Tuesday, her lawyer told CNN.
Mary Winkler, a 33-year-old mother of three girls, was freed from a Tennessee mental health facility where she was treated for depression and post-traumatic stress disorder, lawyer Steve Farese said.
"She is out," Farese said.
Farese said his client will not talk to the news media because she continues to wage a legal battle to win custody of her girls and faces a $2 million civil suit filed by the parents of her slain husband, Matthew Winkler.
Except for her oldest daughter's brief testimony at her trial, Winkler hasn't seen her children in a year, the lawyer said.
Winkler will return to work at the dry cleaners in McMinnville, Tennessee, where she worked before the trial, Farese said. She is living with friends.
Winkler served about five months in county jail as she awaited trial, then spent two months undergoing therapy at the mental health facility following her conviction for voluntary manslaughter.
Winkler never denied shooting her husband, Matthew, the popular new preacher at the Fourth Street Church of Christ in Selmer, a town of 4,500 people about 80 miles east of Memphis.
On March 22, 2006, church elders found his body -- with a shotgun wound to the back -- in the bedroom of the parsonage after he failed to show up for an evening service. His wife was arrested the next day with the couple's three young daughters in Orange Beach, Alabama, on the Gulf coast.
Mary Winkler was charged with murder, which could have sent her to prison for up to 60 years, but a jury found her guilty of voluntary manslaughter following an emotional trial in which she testified about suffering years of verbal and physical abuse.
In a statement to police after her arrest, Winkler said she didn't recall pulling the trigger .She said she apologized and wiped the blood that bubbled from her dying husband's lips as he asked, "Why?"
Prosecutors and Matthew Winkler's family members said he was a good husband and father.
But on the stand, Mary Winkler described a hellish 10-year marriage during which, she said, her husband struck her, screamed at her, criticized her and blamed her when things went wrong. She said he made her watch pornography and wear "slutty" costumes for sex, and that he forced her to submit to sex acts that made her uncomfortable.
She testified she pointed the shotgun at her husband during an argument to force him to talk through their problems, and "something went off."
A defense psychologist testified that she was depressed and showed classic symptoms of post-traumatic stress disorder.
Mary Winkler initially received a three-year sentence in June. But Circuit Court Judge J. Weber McCraw required that she serve only 210 days, and allowed her to serve the rest of the time on probation.
She also received credit for five months she spent behind bars awaiting trial, which left only about 60 days to her sentence. McCraw ruled she could serve the time in a mental health facility.
Since Mary Winkler's arrest, the couple's three children have been cared for by Matthew Winkler's parents, who have filed court papers seeking to terminate her parental rights.
WKRN's Brittney Gilbert on the Mary Winkler Verdict