Nicole Brown Simpson (May 19, 1959 – June 12, 1994)
was the ex-wife of American football player O.J. Simpson. Found murdered at her home in Los Angeles, California, along with her friend Ronald Goldman, her death led to one of the most controversial and widely-discussed criminal trials in U.S. history.
The daughter of Juditha and Louis Brown, Nicole (like her older sister) was born in Frankfurt, Germany, but the family moved to Dana Point, California, where she grew up, along with younger sisters Dominque and Tanya and older sister Denise. Nicole was elected Homecoming Queen at Dana Hills High School. Shortly after graduating from high school, she met her future husband while she was working as a waitress at a night club.
Brown was married to O. J. Simpson on February 2, 1985, who by that time had retired from professional football. They had two children together, Sydney Brooke Simpson (born October 17, 1985) and Justin Ryan Simpson (born August 6, 1988). The marriage lasted seven years, ending when Nicole divorced him in 1992, citing an "abusive relationship".
On the morning of June 13, 1994, neighbors, alerted by a barking dog, found the badly mutilated bodies of Brown Simpson and her friend, Ronald Goldman, in the enclosed front courtyard of her condo on South Bundy Drive in the Brentwood area of Los Angeles. Both had been brutally hacked and stabbed multiple times, with Brown Simpson's head nearly severed. At the time of the murders, her children were asleep inside the condo.
After her death, O.J. Simpson was arrested and charged with both murders; he was acquitted of these crimes in a criminal trial. However, in a subsequent civil trial, he was found liable for the deaths of his ex-wife and Goldman and ordered to pay $33,500,000 (USD) to the families of Brown and Goldman.
In 1994, Nicole Simpson's sister Denise Brown established The Nicole Brown Charitable Foundation in Nicole's memory, to assist victims of domestic violence.
http://en.wikipedia.org/wiki/Nicole_Brown_Simpson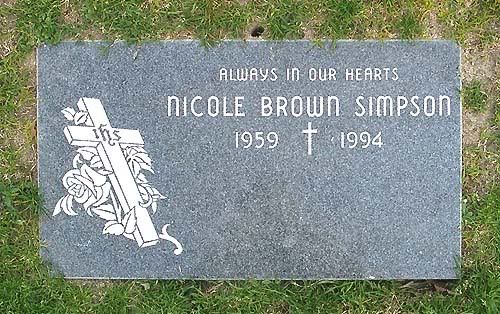 Ronald Goldman
Ronald Lyle Goldman (July 2, 1968 – June 12, 1994)
was an aspiring[citation needed] actor and part-time model who was murdered in Los Angeles, California, in 1994 at the age of 25. Also found murdered was his friend Nicole Brown Simpson, the ex-wife of American football player O.J. Simpson. The subsequent criminal investigation and trial was called by some the "trial of the century".
Goldman grew up in Buffalo Grove, Illinois, and was raised by his father, Fred Goldman. He attended high school at Adlai E. Stevenson High School in Lincolnshire, IL. He was a student at Illinois State University for one semester before moving to California with his family and attending Pierce College before dropping out, again after one semester. According to the Goldmans' book, "His Name is Ron", prior to working at Mezzaluna, Goldman worked with cerebral palsy patients.
At the time of his murder, Goldman was working as a waiter at Mezzaluna[citation needed], a restaurant located at 11750 San Vicente Boulevard in Los Angeles. Allegedly, Nicole Brown Simpson, a friend and the ex-wife of O.J. Simpson, had called to report that she had accidentally left her mother Juditha's eyeglasses on one of the restaurant tables. After a quick search they were discovered, but they were found in the gutter. Goldman, who had not served the table where Nicole was, had agreed to bring them over after work. Before returning the eyeglasses, he stopped at his apartment located at 11663 Gorham Avenue to change clothes and shower. When he arrived at Nicole Brown Simpson's condo located at 875 South Bundy Drive to return the eyeglasses, he was murdered along with Nicole Brown Simpson on the walkway leading to the residence in Brentwood, Los Angeles, CA.
During a reconstruction of the events, police believe he had arrived during or shortly after the murder of Nicole Brown-Simpson and attempted to protect her, but was stabbed to death right before or after her murder. The autopsy lists several fatal wounds, including many stabs to the torso, one superficial slit of the throat, and one deep gash of the throat, indicating Goldman struggled for his life.[citation needed]
The former professional football player, O.J. Simpson, was eventually charged and tried for Goldman's murder (and murder of his ex-wife); Simpson was acquitted of Goldman's murder in the criminal trial--but later, a civil trial proceeding found Simpson liable for Goldman's wrongful death. $33 million (USD) in damages were awarded to the Goldman family.
http://en.wikipedia.org/wiki/Ronald_Goldman
Nicole Brown Simpson and Ron Goldman
http://www.findadeath.com/Deceased/s/OJ%20Simpson/nicole_brown_simpson_and_ron_gol.htm

The OJ Simpson Murders
http://www.altereddimensions.net/crime/OJSimpsonMurders.htm
The Crime
On June 13, 1994, a couple in Las Angeles were surprised when their dog, a small white Akita, returned home with blood on his paws. They took the dog back outside and it led them directly to a neighbor's home – Nicole Simpson. Peering inside the gate they could see Nicole's lifeless body lying on the sidewalk.

The police were notified and when officers from the LAPD arrived on the scene, they discovered a second body which was later identified as Ronald Goldman. The four officers – Phillip Vannatter, Ronald Phillips, Tom Lange, and Mark Fuhrman, locked down the scene and began searching the premises. In an upstairs bedroom, Nicole and OJ's children were found safe and had apparently slept through the entire ordeal.

It was immediately clear to the officers that this was no ordinary robbery or rape attempt – this was a rage killing. Nicole's neck was cut from ear to ear and her head was nearly severed from her body. Ronald was stabbed multiple times including 5 puncture or 'taunting' type wounds indicating that he may have been tortured before his murder.

At OJ's House

After securing the scene and making a cursory walk-through, the detectives knew it was time to inform the closest family members. They also decided that O. J. Simpson must be the first to be informed of his ex-wife's murder partly because they knew he would be concerned with his children who were now in custody of the police.

The officers arrived at the Simpson home and noted several cars in the driveway and lights on in the house. They began calling on the intercom outside of the walled off property. While attempting to reach Simpson inside the home they noticed a white Bronco parked hastily near the gate. Officers immediately noticed blood around the car as well on the car's exterior. Feeling that Simpson may be in trouble, they decided that they may have a emergency situation on their hands and one of the officers scaled the fence to unlock the gate from the inside (an act that they would later regret).

Upon entering the property they were met by Kato Kaelin and Arnelle Simpson (OJ's older daughter) who live in bungalows behind the Simpson's home. Initially, Kato alarmed the Officers. Appearing disheveled, the officers thought he may have been involved in murders until Arnelle defused the situation by verifying that Kato lived on the premises. Arnelle informed the officers that Simpson was in Chicago attending a meeting. Kato, realizing something was wrong, told them of strange noises he heard behind his cabin (thumping noises on the wall). At this point Simpson was not a suspect.

Arnelle voluntarily let the officers inside the home where they made a cursory look over the premises while Fuhrman stayed outside and investigated behind Kato's bungalow. The officers used Simpon's phone to call him in Chicago and inform him of the tragedy. Officer Lange detected something unusual about Simpson's demeanor – when told of his wife's death he reacted with only mild shock. Lange had investigated hundreds of murders in his 20 year career, and noted that family members usually react with much more emotion, and they usually ask the same questions – how did the person die, where did they die, etc. Simpson asked none of these questions but simply informed officers that he would fly home to Las Angeles immediately.

Next, the officers called Nicole's parents, again using Simpson's phone. Nicole's father and sister, Denise, answered the phone simultaneously. Nicole's father took the news solemnly while Denise reacts with emotion screaming – 'OJ did it! OJ killed Nicole!'. Denise dropped the phone and the officers heard several women screaming in the background – 'OJ killed Nicole!'. It was at this point that the possibility of OJ's involvement must have been considered by the police.

Criminal Evidence at Simpson's Home

During this, Fuhrman discovered the infamous bloody right-hand glove behind Kato's bungalow. He immediately informed the other officers of his discovery. The officers began realizing that the Simpson home was related to the original crime scene and they began taking action to secure the premises. They carefully examined the premises and were shocked to discover a blood trail that lead from the Bronco, behind Kato's home, and directly to the door of Simpson's house. They even discovered blood inside the foyer of the home. A more careful examination of the Bronco revealed several blood stains and smears both inside and outside of the car. Later examination of the home revealed a pair of bloody socks in Simpson's bedroom which DNA analysis later revealed to be Nicole's blood.

Evidence at Nicole's Home

After securing the Simpson's home the officers returned to the Nicole crime scene where lab specialists were already gathering evidence. Officers found a mountain of evidence which over the course of time, proved without a doubt that Simpson was the perpetrator of the double murder. The matching left-hand glove, one of a pair of rare and expensive Aris Isotoner gloves was found near Ronald's body. Bloody shoe prints, matched to a expensive brand of Bruno Magli shoes are also found. And of course, there was also lot's of blood evidence recovered. Eyewitness accounts begin pouring in. Simpson, at this point, had become a strong suspect.

OJ Arrives from Chicago

Upon arriving back in LA, officers were further surprised that Simpson had already secured the services of a famous lawyer – Robert Shapiro. Later Simpson would add Johnnie Cochran, F. Lee Baily, Alan Denshowitz, and the other members to his elite 'dream team' of attorneys. Surprisingly, Simpson voluntarily accompanied the detectives to the police station. At the station, Simpson allowed the officers to fingerprint him, take blood samples, and photograph mysterious cuts on his hands. He also gave a statement. It was during the course of this statement that the officers were certain that they'd got their man. Simpson gave varying accounts of how he cut his hand and produced several inconsistencies in his alibi.

The hotel that Simpson stayed in Chicago was secured and police discovered a broken glass left in the sink – no blood was found on or near the glass although blood was found on the sheets and towels. They are able to interview several witnesses in the Chicago area who had contacted with Simpson during his brief stay.

Evidence Presented

During the course of the investigation police gathered so much evidence that they were extremely confident that this was going to be a open and shut case. Their confidence may have led to sloppy detective work that eventually contributed to the surprising outcome of the court case.

DNA analysis of the blood found in, on, and near Simpson's Bronco revealed traces of Simpson's, Nicole's, and Robert Goldman's blood.
DNA analysis of bloody socks found in Simpson bedroom were proven to be Nicole's blood.
Simpson's hair was found on Goldman's shirt even though Simpson claims to have not been at he home and to never have met Goldman.
DNA analysis of blood on the gloves was proven to be a mixture of Simpson's Nicole's, and Ronald Goldman's. The gloves also contains particles of Goldman's hair and carpet fibers from Simpson's Bronco.
Officers find arrest records indicating that Simpson was charged with the beating of his wife Nicole. Photos of Nicole's bruised and battered face emerge. Simpson was sentenced with 3 years of community service for this crime.
Police discover the dome light in the Bronco has been removed. A search of the vehicle reveals the light was carefully placed under the passenger seat and was in good working condition. Puzzling blood smears on the passenger floorboard indicate that Simpson may have purposely removed the light and placed it under the seat before the murders. Then after the murders he may have unsuccessfully tried to find it to put it back in the socket. Police on stakeouts routinely remove the dome lights from their vehicles to avoid detection when the car doors are opened.
It was discovered that Nicole has one set of keys to her home missing. She had indicate to several family members and friends that she feared Simpson had stolen them to gain entry into her home. The keys were later found in Simpson's home.
Paula Barbieri indicated that she had broken up with Simpson the day of the murders. She indicated he seemed very disturbed at the news. Phone records proved that Simpson attempted to contact her shortly before the murders from his Bronco's cellular phone.
The left-hand glove found at Nicole's home and the right-hand glove found at OJ's home proved to be a match. They also proven to be Simpson's size. Even though Simpson claimed under oath that he did not own a pair of Aris Isotoner gloves, several media pictures emerged showing Simpson wearing these exact gloves.
The bloody footprints are quite easily identified as being made from a pair of Bruno Magli shoes. These shoes are quite expensive and extremely rare. The size 12 prints match Simpson's shoe size. Simpson claims under oath that he does not own any such shoes and in fact indicates that he thinks they 'are ugly'. A photograph is introduced showing Simpson wearing the exact shoes at a NFL football game. Simpson claims under oath that the photo is a forgery and is backed up by an expert witness. Later, another photo taken by a different source, also shoes Simpson wearing the same shoes at another NFL football game.
Friends and family indicate that Nicole was quite consistent in her claims that Simpson had been stalking her. She claimed that everywhere she went she noticed Simpson would be there, watching her. She is afraid because Simpson had already told her he would kill her if he ever found her with another man.
Ross Cutlery provided store receipts indicating that Simpson had purchased a 12 inch stiletto knife six weeks before the murders. A replica of the knife was purchased by the police and provided a exact match to the wounds on Nicole and Ronald Goldman.


The Timeline

By this time, police had put together eyewitness testimony and pieced together the evidence to form a complete timeline of events. Simpson, possibly in a distraught state of mind due to his breakup with Paula Barbieri earlier in the day, left his home around 10:15 and drove to Nicole's house. The phone records showed several attempted calls to Paula from Simpson's Bronco.

Exactly why the murder took place is not clear but could have possibly been due to a jealous rage when Simpson discovered Goldman at Nicole's home (it was well documented that Simpson had already threatened to kill Nicole if he ever found her with another man). One of Nicole's neighbors, Robert Heidstra, testified that at 10:30 he heard a white man's voice hollering 'Hey! Hey! HEY!'. The neighbor also claimed to have heard a black man's voice reply (what he said was not clear) followed by what seemed to be an argument. He also claimed he saw a white 'Jeep' flee rapidly from the home.

At 10:40 Simpson left the scene and rushed home. Jill Shively, who lived in Simpson's neighborhood, testified that she saw Simpson run a red light around 10:45. The white Bronco was driving very fast and almost ran into the side of a van. She recognized the driver as Simpson because he stuck his head out of the Bronco window to scream at the van driver – 'Get out of the way!'.

At 10:50, Kato heard a noise behind his cabin. He at first thought it was a mild earthquake since it was strong enough to rattle the pictures on his wall.

At 11:00 the chauffeur who was to take Simpson to the airport called Simpson on his mobile phone. The chauffeur had been waiting for over 20 minutes during which time he unsuccessfully attempted to reach Simpson on the phone. He noticed what appeared to be a black man resembling Simpson, walk up the driveway into the home (from the direction where the white Bronco was parked). When Simpson finally did answer, he claimed that he overslept and was just getting out of the shower. He arrived downstairs with his bags. Kato was already there, talking to the chauffeur and asking if he felt a earthquake – the chauffeur said he did not. Kato asked Simpson for a flashlight so he could examine behind his cabin to see what the source of the noise was. Simpson said he will retrieve a light for Kato on his next trip into the house.

Kato helped Simpson load his bags. One bag, a half-moon shaped travel bag was left on the curb. Kato offered to retrieve it for Simpson who hastily stopped Kato saying that he would take care of that bag himself. Kato believed the bag was quite full. Simpson told Kato that he could not find a flashlight (working flashlights were found in the home during the police investigation).

Simpson flew to Chicago. Witnesses on the plane claimed that Simpson acted normally on the flight but made many trips to the bathroom. They noted that he had a half-moon shaped bag with him on the flight. At the Chicago airport other witnesses claimed to have seen Simpson. This time witnesses accounts of the half-moon shaped bag indicate that the bag was quite empty. An architect later relayed to police that he witnessed Simpson standing near a garbage can with the bag, waiting on a cab. The witness turned to point out Simpson to his wife. When he turned back around he saw Simpson pulling his hand out of the garbage can.

The Arrest

Police obtained a warrant for Simpson's arrest. Discussions with Simpson's lawyers produced an agreement that Simpson would turn himself in at 11:00. When Simpson did not show up the police called his home. Shapiro (Simpson's lawyer) indicated that Simpson was running behind. He was telling his family goodbye, writing a will, and writing various notes to his family members. He appeared very distraught. After several hours the police finally reach their limit and indicated that they were going to the Simpson home to arrest him personally. At this point they discovered that Simpson had not been at home at all but rather at a friend's house. Shapiro then indicated that Simpson has left the premises with A.C. Cowlings – Shapiro indicated that he thought Simpson might be suicidal.

The bizarre low speed chase ensued. The entire chase was broadcast live over nationwide TV. Police talked to Simpson on a cellular phone and begged him to turn himself in. Simpson held a gun to his head and claimed that he simply wanted to return to his home one more time. He eventually arrived at his home where, clutching a picture of his family in his hands, he collapsed on the ground. Police then discovered that Simpson was in possession of a passport, a large sum of money, a travel bag, a comical disguise, and a suicide note. Police took Simpson into custody and put him under a suicide watch.

The Case

The case itself was just as bizarre as the previous details of this murder. The defense, led by Shapiro was quickly found to use every dirty trick in the book. They turned on the LAPD and attempted to make the cases' focal point a racial issue. They indicated to the jury (which consisted of 10 blacks, 1 Hispanic, and 1 white person) that Fuhrman, who was only involved with the first few hours of the investigation, was a known racists. Fuhrman denies this and claimed that he has never used the N***** word. When later tape demonstrated Fuhrman using the N***** word 45 times, Furhman was charged with perjury (he later plead no contest claiming that the tape was from a interview with a writer for a fictional police story). The defense also pointed out that lead investigators reside in Simi valley, a known racially divided community in LA with strong associations with the famous Rodney King beatings. The defense also pointed out many mistakes that investigators made.

The jury was taken to the crime scenes by the defense in an effort to show that Simpson could not have possibly arrived at his home undetected or unnoticed (the chauffeur thought he saw a black man enter the home but was not positive). The prosecution thought this was comical since the Simpson estate was concealed by many large bushes that would easily hide entry to the home. The prosecution was shocked to discover that the bushes around the home had been recently trimmed by the defense. A complaint was filed with the judge claiming tampering of evidence.

The well-publicized glove incident was bizarre in its own right. An executive with Aris Isotoner indicated that the gloves have shrunk one full size due to the moisture from the blood. In addition to this, Simpson was allowed to wear a latex glove when trying on the gloves. In a widely publicized scene, a experienced actor was allowed to try on a pair of gloves that have shrunk one size while wearing rubbers gloves underneath. The prosecution was horrified as Simpson struggled to pull on the gloves all the while claiming ' they are too small'. Later, outside of the courtroom, Shapiro laughs and joked with the lead investigators exclaiming 'Why in the world did you allow us to do that!'.

The prosecution, lead by Marcia Clark, was quite lax in their case. When the initial jury selection produced 10 black, 1 Hispanic, and 1 white juror, the prosecution made no arguments at all for the lack of racial diversity. Possibly overconfident that they would easily win this case, Clarke never attempted to defend the LAPD or counter with any of the solid points of the case. Eventually, Clark stopped using LAPD evidence at all, and began to focus on the marriage history of OJ Simpson instead.

The outcome

On October 13, 1994, the jury of 10 black, 1 Hispanic, and 1 white made their announcement. The outcome was not shown live but rather relayed to the media by a few select reporters inside the courtroom. The entire nations stopped what they are doing and watched as the jury announces, 'We the jury, in the above titled action, find the defendant Orenthal James Simpson, not guilty of the crime of murder'. The court erupts in bedlam.

The Mistakes

How could this injustice have happened? Several mistakes were indeed made, even though there was a astounding amount of evidence that could have resulted in a conviction. What we must remind ourselves that it is not the opinion of the majority of the United States that matters but rather the opinion of a small group of 12 people that determines the outcome of a criminal case such as this. Whether their decision resulted from the lack of evidence, the misunderstanding of the evidence that was presented, or racial bias may never be truly known. But here are some bizarre circumstances that may have contributed to that unjust verdict:

The evidence of the knife purchase from Ross Cutlery was not allowed in court. The owner of Ross Cutlery, taken in by all the media attention, sold the story to the National Enquirer before making his testimony.
The evidence presented by Jill Shively of Simpson rushing home around the time of the murders was not presented in court. Jill also sold her story prior to testimony to Hard Copy for $5,000.
The man in the Chicago airport who claimed to have seen Simpson dumping the contents of the half-moon shaped bag into an airport trashcan was actually a witness for the defense. He was intended to provide proof of the time that Simpson was in Chicago. Even thought this proof was not needed due to the vast paper trail collaborating Simpson's stay in Chicago, the defense felt it necessary that this person be used on Simpson's behalf. Not surprisingly, he was never called to testify during the court battle.
During a subsequent search of Simpson's business office, police discovered a 3-page document written by Simpson describing his abuse of Nicole. For procedural reasons and blocked by Simpson's attorneys, the police were not allowed to seize the document. Returning later with the proper authority to confiscate the document, they were told by Simpson's assistant that it had already been shredded.
Marcia Clark discarded much of the evidence collected by the LAPD. Since the trial became more focused on police conduct rather than Simpson's guilt, Clark decided to stop using the LAPDs evidence rather than redirect the focus of the court to the appropriate matters. Among the evidence that was never introduced included: proof of OJ's ownership of the Bruno Magli shoes, Robert Heidstra's testimony of voices heard during the time of the murders, testimony from the architect in Chicago who saw Simpson dump the contents of his travel bag in a trash container, detectives taped interview of Simpson which contained may inconsistencies and false statements, Simpson's suicide note, the taped discussion with Simpson during the low-speed car chase, Nicole's stolen house keys found in Simpson's possession, and evidence found after the low-speed chase including Simpson's possession of a large amount of money, travel bag, disguise, gun, and passport.
Even though incontrovertible DNA evidence indicated that Simpson was present at the crime scene and that blood from Nicole and Goldman were left on Simpson's clothes, the jury dismisses this evidence. The fact that DNA analysis identifies the different blood types with such accuracy that you could exclude every other human being on the face of the earth, seems to have been ignored by the jury. Later interviews with jury members revealed that they indeed did not truly understand how accurate DNA analysis was and that the blood evidence was not that important.






THE SITUATION



The subject of this web site is a double homicide which occurred in the Brentwood community of Los Angeles some time after 10:00 pm on Sunday, June 12th, 1994. The victims were 35 year-old Nicole Brown Simpson and 25 year-old Ronald Lyle Goldman; both were unmarried Caucasian residents of the community. The victims knew each other (it was reported that Ron had escorted Nicole to some Westside discos in exchange for a chance to drive her car), but were not believed to have been romantically involved. The crimes occurred within the small front walk area of Nicole's condominium at 875 S. Bundy Drive.
http://www.wagnerandson.com/oj/pop.htm

The neighborhood was originally developed in the 1920's as single family houses. Just south of Nicole's place many of the original houses survive, and are well maintained and in some cases improved. Here and there -- as at Nicole's and particularly the block behind her to the west at Gretna Green -- some of the old houses have been pulled out, and a new duplex condo built. Beginning up the hill and a half block east the neighborhood has been rebuilt almost solid with two-story apartment houses -- sterile, same, and well tended by some faceless financial institution. It is a mixed residential neighborhood.

Palm tree lined Bundy Drive, itself, is a main north/south thoroughfare (with a bus line) but it is only two lanes, and is quite winding in some places. Traffic is fast, and fairly heavy. To the east, where the apartment houses are, one is more likely to win the lottery than to find an unoccupied parking space. But, on Bundy often there are hardly ever any cars parked at the curb (garages on the alleys, behind).

Ron Goldman was a waiter at a nearby up-scale restaurant, the Mezzaluna, and had been just getting off work at 9:30 that night when a call came to the restaurant from Nicole's mother. Nicole had hosted a dinner party at the restaurant earlier that evening for her family (party of 10), and the mother had discovered that her reading glasses were missing before she returned home to Orange county. She called the restaurant to inquire whether anyone had found them. A quick search of the restaurant was unavailing, but the glasses were found in the street in front of the restaurant where the mother had embarked the family car after dinner. The glasses were retrieved and the mother was advised. A second call to the Mezzaluna came from Nicole five minutes later, and she talked to Ron Goldman. Ron agreed to deliver the glasses to Nicole that night, and they were put in an envelope and given to him. It is believed that he went to his nearby apartment and changed from his waiter's uniform before delivering the glasses to Nicole, on his way to the Marina for a planned late evening outing with friends.

Nicole was a dynamic and adventurous woman with upscale tastes; the license plate on her white Ferrari was L8 4AD8, "Late for a Date." She had been married to O.J. Simpson, ten years older than herself, an Afro-American football legend (1968 Heisman trophy running back) in the 1970's, and was the mother of his two children, Sydney and Justin, who lived with her at the Bundy Drive condo. From historical television footage shown after the crime, it appears that shortly after Nicole was out of high school, she began to seek O.J. out, finally marrying him at the time he retired from professional football. He quickly found a new career as celebrity spokesman for a variety of products, and she happily joined into this new world, appearing contentedly on his arm at social events. They occupied together an estate at 360 N. Rockingham, also in Brentwood, about two miles from the crime scene. O.J. was living there at the time of the crimes.

The nature of the marital discord that ended their marriage is not clear, but the media has hinted that Nicole had come to feel deprived of the period of sexual experimentation that most young people experience after they leave high school, and that O.J. could not imagine himself in a relationship with a wife who was so engaged. However, during the trial it was portrayed that she left OJ because of his physical abuse toward her. There was a late hour incident on New Year's 1989 when he beat her severely, and that resulted in judicial notice. He was ordered to undergo therapy, which he did, but Nicole filed for divorce in February 1992, nonetheless. There were other accounts of spousal abuse, and the prosecution would eventually imply that the cause of the divorce was that abuse.

The two continued to be friends, and from time to time attempted reconciliations. The last period of reconciliation began in May 1993, ran into 1994, and ended in the second week of May in that year. From all appearances, that breakup was not particularly stormy, but it was serious: Nicole returned videotapes of their marriage, and jewelry O.J. had given her for her May birthday. However, during that period Nicole suffered a brief illness, and O.J. visited to bring her medicine, and also during that period Nicole visited at O.J.'s estate and was seen sitting on his lap. From this, we have the image that they were embarked on separate lives, but continued to be at least cordial. During the time when a reconciliation was not in effect, O.J. brought into his life a substitute companion, Paula Barbieri, a Caucasian model in her twenties. Nicole, by contrast, was not reported to have established a public relationship with a man in the period after the early May breakup, but occupied herself jogging thru Brentwood and socializing with girlfriends. She had dated other men, however, between the February '92 breakup and the May '93 reconciliation.

In January, 1992, Nicole rented a modern two-story house at 325 S. Gretna Green Way, five or six blocks north and a block west of the eventual murder scene, and moved there. The house had guest quarters and Nicole rented it to a younger man, Kato Kaelin, whom she had met in Colorado. During that period, there was an incident involving an October 25, 1993 911 call. It was a time in which the reconciliation was in process, and O.J. discovered a picture album with photos of Nicole's former boyfriends; according to the publicized interpretation of the 911 tapes OJ became so angry over that, Nicole called the cops. The tapes were played repeatedly by the media during the time of the preliminary hearing. During the call, O.J. raged in the background and Nicole sounded as much worried as frightened. The 911 operator asked several leading questions to determine whether Nicole was in fear for her life; she clearly was not, but she was almost certain that she was about to receive a severe beating. Kato witnessed the incident and the police did come. No blows were struck, no one was arrested, but O.J. had kicked in the French doors in order to gain access to the interior of Nicole's house and confront her on some issue.

In December, 1993 Nicole sold the Gretna Green property and bought the Bundy condo. She offered to let Kato stay in the maid's room which would be otherwise unused, but O.J. said he thought that having a man in Nicole's place would be unseemly (they were in a nominal state of reconciliation at the time) and Simpson offered Kato guest quarters at his Rockingham estate, rent free. Since Kato had been paying Nicole $400 a month on Gretna Green, babysitting and running errands, O.J.'s offer was too good to pass up. Kato moved to Rockingham and Nicole occupied the Bundy place with the children. Some have said that Nicole was angry with Kato over the arrangement and characterized his decision as "selling out" to O.J. Although Kato does not consider that his action was more than a peace-making decision, he did feel that Nicole was cooler toward him in the last six months than she had been before -- in spite of his trying to retain the earlier friendship. (Kato's decision might also have been influenced by the fact that the Bundy maid's quarters were like a dark dungeon, looking out on a blank wall, while the Rockingham guest house was light, airy, and facing a virtual park.)

Since the time when O.J. and Nicole had been married, O.J. had a housekeeper named Michele. Michele and Nicole did not get along. It was Michele's view that O.J. was master of the house, and all others, including his wife, should obey. Nicole was far too liberated to share this view, and hence the two women had divergent views on Nicole's role. The issue was more than academic. During the New Year's incident -- goes one story -- Nicole hid out from the raging O.J. in a room that was also occupied by Michele. It was Michele who unlocked the door and gave O.J. access to beat Nicole. Then, after the beating, Nicole called 911 and fled to the outside of the house. It is well documented that after the police arrived, it was Michele who tried to get rid of them when they paged from the gate by telling them that the call was a mistake. It was only when Nicole appeared before the police from the shadows, half-dressed, trembling and bruised, that the truth was revealed.

Because of the long-standing enmity between Michele and Nicole, in March of 1994 O.J. agreed to placate Nicole by replacing Michele with another housekeeper, Gigi, a friend of Michele's. Gigi began work full time for O.J. in April, and was working for him at the time of the crimes, but on that particular night was away, unexpectedly staying with her family over Sunday night.

Nicole suddenly decided to sell the Bundy property in the week or two before the crimes. In fact, she had put the place on the market late in that final week. Part of her plan was to evade taxes on the sale by claiming that she was moving back to her previous residence on Rockingham, but O.J. would not agree to the ruse, and advised her so in a letter which she received on the final Thursday. Under other circumstances, we could think that her reason for selling was to formalize and deepen the separation with O.J., but the plan to claim to be again living with him does not seem consistent with that motive. There was a hint in a note that Nicole wrote to O.J. in May, 1994 accompanying videotapes she was returning to him, that she sensed some unspecified danger in the air that came from some other source than him -- indeed from some source that she might want him to protect her from. It could be that the same premonition of danger caused her to suddenly want her to sell the house. But, too little has been offered on this subject to know for sure.

In late 1993, O.J. bought a new dog to replace an aging household pet that, in fact, died the following March. The new dog was a young Akita which they named, "Kato". It pretty much traveled with the children, staying mostly on Bundy, but visiting at Rockingham when O.J.'s children visited there. It was in the Bundy household on the night of the crimes.

Another player who crossed the stage was Keith Zlomsowitch, a restaurateur whom Nicole met in Colorado. A few years after meeting Nicole, Keith and his partner opened a restaurant in Los Angeles -- the Mezzaluna. Nicole and Keith renewed their acquaintance, and during a period of estrangement from O.J., Nicole entertained Keith in her living room, unaware that O.J. was watching from the street outside. O.J. could see them engaged in an act of oral sex, and though he did not confront them then, told Keith the next day that he did not think that such activities were proper with his children sleeping in the house at the time. Keith's, carnal interest in Nicole evaporated then, but he continued to have a warm and friendly relationship with her.

Arnelle Simpson is O.J.'s adult daughter by a previous marriage. She is an articulate, attractive, and personable young women. She had recently graduated from college on the east coast and began living in one of the three guest houses on O.J.'s estate when she returned to Los Angeles. She was living there on the night of the crime, but was away with friends at the time of the crime, and did not return until about 1:30 the following morning.

Faye Resnick and the man who was at that time her fiancé, chiropractor Christian Reichardt, had been friends of O.J. and Nicole for some time. Faye is rumored to be a woman with a sensational and disreputable past, having a long association with the Westside drug culture. In March, she was contemplating breast augmentation surgery, but was discouraged from this by her fiancé who feared that pain relief drugs that would be prescribed would lead her again into an illicit cocaine experience. She went ahead with the surgery, nonetheless. On June 3rd, Faye came to live at Nicole's condo for reasons that have never been publicized; she continued to live there until June 8th. On that afternoon she suffered a drug overdose, and a crisis intervention session was convened away from the Bundy condo, which included her fiancé, her ex-husband, and Nicole, and she was persuaded that night to enter a drug rehab center, Exodus. The rehabilitation experience cost $7,000 which was paid by her fiancé. It has been represented that in the weeks preceding the murders, Faye had no employment and no assets, and the question has been raised as to how she could have afforded to supply herself with expensive cocaine over a two month period following her surgery. Shortly after being released from rehab, she authored a tell-all book about the crimes, and expressed the belief that O.J. committed the murders. She and Christian Reichardt became estranged shortly later.

On Sunday, June 12th, the couple's eight-year-old daughter, Sydney, was to participate in a dance recital at the Paul Revere school in Brentwood. Nicole's parents had driven up from Orange County, and a dinner following the late afternoon recital was planned at the Mezzaluna restaurant. O.J. had always been close not only to Nicole, but to her family, as well. But, on this occasion Nicole made it clear that O.J. was not welcome to sit with the family at the recital, and was not being invited to the dinner afterward. He was peeved, and dragged a chair to the farthest corner of the auditorium, and watched the presentation from there. A videotape made by a member of the audience, however, showed that O.J. was cordial and warm to Nicole's mother and father outside after the performance, and embraced his children enthusiastically.

Nicole's party dined from about 7:00 to 8:30, and following dinner Nicole walked with her children to a nearby ice cream parlor. The remains of a cup of ice cream she bought was found in the house after the murders were discovered. Nicole's mother was the last person known to have spoken to her -- in a phone conversation at about 9:45.

O.J. had been in Buffalo, New York, the previous week and returned to Los Angeles both to attend the dance recital and a benefit the previous night to which he took Paula. He was planning to take the "red eye" to Chicago Sunday night, with a 11:45 pm departure from LAX; a limousine was scheduled to pick him up on Rockingham at 10:45. The planning for this trip had been made far enough in advance that the man in Chicago who was to meet O.J.'s flight knew of the flight number the preceding Wednesday.

On Sunday morning, O.J. went to a local country club for a little golf, and in the afternoon played cards with friends there. During the afternoon, he made a brief and heated phone call, believed to have been to Nicole, and attempted several times unsuccessfully to reach Paula. He returned home in the early evening, and had several brief sporadic interactions with Kato. At 7:15 he phoned a former Raiders cheerleader, Gretchen Stockdale, and left a message advising that he was at a point in his life where he was "totally, totally free." At about 9:00 he told Kato he was going to McDonald's for a hamburger; Kato asked to come along. They drove to the Santa Monica outlet, and patronized the drive-thru window in the Bentley. O.J. ate his hamburger on the way back, Kato saved his until he was back in his room at the estate. The last time Kato saw O.J. was about 9:40. At that time, O.J.'s bags were not yet on the porch; when Kato next saw the porch, at 10:55, the bags were stacked there to be loaded into the limo. At 10:04 O.J. made another unsuccessful attempt to contact Paula from his cellular phone.

At about 10:23, limo driver Alan Park arrived early at Simpson's Rockingham Avenue estate for the 10:45 pickup, parked near one of the gates to the estate, and had a cigarette or two. At 10:40 he positioned the limo at one of the gates and tried to raise someone in the house on the intercom -- to no avail. He tried from 10:40 until after 10:50, and consulted with his boss via the car phone how long to wait if there was no answer. Finally, at 10:55 he saw a "shadowy figure," a six-foot tall Afro-American in black clothing go into the house, whereupon the lights in the house went on. Kato seemed to come out of nowhere and passed down the driveway without acknowledging Park. About 30 seconds after the black man went into the house, Simpson came on the intercom, apologized for oversleeping, and remotely opened the gate. Five minutes later, Simpson came out, Simpson, Park, and Kato loaded the limo, and it left for LAX.

Two miles south, on Bundy Drive, Nicole's dog was observed running loose in the street. He was barking "crazy" and "hysterical" according to reports, and acting in an extremely agitated way. The dog was seen by Nicole's neighbor, Louis Karpf, at about 10:45, and was taken in tow by a man, Steven Schwab, out walking his own dog a few minutes later. Schwab discovered that the dog's feet and legs were covered with blood. He tried to determine the cause of the dog's distress, but was eventually unable to do more than take the dog back to his apartment building. Being unable to keep the dog in his own apartment overnight, he consigned the dog to a neighbor, Sukru Boztepe. After the dog was in Boztepe's apartment for a few minutes, the animal became so agitated that Boztepe and his wife decided to take the dog out on the streets in hope that he would lead them to his home. In that way, they followed the Akita to Nicole's front walk, and after going a few feet up that, Boztepe realized that there was a woman's body at the foot of the steps, and a river of blood issuing from there.

Boztepe ran to nearby houses to raise an alarm, and from one of them the police were called. Patrolman Riske established about 12:15 that a woman had been murdered there, and a few feet nearby, in an alcove of shrubs, there was the dead body of a second victim -- a young man. Eventually the coroner determined that the female victim was Nicole Brown Simpson, OJ's ex-wife. She had a few knife wounds, but a massive and fatal wound where her throat had been slashed. The man was Ronald Goldman, a Mezzaluna waiter, he had been savagely butchered with a knife on the left side of his head and neck; and he also suffered four deep stab wounds, one of which may have been the immediate cause of death. Both victims bled much, and the scene of their murders was horrific.

THE MEDIA

By 8:30 on the morning of June 13th, there was an unprecedented media presence at the sites of both the Bundy Drive crime scene and O.J.'s Rockingham estate. Every footfall of the investigators was broadcast, and anyone who lived in the areas and wanted to appear on television had their chance. TV news magazines went to great lengths to interview anyone who claimed to have any information about the crime. File footage documenting O.J.'s career and his life with Nicole was dusted off and presented.

The Simpson affair was tailor made for the supermarket tabloids; they ate it up: "Nicole Had Six Abortions, Doctor Files Show!" No stone was left unturned. In the earliest reports the tabloids hyped a late-night tryst as Goldman's real errand. Nicole, after all was shoeless and braless; she was wearing only a black cocktail dress and black thong panties when she was killed. But, it was later learned, that was her virtual uniform; no significance to that. The tabloids pointed out that her living room at the time was illuminated by a collection of candles and there was romantic mood music playing on the radio. But, that too was her usual way. Upstairs, a bath had been drawn in the master bathroom and that room was lit by candles, suggesting that a pending romantic interlude was unlikely -- unless it was the preparation for a kinky hydro-sex session. It was soon discovered that there was an innocent cause for Goldman's visit -- Nicole's mother's eyeglasses had been discovered at the restaurant, and he was bringing them to Nicole according to pre-arrangement in a telephone conversation earlier in the evening. As hard as the tabloids tried to make a romantic connection, interviews with a dozen of Nicole's closest friends were unwavering in doubting any such link. The tabloids turned to other sensational speculation.

Among the scenes shown that first day, was footage showing O.J. after he had returned from Chicago, handcuffed briefly at his estate on Rockingham. O.J. had been met at LAX upon his return by business associates Skip Taft and Kathy Randa. The cops took Simpson in tow, but were disinterested inmost of Simpson's luggage. Long-time friend Robert Kardashian threw into the trunk of his own car the pieces that Simpson did not carry through his gate, and later stored them at his Encino home. During the trial in the spring of 1995 some of this luggage was recovered from O.J.'s estate, and other pieces were recovered from Kardashian's home, where it had apparently been since O.J.'s hasty trip from Chicago, nine months earlier; except for the golf bag, all of it was empty. Efforts to compel Kardashian to explain failed because of his attorney status.

Immediately after he was told of the tragedy in Brentwood, O.J. began making phone calls to L.A. from Chicago, and continued to keep in touch from the airplane on his way back. Among those he called was attorney Howard Weitzman who initially represented O. J. in the Brown/Goldman murder investigation. Weitzman was waiting at the Rockingham estate when O.J. returned, prevailed upon Det. Vannatter to remove the handcuffs from O.J., and accompanied O.J. on the trip downtown for the police investigation in mid-day. Vannatter testified that Weitzman had advised O.J. against making any statement to police, and when O.J. agreed to be interviewed, Weitzman left in a huff to "go to lunch", leaving O.J. to deal with the police alone. Weitzman has vehemently denied this unflattering portrayal. By Wednesday, June 15th, Weitzman had been replaced by Bob Shapiro as O.J.'s attorney for the matter, and by the August preliminary hearing, Johnny Cochran joined the growing team, and eventually replaced Shapiro as lead counsel.

As the days progressed, the media made it clear that the police suspected O.J., and were busy building a case against him. Interviews with O.J. by the police were leaked and it was said that when he was confronted by blood stains on the back walk of the Bundy crime scene and inside his Bronco, O.J. at first said that he did not remember how he had cut his hand; later he said that he had cut it on the cell phone in his car, but the police could show that such an explanation was untrue.

O.J. himself tried to avoid the media and his friends were effective in helping with this. But the camera caught up with O.J. in mid-week at Nicole's funeral, and the sight was awful. Even though he was hiding behind dark glasses, O.J. was very clearly in a state of great distress. His supporters said that this showed the depths of his grief for loosing Nicole; his detractors said that it showed his terror at having been caught in the crime. Everything was ambiguous. Later it was reported that at the funeral Nicole's mother asked O.J. whether he had murdered her daughter, and he is reported to have said, "I loved her too
much." The supporters said this was an expression of how impossible was the thought; his detractors said that he was so possessive that he could not let any other man have her, and killed her rather than permit such an eventuality. The only thing that was not ambiguous was the fact that he was greatly distraught.

The public, following the media, began to polarize into two camps. Eventually, a quarter of Afro-Americans said they believed O.J. guilty of the murders, three-quarters of Caucasians believed him guilty. The argument of those who believed him innocent was that the LAPD had a long history of abusing Afro-Americans, and would not be above fabricating evidence. But the amount of evidence was huge and the circumstances of its collection and processing was varied. Advocates of guilt were similarly unconcerned by the evidence of the crime. Common reasons for believing O.J. guilty were, "He has shifty eyes," "I can read his body language," and "He beat her up five years earlier; he's the type that could do murder."

The media frenzy that started on Monday morning continued until the incredible events that began at mid-day Friday. By that time, serological tests on blood drops collected at the Bundy crime scene came in, and together with initial descriptions of the drops showed that O.J. had been at the crime scene. On the strength of this, the LAPD filed a case against him with the D.A. An arrest warrant was prepared, and O.J.'s attorney was advised to surrender him when the police would show up in early afternoon. At the time, O.J. and his friend A.C. Cowlings were at Kardashian's home in Encino. When the police arrived, O.J. and Cowlings had fled in Cowlings' Bronco.

The highest ranking public spokesman for the LAPD went on television to announce that O.J. was a fugitive being sought by all law enforcement agencies. The District Attorney, Gill Garceti, spoke on television threatening, through clenched teeth, the direst consequences for anyone that might aid him escape justice. At a 5:00 pm press conference at Kardashian's home, Kardashian read a "farewell note" that O.J. had written there before fleeing. It was sentimental and morose, and proclaimed his innocence. It also contained a pleading paragraph in which he begged the media to leave his children and his family alone. This was a little odd, because the family had in fact escaped the brunt of the media scrutiny in the previous week. But, the exercise did allow O.J. to broadcast the plea, "Please, please, leave my children alone." Was he really addressing the media, or someone else who would hear? Every word of the "farewell note" was analyzed by the media, but at the end little more could be said than that it was written by a distraught man.

Just before 7:00 o'clock, with about an hour of daylight remaining in Los Angeles, the media caught sight of Cowlings' Bronco, and intercepted a cellular call from Cowlings to the police in which he advised that O.J. was in the back with a gun to his head. Los Angeles radio stations crackled with the news. Even though it was doubtful that the radio in Cowlings' Bronco was turned on, famous sports broadcasters were patched through from their homes to the transmitters to issue desperate pleas, "O.J., don't do it!" All regular television programming was dropped; every media helicopter in Southern California was in the air. Ground camera units were hurriedly positioned to catch a fleeting glimpse of Cowlings' passage in the fading afternoon sunlight. Throngs from nowhere suddenly flocked to the freeway margins and overpasses to wave and encourage Cowlings in what was immediately described as the "low speed chase."

The event was of unprecedented popular interest in current times. Since World War II, only the first steps of a man on the moon, even came close to capturing the television audience of this event. For a spontaneous event, it was absolutely unprecedented in its coverage. At one point, the Channel 7 helicopter had to break away for refueling and the station had to broadcast a feed from a competitor's helicopter. This resulted in the unimaginable situation in which Channel 7 viewers saw the Cannel 5 logo in the lower right corner of the picture.

Dozens of police cars followed him from the first sighting in Orange County, near Nicole's grave site, up through the web of the freeway system into Los Angeles County, west to the 405 freeway, and north to Brentwood. It was uncertain whether he was headed to his own home, or to the site of Nicole's murder. Only when Cowlings' Bronco passed the Wilshire off-ramp and continued to Sunset was his intention clear.

Westward on Sunset Boulevard, where others had gathered in the twilight to watch the incomprehensible odyssey, several miles yet to Rockingham. The way was filled with cars and cheering people; from a half mile ahead and 10 yards behind Cowlings' Bronco the road was impassable. But, like Moses crossing the Red Sea, wherever Cowlings drove the path ahead was clear. All the way to Rockingham, and up that, right into O.J.'s driveway. Before Cowlings had turned off the engine, though, scores of waiting police had closed in behind. The trip was over. There began, then, an hour long process in the gloom, and beneath the roar of half a dozen news helicopters, of negotiating with O.J.-- still armed in the back of the Bronco -- over a cellular telephone. But at the end, he stumbled into the house and was arrested, and after a few minutes to refresh himself, was taken downtown, and booked for the murders of Nicole and Ron.

Bail for the offense was unlikely, but after the flight it was impossible. O.J. stayed in jail until and during the trial. After the low speed chase, Cowlings' Bronco was searched, and inside was found a handgun, $8,000 in cash and O.J.'s passport. The implication of intended flight would be obvious for a lesser well known person, but it is hard to imagine any clear thinking person believing that one as well known as O.J. Simpson could long avoid detection.

O.J. was arraigned shortly after his arrest, and entered his plea: Absolutely, 100% Not Guilty.

Since the event, the Brown family has become the darlings of the Cause Crowd, championing the season's favorite: Spousal Abuse. A foundation was established and Nicole's sister, Denise, developed many new and politically correct friends while touring for the cause. Denise has also cruised the TV magazine circuit, and in one such appearance told Diane Sawyer defensively that at some period before the crimes "everybody" had used cocaine. However, no such indication was found in either victim at the time of autopsy.
Also on the TV magazine circuit was an author-friend of Kato Kaelin who revealed to Barbara Walters a conversation he had had with Kato. Contrary to Kato's trial testimony, the author claimed that Kato told him that at the time the limo for LAX was being loaded, O.J. was trembling uncontrollably. Another member of this parade of tell-for-cash witnesses was Jill Shively who claims she was driving at Bundy and San Vicente at 10:39 on the night of the crimes when she saw O.J. in his white Bronco with the headlights out frantically trying to get thru the intersection on a path from Nicole's condo toward his home. Because she had taken money for her story, she was never invited to testify at the trial. In lawyerland, taking money for your story is an exclamation mark; for the rest of us, it's a question mark.

In September, KNBC reporter Tracie Savage reported that DNA tests on the socks from O.J's bedroom were positive for Nicole's DNA. Judge Ito had been fuming since the start about news leaks, and now exploded, declaring that the non-stop media circus that had started on the morning of June 13th would end. He 1) denounced the reporter from the bench and solicited public declarations from the attorneys that the report was false, 2) subpoenaed the reporter and her bosses to be grilled by him, 3) ordered that further test results be submitted to the court, and 4) when all else failed submitted to blackmail (he gave an exclusive biographical interview in the late fall to KCBS.) Whatever he did, the feeding frenzy was instantly over. Serious and responsible reporting continued, but the race to scoop other reporters with early and sensational stories ended. (Later, the defense made an issue of the Savage report, claiming that it showed that someone in the LAPD knew before the DNA test was done what it would show, and knew that because they had planted Nicole's blood on the socks. Most people chose to believe that the report was actually based on serological tests -- which had been done by then -- but were misunderstood by the reporter or her informant to have been DNA tests, which had not been done at the time of the report.)

In her book, Faye Resnick has several things to say that are of interest here. 1) Although witnesses in the trial have alluded to the fact that she stayed as Nicole's house guest from June 3rd to June 8th, Faye herself is vague on the subject, and the only references she makes to the issue contradict the houseguest testimony. 2) Her diaries for the period were stolen. While she attributes this to O.J. or Shapiro's agents, all she can say for sure is that they were missing after a burglary. 3) She had spoken to Nicole at 9:00 p.m. on the night of the murder -- a conversation that would have contained valuable last-minute status information if relayed to any plotters of the crime. 4) At the outset of the "houseguest" period, Nicole had wanted to give Faye keys to the condo, but they were missing from the drawer in the living room table where the spare set was kept. Again, she believes O.J. had stolen them, but is only speculating. Ordinarily, there were four sets: Nicole's; a set for the maid, Elvie; a set given to Nicole's long-time friend, Cora Fishman; and a spare set. The anecdote in her book both acknowledges the missing set and denies responsibility for them, but the incident occurred during a time when Faye was influenced by cocaine, and even if she were trying to be honest, we can not be sure of what the truth is regarding the destiny of the fourth set of keys.

THE PRELIMINARY HEARING

In Los Angeles County, most criminal indictments are returned by the grand jury; but, an alternative is allowed, a preliminary hearing. The latter is a public forum, and after the astonishing amount of public notice that the matter had received, any other method of proceeding was unthinkable. The hearing was held a month or two after the crime and provided only the outline of the prosecution's case. They merely had to show reasonable cause to hold O.J. for trial, and the information they had at that point seemed enough.

The presentation began two weeks after the murders with revelation of the New Year's 1989 beating and Nicole's 1993 call to 911. Then came the story of the barking dog; apparently the Akita's discovery of the crime caused it to begin barking at 10:15 or 10:20, thus setting the latest time for the crime. Then came a description of the crime scene: bloody footprints led from Nicole's body down the north walkway to the alley behind the condo. Beside that gruesome path was a trail of five blood drops. Serological tests showed the trail of drops matched O.J's type, but could not have come from either of the victims. In fact, they could have only come from one person in 200 in the general population, and O.J. was one of that select number. DNA tests were yet to come.

Testimony also established that O.J. had a fresh wound on the middle finger of his left hand, a wound he variously described as receiving on the cell phone in his car and on the shards of a broken drinking glass in his Chicago hotel room. Hairs found in the blue knit cap at the crime scene were identified as having come from O.J.'s head. A bloody right hand glove found behind O.J.'s garage the morning after the crime was identified as the mate to a left hand glove found at the crime scene. Serological tests of the blood in O.J.'s Bronco showed that it came both from O.J. and from Nicole. (Later, more sensitive DNA tests would show Goldman's blood in the Bronco, as well.)

The coroner described the wounds to the victims in great detail, but this testimony was later largely superseded in the trial by his boss who studied the matter in much greater detail and produced a
somewhat different version, but one which was nonetheless consistent with the prosecution's story.

Two matters were discussed in the preliminary hearing that were not later discussed in the trial. In the first of these, several witnesses were presented who testified that in the first week of May (about a week before O.J. broke up with Nicole) he bought a simulated-bone handled knife with a manually locking blade six inches long and 3/4" wide at Ross Cutlery in downtown Los Angeles. The blade characteristics of the knife matched the wounds on the victims. Even though the coroner testimony changed greatly in many details, that detail did not change. Even today, coroner testimony (corroborated by Doug Diedrick of the FBI) holds that the murder weapon had the same characteristics as the knife O.J. bought at Ross Cutlery. The occasion for the visit to the knife store was its proximity to a location shoot for a movie, "Frogmen," in which O.J. was to appear. O.J. had traveled to Puerto Rico earlier in the year for other shooting on that film.

The other issue at the hearing not mentioned at the trial was Nicole's "farewell note". This was a handwritten note attached to videotape cassettes she was returning to O.J. -- one was of their marriage, and the other was a tribute to O.J. The note described Nicole's reasons for returning them, and concluded, "O.J. If I ever call it will only be in an emergency. Please return these calls immediately." On the telephone in her kitchen was a speed dialer with O.J.'s number pre-programmed, giving her the resource to quickly do just that.

Another incident that occurred at the preliminary hearing was the introduction of the "mystery envelope." This was a large manila envelope which the judge waved before the cameras, explaining that the defense had arranged for a special master to recover an item and have it tested, then delivered the item and the test results to the court where it was to be kept under seal. Apparently, the defense had done this quietly, and had wanted to conceal the materials from the prosecutors for use in a later ambush, and had chosen the submission under seal strategy to accomplish such a result. They were, therefore, quite horrified when the judge waved the sealed envelope before the world. Leaks to the press occurring much later suggest that the envelope contains the knife that O.J. bought at Ross Cutlery (which the special master was able to find in O.J.'s medicine cabinet after excruciatingly detailed searches of his house by the police had missed it.) The report is believed to indicate that sensitive tests were unable to detect any trace of human blood on the knife. Thus, the mystery envelope was intended to be produced at the trial when the prosecution introduced the evidence of O.J.'s knife purchase. But the premature revelation of the envelope tipped off the prosecution, and the issue of Ross Cutlery never surfaced in the trial.

As a result of the preliminary hearing, O.J. Simpson was held for trial to answer for two counts of first degree murder. Although it was a case in which the District Attorney could assert special circumstances, it was decided that O.J's previous good record indicated that it was not appropriate for the D.A. to seek the death penalty.



OJTrial.com: Streaming Video of the 'Trial Of The Century!'
http://www.ojtrial.com/

Transcript of Simpson 'Bronco chase' call released
http://home.carolina.rr.com/totalitypro/broncochase.html



Bronco Chase Highlights


CNN - O.J. Simpson Trial
http://www.google.com/search?hl=en&ie=ISO-8859-1&q=oj+simpson+case


List of the evidence in the O.J. Simpson double-murder trial:
http://www.usatoday.com/news/index/nns25.htm
List of the evidence in the O.J. Simpson double-murder trial:
Key evidence and testimony in the O.J. Simpson murder trial, with explanations of how the prosecution has used it against Simpson thus far and how the defense has challenged it:

Crime scene blood:
Blood drops were found alongside bloody shoe prints leading away from the bodies of Nicole Brown Simpson and Ronald Goldman; blood was found on a gate at the back of the murder scene condominium; blood from both places contained Simpson's genetic markers. Simpson had a cut on his left middle finger when interviewed by police the day after the killings.

Prosecution: one of the most important parts of the case, claiming it placed Simpson at the crime scene; said Simpson dripped blood after wounding his finger with a knife during the murders; said scientific controls and testing by different labs thwarted any possibility of contamination or tampering.

Defense: mounted vigorous counterattack, alleging samples were sloppily collected and poorly handled, rendering DNA results unreliable; raised possibility that blood was planted by someone who took it from a police crime lab vial that contained Simpson's blood and a blood preservative; most compelling evidence was bloodstains on paper wrapping that was supposed to be holding dry blood samples; wound on Simpson's left hand was only a minor one he suffered in his house - not enough to drip as much blood as prosecutors found - and that Simpson re-injured the finger when he cut it on a glass in a Chicago hotel room the morning after killings, before police interviewed him.

Bloody shoe prints:
The bloody shoe prints matched a size 12 Bruno Magli shoe, a relatively rare Italian-made model. Simpson wears size 12 shoes.

Prosecution: tried to place Simpson at the murder scene by showing that Bloomingdale's in New York, where Simpson sometimes shopped, carried such shoes.

Defense: Thousands of people bought such shoes; noted that no murder shoes were ever recovered and that the prosecution had no evidence that Simpson ever purchased such shoes; raised the possibility that unexplained "imprints'' that didn't match the Bruno Magli sole also were at the crime scene.

Crime scene hairs and fibers:
Hairs found in a dark knit cap were similar to Simpson's hairs; fibers on a cap were similar to those in the carpeting of Simpson's Ford Bronco; dark blue cotton fibers were found on Goldman.

Prosecution: Evidence places Simpson at the crime scene; noted that a witness said Simpson wore a dark sweat suit the night of the murders.

Defense: Hairs mean nothing more than assailant may have been black, as is roughly 10 percent of Los Angeles' population; also pointed to hairs that appeared to contain no dandruff, while Simpson's hair sample had some dandruff; no dark blue sweat suit was ever found; evidence could have been cast about the scene when a detective unfurled a blanket from Ms. Simpson's home to cover her body.

Bloody gloves:
One dark, cashmere-lined Aris Light leather glove, size extra large, was found at the murder scene, another behind Simpson's guest house, near where Brian "Kato'' Kaelin heard bumps in the night. Ms. Simpson bought Simpson two pair of such gloves in 1990. DNA tests showed blood on glove found on Simpson's property appeared to contain genetic markers of Simpson and both victims; a long strand of blond hair similar to Ms. Simpson's also was found on that glove.

Prosecution: Simpson lost the left glove at his ex-wife's home during the struggle and, in a rush, inadvertently dropped the right glove while trying to hide it; explained that evidence gloves didn't fit Simpson in a courtroom demonstration because the gloves shrunk from being soaked in blood and Simpson had rubber gloves on underneath.

Defense: glove behind guest house was planted by Detective Mark Fuhrman, a racist cop trying to frame Simpson; blood on glove may have been planted by police; gloated that evidence gloves didn't fit; hair analysis isn't sophisticated enough to be trusted.

Bloody socks:
Pair of dark, crumpled socks found at the foot of Simpson's bed; DNA tests found the genetic markers of Simpson and his ex-wife.

Prosecution: contended this directly linked a victim to Simpson.

Defense: suggested socks were planted at house by police, then blood was put on socks later at the police lab to frame Simpson; most compelling evidence of tampering is that some blood soaked all the way through one sock to other side, which it shouldn't have done if a foot was in it.

Bloody Bronco:
Small spot of blood found near driver's outside door handle of Simpson's Ford Bronco; other blood found smeared inside on console, door, steering wheel and carpeting; DNA tests showed some of the blood apparently a mixture with genetic markers of Simpson and the victims.

Prosecution: said Simpson drove Bronco to and from crime scene.

Defense: challenged interpretation of DNA tests, particularly those suggesting a genetic match to Goldman in a mixture; noted that the genetic material of an unknown person was found in the steering wheel blood; suggested police planted some of the blood; elicited testimony that the Bronco was entered at least twice by unauthorized people while it sat in a police impound yard.

Timeline:
Murders occurred between 10:15 p.m. and 10:40 p.m., based on testimony from prosecution and defense witnesses who heard barking from the area of the crime scene. Ms. Simpson's blood-covered pet Akita was found shortly before 11 p.m.

Prosecution: Simpson lacked an alibi or even plausible story for what he was doing alone during this period; pointed to testimony of a neighbor who saw a vehicle similar to a Bronco racing away from the crime scene at 10:35 p.m.; suggested that Simpson would still have had time to make the approximately five-minute drive home in time for Kaelin to hear bumps behind guest house at about 10:40 p.m.; suggested that the shadowy figure seen by a waiting limousine driver slipping into Simpson's house just before 11 p.m. was Simpson returning from the murders.

Defense: Simpson didn't have enough time from when he was last seen by Kaelin about 9:40 p.m. to drive to Ms. Simpson's home, kill two people, hide bloody clothing and murder weapon, drive home, drop glove behind guest house and clean up before greeting the limo driver about 11 p.m.; told jurors during opening statements that Simpson was home practicing his golf swing at the hour of the murders.

Violent past:
Through 911 calls to police and testimony, prosecutors allege a history of Simpson hitting, degrading and stalking Ms. Simpson.

Prosecution: pointed to motive, showing Simpson was prone to jealous rages and capable of hurting his ex-wife; suggested Goldman died because he was in the wrong place at the wrong time, and Simpson may have seen him as a potential suitor.

Defense: irrelevant, isolated events that were poorly supported by what little evidence the prosecution presented.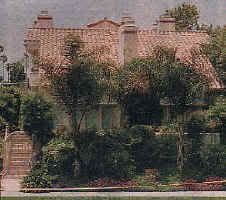 OJTrial.com: Streaming Video of the 'Trial Of The Century!'
http://www.ojtrial.com/

The O.J. Simpson Case
http://www.wagnerandson.com/oj/OJ.htm

The O. J. Simpson murder case was a highly publicized U.S. criminal trial in which former American football star for the National Football League (NFL) and actor O. J. Simpson was charged with the murder of one of his ex-wives and her friend, Ronald Goldman. Simpson was acquitted after the lengthy criminal trial, but was later found liable for the wrongful death of Goldman in a civil trial.
Shortly before midnight on June 12, 1994, Simpson's former wife Nicole Brown Simpson and her friend Ronald Goldman were found stabbed to death outside Brown's Bundy Drive Brentwood-area condominium in Los Angeles, California with the Simpson children sleeping in an upstairs bedroom. The Simpsons had been divorced since 1992. Evidence found and collected at the scene led police to believe that O. J. Simpson might have been the murderer.
Simpson's lawyers convinced the Los Angeles Police Department to allow Simpson to turn himself in at 11 a.m. on June 17 even though the double murder charge meant no bail and a possible death penalty verdict if convicted. Double homicide is a capital offense in California.[1] In the end, the prosecution elected not to ask for the death penalty and sought a life sentence.
http://en.wikipedia.org/wiki/O.J._Simpson_murder_case
OJ Simpson Tries on Gloves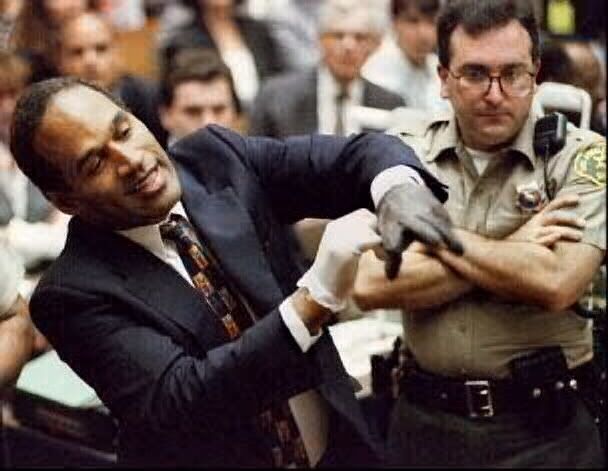 Johnny Cochran closing argumen
ts
CNN: Special OJ Simpson section: The Verdict
http://www.cnn.com/US/OJ/verdict/index.html
OJ Verdict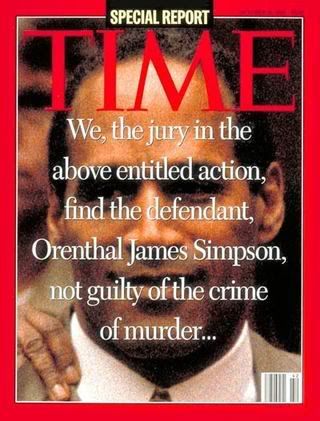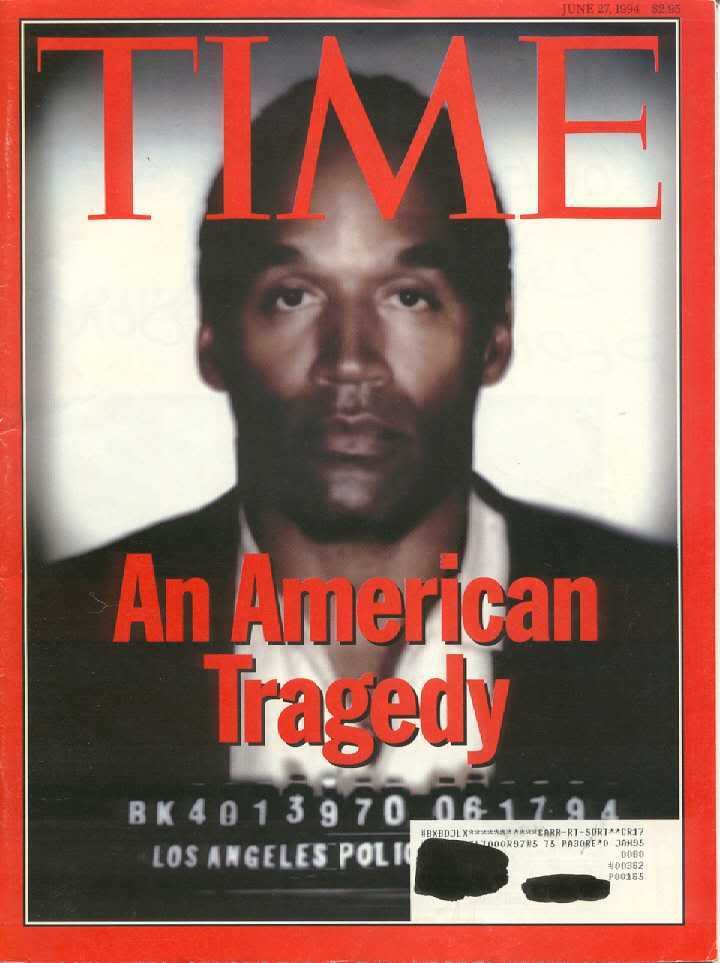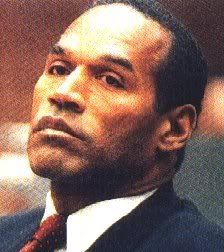 O.J. Simpson civil trial
http://www.usatoday.com/news/index/nns0.htm
Civil trial
On February 5, 1997 a civil jury in Santa Monica, California found Simpson liable for the wrongful death of Ronald Goldman, battery against Ronald Goldman, and battery against Nicole Brown. The attorney for plaintiff Fred Goldman (father of Ronald Goldman) was Daniel Petrocelli. Simpson was ordered to pay $33,500,000 in damages. However, California law protects pensions from being used to satisfy judgments, so Simpson was able to continue much of his lifestyle based on his NFL pension. A 2000 Rolling Stone article reported that Simpson also still makes a significant income by signing autographs. He subsequently moved from California to Miami, Florida. In Florida, a person's residence cannot be seized to collect a debt under most circumstances. It was also reported that Simpson's Heisman Trophy was seized as an asset to pay the judgment.
http://en.wikipedia.org/wiki/O.J._Simpson
Nicole Brown Simpson 9-11 Call
Simpson Civil Trial Explainer
http://www.cnn.com/US/9609/16/simpson.case/index.html
O.J. Simpson faces another trial in the 1994 murders of his ex-wife Nicole Brown Simpson and her friend Ron Goldman. This time it's not his freedom but his bank account at stake as the families of the victims seek financial damages to compensate for the loss of their loved ones.

Simpson was acquitted of murder charges on October 3 and cannot be tried for the murders again in a criminal court. In the civil trial as in the murder trial, the plaintiff will be trying to prove Simpson murdered his ex-wife and her friend, with several key differences.

The Rules:
First, the standard of proof is lower. In a civil trial, the plaintiff -- in this case the families of Nicole Brown Simpson and Ronald Goldman -- must prove Simpson committed the murders by a "preponderance of the evidence," meaning the jury may decide for the plaintiffs if they determine that there is at least a 50.1 percent probability that Simpson is responsible.

In the murder trial, the state had to prove Simpson committed the murders "beyond a reasonable doubt," meaning that jurors had to be all but positive Simpson committed the murders to convict him. This time, jurors need not come to a unanimous decision, and only nine of the 12 jurors need to agree for a verdict to be reached.

Second, Simpson can be required to testify during the civil trial. In the murder trial Simpson was not required to take the stand and the jurors were not allowed to hold his decision to remain silent against him.

In the civil case Simpson will be compelled to testify if called to the stand or forfeit the case. He has already given attorneys 10 days worth of testimony in depositions that can be used at trial.

If the jury finds for the plaintiffs, Simpson will have to pay unspecified damages for the wrongful deaths of Nicole Brown Simpson and Ron Goldman. A verdict for either side would be a moral victory. For Simpson it would add weight to his acquittal last year. For the families, it would be a counterbalance to the acquittal. Fred Goldman, the outspoken father of Ron, has called the civil suit his son's "last opportunity for justice."

Media Coverage

The murder trial was broadcast live by several news networks including CNN. While some viewers were disgusted by the constant media attention, others were fascinated, becoming armchair experts on the case. Simpson civil trial-o-philes will have to look elsewhere to keep up with this case. While reporters will be allowed in the courtroom, cameras, audio recorders and sketch artists will be barred. Except for a few reserved seats, the public will not witness the trial for itself.

The Players
Simpson, the families of the victims and some of the witnesses from the murder trial will be back in court, but there will be no Judge Ito, Johnny Cochran or Marcia Clark this time around. The judge, lawyers and jury are all new.


The Judge: Superior Court Judge Hiroshi Fujisaki is no Judge Lance Ito. Early on, the no-nonsense judge sent signals to the lawyers on both sides he will not tolerate any courtroom shenanigans of the likes that made the Simpson murder trial a eight-month-long affair.

The Plaintiffs: Nicole Brown Simpson's father is represented by John Kelley; Sharon Rufo, Ron Goldman's mother will be represented by attorney Michael Brewer, and Daniel Petrocelli will represent Ron Goldman's father, Fred Goldman.

The Defense: Civil attorney Robert Baker will lead the team representing O.J. Simpson.

The Witnesses: Jurors may hear from several of the witnesses who testified during Simpson's murder trial, including Simpson's house guest Kato Kaelin, Nicole Brown Simpson's friend Faye Resnick and former Los Angeles police detective Mark Fuhrman.




Jury: O.J. is liable


http://www.cnn.com/US/OJ/simpson.civil.trial/index.html



O.J. Simpson is liable for the 1994 death of Ronald Goldman and committed battery against his ex-wife Nicole Brown Simpson, a civil trial jury ruled February 4, 1997.



The Superior Court jury awarded $8.5 million in compensatory damages to the Goldman family and to Ron Goldman's biological mother.

The jury ruled against Simpson on each of the eight technical questions of liability it was asked to consider. It effectively found Simpson liable for his ex-wife's death, though the Brown family did not seek such a verdict.

OJ Simpson Civil Trial Verdict
Chronology of the O.J. Simpson Trials
http://www.law.umkc.edu/faculty/projects/ftrials/Simpson/Simpsonchron.html
June 12, 1994 Nicole Brown Simpson and Ronald Goldman are stabbed to death. Their bodies found in the front courtyard of the Nicole's condominium in Brentwood.
June 13, 1994 O.J. Simpson is notified of the murders while on a business trip in Chicago. He returns to Los Angeles, is temporarily handcuffed, and taken in for questioning. Robert Shapiro is contacted on Simpson's behalf and asked to become defense counsel.
June 16, 1994 The funerals of the victims are held.
June 17, 1994 About to be arrested for murder, Simpson slips out of Robert Kardashian's home. He is chased by police while riding in his white Ford Bronco, driven by friend A.C. Cowlings. When he returns to his home on Rockingham, Simpson is taken into custody.
June 24, 1994 Grand jury recused.
July 8, 1994 Six-day preliminary hearing ends with Judge Kathleen Kennedy-Powell ruling there is sufficient evidence for O.J. Simpson to stand trial on two counts of first-degree murder.
July 22, 1994 O.J. pleads "absolutely 100 percent not guilty" to the charges. Judge Lance A. Ito assigned to hear case.
August 18, 1994 Defense counsel files motion to obtain personnel records of Detective Mark Fuhrman.
September 2, 1994 District attorney files motion to sequester jury.
September 9, 1994 District attorney announces that the death penalty will not be sought.
September 19, 1994 Judge Ito upholds the legality of the search of Simpson's home.
November 3, 1994 Jury panel selected: eight black, one white, one hispanic, two mixed race; eight women, four men.
December 8, 1994 Alternate jury selected.
January 4, 1995 Defense waives hearing for challenge of prosecution's DNA evidence.
January 11, 1995 The jury is sequestered. Hearing held on admissibility of domestic-abuse evidence.
January 13, 1995 Prosecutor Christopher Darden and defense attorney Johnnie Cochran argue over racist language regarding the upcoming testimony of Mark Fuhrman.
January 24, 1995 Trial opens. Prosecutors Marcia Clark and Christopher Darden deliver opening statements.
January 25, 1995 Johnnie Cochran makes opening statement for the defense.
January 27, 1995 O.J. Simpson's book, I Want to Tell You, is published.
February 3, 1995 Nicole Brown's sister Denise testifies about O.J. Simpson's abuse of her sister.
February 12, 1995 Jurors take field trip to Simpson home and Bundy Drive crime scene.
March 15, 1995 Detective Mark Fuhrman, cross-examined by defense attorney F. Lee Bailey, denies using the word "nigger" at any time in the previous ten years.
April 11, 1995 L.A.P.D. criminalist Dennis Fung concedes, under cross-examination by defense attorney Barry Scheck, procedural errors.
April 21, 1995 After three sheriff's deputies are reassigned, jurors protest. They first refuse to come to court, then show up dressed in black.
May 4, 1995 Wrongful death suit filed on behalf of the Goldmans.
May 10, 1995 DNA testimony begins.
May 15, 1995 Simpson tries on the bloody gloves. They seem not to fit.
July 6, 1995 The prosecution rests.
July 10, 1995 The defense calls its first witness, Arnelle Simpson, O.J. Simpson's daughter.
August 15, 1995 Controversy over possible conflict of interest concerning Judge Ito. Marchia Clark asks Ito to recuse himself from Simpson trial.
August 16, 1995 Clark changes her mind on Ito recusal.
August 18, 1995 Superior court judge John Reid rules that Captain York's testimony is not relevant to Simpson trial.
August 29, 1995 Fuhrman tapes played in court, with jury absent.
August 31, 1995 Judge Ito rules that jury will hear two excerpts of controversial tapes.
September 5, 1995 The jury hears excerpts from Fuhrman tapes.
September 6, 1995 With jury absent, Mark Fuhrman appears on stand. He refuses to answer questions, citing his Fifth Amendment privilege against self incrimination.
September 7, 1995 The defense announces that Simpson won't testify on his own behalf. The defense asks Judge Ito to instruct jury as to reason for Fuhrman's further nonappearance. Judge agrees, but prosecution objects. The question is appealed.
September 8, 1995 Appeals court rejects Ito's jury instruction.
September 11, 1995 Defense refuses to rest their case due to the unresolved question of judge's instruction to jury concerning Fuhrman. Judge Ito orders prosecution to begin its rebuttal.
September 18, 1995 Prosecution conditionally rests its case.
September 19, 1995 Detective Vannatter is cross-examined by Shapiro on statements he made to mob informants about why police went to O.J. Simpson's residence.
September 21, 1995 Both defense and prosecution rest their cases. In a statement to judge waiving his right to testify, Simpson says "I did not, could not, and would not have committed this crime." Judge Ito gives jury instructions.
Sept. 26 & 27, 1995 Clark and Darden deliver prosecution's closing arguments.
Sept. 27 & 28, 1995 Cochran and Scheck deliver defense's closing arguments. Cochran makes controversial statements to the jury comparing Fuhrman to Hitler.
September 29, 1995 The case goes to the jury.
October 2, 1995 After less than four hours, jury announces that it has reached a verdict.
October 3, 1995 Jury finds O.J. Simpson not guilty of two counts of murder.
October 23, 1996 Opening statements in civil trial. Jury consists of nine whites, one black, one Hispanic, and one person of mixed Asian and African ancestry.
November 22, 1996 Simpson testifies before a jury for the first time. He denies killing Goldman or his former wife, but cannot explain the physical evidence against him.
December 9, 1996 Fred Goldman, Ron's father, testifies. Plaintiffs rest.
December 20, 1996 Simpson awarded custody of his children by an Orange County judge.
January 10, 1997 Simpson on the stand again.
January 16, 1997 Both sides rest. Jury has heard 101 witnesses over 41 days of testimony.
January 21, 1997 Closing argument of Daniel Petrocelli for the plaintiffs. Petrocelli points at Simpson and says, "There's a killer in this courtroom."
January 22, 1997 Closing argument by Robert Baker, representing Simpson.
February 4, 1997 Jury finds Simpson liable and awards plaintiffs $8.5 million in in compensatory damages.
March 26, 1997 Court orders Simpson to turn over his assets, including 1968 Heisman trophy, a Warhol painting, and his golf clubs.
July 14, 1997 The Brentwood estate is auctioned off (and the new owner soon demolishes it).
June 30, 1998 Simpson's attorneys appeal wrongful death award against him, caaling award "excessive and the clear result of passion and prejudice on the part of the jury."
November 2, 1998 Brown and Goldman families split proceeds from an auction of O. J. Simpson's belongings.
May 10, 1999 O. J. Simpson and the Browns negotiate a custody arrangement for the two Simpson children.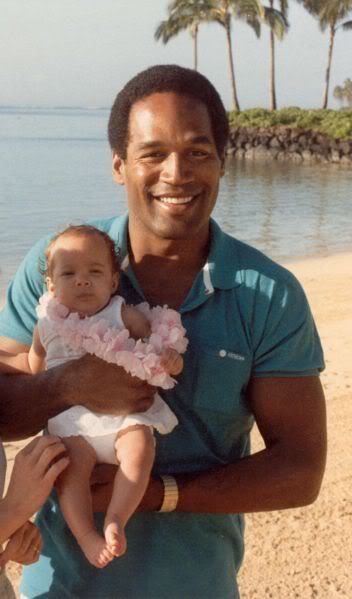 http://www.karisable.com/oj.htm
A quiet night in CA ... two people slashed and stabbed to death at the front entrance to a beautiful condominium in the upscale neighborhood of Brentwood. A dog "wailing" as he was roaming the neighborhood with blood matted on his underside fur and blood on his paws ... barking for someone, anyone to help his slain mistress. Two small children laying in their beds asleep with no idea of the horrible murder scene at their front gate, and the neighborhood going about their normal business with no knowledge of the evil taking place in their quiet world that Sunday night.
This is the scene that eventually erupted into the "Trial of The Century" ... the trial of OJ Simpson for the murders of his ex-wife and her friend.
Did Simpson kill the mother of his two youngest children and her friend, Ron Goldman on the evening of June 12, 1994?
OJ was acquitted of the murders in criminal court, the state of CA was not able to prove that he was guilty "beyond a reasonable doubt".
Is he innocent though?
How is it a civil trial jury ruled he was liable for the 1994 death of Goldman and battery against his ex-wife Nicole, in a suit filed by the families of the victims, February 4, 1997?
What made a difference to the civil jury? Was it the preponderance of reasonable doubt? Was it a racial verdict?
We would like to present to you the facts of the case and allow you to make up your own mind.
We will show you evidence, the crime scene, witnesses as well as experts testimony and conclusions regarding the facts of this infamous and officially unsolved double homicide case.
O.J.'s hypothetical book confession, "If I Did It."
If OJ Did It....
O.J. Simpson - "If I Did It" Interview Promo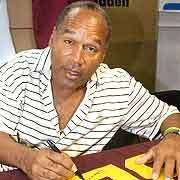 Evidence of Guilt?
O. J. Simpson's 'If I Did It' provoked major controversy before the book was canceled. But what did he actually say? An exclusive look at the crucial chapter.
http://www.msnbc.msn.com/id/16610772/site/newsweek/
The firestorm burned hot and fast: within days of acknowledging one of its divisions was publishing O. J. Simpson's "hypothetical" account of the murders of his ex-wife and her friend, News Corp. reversed course and canceled the book in late November. Rupert Murdoch, News Corp.'s chairman, apologized for the "ill-considered project." Then the company fired Judith Regan, the hard-charging publisher who acquired the book for her ReganBooks imprint and who had conducted a TV interview with Simpson to air on Fox. All 400,000 copies of the book were recalled for destruction, save for one locked away in a News Corp. vault.
Regan and News Corp. were pressured to drop the project (NEWSWEEK was among the critics) because they were, in effect, paying Simpson at least $880,000 to tell how he might have committed the murders, money that should have gone to satisfy the $33.5 million judgment a 1997 civil jury ordered him to pay to the victims' families. Throughout the uproar, however, almost no one knew what the proposed book, titled "If I Did It," actually said. As always with the so-called trial of the century, there were competing narratives. Regan called the book Simpson's "confession"; his attorney scoffed at the idea that the Juice had admitted to anything. But NEWSWEEK has obtained a copy of the book's key chapter from a source who asked not to be identified because of the ongoing controversy. The narrative is as revolting as one might expect, but it's also surprisingly revealing. What emerges from the chapter is something new in the nearly 13-year Simpson saga: a seeming confession in Simpson's own voice.
Ron Goldman's Family Speaks Out About O.J. Simpson
I Know O.J. Did It
An Analysis of O.J. Simpson's Statements and Admissions
http://www.iknowojdidit.com/
News Corp., the parent company of book publisher HarperCollins, has canceled the publication O.J. Simpson's book "If I Did It." The book was supposed to be released on November 30, 2006. Reports say the book is a hypothetical account of how Nicole Brown Simpson and Ronald Goldman were murdered on June 12, 1994. Some are calling Simpson's book a hypothetical confession. However, Simpson admitted to these murders years ago and there was nothing hypothetical about it. Lets look at some of O.J. Simpson's incriminating statements.
The Slow Speed Bronco Chase
On June 17, 1994, five days after Nicole Brown Simpson and Ronald Goldman were murdered, O.J. Simpson was to be arrested via voluntary surrender. Instead of surrendering, Simpson and his friend, Al Cowlings, got into Cowling's Ford Bronco and, according to Simpson, headed for the cemetery to visit Nicole's grave. Because of a police presence at the cemetery they were unable to visit her grave site. Simpson then claims Cowlings noticed that Simpson had a gun. Fearing Simpson might shoot himself Cowlings called the police on his cell phone and told them he had Simpson and he was taking him back to his house. What followed was the infamous slow speed Bronco chase which was televised to millions of viewers. During the chase detective Tom Lange spoke with Simpson on a cell phone. Simpson was huddled in the back seat of the Bronco with a gun in his hand. Lang spends the entire conversation trying to convince Simpson to throw away the gun. At this point in time, Simpson is suicidal. Here are some excerpts from this taped conversation.
Simpson: "I just need to get to my house. I can't live with (unintelligible)."
Lange: "We're going to do that. Just throw the gun out the window."
Simpson: "I can't do that."
Lange: "We're not going to bother you. We're going to let you go up there.
Just throw it out the window. Please. You're scaring everybody. O.J., you there?"
Simpson: "---for me. This is not to keep you guys away from me. This is for me."
Lange: "Okay. It's for you, I know that. But do it for....."
Simpson: "This is for me, for me. That's all."
There is no doubt Simpson is contemplating suicide. He tells us the gun is not to keep the police away but it is for him. We see further evidence of his suicidal state when later in the conversation he makes the statements, "Ah, just tell them I'm all sorry." "I've said goodbye to my kids." What follows is Simpson's confession that he murdered Nicole Brown Simpson.
Lange: "Don't do this. They love you. Don't do it, O.J. It's going to work itself out.
It's going to work. Its going to work. You're listening to me, I know you are,
and you're thinking about your kids right now, aren't you? Aren't you?"
Simpson: "Ah --"
Lange: "They're thinking about you. They're thinking about you."
Simpson: "Ah --"
Lange: "So is your mother. Your mother loves you. Everybody loves you. Don't do this."
Simpson: "Ooh --"
Lange: "I know you're thinking."
Simpson: "Oh --"
Lange: "Man, just throw it out the window."
Simpson: "Ah --"
Lange: "And nobody's going to get hurt."
Simpson: "I'm the only one that deserves it."
Lange: "No, you don't deserve that."
Simpson: "I'm going to get hurt."
Lange: "You do not deserve to get hurt."
Simpson: "Ah --"
Lange: "Don't do this."
Simpson: "All I did was love Nicole. That's all I did was love her."
Lange: "I understand."
Did you see the confession? It occurs right after Lang tells Simpson, "nobody's going to get hurt." Simpson responds by saying, "I'm the only one that deserves it." The murder of his ex-wife has placed Simpson in this suicidal situation. It is in this setting he tells us he is the only who deserves to die. If these murders were committed by someone else, wouldn't that person be worthy of death?
The Suicide Letter
As the slow speed Bronco chased was unfolding, the police found a letter that Simpson had left behind. It became known as the "suicide letter" because it read like a good-bye letter with Simpson thanking his friends for their support. Simpson also stated in the letter "As I leave you'll be in my thoughts." The fact that he was suicidal while driving around in Al Cowling's Bronco also made the letter look like a suicide note. The letter started out saying,
"To whom it may concern: First, everyone understand I had nothing to do with Nicole's murder."
This is how you heard it read on televison. This is how you saw it printed in the newspapers and magazines. The problem is this is not what O.J. Simpson wrote. The actual handwritten letter reads as follows.
"To whom it may concern: First, everyone understand nothing to do with Nicole's murder."
In his letter, Simpson crossed out the words "I had" or "I have." When most people cross out a word they usually replace it with something else. Perhaps they misspelled a word so they cross it out and write it correctly. Later in the letter Simpson misspelled the word "doubt." So, he crossed it out and wrote it correctly. Other times people may have a change of thought. They start to write something and then realize they don't want to say that or say it that way so they cross it out. It appears that is what Simpson did when he crossed out the word "I had." This is important because Simpson is taking himself out of his denial. He wanted to tell us he had nothing to do with Nicole's murder, but he couldn't bring himself to say that.
Some reports quote Simpson as using the phrase "I have." If that is the case, then he used the wrong tense. When you talk about the past everything should be in the past tense. Deceptive people will sometimes use present tense language because technically it is a truthful statement. "I have nothing to do with Nicole's murder" means that at the time he wrote the letter he was not participating in her death. That is true since she was dead at the time he wrote the letter.
This letter is an open statement. By that I mean Simpson can write anything he wants to. No one is asking him questions. No one is waiting for a response from him. He is free to write about anything and yet he cannot say "I had nothing to do with Nicole's murder." All Simpson tells us is that someone or something had "nothing to do with Nicole's murder."
It is interesting that after the criminal trial Simpson blamed the press for making him look guilty. Yet here the press was making him look good because they included the phrase "I had" or "I have" whenever they reported on his letter. That is probably because when these phrases are missing it sounds funny and doesn't make much sense. However, from a Statement Analysis point of view it makes a lot of sense.
Even if Simpson had left in the words "I had" or "I have" he still isn't telling us he "didn't do it" which is what an innocent person would say. "I had nothing to do with" sounds pretty convincing. After all, if a person truly had nothing to do with the murders, then how could he have committed them? Somehow in his mind Simpson can justify saying, "I had nothing to do with Nicole's murder." However, in the end Simpson could not even make that statement because took himself out of the denial.
One other interesting thing stands out in this letter. Simpson describes his relationship with Nicole by writing,
"Unlike what has been written in the press, Nicole and I had a great relationship for
most of our lives together. Like all long-term relationships, we had a few downs and ups."
Notice the last sentence; "downs and ups." When most people use this phrase they state "ups and downs." That is because the order in which a person mentions things is important. We like to think we have more "ups" in our lives than "downs." Therefore, most people use the phrase "ups and downs." Here Simpson's words betray him and the truth slips out. Even though he tries to counter what the press has reported, his own language tells us they had a rocky relationship with more "downs" than "ups."
I don't see this letter as being a suicide letter. When Simpson talks about leaving he could be referring to leaving life or just running away. I believe that before he could take off he got caught by the police in the Bronco chase. It has been reported that Simpson signed his letter with his initials O.J. In the "O" he made a smiley face. How many suicide letters do you think have a smiley face on them?
I Want To Tell You
In 1995, Simpson wrote a book entitled "I Want To Tell You." The book contains letters people had written to Simpson while he was in jail. Simpson responds to these letters and shares his thoughts about his predicament. Simpson begins chapter one with the following statement:
"In this book, I am speaking publicly for the first time since my arrest for
two reasons. First and foremost, I want to respond to the more than 300,000
people who wrote to me....The second reason is financial."
If you were arrested and charged with two murders that you did not commit, what would be your reasons for writing a book? Thanking people for their support and raising money for a defense fund are very good reasons. However, the number one reason why I would be writing a book is to let people know I DIDN'T DO IT. For Simpson, that is not the reason for writing this book.
The majority of the letters were in support of Simpson. However, the publishers did print a few letters in which the writers adamantly expressed their belief that Simpson committed the murders. On page 13 of his book, Simpson thanks these people who felt he was guilty for allowing him to put their letters in his book.
"I am grateful that even those who believe in my guilt also believe that I should
have my day in court and have agreed to let their words be published in this book."
Here we have another confession by Simpson that he committed these murders. "I am grateful that even those who believe in my guilt." "My" is a possessive pronoun. When people use this pronoun, they are taking possession or responsibility. Simpson is taking responsibility for the murders by referring to the guilt as being "my guilt." An innocent person would not have said it that way. An innocent person would have said, "I am grateful that even those who believe I am guilty...." In this sentence, the accused is not saying he is guilty. He is only saying there are people who believe he is guilty. In Simpson's statement, he is saying there are people who believe in something that has already been established, "my guilt." Guilt is something you personally feel and personally establish. In a court of law, we can establish that one is guilty, but we cannot establish that one feels guilty. Simpson shows us that he has established his guilt by using the pronoun "my." In this same statement, Simpson refers to "my day in court." Everyone had gathered together in the courtroom for him. No one else had their case heard because that day belonged to O.J. Simpson. Just as that was his day in court that was also his guilt.
We also find on page 13 of his book Simpson declaring his innocence.
"I am one hundred percent not guilty......When asked at my arraignment, where the charges
against me were first formally stated in court, I said, 'I am one hundred percent not guilty.'
I said it again in Judge Ito's chambers and I say it again here."
This sounds like a very strong denial. However, we have a problem with his statement "I am one hundred percent not guilty." Most people believe 100% is inclusive of everything. If Simpson is 100% not guilty, then he must be 0% guilty. We must remember that numbers go on for infinity. There are different rating systems that we use. Sometimes we rate things on a scale of 1 to 10. Other times it may be on a scale of 1 to 100. So, what scale is Simpson using? On page 25 of his book, Simpson talks about Nicole as a caring mother.
"I had one thousand percent faith and trust in Nicole's decisions about the kids."
We see that Simpson also rates things on a scale of one thousand. Simpson has more confidence in Nicole's decisions about the kids (1,000%) then he does in his own innocence (100%). Based on his scale of one thousand, Simpson is 100% not guilty and 900% guilty!
On page 15 of his book, Simpson states,
"I want to state unequivocally that I did not commit these horrible crimes.
I loved Nicole, I could never do such a thing."
This sounds like a good denial. However, there are several problems with his statement. Simpson qualifies his denial "I did not commit these horrible crimes" with the phrase "I could never do such a thing." Simpson is telling us we should believe he is innocent because he would never do something like this. This will become a constant theme with his denials. Everybody is capable of doing things they thought they would never do.
The other problem with this denial has to do with what immediately preceded Simpson's statement. In keeping with the book's format, Simpson printed two letters from two individuals. The first writer stated, "Please say you didn't kill that woman like that." The second writer called Simpson a coward and stated, "Beating up on women and killing two unarmed people in your selfish rage." Both people used the word "kill" in their letter to Simpson. In responding to their letters, Simpson has the perfect opportunity to say, "I did not kill Nicole and Ronald Goldman," but he chooses not do so. He shies away from using the word "kill." It is easier for him to say "I could never do that" as opposed to "I didn't kill them."
The BET Interview
On January 24, 1996, Simpson was interviewed by Ed Gordon on the Black Entertainment Television network. This was his first full televison interview since his acquittal on the murder charges. Three times during the interview Simpson denied committing the murders.
Gordon: "Did you indeed commit those murders?"
Simpson: "No, I did not commit those murders. I couldn't kill anyone.
And I don't know of anyone that was involved. Anything that
I might say along those lines would be pure speculation."
The next two denials are at the end of the interview with Simpson stating the following.
"I didn't kill anybody; I could not kill anybody."
"I love my kids. I loved Nicole. I could not have killed anyone, and I did not kill anyone."
As we saw in his book Simpson again qualifies his denials. Every time he tells Ed Gordon that he did not commit these murders he explains the reason for his innocence. He is innocent because "I couldn't kill anyone."
The ESPN Interview
On January 15, 1998, Simpson was interviewed on ESPN's "UpClose" program. The question-and-answer format was hosted by Chris Myers.
Myers: "Are you capable of killing somebody?"
Simpson: "You know I would say, actually I would say no, even though
I'm sure if someone was presenting some imminent danger to
my kids or something I'm sure everybody would be capable."
When people use the word "actually" they are usually comparing two thoughts. For example, if a person was asked "Did you go shopping yesterday?" a response may be "Actually, I went today." The person is comparing the interviewer's proffer of "yesterday" with their answer of "today." When Simpson uses the word "actually" what is he comparing? He is comparing his answer of "no" with what? The opposite of "no" is "yes." It appears Simpson was about to say "You know I would say yes" but then changed his mind and answered with a "no." This big athletic former football player wants us to believe that he is not capable of killing someone. Most people would probably answer this with a "yes" if they had to defend themselves or their family.
Simpson alludes to being able to kill someone if he had to defend his kids, but he stops short of saying that he would do that. He says "I'm sure everybody would be capable." The word "everybody" includes Simpson but he does not personalize it. He does not say "Yes, I could kill someone if I was protecting my kids." He is being so cautious that he does not want to admit he is capable of killing someone.
Myers: "Would you for Nicole?"
Simpson: "If I thought someone was going to hurt her."
Although he does not answer the question with a "yes" Simpson gives the impression that he is capable of killing someone if he had to defend Nicole. When we look back at Simpson's interview on the BET program, three times he stated he couldn't kill anyone. Two years later in the ESPN interview, we see he is capable of killing. If Simpson lied in the BET interview when he said, "I couldn't kill anyone" how can we believe him when he says he did not commit these murders?
Myers: "But love could cause you to go into rage to kill?"
Simpson: "I don't think so. I don't believe so at all."
Simpson waivers on his answer. He doesn't answer the question with a firm "no." All he tells us is he doesn't "think" or "believe" he would do such a thing. Since he doesn't tell us he wouldn't do it, he leaves open the possibility he could go into a rage and kill.
Myers: "Are you capable of going into a rage and not remembering exactly what you did?"
Simpson: "I don't believe so, no."
Simpson answers the question with a "no." However, by adding the phrase "I don't believe so" he is not committing to his "no" answer. Since he only believes he would not go into a rage that he wouldn't remember, we cannot assume this would not happen to him.
Myers: "Have you ever done that?"
Simpson: "No. I mean I have been in a rage, and when it was over you kind of regret
some of the things you might have said, but I don't feel that I've ever in
my life done something that, when it was over, I wasn't aware of what I did."
Again Simpson answers the question with a "no." However, as soon as he said "I mean" he invalidates the "no" answer. "No" no longer means "no" because he is about to tell us what "no" means. He then tells us he doesn't "feel" he could have done something and not remember it. Feeling is not the same as saying "I have never done that." Simpson leaves open the possibility he could go into a rage and do something he later would not remember.
Conclusion
Twice OJ Simpson admitted that he killed Nicole Brown Simpson and Ronald Goldman. Once in his suicidal state when he said the gun was for him and that he was "the only one that deserves it." Presumably he was talking about death. The second time was in his book "I Want To Tell You" when he talked about "my guilt." He personalized it with the pronoun "my."
In the letter he wrote prior to the slow speed Bronco chase, Simpson could not bring himself to say he did not have anything to do with Nicole's murder. He initially wrote he had nothing to do with it but then he crossed out the words "I had" taking himself out of the denial. This is about as blatant as it gets. Yet, many of his supporters include this phrase when they read his letter. This is because they are not being objective. They are not reading the letter for what it says. They are probably thinking to themselves, "We'll this is what O.J. meant." However, people mean exactly what they say or write. They should be asking themselves, "What did O.J. mean when he crossed out these words?" If Simpson meant to say he had nothing to do with Nicole's murder, he would not have crossed out the words "I had."
Simpson qualifies his denials by stating he "couldn't kill anyone." This is a common theme with O.J. Simpson. He wants us to believe he did not commit these murders because he is not capable of committing such an act. Yet, in his in ESPN interview he stated that he probably could kill someone if he was defending his family. This contradicts his repeated statements that he could not kill someone. I have not heard or read every word that Simpson has spoken, but I have never heard him say "I did not kill Nicole" or "I did not kill Ron Goldman." I have never heard him say "I didn't do it." It is hard for guilty people to directly deny the crime.
The physical evidence linking O.J. Simpson to these murders is overwhelming. One either has to believe that Simpson committed these murders or that the police planted the evidence. In addition to the physical evidence, we have Simpson's own statements which clearly implicate him in this double homicide.
OJ SIMPSON Confessions of a Double Murderer
Family wins rights to OJ murder book
http://www.theage.com.au/news/world/family-wins-rights-to-oj-murder-book/2007/06/17/1182018936948.html
A JUDGE has awarded the publishing rights of O. J. Simpson's purportedly "hypothetical" murder confession to the family of an alleged victim.
Relatives of Ron Goldman, who was stabbed to death in Los Angeles in 1994 with Simpson's ex-wife, Nicole, plan to have the account on sale within weeks, under the title Confessions of a Double Murderer.
The book, in which Simpson chillingly theorised about how he would have slaughtered the pair had he committed the crime, while insisting he is innocent, was to be published last year by Rupert Murdoch's HarperCollins.
But it was cancelled after an outcry led by the victims' relatives.
"That is blood money and it is evil and disgusting," Nicole's sister, Denise Brown, said.
Although Simpson was acquitted of the murders at a criminal trial in 1995, he was found liable for the deaths by a civil jury in 1997 and ordered to pay the families a combined $US33.5 million ($A40 million) in damages. They have not received a cent.
Now a judge has found Simpson deliberately tried to hide profits he made from the book.
Bankruptcy judge Jay Cristol, sitting in Miami, said publishing rights would now be auctioned by an independent trustee on behalf of the Goldmans.
Even after a publisher takes its share, the family stands to reap millions after their 10-year crusade for financial justice.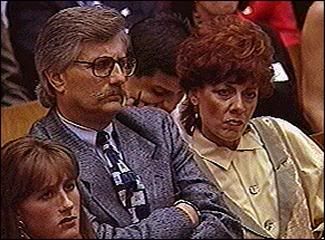 Goldman family still struggles with murder
Father and sister talk about memories, legacy of Ron
http://www.msnbc.msn.com/id/5190358/
There are some who don't need an anniversary to remember what happened 10 years ago in June, some who've thought about Nicole Brown Simpson and Ron Goldman every single day since then: their families. For them, even the word "anniversary" doesn't seem to compute. It's too nice a term to mark such brutal murders. Fred and Kim Goldman are a father and sister still devastated by their loss and determined to keep Ron's memory alive.
Kim Goldman: "Everyday we walk out of the room, and then down the stairs of my home there's a picture of my brother and I, and I stop and talk about Uncle Ron… just point him out, make sure that Sammy recognizes his face."
Stone Phillips: "Everyday?"
Kim Goldman: "Yeah, everyday."
Phillips: "So he's there, in a way?"
Kim Goldman: "Uh-huh."
If he were alive today, he'd have been Uncle Ron. In the ten years since Ron Goldman was murdered, his younger sister Kim, now 32, has married and had a baby. She named her son Samuel Ronald, for the uncle he will never meet.
Kim Goldman: "It makes me really sad because my brother and I promised that we were going to raise our kids together. And so I could just picture the smile on his face just every time he sees him. And just thinking that it's so cool that he has a little boy in his life. And you know, at this point my brother maybe would have had a child of his own. And so, it would have been pretty tremendous to be around that."
Phillips: "Fred, do you see Ron when you look at your grandson?
Fred Goldman: "The answer is yes. I continually am reminded about what Sammy will miss and of course, therefore, what Ron will miss."
For Kim and her father, 63-year-old Fred Goldman, their loss still seems like yesterday. The media frenzy over of the O.J. Simpson case has given way to the more manageable routine of everyday life, but "normal" is not a word they use to describe life without Ron.
Phillips: "Over the past 10 years there have been a lot of moments in your family to celebrate: your wedding, the birth of your son. Have the happy times helped ease some of the grief?"
Kim Goldman: "No, not for me."
Fred Goldman: "No."
Kim Goldman: "My brother was supposed to walk me down the aisle along with my father. That was always what we were going to do. You know, the awesome trio. And so the day of my wedding my brother—"
Phillips: "Wasn't there."
Kim Goldman: "My brother wasn't there to tease me, to kid me, to tell me I looked beautiful, to wish me luck, to shake the hand of the man I was going to spend my life with, to say, 'That's my little sister.' You know, like there wasn't any of that."
Phillips: "But is it possible to find some peace with it?"
Fred Goldman: "I think at least for me, it's a matter of learning how to deal with it. It's almost forcing yourself not to be crazy."
Phillips: "Do you hold onto Kim a little tighter do you think?"
Fred Goldman: "Probably."
Phillips: "Having lost Ron?"
Kim Goldman: "And I hold onto him that much tighter too."
The Goldmans remember Ron as he was in 1994. He was just 25 years old, single and loving life in Los Angeles. Friends and family describe the aspiring actor and part-time model, as a free spirit with a big heart, who often volunteered his time to work with people with disabilities.
On the night of June 12, Ron was finishing his shift waiting tables at an L.A. eatery, when he offered to return a pair of eye glasses to his friend, Nicole Brown Simpson.
No one knows exactly what happened, but it appears that Ron arrived at 875 South Bundy just as Nicole was being attacked. According to the coroner's report, the number and type of wounds Ron suffered suggest he struggled fiercely to stop the knife-wielding assailant.
Fred Goldman: "I'm convinced to this day that the words that witness heard of, 'Hey, hey, hey,' were in fact Ron, walking in, walking down that walkway and seeing Nicole being hit. I'm convinced that it was Ron. And Ron did not run the other way."
Phillips: "That's something he would have said, something he would have done?"
Fred Goldman: "Yeah. He jumped into what was going on. And it cost him his life."
When the news hit the airwaves that O.J. Simpson's ex-wife had been murdered, the Goldman's had no clue that the "unidentified man" found lying near Nicole was Ron. The coroner's office called to break the news to Fred and his wife Patty, Ron's stepmother.
Fred Goldman: "It was like a-- someone took a two by four and hit me across the head. Patty and I were just standing in the kitchen hugging one another, crying. And then the next thing was, 'Oh my God, how do we tell Kim?' And Kim called and it was the hardest thing in my life I've ever had to do."
Kim Goldman: "I was just spiraling down into this just awful, ugly, wretched scream. It was just gut-wrenching."
Fred Goldman: "It was beyond anybody's kind of comprehension."
From the moment they learned Ron was murdered, the Goldmans' lives were turned upside down. Ron's name and photo were everywhere, as were the grisly details of the murders. And looming over it all was the inescapable question: Was O.J. Simpson the killer??
Fred Goldman: "We didn't automatically take the position that because he's arrested therefore he's guilty. We want to know for sure."
Phillips: "You kept an open mind?"
Kim Goldman: "Because it—"
Fred Goldman: "Surprising as I think about it now—"
Kim Goldman: "Uh-huh."
Fred Goldman: "--It's amazing that we consciously talked about keeping an open mind."
Kim Goldman: "It wasn't until the DNA that I think all of us kind of came to it. When they put that flip chart up and they went down, boom, boom, boom. Y'know, that the DNA on the sock, the hair fibers on the cap…"
The Goldmans sat through the entire nine-month trial, and to them the evidence of Simpson's guilt was overwhelming: Nicole's blood on his socks, her blood and Ron's in Simpson's Bronco, Simpson's blood at the crime scene, and that that famous bloody glove found in his yard.
But Simpson's defense team chipped away at the prosecution's case. Johnny Cochran accused investigators of a "rush to judgment" and sloppy police work, arguing that the crime scene was compromised, evidence contaminated, and suggesting, that members of the LAPD had conspired to frame his African-American client.
Phillips: "In the end, race seemed to overshadow everything."
Fred Goldman: "Well, it came to that because Cochran and his team, played the card. Now, I'm not suggesting for a moment that race problems haven't existed and don't exist in this country, to this day. But they had no place in that courtroom."
Phillips: "Kim, you audibly gasped when the verdict was read."
Kim Goldman: "I was shocked. I just-- I couldn't-- I just couldn't believe it. Couldn't believe it."
Fred Goldman: "I was stunned, I mean, I couldn't grasp the notion that 12 people who heard the exact same evidence that I heard…"
Kim Goldman: "and the rest of the country."
Fred Goldman: "And the rest of the world heard could possibly have been influenced by that B.S.
that went on in the courtroom."
Phillips: "Where do you think the case was lost?"
Fred Goldman: "I have, since the verdict, placed a good chunk of the blame one place. And that's with the judge."
Phillips: "Lance Ito."
Fred Goldman: "Lance Ito. He allowed that courtroom to become a circus. He allowed Cochran to take control of the courtroom. He allowed all of the baloney to be part and parcel of that case: He allowed racism, he allowed planting of evidence, he allowed all of that stuff."
Fifteen months after the criminal trial, Simpson was back in court. The Goldmans and Nicole's family had filed a civil suit against him.
Phillips: "How different was the civil trial experience for you?"
Fred Goldman: "It was so diametrically opposed to one another."
Unlike the criminal trial, defense attorneys in the civil case were barred from raising the issue of racism or a possible police conspiracy without hard evidence to support such claims. And because the rules are different in a civil trial, in this proceeding Simpson was required to take the stand.
Under tough questioning from the Goldman's Attorney, Dan Petrocelli, Simpson was caught in what appeared to be a number of blatant lies.
Kim Goldman: "I know that Dan was charged after that. And he would come out of that room, 'Did you see him squirm? Did you see his face when I got him in that lie?' I mean, you felt that, because he finally, as arrogant as the killer is, he finally got him talking and knowing now, even, when he does interviews he talks and just rambles."
Fred Goldman: "Shoots his mouth off and gets himself in trouble."
Kim Goldman: "Weird things come out of his mouth, and so to actually see Dan go after him and nail him, you know, that was kind of fun, actually."
The civil trial lasted just three months, and this time, the jury found that Simpson was responsible for the deaths of Ron and Nicole. he was ordered to pay $33.5 million in damages.
Phillips: "Did the verdict in a civil case restore your faith in the legal system?"
Fred Goldman: "I don't know about restore. I think for us it was just a matter of finally getting a court to acknowledge that this monster had murdered two people. That he was responsible."
Kim Goldman: "People ask if we feel vindicated. I don't know that I've ever felt—"
Fred Goldman: "No."
Kim Goldman: "--vindicated from that. There was like a millisecond that I thought, 'Yeah!' And then bam, it was over."
Fred Goldman: "Finally got a legal courtroom to indicate that he was responsible."
Kim Goldman: "We've always said, and I still feel in the true essence of why we went after him for the civil case. It was never about the money, but at this point, for me it kind of has become that in the sense that, that's all I can take from him. And not that I care about the dollars, but for me it's like, you know, I want to paralyze him, you know?"
Fred Goldman: "Take something away from him."
Kim Goldman: "Take something away from him."
But mostly, the Goldmans focus on giving, as a way of paying tribute to Ron's memory. Fred, a salesman now living in Phoenix, has devoted himself to working for victim's rights, actively lobbying for new laws and greater protections for people affected by violent crime.
In addition to being a wife and new mother, Kim is the director of the California office of "Best Buddies", an organization that pairs mentally challenged kids with mentors. They both told us their advocacy work makes them feel more connected to Ron.
Kim shared a little story that said a lot about the kind of person Ron was, and the quiet way he gave to others.
Kim Goldman: "My brother was doing some volunteer work for some people with cerebral palsy, and would take some of the clients out , and he took them to McDonald's one day and the cashier behind the counter just kept saying to my brother, 'What does she want for lunch? What do you think she's going to want to have?' And he said, 'I don't know, why don't you ask her.' He treated them with dignity. And he being a friend to somebody and treating someone with respect and with just having no inhibitions about their disability or their whatever it might be just really makes a difference. So everyday when I go to work, I take a little bit of that with me and think."
Phillips: "He personified that."
Kim Goldman: "Yeah."
Phillips: "Ron was doing a good deed, returning a pair of glasses, when he was murdered. What's his legacy?"
Fred Goldman: "Ron was a wonderful young man, a caring, loving sensitive young man. His legacy is that he'll always be remembered. I'm touched and saddened all at the same time when I'm occasionally --someone will come up to me and say to me, 'You're Ron's dad?' Not, 'Are you Fred Goldman?' 'Are you Ron's dad?' And my answer is immediately yes. I am proud to know that he is remembered for, for being someone who cared."
Nicole Simpson's Family Remembers
A Decade Later, The Brown Family Remembers The O.J. Simpson Case
http://www.cbsnews.com/stories/2004/06/07/earlyshow/main621641.shtml
Ten years ago, the bodies of Nicole Brown Simpson and Ron Goldman were discovered brutally stabbed to death outside her condo in Los Angeles.
Two of Nicole's sisters, Denise and Tanya Brown, spoke with The Early Show co-anchor Harry Smith about how they view those events, a decade after that terrible day.
--------------------------------------------------------------------------------
"[At] 6:50, I heard my mother scream, and I had never heard her scream like that before," remembers Denise Brown. "I ran into her bedroom and I said, 'What's the matter?' And she said, 'Your sister's been killed.' It was probably the most horrific thing I had heard in my life."
Tanya Brown says, "The screams in our house, you've never heard anything like it."
The Browns said they initially thought Nicole Brown Simpson had been shot.
"When we found out that she had been killed with a knife, it was like, 'Oh my God! She had so much fear of knives,'" says Denise. "There was only one person who knew that she was so afraid of knives, other than her family. And that was Simpson."
The night of the murders, the Simpsons' daughter, Sydney, had performed in a dance recital. Afterwards, many of the family members had dinner at a restaurant. Denise Brown says, at the time, their door wasn't completely closed to O.J. Simpson, but he wasn't invited for the dinner.
"He's a control freak. He wants control and someone who loses control can become very dangerous," says Brown.
During Simpson's murder trial, photographs were brought forward which suggested that Nicole Brown Simpson had been a victim of spousal abuse. Denise Brown testified about what she saw. Brown said she saw Simpson pick up Nicole and throw her against the wall, then he threw her out of the house.
Since Nicole Brown Simpson's murder, both sisters have worked to raise awareness and help victims of domestic violence.
"There's a safety plan that women need to know and Nicole kind of did it wrong," says Tanya Brown. "She gave back the jewelry and said, 'It's over. It's done.' A women in domestic violence needs to leave secretively. She needs to leave safely and not abruptly. If you know someone who's going through [abuse], speak up."
Years ago, the nation watched the courtroom testimony, transfixed. Then at 10 a.m. on Oct. 3, 1995, the verdict came in.
The jury found O.J. Simpson not guilty of the crime of murder.
"I just sat there," recalls Denise. "I couldn't scream. I couldn't cry. I couldn't do anything. I just sat there. And the way that they botched it up so badly and the way that Johnny Cochran took it and turned it into a racial issue, as opposed to a man who murdered two people. It turned into something that set our country back a hundred years."
Although Simpson was acquitted of murder, three years later, in a civil trial, he was found liable for the deaths of Nicole Brown Simpson and Ron Goldman. Simpson was ordered to pay $8.5 million to the Goldmans and $25 million to the Brown family.
Denise Brown says she felt some vindication that Simpson was found liable.
The Browns say they have received some money from Simpson, but nothing close to $33.5 million.
"It wasn't coming to us," explains Denise Brown. "It was going to the estate of Nicole, for the children. For Sydney and Justin. And we never got that, and we won't."
Tanya says, "No penny is going to bring Nicole and Ron back. No penny. It's not about money. Nicole and Ron are dead, and a billion dollars won't bring them back."
Sometimes, the Browns see O.J. Simpson on television.
"It's very surreal," says Tanya. "Denise and I have very different points of views on our feelings on O.J. She hates him. She can't stand him. With me, I have no feelings. I'm numb towards him. If I see him, it's like I wouldn't even know him. He's like a stranger in this big world of ours. But I don't hate. And I'm not angry, because that hurts me.
Remembering The Simpson Case
Players In 'Criminal Trial Of The Century' Recall Experience
http://www.cbsnews.com/stories/2004/06/09/earlyshow/main622147.shtml
Christopher Darden
http://en.wikipedia.org/wiki/Christopher_Darden
Marcia Clark
http://en.wikipedia.org/wiki/Marcia_Clark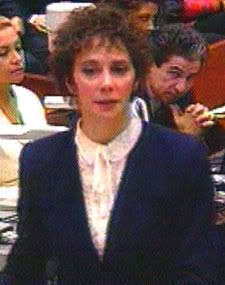 Lance Ito
http://en.wikipedia.org/wiki/Lance_Ito

Mark Fuhrman
http://en.wikipedia.org/wiki/Mark_Fuhrman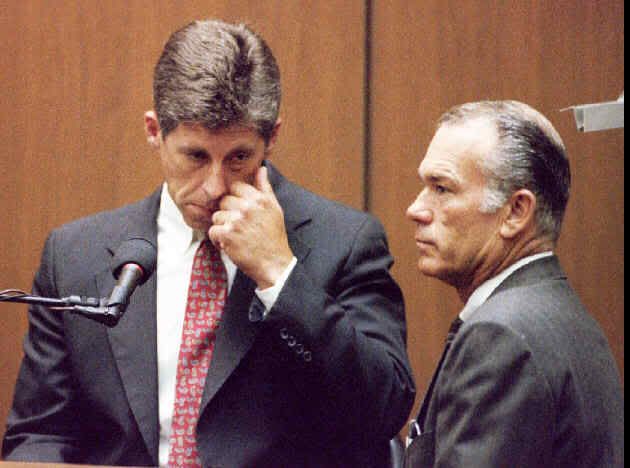 Johnnie Cochran
http://en.wikipedia.org/wiki/Johnnie_Cochran

(
October 2
,
1937
–
March 29
,
2005
)
Ten years ago, Nicole Brown Simpson and Ron Goldman were brutally murdered. Nicole's estranged husband, football legend O.J. Simpson, was the man accused of committing the crime.
A clash of race, celebrity and stories of abuse kept the nation riveted as the drama played out daily on television.
On Friday, The Early Show National Correspondent Hattie Kauffman looks back on "the trial of the century."
"Looking at the scene you really couldn't tell what the injuries were other than it was mass trauma of some sort, because of the amount of blood," says former Los Angeles police detective Philip Vannatter.
In the early morning hours of June 13, 1994, the bodies of Nicole Brown Simpson and Ron Goldman were found outside Nicole's condominium. Nicole's neck was so badly slashed, she was nearly decapitated.
Vannatter says the evidence showed blood spots leading away from the scene of the crime to the master bedroom.
O.J. Simpson was separated from his wife, who was the mother of two of his children. Blood was found at Simpson's home when police went to notify him of her death.
"I have seen worse crime scenes, but I have never seen a case that turned into the soap opera that this turned into," says Vannatter.
Simpson was supposed to surrender, but he disappeared. His friend read what seemed to be a suicide note he'd left behind. In the note, Simpson said he had nothing to do with Nicole's murder.
Simpson's car was spotted on an L.A. freeway. The slow police pursuit of the white Bronco was televised across America.
"I think the O.J. Simpson case is the ultimate reality TV show," says University of Southern California's Dr. Todd Boyd. "It's a case that had everything. There's multiple murders. There's a famous former football player, who had become and actor. You know, there are drugs, there's sex, there's violence."
Marcia Clark prosecuted Simpson in his trial.
Clark notes, "There was no rush to judgment. I was there on the day that the case broke. I've never seen so much evidence even on the first day, as I did in that case."
But Clark was up against Simpson's "Dream Team," which was led by the charismatic Johnny Cochran. And, a tainted LAPD detective who lied about using racial slurs hampered the prosecution.
Mark Fuhrman was just one in a cast of characters who became household names, including "house guest" Kato Kaelin, who heard a loud noise outside Simpson's home on the night of the murder.
"I think it was probably O.J. probably jumping over and it -- the wall," says Kaelin.
Despite a mountain of evidence, Simpson was acquitted of the double murder.
"Everything that we found pointed toward O.J. Simpson," remembers Vannatter. "I think in my 20 years of working homicides, I never had a case that had this much evidence pointing at a single person."
Some criticized police and prosecutors for losing the case. Among the evidence the jury never heard was:
The tape of the interrogation of Simpson where he gave conflicting accounts of how he cut his hand.
Items found in the Bronco, including Simpson's passport, money, a gun and a disguise
Simpson's suicide note
Critics also wondered why the case was tried in downtown Los Angeles rather than in the affluent neighborhood where the murders occurred.
"Where the case is tried, of course, does have an impact," says Clark. "For the Simpson trial, we couldn't try it in Santa Monica because it was an earthquake damaged building and this was a high profile, high security case."
Court watchers say among the lessons of the Simpson case was that sequestering a jury increases stress.
"We know that there were a lot of stories about bizarre behavior, those jurors in Simpson, when they were back at the hotel," says jury consultant Jo-Ellan Dimitrius. "But the one thing that I found fascinating is their average weight gain of the jurors in that case was 45 pounds."
Another lesson from the case: don't let cameras in the courtroom dictate the proceedings.
"Judge Ito set the whole complexion for this case and I really believe that he was in awe of the TV cameras and he was in awe of Johnny Cochran," says Vannatter.
But the cameras helped launch careers. Clark is now on the television show "Entertainment Tonight." Kaelin is hosting an upcoming sports show. Co-prosecutor Chris Darden is now a legal analyst, as is Fuhrman, who despite being tarnished as a racist has become a successful author.
"I think it really changed the way we think and talk about race and celebrity, the way trials work now," says Fuhrman. "Whenever there's a big case now, you can guarantee that it's going to be on television somewhere because of O.J."
Vannatter is now the Chief of Police in Lawrenceburg, Ind. He has the handcuffs Simpson wore hanging in his office. For him, there are two people who should be remembered this anniversary.
"The interest really should be in the two people that were brutally murdered: Nicole Brown and Ron Goldman," Vannatter explains.
And the man at the center of it all, O.J. Simpson, is living in Florida.
"The evidence indicates that he's a double murderer," says Vannatter. "The evidence hasn't changed in 10 years."
Eye To Eye: Kim Goldman
Fuhrman Freaks Out Over O.J. Simpson
1981 interview with O.J. Simpson
OJ Simpson Refused Service